What to Do About Water Seepage
25 May 2021
Recently, it's been raining cats and dogs in Singapore and reports of water seepage and leakage have been pouring in. Here's what you can do about this wet weather problem.
Recognise the Problem
Before you can fix the problem, you need to recognise the fact that you have one. Signs of water seepage include: leaking windows or roof; droplets of water and/or damp patches on your walls, floors, ceiling or roof; peeling paint; mould formation; bulging concrete; cracks in walls and floors; and weird odours.
Any of these signs indicate a problem that, if not rectified, could undermine the structural integrity and market value of your home. It can also pose potentially serious health risks to you and your family, from nasal congestion and breathing problems to asthma and allergies.
Unwanted water can also increase the humidity in the air, making your home feel oppressively 'sticky' and uncomfortable. Furthermore, clothing and furniture can also be irreparably damaged by mould that forms over time in the presence of moisture.
Whose Problem Is It Anyway?
The short answer is – it depends.
If you live in an HDB flat, the town council is responsible for water seepage that enters your home from the outside. However, if the water is present on the ceiling or the floor, the responsibility lies with the owners of both the flat below and above the water-damaged surface. Both owners should split the cost of repairs 50-50. The exception, of course, is flat owners on the top floor who experience water seepage from their ceiling, which is deemed to originate from an outside source and is therefore the responsibility of the town council.
For condo owners and private non-landed estates, it's not so clear-cut. In general, the owner of the upper floor (above a water-damaged ceiling) is presumed guilty until proven innocent. Ideally, both owners of the units below and above should agree to carry out an investigation to ascertain the source of the seepage or leak. If it gets messy, the building's Management Corporation should get involved. If a neighbourly disagreement turns into a hostile dispute, the case can be taken to a Strata Titles Board, which will assemble a panel of experts to settle the matter once and for all.
Private landed property, obviously, is the sole responsibility of the owner.
What Exactly is Waterproofing?
You can think of waterproofing as a waterproof seal or 'building envelope' over your home or block. It involves the application of waterproof coatings or materials over walls, roofs and floors.
Note: 'Waterproof' should not be confused with 'water-resistant'. 'Waterproof' means that the coating or material will protect the structure if submerged in water, while 'water-resistant' means that the coating or material will merely repel water when it comes in contact with the surface of the structure.
Waterproofing is ideally applied at construction stage and/or renovation stage, if structural modifications are being made to the building. Waterproofing materials generally fall into two categories: liquid membranes and sealants, which are painted on with a brush, roller or spray gun; and sheet membranes, which are rolled out and placed over the surface, then torched to melt and adhere.
Within these two broad categories, there are numerous variations in terms of chemical composition. A waterproofing specialist will assess the situation and customise a 'system' that involves several layers and safeguards, to protect your building from water damage.
Multitasking Waterproofing
With the announcement of Singapore's Green Plan 2030, an increasing number of homeowners are scrutinising the building materials used in and on their homes. Fingers have been pointed at roofing materials, especially dark materials that absorb and trap heat, as one of the culprits responsible for the Urban Heat Island (UHI) effect that is seeing Singapore heating up twice as fast as the rest of the world.
Leading local paint and coating retailer, Nippon Paint Singapore, has produced an innovative product that not only waterproofs roofs but also reduces surface temperatures. Called SolaReflect Roof-Seal Waterproofing, the coating contains light-reflecting pigments that bounce heat back into the environment before it has a chance to enter the building. Interior temperatures are subsequently reduced and reliance on air-conditioning lessened.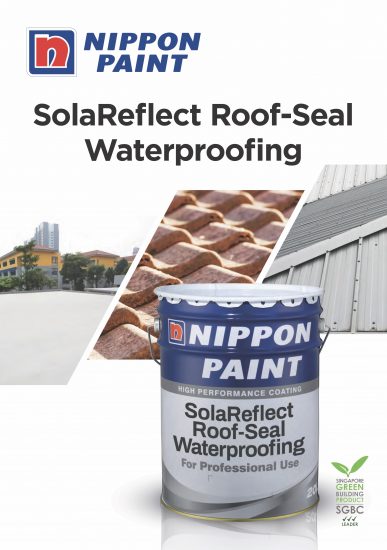 "Nippon Paint developed this roofing product to address two problems posed by our wet, hot tropical climate – the need to safeguard our buildings against torrential rain, and the need to counter the escalating problem of the Urban Heat Island (UHI) effect," said Gerald Chua, Senior Manager, Retail Channel, Architectural Coatings, Nippon Paint Singapore.
It may pay you – in future energy savings at least, to ask your ID, contractor or waterproofing specialist about this ingenious coating.
Get it Right the First Time
Wisdom in hindsight is a wonderful thing. Learning from others' mistakes is better, so heed these cautionary tales.
The most common cause of water seepage and leakage problems is shoddy workmanship. A lack of proper surface preparation will compromise the effectiveness of any waterproofing membrane. If the original substrate has not been properly primed, residual moisture in the concrete or plaster can rise to the surface and cause the adhesive bond in the waterproofing membrane to fail.
Another cause of waterproofing defects is rushing the job and not allowing sufficient curing time for the waterproofing coating before applying a top coat or additional material. Only thorough curing will create a truly waterproof membrane.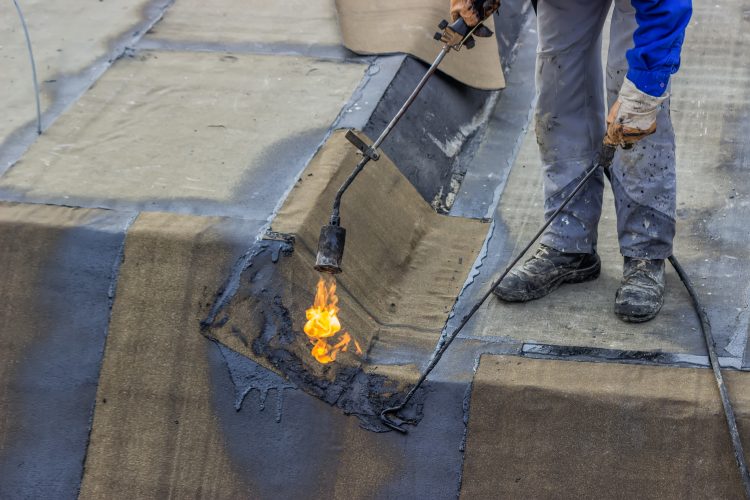 If you happen to be in the position to supervise the workmanship in your property when it is either under construction or undergoing renovations, make sure your contractor and their labourers get the fundamentals right.
Engage a Specialist
If you encounter a water seepage or leakage problem, you should engage a waterproofing specialist. A quick search on Google will reveal dozens of waterproofing specialists with solid credentials and convincing reviews. Make sure that they are listed on the HDB Directory of Renovation Contractors (DRC). Even if your property is a private one, this serves as a good background check on the company.
In addition, make sure that the company provides a free site inspection, a free quotation or cost estimate that clearly states additional charges in the event that the problem turns out to be worse than at first suspected, and a binding warranty.
Revisit Your Waterproofing When You Renovate
Rather than addressing water seepage and other structural problems as they arise, which could result in mere bandaid measures, why not consider a minor renovation? It's a little bit like wiping the slate clean and starting from scratch.
To make sure you get it right the second time, visit HomeRenoGuru.sg, Singapore's No. 1 renovation portal, and obtain up to five obligation-free quotations from screened and recommended interior design companies. You can also take advantage of the HRG Guarantee, a first-in-industry initiative with free legal advice that protects your deposits up to 50% of your contract amount, up to $50,000, in the event that the ID company winds up.
You can trust the Guru to connect you with reputable interior design companies that not only get the waterproofing right but abide by watertight contracts. And may rainy days never get you down again.