The Rising Cost of Home Renovations
05 Oct 2021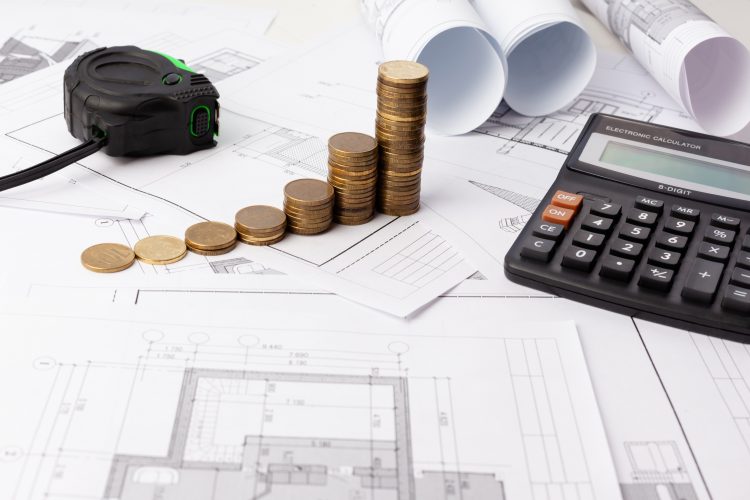 The costs of building materials and manpower have gone through the roof, blowing out the price of home renovations beyond all expectations. We spoke to three of our top local IDs and an industry insider from Nippon Paint about the reasons behind the rising costs, and what they mean for homeowners.
Material Supply Shortages Are Pushing Prices Up… and Up
In August last year, an article in The Straits Times reported that renovation costs had risen by 10 to 20%, compared to pre-COVID prices1. The IDs we spoke to, from i-Chapter Pte Ltd, Fineline Design Pte Ltd and Weiken.com, agreed that this figure has remained more or less stable over the past 20 months, despite the ongoing and in some cases escalated challenges that the ID industry is facing.
Davis Ng, Senior Manager, Design & Contracts, Nippon Paint Singapore, is in an ideal position to monitor the cost of building materials since the Nippon Paint Service Centre at Sungei Kadut falls under his care. (The Nippon Paint Service Centre sells building materials, including paints, directly to the building trade.) He confirms that costs have gone up considerably since pre-COVID days.
"Building materials have risen by about 30% on average. This applies across a range of materials, including pre-packed cement products like 2-in-1 Floor Screed, 2-in-1 Wall Render, 3-in-1 Waterproofing Screed, Cement Strengthener, BRC Wire Mesh, bricks, hollow blocks and so on," said Davis.
These price hikes are the result of a basic supply shortage. "As most building materials come from Malaysia, supplies have been seriously affected by the Malaysia Movement Control Order (MCO). Under the current measures, many factories are not allowed to operate, or are operating with a limited capacity of employees," explained Davis.
Davis added that even those factories that can operate are facing production challenges as many of the raw materials they require to manufacture their products come from different states of Malaysia. Since cross-state deliveries are near-impossible under ongoing MCO guidelines, the shortage is only worsening.
Compounding the problem is the fact that suppliers faced a shortage of pallets for packing and protecting the building materials en-route to their destinations. Scheduled deliveries to Singapore have been few and far between and show no signs of becoming more frequent in the near future.
On a brighter note, supportive wholesalers like Nippon Paint are helping their customers stay in business by absorbing as much of the price increases as possible.
Manpower Shortages Are Increasing Costs and Prolonging Projects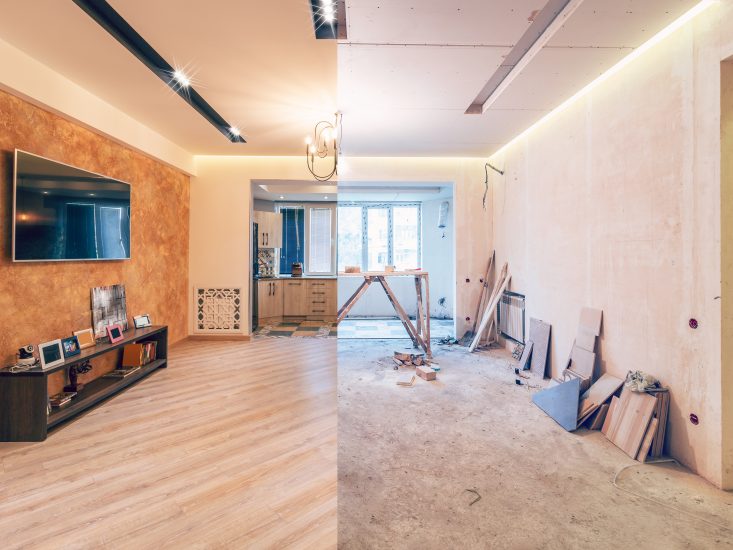 Aside from a shortage of building materials, there is a dire shortage of labour. This has created a perfect storm for the building and construction industry.
Due to cramped living quarters, foreign workers have been disproportionately affected by the virus, especially in the early stages of the outbreak. In December last year, BBC News reported the rate of infection among foreign workers to be three times higher than the general population of Singapore2.
To this day, a single case can send an entire dorm into lockdown, causing work on building sites to grind to a sudden halt. In fact, as recently as mid-April this year, around 1,200 migrant workers were quarantined after a few men were found to have been re-infected after recovering from the virus#.
Understandably, many workers have returned to their homelands in India and Bangladesh, and many more are expected to do so when their employment passes expire. Furthermore, since Singapore's ban on visitors from India was implemented in April this year4, they could not come back even if they wanted to. At least now, with the recent launch of a pilot programme in July that aims to bring back small numbers of foreign workers on a small scale and in a calibrated manner, there is some hope on the horizon. However, this programme is costly for employers, who pay about S$2,000 to S$3,000 more per worker on top of quarantine costs5, and the number of workers involved barely makes a dent in bridging the shortfall.
COVID-19 has also put the brakes on thousands of workers who used to commute daily from Malaysia. These include many skilled tilers employed by local IDs for kitchen and bathroom renovations. Now, even those who are willing to base themselves in Singapore would need to have proof of a negative PCR test taken within 72 hours of departure and be quarantined for 14 days upon arrival, and their companies would have to foot the bill for their quarantine and subsequent accommodation costs. It's simply not viable.
Compounding this problem further is the rigorous enforcement of safe management measures that slows work down.
Due to all these factors, renovation timelines are now much longer than before. Whereas in the past project managers would schedule multiple contractors to work on non-conflicting parts of the renovation concurrently, now there can be whole stretches of days on end where there is no activity on-site.
"The shortage of manpower has delayed the completion of renovation works by one to three months.  An average renovation project could be completed within 10 weeks pre-COVID; now it will take at least 16 weeks," shared Davis.
 Profit Margins Are Being Squeezed to Ease the Pain of Rising Costs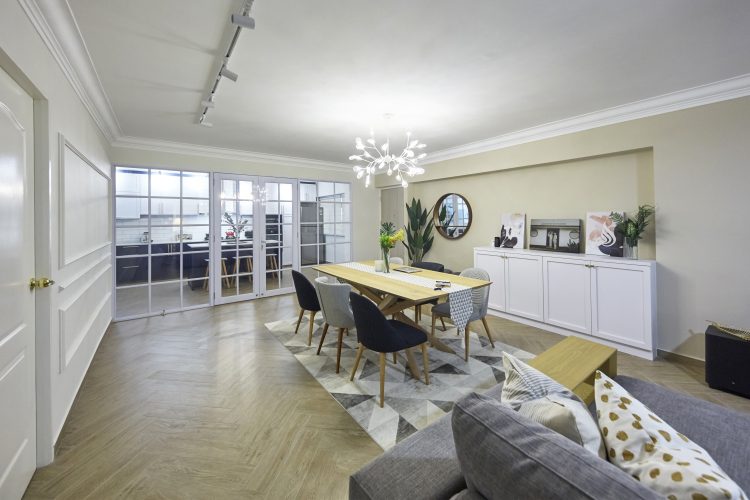 5-room HDB flat, renovated by i-Chapter Pte Ltd. Photo courtesy of HomeRenoGuru Annual 2021
Going by the responses of those IDs we spoke to, it seems that industry leaders are doing their utmost to share the pain with homeowners.
Ivan Yeo, Managing Director, i-Chapter Pte Ltd, said, "We work very closely with our workers and suppliers and try to lock in timing and pricing at contract-signing stage. This keeps our costs manageable. Of course, when costs rise by more than 30%, we are forced to negotiate with our customers and seek their understanding."
Raymond Kuek, General Manager, Fineline Design Pte Ltd, tells a similar story. "We have honoured quotations signed before the full impact of COVID-19," he shared. "However, if any adjustments or variations are done during the course of renovation, we have to negotiate costs with our customers."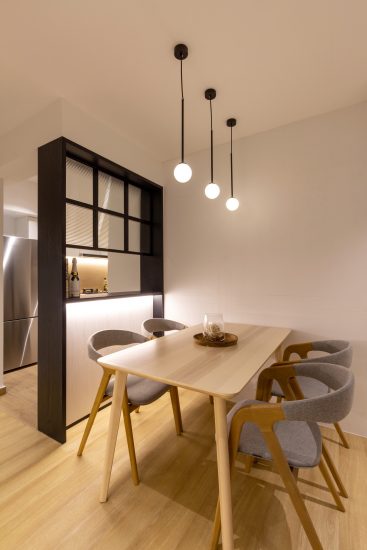 3-room HDB flat, renovated by Fineline Design Pte Ltd. Photo courtesy of HomeRenoGuru Annual 2021
While customers are generally understanding, according to Raymond, there are some that struggle to accept the 'new normal'.
"We are encountering more unrealistic expectations from clients. Because they are paying more than pre-COVID prices, they have become more demanding. Yet the timeline is not within our control," shared Raymond.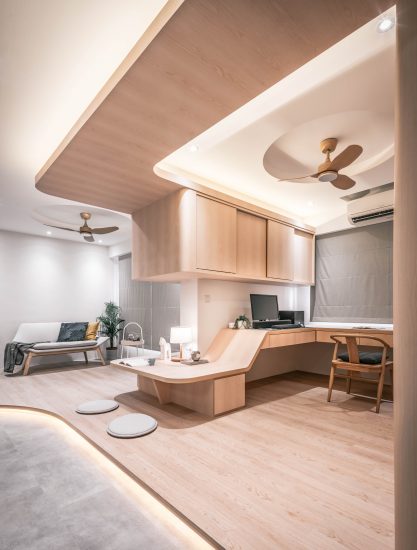 4-room HDB flat, renovated by Weiken.com. Photo courtesy of HomeRenoGuru Annual 2021
It seems that while homeowners are hurting, IDs may be hurting more. And the consensus is that there is no relief in sight. While Malaysia stays paralysed in lockdown and borders with South Asian countries remain closed, costs of both materials and manpower are likely to rise progressively.
Life – and Renovations – Must Go On
Since nobody knows what tomorrow holds, and home plays a central role in the new normal, it's probably not a good idea to postpone renovation plans indefinitely. There is a queue, and those who join first will be served first.
When it comes to choosing an ID, the standard advice applies, pandemic or not. Do your homework by looking at companies' past projects and customer reviews, check their credentials and licences, and make sure you have a good rapport with your ID. However, now it is more important than ever to pay close attention to pricing.
"Don't rush into selecting your ID. It is still very important to get the right ID – one that has good chemistry with the customer and understands what the customer wants. In this current 'COVID market', it's more important than ever to look for transparency in pricing," advised Ivan of i-Chapter Pte Ltd.
Raymond of Fineline Pte Ltd also sounded a cautionary note on pricing. "Start the planning process as early as possible and meet with your ID so that you can carefully budget your finances according to the latest quotation given by ID. Do have a savings plan as well, in case the unforeseen happens," he advised.
The advice from Weiken.com was similar. "Manage your own finances and honestly evaluate your ability to spend on a renovation. Ideally, save up so that you have a renovation budget that is higher than what you think you will realistically need. Then when the quote comes in it may fall within your upgraded budget, and you won't find it too expensive," said Wan Yee, Marketing Support, Weiken.com.
How the HRG Guarantee is Protecting Homeowners Against the Unpredictable
Every industry bar a few lucky exceptions is facing unforeseen challenges. The ID industry is no exception, and responsible practitioners themselves encourage customers to be careful. For added peace-of-mind, HomeRenoGuru offers local homeowners the HRG Guarantee, free with every signed quotation from an eligible ID. This first-in-industry initiative comes with free legal advice if you need it and protects your renovation deposit of up to 50% of your contract amount in the event that the ID company winds up.
At a time when there are so many unknowns, it's good to know that you can trust 'the Guru'.
———————–
1https://www.straitstimes.com/singapore/housing/home-owners-doing-renovations-face-delays-and-increase-in-costs
2https://www.bbc.com/news/world-asia-55314862
3https://www.reuters.com/world/asia-pacific/singapore-probing-covid-19-re-infections-after-cases-workers-dormitory-2021-04-22/
4https://www.straitstimes.com/singapore/transport/spores-ban-on-visitors-from-india-not-aimed-at-any-nationality-ong-ye-kung
5https://www.channelnewsasia.com/singapore/migrant-workers-india-singapore-pilot-construction-covid-19-1986436
Every attempt has been made to ensure the accuracy of the information contained in this article at the time of release. However, due to the fluid nature of the COVID-19 situation, it may change without notice.