3 Reasons Why CIMB Green Renovation-i Financing Is Your Best Choice For Home Renovation Loan
15 May 2023
Financing is possibly one of the most critical aspects of renovation that concerns homeowners. In this article, we share three simple reasons why CIMB's new Shariah-compliant Green Renovation-i Financing product, besides being the only Islamic renovation financing in Singapore, is easily your best choice when it comes to renovation loan for Muslims and non-Muslims.
      1. Attractive rates
It doesn't get as straightforward as this – homeowners can enjoy rates as low as 4.65%* per annum (Effective Profit Rate from 5.29% per annum)! Here's a simple table to help homeowners compare the interest/profit rates offered by Singapore banks for the standard renovation loan/financing currently: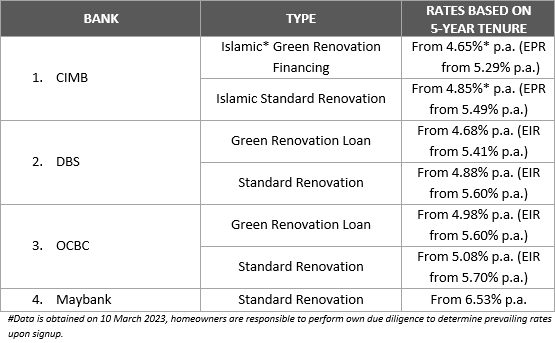 2. Enjoy discount up to 0.20%* p.a. by fulfilling the Green Renovation Checklist
Going green is not just a trend, it's the way forward. As a bank that takes conscious effort in managing and minimizing environmental impacts, CIMB also urges homeowners to partake in the sustainability journey by providing guidance in the form of a 14-item checklist. Simply fulfil at least five items in the checklist to qualify for discount of 0.20%* per annum from the Islamic Standard Renovation rate.
CIMB Green Renovation Checklist covers four key areas where homeowners can achieve sustainability, including Energy & Electricity, Health & Safety, Building Material and Water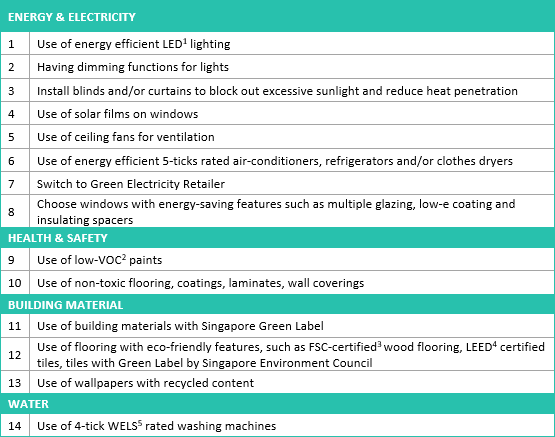 1LED: Light-emitting diode
2VOC: Volatile Organic Compound
3FSC: Forest Stewardship Council
4LEED: Leadership in Energy and Environmental Design
5WELS: Water Efficiency Labelling Scheme
      3. One day* in-principle approval
Lastly, with CIMB one day* in-principle approval for a complete application, homeowners can have one less thing to worry about! 
If you wish to find out find more about CIMB Green Renovation-i Financing, you can leave your details here to request a call back from a bank personnel or visit their website.
*Terms and Conditions apply.
If you are planning to renovate, visit HomeRenoGuru, Singapore's No. 1 renovation portal, first. It's the fastest, most objective way to obtain an overview of the market, view IDs' portfolios, and obtain obligation-free, competitive quotes. What's more, if you engage your ID through HomeRenoGuru you can take advantage of the first-in-industry HRG Guarantee. It protects your renovation contract up to 50% of your contract amount, up to $50,000, in the event that the Interior Design company winds up. It even comes with free legal advice if you need it.
At a time when so much is uncertain, it's good to know that you can trust 'the Guru'.
Content sponsored by CIMB Bank Berhad, Singapore Branch ("CIMB"). The information shared above is provided strictly on a non-reliance basis, and does not constitute any form of advice from HomeRenoGuru or CIMB. You should make your own assessment of your financial situation and needs