No e-book compares to the beauty of a physical book. A real book, with cover art that intrigues and entices, and the thrill of turning the first page to the last. Regrettably, books are becoming a relic of our pre-digital past. Save the ones you love, before it's too late. Here's how local bibliophiles (that's book lovers) are housing them in their homes.
Built-in bookshelf
This floor-to-ceiling built-in bookshelf neatly incorporates two rows of enclosed storage space, top and bottom. Note how the height of the shelves has been varied to accommodate taller and smaller volumes. The sunlit space and deep comfy sofas are an invitation to lounge around all afternoon with a good book. Such civilised pleasure.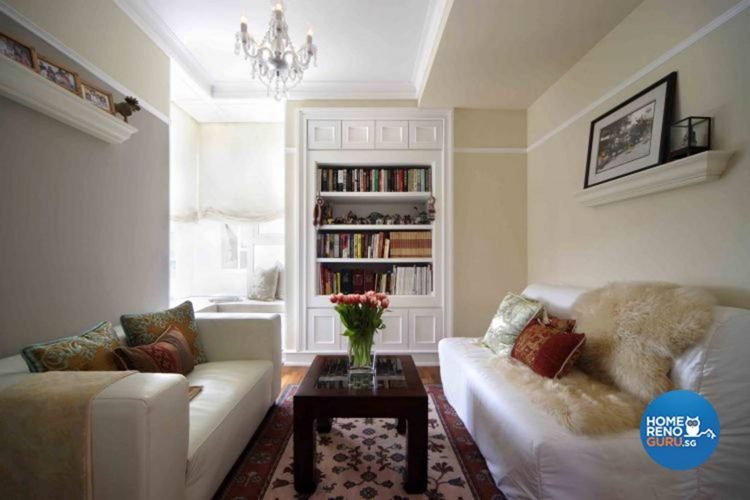 Condominium Savannah Condominium | Ciseern by Designer Furnishings Pte Ltd
Food for thought
In this open concept living and dining area, the bookshelf runs parallel to the dining table, neatly aligning the elements in the room to visually elongate the space. Come homework time, the dining table can double as a makeshift desk, with plenty of room for snacks and conveniently close to a small library of reference books.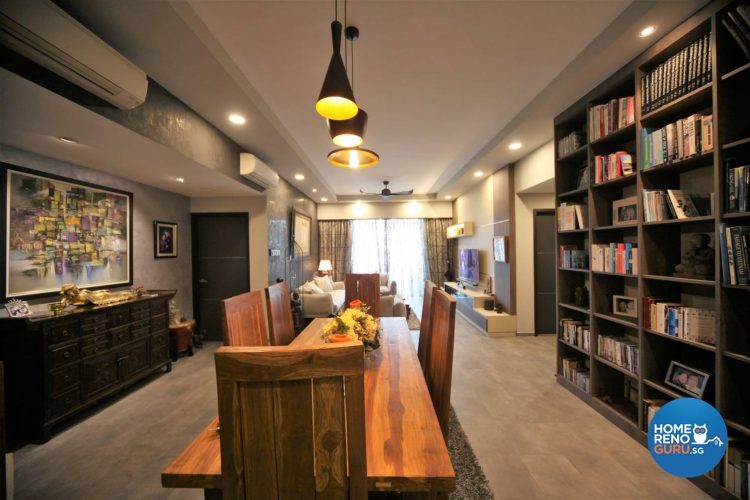 Condominium Aspen Height | Interior Diary Private Limited
Looking for Interior Designers?
Let HomeRenoGuru help!
Reading room
What could have been the dead space of a corridor has been turned into the luxury of a dedicated reading room cum chillout space. All it requires is a built-in bookshelf, a comfy sofa to lounge on, a teddy bear to hug while reading the sad bits, and a ladder to reach the uppermost row.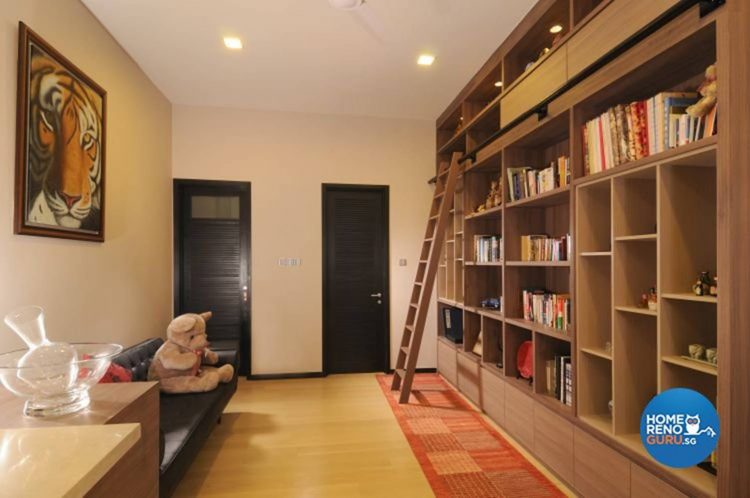 Landed House Jalan Gelenggang | Y-Axis ID
Step-by-step approach
If you don't have a lot of space, or don't want to commit to the permanence of a built-in bookshelf, you can always invest in a free-standing ladder-style shelf. This light stained wood unit looks fantastic against the matte black feature wall. The potted daisy adds a dash of homely cheer to the vintage industrial vibe.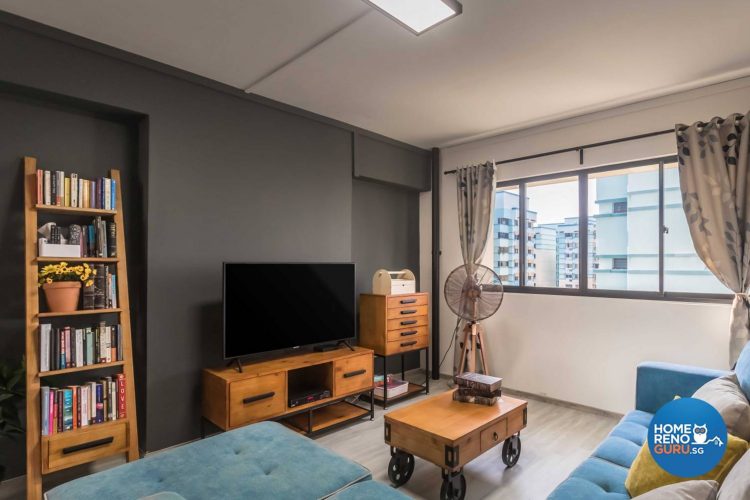 HDB Executive Apartment | Swiss Interior Design Pte Ltd
Great wall of books
This built-in bookshelf spans what would have been the wall of an entire room. An olive green beanbag and armchair invites one to sit on it and savour a book. The whiteboard, one can only imagine, is there to aid school-aged children's tuition, or perhaps to record the brainstorming sessions of an entrepreneurial couple as they dream up new business ideas. Anything is possible in a space so inspiring, surrounded by the wisdom of ages in books!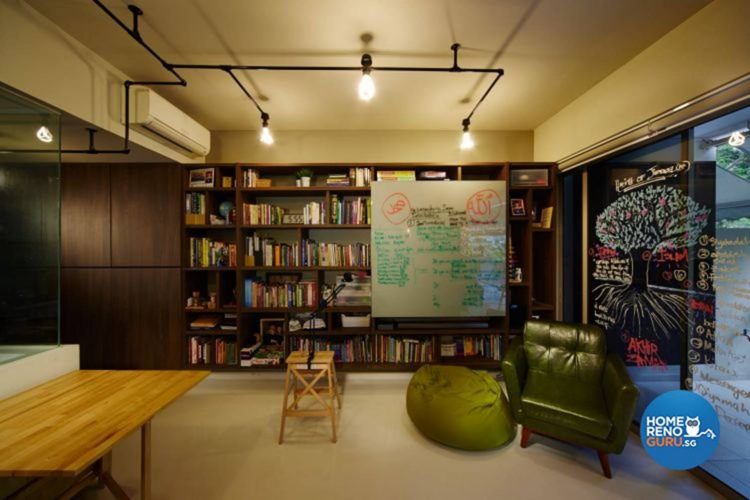 Condominium Austville Condo | Design 4 Space Pte Ltd
Read up on your home renovation
Avid reader or not, it pays to research the reputations and the reviews of local interior designers carefully before you hand over your home renovation to one of them. No time? Not sure what you're looking for? How do you know that the reviews you find are genuine? Turn to HomeRenoGuru, Singapore's leading home renovation website and app! Fill out a simple online form, stating your house type, requirements and budget, and HomeRenoGuru will provide you with a list of no-obligation recommendations for reputable interior designers who will make sure your home renovation has a happy ending, with no surprise plot twists and turns.