6 Surprising Living Rooms That Breaks All Rules
03 Apr 2019
Get a load of these eye-catching, rule-breaking living rooms that are anything but understated.
Though probably more than 90 percent of homeowners dial down the creativity and colour in the living room, since unlike a bedroom it must cater to all household occupants, there's a brave minority who make a loud, proud statement from the entrance hall onwards. Be it through a bold use of colour, lighting effects, wall murals or other inventive means, these rooms are screaming with personality and crying out for attention.
Walls that Wow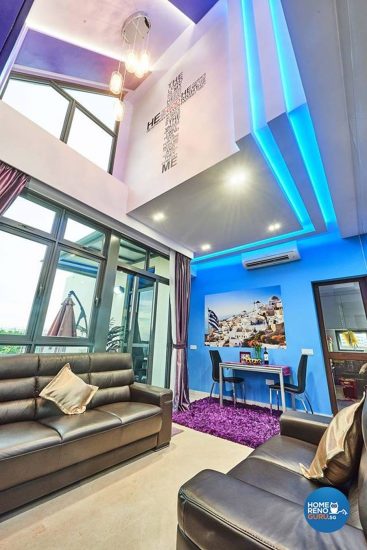 Condominium Tropika East | Rezt & Relax Interior
Wow. Really, that's the most fitting word to describe this luminescent purple and blue modern, graphic living room. The double-volume ceiling accommodates dramatic pendant lighting and a typographical wall mural in the shape of a crucifix.
Paris, Tampines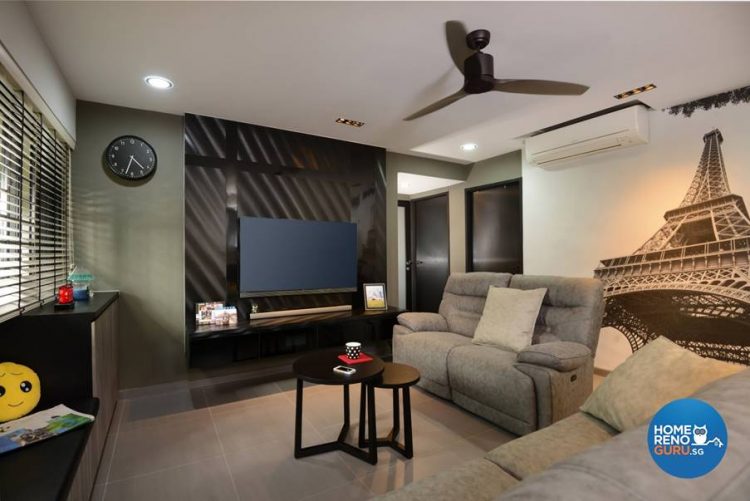 HDB 4 Room Tampines St 42 | Darwin Interior
Holiday at home – with a view of the Eiffel Tower. A monochrome colour scheme with mocha accents is dominated by this cool full-wall digital print in black and white with a hint of sepia.
Puzzle Magic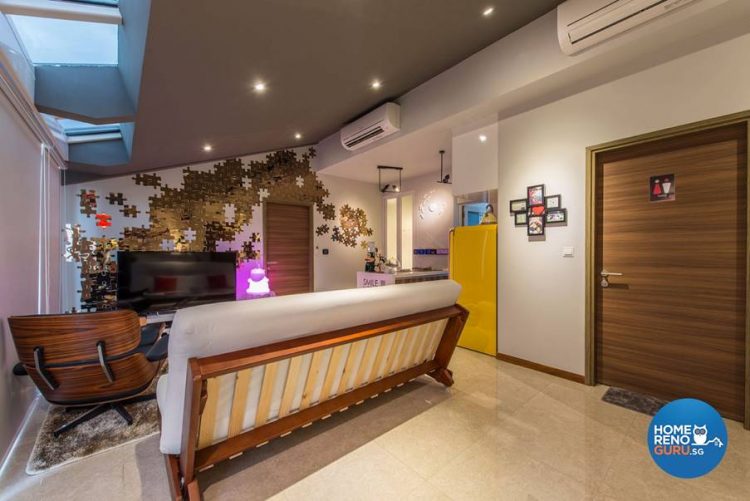 Condominium Nautical Sembawang | The Two Big Guys LLP
Here's a living room you'll never be able to figure out. Its eye-catching feature wall is clad in jigsaw piece-shaped wooden veneers, complete with negative spaces for 'missing pieces'. The quirkiness is echoed in the sloping ceiling, eclectic furniture and splashes of primary colours.
Crossing the Lines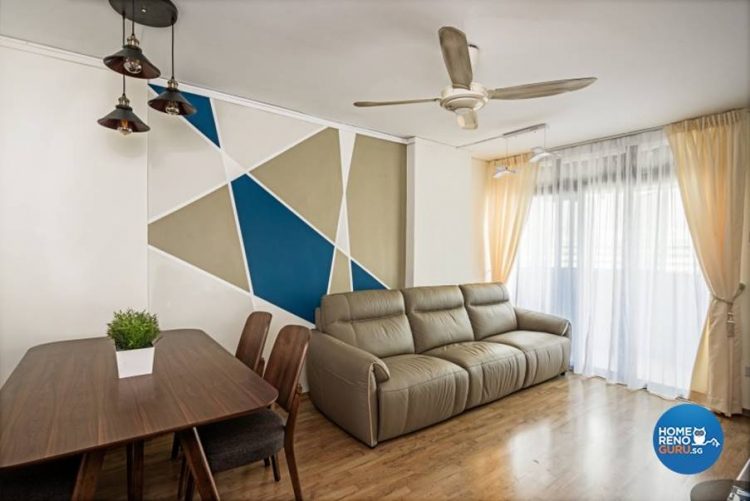 HDB 4 Room 360B Admiralty Drive | Luxurious Design Pte Ltd
This living room would be as plain as plain can be except for the striking geometrical wall mural in a surprising combination of off-white, camel and teal blue. Areas of flat colour are outlined by criss-crossing lines reminiscent of intersecting spotlights.
Quirky Cabinetry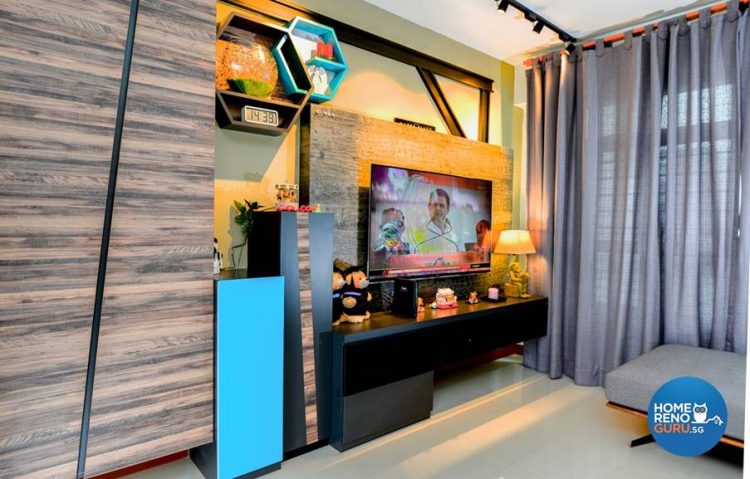 HDB 4 Room 164 Rivervale | Love Home Interior Design Pte Ltd
The very seventies combo of brown and turquoise has been applied to a pair of intersecting honeycomb-shaped floating shelves that dominate the space. Podiums at staggered heights and slanting lines make a big statement in this small living room.
Looking for Interior Designers?
Let HomeRenoGuru help!
Lodge a Compliment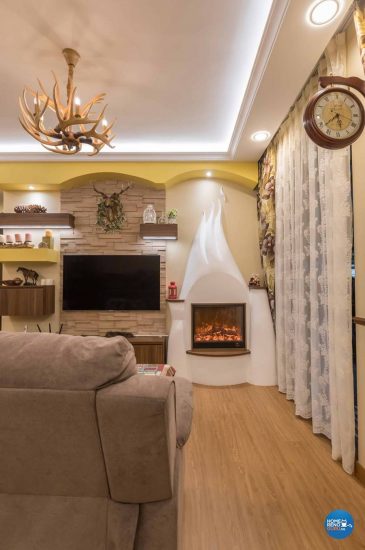 Condominium Vue 8 Residence | Albedo Design Pte Ltd
With its antler-inspired light fitting, mounted deer's head and faux fireplace, this living room stirs memories of a hunting lodge in mid-west America. It just goes to show that place is nothing and space is everything. Cross the threshold of your front doorstep and you can transform your home into a microcosm of your favourite place on the map.
Of course most people's favourite place in the world is their home. It's no wonder that Singaporean homeowners are flocking to HomeRenoGuru.sg in search of reputable and affordable interior designers to help make their dream homes real. Why not join them and request a free renovation quote right here?
What's more, you'll stand a chance to win free home renovations worth a total of $30,000!