Dazzling New Trend: Jewel Tones
16 Mar 2017
Jewel tones are making a comeback in furniture. They have a vibrant appeal very reminiscent of the Victorian era, and often add richness, opulence, and a touch luxury to any house. Remember however that jewel tones make a statement, a big one. So think about your type of home: do you want an intense and vibrant space filled with hues of jewel tones, or would you like something calmer with a splash of jewel-toned opulence? Alex Yang from Quirky Haus notes that decorating with jewel tones is entirely subjective. There's no right answer: the choice is yours.
1) Statement pieces
In this space by Artrend Design, the topaz curtains accent the home's warm-toned neutral palette
Most often, jewel-toned furniture make for a great centerpiece. Freddy Tan from The Interior Lab prefers to use jewel tones as a showpiece of a corner or foyer area. With this, you can keep your home neutral or minimalist, but with a touch of opulence and elegance from jewel-toned statement piece.
If you looking to accent with jewel tones, keep the rest of your furniture sleek and neutral. For example, an emerald accent would pair well with cool-toned off-whites, whereas amber and ruby pair well with neutrals with warmer undertones.
2) Jewel extravaganza
This opulently jeweled house by Image Creative Design is a great way to combine elegance and opulence
If you're into luxurious vibrancy, go crazy with your jewel tones. Mix and match the various hues of jewels to have your home rich and opulent. You can layer jewel tones in a room, and feature lots of similar hued jewel-tones like emerald, from lamps to wallpaper.
Jewel tones don't always have to be loud and striking either. Tones like sapphire, with its deep blue shade, are calm and peaceful, rich yet elegant. You can choose to cover everything in this deep royal blue shade, or pair it with a complementary tone like ruby, where blue accents are particularly striking against red.
3) Featured artwork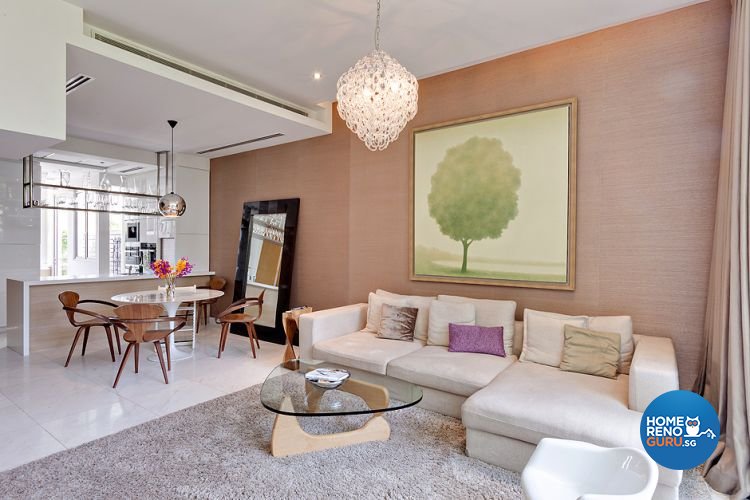 In this home by Hugo Design, the pale emerald artwork accents the minimalist living area
If you object to having a particularly vibrant and loud piece of jewel-toned furniture, consider pieces of artwork to decorate your house with. Some artists incorporate jewel tones in their work, and these pieces can be great against a neutral palette.
You can choose to feature your jewel-toned artwork in the living area behind a pale sofa, making it the centerpiece of the room.
[cta1]
4) Muted jewels
The pale purple of the wall pairs perfectly with the vibrant carpet and chairs in this home by Image Creative Design
If you're layering jewel tones in your home, think about experimenting with various intensities of the jewels – they don't all have to be striking! Light red walls will make your ruby accents pop more.
A muted sapphire or amethyst also makes excellent fabric choices in your home – think drapery, upholstery, or carpets. Light amethyst tones pair especially well with topaz, bringing in both calmness and vibrancy at the same time.
5) Complementary pieces
The jewel-toned curtains in this space by Imposed Design is complemented by the gold artwork
The neutral and minimalist palette is the obvious choice to pair with jewel tones, letting the piece have the center stage and accenting the room accordingly. However, metals are also great compliments to jewel tones, and add even more opulence and luxury if that's what you're going for.
Anne from Cad Associates remarks that it depends on the theme homeowners are going for- if the whole house is painted in jewel tones, the general tone of the decor should be more toned down so that it is not too colourful. Try  not to have many accessories- keep it to a maximum of 1 or 2 tones. Focus on just one, which really helps in achieving a more  minimalist look.
Silver works great with emerald and sapphire, and gold pairs especially well with clear aquamarine, amethyst, warm amber, and pretty much any jewel tone for that matter.
When designing your home, it's always easy to go for the safe route and stick to neutral palettes. In fact, most people tend to shy away from jewel tones because of how opulent they are. However, it never hurts to experiment! Think about your favorite tones and how you would like to incorporate them into your house. Work with your designer to get the perfect accent for your dream home!