5 designs that can transport you from the city to the countryside
Living in Singapore means being surrounded by skyscrapers that reach as high as the eyes can see. If that doesn't sound awe-inspiring enough for you, there's always the futuristic skyline of Marina Bay Sands.
Unfortunately, gravity-defying architectural feats aside, city life can get really hectic and stressful. Sometimes, all you want is to pack your things, and leave for the countryside to find some peace and quiet-just for a day or two. Except for one problem: Singapore's countryside is pretty much non-existent.
Or is it?
What if we told you there are ways to bring the serenity of the countryside into the comfort of your own home? Read on to find out how your home's interior design can transport you from the city to the countryside – all while still living in the city.
1. Natural Flooring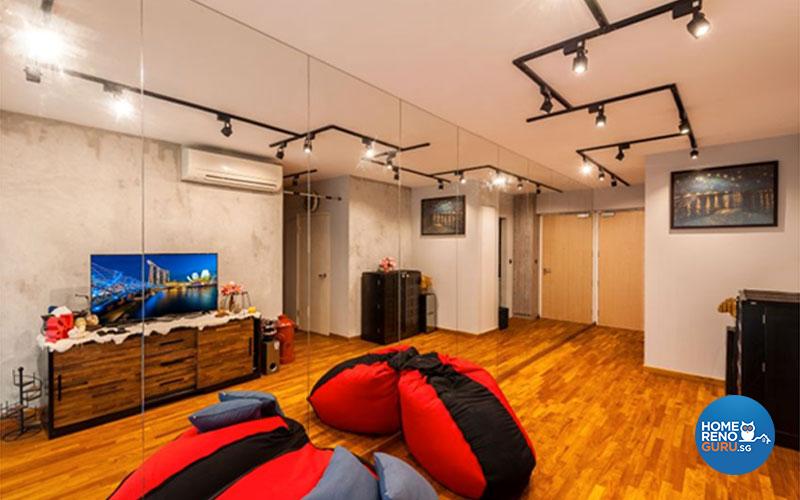 Completed Project at Belvia by Le Interi
A home that embodies the cosy, unpretentious aesthetic of the countryside cottage is one that emphasizes natural textures, especially when it comes to the flooring. For the country-inspired home, Ken Lee from Trinity IDee recommends using Plywood for the floors, because "Plywood comes in lighter shades compared to most other woods, and radiate a welcoming and homely vibe".
2. Lighter Textiles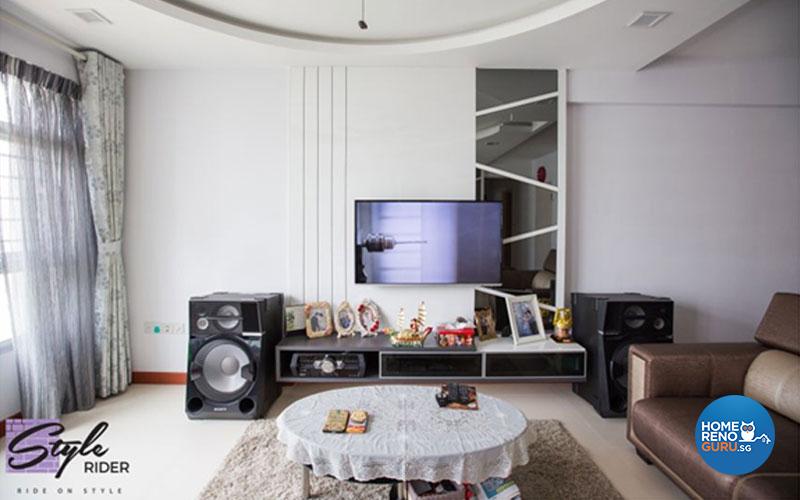 HDB 5 Room- Vista Spring by Stylerider Pte Ltd
Paying attention to your choice of textiles is one of the ways in which you can achieve a rustic, country-inspired design for your home. Textiles in the country style apartment should be natural looking in order to contribute to the tranquility of the space.
This can be done, for example, by going for softly coloured textiles like ivory, periwinkle and straw yellow for the curtains. For patterned textiles, go for those that feature florals, or look handwoven and handmade, such as lace.

Looking for an estimate of your renovation costs?
Let HomeRenoGuru help!
Get Free Quote
3. Cottage-style Cupboards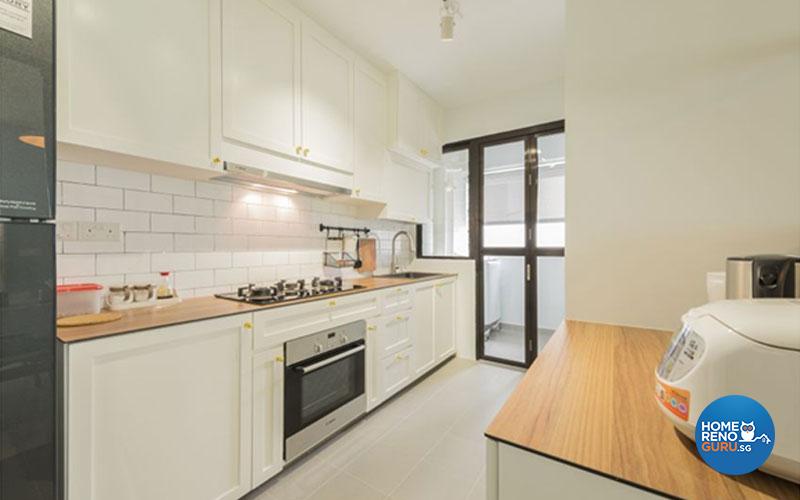 HDB 4 Room- Keat Hong by The Local Inn.terior
As the saying goes, the kitchen is the heart of the home because it's a place where people cook, eat and get-together. As such, it's important for many homeowners that this space looks warm and welcoming, and a farmhouse theme is definitely the way to go.
Wayne Chuan of The Local Inn.terior says that adding wood trim to your kitchen cabinets instantly gives the space an idyllic cottage feel. He also suggests going for a cabinet with wood grain, and opt for more neutral, gray tones when it comes to colour.
(Psst, if you have no idea what wood trim is, check out the edges of the cabinet in the picture above.)
4. Clean Colour Scheme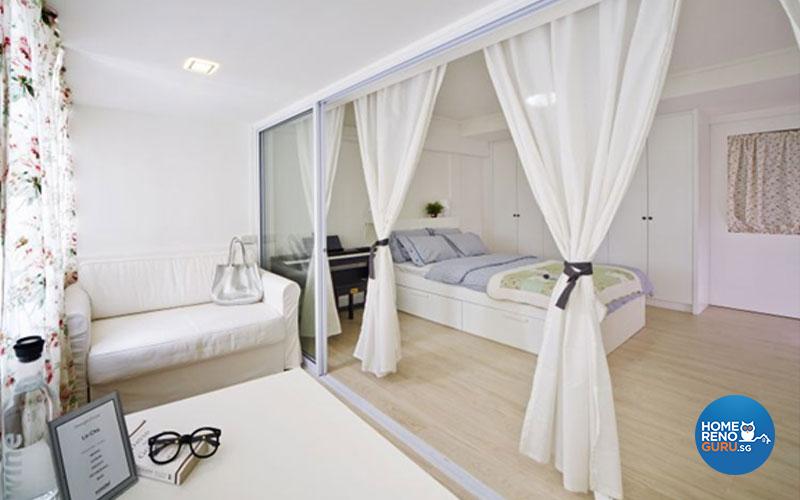 HDB- Blk 106 Towner Road by New Interior Design
The country aesthetic is all about simplicity, especially when it comes to your home's colour palette. If you want to give the country theme a modern and minimalist twist, Joseph Yew from New Interior Design suggests following a white colour scheme. It's soothing on the eye, and very relaxing-perfect for transforming your bedroom into a quick country-esque retreat after a hectic day at work.
5. Lamps with Shades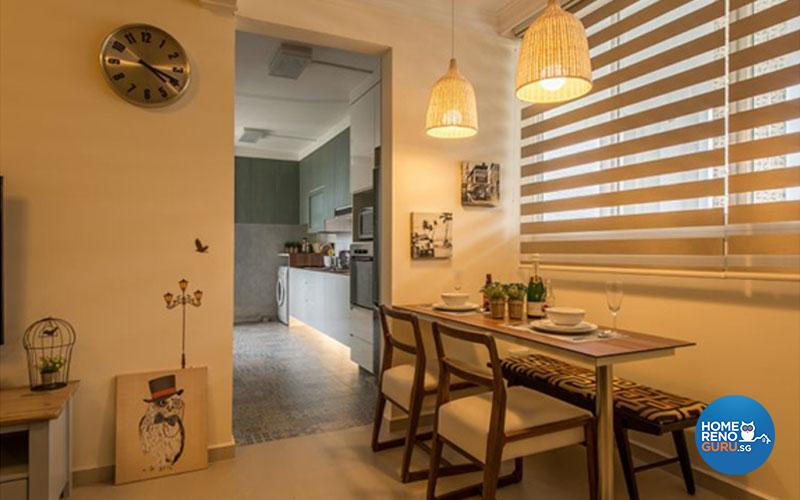 HDB 4 Room- Simei by Posh Living Interior Design Pte Ltd
One sure-fire way to channel the rustic, country look in terms of decor is to select lamps with shades. Floor and pendant lamps in lighter shades with warm yellow lighting complement the earthier tones of the country-style home, and are great for recreating a cosy, country house setting.
Alternatively, if you prefer a more modern take, go for industrial style light fixtures. These can become unique statement pieces that contrast the earthier elements in the room, like the wooden flooring, nicely.
Enjoy the countryside life while in the city- draw inspiration from these 5 different designs when incorporating elements of the countryside into your home, and you'll be able to have the best of both worlds.