Runway Inspirations: How to Incorporate Fashion Styles Into Your Home Design
Creative inspiration can strike from anywhere, and it's no different for interior designers. It comes as no surprise that fashion and interior design have long inspired each other, with fabrics used in this season's coats being replicated in upholstery, and lampshade silhouettes inspiring the next structured looks on the runway. Of course, we also have actual fashion designers like Armani and Ralph Lauren delving into interior design itself, creating grand commercial spaces and pushing out lines of eclectic designer furniture. It's generally not feasible, however, to hire Giorgio Armani himself to design your home, but that doesn't mean you can't get his style. Read on to find out how you can let this year's runway trends inspire your interior design.
Vintage

Yishun Street 31 by 9 Creation Pte Ltd
Vintage interior design doesn't mean what it used to mean anymore. Although the technical definition is "something from the past of high quality," it has become a catchall phrase for anything that looks vaguely kitschy, old-school, and quaint. It's a look that's been around the fashion world for a while now, and it's especially prominent in youth culture and street-wear, where, hungry for inspiration, they look back to the past to reinvent themselves. Get inspired by mismatched prints and bright colour blocks, retro prints and exposed lightbulbs, and a colour palette of mustard yellow, cyan, and white that's both refreshingly fun and quirky.
Rustic charm

2-Bedroom Condo – Tanamera Crest by Starry Homestead Pte Ltd
This year nostalgia's back in full swing, and people are looking to recreate the past – but in a fashionable way, of course. Go for a rustic charm that still retains a polished feel by pairing more "old-fashioned" colours like dark brown with modern textures like leather, and traditional/cultural rugs and artpieces with otherwise modern and clean lines for tables, TV stands, and picture frame borders.
"This design utilizes the ceiling height to create extra room space for the apartment. Wood is a good texture to complement the rustic design. It is important to have a good idea of the concept that you want in mind," said Xu Ling from Starry Homestead Pte Ltd.
Marble feature wall

886B Woodlands Dr 50 by Northwest Interior Design Pte Ltd
Not only is marble a classic material to use in interior design, it is also such an on-trend print right now, for everything from tops to phone cases to water bottles. To spice this classy but staid pattern up, opt for a marble feature wall instead of a marble floor, and showcase it's glossy smoothness even more by picking a pattern with tons of varying swirls and curls.
Muted neutrals

Pine Grove Condo by I-Chapter Pte Ltd
In a fashion world constantly bombarded with loud prints and bold colours, sometimes the best way to stand out is by keeping it neutral. That doesn't mean sticking to boring black and white – simply tone down the saturation to create more muted shades of blue, brown, and green for a subtle yet put-together feel. As with many clothes that make use of this colour palette, keep the lines neat and clean, but soft as well; opt for rounded wooden tables and circular hand-rests. Indeed, Ivan from I-Chapter Pte Ltd notes that a "soft finishing" is crucial for making sure a "minimalist home can be cosy too."
Glamorous luxe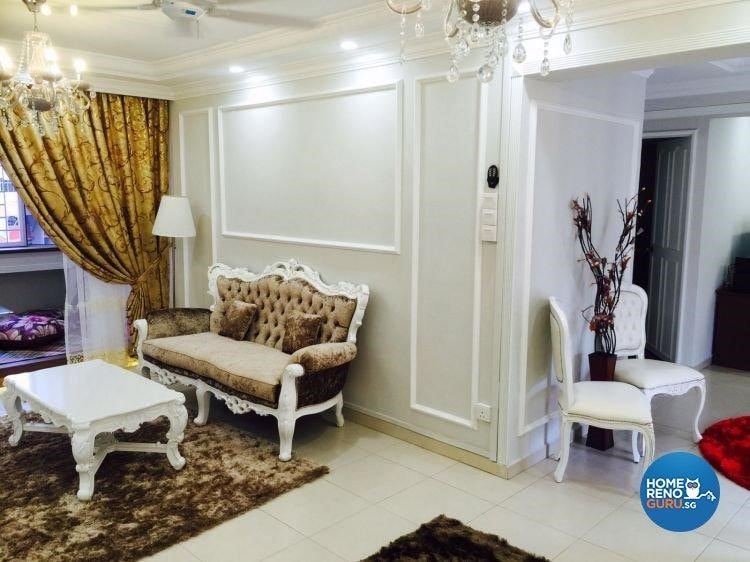 Blk 503 Choa Chu Kang Street 51 – 5 Room HDB Resale by Dezign Culture
Glam is always in, no matter what naysayers claim, and nowadays it comes in the form of ruffed high-collars, corset-cinched waists, and flowing wide-legged culottes. Incorporate the opulence and richness of the haute couture runway into your home by pairing jewel-toned curtains with equally lush fur rugs and Victorian era-style couches and tables. For that extra indulgent oomph, go for sparkling chandeliers and even some subtle wall trim to make the entire space come together. 
Futuristic edge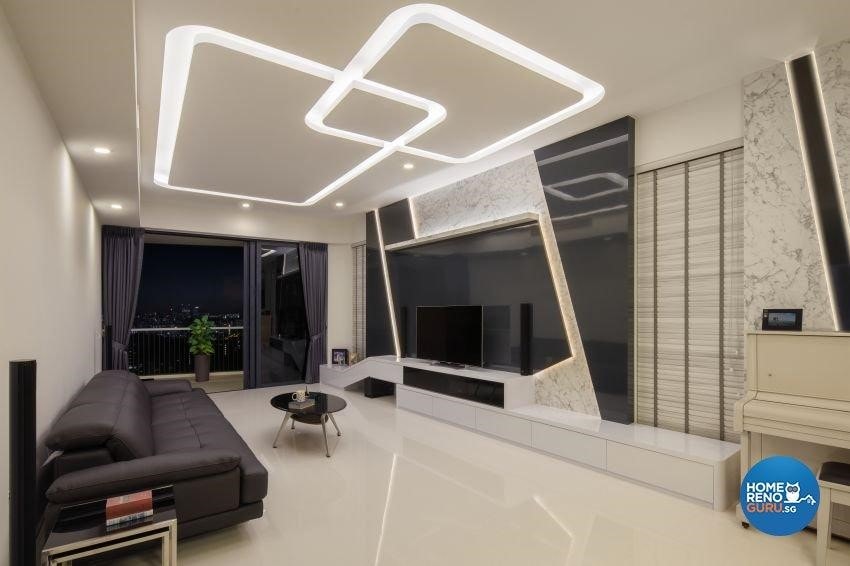 3 Leedon Height by De Style Interior Pte Ltd
Yes, minimalist interior design is very mainstream now, but what make futuristic design different is how the latter actively draws inspiration from cutting edge technology – something that also inspires fashion trends heavily.
Stanley from De Style shares: "The design concept is from the movie 'Tron Legacy', which has many curved line designs. The curved lines were designed to match the D'Leedon curved exterior."
Beyond just using monochromatic colours, futuristic design plays around with different shapes and structures and how lines can intersect with each other in surprising ways. In this example, the unique configuration of the ceiling lights complements the slightly angled and back-lit TV wall to create the illusion of motion even when everything is stationary.