6 Amenities For Your Bachelorette Pad
We've all dreamed of moving out and getting our own spaces, and for some, that dream is starting to become a reality.
For young, successful females, here are 6 amenities for your bachelorette pads that will make it a place you're proud to call home, and make you the envy of your girlfriends:
1. Fully-Equipped Kitchen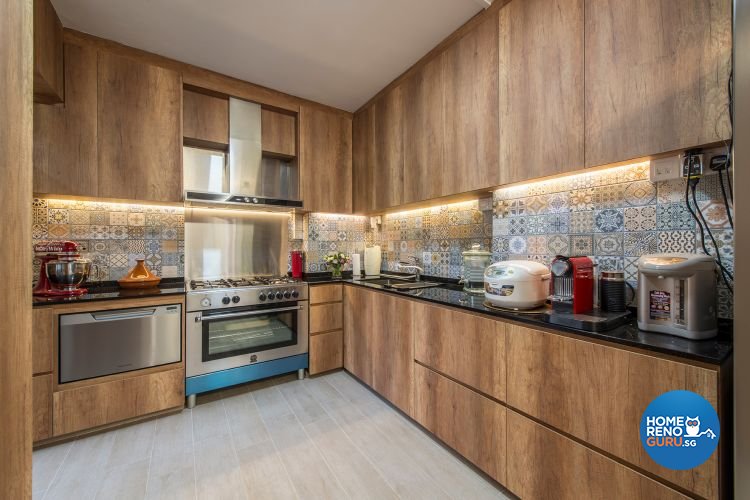 Woodlands St 82 by Ace Space Design Pte Ltd
When we say fully-equipped kitchen, we don't just mean a sink, a fridge and a microwave oven. We're talking dishwashers, blenders, ovens and the works. Thanks to technology, having a well-equipped kitchen enables you to whip out dishes with little to no effort, and the chore of cleaning up can be done in a jiffy.
Besides, having an abundance of cooking amenities allows you to make your favourite treats and bake your favourite snacks, which are perfect for a girls' night or potluck.
Also ensure that all your appliances such as ovens and dishwashers are stored neatly on shelf spaces, which will make your kitchen look neat and presentable.
Anne Chua from CAD Associates ID recommends home owners to get the necessity appliances ready before carpentry work begins. "We can customise according to the dimensions of appliances, and fit it in accordingly, and not the other way round."
She added that an open concept kitchen, one that is linked to the home's living room, also makes it look less cluttered when it is filled with appliances.
You can also get some ideas on how to make your kitchen look restaurant worthy!
2. Dedicated Beauty Corner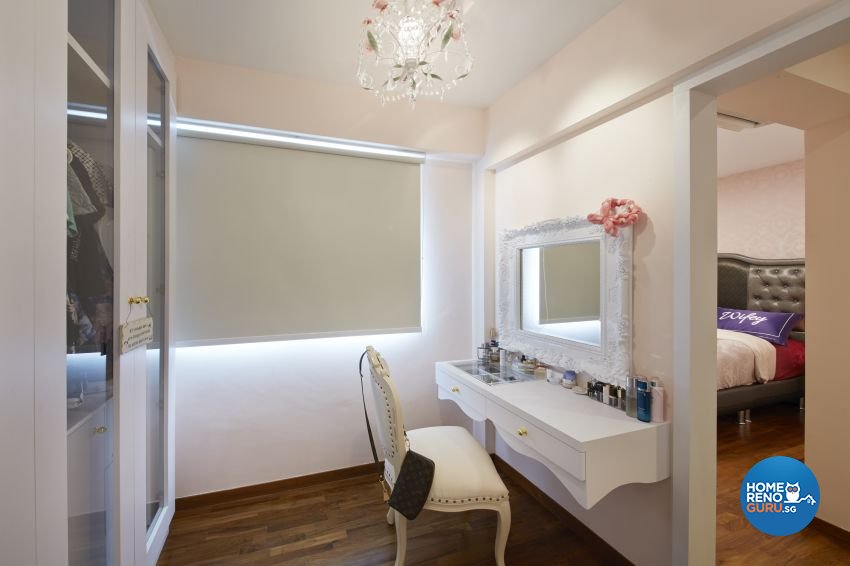 HDB 4 Room – Blk 475D Upper Serangoon Crescent by I-Chapter Pte Ltd
Say goodbye to tangled necklaces and a messy table full of make-up products. Diamonds and make-up are a girl's best friends, so treat your jewellery and products with TLC by having a dedicated beauty corner and a smart vanity desk.
Retain your most-used products and accessories on the desk, but make sure to store those that are hardly used in the drawers, and categorise them by product type. Also remember to get dividers and organisers for your drawers, to ease the process of finding a specific product or accessory when you need them.
To help you visualise better, here's a simple but effective strategy you can follow to help declutter the dressing table mess.
3. Walk-in Closet

Miro – Newton by Edgeline Planners Pte Ltd
Just like Carrie from Sex and the City and Mia from The Princess Diaries, a bachelorette's most important asset is her walk-in closet.
We all know how annoying it can be to squeeze all your clothes into one tiny space. Having a walk-in closet not only rids the problem, but also lets you arrange your garments, accessories and shoes in an organised and lavish fashion.
To get the perfect walk-in closet, illuminate it with bulbs that emit natural light, and of course, don't forget a full-length mirror to ensure you've chosen the right outfit. If space permits, you can even choose to throw in a plush couch or an ottoman to liven the space up.
Even those with small bedrooms can also have their walk-in closet dream come true. For such cases, Eric Toh from EC Vision Design recommends using a glass panel as a divider so the room doesn't look too cramped.
Looking for an estimate of your renovation costs?
Let HomeRenoGuru help!
Get Free Quote
4. Work-out Spot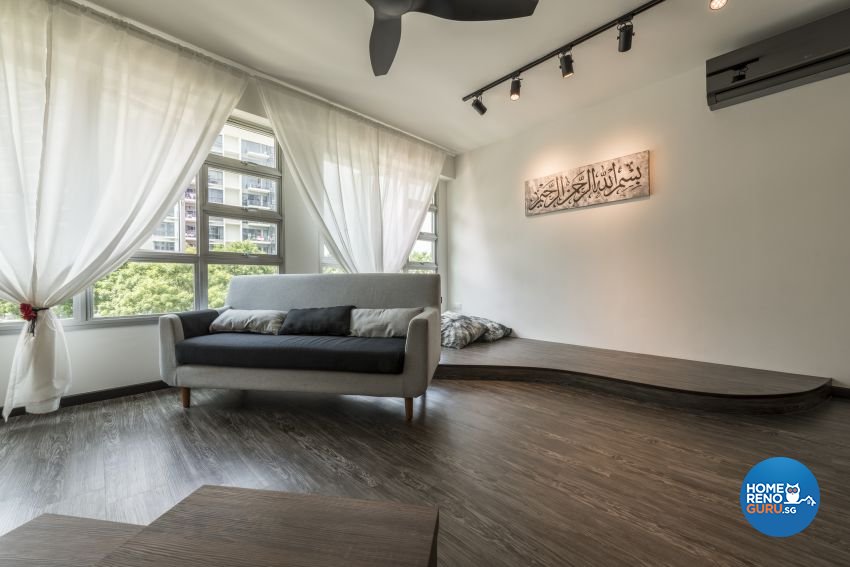 HDB Premium 5-Room BTO – Upper Serangoon Crescent by The Local.Innterior
Exercising can help de-stress, keep you in shape and even benefit your skin's complexion. Entice yourself to get those muscles moving with a work-out spot so fancy you can't say no.
Be it yoga, weights or static exercises, a small space in your pad (preferably by the window) would suffice. Get some chic boxes or containers to store your equipment when you're not using them, to open up the space and spruce up the area.
Something to note: never use this space for relaxation, such as reading a book or watching a movie. Instead, condition your mind to only use this space for work-outs.
5. Large Mirrors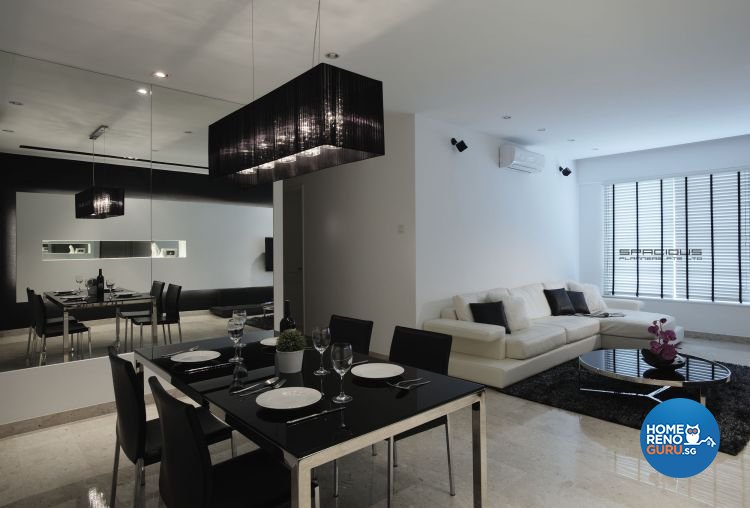 Condominium – 51 The Tropica bySpacious Planners Pte Ltd
A slide-out mirror from the closet or a wall mirror isn't going to cut it. To get the quintessential bachelorette pad, large mirrors are a necessity.
Not only do large mirrors give the illusion of a bigger space, they are perfect for taking a selfie (or a wefie on girls' night), ensuring that your outfit proportions are right, and even touching on your make-up before heading out.
Go big or go home. Why not try floor-to-ceiling mirrors? Adding them to your living room walls add a level of sophistication to your pad, and you might even be surprised by how much brighter your apartment can become!
For the best places to place large mirrors, Candy Ng from The Interior Place recommends the dining area, making it look more spacious, as that's where you usually host gatherings.
She also suggests tainted mirrors for a less garish and a more romantic atmosphere.
6. Jumbo Beds

HDB 4-Room – 676D Punggol by Hue Concept Interior Design Pte Ltd
There's no such thing as "too big". After a long day of work or partying, treat yourself to a king or queen-sized bed that befits royalty, and don't let bed-size be a restriction on how you might choose to sleep.
Furthermore, what's a girls' night without mani-pedis and cuddling on a bed? Get a bed big enough to accommodate your girlfriends!