5 Best Home Designs for the Young, Single Singaporean
Most Singaporeans stay with their parents even after they start work, and only get their own places once they've gotten hitched. However, it's become increasingly popular for Singapore's more independent-minded millennials to leave the nest early. Whether it's the need for a space to call your own, or a decision to invest earlier in real estate, studio apartments for single Singaporeans are now no longer a rare find. Forget your kaypoh aunties nagging at you about your lack of romantic partners every holiday season; embrace your singledom with these 5 Singaporean interior designs that will make you truly appreciate "me time."
Open up your en suite bathroom

Watermark by Renozone Interior Design House
The possibilities for interior design are endless when the only opinion you have to take into account is your own. For a more cohesive and convenient private space, open up an en suite bathroom and separate it tastefully from the closet with glass paneling. This might seem weird at first, but it's a way to make your room seem more inclusive and welcoming, instead of closed off and isolating. "This design was inspired as the owner wanted to have a seemingly larger space. The wall panel separating two bedrooms was demolished and the bathroom enlarged. Floor to ceiling glass panels were installed to make the room feel larger," noted Colin Phua of Renozone Interior Design House.
Create a cosy reading corner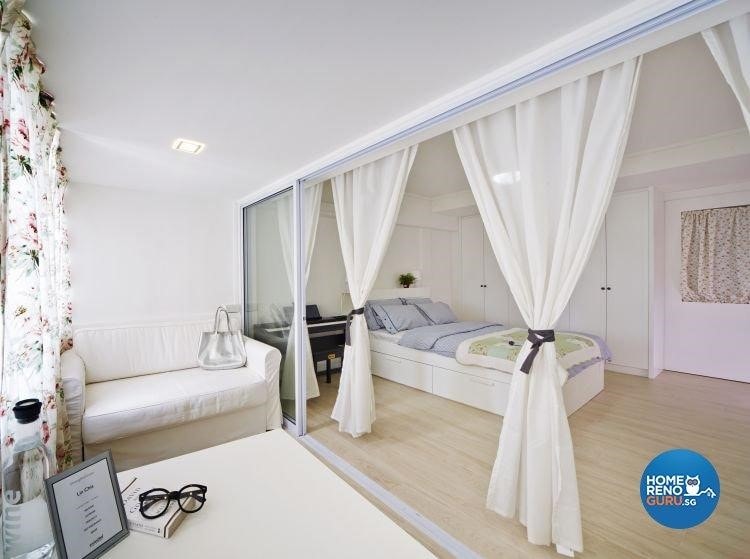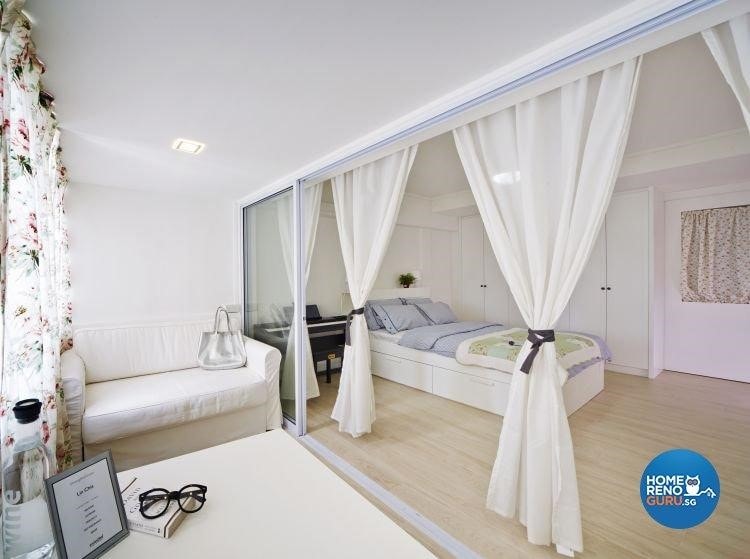 HDB Blk 106 Towner Road by New Interior Design
Yes, you have a whole apartment to yourself, but that makes it even more important to designate certain spaces for certain functions, lest you end up eating on the sofa 24/7 because you're too lazy to use the dining table, or falling asleep while trying to complete work from the comfort of your pillows. Here's a tip for your Singaporean interior design – in your bedroom, carve out a separate corner that's not for sleeping; furnish it with a comfortable sofa couch for leisure reading  and a desk for serious work (it helps if it's right by the window, so you get all that natural sunlight!). Annie from New Interior Design mentioned that they thought of including the curtains to "add some beautiful design" to a room that was already "significant in its simplicity." To enhance that idea of a designated space, install some curtains that you can easily tie back or close depending on how much you need to concentrate without your soft bed tempting you.
Try an open plan living room concept

Resale Condo – Modern Luxe – 2 Sembawang Walk by Space Define Interior
If you're living alone, chances are it's going to be in a smaller studio apartment than a large 5-room HDB flat. Open up your home to make it more airy and spacious by going for an open plan kitchen concept, so that you can prepare meals, host guests at the dining table, and have the television on all at the same time.
"I have come up with this modern posh concept because of the high ceiling and big sliding windows. By using marble flooring and some gold elements and mirrors, it makes the home more grand and spacious. The open kitchen concept adds to the spaciousness and its the best way for the homeowner to interact and have a good time while preparing food for the guests," expressed Daniel Loi of Space Define Interior.
Install some funky furniture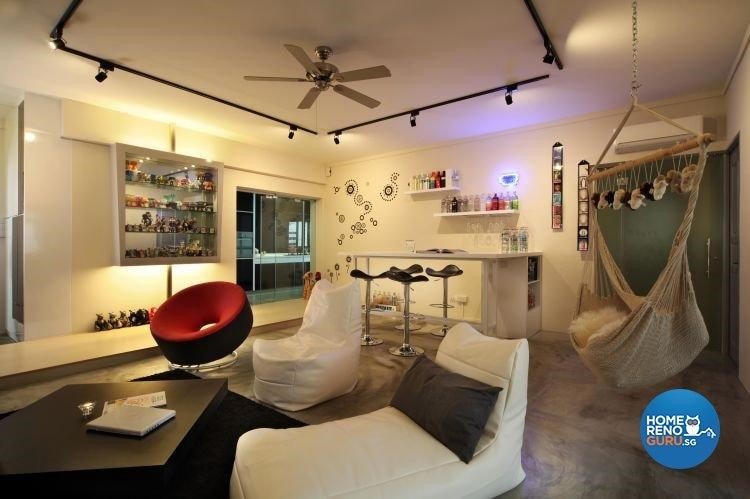 HDB – Blk 124 Rivervale Drive by Vegas Interior Design Pte Ltd
You don't have to play by your parents' rules anymore, so let your creative juices flow! Pick out more eclectic furniture like the soft beanbag chairs pictured above, or go all-out with an indoor hammock that's perfect for your lazy weekend afternoon naps. Let your personality shine through in all its quirkiness and colour, and you'll never be bored by your surroundings again.
Looking for Interior Designers?
Let HomeRenoGuru help!
Make space for your memories

HDB – 211A Punggol Fields by Icon Interior Design
It's all well and good being able to say a place is definitively yours, but it can get lonely too. What's a home without family, after all? Make some space for fond memories and loved ones by setting up photo walls and installing shelves to store family paraphernalia and childhood knick-knacks. You don't have to sacrifice style for nostalgia, either – piece your framed photographs together in a collage format to really bring the whole apartment's look together.
"The designer came up with this design because he saw the amount of natural light that the unit was getting and wanted to keep the space as light and airy but still cosy and homely at the same time. The layout of the photo frames are randomly placed so that it wouldn't look formal. The photos are also of the home owners and their travels," said Marketing Coordinator Skyii Sim of Icon Interior Design.
Skyii further added: "A home is a personal space, hence, we recommend homeowners to personalise the space by displaying photos of themselves and their loved ones, decorate with memorabilia that reflect their personalities, or display souvenirs from their travels. Basically, a home is where the heart is, and it should reflect things that have certain value, meaning or importance to the homeowners."