Plan Ahead with our Collection of 3D Designs & Floor Plans of Upcoming BTO Launches

Screenshot from HomeRenoGuru
If you have just acquired a place of your own, or are actively looking for one, you probably can't wait to begin planning for its 'look'. With HRG's latest feature (see picture above), you can now view 3D mock-ups of your prospective home. Whether you want your home interior to look like that of a cabana by the sea, or a Christian Grey-esque suite with glossy glass and marble everything, there are some practical pointers you should keep in mind:
Overall theme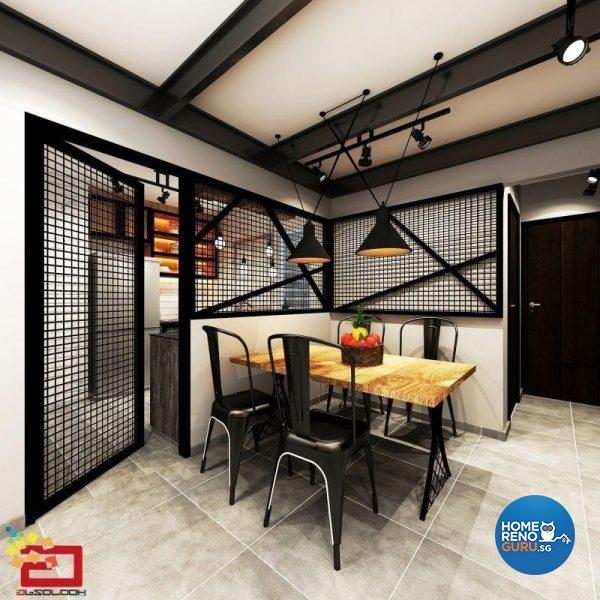 3D Design for HDB @Eastbrook Canberra by Absolook Interior Design
When thinking of an overarching theme for your future home, remember that certain elements you borrow from other styles should be compatible with the dimensions and structure of your home. Say you really like the Mid-century cum Modern style and you'd love to cover your ceiling in wood panels. While that looks charming in large spaces, it would overwhelm the typical 3 or 4 room HDB. You can still borrow elements of the Mid-century wooden look by making use of lone vertical wood beams, for example. Otherwise, industrial is an easy theme to go with. Madeline from Absolook Interior Design advised homeowners to "choose a theme that you love and most importantly, be comfortable with it as you are the one staying in it. Maintenance is also a crucial factor to consider."
Kitchen

Eastwave @ Canberra by Urban Design House
The word kitchen conjures up fantastical images of sleek glossy counters in open concept kitchens, and maybe even a row of wine glasses hanging from a vintage oak rack strewn all the way from the ceiling. Speaking of alcohol, some of us may even want to have a bar in the kitchen! Despite the huge popularity of open concept kitchens at the moment, Nicholas from Urban Design House reminds future homeowners to consider how much cooking you will be doing – "For homeowners who will be doing a lot of cooking, a closed-kitchen is more sensible to keep the rest of the house oil-free."
Bedrooms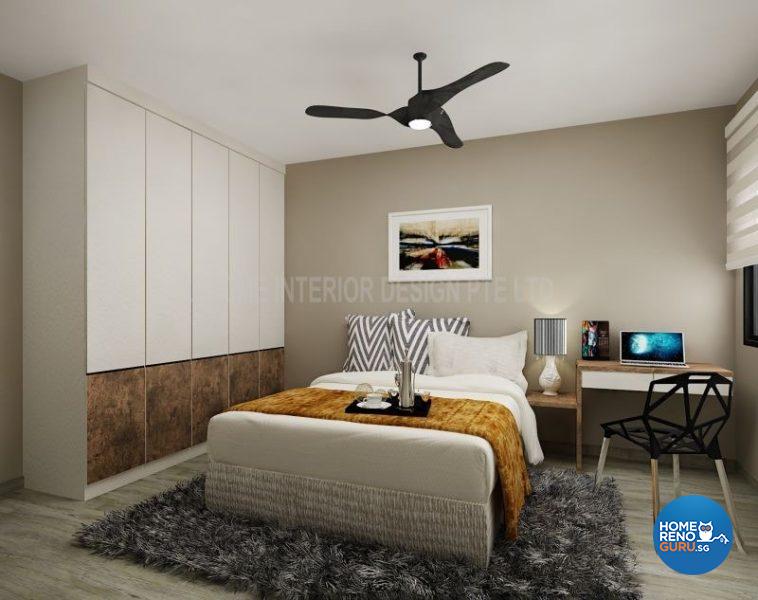 3D Design for HDB BTO @Compassvale Cape by U-Home Interior Design
Before you begin planning where to position your plush king-size bed or any other furniture, don't forget little details like the aircon location. You don't want to end up with an aircon blowing right at your face as you snooze away or one hanging above you. Another thing to consider is ventilation, especially if your place is high up and gets a lot of wind. Thus, if you prefer to make use of that instead of air-conditioning, don't forget to have an exhaust fan installed.
Herawaty from U-Home Interior Design said that this bedroom was designed for easy maintenance, with a clean cut and spacious look. The occupier wanted a touch of rustic, hence the addition of a rustic-look laminate to the wardrobe, side table, and study table. The rustic laminate also plays a part to make dust or stain untraceable.
Toilets
When it comes to toilets, there are several considerations you should keep in mind. One of them is separating the dry area from the wet area.
Rachel from ID Gallery advised homeowners to try and find lighter shades of color tiles to create a spacious look as the bathroom is a small area. The lighting effect is a crucial factor that should not be neglected. The homeowner of this bathroom wanted a warm & cozy feel to the bathroom, therefore ID Gallery proposed to combine wood feel tiles for the flooring & marble design tiles for the wall to create a cozy ambiance.
Get your ID involved pre-purchase

3D Design for Spring Haven @ Jurong by Artis Interior
Finally, if you are still looking for your BTO flat, you can consider having an interior designer on board in the choosing process. That way you can also base your purchase decision on design considerations.