Open Kitchen Concept for Restaurants: Here's What You Should Note
In the past, diners were used to making their orders, having their food prepared behind closed doors, and watching them arrive magically on their tables. Today, open kitchens are popping up around the world, and being very well received – not just for practical reasons of showcasing cleanliness and exemplary food preparation practices, but also for entertainment value. Diners are now eager to embrace new concepts; where chefs whip up creative dishes in full view; and where the cooking process becomes "all part of the show" when dining out.
At HomeRenoGuru, we understand that embarking on a journey of an open kitchen is a big step. So, with the help of interior design experts, we've put together a list of considerations to note, especially on the design front, before you embark on this new journey of gastronomical experience.
1. You'll feel the heat: Every move will be under scrutiny.
Besides the alluring concept of novelty and entertainment value, the open kitchen concept increases transparency, giving you a chance to showcase your sanitary practices and the effort your chefs take to create each mouthwatering meal; and your customers, peace of mind. However, this also makes your staff's occasional mistakes, messy kitchen, or rush hour frenzy more obvious than ever, which could adversely affect your restaurant's reputation. More importantly, your chefs may face additional pressure, which isn't fair to them, especially if they were hired just to cook, and not be "on display"!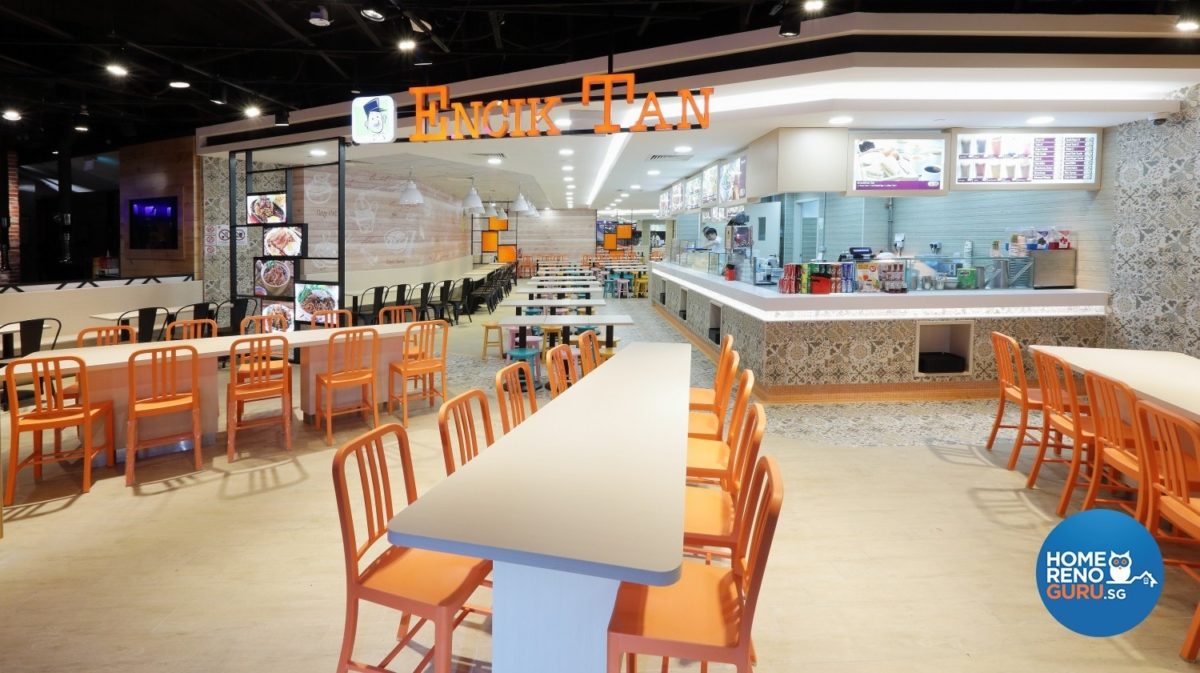 Encik Tan @ 313 by  Image Creative Design Pte Ltd
2. Discuss the idea with a professional interior designer first.
An article by designMENA discussed the possibility of open kitchens being a fad. This also means that when the novelty of such a concept wears off, your customer count might too. If that happens, and you want to convert to a more conservative restaurant concept, you'll be looking at disruptions to business operations, not to mention additional renovation costs.
Gisella Seah from Image Creative Design Pte Ltd begs to differ. Her team feels that open kitchens are here to stay, as customers are still receptive to the idea of dining and watching their food being prepared. "The open kitchens are aesthetically pleasing and the work stations are clean and hygienic which give confidence to customers. Some restaurants have even made this concept their focal point," she explains.
"However, licensing might be an issue, and if authorities do not permit such operations in future, the owners will have to modify the kitchens. Required works can can be as simple as cladding off the open area or as extensive as redoing the whole kitchen," she adds.
In both ways, it's always wise to think ahead and seek professional help to design your open kitchen. In this way, you can rely on design hacks or contingency plans to lighten your burden.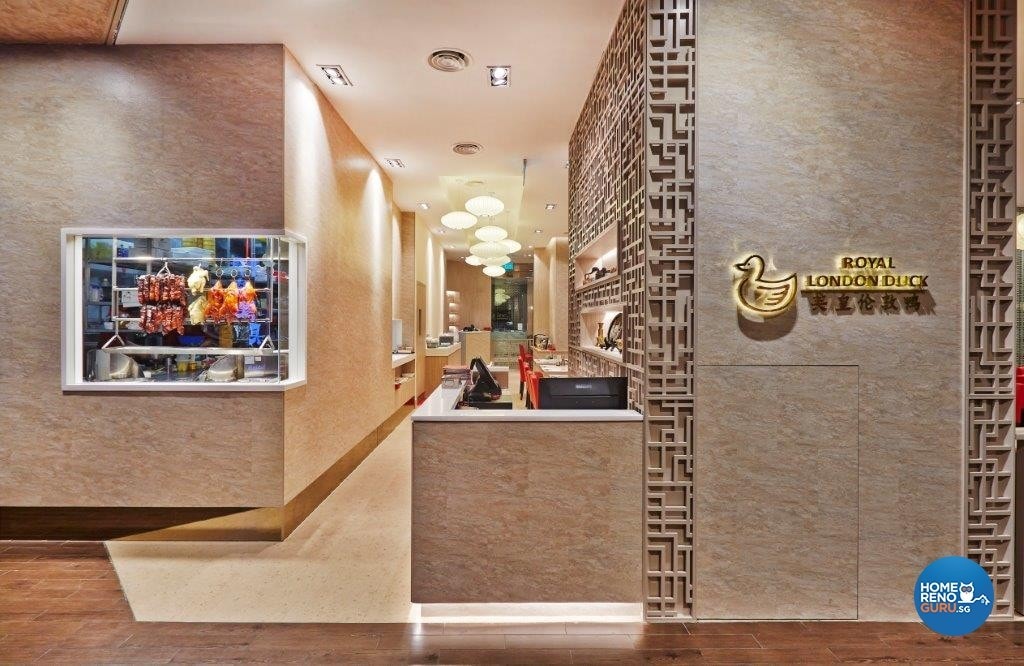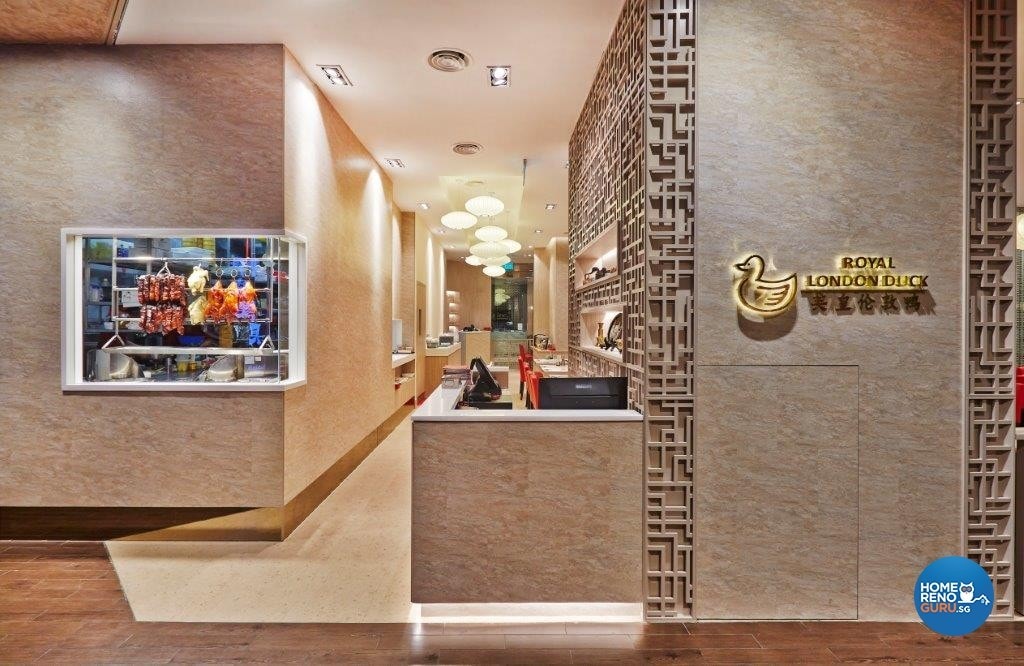 Royal London Duck @ Mandarin Gallery by Image Creative Design Pte Ltd
3. Maintenance work will increase.
There's a reason why the kitchen and eating areas are traditionally separate – and that's to give patrons a good dining experience, without witnessing behind-the-scenes mess in the kitchen. However, it can work in your favour too. Esther Lee from Carpenters.com.sg says, "You can install a half-partition wall that would amplify the space, creating a spacious look. It can also double as a bar-top table." If you're thinking of having an open kitchen, do take note that fumes, smells, oil will make their way to your dining area as well. These also means more cleaning, and maintenance work as well as measures to mitigate safety issues such as slippery floors.

Sweeten Up by Carpenters.com.sg
4. Expect new noise levels.
Clanging pots and pans. Chefs barking orders. The sizzling sounds of feasts being whipped up. All these and more, in the bustling kitchens of every busy restaurant. But what happens when your cooking area shares a space with your dining area? Such concepts may bring along higher noise levels because of the sounds of cooking, serving, interactions, and patrons raising their voices over the noise. According to a report by the Ceilings&Interior Systems Construction Association, one of the reasons behind excessive noise levels are open kitchens, which it calls a "sound generator". The report also lists other factors, such as live music, crowded spaces with diners being packed too close together, as well as "modernist decor" (which generally features hard surfaces which sound reverberates off). To offset the noise generated from an open kitchen, you may want to take care of the other factors, so that the noise won't be too overwhelming for your customers.
5. Prep yourself for a whole new level of service to render.
Open kitchens have the potential to transform the entire dining experience. For example, such set-ups are ideal for restaurants that specialise in chef-customer interaction, especially in cases of celebrity chefs. Excitement, engagement and entertainment will complement the dining experience, giving your business an edge over conventional restaurants. Do also note that your work processes may change too – for example how food is ordered and served, how bills are paid, how staff attend to customers and more, so make plans to accommodate this shift.

White Tangerine by Carpenters.com.sg
6. Don't neglect the safety aspects!
Cooking, as always, involves fire, food, knives and more. Hygiene practices might also be different, depending on your restaurant's layout, and how much of your cooking and dining areas are being shared. How then, can a good design play a role in creating a safe environment?
Jeremy Ong from Designscale Pte Ltd offers his insights.
"In the design planning for "open kitchen concepts for restaurants", there are important considerations to take note of during the initial planning stage, that is, the regulations, compliance requirements and provisions governed by the authorities namely; NEA, AVA & SCDF."
"Important considerations should be made for design to fully comply with SCDF fire safety requirements, should there be open flame cooking, provision for fire detection/ protection/containment system must be addressed. Also, careful considerations should be made for planning the area of food preparation and serving to diners. Effort should be taken to ensure hygiene in food preparation with reference to NEA guidelines, for example, anti-bacterial materials for tabletops, to prevent cross-contamination."