All Lit Up with Light Fittings!
Light fittings are more than jewellery for a room. They can change the mood of a space with a flick of a switch or the turn of a dimmer dial. And the choices are incredible. Let's get you enlightened.
Layer Upon Layer
The ongoing trend in interior design is layered lighting, a combination of two or more methods of lighting that can be switched on and off as lighting requirements vary throughout the day and night.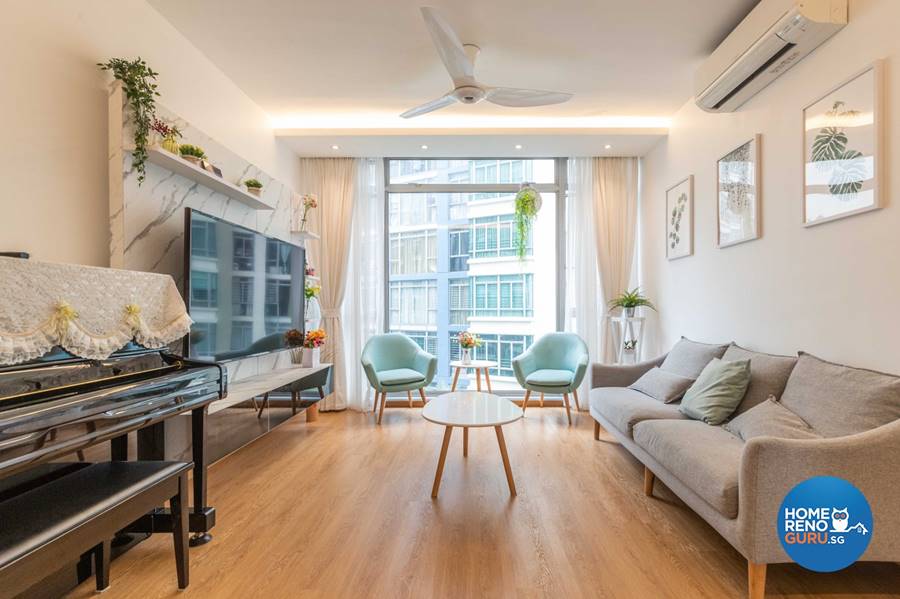 Condominium Lakeshore | Swiss Interior Design Pte Ltd
This luminous interior is flooded with natural sunlight, augmented by cove lighting and downlights.
Drop-dead Beautiful
Pendant lamp shades and hanging light fittings are often used to define a dining area in an open concept interior. Asymmetrical, industrial, clusters of subtly mismatched shades strung at staggered heights – you name it, you'll find it.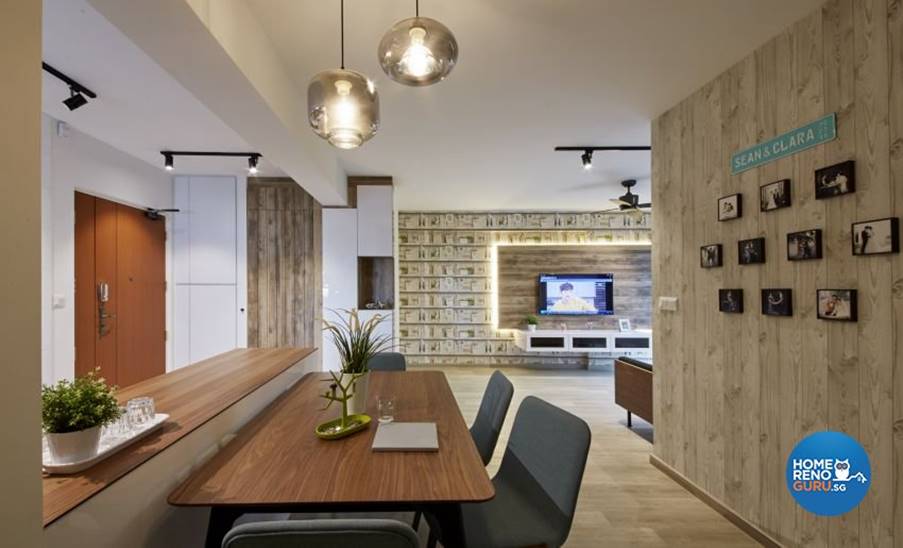 HDB 4 Room Blk 9 Joo Seng Road | I-Chapter Pte Ltd
A pair of luminous glass shades suspended over the dining area of this Scandi-inspired flat draws the eye upwards while bathing the dinner guests in a pool of light. With one resembling an upturned flagon and the other a slightly flattened sphere, they embody the trend of 'same same but different' that shows no signs of abating.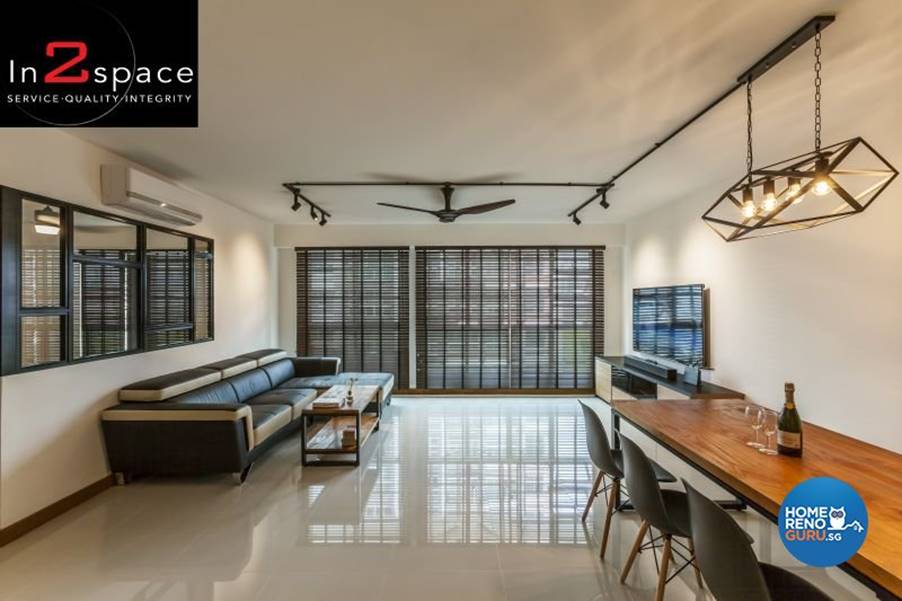 HDB 5 Room 669 Edgefield Plains | In2Space Interior Pte Ltd
This industrial chic light fitting consists of little more than a row of naked bulbs enclosed in a metal and glass cage, suspended by chains. Essentially simple, deliberately hard-edged and visually intriguing, it creates a strong focal point and counterpoint to the warmth of the wooden dining table.
Sconce Upon a Time…
Seldom-seen sconces are lighting fixtures attached to walls or vertical surfaces. Ideal for casting light on paintings and bookshelves, they can be purely functional or highly decorative.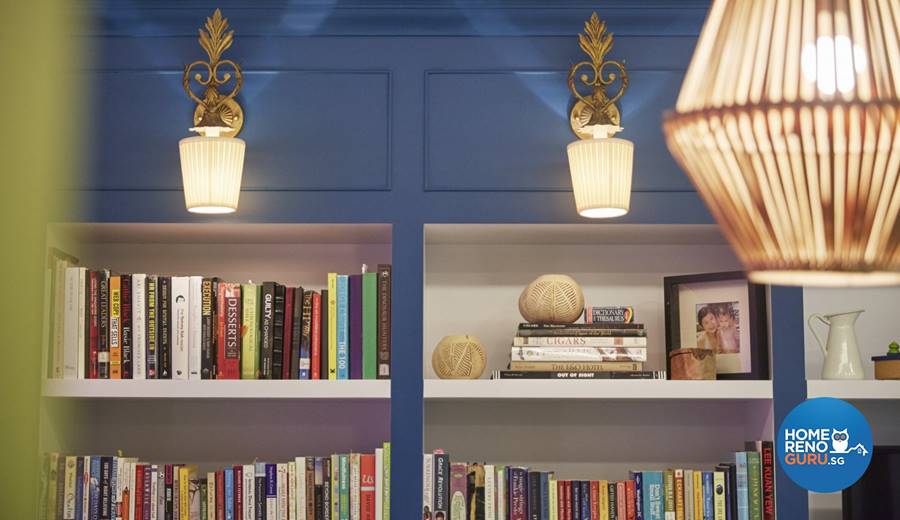 HDB 4 Room 611 Clementi West Street 1 | Ban Yew Timber & Renovation Construction
Looking for Interior Designers?
Let HomeRenoGuru help!
In this modern Victorian interior, they are both functional and decorative. While one might think the modern pendant lamp in the foreground is a mismatch, on the contrary – the pleats of the sconces foreshadow the radial lines of the larger light fitting. Slavishly sticking to one period is so last century, after all.
On Track for Style
Ever-popular and highly functional track lighting makes no attempt to disguise itself. It's great for casting a light on selected features, and flooding areas that require optimum illumination. Though it's often used in industrial chic interiors, it can work equally well with other themes.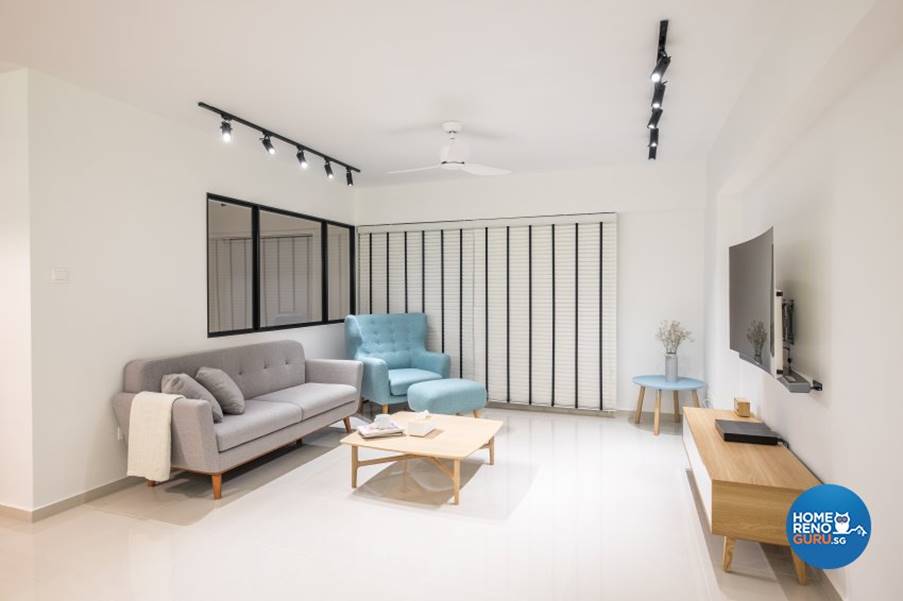 HDB 5 Room 407B Fernvale Road | Nitty Gritty Interior Pte Ltd
Case in point is this prettily muted Scandi-inspired living area in dove grey and robin egg blue. Two parallel rows of black track lighting toughen up the space and pick up the straight black lines of the window frame adjoining the study area.
Strip, Strip, Hooray!
The advent of LED strip lighting opened up infinite possibilities in lighting effects. It can basically be used to outline and illuminate any shape at any level.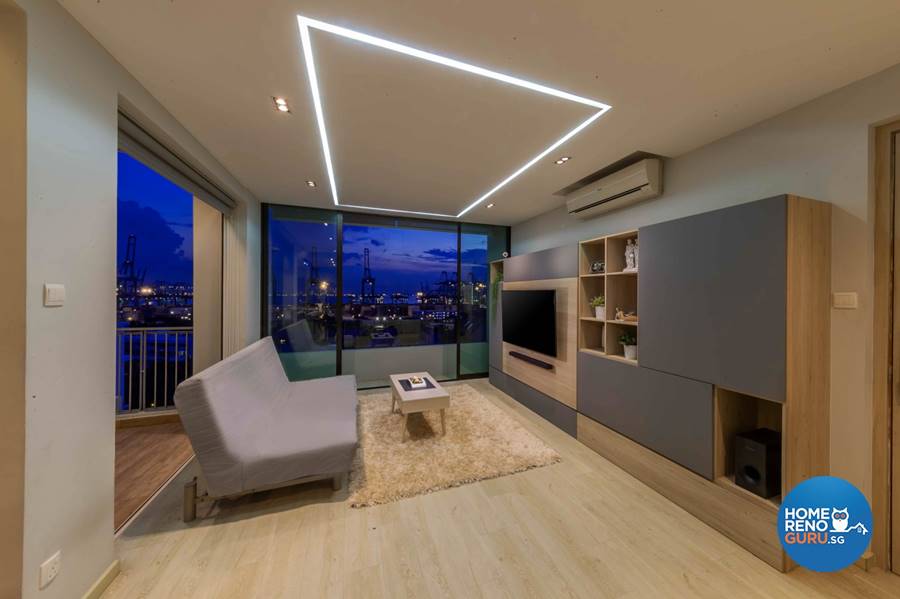 HDB 4 Room Blk 93A Telok Blangah Street | All About Designs Pte Ltd
This LED strip lighting creates a futuristic effect in this high-storey flat, drawing the eye upwards and outwards onto the stunning city skyline.
Are you all lit up with excitement over the possibilities of your home renovation? We certainly hope so. Request for a free renovation quote here, and we'll connect you with an interior designer who matches your needs and budget.
What's more, you'll stand a chance to win a Free Home Renovations worth up to a total of $30,000 when you engage your ID through HomeRenoGuru!