Home Renovation Checklist – Comprehensive Planning List from the Experts
Tick the boxes to help ensure that your renovation journey is a smooth one.
Picture Your Home
You walk into an empty shell of a BTO flat or a grungy resale apartment that's seen better days. What you see is the 'Before'. You need to picture the 'After'. Is it cramped? Knock down a wall. Is it dark? Add layered lighting and go for a light colour scheme. Is it cold? Go for rustic wood grains and warm lighting. This is where and when your vision takes shape.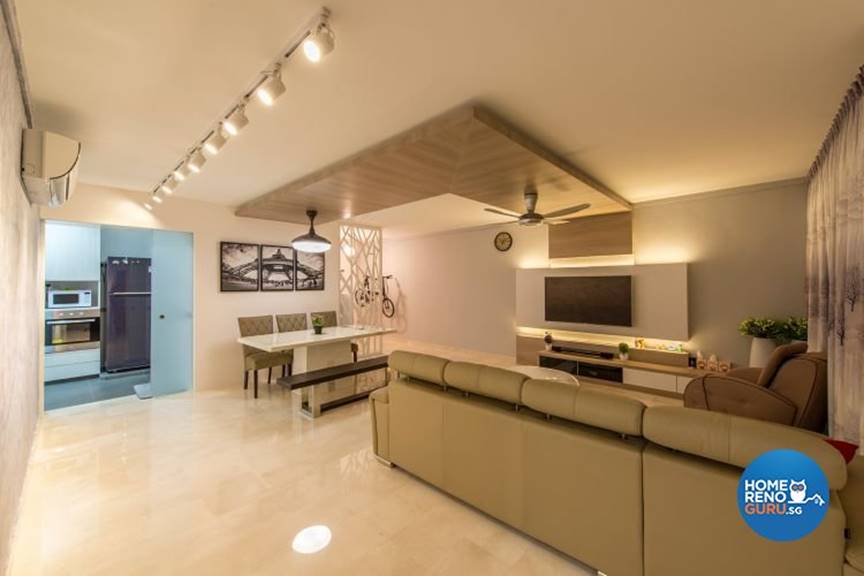 The living area of this 5-room resale HDB flat by Ace Space Design Pte Ltd is illuminated by track lighting, cove lighting, LED strip lighting and a pendant light
A cautionary note – be prepared to let go of your long-cherished dreams and adjust your vision to fit the space. One size, or space, does not fit all themes and visions.
Make a Mood Board
Research. Research. Research. If a picture paints a thousand words, lots of pictures paint an encyclopaedia of your thoughts. The more reference you have, so long as it's consistent and not contradictory, the easier the designer's job will be and the happier you'll be with the results.
Your mood board can be physical sheets torn from magazines, put together in a scrapbook. Or better still, a digital mood board. Though there are tons of tools online, Pinterest is hard to beat.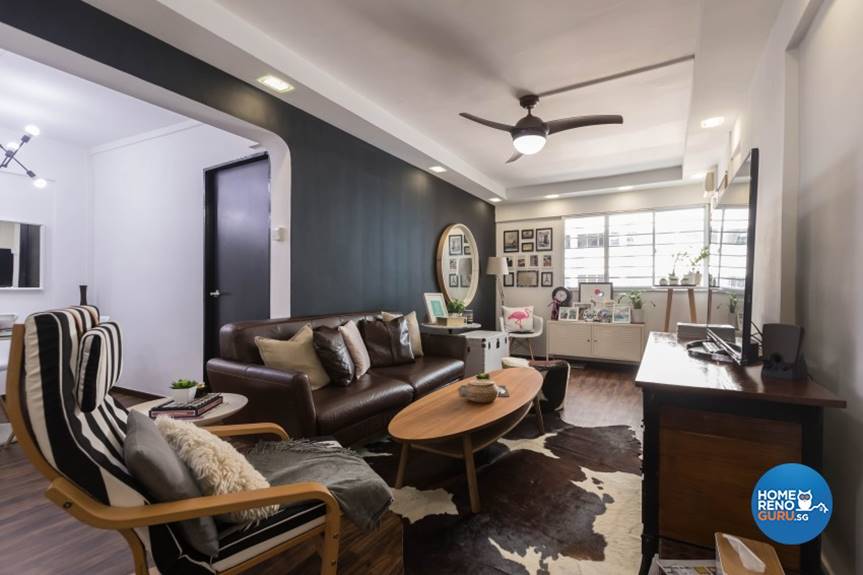 The living area of this 3-room HDB flat by Hue Concept Interior Design Pte Ltd is a 'mood board come to life'
Calculate Your Budget
Here's where it gets serious. Err on the side of caution and add in a buffer for unforeseen expenses. So, work out what you know you can afford, then minus up to 20 percent. Don't forget that a home needs to be filled with items outside of the interior design firm's job scope (unless by special arrangement) – appliances, loose items of furniture, light fittings, wall hangings and soft furnishings.
Renovation need not be expensive as well! Here are 6 design ideas on a small budget for you to get the home makeover you still want.
Shop for Your ID
This is critical. Engaging an interior designer is a little like a short, intense relationship. Though it will come to an end, hopefully you'll remain friends, possibly for life. Homework, pun intended, is essential.
Look at portfolios. You've compiled your mood board so you have a vision in mind. Look for project images that match your vision. Read customer reviews and testimonials. Listen to friends and family. Trawl the reputable online websites and apps (like the one you're reading now! Psst, get free renovation quotes from a variety of Interior Designers and save time and effort!).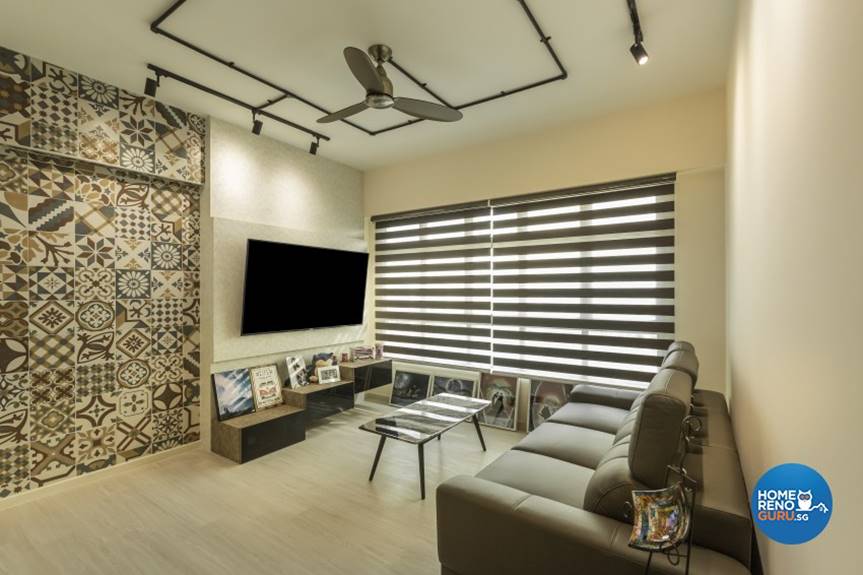 The industrial-retro-Scandinavian living area of a 4-room HDB flat from the portfolio of Jialux Interior Pte Ltd
Make a List
Next, make a shortlist of interior design firms you like. Visit their showrooms and talk to the designers, not just the sales consultants. Listen carefully. In general, those that listen and suggest ways of making your ideas work rather than pointing out the reasons why they won't are likelier to be team players who will deliver your home, not a cookie cutter home that looks like hundreds of others.
Ask for Quotes
Before you obtain quotations, narrow down your shortlist to no more than three firms. Make sure that they are legitimate companies that won't take your deposit and run. In Singapore, that means they should be at the very least CaseTrust accredited and, if your home is an HDB flat, listed under the HDB Registered Renovation Contractors' (RRC) Scheme.
You can obtain quotations directly from the interior design firms or via a reputable site or app such as HomeRenoGuru with free quotes from interior designers to suit your needs. Compare them closely to ensure that you are comparing 'apples with apples'. Seemingly small fittings and fictures such as ceiling fans and special lighting can add thousands to the total cost. Then make your decision. It should never be based on cost alone.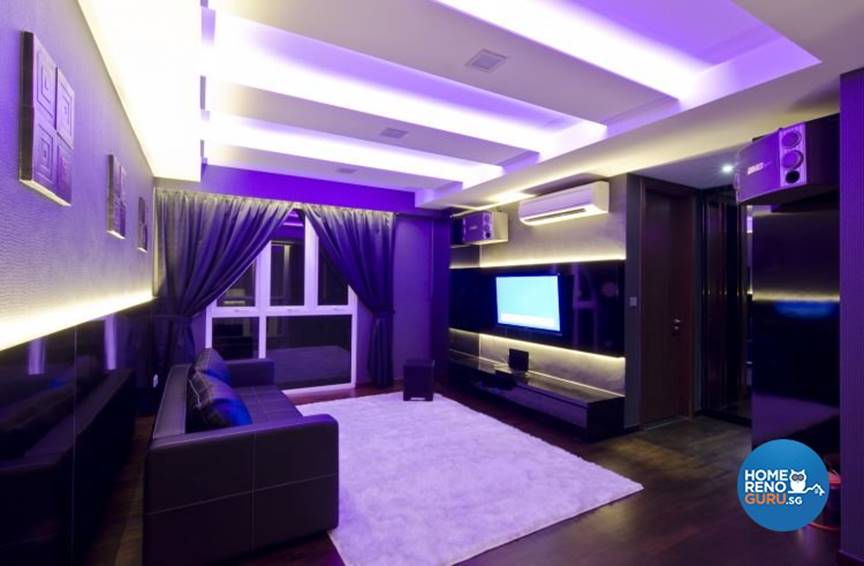 The living area of a 5-room HDB flat by Summit Design Studio is fitted with colour-changing LED lights
Set a Move-in Date
Before you sign a contract, reach an agreement with your appointed interior designer with regard to a handover date. Make sure it is based on a reasonable timeline, with key project milestones locked in. An average home renovation takes at least eight weeks. Resale flats that require extensive hacking and rewiring will take longer.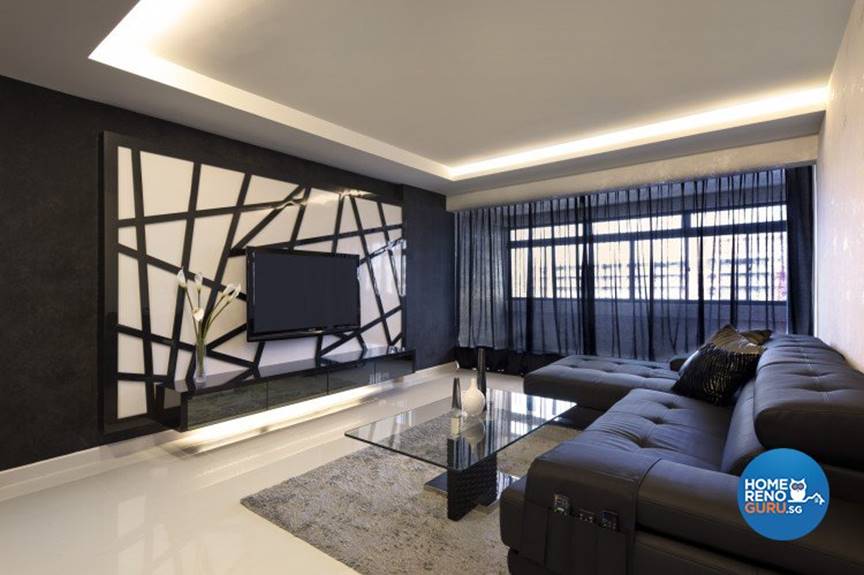 The living area of a 5-room HDB flat by Space Vision Design Pte Ltd is dominated by an eye-catching feature wall
Formulate a Plan B
In case of unforeseen delays, make sure you have a contingency plan. Can you prolong your stay with your in-laws? Could you extend your lease on your current rental property. Work out an action plan for a worst case scenario.
Tackle the Red Tape
Most interior design firms will take charge of applying for all the relevant permits. However, bear in mind that it is the homeowner's responsibility to obtain written permission from HDB for all hacking and demolition works. You must also strictly comply with the permitted time stipulated by HDB in order to avoid inconveniencing your neighbours. Failure to do so may result in legal action.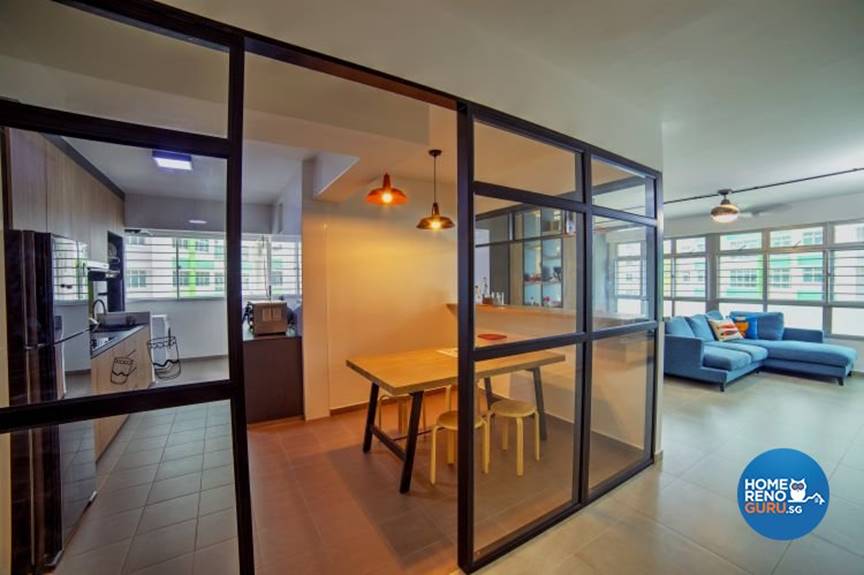 This open concept kitchen cum dining area in a 5-room BTO HDB flat by Dezign Culture required a wall to be hacked and replaced with glass panels
Assess Your Lifestyle
When it comes to the nitty gritty details, carefully assess your lifestyle. A common trap for the unwary is to underestimate the number of power sockets required by the occupants of a house.
Stay in Touch
Finally, your home renovation journey is about to begin. The only thing that remains to do is to establish a means of staying in touch every step of the way. Most modern homeowners form a WhatsApp group with their interior designer.
Best of luck with your home renovation. Why not request for a free renovation quote here? We'll connect you with an interior designer who fits your needs.
And it gets better. Request a quote and you'll stand a chance to win a Mercedes-Benz CLA 180 Coupe & Free Home Renovations worth $30,000!