Furniture Shopping on Taobao
With the new year drawing near, perhaps you're thinking of sprucing up your home with something new. New year, new beginnings, new furniture.
If you haven't already heard of Taobao, here's a brief introduction: It's the largest e-retailer in China. Think Amazon, eBay and G-market (now Qoo10) all on a single platform. And yes, they sell everything and anything, including furniture such as beds, sofas and even an entire dining set. And they usually go at a fraction of the price of what's found in Singapore.
Why Taobao?
Apart from the overload of information, the language barrier hits us the moment we land on the homepage. A simple suggestion is to use the web browser, Chrome, and translate the page to English. But fret not – we have detailed the step-by-step for you to properly navigate Taobao here.
If you're a first timer, you may find yourself hesitant at the thought of buying furniture online, much less, on a foreign site like Taobao. Worries about product quality and suitability will abound. But you will be relieved to know that Taobao has a system that addresses this.
Many of you may be familiar with local online furniture stores such as Castlery, FurnitureSG and even Lazada to sell a wide range of furniture and home accessories.
However, with the majority of the Chinese furniture industry selling their products on Taobao and Tmall (sister site of Taobao that sell products of listed companies), it is possible that Taobao may have more furniture than the three local furniture stores combined. For most of the items, Taobao sells them at much lower prices, even with shipping charges included (this, however, depends on the brand and the weight of the product).
For example, suppose you stumble across a lovely sofa that cost S$899 on Castlery, only to realise that it is the last piece available.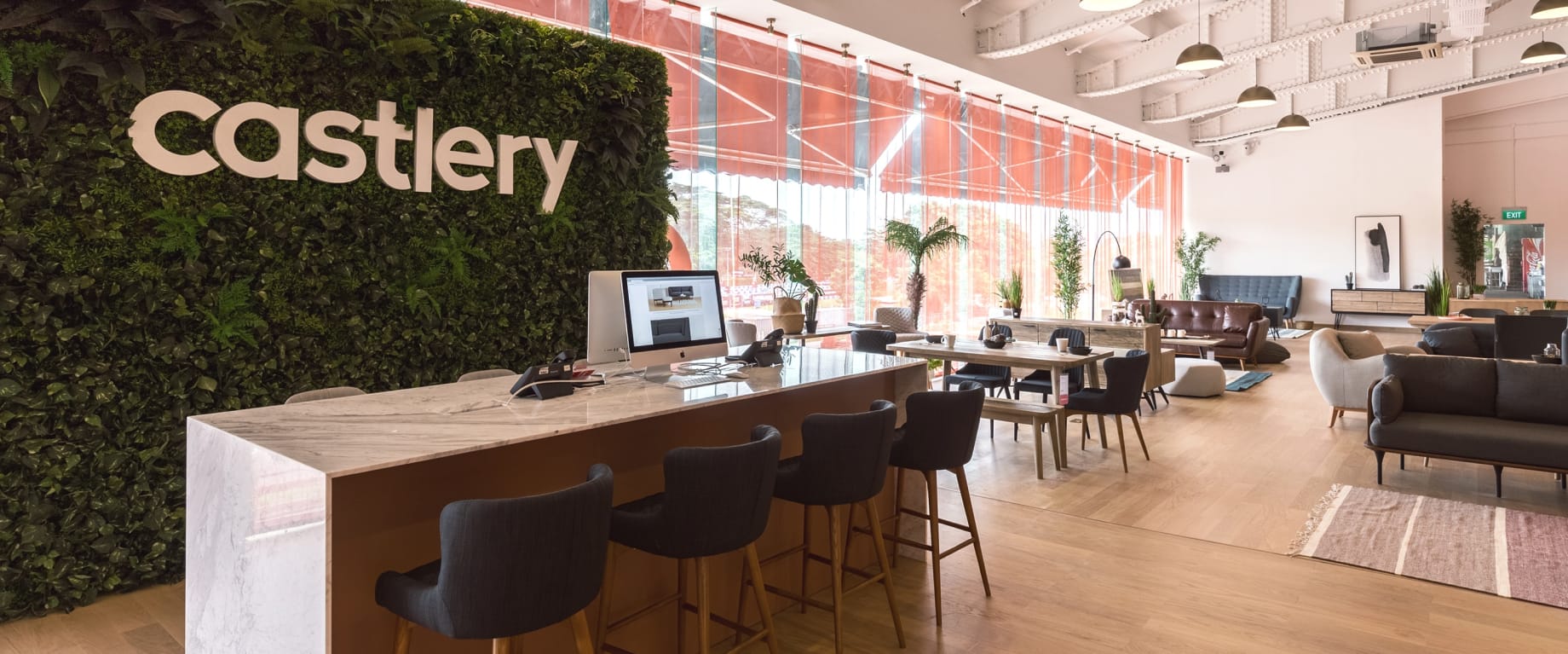 If you absolutely adore this loveseat, we don't blame you for carting it out immediately.
However, if you had known about the existence of Taobao, you may have shaved off almost S$500 for an identical sofa, inclusive of shipping (read on to find out shipping charges).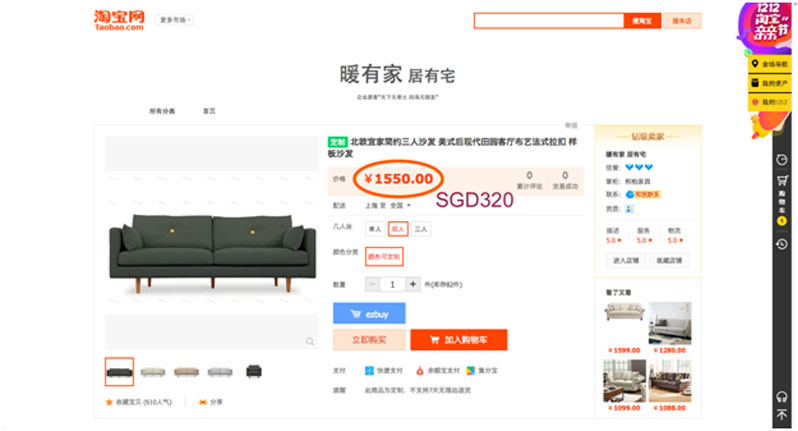 S$ 1 = RMB 4.86
Exchange Rate as of December 8, 2016
Are you convinced yet? Here's how to start furniture shopping on Taobao!
Shopping Directly on Taobao
If you haven't used Taobao before, here's a step-by-step guide for you on how to create an account. Tips such on how to look out for credible retailers and quality products can be found in the shopping guide as well.
Using Ezbuy
As an alternative to shopping directly on Taobao, Ezbuy, a fast growing overseas online shopping platform based in Singapore, has become widely popular.
Instead of creating an account and handling purchases and shipment on your own, Ezbuy serves as a middleman to help you make the purchases and liaise with the stores and retailers on Taobao for you.
All you have to do is to create an account on Ezbuy (it's in English and very simple) and use the Buy-for-Me function. Simply paste the URL of the item you want from Taobao into the search bar at the column on the right of the homepage and Ezbuy does the rest for you!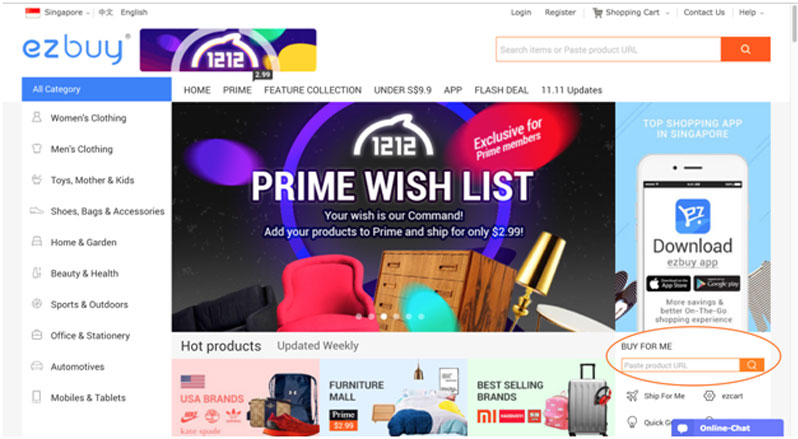 Ezbuy allows you to track your orders too and allows you to choose when and how to deliver your parcels to Singapore (choose between sea or plane). They charge by weight and include a small agent fee which is sometimes waived.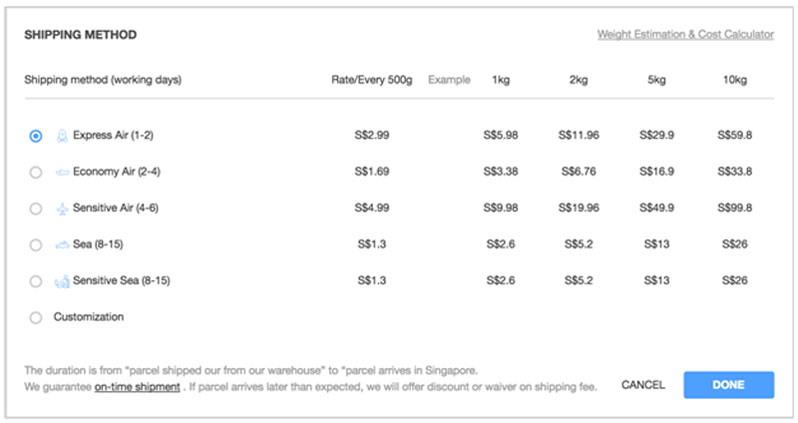 You can also find the estimated weight of the item that you are thinking of purchasing, or input the weight manually if you know exactly how much it weighs. Do note that the actual weight of the products may differ and the final cost may vary from what is stated in the guide.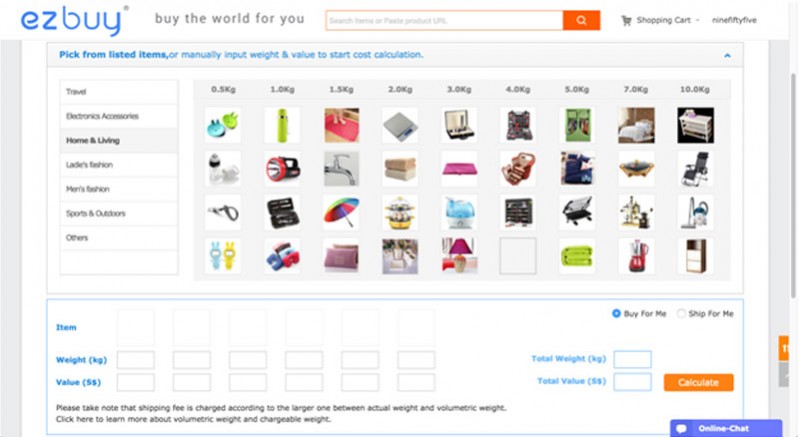 You can also buy furniture or home decor items directly on their platform as they offer a pool of items sourced from China and even products from the US!

Looking for an estimate of your renovation costs?
Let HomeRenoGuru help!
Ask For Quote
Furniture Shopping
Finally, we come to the shopping! With an entire range of furniture and household items on Taobao, you will be spoilt choice. Products are neatly categorized on the homepage. You will find broad categories such as Furniture, Decorations and Textiles, of which many subcategories are listed under that.
If you can't find what you're looking for, just do a search.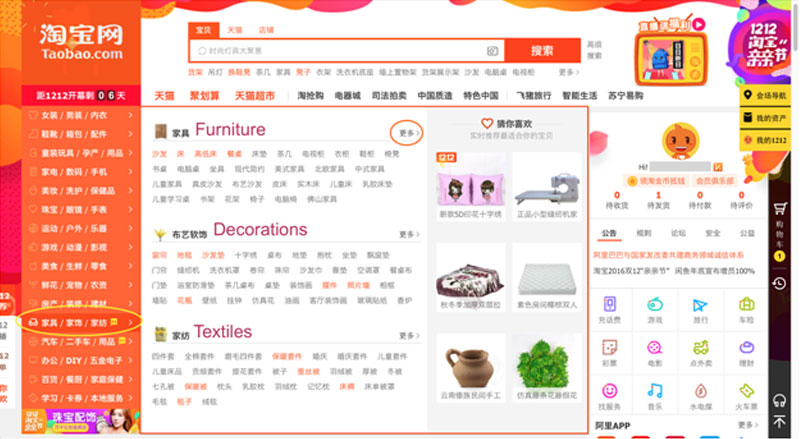 Searching in English is possible but will lead to fewer results. Try using Google Translate to translate items that you are searching for, before copying the Chinese characters over to the search bar.
Another alternative would be to save an image of the product that you are looking for and upload it into the search bar by clicking on the "camera" icon.
Taobao will do an image search for you, finding similar products and items that look just like the piece of furniture that you just uploaded!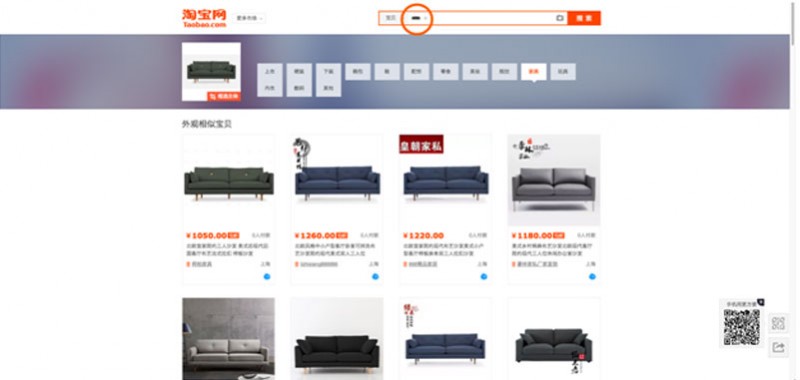 This will shorten your time browsing through the never-ending pages on Taobao before you find your dream sofa!
Also, the image uploaded doesn't necessarily have to be one that you found online. If you're thinking of replacing your table lamp with something similar, just snap a photo of it with your phone and let Taobao do the work!
Getting the Best Deals
Now that you've learnt some cool tricks on how to navigate Taobao, be sure not to miss out on the best deals, which often occurs on 11th November (11.11) and 12th December (12.12) each year.
For example, items on sale will be labelled with the "12.12" icon as seen below.
Here's a tip: add these items to your cart before D-day. Don't worry if the prices aren't reduced yet – they will be when you refresh your shopping cart anytime during the 24 hours.
If you're not in a rush, keep a lookout on items that you can "抢" or grab the best deals! Click on "淘抢购" on the homepage to view items that are up for grabs at attractive prices.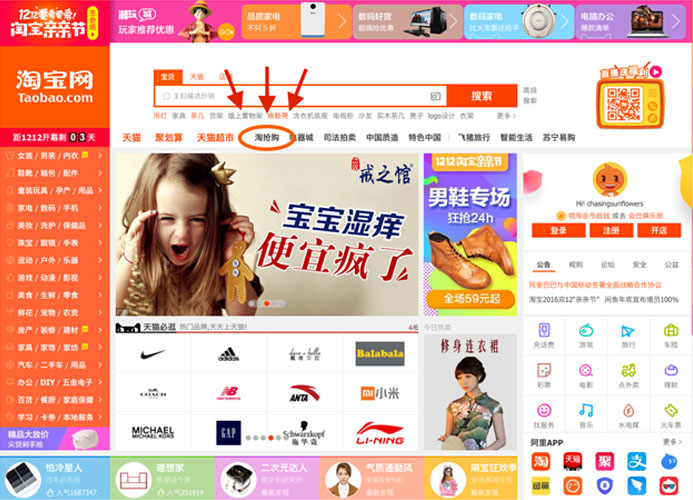 Often, discounts of more than 50% can be found here as well. Check the progress bar of how many people have bought the item and the quantity that's left for sale before grabbing away!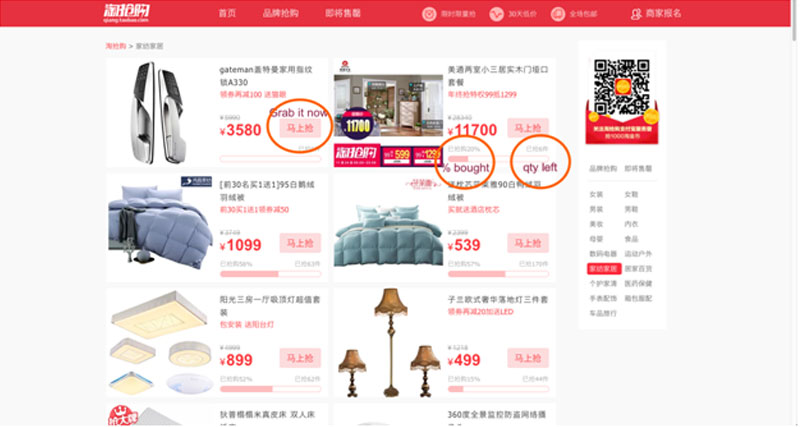 It's time to start shopping!