Child's Play In Your Home Office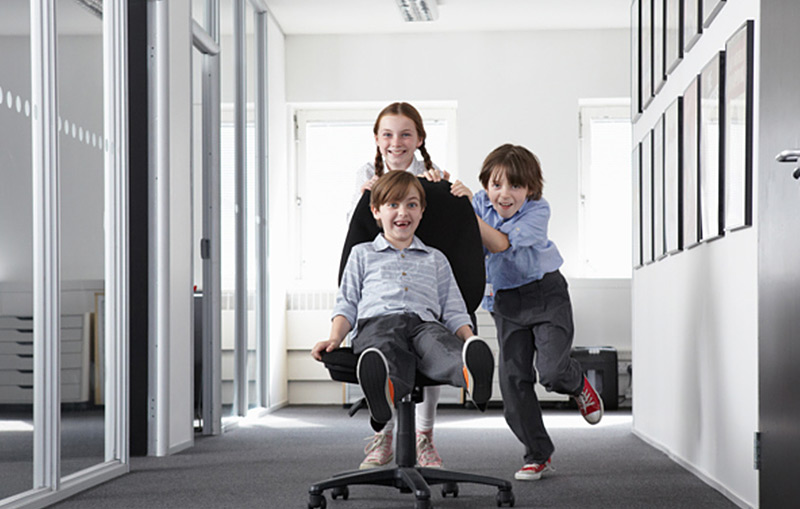 The whole point of working at home and setting up your Home Office is to be able to spend time with your children, and to be a part of their growing up years.
But the last thing you want is to have the children underfoot, blocking your attempts to be productive and to do anything meaningful.
So you have to set up your SOHO very carefully, taking into account your children's ages, and instituting the rules as you go along, while insisting that your children pay heed.
CREATE A CLEAR AND DEFINITE OFFICE SPACE
Just because you're working at home doesn't mean that you are any less serious about work. So set aside and demarcate a clear working area where you can function efficiently, as in any office cubicle.  All necessary equipment should be within reach and neatly arranged.  Make sure your children understand that this area is 'sacrosanct' and enforce the rules of respecting your work area.
HAVE YOUR CHILD PLAY IN THE SAME AREA
The best way to keep your child out of your SOHO space is to give them their own space where they can feel as though they are 'working', emulating you.  For a young child, this space could simply be a corner near you, with their toys stashed there.  Encourage them to play quietly while you work.
Children are usually happy just to be around you, to feel your presence as they play.  Having their toys handy also means they're less likely to commandeer your items for playthings.
CREATE A MOCK OFFICE FOR YOUR CHILD
If your child is a little older, you could put up an old and cheap computer in your office space so they can also tinker around, emulating what you are doing.  That way, you not only keep them occupied, but also turn the work area into a learning room, where your child can explore the computer and cyber space alongside you as you work.
PLAN YOUR SCHEDULE
It is impossible to keep children absolutely quiet, even behind closed doors or in another room, so do anything that requires total silence during the times your children are out of the house or napping.
SHOULD YOU HAVE AN OPEN OR CLOSED DOOR POLICY?
Doors do not keep children out of the way, for if thwarted, they can simply 'bawl the door down'. Some people have found that keeping an open door policy and encouraging the child to come into the office reduces the mystique of the home office and children eventually stay away on their own accord.
So with these tips, you're on your way to enjoying the best of both worlds – working at home.
——–
Cover photo courtesy of Emma Tunbridge