What Can We Learn From Hotel Designs For Our Own Homes?
For those of us who are seasoned travellers, the choices are between renting private houses or booking a hotel. And with hotels upping their game to focus on bringing a unique, niche experience for their guests, travellers are spoilt for choice. Some hotels make you feel like you're in an ethereal jungle with their restaurant decks opening up to nature or the swimming pools. Others make you want to throw away the itinerary and stay in the luxurious bathtubs and expensive, fragrant soaps and shampoos. Not to mention, the contemporary pop-up and boutique hotels that are extremely popular amongst the cultural-seeking travellers, as they are usually curators of local art and music, and host events to appeal to the trendy crowd. Now, how about bringing all these wonderful experiences home?
If you've ever had that thought cross your mind, these five ideas below can help you to plan your personal wellness retreat-without setting foot outside of the home — giving you the ultimate hotel-inspired home.
Adding nature to your apartment
Ah, the feel of the breeze on your face, and the lush greenery that greets you when you walk into the… living room! How about the relaxing sound of running water?
If you're looking to bask in the sounds of running water and impress any guests you entertain, consider installing a water element, such as a water fountain to your living room. Add a little rustic appeal by selecting furniture made with natural elements. Think wood tables, chairs, and even wall shelving units. If you have a balcony, these can all be included, alongside with carpet grass, a cosy swing set, to enhance the resort ambience.
And finally, add plants in through a feature wall, or use potted plants to emphasise the green element. For example, this clever use of potted plants on a shelving unit done by Carpenters Design achieves a zen-like atmosphere in the house. Colours are also kept earthy (think brown, or white) to lend a rustic air to the place. This can be done anywhere throughout the house, such as the living room or even the bedrooms.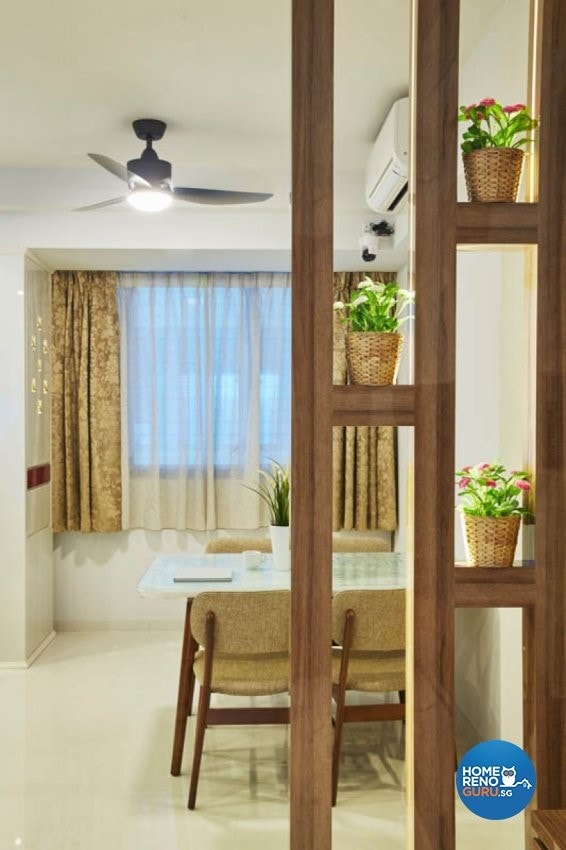 BLK 5 QBAY RESIDENCES by Carpenters
According to Esther Lee from Carpenters Design on hotel-inspired homes: "The idea is to reconnect with Nature, so earthy colours will help a person slowly recover their energy lost throughout the day."

Think focus.
Many boutique hotel lobbies have one piece of outstanding contemporary art or keep their use of colours to just three primary colours. This draws the eye to only one crucial piece of work that symbolises their hotel identity. In the same way, homeowners can also place a single piece of art in their living room that their guests can focus on. This also declutters the senses as one is drawn to look only at a single feature. A large, unique mirror feature wall in bold colours is a great way to start! Ivan from Ideal Design Interior shares, " A mirror is the best way to make the room look bigger and brighter."
Forestville by Ideal Design Interior
A bathroom fit for royalty.
When we think of a hotel, it is without a doubt that many of us will think of spacious bathrooms with huge tubs, fluffy towels, and white marble sinks. Guess what? These experiences can also be recreated at home. Using marble tiles for the bathroom not only makes your bathroom appear luxurious; these tiles are also easy to clean. Hotels are relaxing because they are free of clutter. You can create this tidy look by installing shelving units to hide your lotions and replacing mismatched containers with matching containers. Of course, you can treat yourself to lovely, luxurious soap ala hotel bathrooms, and put it on your counter if you so wish. Little details such a stand-alone hand mirror, a sleek looking tap, large shower heads also matter. This minimalist bathroom by Weiken.com illustrates how to do so: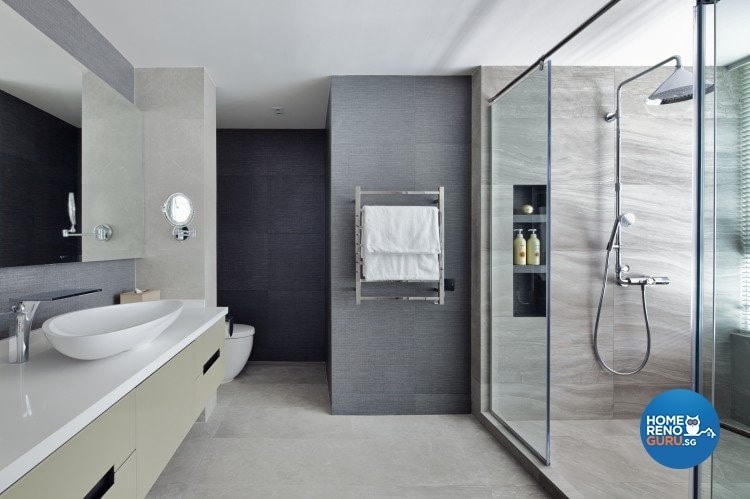 Goldhill Avenue condominum by Weiken.com
Emedlind from Weiken.com Interior Design Company shares that homeowners can definitely work with any space constraint to recreate a hotel resort look easily.
More peaceful naps.
Ah, the bathroom. Whether it's a bachelor's pad, or a newly married couple, or a large extended family, the bedroom is the most important place in the hotel-inspired house. To have a bedroom looking just like a comfortable hotel room, it is essential to have dim lighting, soothing colours, and if you want, nature such as potted plants. If you like a particular place you've visited, including a backdrop of the area is a great way to remind yourself of the beautiful memories there.
HDB 5 Room by Ideal Design Interior
HomeRenoGuru
So there you have it! Four ways to turn your house into your own personal wellness retreat. Achieve the look of zen now effortlessly, and breathe into your space for optimal well-being. Make your wishes known to an interior designer that can help transform your home into a 5-star suite today!
Want to get your hotel-inspired home? Leave it to the experts! Simply request for a free renovation quote here, and we will match you up with interior designers based on your needs.
What's more? Stand a chance to win a Mercedes-Benz CLA 180 Coupe & Free Home Renovations worth $30,000!