5 Hip Designer Hotels In Singapore To Get Your Home Decor Inspiration From
Singapore may have its massive Marriott and Ritz Carlton, but it's also home to a number of boutique hotels that appeal to guests looking for something out of the ordinary. These hipster, designer locales often break conventions, straying away from the cookie-cutter neutral and minimalist aesthetic. Looking to add a creative punch to your decor? Check out this list of the trendiest accommodations and simple ways that you can emulate them at home.
Hotel Re!
If you're nostalgic for the vibrant style of the 1960s-1970s, then Hotel Re!'s edgy retro theme is definitely up your alley. The 140-room boutique is unmistakable for its shiny furnishings, bold colours, and psychedelic elements. Each room tends to be defined by a single striking colour, ranging from a vibrant fuchsia to a potent orange.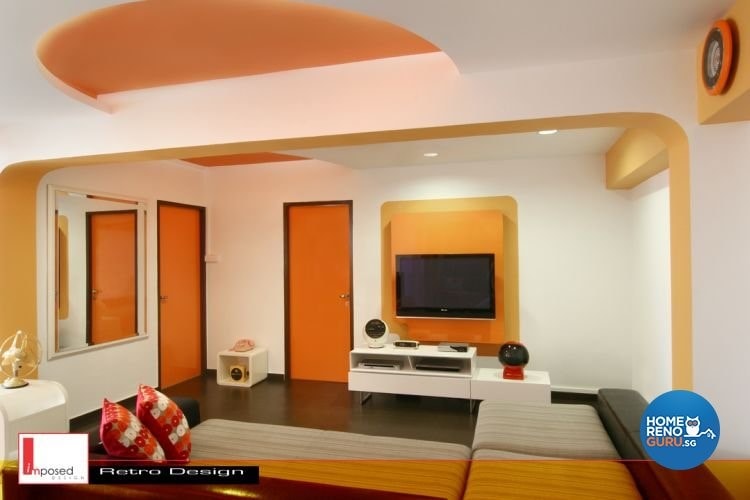 Retro HDB by Imposed Design
To achieve a similar look for your home, you can reference this simple HDB design by Imposed Design. Just like the premier rooms showcased at Hotel Re!, pops of orange add life to the otherwise plain interior. Consider choosing a single basic colour as the hallmark of your home, creating an eye-popping consistency that will take your guests on a pleasant journey back in time.
Lloyd's Inn
Hip designs don't necessarily mean over-the-top. Certain boutiques, like Lloyd's Inn, use bareness to stand out from the crowd. Situated near Orchard Road, Lloyd's Inn doesn't blend in with the bustling, high-rise shopping malls. The small boutique takes an open-air and reductive approach instead, with bare white walls and exposure to the surrounding greenery. The rooms are clean and take minimalism to a whole new level, leaving just simple necessities and sleek, wooden furniture.

HDB-Blk 106 Towner Road by New Interior Design
Likewise, this bedroom design features the same kind of simplicity and emphasis on nature – just with a bit more colour. According to Annie from New Interior Design, "clean lines, simple and comfortable materials, and simple colours allow the light and sun to create a beautiful space and thus open up the home." Replicating this trimmed-down aesthetic is simple: invest in a lot of white, natural wood, and windows to maximise the influx of natural light. Long, flowy curtains and drapes are an added bonus for creating that relaxed, airy vibe.
Hotel Vagabond
When discussing the topic of hip designer hotels, it's impossible to miss out Hotel Vagabond and its Parisian-inspired interior decor. Within walking distance from Little India and Kampong Glam, the hotel features an interesting blend of modern and classical influences. Gorgeous red and gold tints are consistent across every room, creating a lush and royal ambience for guests.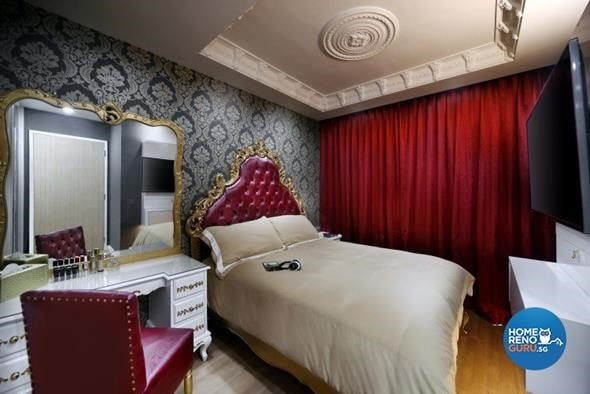 Lakeside Drive Lakefront by Vegas Interior Design Pte Ltd
Although it has a more a Victorian slant, this bedroom design captures the same regal essence with its dark reds and golden linings. Vegas Interior Design says, "The two homeowners both wanted a Victorian design, but one preferred darker and bolder colours while the other preferred brighter tones. The design is a compromise between those two preferences." True enough, the beauty of this space lies in the elegant contrast between the darker and lighter tones. To achieve a similar look, embolden your home with rich red upholstery and balance it out with a touch of gold or silver.
Hotel Clover The Arts
If elaborate visual art is up your alley, then Hotel Clover The Arts can be your muse. This boutique is located in Clarke Quay, just a short walk away from the Asian Civilisations Museum (another artistic hub you should check out, by the way). Each room is decorated with a a themed wall painting, covering images that range from elegant cherry blossoms to iconic hotspots like Chinatown.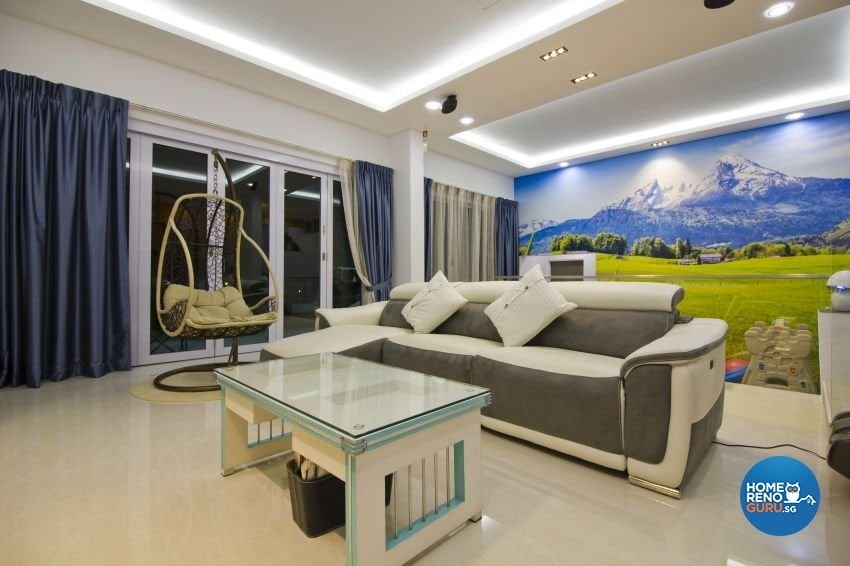 Hacienda Groove by Met Interior
Looking for Interior Designers?
Let HomeRenoGuru help!
Although it features a mirror wall instead of an actual painting, this living room design follows a similar concept. Melvin from Met Interior explains, "we put up the mirror wall to spice up the space and to balance out the relatively high ceiling." The colourful image of greenery and the mountains definitely catches the eye, whisking you away to another world. Don't be afraid to add character to your home with some artistic flair!
Wanderlust Hotel
As a hipster favourite in Little India, Wanderlust Hotel features an eclectic mix of colour palettes, themes, and images that, as its name suggests, make you feel like you're exploring someplace new. With each level designed by a different agency, there are no identical rooms and various themes ranging from "industrial glam" to "whimsical."

Modern Chic HDB 3 Room by The Interior Place Pte Ltd
The Pantone rooms are notable for their bright, monochromatic neon colours that inspire a glowy, underground aesthetic. While it may be impractical to transform your entire home to align with this theme, you can definitely incorporate eye-catching neon fixtures here and there, like these futuristic pink ceiling lights designed by The Interior Place.

Modern Chic HDB 3 Room by The Interior Place Pte Ltd
Wanderlust Hotel even has outer space-themed rooms, complete with rocket sculptures. In the same home design by The Interior Place, the master bedroom is similarly given a galactic touch, with ceiling lights patterned after the moon and the stars. Ultimately, hip designer hotels are all about creativity, so don't hesitate to let your imagination run wild.