Anything But Basic Basin Designs
Remember when a basin was simply a recessed porcelain square with a plughole? Those days are gone. Nowadays, the basin is the centrepiece of the bathroom.
Today, bathroom basins come in a multitude of shapes, materials and sizes. Sculptural countertop basins that sit on a vanity or wash-stand are the most popular choice among new homeowners, followed by pedestal basins and wall-mounted designs. Inset basins, recessed into a countertop, have drifted out of favour, but have their distinct advantages when space is tight.
As for materials – porcelain, ceramic, enamel over cast iron, resin, stone, copper, glass, composite materials mixed with granite, quartz, soapstone… The littlest room in the house now presents a big range of choices. (Psst, get our renovation 101 guide on tiles here!)
Inner Beauty
Plain on the outside, beautiful on the inside – some basins are disarmingly simple when viewed from afar and elaborately detailed when viewed up close.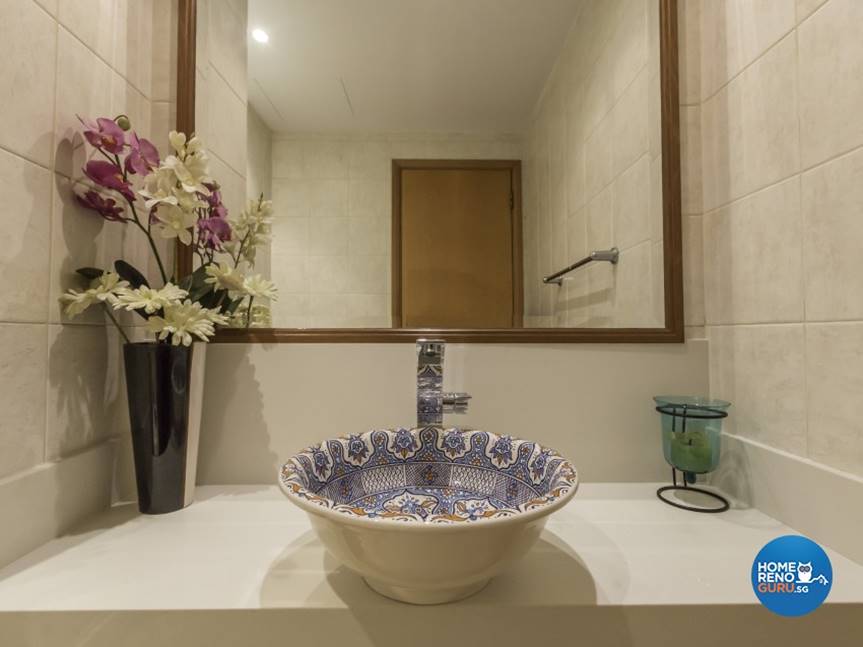 Patterned porcelain basin in the bathroom of a condo by MJS Interior Pte Ltd
This patterned porcelain basin is clearly the star of this otherwise simple bathroom. The nostalgic inside pattern within provides a little visual treat every time you wash your hands.
White is a Blank Canvas
Pristine white is the perfect colour with which to play with form. Circular, irregular, square… the purity of white showcases the beauty of form. A cautionary note: it also shows every little speck of dirt, which on a brighter note ensures that you diligently clean your basin.
Asymmetrical countertop basin in the bathroom of a landed house by ID Avenue Pte Ltd
Strip lighting under the mirrored cabinet shines the spotlight on the simple elegance of this asymmetrical oval white basin. A black counter adds the drama of high contrast.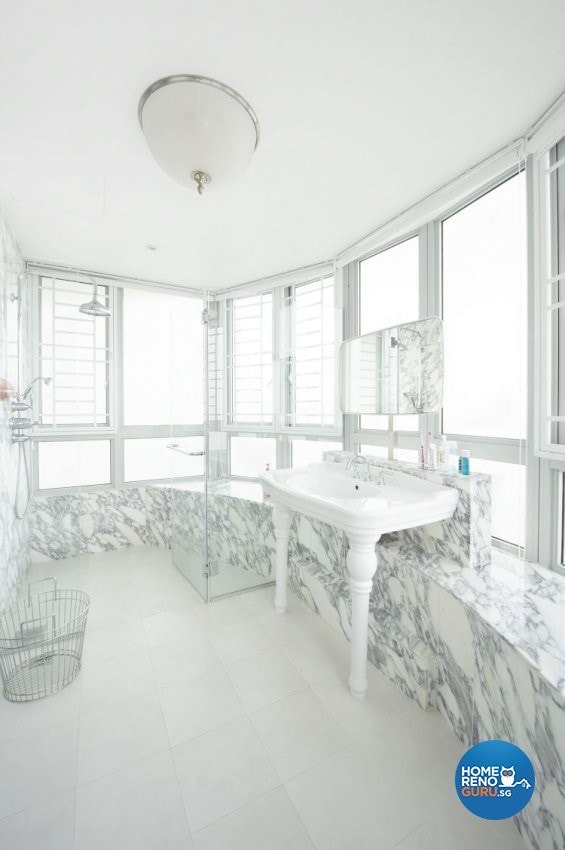 Wall-mounted basin in the bathroom of a condominium by Renozone Interior Design House
This white wall-mounted basin with ornate turned legs is a little bit Victorian yet distinctly modern. Fully exploiting the luxury of space, it resists the usual solution of utilising the space beneath for storage.
Fancy Flourishes
Who said a basin has to be a single, solid colour? These days, basins come covered in fancy patterns and are adorned with accent borders and details.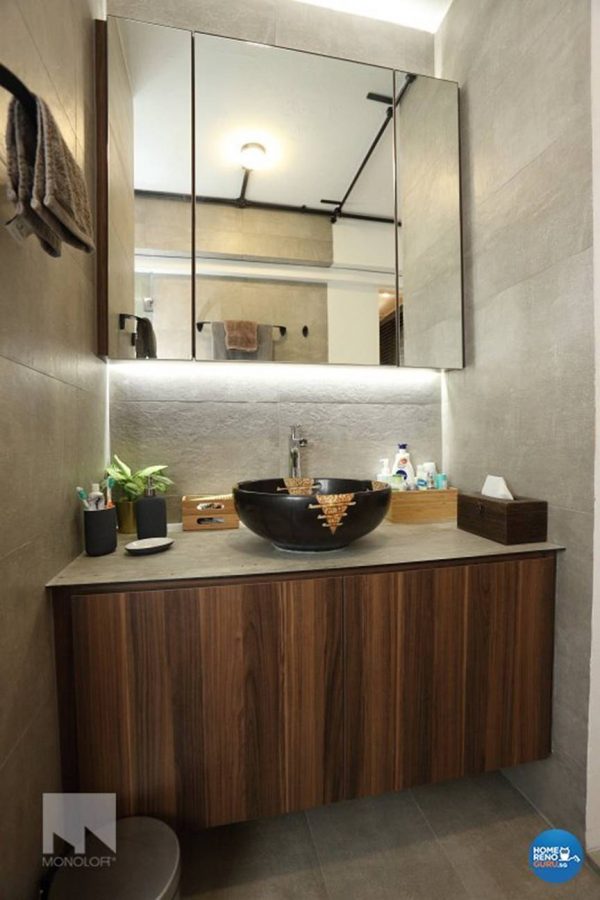 Fancy basin in the bathroom of a 3-room HDB flat by Monoloft
This eye-catching basin is a scene-stealer in a simple, compact space. A little bit tribal, a whole lot of exotic, it marries the woodgrain of the cabinet with the monotones of the wall and floor tiles.
Stone Age
Composite materials containing minerals such as quartz and granite infuse a space with a rustic or resort vibe. They can be moulded into any shape, and their surfaces can be variegated to emulate natural rock formations.
Double stone-look basins in the bathroom of a landed property by Edgeline Planners Pte Ltd
Who needs a weekend getaway in Bali when you wake up to a bathroom like this every day of your life in urban Singapore? Double basins are the ultimate for well-groomed couples who like to bond over brushing and bathing.
Looking Glass
Glass – frosted, transparent, textured. It's the closest substance to water in a solid form, other than ice. No wonder it feels perfectly at home in a bathroom. If you're a fan, make sure your glass basin has been tempered to withstand cracking and heat.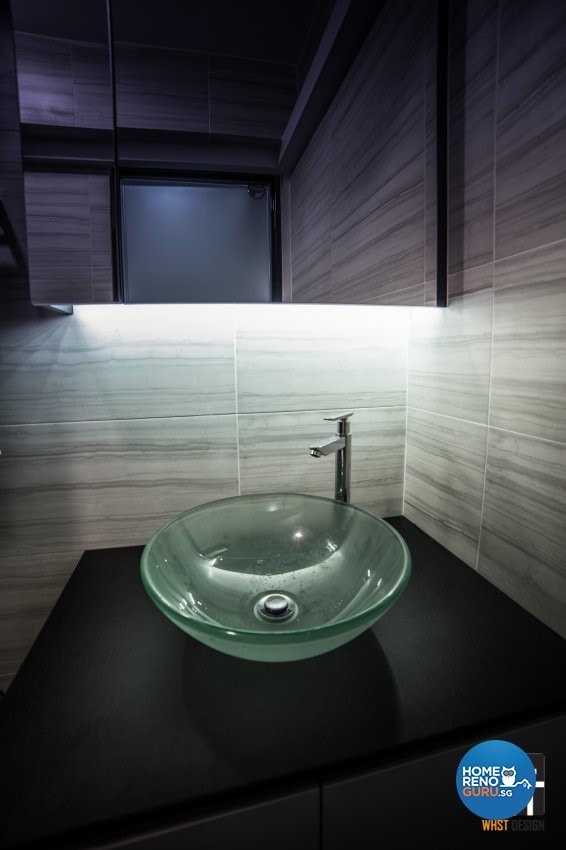 Glass basin in the bathroom of a 5-room HDB flat by WHST Design
This bowl-shaped pedestal basin in green-tinted glass is a statement in modern minimalism. It sits beautifully atop a matte black vanity, dramatically lit by LED lights under the wall-mounted mirrored cabinet.
It's often said that house-hunters head straight to the bathroom to gauge the calibre of workmanship in a house. With an eye on your home's resale value, think long and hard about your home renovation and pay special attention to your bathroom. Request for a free renovation quote here, and we'll connect you with an interior designer who fits your needs.
What's more, you'll stand a chance to win a Mercedes-Benz CLA 180 Coupe & Free Home Renovations worth $30,000!