6 Ways To Make Your Home Look Like A Charles Dickens Novel From the Victorian Era
A Victorian design theme in your home can make it look like it came out of the era of romance and grandeur, when Queen Victoria ruled over England for the longest reign the British Empire had ever seen. Here are 6 simple ways to bring out the Victorian charm when designing your home:
Don't Keep It Dark and Gloomy Like A Gothic Novel

Landed House – Jalan Pari Dedap by Weda StudioInc
Just because your theme is inspired by the Victorian Era doesn't mean it needs to look like a Victorian Gothic novel. If you want some privacy (as we all do), lace curtains are a great choice because they still keep your rooms bright. You could pair them with a darker set of curtains for a more regal look.
Use Chandeliers (Electric Ones Will Do)
We can't light candles on the chandelier like how Lumière does in Beauty and the Beast, but that doesn't mean we can't add a chandelier to our house. Chandeliers were used for special occasions at dinners during the Victorian era, and kept as a showpiece to bring out the elegance in a room in the day.
So if you'll like something a little more ordinary for the other rooms, you could try putting ornate lamps with tassels or flowery imagery to bring out the best in the era.
Take note that if you do get a chandelier, you'll need to know how to clean it. Shann Ong of Dezign Culture says, "Regular dusting should be ideally performed every week besides the regular scheduled maintenance. If you are to dismantle the fixtures and the crystals for thorough cleaning, make sure that the electrical circuit is off for safety as well. Depending on which type of chandelier you bought, you must also be familiar on how to dismantle and assemble the parts."
Details Matter — From Doorknobs to Vintage Knick Knacks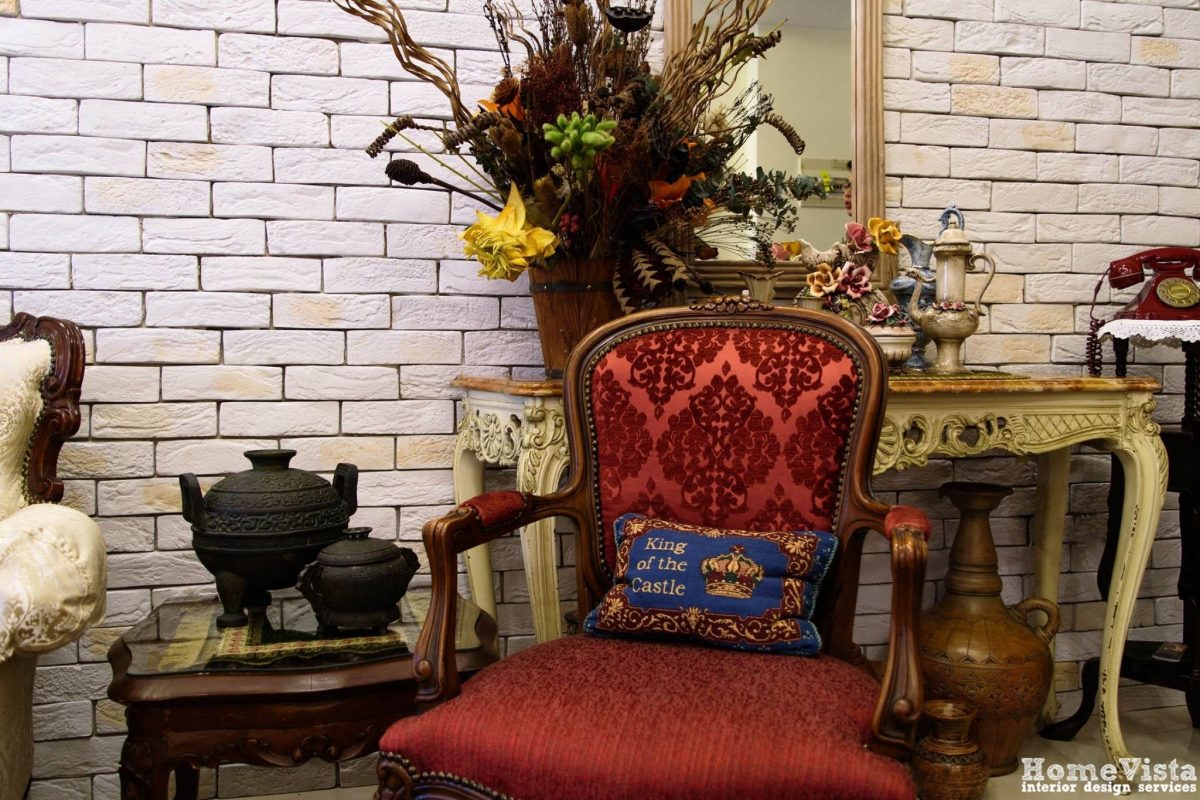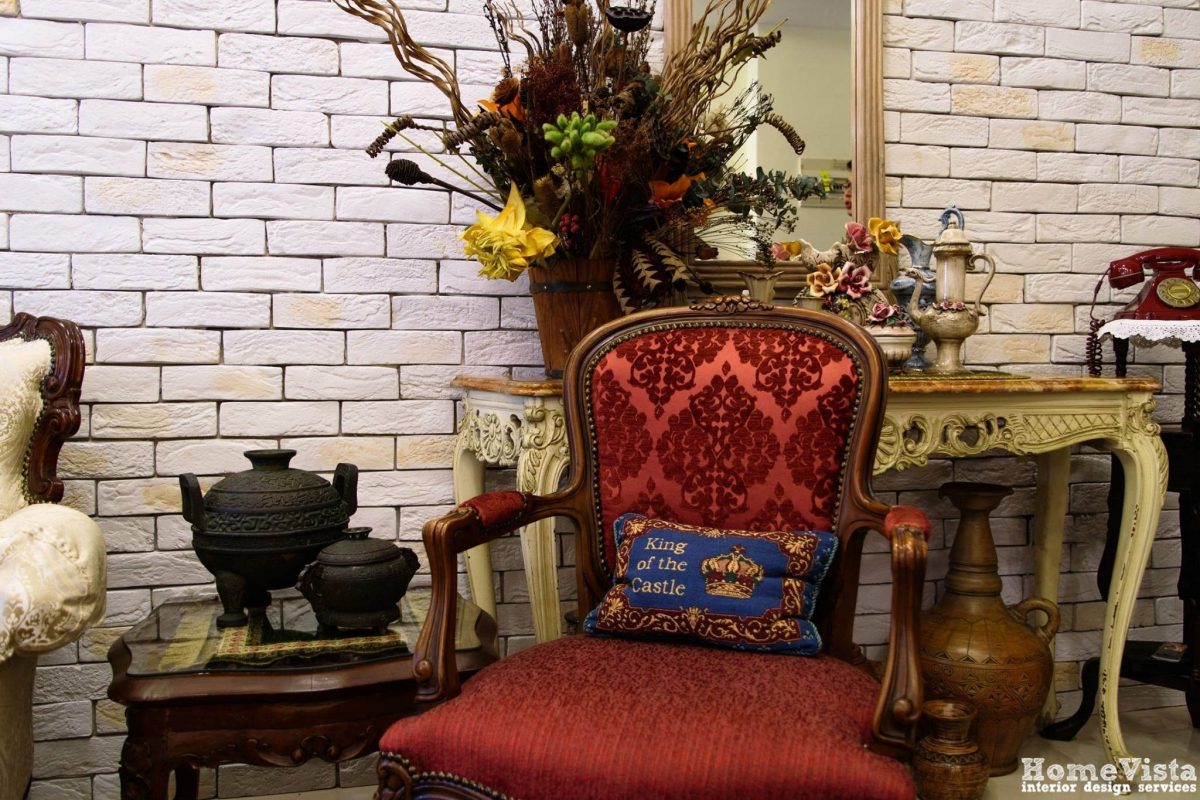 202B Sengkang East Road by Homevista Pte Ltd
Time to break out your vintage collection (if you have one). Details like your doorknobs with solid brass handles and dark wooden cabinets can also bring out the Victorian theme. You could even use a vanity tray for a collection of perfume bottles, or put up a decorative mirror.
Colour Palettes: Warm Colours and Neutral Colours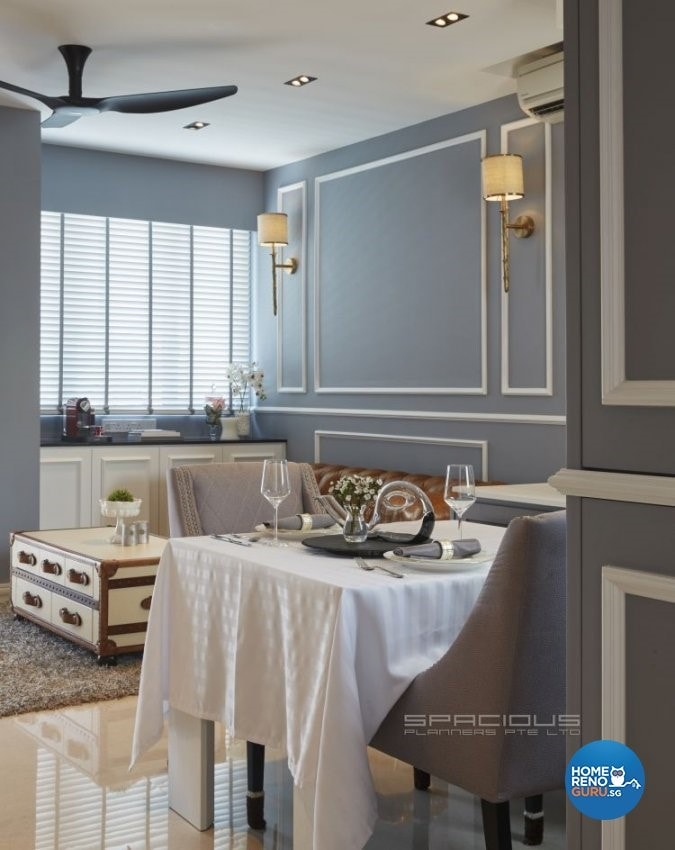 Condominium – 103 Treescape by Spacious Planners Pte Ltd
Keep to a colour theme, not too colourful or loud or it'll look too retro. Warm colours like pinks, lavenders and yellows and neutral colours like brown and grey are often overlooked in favour of darker colours, but the most popular colour back in the Victorian era was actually cream.
You could even put wallpapers on the wall with a Victorian design, since that was the era that wallpapers became fashionable.
But as Spacious Planners Pte Ltd's Johnson Ng puts it, "Classic Victorian style has a tendency to be too dark (brown, red, blue, green) so to keep it fresh and modern go with lighter and paler colours. Neutrals like cream and grey are great example of how you can do Victorian faithfully without your home looking dated or too themed."
Don't forget your wallpaper and wood trimings

Bungalow @ Kew Crescent by  Space Vision Design
From your modern leather sofa, to a majestic high ceiling with a brightly lighted chandelier,  wallpapers and wood trimmings cannot be overlooked in a Victorian themed home. The use of a Victorian patterned wallpaper along with wood trimmings on the walls and door is often the finishing touch to set the mood in place.
Winnie from Space Vision Design adds that "adding wood trimmings on the cornices helps to enhance the Victorian French design."
Add A Patterned Rug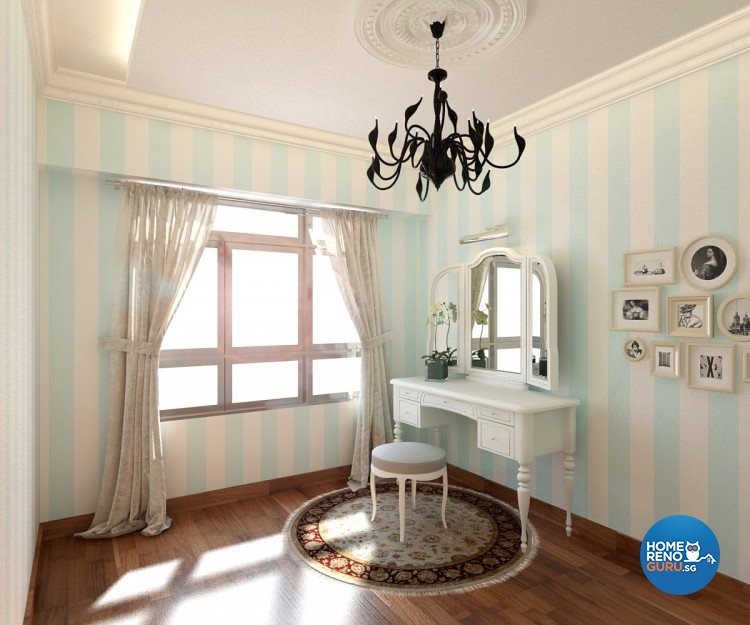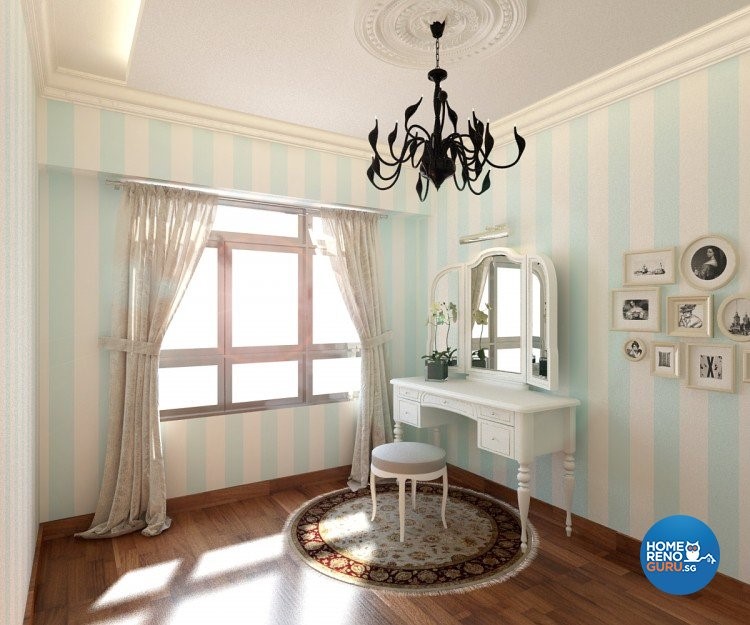 Segar Road by All About Designs Pte Ltd
One way to bring out add a little more patterns in the room is through a patterned rug. Victorians enjoyed complex patterns in their furniture, but if you'll like to keep those simple, you could instead use a patterned rug. Try mixing and matching patterns such as flora, fauna, geometric shapes, stripes, and damasks.
The Victorian theme may seem grand and expensive, but with a little bit of ingenuity, it isn't hard to achieve. Check with our interior designers on how you'll like your home to look and they'll do their best to turn your dreams into reality.