6 Ways to Channel Your Inner Gordon Ramsay
Whipping up a tantalising feast can be difficult in the wrong space. Even smaller kitchens don't have to be cramped and decked out in steel ware. The right kitchen perfectly balances your storage, prep, and cooking needs with your desired aesthetics.  
For the serious foodie whose regular home kitchen just isn't enough – here are 6 ways you can channel your inner Gordon Ramsay.
Consider your entire home
The first step in designing a functional kitchen is to consider your entire home. Take a look at the existing features around your home and decide what you need your kitchen to bring to the table.
For example, those who love hosting family and friends may want their kitchens to be suited for entertaining as well – these kitchens require a larger island or table space to facilitate socialising.
"Open kitchens help to merge the kitchen space with the living space," says Richard Yea from Design 4 Space. "To further enlarge your kitchen, use glass partitions to separate the kitchen from the rest of your home."
Knowing what type of kitchen you require will help you to decide on a suitable kitchen layout. Consult a designer that can help you achieve the required look to match the theme of your home.
Optimise efficiency
The best commercial kitchens utilise a layout known as the "kitchen triangle". This means that the fridge, prep area and cooking area are laid out strategically to minimise unnecessary movement.
Incorporate the "kitchen triangle" concept to maximise efficiency in your kitchen design. A user-friendly kitchen places the fridge, prep area and cooking area between 1.2 meters and 2.7 meters apart. As the fridge is the most common point of access for the kitchen, place the fridge near the doorway for optimum efficiency.

HDB 4 Room by Ideal Design Interior
Good kitchen designs also incorporate sufficient lighting and ventilation. Make use of as much natural light as possible and maximise the natural airflow. For optimum functionality, choose white lights over warm lights for task lighting. Ambience lights can be utilised around the cooking area to create a cosier feel. An exhaust hood above the stove should also be installed to remove smoke, odours and grease produced during cooking.
Keep things organised
To keep your kitchen free of clutter, make sure that you have sufficient storage space.
Kelvin Xu from Eighty-Seven Studio suggests that Singaporeans often prefer an urban kitchen concept. The urban kitchen concept prioritises internal storage for smaller kitchens to help homeowners stay organised.
"The urban kitchen concept is great because it suits any type of home design," he says. "This concept doesn't distract from the overall theme of the house."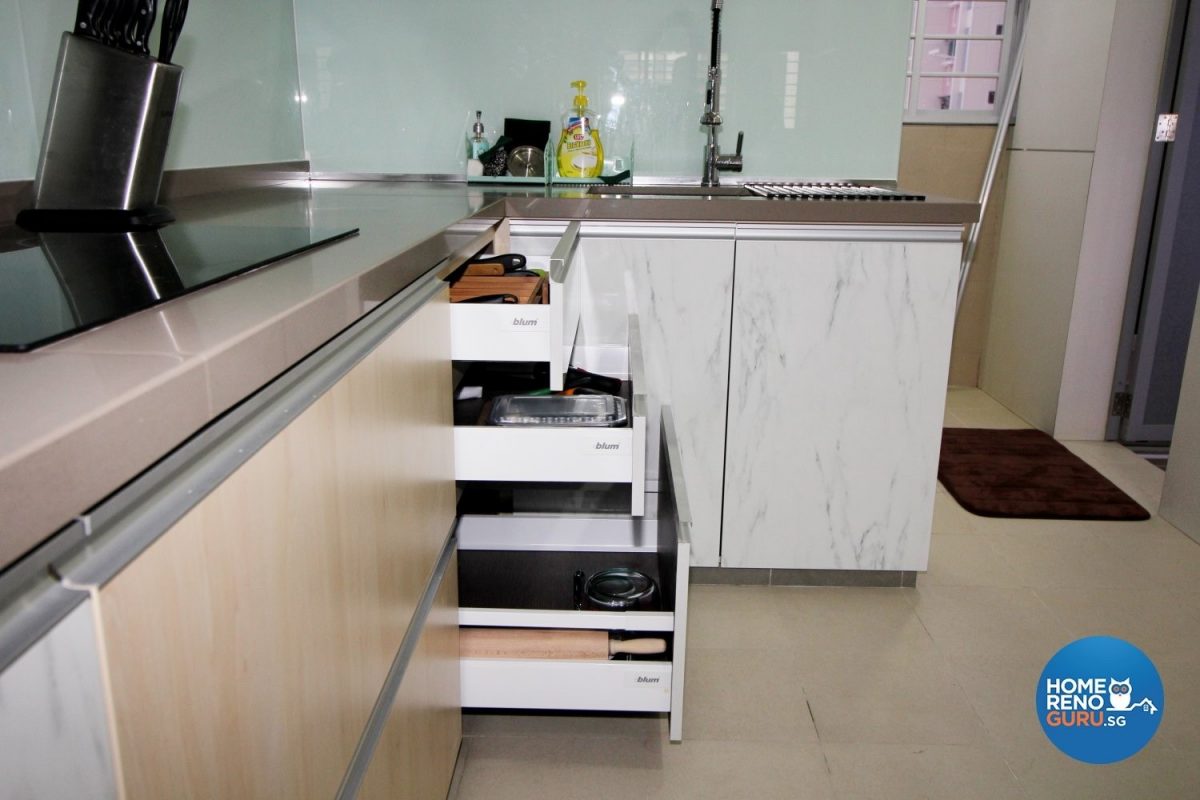 HDB 4 Room by Eighty-Seven Studio
Homeowners can optimise their storage by installing shelves in less-utilised areas such as the backsplash, or adding floating racks and hooks for mugs and wine glasses. To beautify existing shelves, opt for mirrors in between the top and bottom cabinets, or use spray-painted glass as shelving.
Details matter
Professional kitchens don't have to be decked out in steel. Allow your kitchen to reflect your personality by paying attention to the details.
Vintage-lovers can try mosaic tiles for your backsplash, or display your best china with a large glass cabinet. Families who wish to appeal to a rustic theme can opt for unusual materials such as rope, or use copper accents for faucets and pipes.
Tie your kitchen in with the rest of your house by opting for bold furniture that matches the colour scheme of the rest of your home – this also helps to brighten the space up and helps the kitchen to look more cheerful.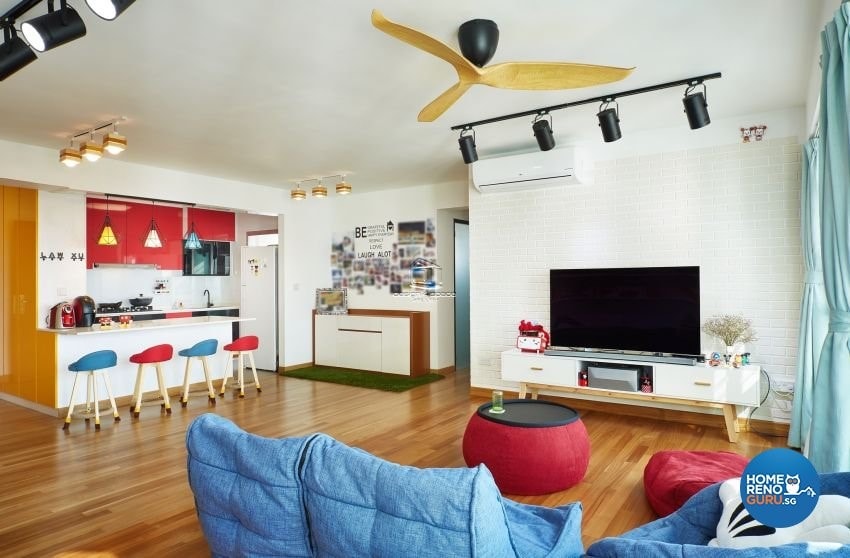 HDB 5 Room by Design 4 Space
Safety first
As the kitchen sees high traffic all day long, it's important to make sure that it has the necessary safety features installed.
The right flooring helps your kitchen to achieve both functionality and aesthetics. Ivan Ong of Ideal Design Interior suggests using flooring that hides dirt and is easy to maintain. "Choose black or grey tiling, or materials that are homogenous with the rest of the house," says Ivan Ong of Ideal Design Interior.

HDB 5 Room by Ideal Design Interior
Use vinyl or non-slip flooring to prevent injuries. Placing rugs or rubber mats over existing flooring also helps to increase grip.
In addition, make sure that potential fire-hazards are properly stored. Keep oven mitts, aprons and other fabric-based items away from stoves and hobs. Plug appliances directly into wall outlets instead of extension cords, and make sure not to crowd any adapters with multiple plugs so as not to overload the circuit.
Know what you need
Professional chefs know that the right kitchen doesn't need every tool in the box. To maximise space, nix the equipment that you don't use and invest in the fixtures that you do.
Modify your kitchen to suit your lifestyle. People with large families often need more fridge space, and can choose to use a second fridge outside of the main kitchen area to store extra food and drinks. Avid bakers may choose to install a kitchen island for additional work space, or use open shelving for easy access to mixing bowls and tools.
Appliances should also be tailored to your needs and abilities. For example, a traditional gas cooktop suits experienced, intuitive cooks, while an induction cooker suits busy families with smaller kitchens.
HomeRenoGuru
Designing a functional yet beautiful kitchen for the foodie in you doesn't have to be expensive or difficult – to see how experienced interior designers can help turn your needs into reality, visit HomeRenoGuru's design gallery. The gallery features a plethora of design options to help you find the ideal style for your home.
Looking for Interior Designers?
Let HomeRenoGuru help!
Ready to get the perfect kitchen that even Gordan Ramsay will be envious of? Leave it to the experts! Simply request for a free renovation quote here, and we will match you up with interior designers based on your needs.
What's more? Stand a chance to win a Mercedes-Benz CLA 180 Coupe & Free Home Renovations worth $30,000!