The Neutra Quartz Integrated Sink: A Triumph of Form and Function
22 Feb 2022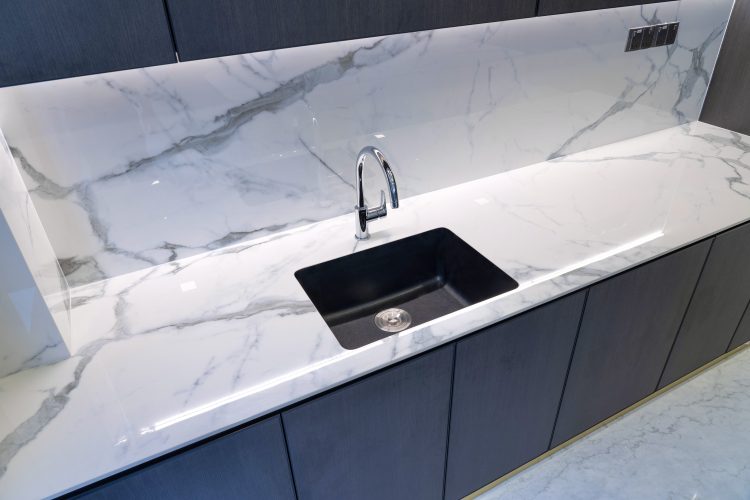 Countertop: Gardenia Sintered Surface – Premium White Lap
Sink: Neutra Quartz Integrated Sink, Model Name – S910, Black
The kitchen sink is the functional centrepiece of every kitchen: the apex of a triangular workspace completed by the fridge and the stove. The Neutra Quartz Integrated Sink takes it to the next level, elevating it from a mere utilitarian fixture to the focal point of your interior design.
Rethink the Sink
The three main types of sinks on the market today are top mount, undermount and flush mount. The latter is enjoying a surge of popularity as more and more homeowners are embracing the sleek appearance of a sink that sits flush with the countertop.
The pain point of conventional sinks are the joins between the material of the sink and the material of the countertop, which are typically filled with a silicone sealant to create a waterproof seal. Over time, these sealants are prone to discolouration, mould and degeneration.
Building on the growing preference for aligned surfaces and simple forms, there is now a new contender for top spot in the sink parade: the integrated sink.
By definition, an integrated sink is a sink that is integrated with the counter. The sink and counter are pre-moulded or pre-fabricated in a manufacturing facility or workshop, and the final fixture is delivered and installed in one piece and in one go.
While integrated sinks are not entirely new, Singapore's leading counter surface specialist, Bellus, has pioneered a new generation of integrated sink, known as the Neutra Quartz.
Multiple Materials
To date, integrated sinks have been made from a single material. A traditional integrated sink could be made from quartz material that has been joined together piece by piece. Alternatively, it could be a stainless steel sink built from individual components welded together, or a single sheet pressed into a die but eventually welded to the countertop. You get the picture. The look is refined, seamless, streamlined. However, the material choices remain limited and there is always a possibility of leakage at the welded or joined areas, particularly at the seams and at the bottom of the basin.
Bellus leverages its technical know-how and unique methods to pair Neutra Quartz integrated sink with a wide variety of counter surface materials, something which other fabricators haven't been able to achieve. They range from ever-popular natural stones like granite and marble to the new wave of all-natural sintered surfaces led by Gardenia Slab Sintered Surface. This handsome and hardy Italian import is winning fans around the world, from Milan to Singapore.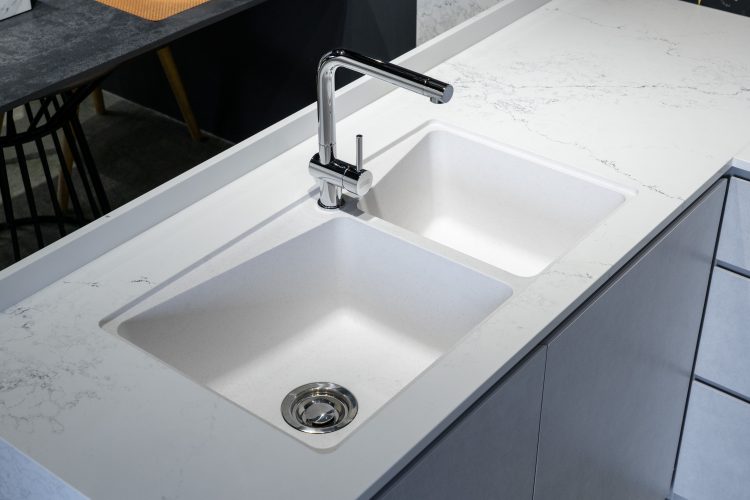 Countertop: Quartz
Sink: Neutra Quartz Integrated Sink, D820R, White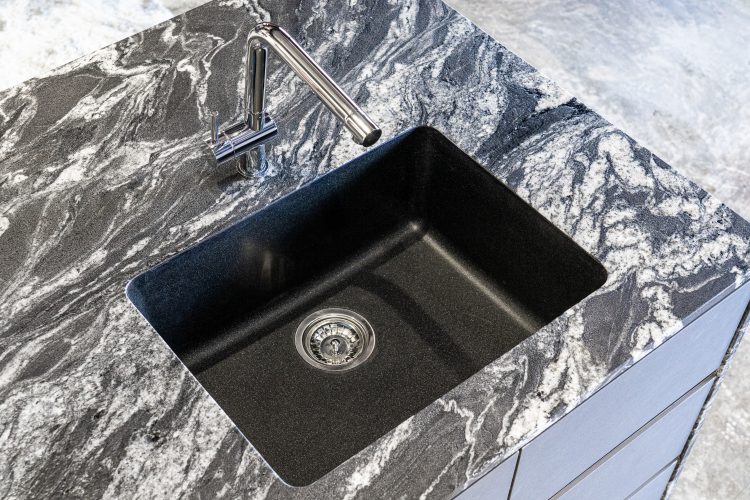 Countertop: Granite
Sink: Neutra Quartz Integrated Sink – S910, Black
Neutra Quartz affords homeowners the freedom to choose a single material, for a cohesive minimalist look, or a pair of materials for visual contrast and interest.
Numerous Benefits
Apart from the obvious aesthetic appeal of a seamless surface finish, the Neutra Quartz Integrated Sink offers a host of advantages over traditional sinks. For starters, the perfectly fused materials eliminate the risk of water leakage and damage to the countertop and cabinets below. The surface is a breeze to clean. A simple wipe-down with a cloth or sponge will have it gleaming.
The Neutra Quartz sink is also scratch-resistant, heat-resistant and stain-resistant. It remains unscathed even when splashed with hot liquids or filled with boiling water for soaking grimy tableware.
In addition, the Neutra Quartz Integrated Sink is more hygienic than traditional sink designs. With no joins and no crevices, there are no opportunities for bacteria to breed, water to pool, mould to grow, or grime to collect.
Yet another advantage of the Neutra Quartz Integrated Sink is its acoustics. Unlike noisy stainless steel, the thickness and nature of the material tends to absorb sound rather than amplify it. Clattering cutlery and clinking dishes are muted and less likely to disturb household members who are studying, or, as is often the case these post-pandemic days, working from home. This is especially welcome in open plan homes, where sounds travel from kitchen to living room without the noise-dampening effect of walls.
Also, unlike traditional integrated sinks, Neutra Quartz sinks do not suffer from drainage troubles caused by inadequate or improper drainage gradients. Since all Neutra Quartz integrated sinks are designed and moulded with the suitable gradients, water drains efficiently.
Beyond the Kitchen
Outside of the kitchen, Neutra Quartz Integrated Sinks are ideal for modern laundry rooms and bathrooms. Their chemical resistance safeguards them against corrosion from bleach and harsh chemical-based cleaning agents, and even hair dye.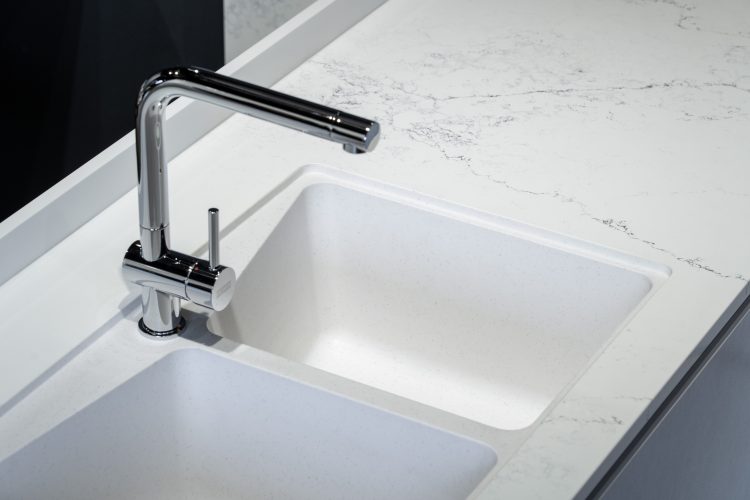 Countertop: Quartz
Sink: Neutra Quartz Integrated Sink, D820R, White
In compact bathrooms, a Neutra Quartz Integrated Sink maximises the usable space on top of a vanity. Hairstyling tools won't scorch the surface, and his and hers toiletries can happily coexist in their designated spaces.
Renovate and Contemplate the Possibilities…
A home renovation is the ideal opportunity to install a Neutra Quartz Integrated Sink. Currently available in a wide range of sizes and varying materials, they can be viewed online or in person at the Bellus showroom, 2 Woodlands Link, Singapore 738221.