7 Kitchen Designs that Encourage a Healthy Diet
There's a saying that goes 'a kitchen is a part of the house that's seasoned with love'…but it could also be peppered with calories, if you're not careful. How often do you walk into the kitchen to grab a glass of water but walk out with a snack in the other hand? Unknowingly, your kitchen could be the very bane of your diet.
But fret not, you don't have to issue an embargo on entering the kitchen. All you need to do is to turn your kitchen into a space that encourages a healthy diet with these tips for a healthy kitchen design.
Here's how you can go about so:
Have strategic storage spaces
Having both glass cabinet and closed cabinet in your kitchen can play a part in shaping your diet. Healthier food items like tea, oats or granola should be stored in glass cabinets to keep these healthier food in sight. This subconsciously leads you to pick out the healthier snack or drink. Potato chips and soft drinks, on the other hand, would best be stashed deeply in a closed cabinet.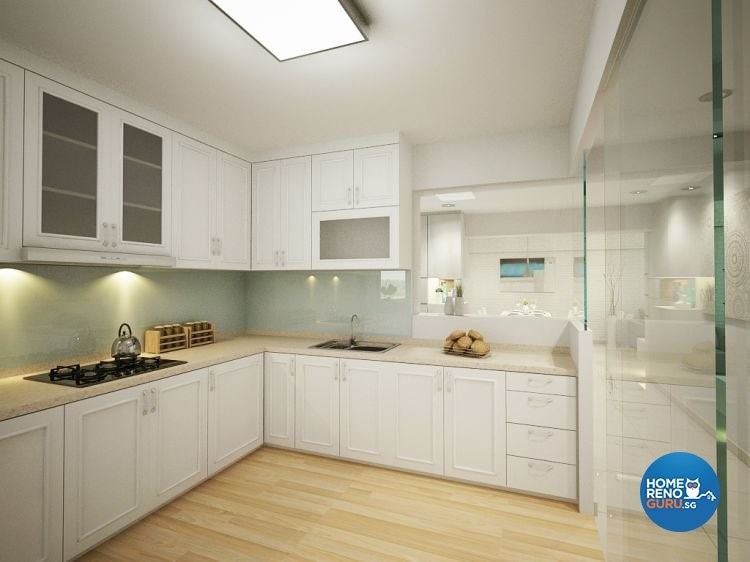 Block 232A Serangoon Avenue 2 by DESIGNSCALE PTE LTD
Another way you could make use of your kitchen space to encourage a healthier diet and create a healthy kitchen design would be to designate an area for kitchen appliances on the countertop with sufficient power points.
Let your ID know your intention. "We usually recommend based on the needs of the owners," Herawaty from U-Home Interior Design quips. If you let them know in advance, they could even come up with an innovative solution that allows you to have enough space to plug in however many appliances you want (within the safety limits, of course).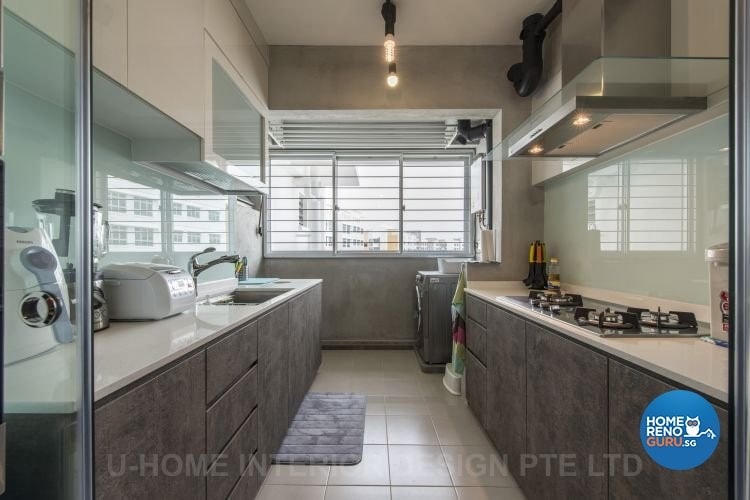 HDB 4 ROOM by U-HOME INTERIOR DESIGN PTE LTD
Since you don't have to shift items aside to make space or unplug the rice cooker just to fit the juicer, you'd have less excuse to take out your appliances to make a healthy smoothie or avocado spread for your sandwich.
Keep fruits and water accessible
Fruits are great healthy snacks to have on the go. To make it more accessible to grab one on the way out of the house, you can plan to keep your refrigerator along the path that you'd pass-by on your way out. This can be done via an open concept kitchen. Without partition walls, you can play around with space to achieve the desired layout, in this case, one that would encourage healthy eating! In addition, an open concept kitchen means "more natural light would be let in making the place look bigger too!" Senior Designer, Ian, from Vigorous Design explained. With the limited space in modern HDB flats or private apartments, this concept kills two birds with one stone, covering both practicality and style.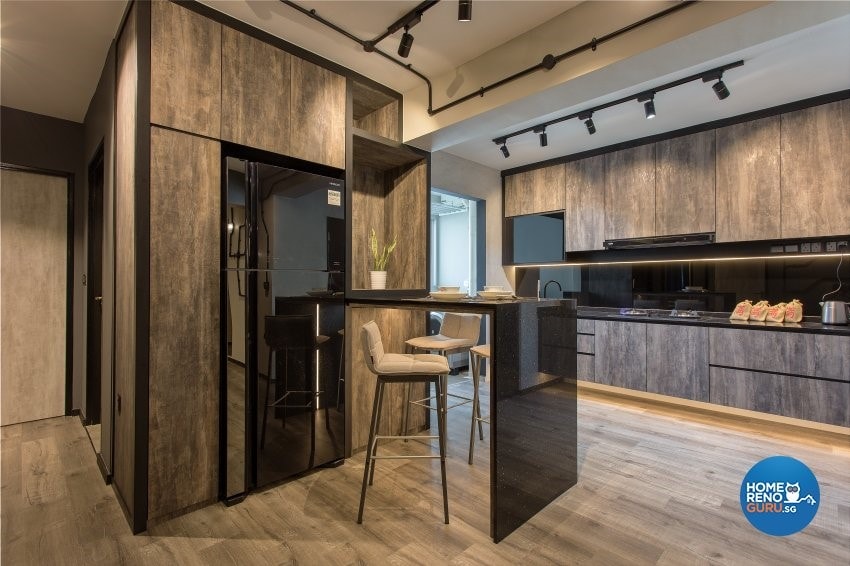 Boon Lay View by VIGOROUS DESIGN
A healthy diet also means drinking sufficient water. Have a designated counter with an accessible water dispenser or water pitcher and a boiler that's always plugged in to make boiling water a convenient task.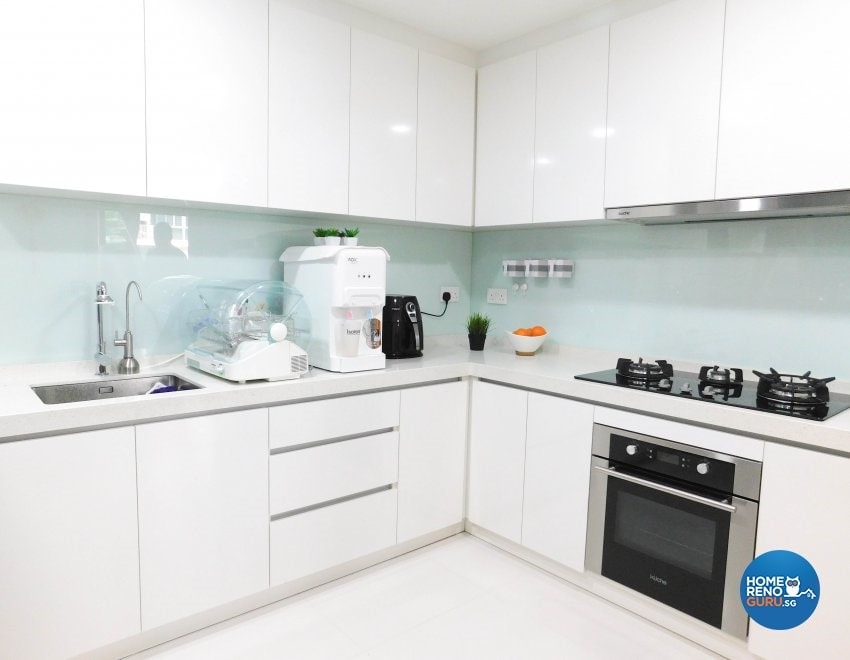 Skypark Residences by DB STUDIO PTE LTD
Have a bright and spacious layout
Bright lighting can also help to promote healthy eating. A recent studypublished in the Journal of Marketing Researchshowed that people tend to pick more calorie laden food when eating in a restaurant with dim lighting. On the other hand, the bright lighting helps to keep you alert and be attentive when making decisions on food selection. While you can't change the lightings used in a restaurant, we can adapt these findings in our own kitchen. Furthermore, "brighter lighting will help in food preparation, especially the chopping and cutting of ingredients", Wayne from The Local Inn.terior adds on.
This brings us to our next point.

HDB 4 ROOM – Bishan by THE LOCAL INN.TERIOR
If there isn't much space in your kitchen, organising all the storage spaces around the borders of the kitchen helps to create more walking space in the centre. This makes maneuvering around the kitchen easier and when cooking becomes less of a chore, one would to put more thought into food preparation.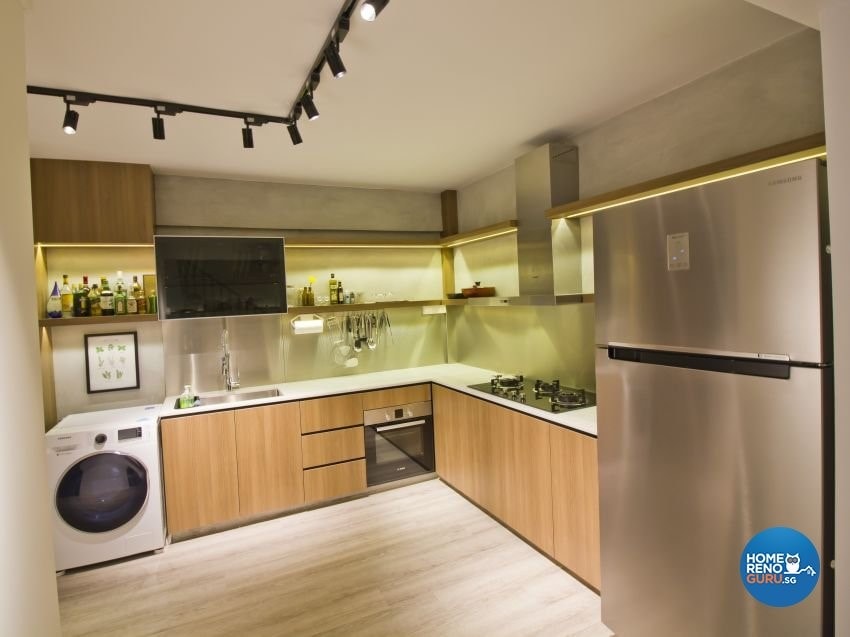 125 Serangoon North by MET INTERIOR
Looking for Interior Designers?
Let HomeRenoGuru help!
A kitchen with a purpose
If you don't cook heavy meals often, consider having a dry kitchen. Not only is this aesthetically pleasing, it can influence your eating habits. Dry kitchens are great for prepping salads and sandwiches since they don't require much butchering meats or frying. Hence if you're using the dry kitchen often to avoid too much cleaning up, you could be indirectly saving yourself from an oily meal!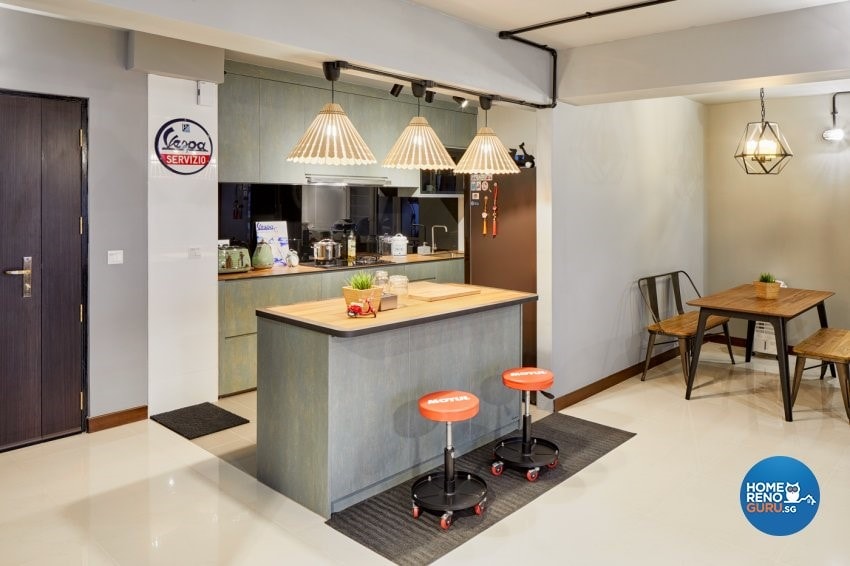 288 Compassvale Crescent by ABSOLOOK INTERIOR DESIGN PTE LTD
So start embarking on your journey to a healthier lifestyle with a beautiful healthy kitchen design. Look for your interior designer via HomeRenoGuru.sg and get a free quotation now!