Your Guide to Beautiful And Sustainable Kitchen Sink Designs
Let's face it – sinks aren't sexy. Nobody thinks about sinks when fantasising about their dream home; nobody's interior design Pinterest features sinks like they do marble floors, lush beds, or Zen garden-inspired bathroom decor. You know sinks are doing their job when you don't notice them at all – when you do, you know you're in trouble. The more discerning homeowner, however, takes more than just durability and sustainability into consideration. Kitchen sinks especially can often be a focal design element and add a pop of personality to an otherwise conventional-looking kitchen or dining area. Just because they so often fade into the background doesn't mean they have to stay there. Read on for how you can choose kitchen sinks that work and look good.
If your kitchen has a striking aesthetic style..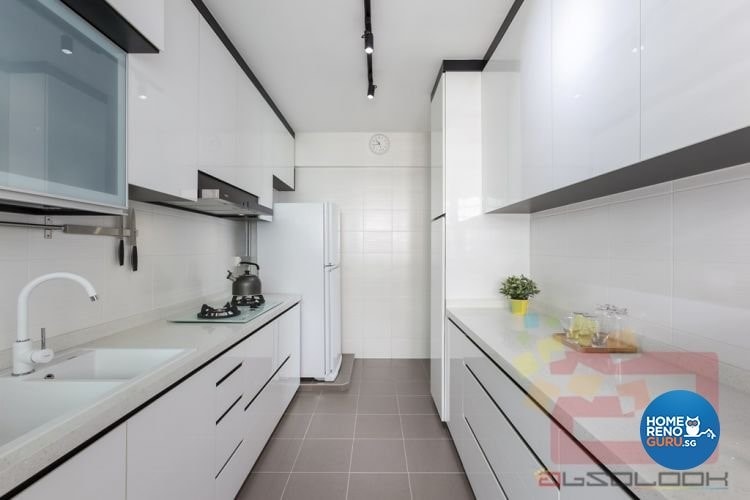 Residential by Absolook Interior Design Pte Ltd
You might have to sacrifice some sustainability for styles. If you're feeling inspired by MUJI or the Japanese art of decluttering, for instance, then a hyper-minimalist and clean kitchen will require a matching sink to create a coherent aesthetic across the space. Although an all-white kitchen, let alone sink, seems to be courting trouble, there is something to be said about cleaning down a dirty white sink to a pure spotless white. Choose from either a sleek stainless steel sink with a white enamel finish or a composite granite sink for peak stylishness.
If you want your sink to stand out…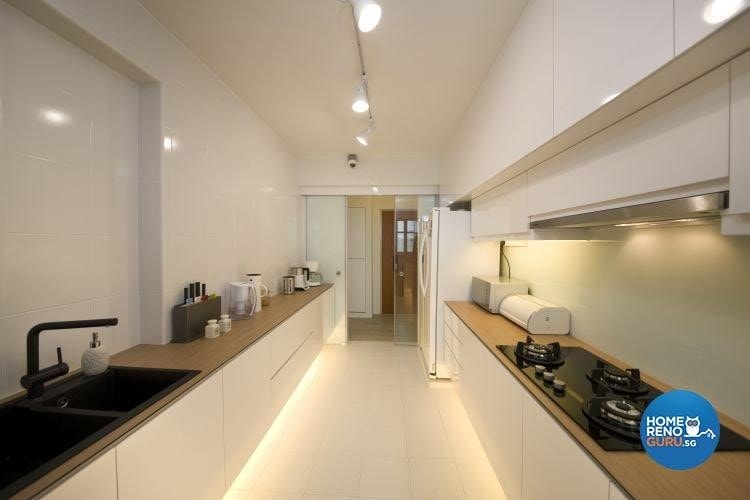 HDB 4 Room by DB Studio Pte Ltd
For homeowners who want something special but also dislike complicated decoration, a unique sink could be the standout element. Designer Kay Wee from DB Studio explains that for this kitchen, he chose the "black sink and faucet to balance out the black hob." Furthermore, "the hints of black give a good contrast to an otherwise straightforward, all white and wood kitchen."
Something as simple as changing the colour and material of the sink from porcelain and white to granite and black, for example, demonstrates how "a sink can pull the look of a kitchen together."
If your kitchen is a lively and social place…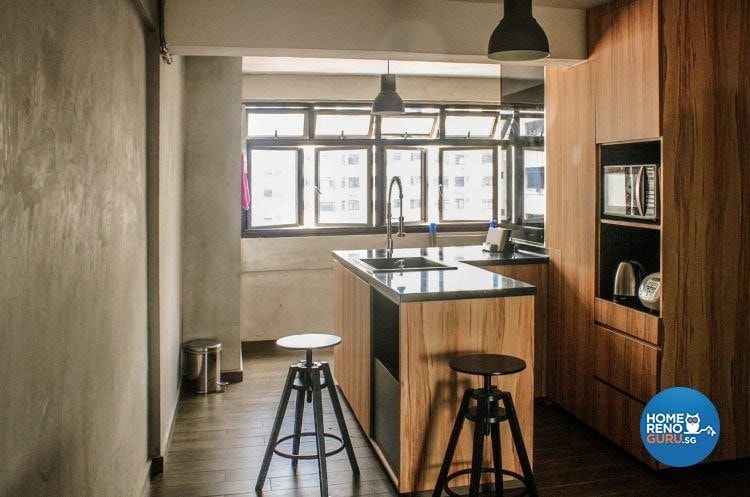 HDB 3 Room by Ace Space Design Pte Ltd
Reconsider the conventional placement of the sink against the wall. If washing dishes is less of a chore and more of a bonding experience between family members, think about installing an island sink instead, so that whoever's delegated to dishwashing that day can still be included in the conversation instead of being forced to talk to a wall. This unique position is not so much about the inherent beauty of any sink model but is a way to differentiate your kitchen from everyone else's, at the same time giving the illusion of a brighter, airier, and more inviting space.
If you want something quite stylish but not a pain to maintain…

HDB 5 Room by Renozone Interior Design House
Try out a stainless steel or porcelain under-mount! While top-mount sinks are easier to install and replace, under-mount sinks can be more quickly cleaned and give your kitchen a more elegant and aerodynamic look by smoothing out your counter-top surface. The lack of visible rims also means less unsightly gunk at the end of the day. For light cookers who want something even more streamlined, Colin from Renozone suggests integrated bowl sinks, which are carved into the actual counter-top itself to provide a truly seamless look. He raves about his own model at home, which "prevents water seepage" and recommends it for "light cookers and those who don't like the look of silicon joints" used in more conventional sinks.
If you don't want anything too crazy…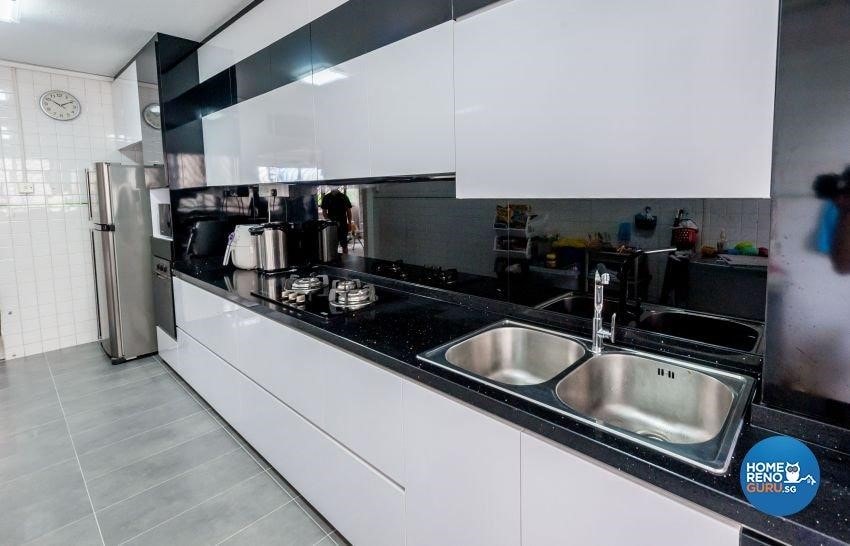 HDB 5 Room by MJS Interior Pte Ltd
Go for the classic stainless steel top-mount sink: it's easy to install, easy to maintain, and matches almost all aesthetic styles. A flexible faucet for added convenience, while potentially out-of-place with more unconventional styles, blends in seamlessly with the silver-and-chrome look of a stainless steel sink. Kitchen specialist Andrew from MJS Interior emphasises "practicality for a maintenance-free area" but also notes that individual designs are based on each homeowner's daily usage. For example, he came up with this particular design after his client told him she "preferred a comfortable, non-messy kitchen environment while preparing sumptuous meals for her family."
If you want to be bold…
Try out a copper, bamboo, or wooden sink – if you dare! Copper sinks are long-lasting and highly scratch-resistant, to say nothing of how they can be a visually striking centerpiece for your kitchen, but only if you can commit to daily maintenance. Bamboo and wooden sinks are very eco-friendly and beautiful in their simplicity, but upkeep is often expensive and difficult, requiring frequent reapplication of binding adhesives and a water-resistant topcoat.
At the end of the day, kitchen sinks, like everything else, come in all shapes and sizes, and there's no reason to revert to the default just because we don't normally think of sinks as design elements. If a home is truly an expression of your personality in space, then every detail counts, so next time you dismiss the humble sink – think again!
Need more help? Consult our Kitchen Systems guide as part of our Renovation 101 series!