Unusual Homes: An Insight into the Design Process with Flo Design
16 Mar 2018
Our homes are the places where we get to relax, unwind, and most importantly, incorporate a little personal flair. To understand a little more about the process of designing an unusual home, we met with James Ng of Flo Design to talk a little more about the typical design process, some special design requests and how Flo Design overcomes the challenges of designing an unusual home.
Knowing the Singaporean Market
Unusual requests often start with new trends. To keep themselves abreast of trends and styles, James attends overseas trade exhibitions, and reads design magazines and publications regularly.
However, homes in Singapore rarely incorporate an over-the-top design. Instead, Singaporeans often prefer a Scandinavian theme (largely minimalist, using wood flooring and muted colours such as white and grey). So what is it that makes a home an unusual one?
James gives his take:
"Singaporeans often have strange requests. A common one is that though they say they want a simple, minimalistic design, they contradict themselves by asking for lots of storage space!"
Adding to the unusual requests is the need to tailor designs to suit the 'fengshui' of a space.
"The most interesting designs are ones that require us to place built-in carpentry pieces in more awkward positions. We wouldn't suggest these placements as professional designers, but homeowners want their space to be auspicious. An example of this is the placement of a cabinet (shown below) right in the middle of the room."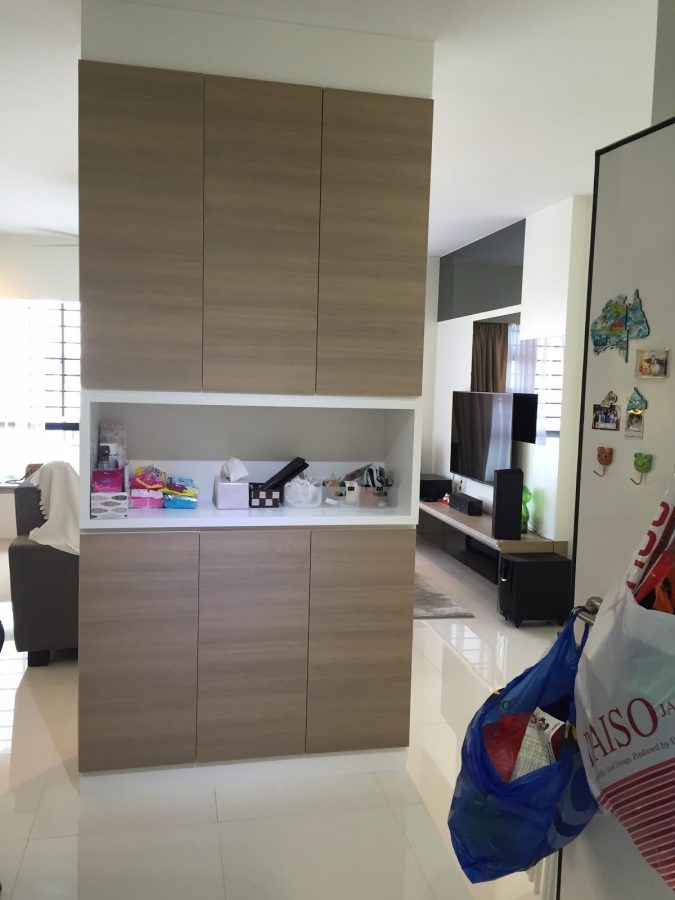 Cabinet placement according to 'fengshui'. Project by Flo Design
Flo Design
Founded in 2016 by Roger Koh and James Ng, Flo Design aims to "provide clients with a hassle free journey" during their renovation. The company is committed to a comprehensive, personalised and bespoke design service, while involving clients in the creative process.
James was quick to elaborate:
"Our services include producing design proposals, providing budgeting support, producing schematic designs, furniture and feature selection and procurement, 3d rendering, and project management for our clients. We take care of the entire design process, from the client discussions and home visits to the fabrication and finish the various pieces designed for our clients."
Merging two worlds
While Flo Design specialises in designing a modern Scandinavian theme, they do receive requests for some eclectic designs.
Sometimes, a clash of styles occurs when spouses share different ideas and visions about how their unit should look.
"These designs qualify as an eclectic theme as it mixes different themes and elements."
Satisfying these styles means coming up with a suitable compromise. So how does the design process come into play? James elaborates:
"For more unusual or eclectic themes, we choose to stick to simple furniture with clean lines. We seek out elements of both themes that blend well with each other. Using a consistent colour also helps our decor to blend well together and look more cohesive. A project that stands out is our Keat Hong Crescent BTO project. In this project, we merged minimalistic furniture with bright yellows to allow special centrepieces such as the couch to stand out."

Keat Hong Crescent by Flo Design
Stepping over the hurdle
The hardest challenge for James is knowing how to balance client expectations with suitable means.
"Sometimes, it's hard to give clients exactly what they want. Many clients come to interior designers because they have a specific vision of how they want their space to look and feel, but don't have the resources to execute them. Others may not have a particular design in mind, but are usually turned off by the costs. Some clients will also have unreasonable expectations about timelines."
To give themselves ample room to handle each client's needs, Flo Design ensures that it keeps its cool and is ahead of its deadlines.
"We have to constantly ensure that everyone is managing their time effectively. This is an important aspect of the job. Scheduling is a must. Creating efficient workflows and processes help save time for both us and our clients. In addition, we recommend the best materials for our clients' budgets."

Keat Hong Crescent by Flo Design
What to do if you're looking for something special
If you're looking to incorporate a unique touch to your home interior, do some research before making an appointment to make the design process easier. This saves time and gives designers a better idea of how they can help you.
James adds:
"Do an online search for home styles that appeal to you and gather some design images. This will make it easier for designers to understand your vision, and this helps everyone to be on the same page during the renovation process."
HomeRenoGuru
Tailoring your home design to your interests is easy – to see how these experienced interior designers can help turn your vision into reality, visit HomeRenoGuru's design gallery. The gallery features a plethora of design options to help you find the ideal style for your home.
To find out more about Flo Design and their projects, check out their profile here.