Colours of Fortune 2021
09 Feb 2021
As we ready ourselves for the arrival of the mighty metal Ox, we consulted Nippon Paint, Singapore's favourite paint brand, and Grand Master Phang, CEO of New Trend Lifestyle Group, to bring you auspicious colours for every sign of the zodiac.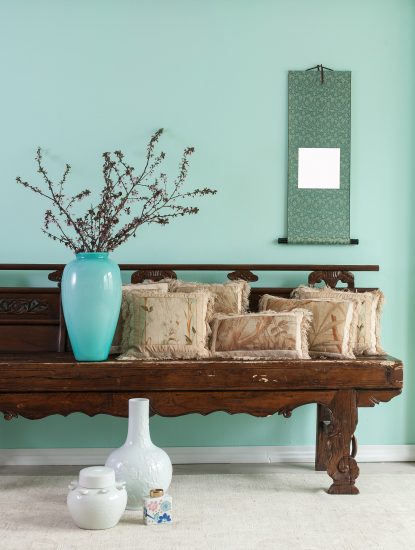 Paint Your Year Lucky
Whether you're a fengshui believer, are undecided, or like to read the forecasts 'just for fun', here's a brief rundown on what the stars have in store for you in the Lunar New Year, along with a palette of lucky colours to enhance the good luck and mitigate the bad.
However, do not simply roll over and passively wait for your fortune to unfold. Pick up a paint roller and paint your year lucky!
Rats will see their careers skyrocket in 2021 and may encounter opportunities overseas. (Fret not, travel restrictions can be overcome with the wonders of web calls.) On the love front, singles should embrace singlehood and romance themselves (perhaps a night in with Netflix and a tub of your favourite ice cream is in order), while married couples need to put some extra effort into ensuring harmony at home. While health is satisfactory, be sure to get adequate rest and avoid overworking.
Enhance your home and your good fortune with these harmonious hues.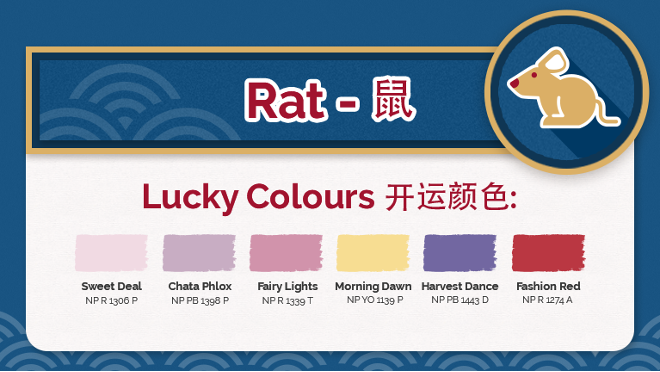 Oxen will face instability and challenges in several areas of their lives. Work-wise, you need to reskill and upskill – or your career may amount to nil. In matters of love, it's time to let go of that baggage and banish ghosts of boyfriends/girlfriends past. Wealth luck is fair, and prudent investments should yield monetary rewards. To ensure health stability this year, go for routine health check-ups and cut down on sugary food.
Overcome all obstacles with this prudent palette of purples and blues.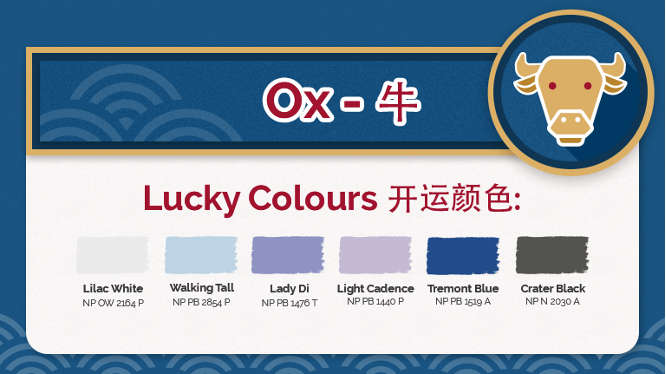 Tigers face mixed blessings in 2021. While wealth and love luck are in great shape, career luck is lacklustre and at times you may feel overlooked despite your efforts. Singles can kiss their lonely nights goodbye and their new sweethearts hello. It's also a good year to tie the knot. Health wise, work stress threatens to take its toll, so strive in earnest for that elusive work-life balance.
Banish bad luck and welcome blue skies with this rainbow of pretty pastels.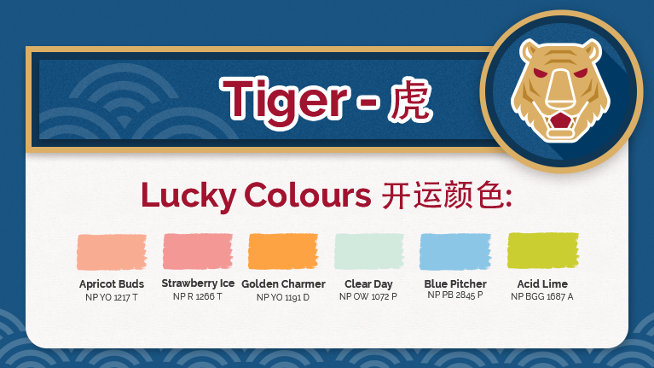 Bunnies beware – 2021 looks set to be a tumultuous year. With an inauspicious star lurking, you need to be mentally prepared for the challenges ahead. Personal relationships will frequently be tense, and you need to keep your emotions in check. Wealth luck is average, but you can boost your fortune by dressing in auspicious colours such as brown or dark grey. Health luck is not strong, so be sure to seek medical advice when symptoms occur.
Counter inauspicious influences with this medley of muted shades. 
Dragons should brace themselves for a rocky year ahead. Work will be stressful and there are many traps for unwary business owners. It will pay you to be extra-meticulous with your book-keeping. On the bright side, love luck is excellent, and chances are you will meet your soulmate this year. All that work stress may mess with health, so rest well and look after your heart and eyes in particular.
Invite good luck into your home with these shimmering shades of gold.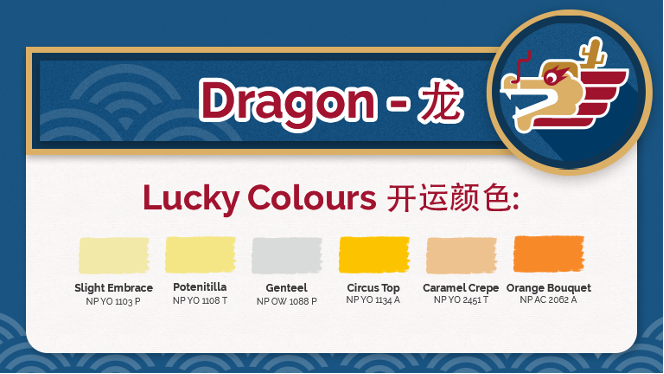 Lucky Snakes will slither though the year blessed with abundant good fortune at every turn. Be sure to capitalise on career opportunities and wealth windfalls. Since fortune favours the bold, step out of your comfort zone and reap rich rewards. A passionate romance will light up your days and nights, and wedding bells may be on the horizon. Only your health luck is average. Consider taking supplements to strengthen your immune system and avoid the inconvenience of minor ailments.
Celebrate your good fortune – splash out on a makeover in this chic colour scheme.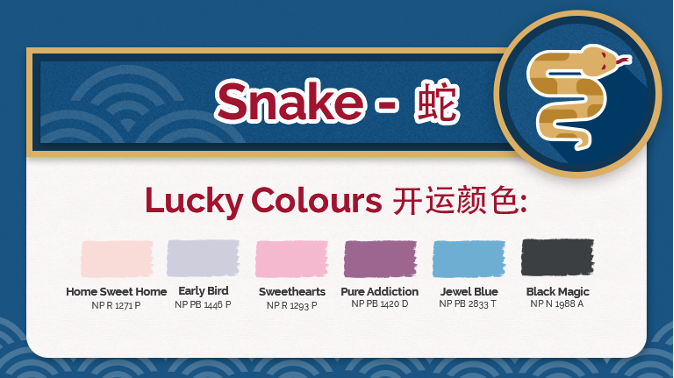 Hapless Horses will not be galloping ahead in 2021. Brace yourself for a stressful year filled with twists and turns, problems and challenges. At work, resist the urge to get defensive and be open to constructive criticism in order to secure or elevate your position. On a brighter note, love luck is fair and you will see an increase in interactions with the opposite gender. Above all, stay positive. Health and wealth may take a hit, but there's always next year…
Ride out the bad luck with these lucky colours on your side, inside your home.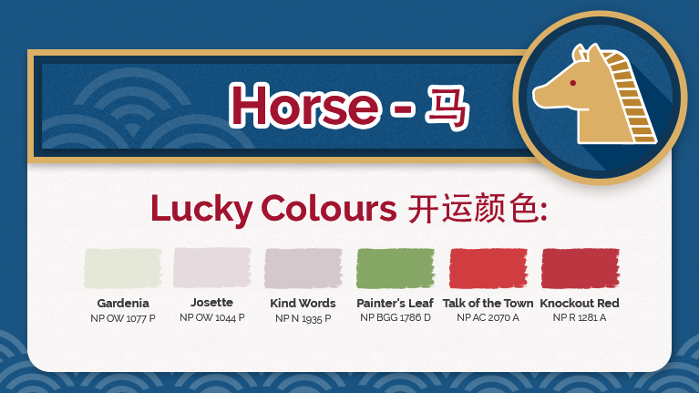 Goats will have little to gloat over in 2021. Thankfully, there is a scattering of lucky stars present that will avert financial ruin. Nonetheless, go through your finances with a fine-toothed comb and never spend beyond your means. Romantic relationships will require nurturing, so hold your breath and count to ten before you say something you wish you hadn't. Establish a wellness routine and do not push your health luck.
Lay low and sit pretty with this palette of quietly contemplative colours.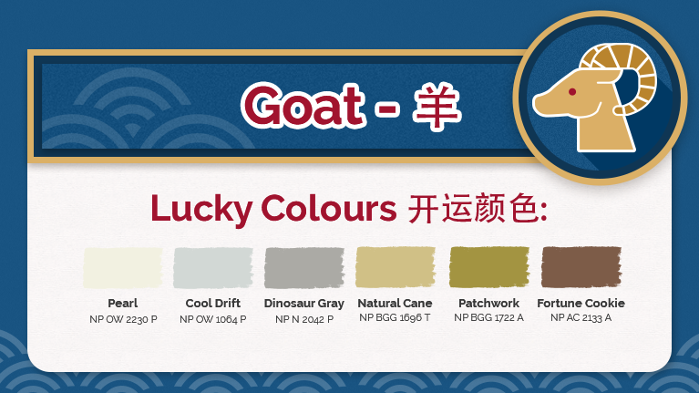 Monkeys are set to swing into 2021 with mostly good luck on their side. Career luck is on the rise, and wealth luck is promising. However, to optimise profits you must pay close attention to paperwork. Your love life looks middling to mediocre, so remember to cultivate a sense of self-worth. Above all, health is your primary concern. Practise good self-care habits and make healthy dietary choices to stay well.
Refresh your home and top up your luck with these vibrant picks.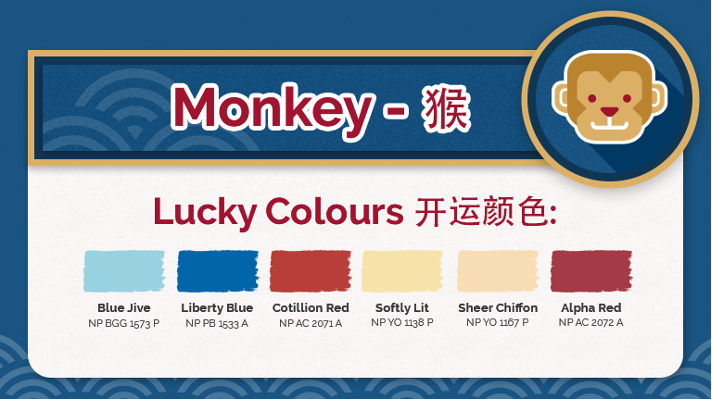 Roosters will have plenty to crow about in the Year of the Ox, which promises to be a fabulous year filled with growth and happiness. You will encounter benefactors at work, and so long as you are a team player success will surely follow. Though your wealth luck glitters like the proverbial golden egg, you should resist the urge to splurge unnecessarily. Relationships, too, will be hunky-dory. Only health luck may be in short supply, and the elderly especially should take care of their health.
Grace the happy 'hen-house' with these auspicious colours.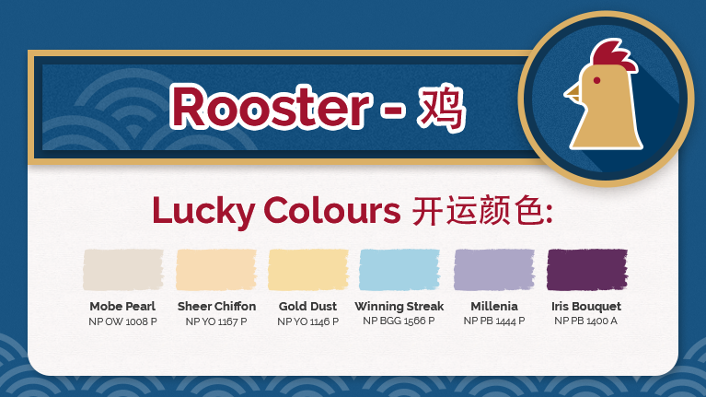 Dogs will find little to wag their tails about in the year ahead, which will be dogged by roadblocks and obstacles. Career will stagnate, and finances will suffer in view of increased household expenditure. Romance is not a bed of roses, but happiness is possible with patience and persistence. Remember, relationships require work. Health is vulnerable, so rest often and heed your body's aches and pains.
Avoid a beating by the fickle master of fortune ­– colour your kennel with these elegantly earthy hues.
Pigs will be squealing with delight through 2021, which looks set to be a year of awesome accomplishments and achievements. Though you will face some hurdles in your career, they will be overcome. Wealth luck abounds, and you'll be rolling in money, happy as the proverbial pig in mud. Only romance luck is lacking, and moodiness may cause disharmony. Though health looks stable, insomnia may plague you.
Turn your stylish sty into a palace of prosperity with this splendid palette.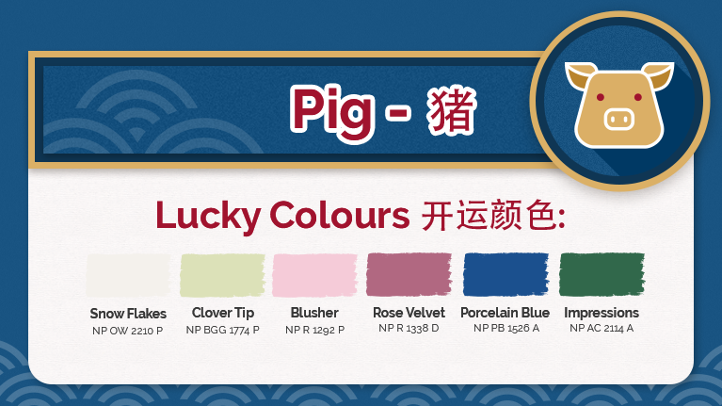 Eliminate Luck from Your Home Renovation

Fengshui is fascinating, but when it comes to renovating your home, luck should not come into it. Visit www.HomeRenoGuru.com.sg, Singapore's No. 1 renovation portal, and obtain an obligation-free quote from a shortlist of rated, reputable interior design companies, free of charge. You can Trust the Guru.