Benefits of FirmaFlor; Eco-Friendly Flooring by Floorrich
08 Apr 2022
FirmaFlor by Floorrich:
The Firm Favourite in Eco-friendly Flooring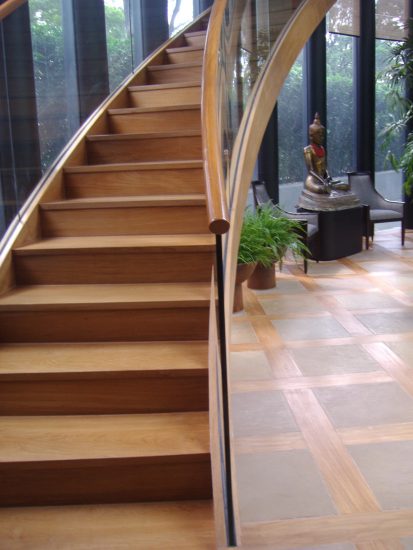 Flooring by Floorrich, featuring FirmaTimber
Photo courtesy of Floorrich
Singapore-based flooring specialist Floorrich is paving the way for the industry with a family of five certified environmentally friendly flooring products under its exclusive FirmaFlor brand. Here's why Singaporeans are confidently choosing FirmaFlor for their homes and workplaces.
The Certainty of Certification
Tread lightly. Lower your carbon footprint. Green is the new black. The talk flows fast and furiously, and the narrative can be confusing.
With the announcement of the Singapore Green Plan 2030, and the global surge in awareness of the urgency to address climate change, Singaporeans generally want to make more sustainable purchase decisions. But, too often, good intentions fail to translate into action because of a lack of clear-cut information.
A recent study jointly conducted by WWF and Accenture revealed that a third of consumers (30%) said that competing claims have confused them, while a fifth of Singapore consumers (23%) polled claimed that they do not trust businesses' sustainability claims at all. In other words, we want more clear-cut information about the products we buy.
Floorrich, a home-grown flooring specialist with more than a decade of experience, has developed a comprehensive range of environmentally friendly flooring products under its exclusive FirmaFlor brand. To help guide customers in their purchase decisions, its products come with credible green certification.
All five FirmaFlor flooring products – namely FirmaVinyl, FirmaSPC, FirmaTimber, FirmaEngineered and FirmaDeck, are certified environmentally friendly by FloorScore®, a US-based organisation that sets and enforces the most globally recognised indoor air quality (IAQ) certification standard for hard surface flooring materials, adhesives, and underlayments.
In addition, all FirmaFlor products bear the highly respected Singapore Green Label. A certification scheme administered by the Singapore Environment Council (SEC), the Singapore Green Labelling Scheme (SGLS) aims to help the public identify environmentally preferred products that meet clear eco-standards.
A Solid Investment in Household Health and Safety
A simple truth that often gets lost in the conversation on climate action is the fact that green choices are almost always healthy choices. That's certainly true of FirmaFlor products.
As they contain near-zero Volatile Organic Compounds (VOCs), especially formaldehyde, FirmaFlor products are a sound choice for safety-conscious home and building owners.
"The majority of the flooring products in the market are not environmentally friendly and contain harmful toxic substances, which are especially dangerous when burnt. Over the years, there have been many deaths from the inhalation of toxic gases during house fires," said Andrew Goh, Managing Director, Floorrich Global Pte Ltd.
In fact, most fire-related deaths result from the inhalation of toxic fire gases rather than from direct contact with flame or exposure to heat.
According to Andrew, with education and effective initiatives such as the SGLS, homeowners are making more informed and better choices. In particular, he sees an encouraging trend among younger homeowners with young children and babies.
"Many young families do not want to risk their children's health by purchasing cheap uncertified flooring, especially in view of the fact that toddlers and babies spend so much time crawling and playing on the floor," said Andrew.
Value and Variety
Together, FirmaFlor's range of five products cover the flooring requirements of every room in the house, including the patio, as well as offices and showrooms. In addition, they come in a wide variety of colours and textures that allow homeowners and interior designers to personalise their projects from the ground up.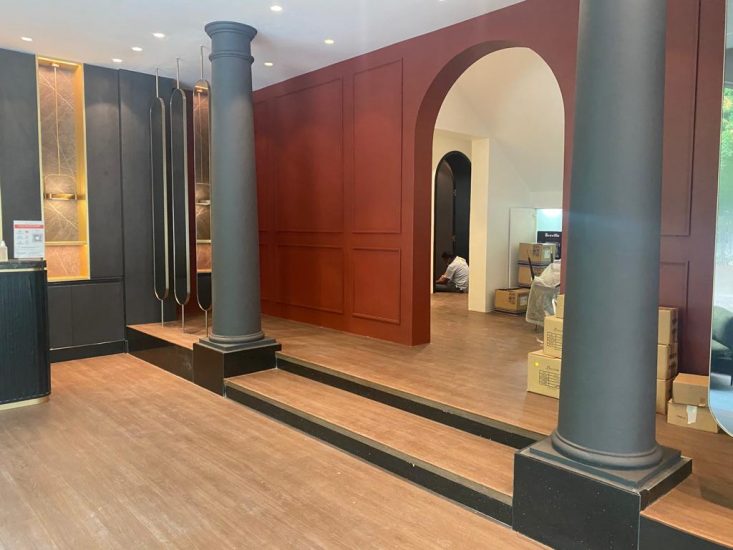 Flooring by Floorrich, featuring FirmaVinyl
Photo courtesy of Floorrich

The top-selling FirmaFlor product, FirmaVinyl, is an attractively priced, long-lasting option that starts from just $3.60 per sq ft. Thanks to modern flooring technology, it bears no resemblance to the shiny plastic-looking vinyl of our grandparents' generation. Extremely durable, easy to replace without hacking in the event of damage, and highly water-resistant, it makes a great choice for kitchens and laundries as well as living rooms and bedrooms.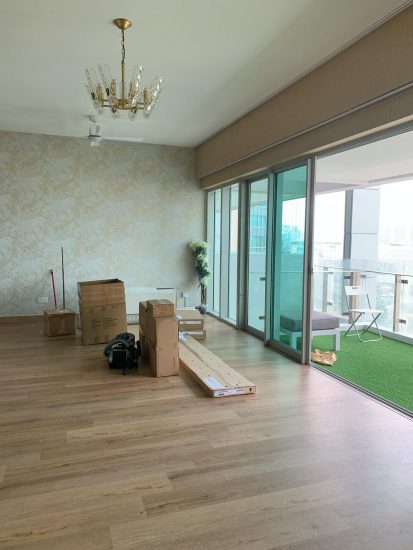 Flooring by Floorrich, featuring FirmaSPC
Photo courtesy of Floorrich

Popular FirmaSPC is a premium flooring material that is 100% water-resistant, slip-resistant and able to withstand heavy foot traffic. Comprising a number of layers for optimal resilience, it comes in a range of stunning finishes that are virtually indistinguishable from real wood and natural stones such as marble and granite. But unlike wood and stone, it is a breeze to maintain with little more than a wipe of a mop.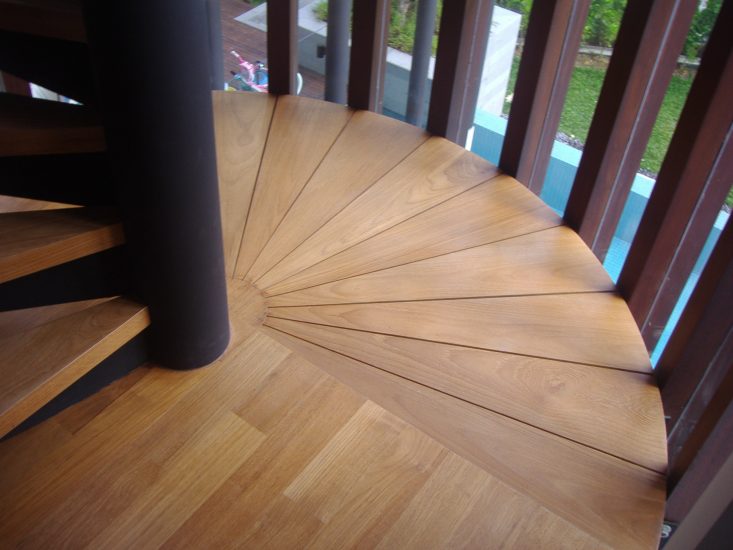 Flooring by Floorrich, featuring FirmaTimber
Photo courtesy of Floorrich

Despite the advent of engineered wood, there are some traditionalists who still embrace the beauty and warmth of natural, solid wooden flooring. For those customers, there is FirmaTimber. As its name suggests, FirmaTimber is made from world-sourced wood that has been harvested from sustainably managed forests. The range includes Patagonian Walnut, Indonesian Teak, Indian Rosewood, American White Oak, Burmese Teak, American Maple, Brazilian Cherry, American Walnut and more. Floorrich's highly skilled applicators are able to wire-brush and whitewash the surface to adjust the tonality of the original timber and highlight the exquisite patterns of the natural wood grain.
For customers who love the beauty of wood but want to keep an eye on the bottom line, FirmaEngineered offers a similar finish to FirmaTimber at a lower price point.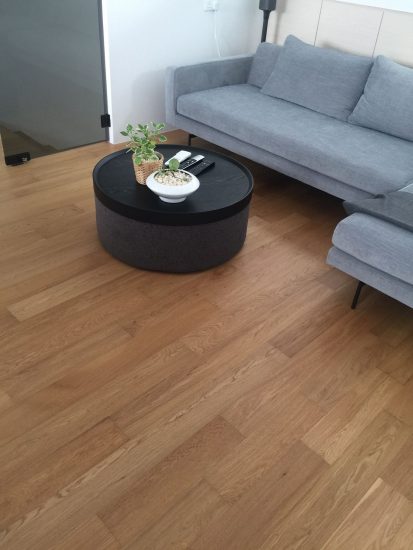 Flooring by Floorrich, featuring FirmaEngineered
Photo courtesy of Floorrich
For homeowners and building owners with the luxury of al fresco living and entertaining spaces, FirmaDeck is a great choice for patio decking and balconies. Made from composite wood, it is durable, weatherproof, termite-resistant and low-maintenance.
The Right Choice in More Ways than One
Andrew is proud of his exclusive range of environmentally friendly flooring options – and proud of Singaporeans for responding to the cry for climate action embodied in the Singapore Green Plan 2030. He is also proud of the level of service his company extends to its customers.
"At Floorrich, our consultants are very experienced and are able to customise the flooring to each customer's needs. We also offer a confidence-inspiring warranty and, I believe, almost perfect after-sales service," said Andrew. "Our people are almost as important as our products, and I take great pride in both."
Future-proof Your Flooring

Clearly, Floorrich is a company that walks the green talk. Besides being certified green by local and international authorities, its products come highly recommended by HomeRenoGuru. Singapore's No. 1 home renovation portal.
Throughout April, HomeRenoGuru customers can save up to 20% on all FirmaFlor flooring products and enjoy a $5 transport rebate. To take advantage of this exclusive offer, visit https://www.floorrich.com/contact-us/ or WhatsApp Floorrich Global at +65 8444 0099.
If you're contemplating a home renovation, simply looking to upgrade your flooring, or aspiring to a healthier and greener lifestyle, remember Floorrich – a company with their feet on the ground and their eyes on the horizon of new developments in flooring technology and sustainable living.
Source:
https://www.wwf.sg/study-reveals-a-clear-unmet-consumer-demand-for-sustainable-products-in-singapore-accenture-and-wwf/