Why Choose A Star Aluminium Furniture?
29 Nov 2022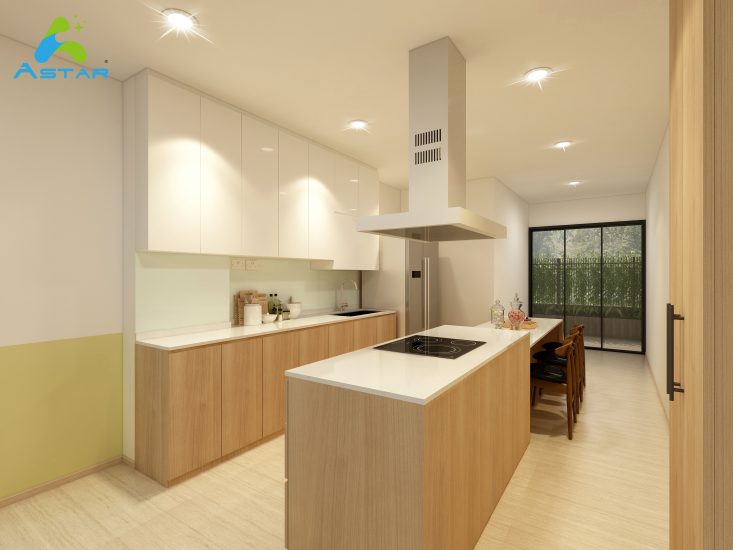 Upper and lower kitchen cabinets and island counter by A Star Furnishing – Tai Hwan Terrace
Throughout Singapore, more and more homeowners and business owners are choosing aluminium furniture from A Star Furnishing over the usual laminated wood options. Here is why.
Durability and Longevity
A Star Furnishing uses premium high-grade aluminium, which offers several real advantages over laminated wood. Most importantly, items made with aluminium tend to last much longer than their laminate counterparts.
The relatively long lifespan of A Star aluminium furniture is due to a few factors. Unlike laminated wood, which is prone to warping from expansion and contraction when temperatures fluctuate, A Star aluminium items remain stable and maintain their structural integrity. This delivers a consistently hassle-free user experience, devoid of the all-too familiar and frustrating problems of jammed drawers, misaligned doors, and unsightly lifting laminates.
Unlike laminated wood and solid wood, aluminium is moisture-resistant. When exposed to rain, condensation, or leaking pipes, it will not rot, become mouldy or infested with termites. This is especially desirable for cabinets that accommodate drainage pipes for taps and dishwashers.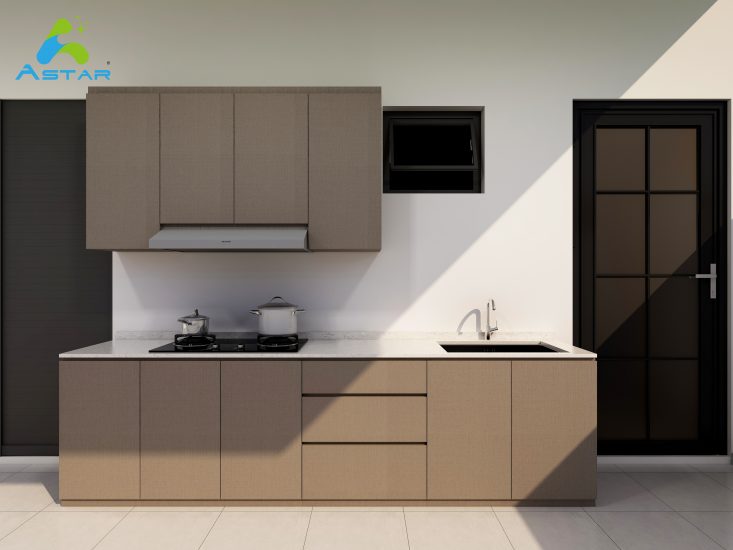 Moisture-resistant aluminium cabinets ease cleaning and maintenance in this outdoor wet kitchen by A Star Furnishing – Jalan Labu Ayer
Another factor that contributes to the durability of A Star aluminium furniture is its fire-resistance. A Star aluminium can withstand high temperatures without catching alight or deforming. Even in the unlikely event that it catches on fire, the fire-resistant powder-coating remains intact after several seconds of burning. This delivers a window of opportunity for fires to be contained and extinguished, potentially saving properties from extensive damage and even lives.
Aesthetic Appeal and Creative Possibilities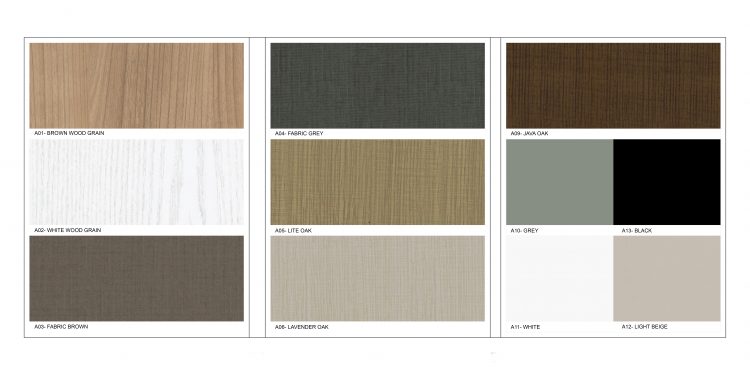 A sampler of the range of available aluminium finishes that A Star Furnishing offers
If you thought aluminium furniture was confined to the uniform silvery-white colour of the natural metal, think again. A Star Furnishing uses an innovative range of finishes and application techniques to offer homeowners a palette of colours and patterns that will amaze you.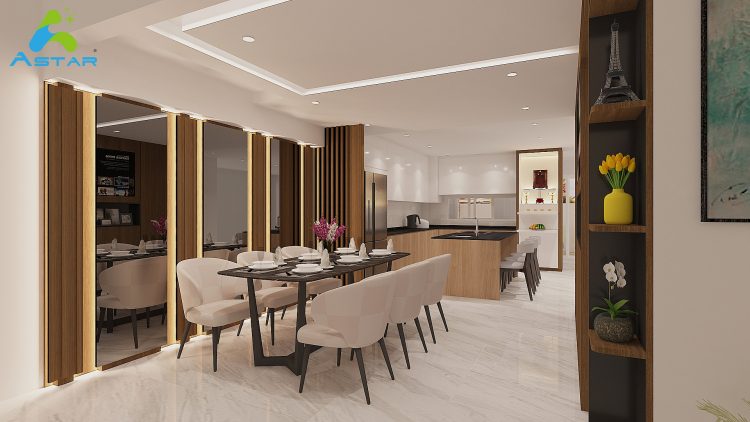 Wood-lookalike aluminium kitchen cabinets add warmth to this luxury interior at Carisbrooke Grove
For homeowners who favour the traditional, warm appearance of wood, A Star offers a range of lookalike wood finishes that are virtually indistinguishable from real wood.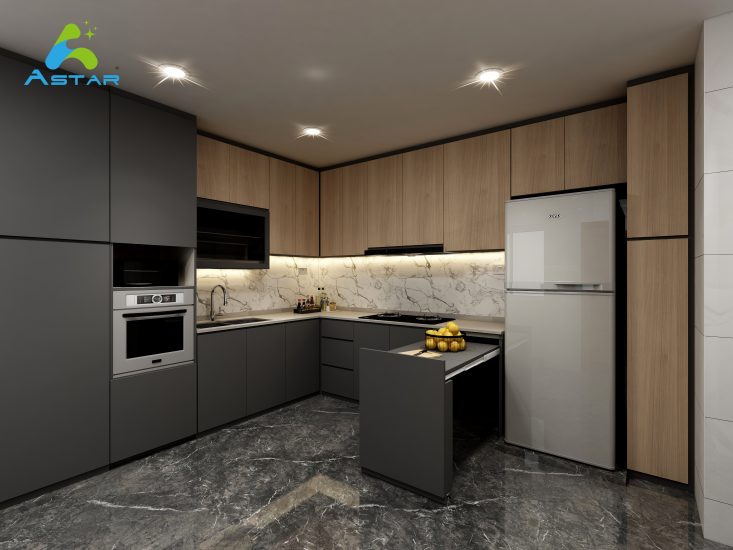 Aluminium cabinets provide an attractive contrast with various nature-inspired patterns and hues
Ease of Maintenance and Hygiene
Unlike laminated wood that can scratch, stain or lift, depending to a degree on the quality of the material and the installation, A Star Aluminium Furniture is stain-resistant and scratch-resistant. It can be wiped clean with a wet cloth and mild cleaning products. There is no need to spend money and clutter up your storage areas with specialised metal cleaners or tools.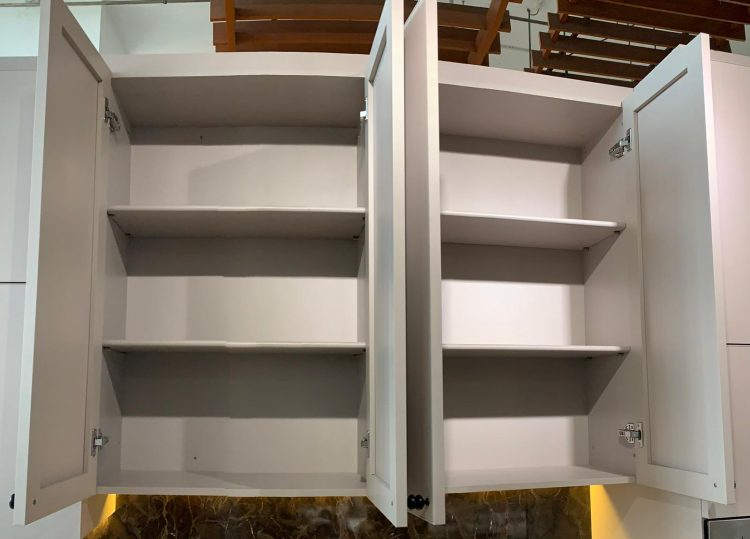 The interiors of aluminium cabinets can be easily wiped clean  
Stellar Service
A Star Furniture provides every customer with an obligation-free appointment with a professional designer, a detailed quotation, and complimentary customised 2D/3D computer drawings.
To cope with increasing demand and serve its broad customer base, A Star operates 24 hours a day, providing after-sales and solutions services via a live WhatsApp chat function on its website.
Superior Workmanship
A Star's furniture is fabricated and installed by experienced tradespeople who commenced their careers working with traditional laminated wood. They bring their wealth of experience in old-school carpentry to working with aluminium.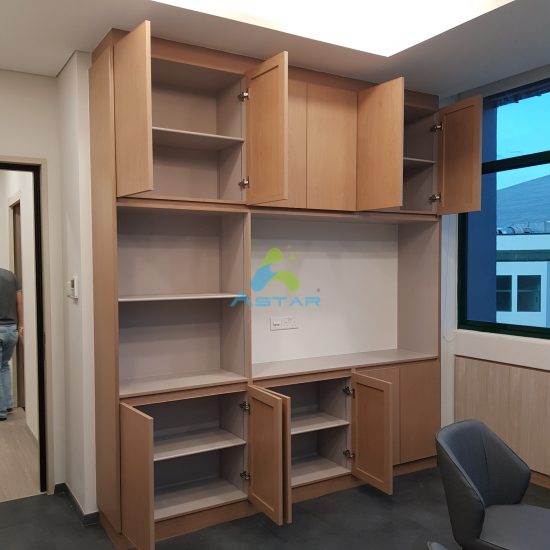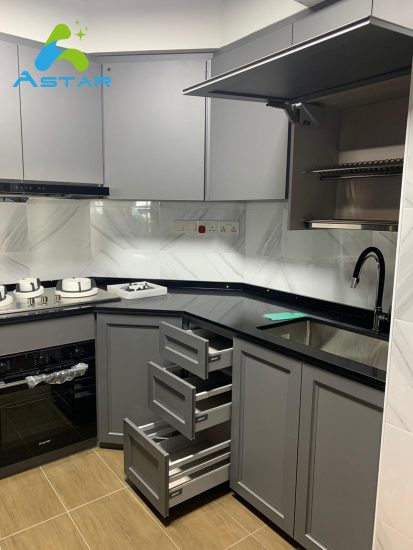 A Star Furnishing applies old-school carpentry techniques to aluminium
Advanced technology and precision engineering tools ensure perfect fits and joins. Eco-friendly screws are used, with no toxic chemical-laden adhesives, and all materials are certified formaldehyde-free.
A Star's confidence in the calibre of its workmanship and materials is backed by a 10-year quality assurance guarantee and the promise of lifetime maintenance.*
Sustainability and Certification
Thankfully, the world is waking up to the urgent need for society to embrace sustainability. Responsible homeowners are now questioning the environmental impact of wood, which may or may not have been produced using sustainable forestry methods. Even mined stone can disfigure the landscape and displace biodiversity. Compared to the alternatives, aluminium is an easy choice.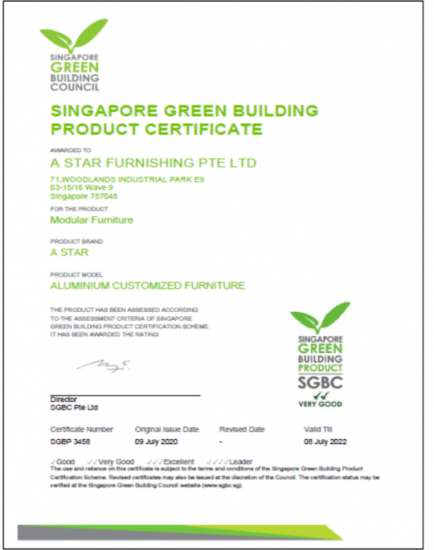 A Star Furnishing is certified 'green'
A Star Furnishing is proud to have been certified 'green' by the Singapore Green Building Council (SGBC).
Fun fact: Aluminium is one of the greenest metals on the planet, since it can be recycled repeatedly. Recycling this material saves 95 percent of the energy required to produce primary aluminium, or aluminium from raw materials. That is good for the planet and the pocket!
Aluminium Wins
For all these reasons and more, aluminium is clearly a better choice than laminated wood, for many if not all applications. If you would like an obligation-free consultation with an A Star Furnishing designer, or more information on the compelling advantages of aluminium for furniture in residential and commercial settings, contact A Star Furnishing at 6200 8588 today or visit astarfurnishing.sg to chat on WhatsApp or send an email enquiry.
*Terms and conditions apply.