Dream Home: Patterns, Prints, Spaces and Places
Having lived in the UK, Malcolm and Xue Ning wanted an abundance of prints and patterns in their two-storey home, as well as a separate entry hall, a laundry room, a children's playroom and an open concept kitchen. Their renovation ticked all of their boxes, thanks to the patience and aligned vision of their designers Jacky and Vince from WHST Design.
Project Snapshot
Name(s) of Homeowner(s): Malcolm Tan and Choo Xue Ning
House Type: Landed Property
Size of Home: 2,380 sq/ft
Cost of Renovation: $220,000
Duration of Renovation: 6 months
Interior Design Firm: WHST Design
Name(s) of Designer(s): Jacky Lin and Vince Teo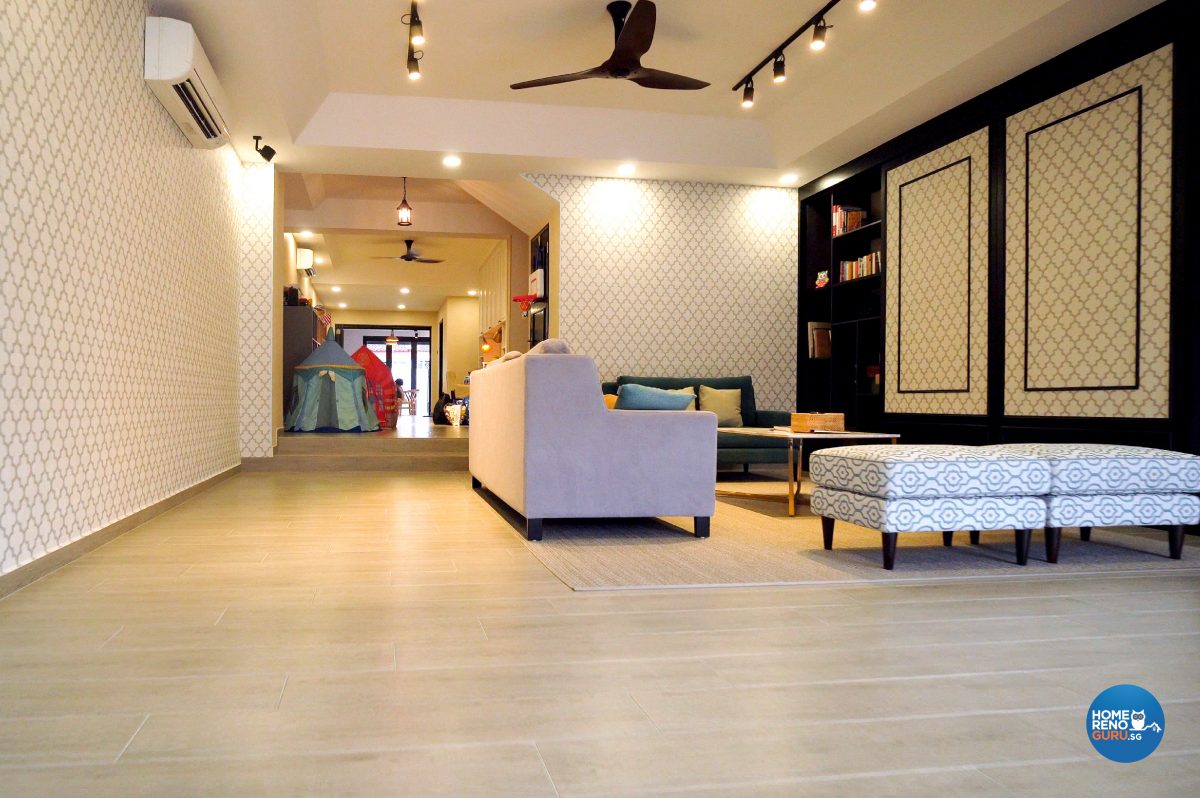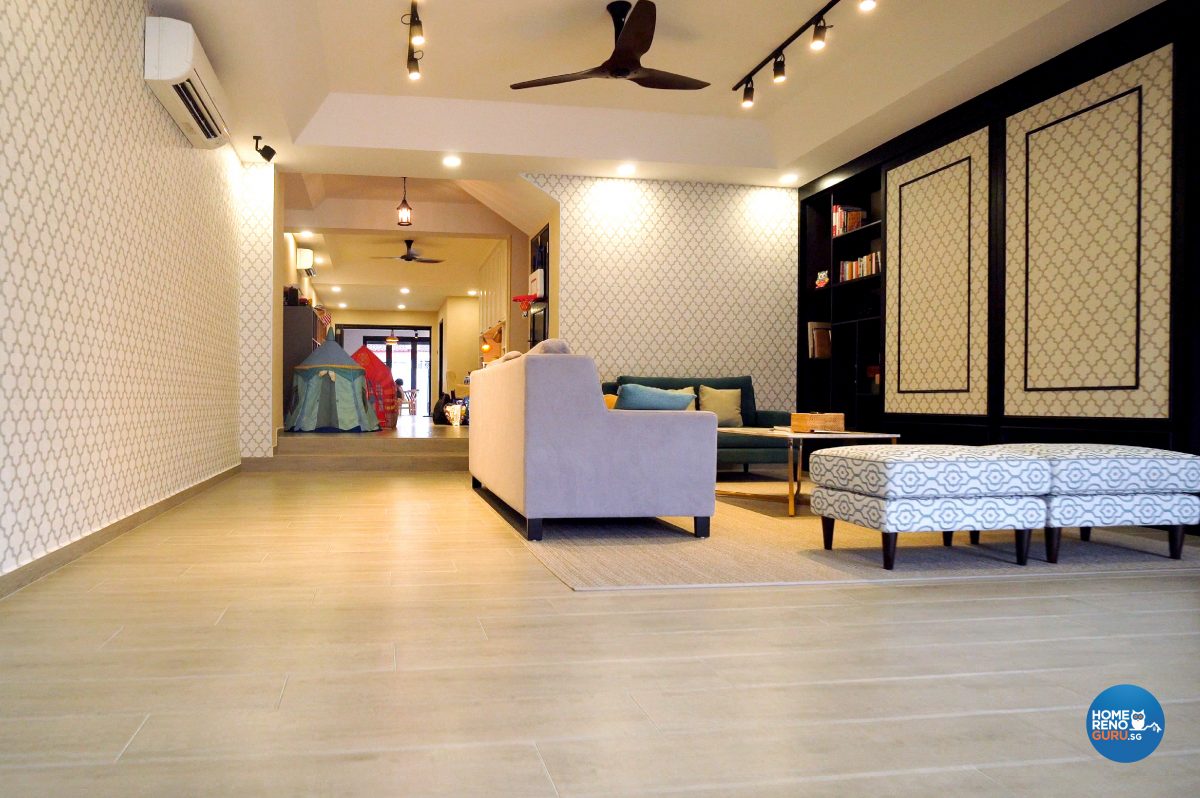 A classic, crisp black and white colour scheme pervades the living area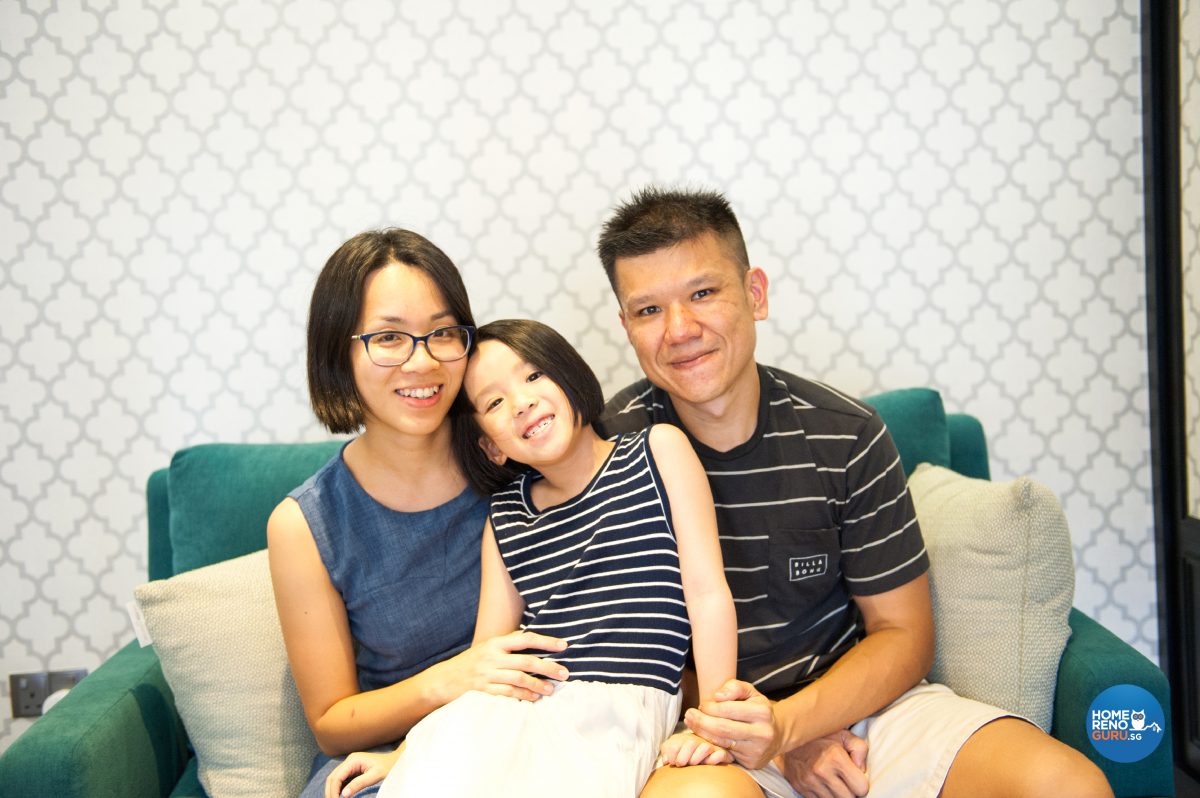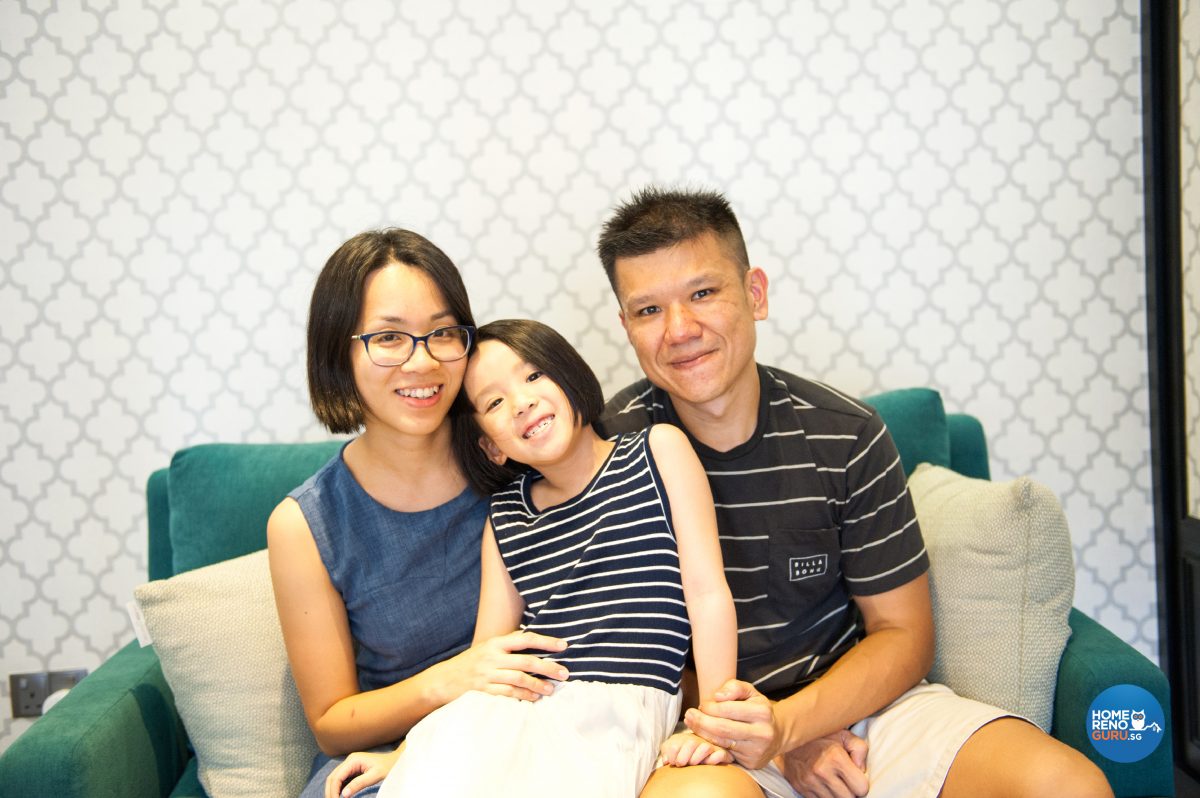 Happy homeowners Xue Ning and Malcolm with daughter Sophie
HomeRenoGuru: How did you come to engage WHST Design to renovate your home?
Malcolm: We were introduced to WHST Design through a mutual friend after the relationship with our initial ID kind of failed.
We met up with Vince and Jacky from the company and they had ideas that were in line with what we had in mind. They were also very easy to work with and we found that we could get along, and that was the main reason why we decided to engage their services.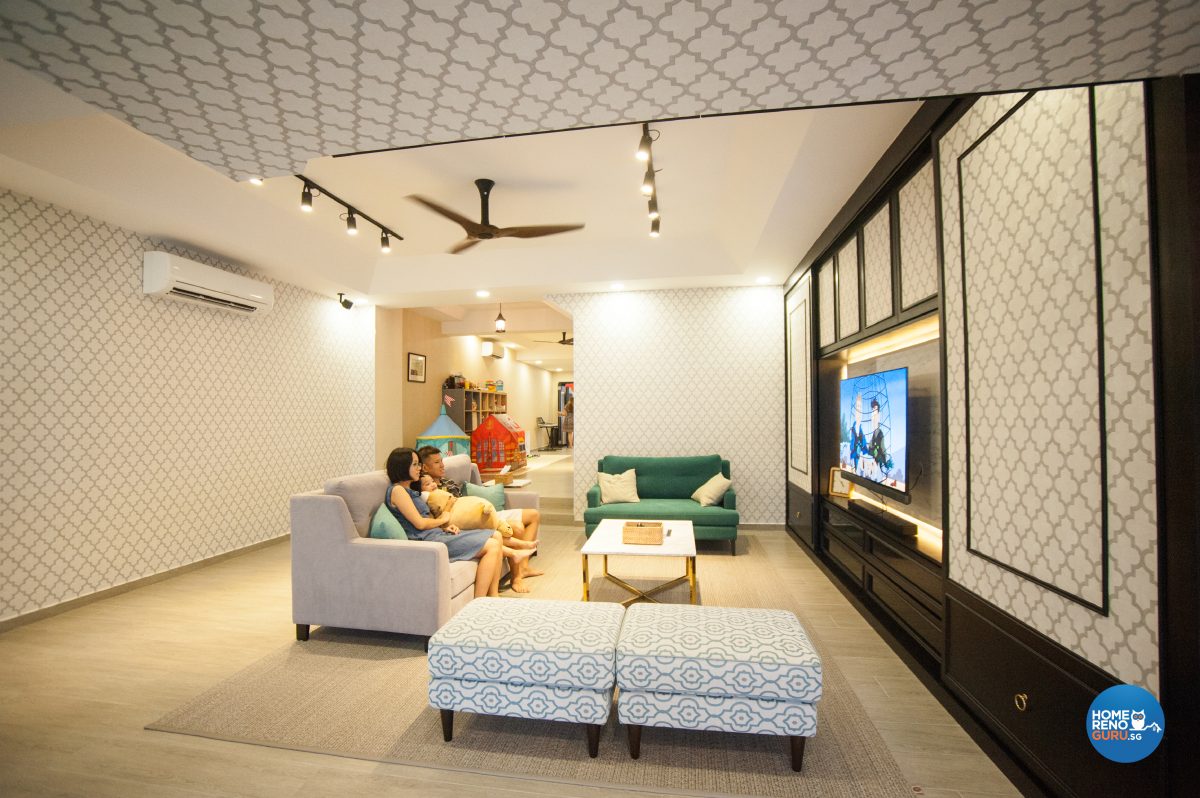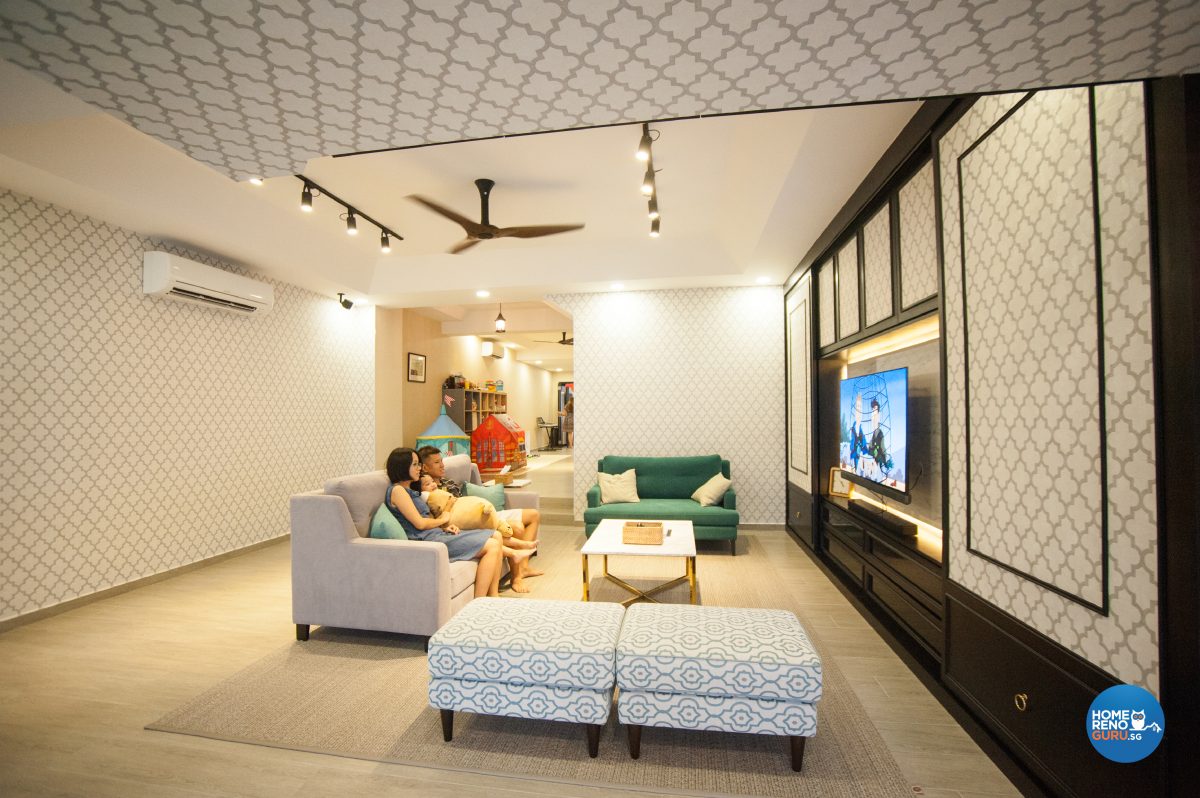 White sliding doors conceal the wall-mounted TV
HomeRenoGuru: What was your brief to your designers?
Xue Ning: Having lived in the UK for about a year, there were certain ideas that I wanted to implement in our home.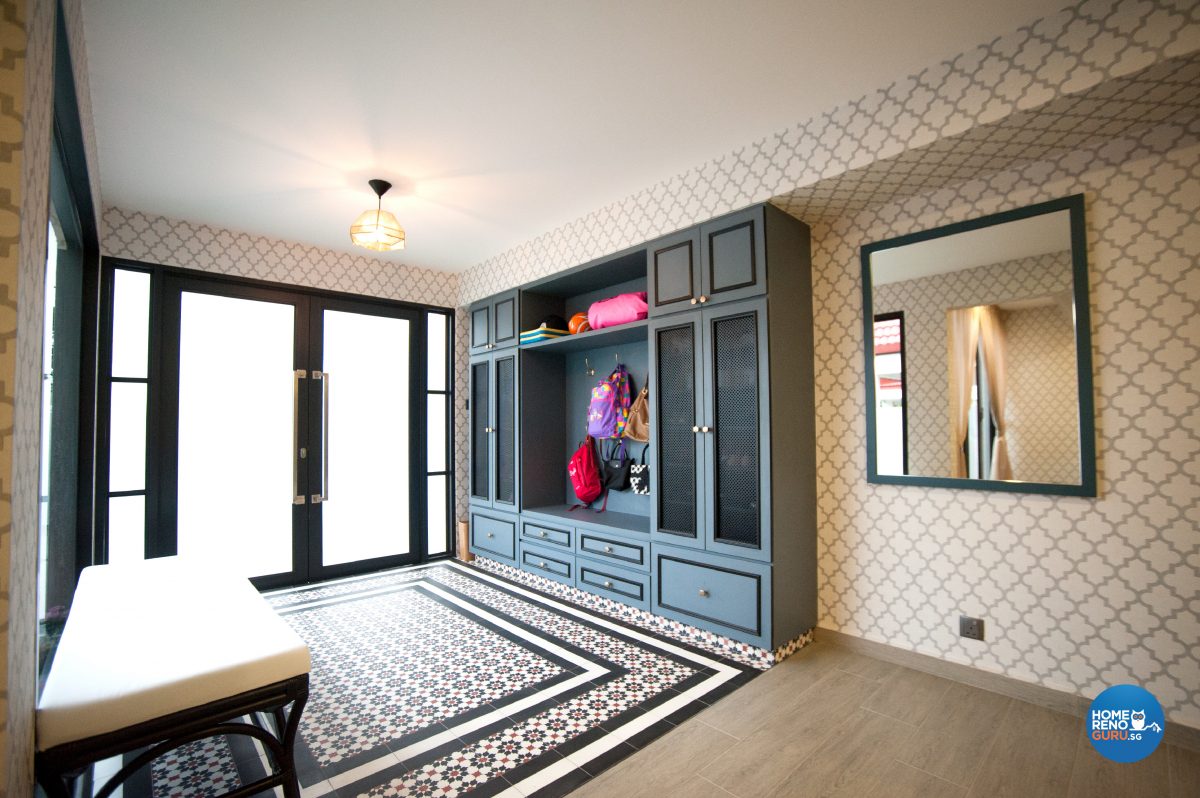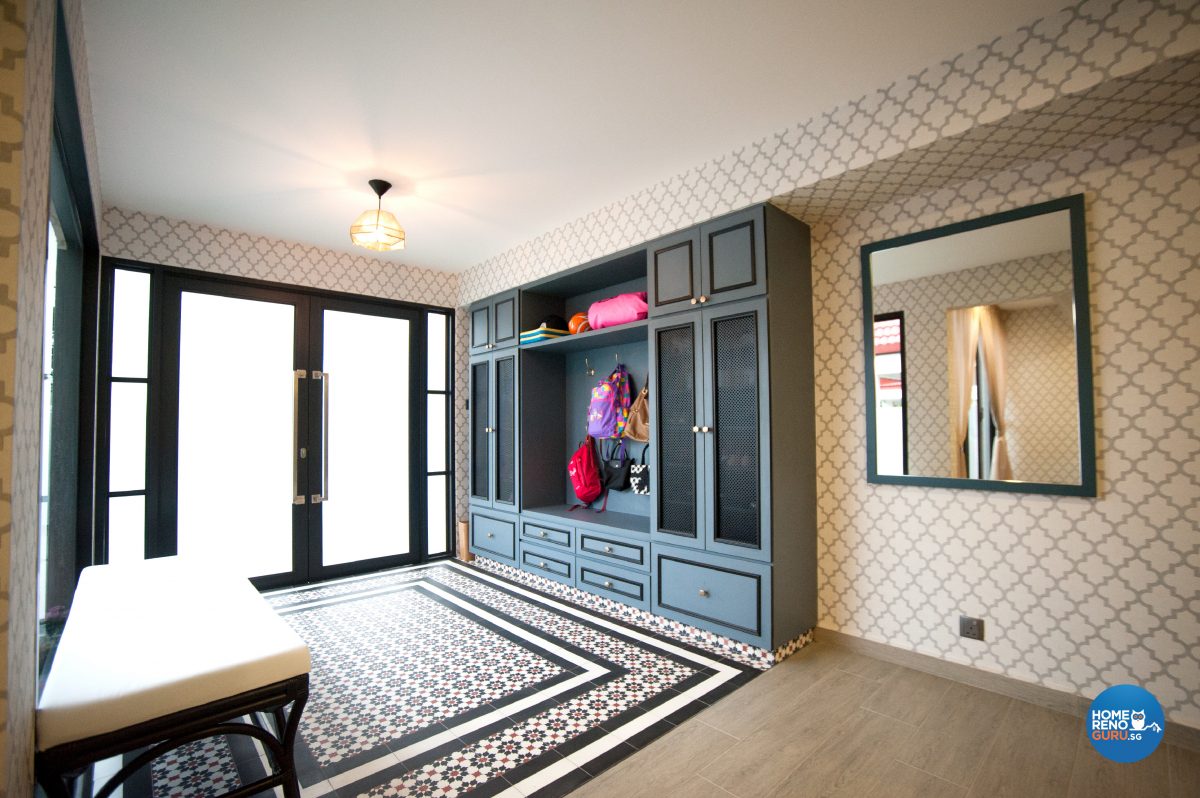 The impressive and spacious entrance hall was a mandatory requirement of the design brief
So the brief that we gave to our designers, Jacky and Vince, was to have an entry hall where we could hang our coats and store our bags, a laundry room, a kids' play area, as well as an open concept kitchen.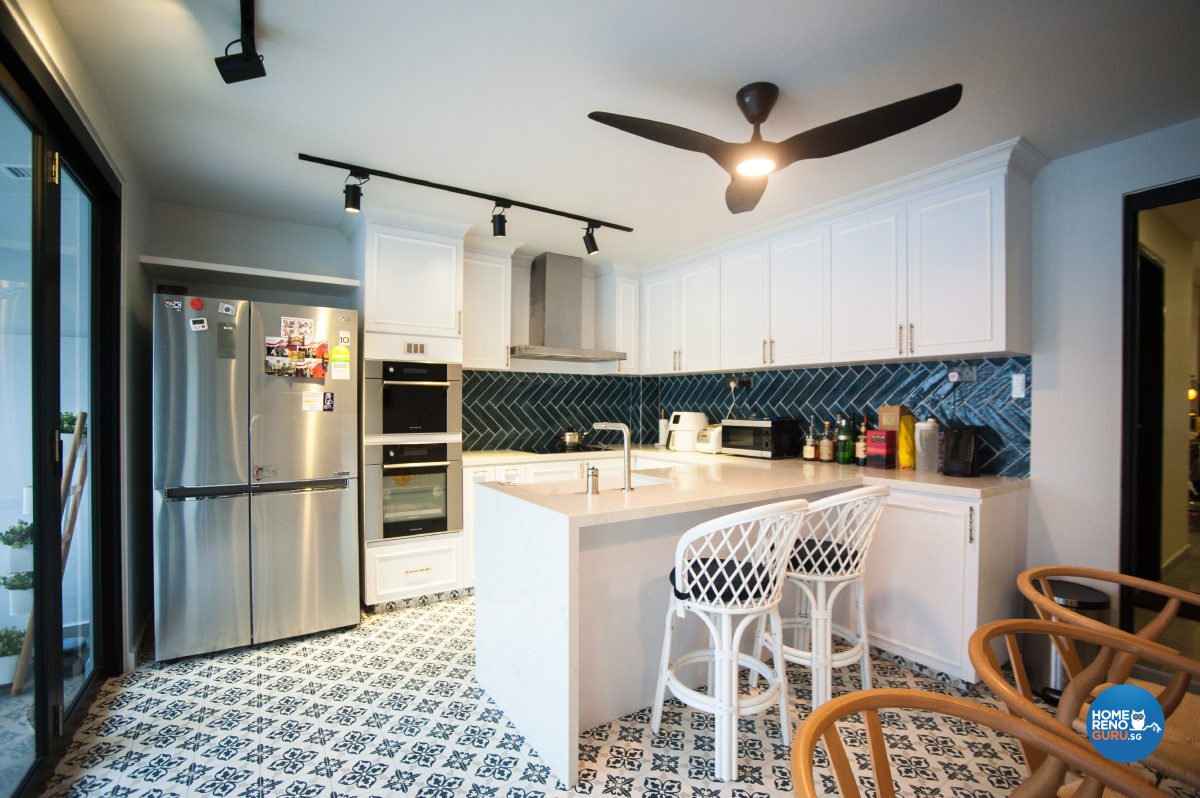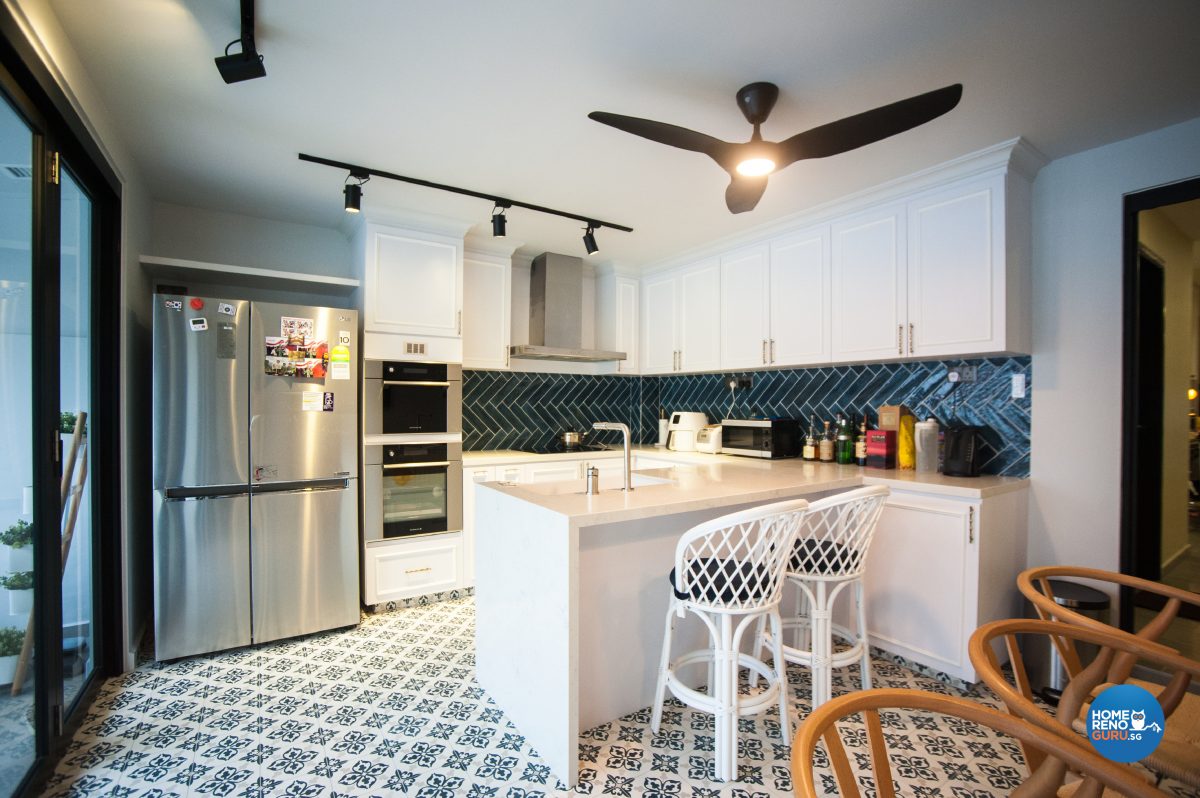 A T-shaped counter separates kitchen and dining area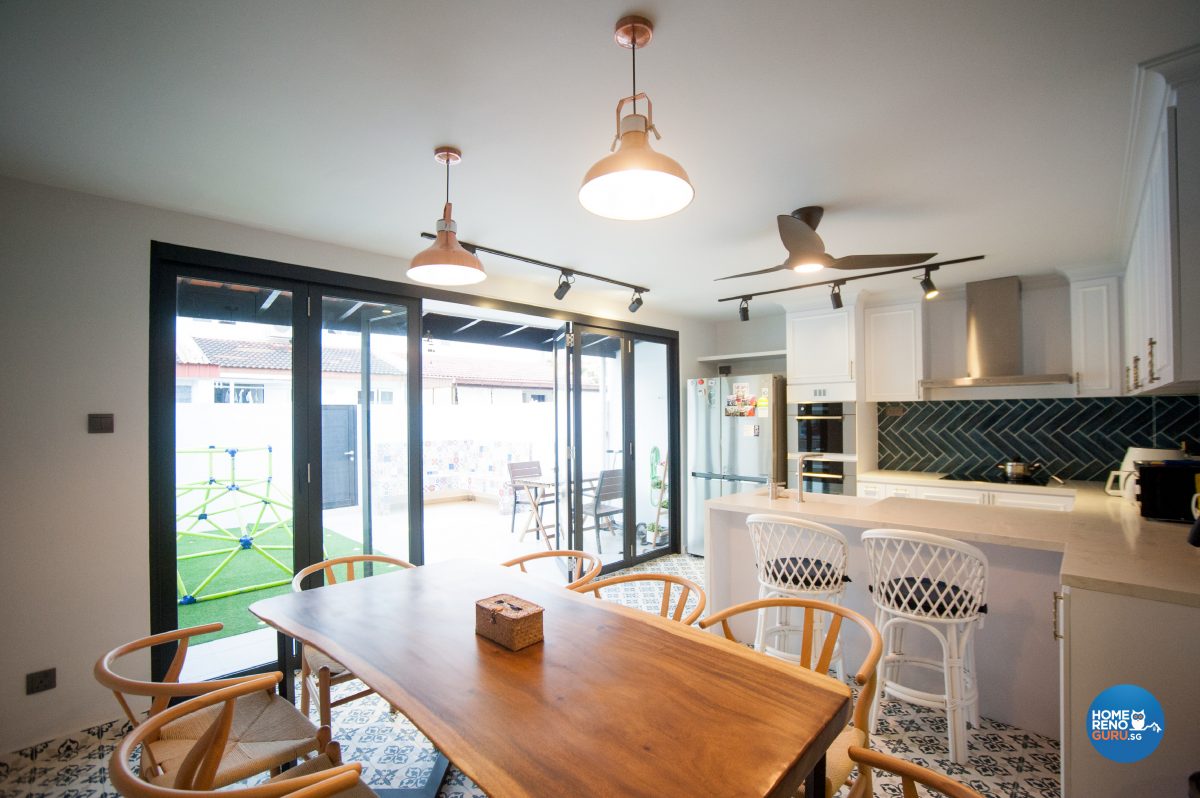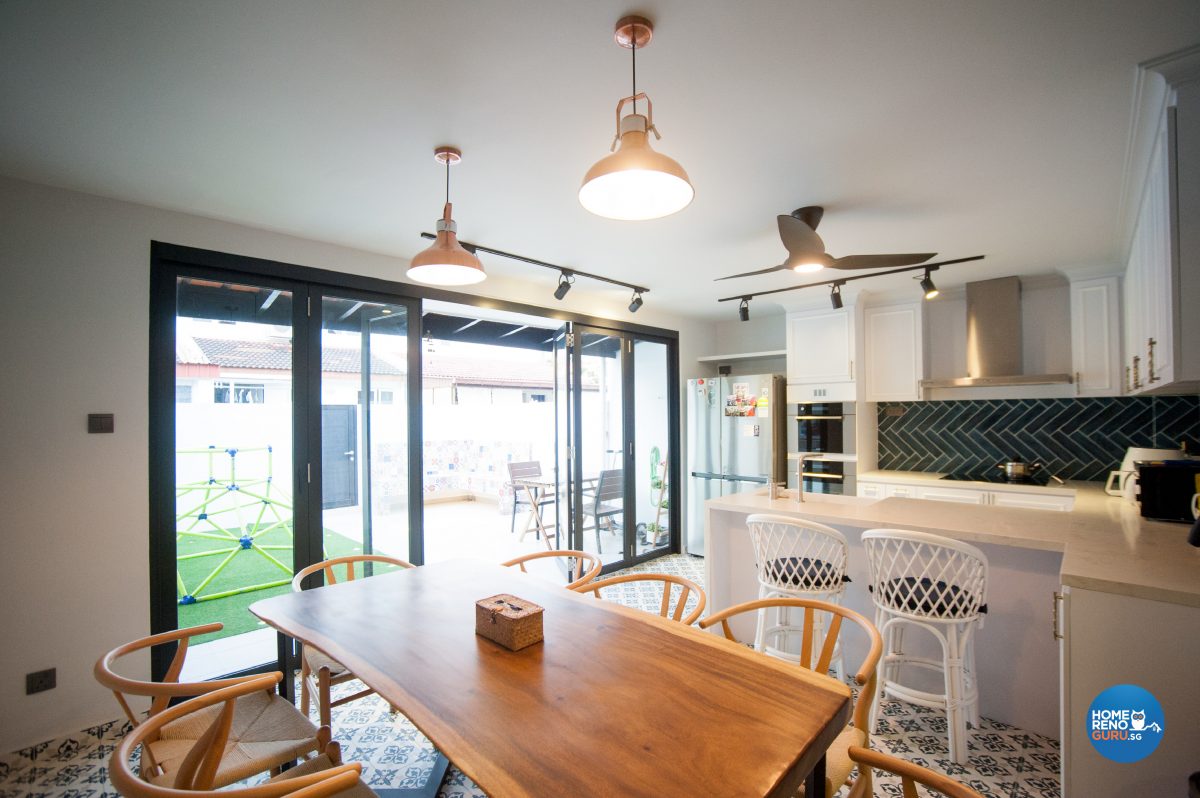 A warm wooden dining suite deliberately departs from the black and white palate
In general, I also like prints and patterns, so we wanted to incorporate that into our home design.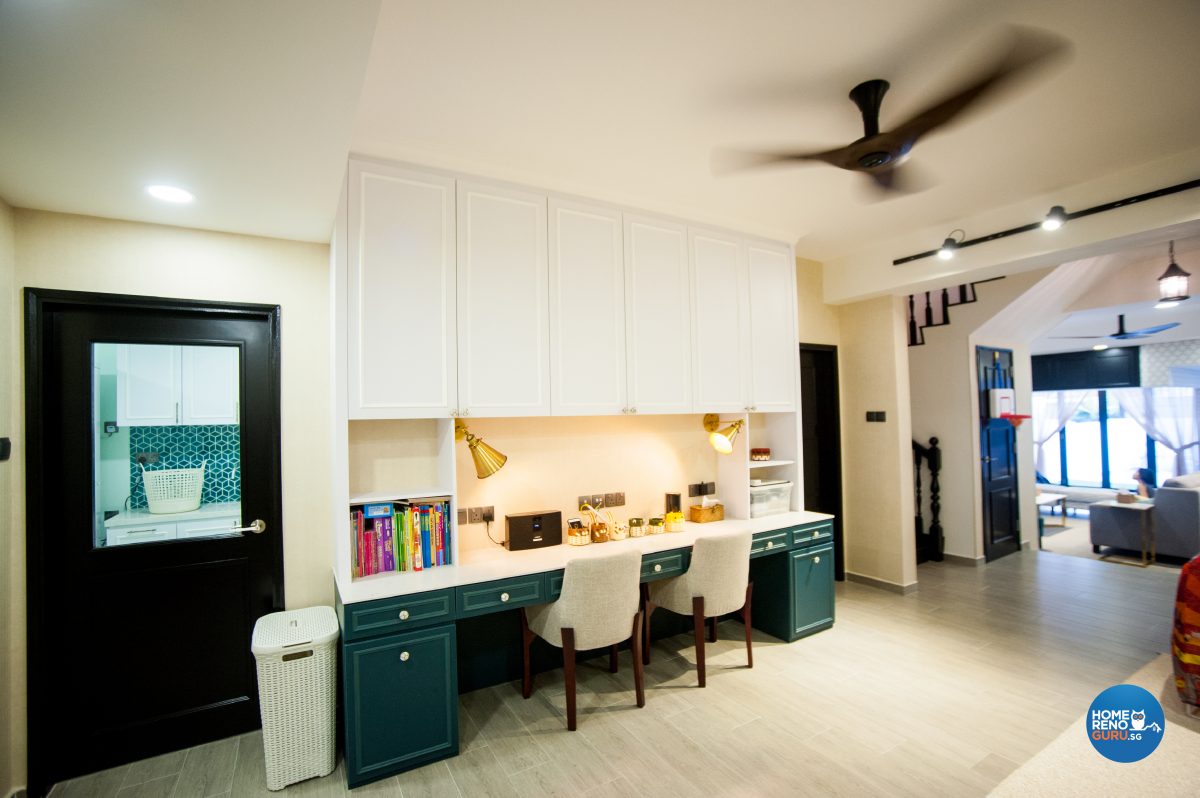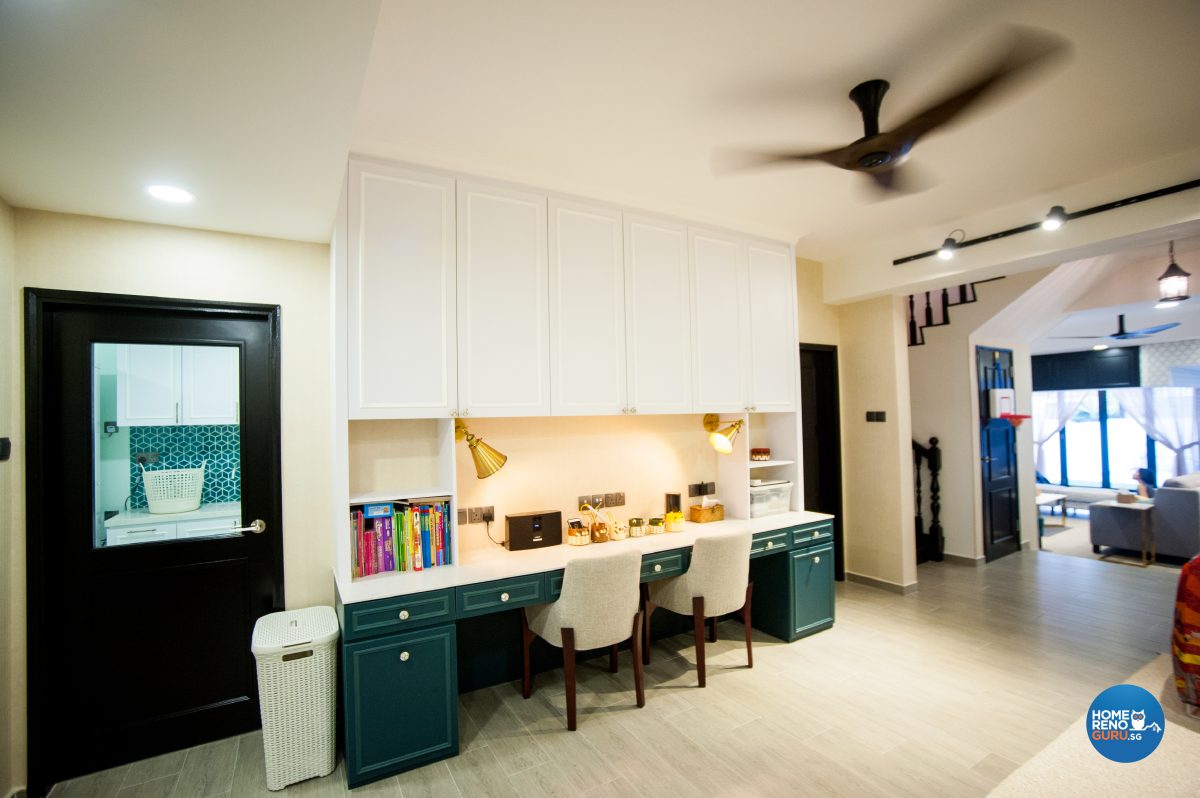 The children's study area encourages homework…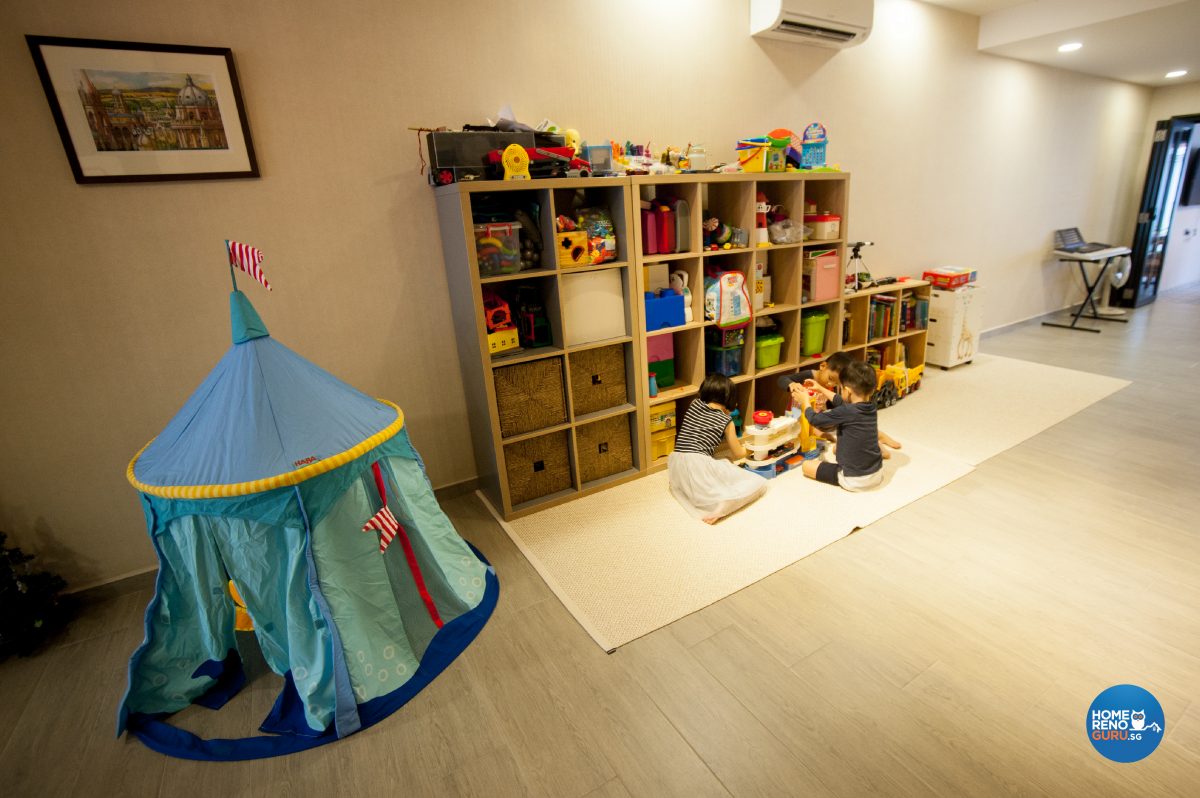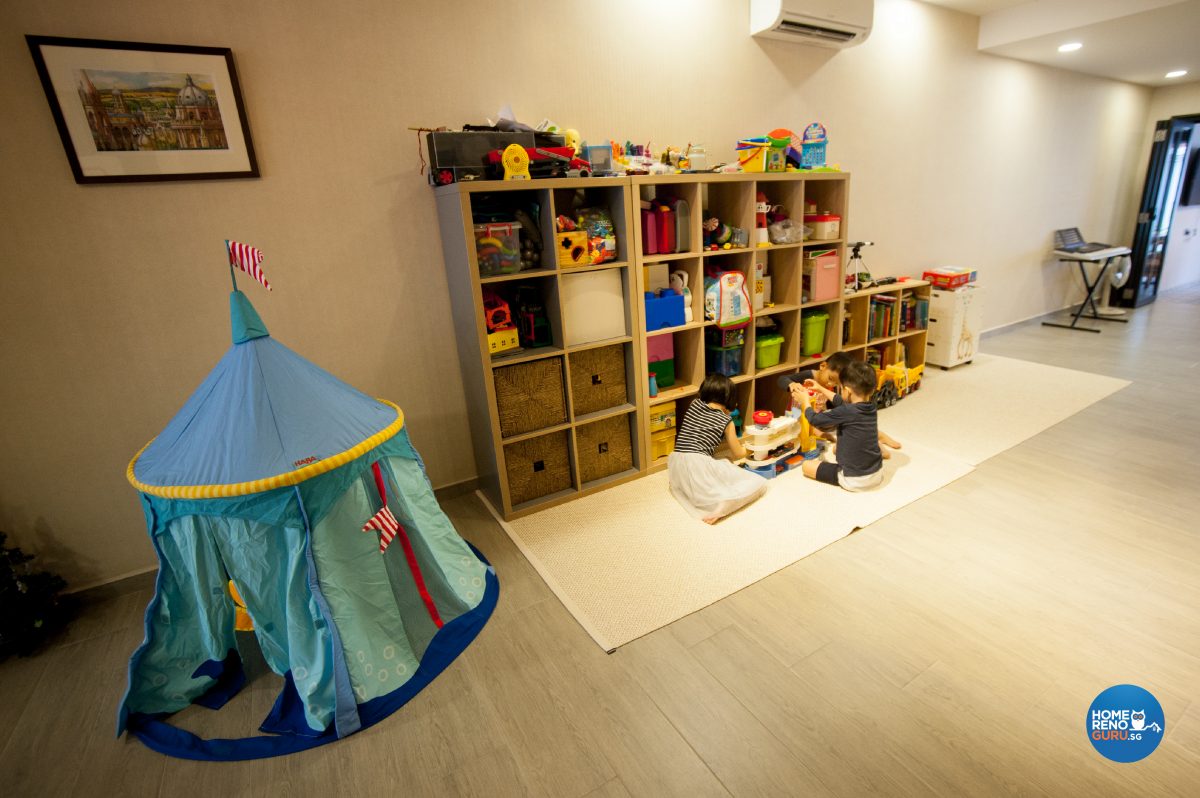 … with the prospect and reward of playtime in the adjoining play area
HomeRenoGuru: How did you find the actual renovation progress?
Malcolm: We met up very regularly with Vince and Jacky throughout the renovation process.
And they showed us mock-ups of how certain things were going to be. They went shopping with us for wallpapers and for tiles as well.
With both of us being working adults, we were not able to come down on site all the time and so we depended on Jacky who was very reliable and responsive to our needs and was able to sort out most of the issues.
HomeRenoGuru: What are your favourite parts of your home?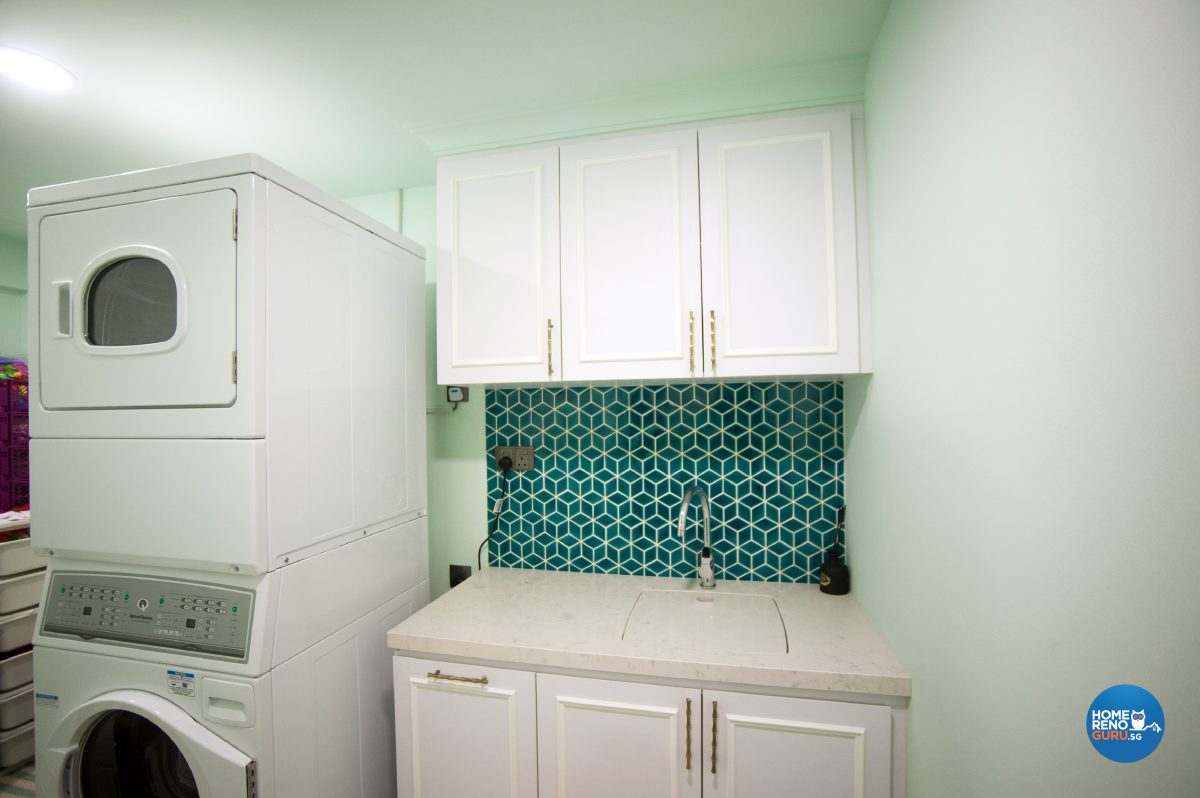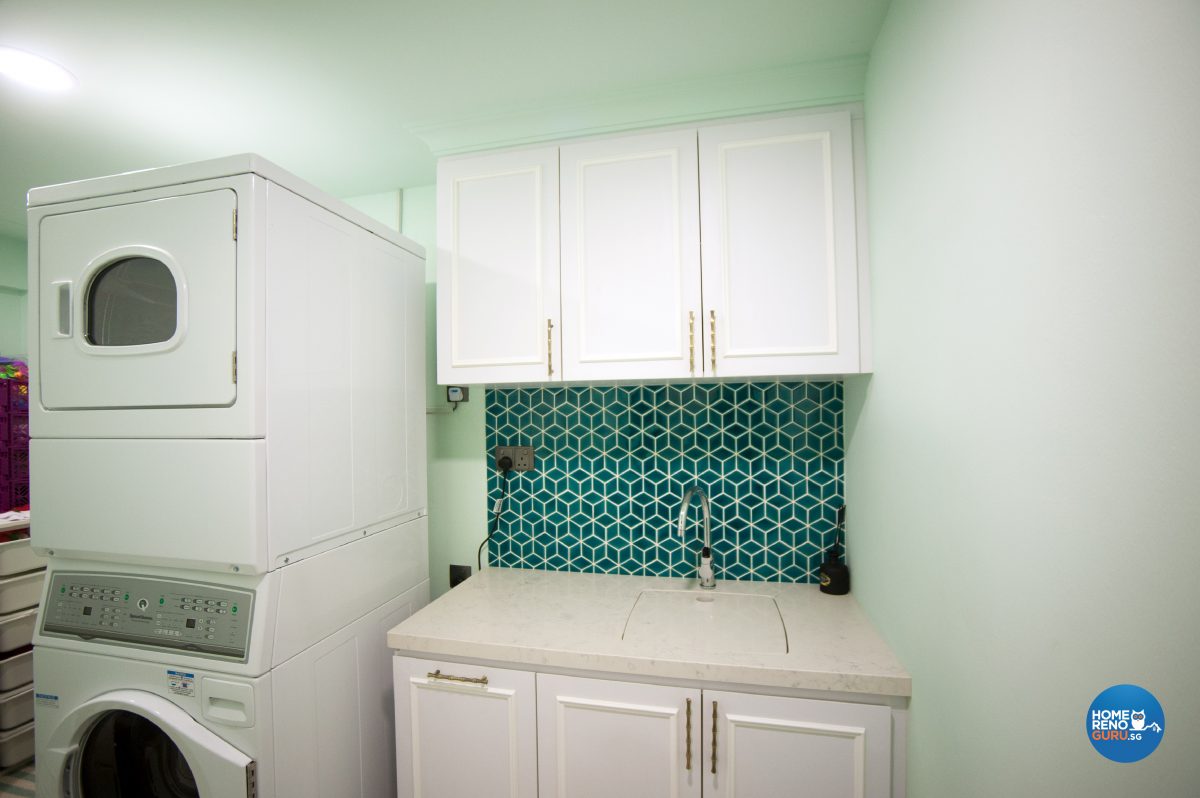 A dedicated laundry room turns a chore into a pleasure for Xue Ning
Xue Ning: An area that I really like in the house would be my laundry room. I find it relaxing to do my laundry there.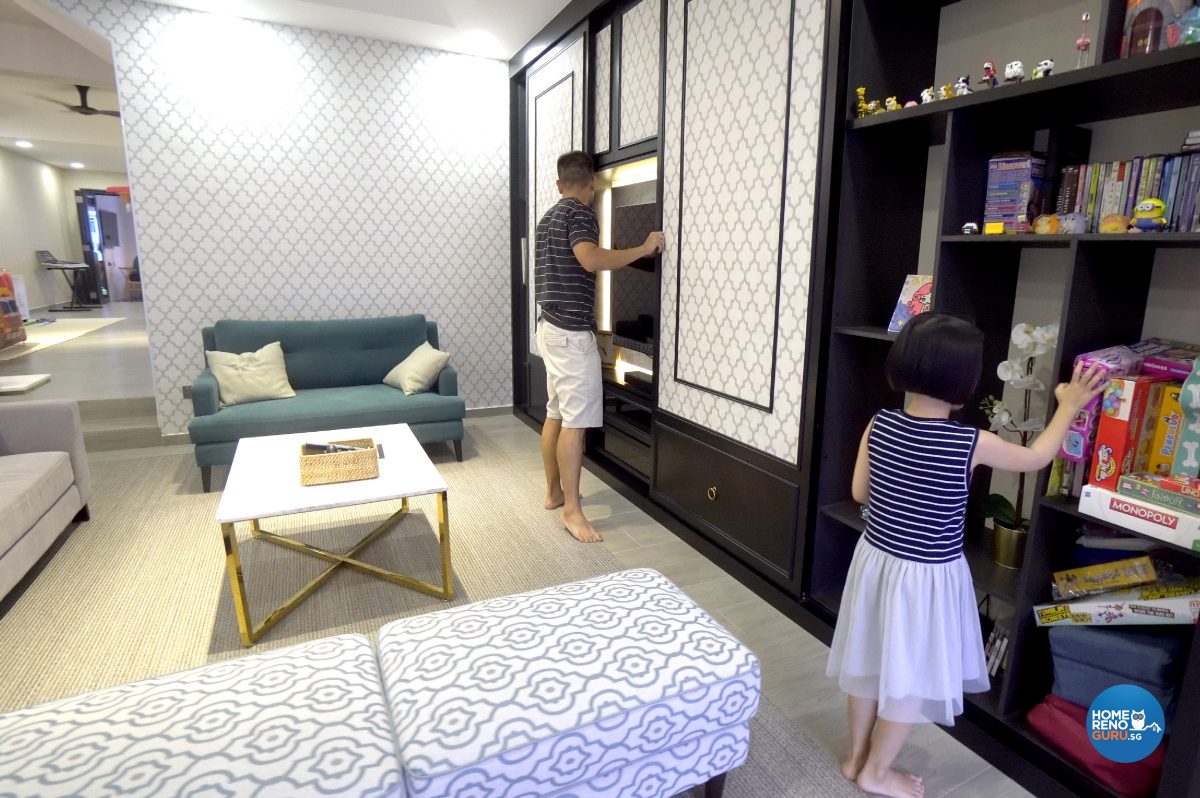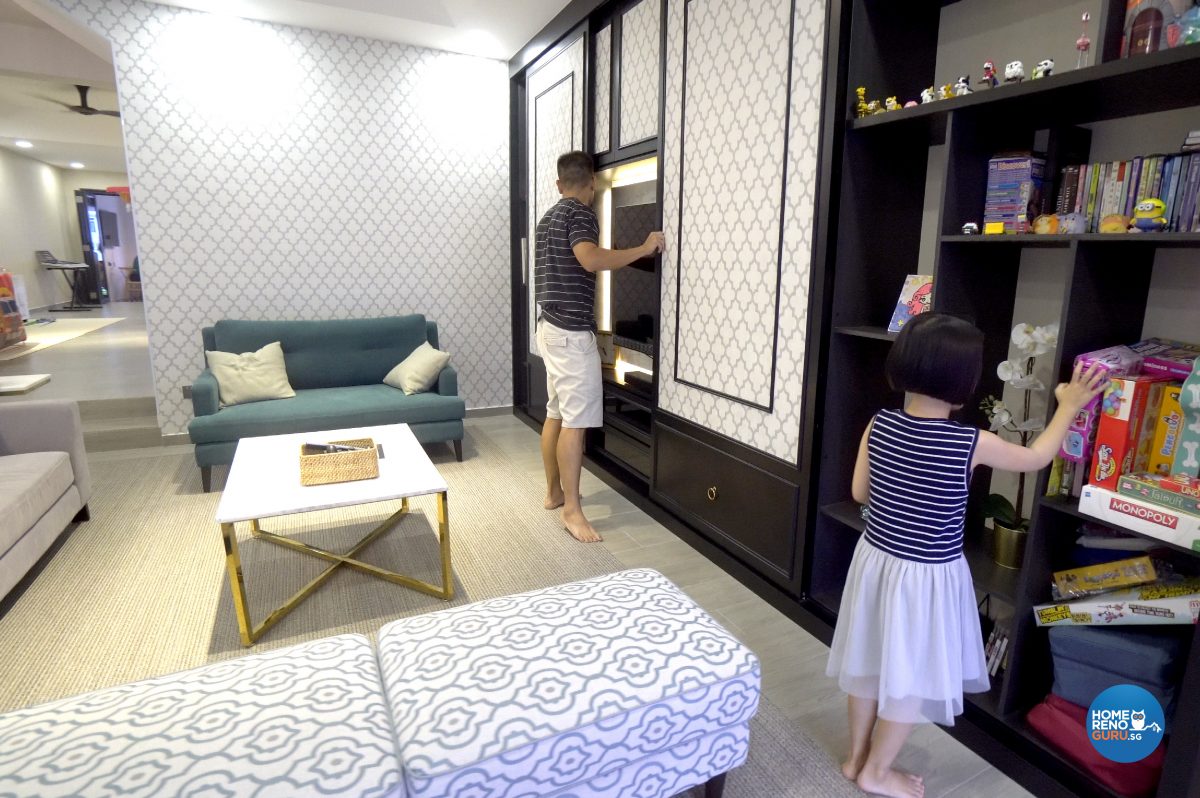 The sliding doors, once opened, artfully conceal the bookshelf that flanks the TV
Malcolm: My favourite area in the house is actually the living room because it is huge and spacious. We have a huge feature wall with a mounted television and also this television can be concealed by sliding doors.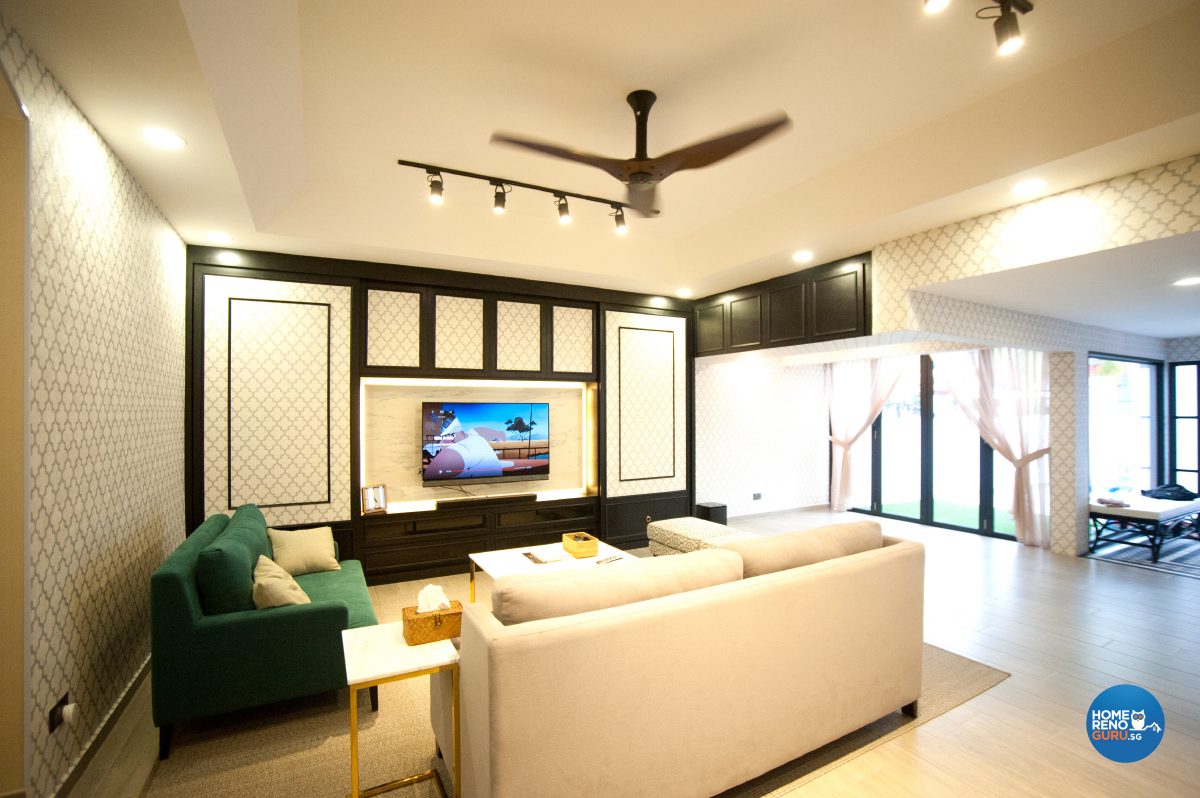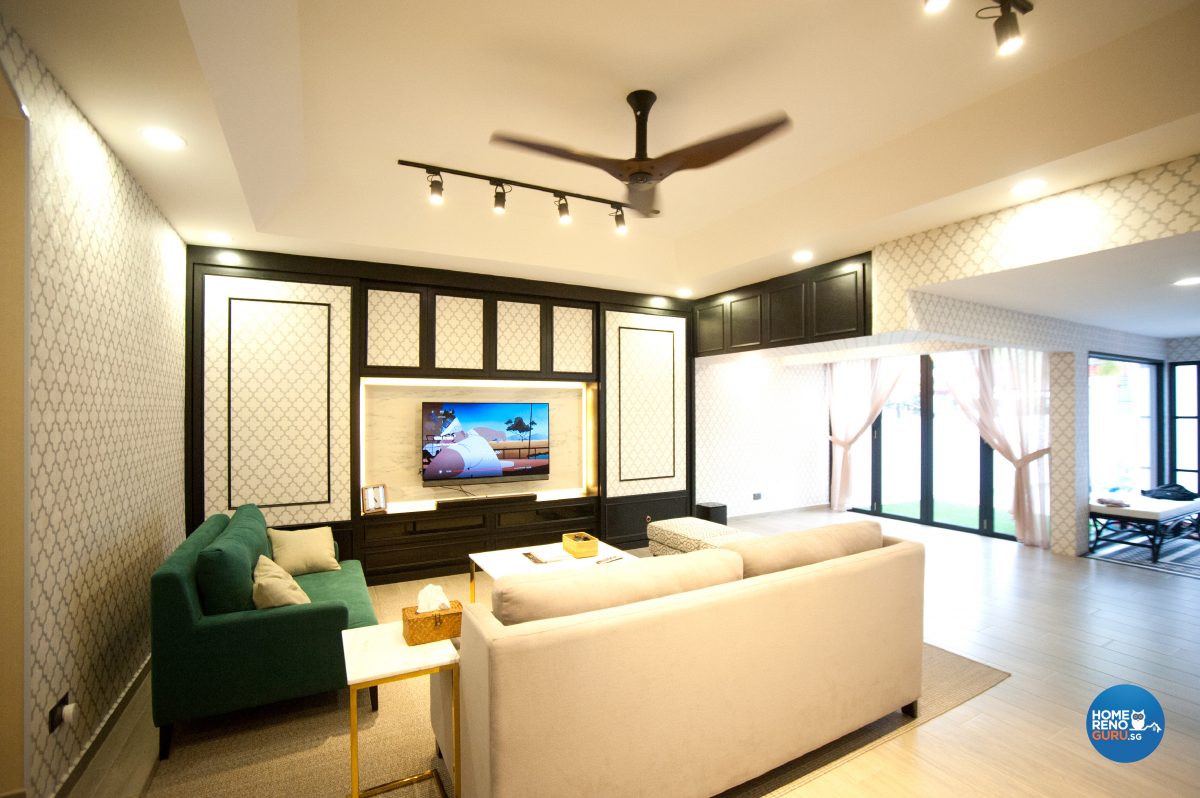 The free-flowing space is illuminated by layered lighting and natural light, filtered by light gauzy curtains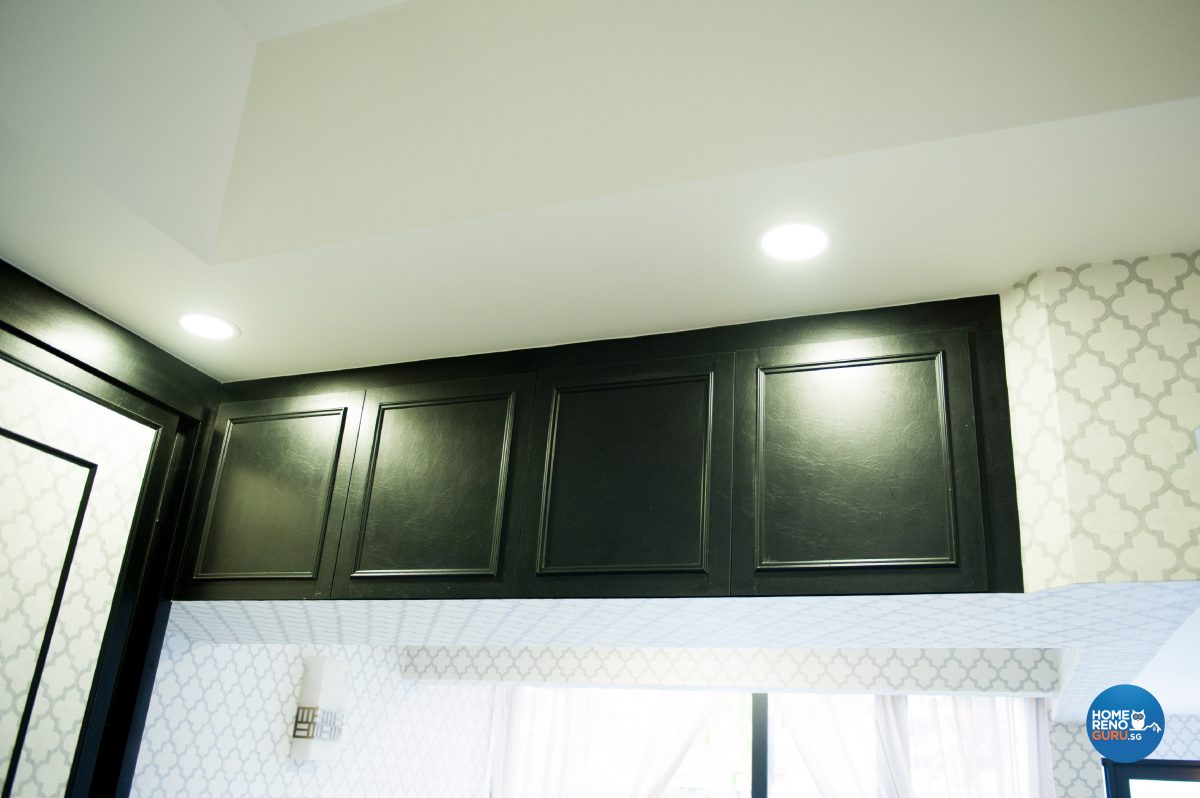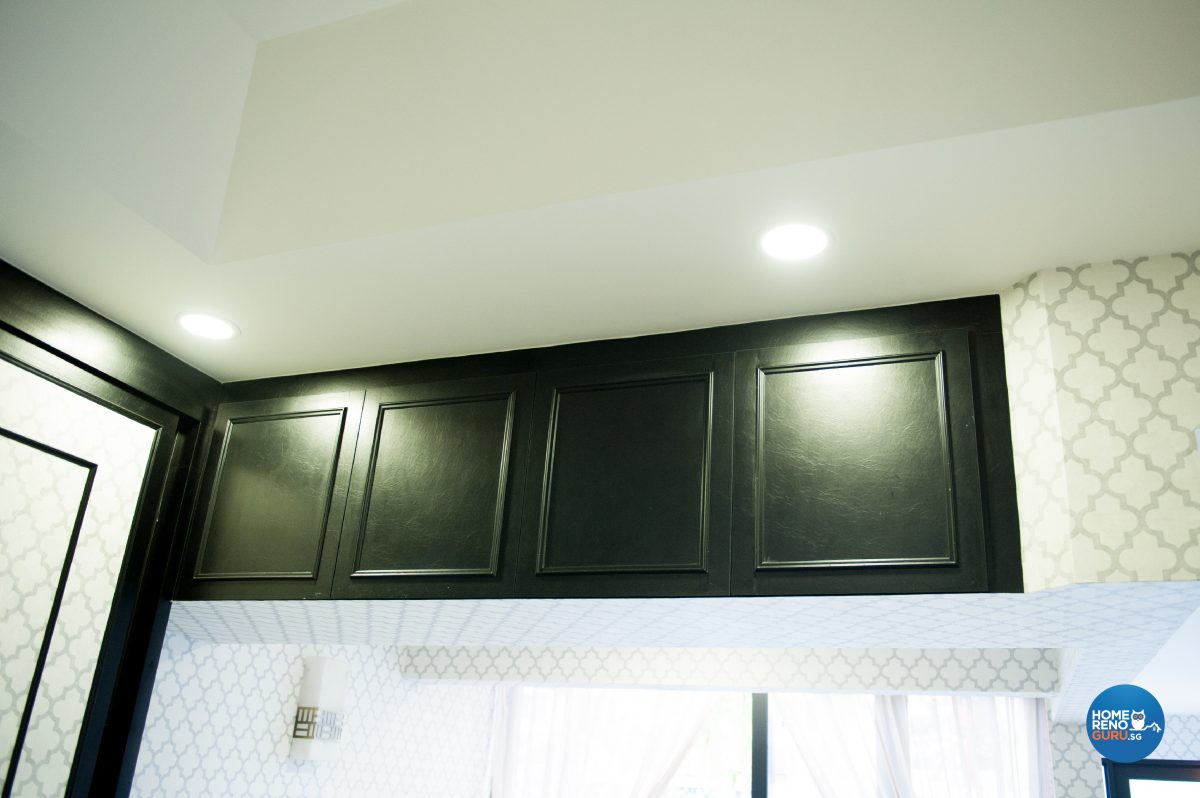 An ugly exposed beam is concealed by extra overhead storage space
We also extended the front of the door to provide more space for the living room. And this actually left a very odd-shaped beam, which Jacky cleverly suggested to use as an additional storage space and at the same time conceal the ugly beam.
Looking for Interior Designers?
Let HomeRenoGuru help!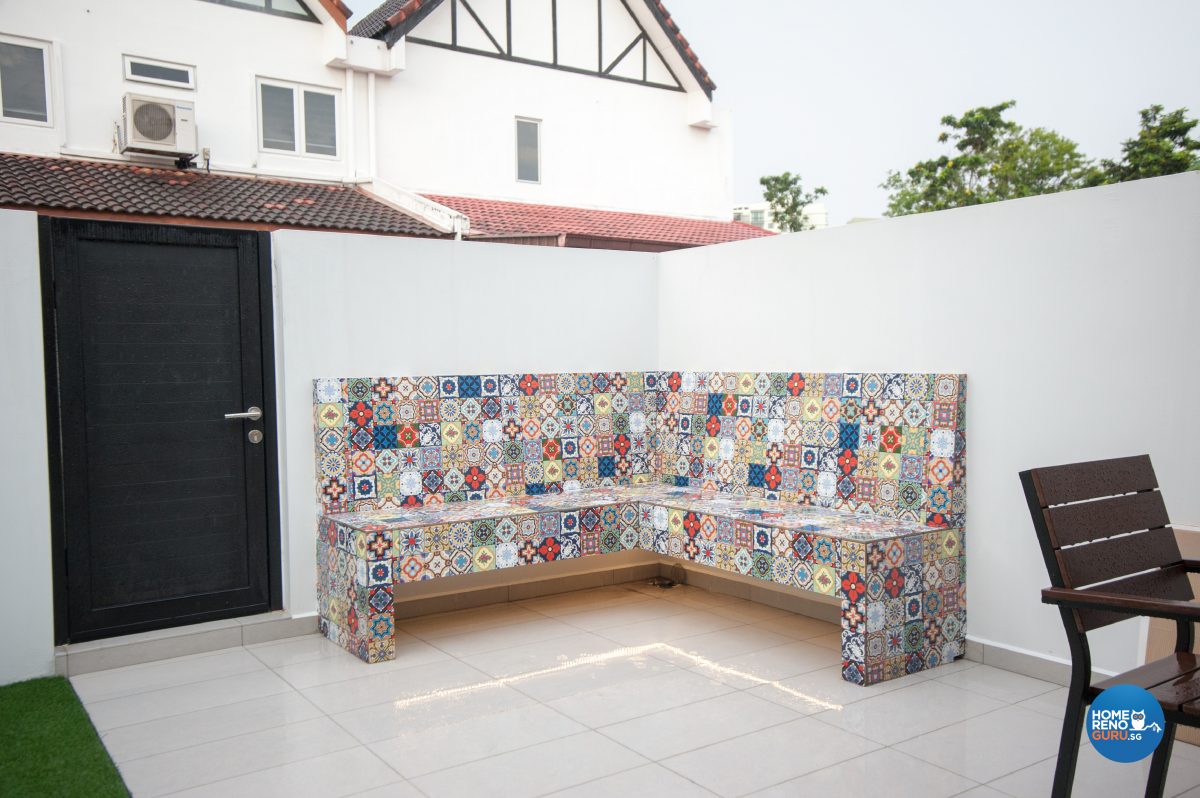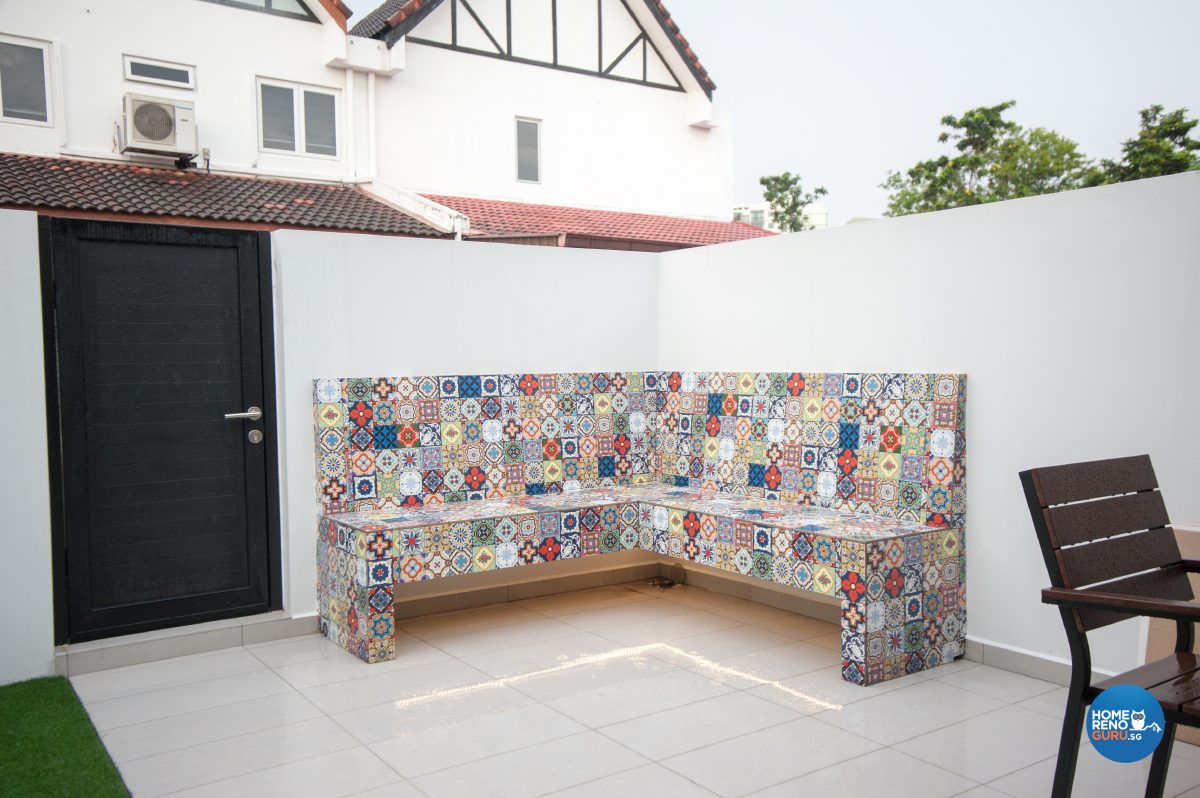 A courtyard-style backyard is graced by a vibrant tiled bench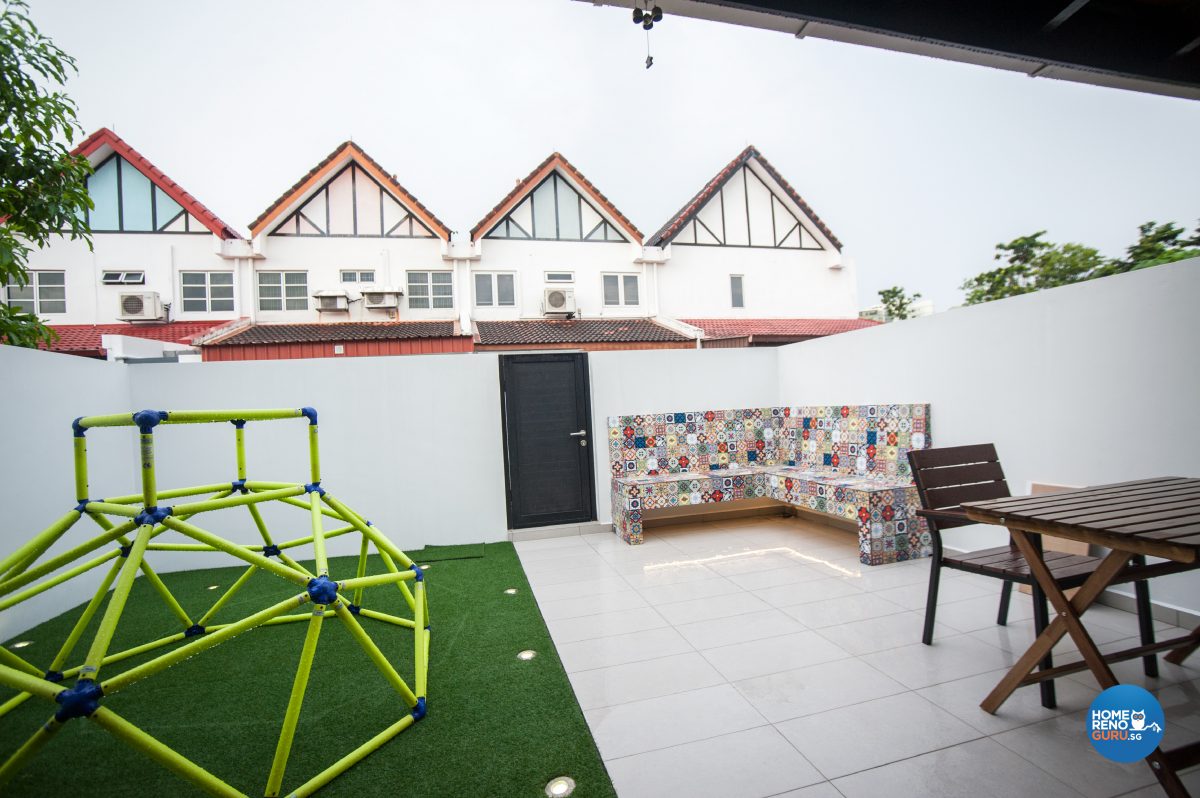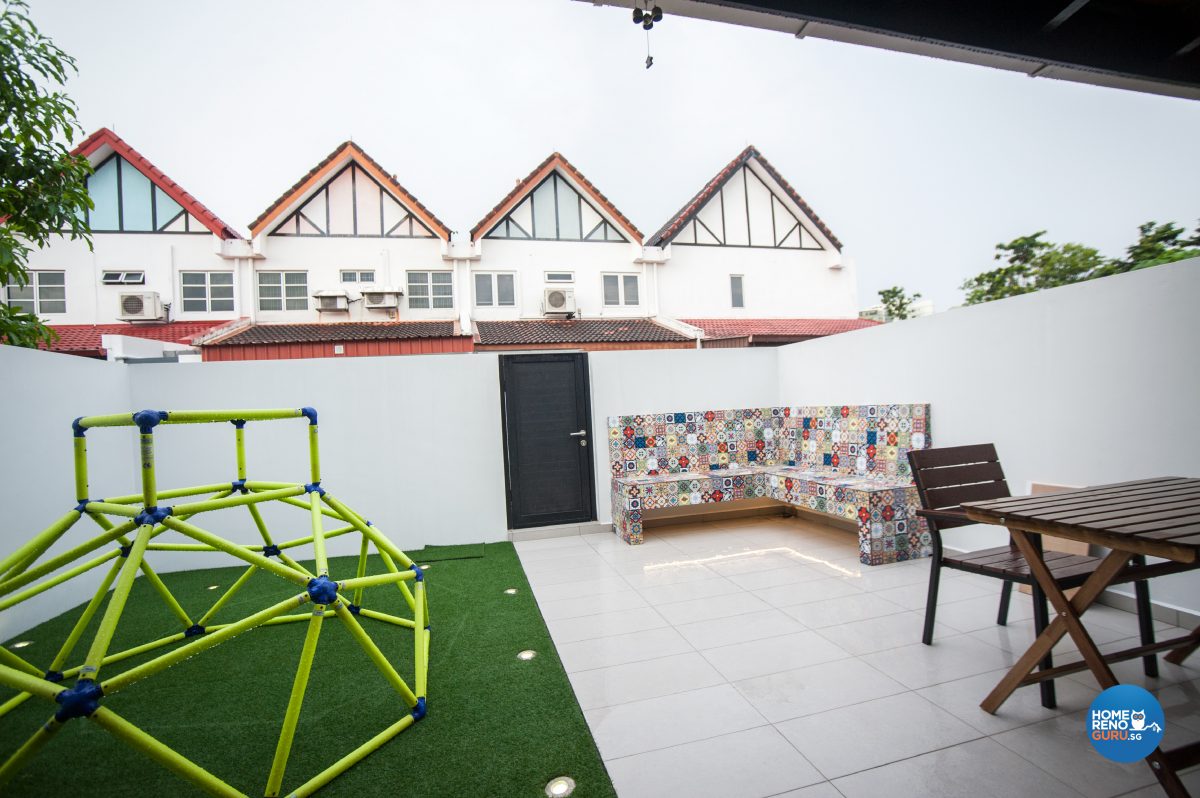 A grassed area houses a pocket playground
Another area in the house that I really like is the backyard. In the backyard, we installed a tiled bench, which is made up of numerous colourful tiles.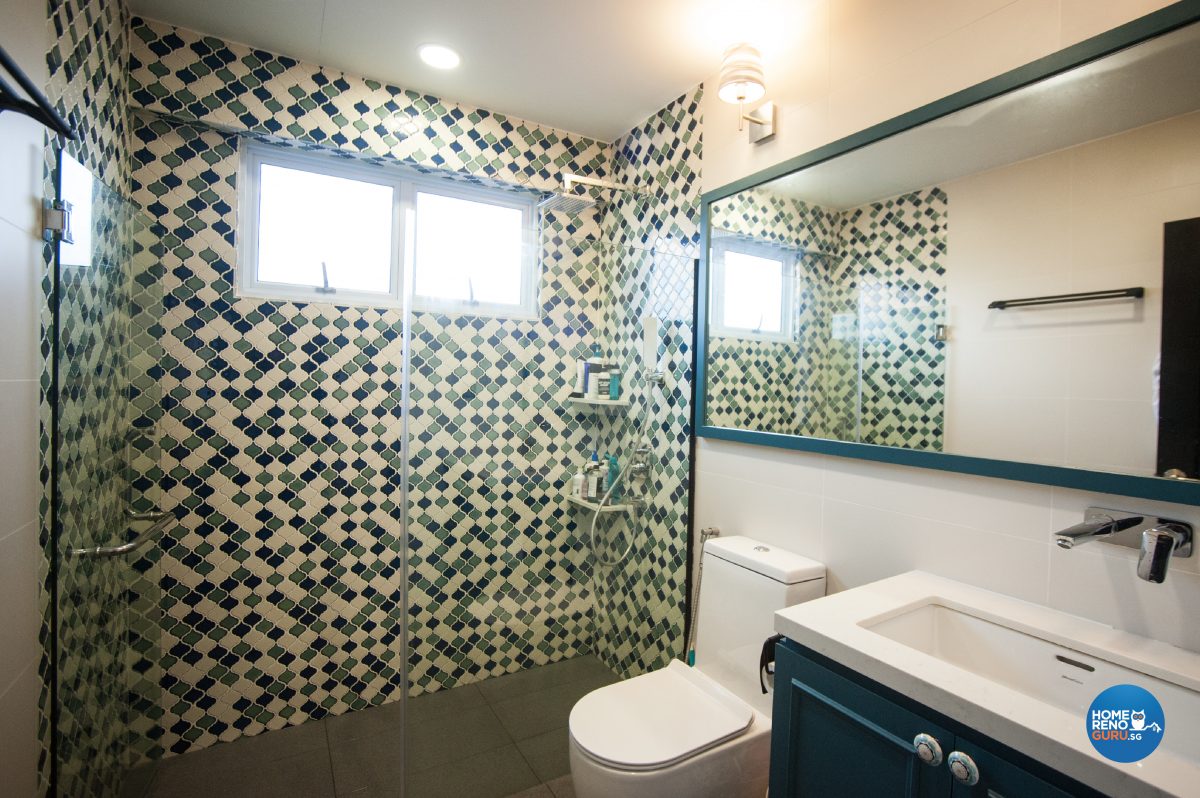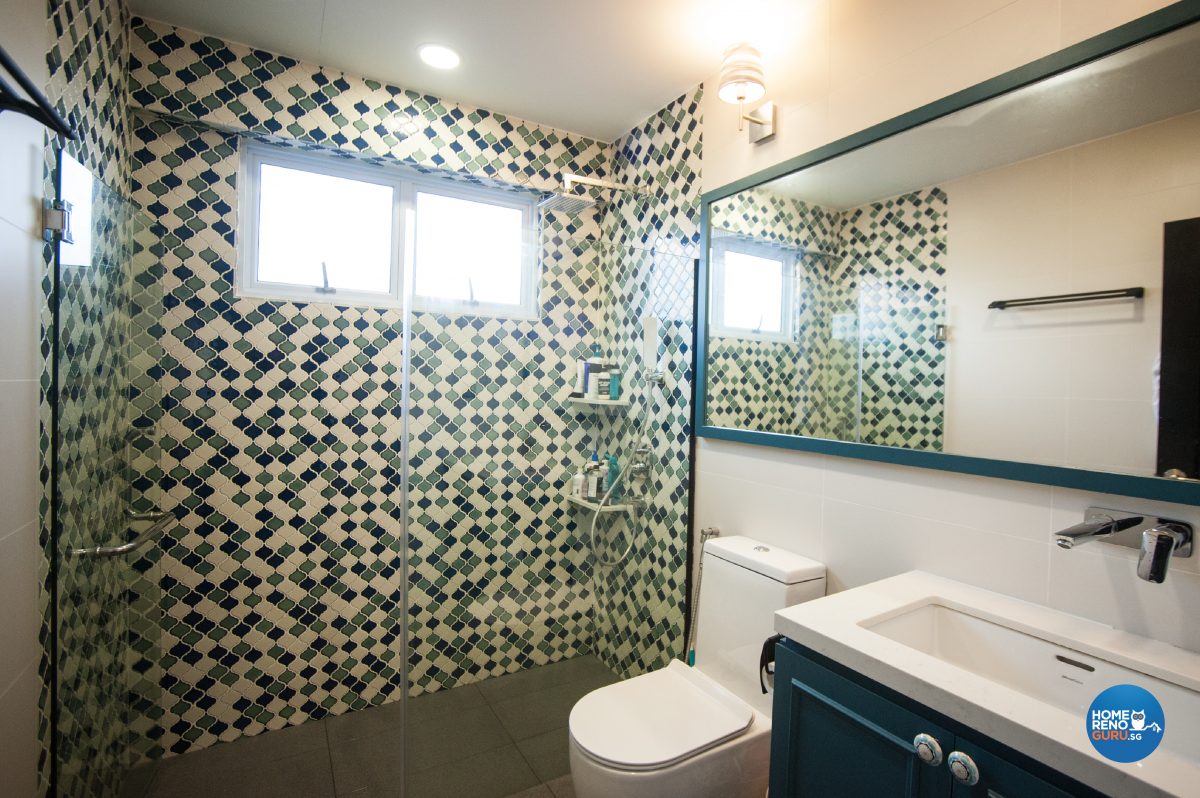 Elegant arabesque tiles adorn the spacious master bathroom
Xue Ning: In addition, both of us really like our master bedroom bathroom as well, with the arabesque tiles on the wall at the shower area.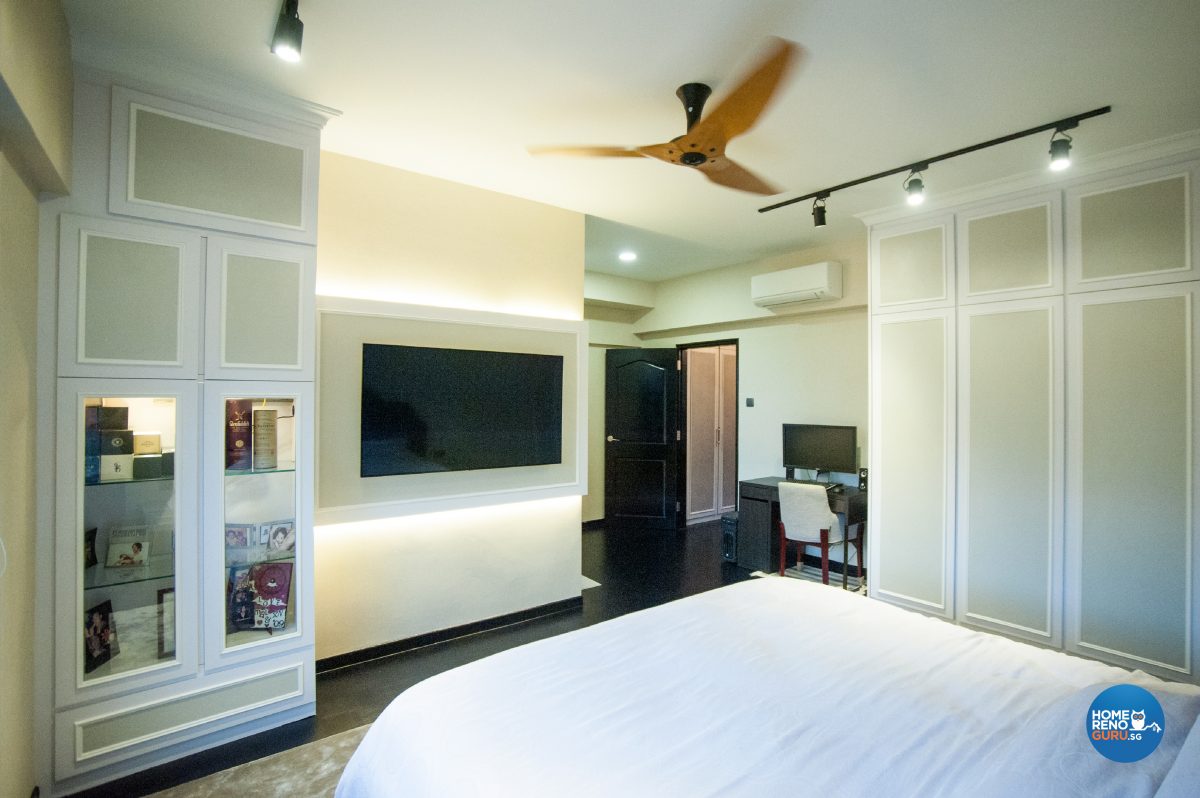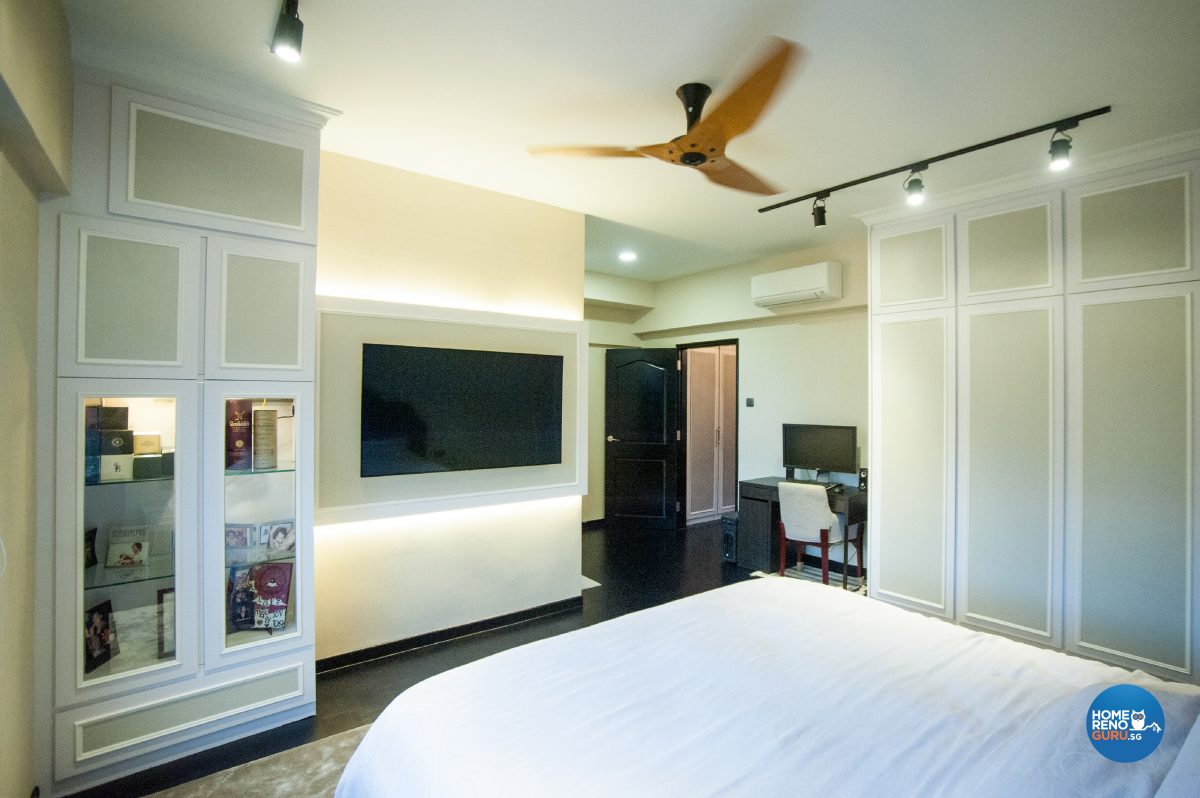 The master bedroom exudes a quietly luxurious hotel feel with its backlit wall-mounted TV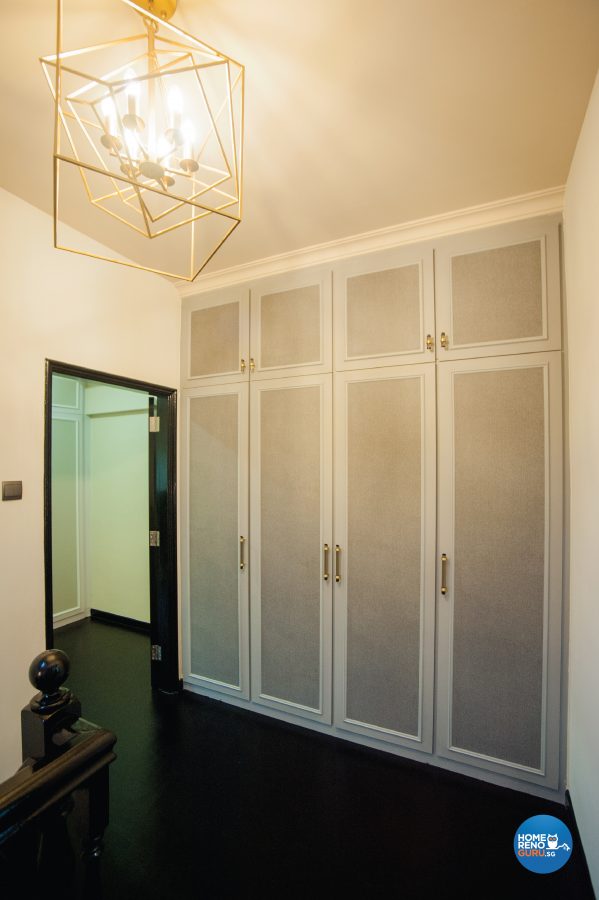 Wardrobes for the children are housed in the common entrance hall on the second storey

A skylight admits extra natural lighting over the stairwell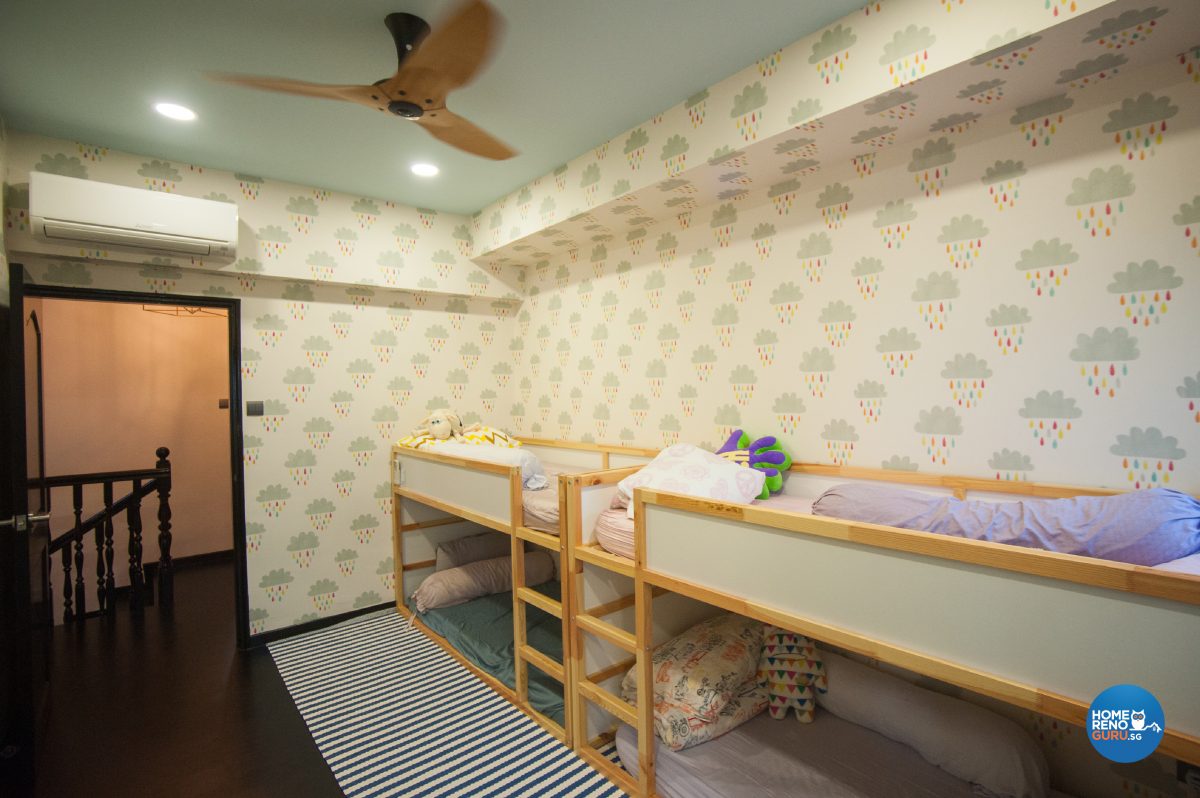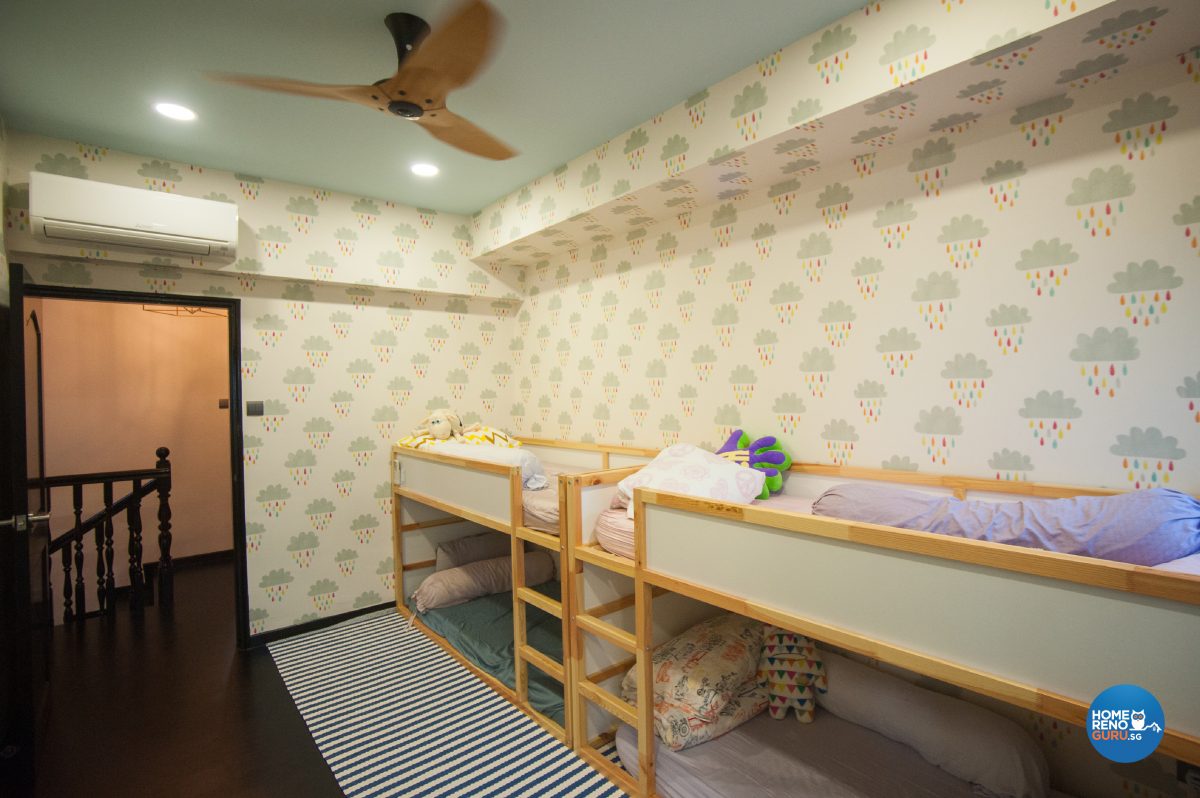 Sophie's room features clever elevated twin beds and is clad in pretty wallpaper
Sophie: I like to sleep in my bedroom because it is comfortable and I like the wallpaper inside my room.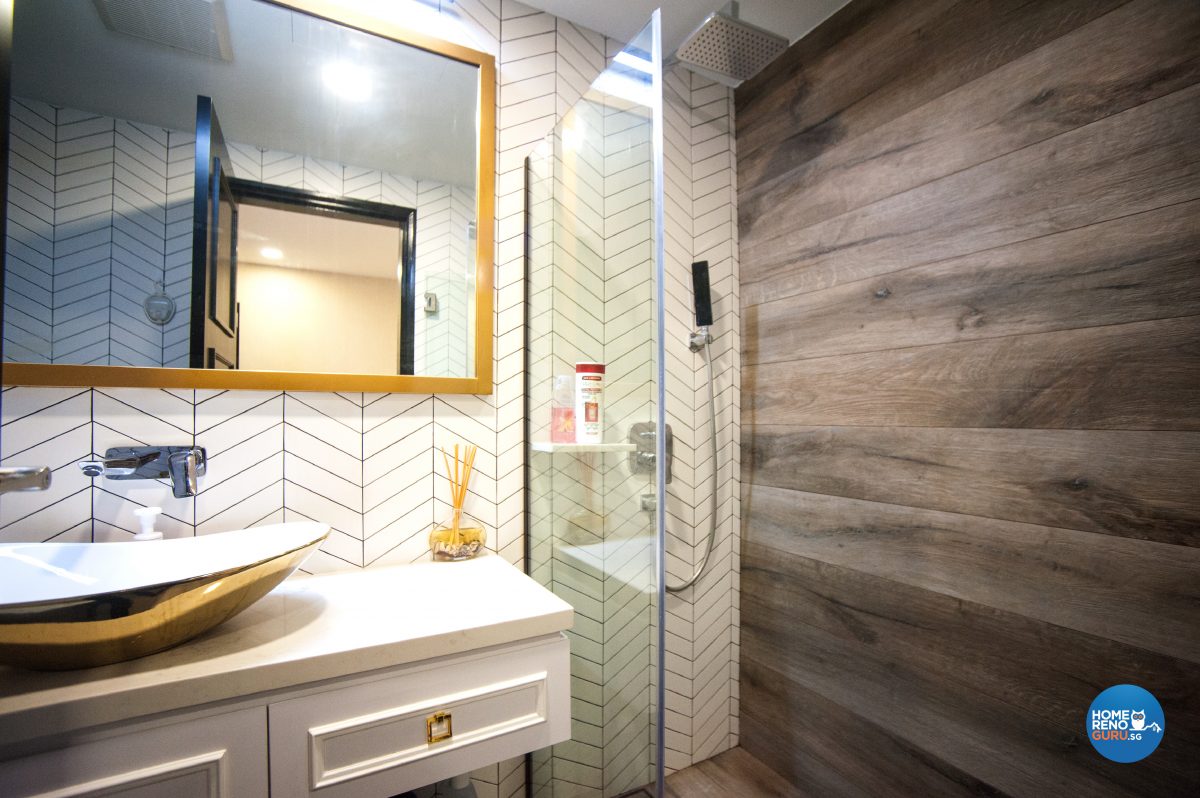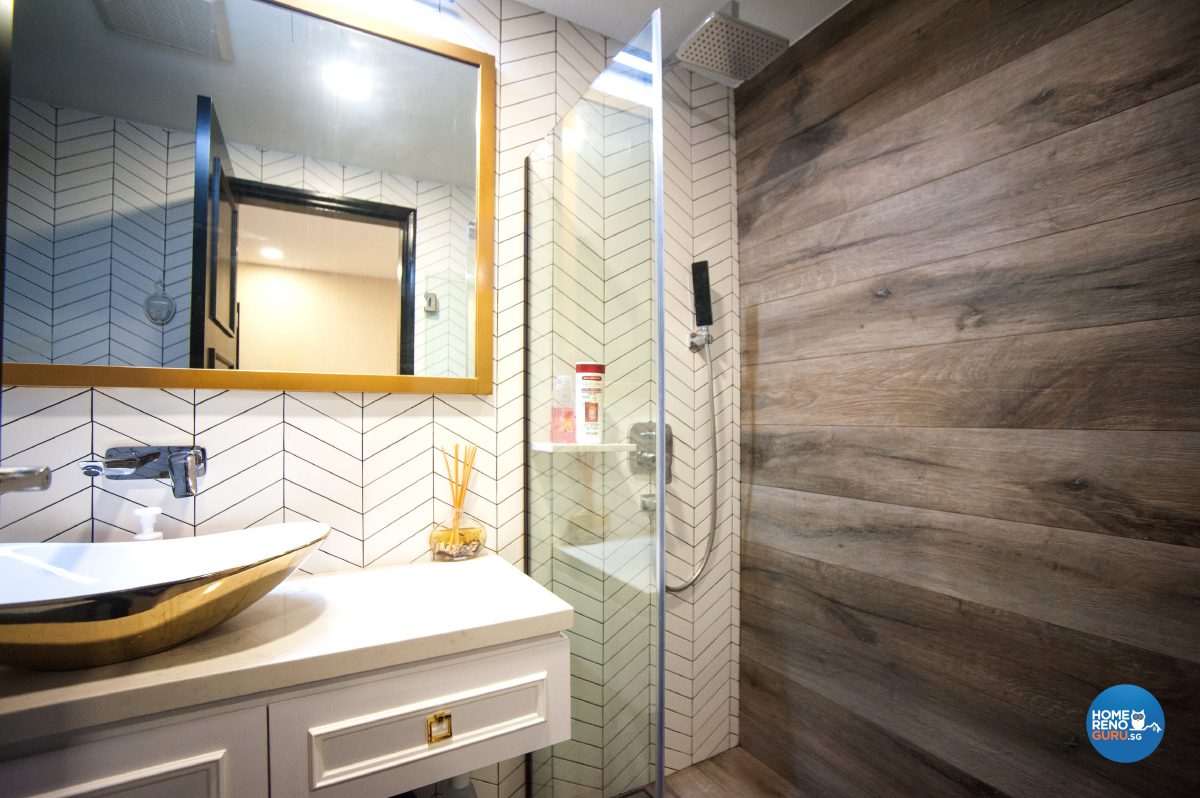 The sleek and chic common bathroom on the ground floor features a variety of textures and monochromatic tones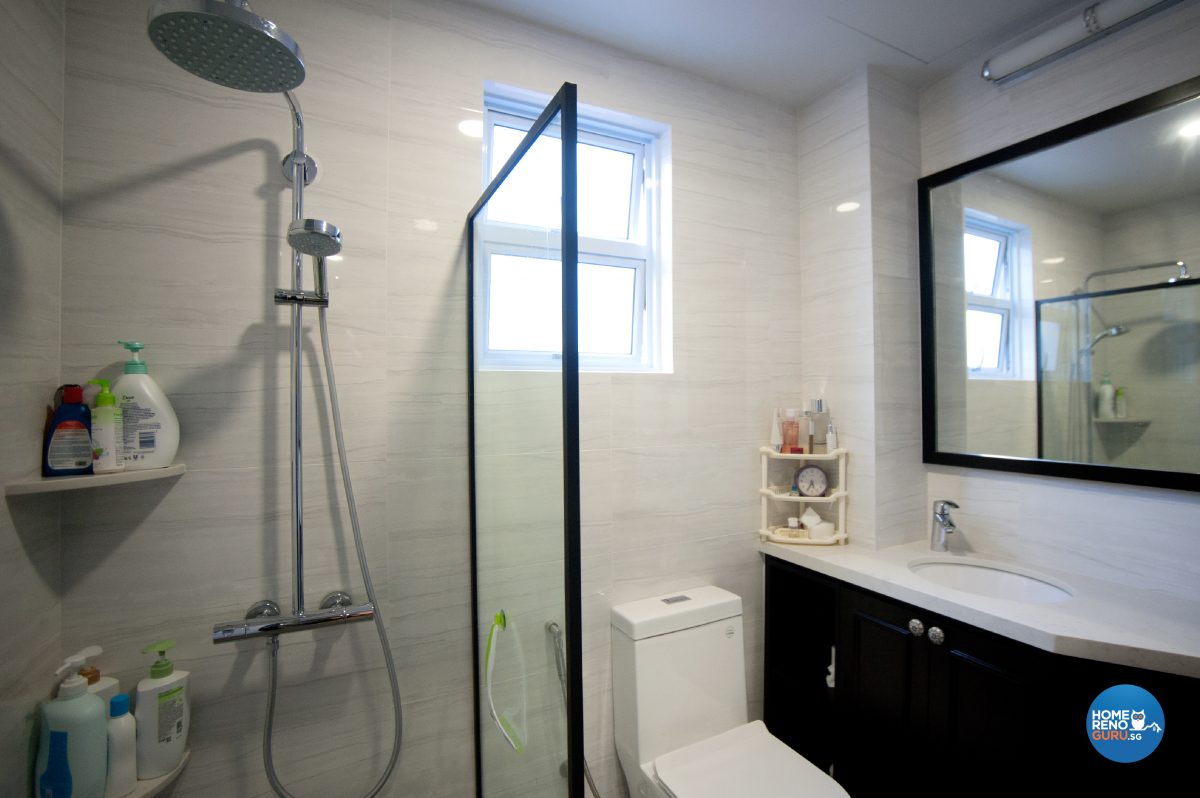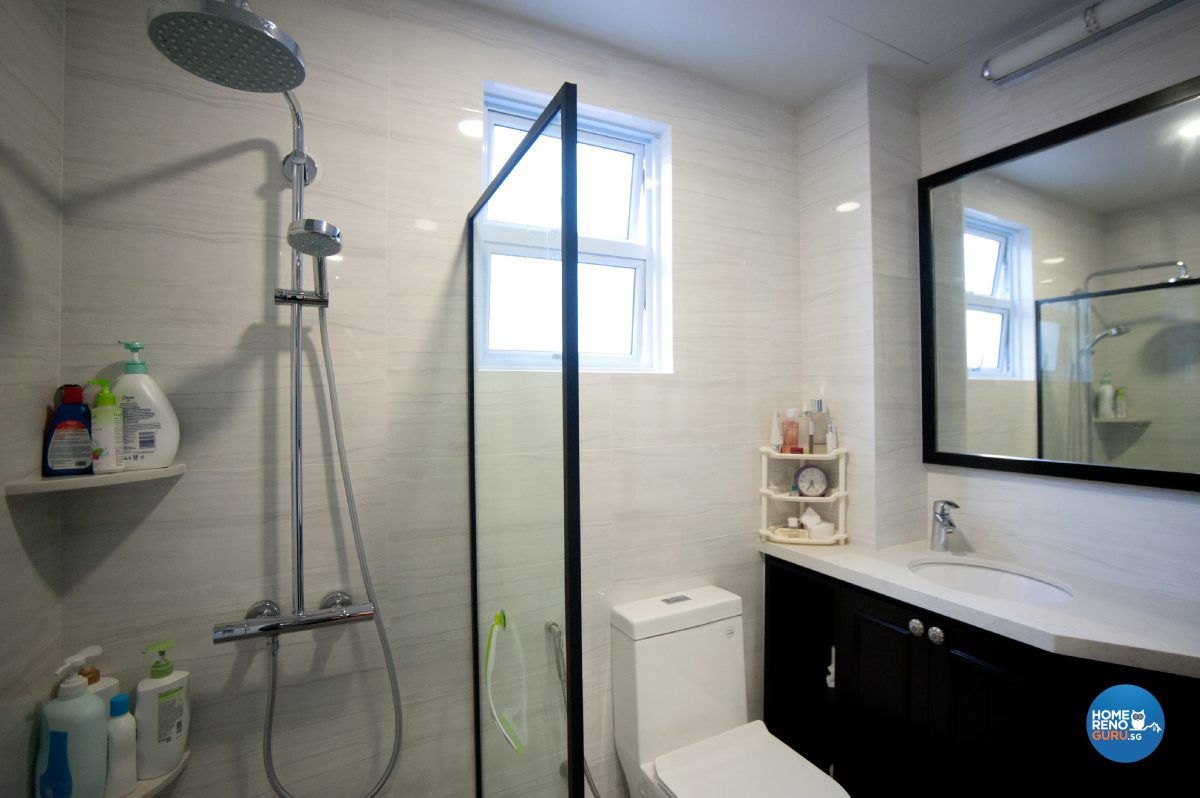 The second-storey bathroom, shared by grandparents and children on the second storey, has a rim around the shower screen for visibility
HomeRenoGuru: Do you have any advice you would like to share with homeowners about to embark on a renovation?
Malcolm: My advice for would-be homeowners is to engage someone that you can communicate with and trust because communication is key to achieving your ideal home design.
Xue Ning: Both of us would just like to thank WHST Design for making our ideal home a reality.
Malcolm: I personally would like to thank Vince and Jacky for bringing our home to fruition.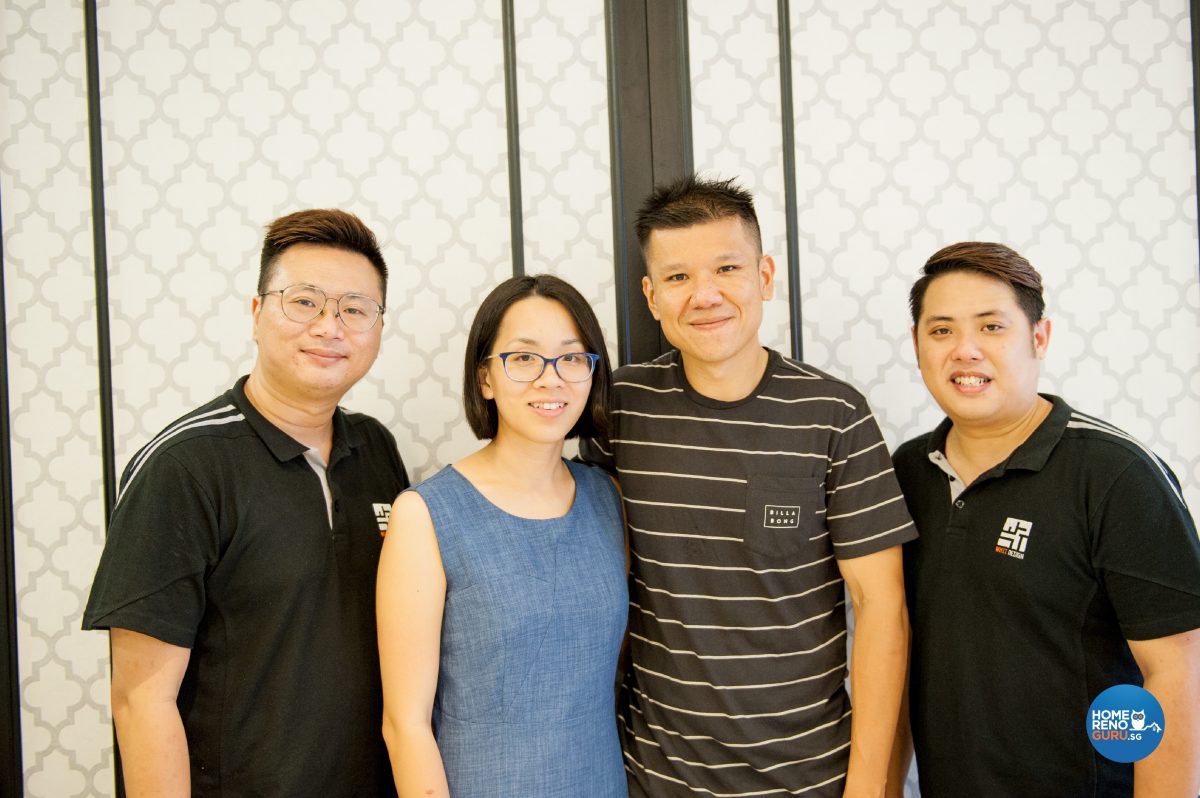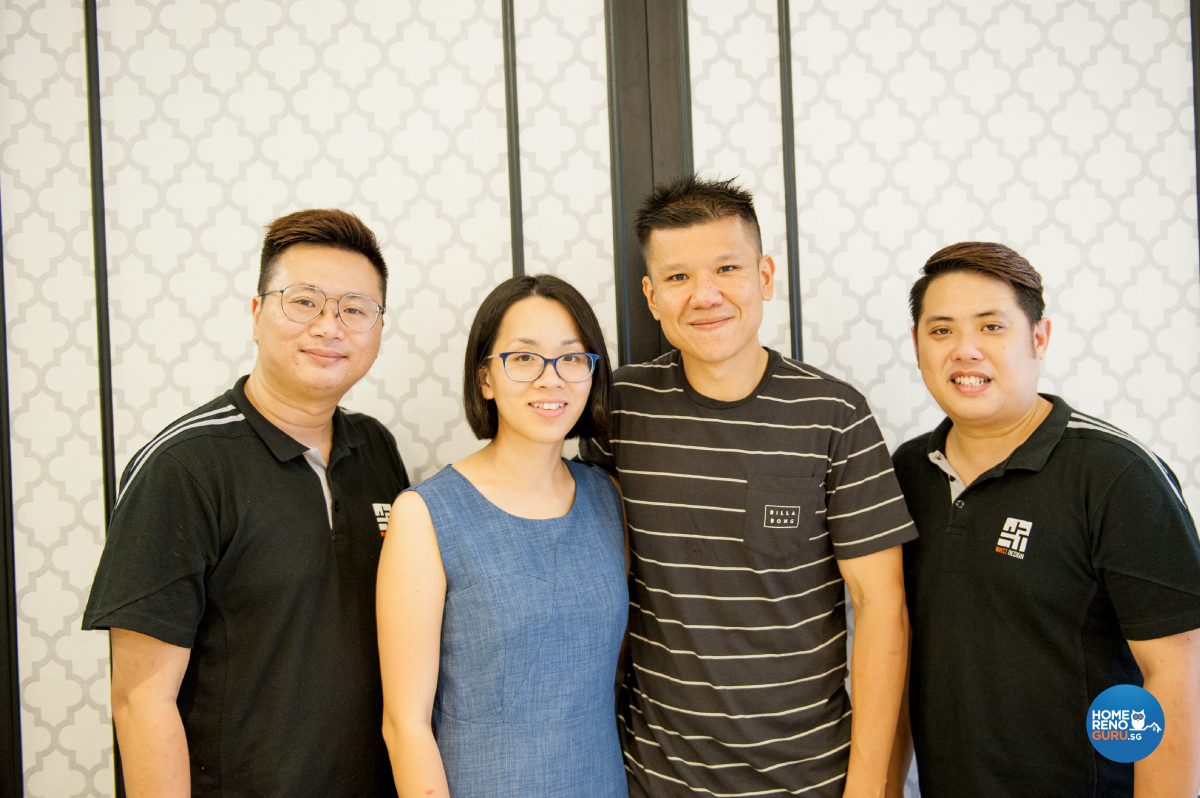 Vince and Jacky from WHST flank the satisfied customers