Dream Home: The Movie Lovers' Home
31 Mar 2017
Young couple Melvin and Desiree love watching movies, chilling with friends and making music. Their home is a reflection of their interests and an extension of their personalities. Here's how their vision became a reality with a lot of help from their designer, from The Local INN.terior.
Project Snapshot Name(s) of Homeowner(s): Melvin Loh and Desiree Seow
House Type: 4-room Resale HDB Flat
Size of Home: 84 sq ft
Duration of Renovation: 4 months
Cost of Renovation: $80,000
Interior Design Firm: The Local INN.terior Pte Ltd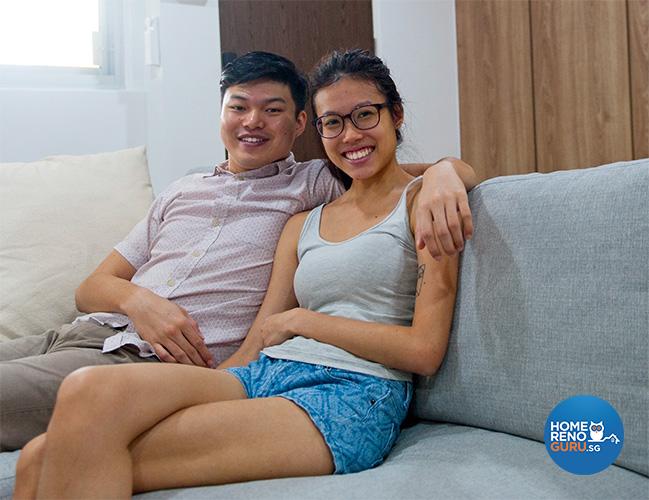 Resident movie lovers, Melvin and Desiree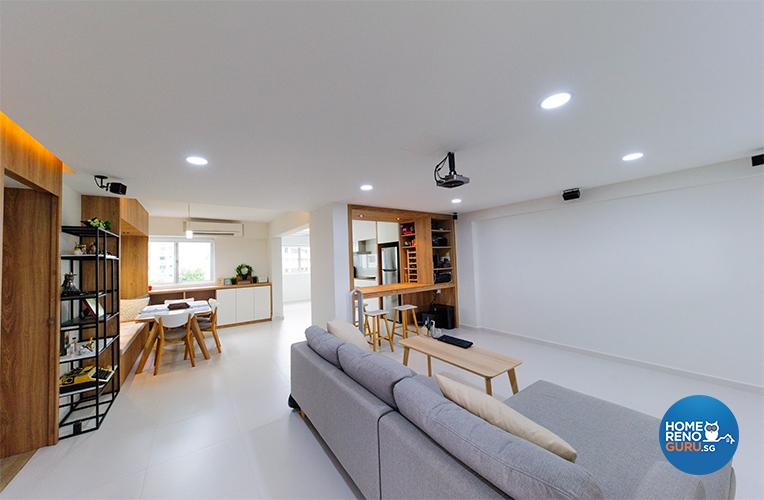 No TV – better still, the entire wall transforms into a cinema screen!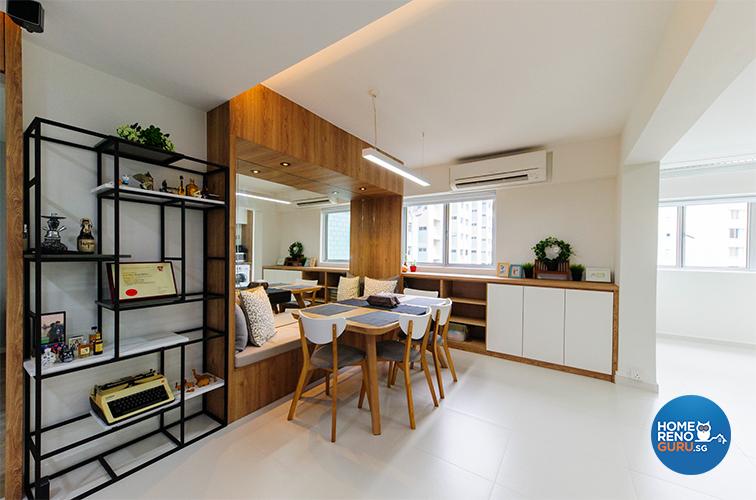 The cosy built-in settee conceals storage space under the hinged seat
HomeRenoGuru: How and why did you choose The Local INN.terior?
Desiree: We chose The Local INN.terior because the designer is a friend of a friend, so we decided to check her out and see her works. Both of us looked at about ten-over interior designers. We went for many appointments with them,and finally we settled on The Local INN.terior because they offered the best value for money.
Melvin:  Most importantly, out of all the IDs that we'd shopped for, our designer had that chemistry. Maybe also because we're about the same age group. So that helped a lot as well.
Desiree: Our designer was very, very friendly and easy to get along with.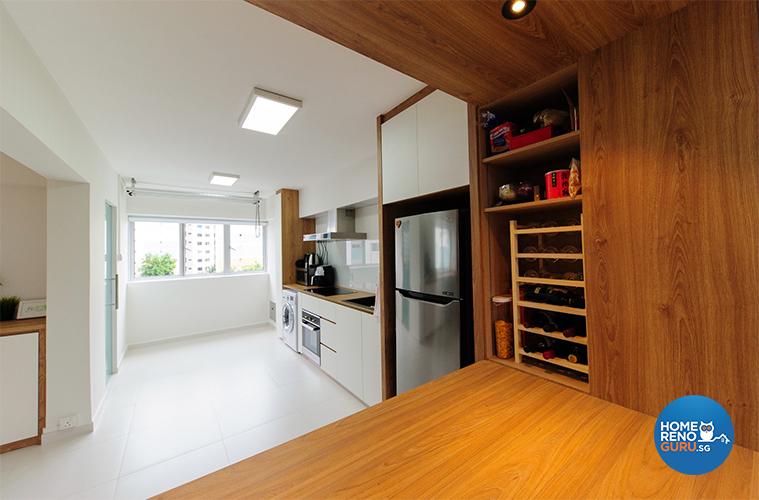 A breakfast bar forms a room divider between living and kitchen areas
HomeRenoGuru: What was your brief to your designer?
Melvin:  After we bought the house we had a fair idea of the layout we wanted, and had some ideas on what we wanted to do with the space. Des actually came up with the rough idea, and shared it with the IDs. The Local INN.terior was special because they managed to bring out some interesting elements in the design that we had. They recommended some things that made the design a lot better. We were open to their suggestions, because both of us are not interior designers. They recommended materials to open up the space, certain fixtures, the colour of the walls and so on.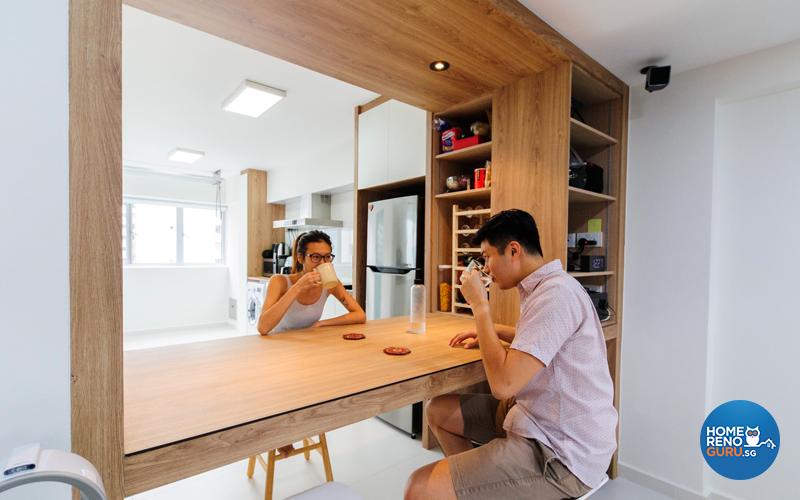 Desiree's favourite spot
HomeRenoGuru: What are your favourite parts of your home?
Desiree:  My favourite part of the house firstly is the bar counter, because I really like drinking! It's a great place to hang out, especially when there's not enough space at the dining area and we're having people over. It's just really conducive to talking – sometimes we even work there in the morning.
I also really like how the storage area keeps everything very neat, and we can store all our electronics in there. For the dining area – we actually call it the settee – we have concealed spaces underneath the seats, which is great for hiding all those Chinese New Year decorations you only see once a year, or like, Halloween decorations and costumes.
Looking for an estimate of your renovation costs?
Let HomeRenoGuru help!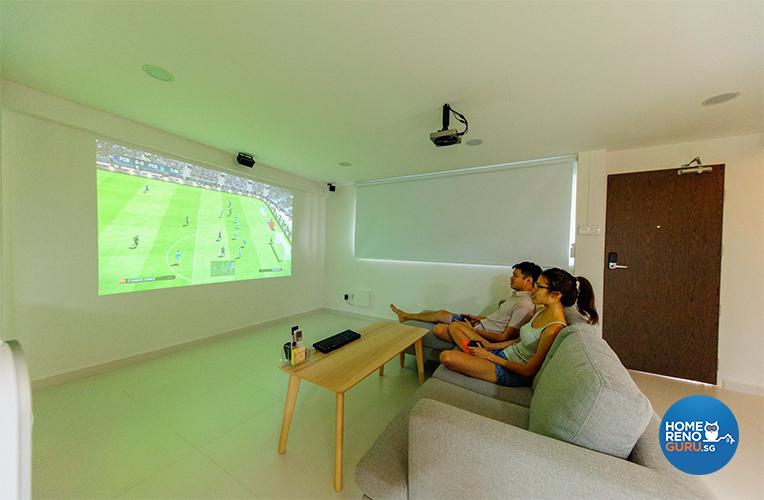 Gaming takes on a new dimension in this couple's home cinema
Melvin:  My favourite part of the whole house is definitely the living area, mainly because we did away with the traditional TV console kind of thing. We actually have a projector screen. So the projector screen can project up to 130 inch, and works for us. It's quite a good thing because other than watching TV, we watch a lot of Netflix. It's a very comfortable space for us. We also made it future-proof. In the event that we want to change up to a better projector in the future, we can do it easily.
The other space that I really, really like would be the music room. It's actually our study area as well, so it's a dual purpose room. What I really like about that place is the space planning involved. Our designer took part of the study room and made it into a sort of a cupboard-storeroom space area. I thought that was very, very smart.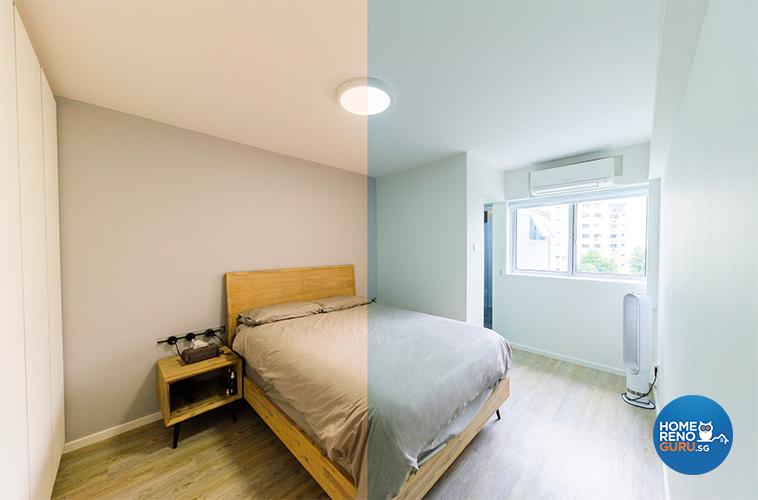 Warm and cool light at the flick of a switch!
Lastly, Des and I have very different tastes when it comes to lighting. Des prefers to have a very, very cool light and I prefer more warm lighting. Because of that, Our designer actually suggested to have dual function lights, which allow us to choose whether we want to have warm or cool lighting. And also we got lights that are programmable, to change to different shades. For me, I think the most important thing to look out for in an ID is to find someone you have chemistry with. Because at the end of the day, it's all about translating your ideas into reality, and if you have that kind of chemistry it makes it easier.
HomeRenoGuru: Would you recommend Our designer and The Local INN.terior to other homeowners?
Desiree:  We would definitely recommend The Local INN.terior as the ID.
Melvin:  Thank you for giving us our dream home.