HomeRenoGuru Commercial – An Indoor Oasis
Tenderbest by Makcik Market is an indoor oasis in a suburban shopping mall. Given its restaurant-quality ambience, the prices on the creative Asian fusion menu come as a pleasant surprise. We spoke to the man behind the bright and quirky interior design, Roger Koh of Flo Design, and learned about the critical importance of careful planning.
House Type: Commerical
Interior Design Firm: Flo Design Pte Ltd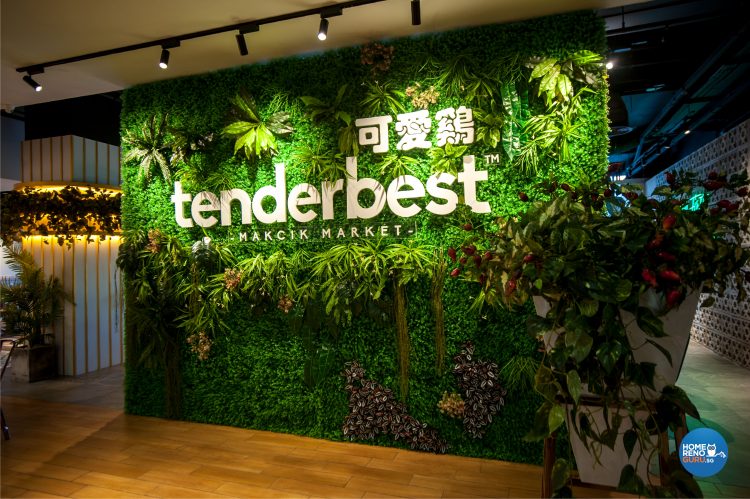 A vertical green wall greets diners at the entrance to the restaurant
HomeRenoGuru: How did your company Flo Design secure this project?
Roger: Actually, the Tenderfresh Group were repeat customers of Flo Design. In fact, this is our fifth project for the Tenderfresh Group. We always come up with a fresh concept for every new outlet.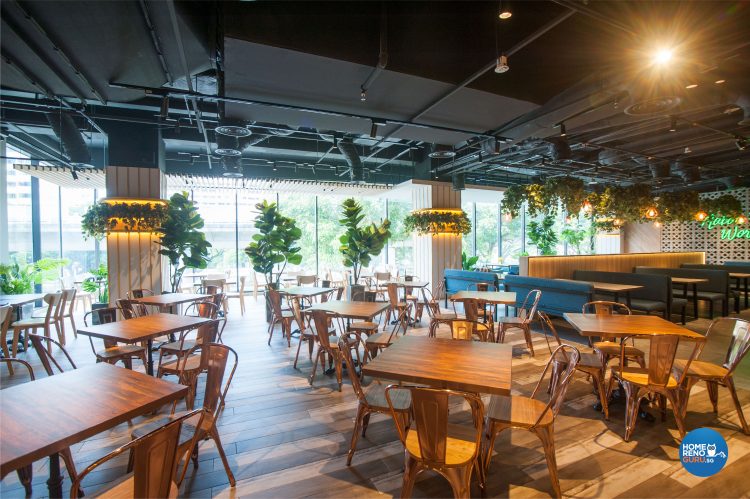 Natural sunlight floods the seating area

Quirky wall art and greenery top a full wall of built-in seating
HomeRenoGuru: What was the owners' brief for this restaurant?
Roger: For this outlet at Bedok Point, they wanted something light, bright and modern, with a lot of greenery – an indoor oasis.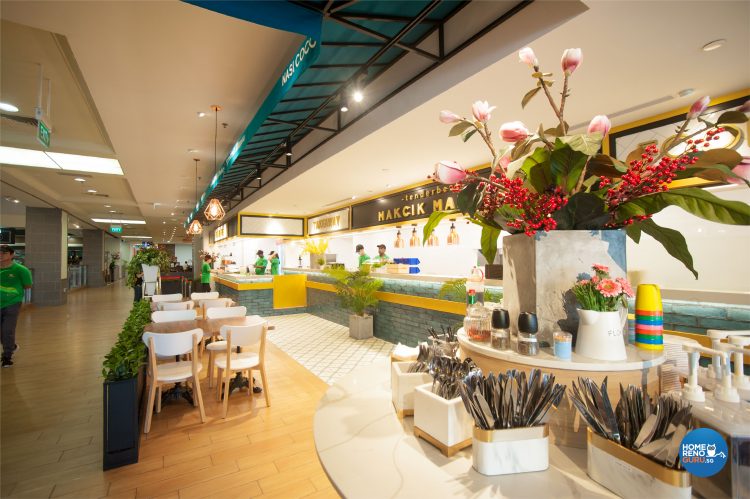 A central cutlery station is topped by large planters and vintage kitchenware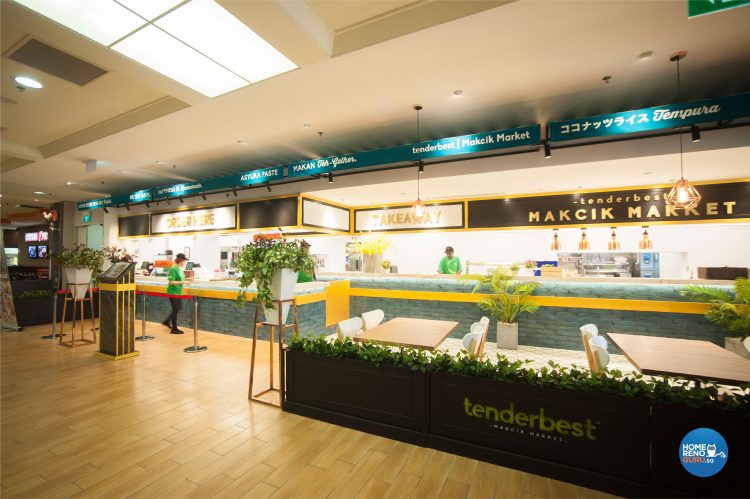 The well-lit open kitchen and cashier counter
Looking for Interior Designers?
Let HomeRenoGuru help!
HomeRenoGuru: How did you refine the brief and plan the renovation?
Roger: We bounced a lot of ideas back and forth with the owner. The planning stage took two months. This is the crucial part of the project. Get this right and the construction stage should be hassle-free.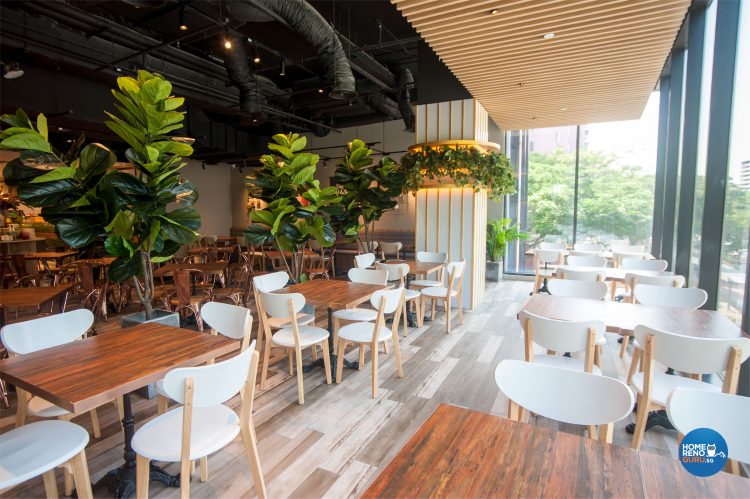 Loose seating is interspersed with lush indoor plants, affording privacy and adding colour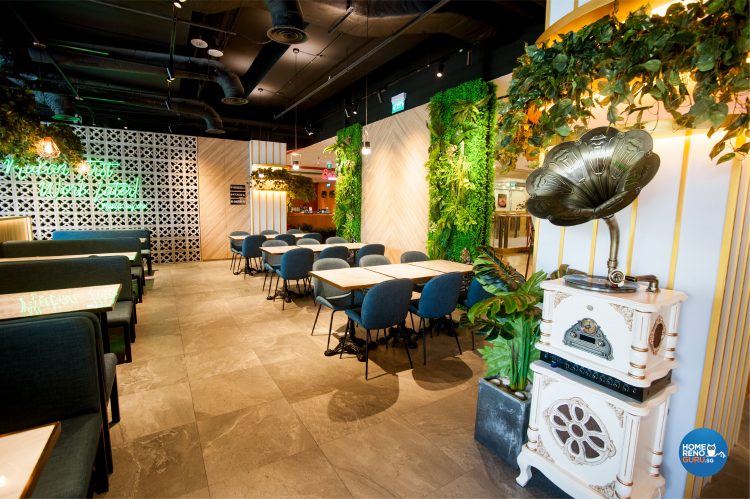 A vintage gramophone provides a talking-point
HomeRenoGuru: And how was the actual renovation?
Roger: The construction took about five weeks, and everything went according to plan.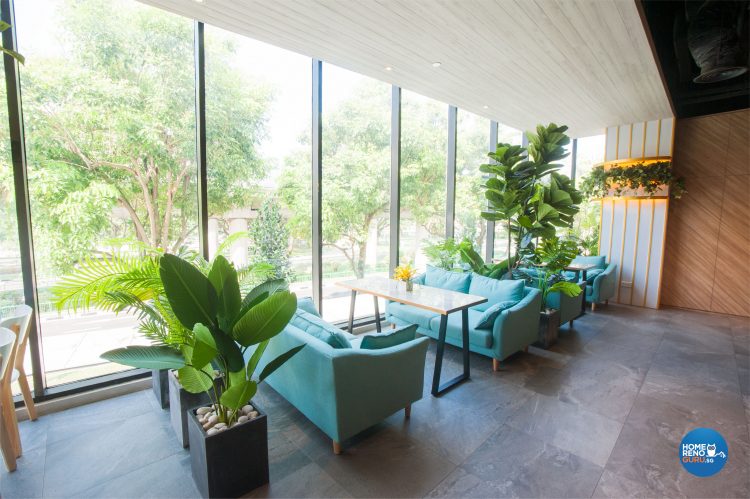 Sofas in the chill-out area by the full-height windows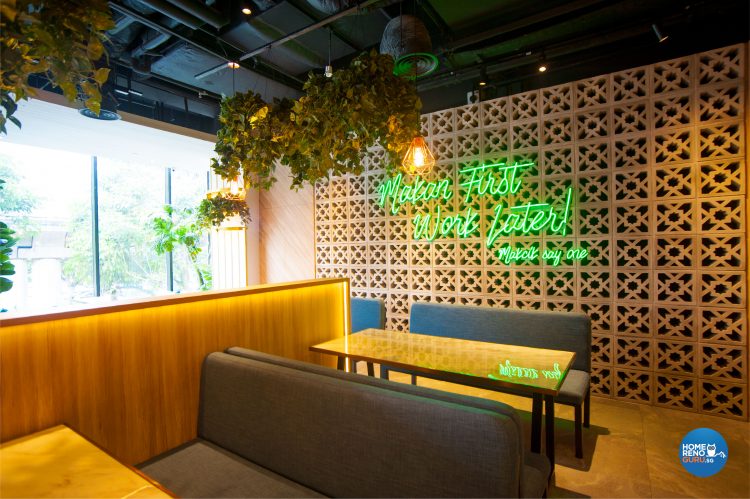 Retro-glam neon lighting backs a section of diner-style booths
HomeRenoGuru: Were the owners happy with the results?
Roger: My customers were delighted with the timely completion and very happy with the results. They especially love the neon sign and the lighting. Feedback from their customers has also been very positive. They love the ambiance, as well as the food. And so do I – come and try it for yourself.
HomeRenoGuru: You mentioned that this is the fifth project that Flo Design has undertaken for the Tenderfresh Group. Are there any more projects in the pipeline?
Roger: I believe in building long-term relationships in which both parties prosper. I am pleased to say that the Tenderfresh Group are going from strength to strength. Their success is our success, and vice versa. So yes, you can look out for more exciting projects from the Tenderfresh Group and Flo Design.

Director of Flo Design and Project Manager for Tenderbest at Bedok Point, Roger Koh