Dream Home: A Grey But Never Dull Home
IT professionals Engel See and her Australian husband Daniel Moore live in a soothing grey home with their 8-year-old son Raphael. With the help of their designer, they optimised the space in their 3-room flat to create a stunning small home that's big on style and storage.
Project Snapshot
Name(s) of Homeowner(s): Engel See and Daniel Moore
House Type: 3-room BTO Flat
Size of Home: 63 sq m
Duration of Renovation: 2 months
Cost of Renovation: $42,000
Interior Design Firm: DB Studio Pte Ltd
Name(s) of Designer(s): Jason Quek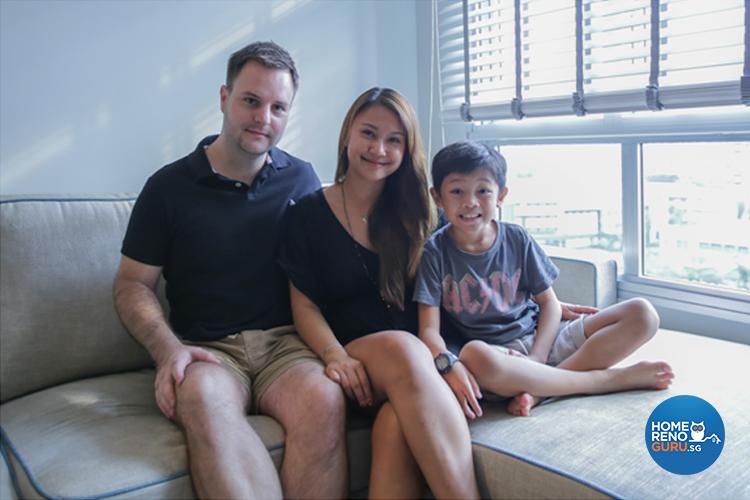 Daniel, Engel and Raphael at home – a colourful family in a grey home!
HomeRenoGuru: How did you find your interior design company?
Engel: I found DB Studio online, and I met with Jason and we immediately had a connection.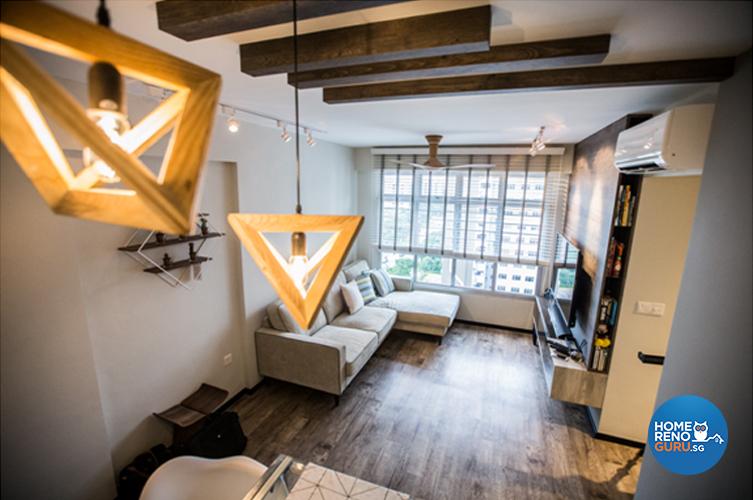 The open plan dining and living area is neutral yet anything but dull, with exposed rafters, designer lighting and quirky little touches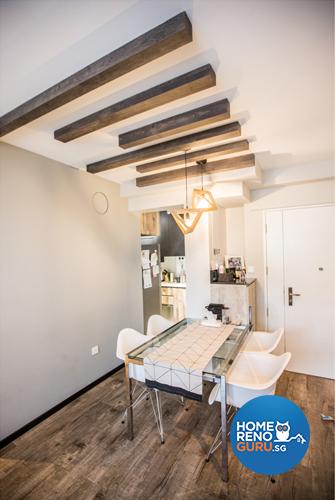 Shades of grey blend beautifully with tones of wood
HomeRenoGuru: What were your priorities when it came to design?
Engel: Basically we were looking at optimising space, but at the same time we really wanted an interesting and timeless design.
Daniel: The key to optimising the space was the choice of colours. Engel had her eye set on grey, so we used that quite extensively through the place.
HomeRenoGuru: How did you find the service from your interior designer?
Engel: I think what was really great was his patience, because we weren't referencing a lot of magazines or designs, so it was more or less what's in our head. So when we described it to Jason, he came up with the 3D designs that we just needed to tweak here and there in terms of details. I'm quite particular on details. He took the changes really well, and was quick to address them.
Daniel: I think Jason's strength is providing options. Where we're stuck on choosing a colour, and asking if this had worked somewhere else before, and some of those textures – would they work together, he'd seen them before and he could actually guide us on some of those points.
Engel: To be honest what was really important for me was the after-sales service, because we had a few things that we had to rectify after moving in. Jason is really quick, and he actually would help and not just disappear after that. So that's really, really good.
Daniel: I think his availability was also commendable. There was never a moment when he couldn't be reached, so whenever we had questions or concerns or the after-sales side of things, he was always available, which gives you confidence that he's on top of things.
Looking for an estimate of your renovation costs?
Let HomeRenoGuru help!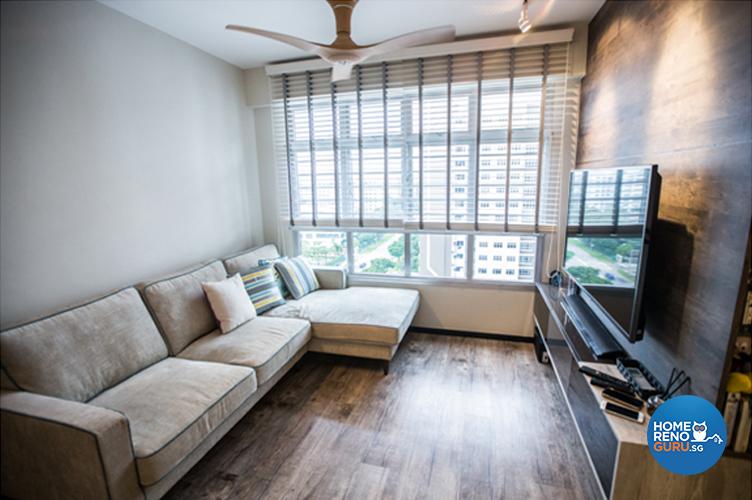 Everyone loves chilling on the couch!
HomeRenoGuru: What are your favourite parts of your home?
Engel: My favourite part of the home is our living room, because it's extremely comfy and it looks just really cosy and it's just great. You know, every time you come home you can just collapse on the couch.
Raphael: I love lying on the couch and watching TV!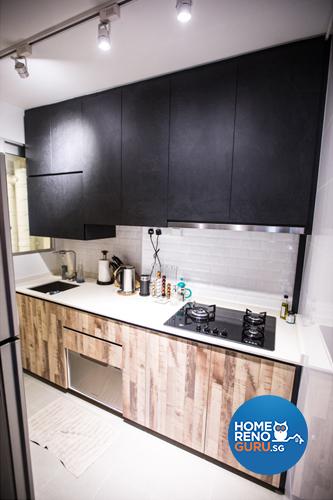 Daniel loves the iconic white subway tiles in the kitchen, as they were on his wish-list
Daniel: My favourite is the kitchen, because I'm the cook in the house. I like the subway tiles. That was an element I wanted to add in the actual finished product right from the start, so managing to have that in the final product was good. The black paneling contrasting against the wood paneling below is a really nice touch.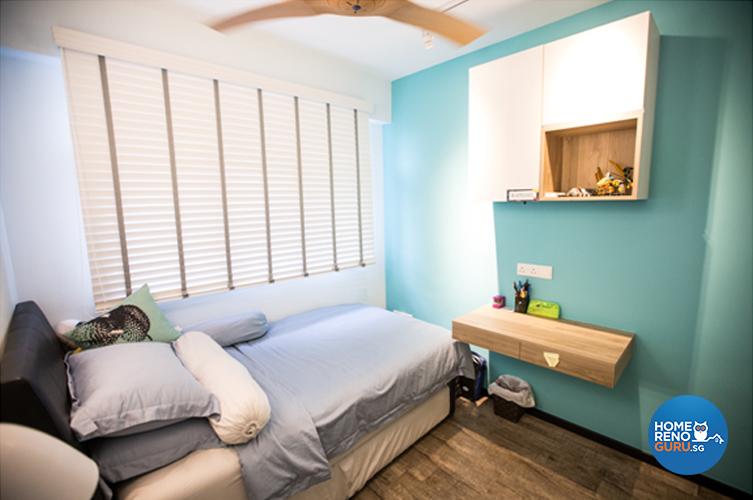 Raphael's bedroom is the only departure from the grey colour scheme
Raphael: I like the colour of my bedroom.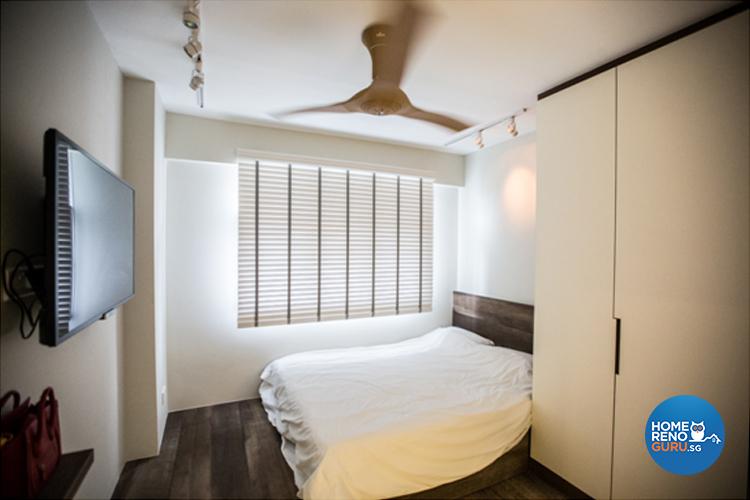 The distinctive recessed handles on the built-in wardrobe are a scaled-down version of something Engel had seen in a magazine
Engel: I'm also really happy with our wardrobe. We didn't want a typical looking wardrobe, you know with protruding handles, which looked a bit tacky. I was inspired by a picture I saw in a magazine, but it was on a much larger scale. So between Jason and the carpenter, when we were on site, they were able to sort of distill it down. It turned out really well.
HomeRenoGuru: Are there any noteworthy space-saving features?
Engel: We have two concealed drawers under our platform bed. One is mine for my stash of bags, so that works really well for us, just to maximise the space.
Daniel: The barn door on Raphael's bedroom – I think it adds character and it definitely maximises the space because there are no swinging doors. It's quite a cool, quirky feature, I think.
Daniel: I'm a big fan of the en suite bathroom. I think it flows on quite nicely from the master bedroom. There's some nice lighting that we've added as a feature, and the drawers and the storage space that we've built in, which is good for Engel as she has a lot of things that to put in there, and I get this small space to the left of that.
HomeRenoGuru: Would you recommend your interior design firm and designer to other homeowners?
Daniel: I would have no hesitation to recommend DB Studio for anyone undertaking a renovation.
Engel: And I would absolutely recommend Jason Quek, because he can make your dream home come true. We really thank him for that.