Dream Home – All the way with Pine and Grey
It was a chance meeting at a housewarming party that led to the homeowner's brother, who was overseeing the renovation, to appoint interior designer Joseph Seah from Monoloft. The renovation itself left nothing to chance, as the team were commendably hands-on in managing the project from start to finish. The contemporary pinewood and grey interior not only met the brief but impressed the client enough for him to engage Monoloft for his next renovation project – his own apartment.
Project Snapshot
Name(s) of Homeowner(s): Jeremy Ng (brother of homeowner)
House Type: Private Condominium
Size of Home: 800 sq/ft
Cost of Renovation: $50,000
Duration of Renovation: 2 months
Interior Design Firm: Monoloft
Name of Designer(s): Joseph Seah

The easy-on-the-eye combination of pine and grey in the living area sets the tone of the entire decor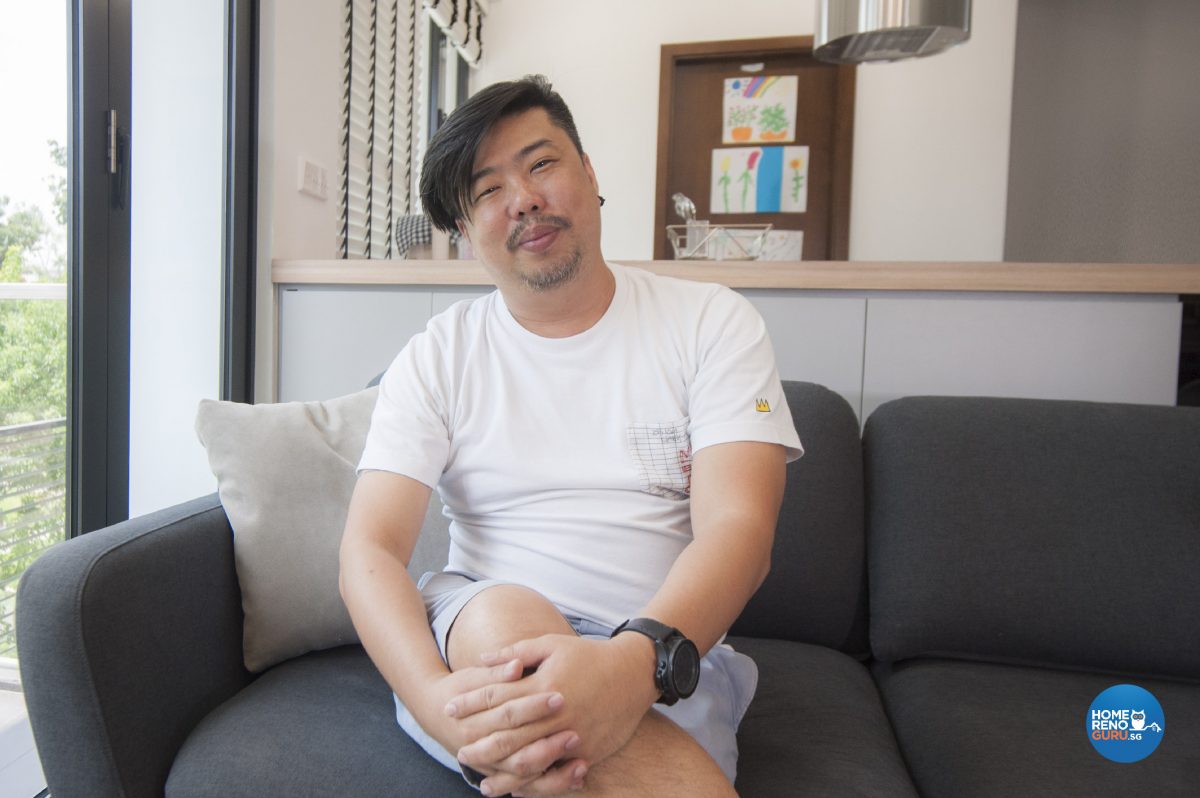 Jeremy Ng, the brother of the homeowner, was tasked with the renovation
HomeRenoGuru: We understand you're not the homeowner. What's your relationship with the owner?
Jeremy: I'm the brother of the owner, why am I in this video? It's because I'm the man in-charge because he is always overseas.
HomeRenoGuru: Got it. So how did you come to engage your ID?
Jeremy: I got to know Joseph at a housewarming party of a friend, and at that point of time, coincidentally I was looking for an ID firm for this particular house. Looking at the décor and renovation design work done for my friend, I was very confident that Monoloft would be able to help me achieve what I want. So after a few discussions, I went to his showroom to have a look at his work.
HomeRenoGuru: What was your brief to Joseph?
Jeremy: My brief to Joseph at that point of time was fairly simple. Number one was to help me optimise the space I had for the apartment. Number two was how to constantly match the colour tones across the whole space.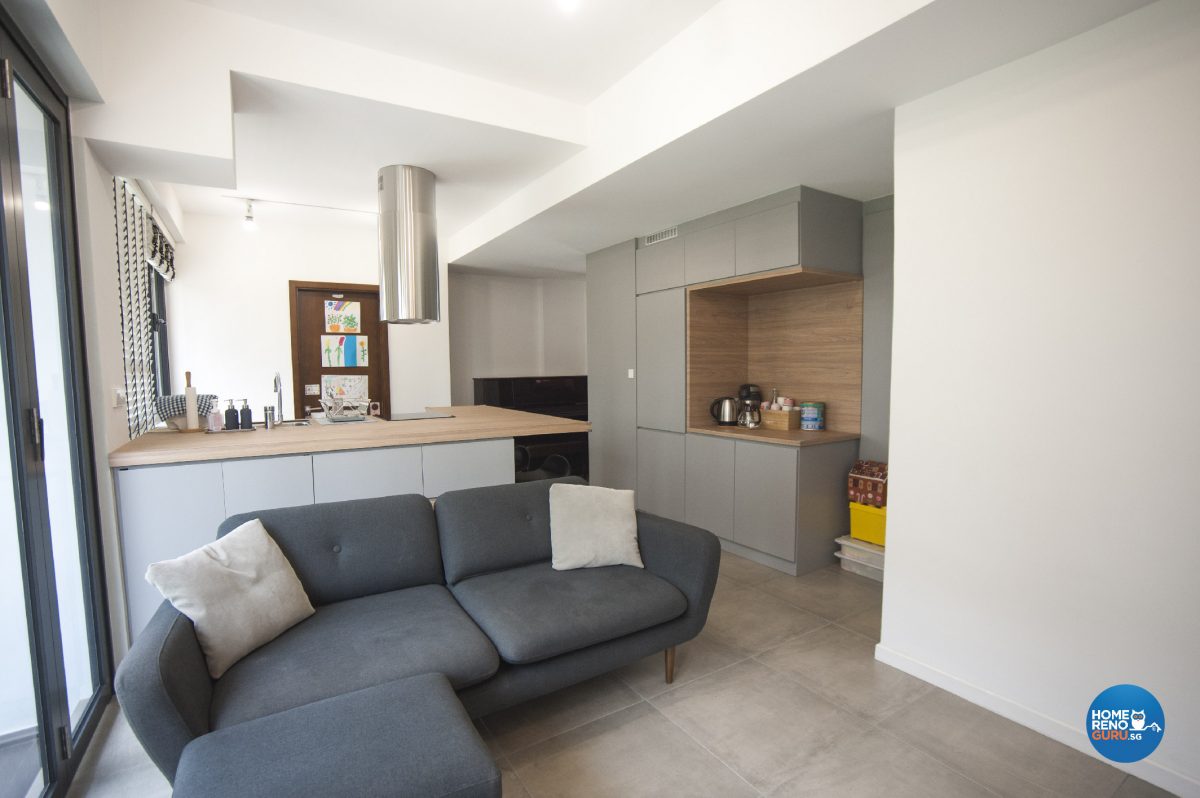 Open space, soft grey and light wood flow throughout the home
HomeRenoGuru: How did you find the actual renovation process?
Jeremy: The whole renovation process was smoother than I had expected, largely because Joseph and his team had actually been very, very hands-on in managing the project, from the start to the end.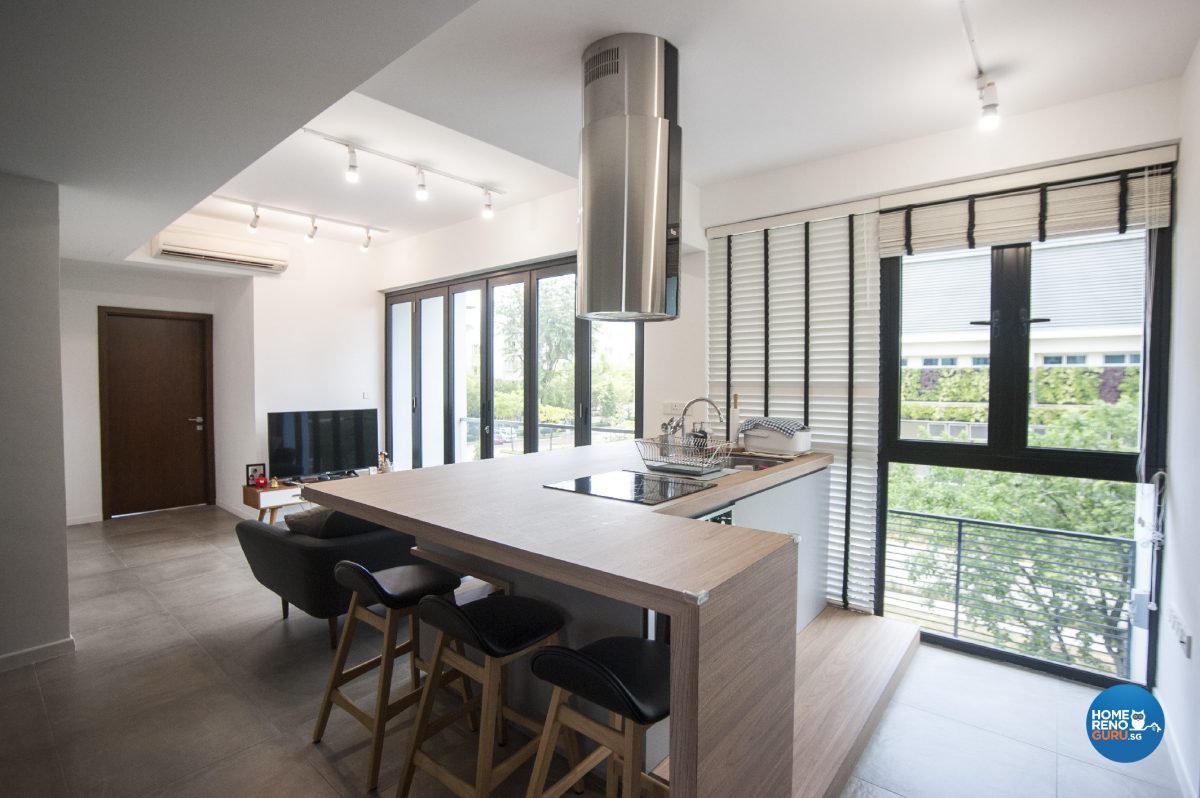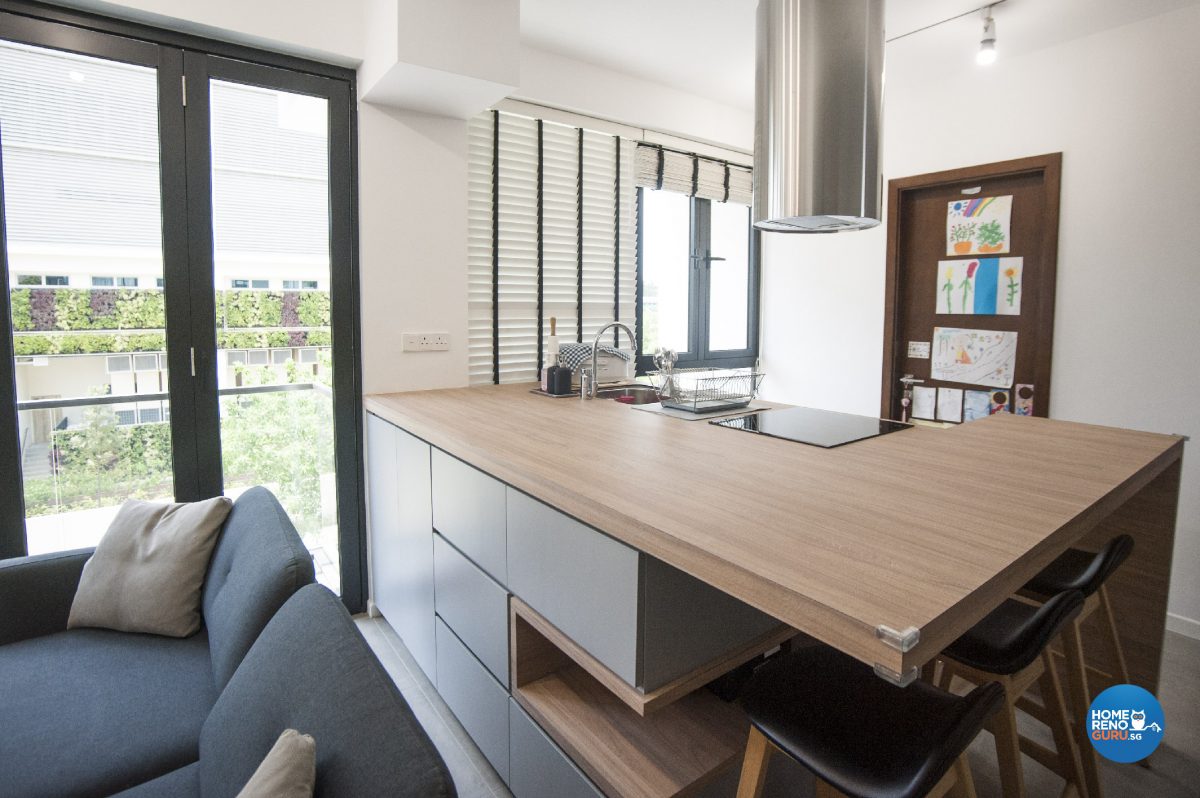 The open concept kitchen and dining area
HomeRenoGuru: What were the major structural renovations involved?
Jeremy: When I first saw the unit, it was actually a dual key apartment and space was the biggest concern I had. Hence, I threw the challenge to Joseph and team to help me solve it. He suggested to hack away the wall behind to create an open concept kitchen. On top of hacking the wall, Joseph and team also suggested solutions to declutter the apartment. By concealing our refrigerator as well as washing machine inside the kitchen cabinets.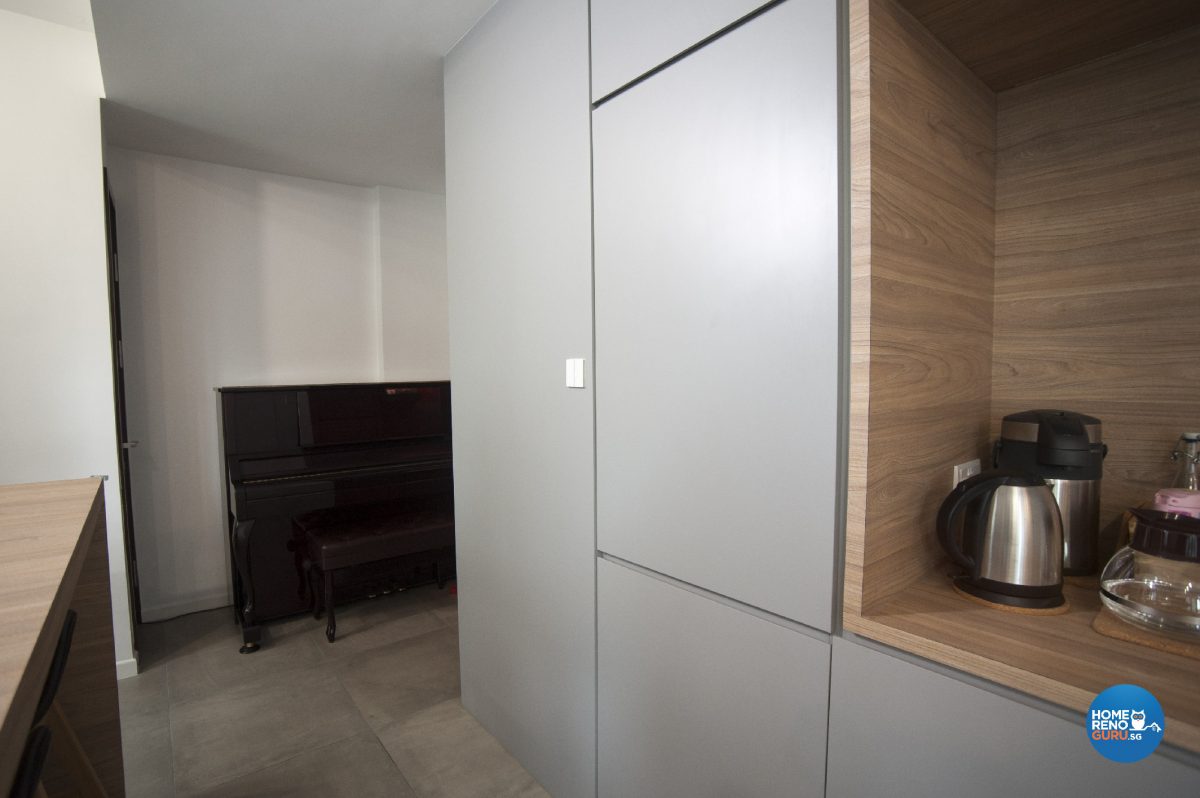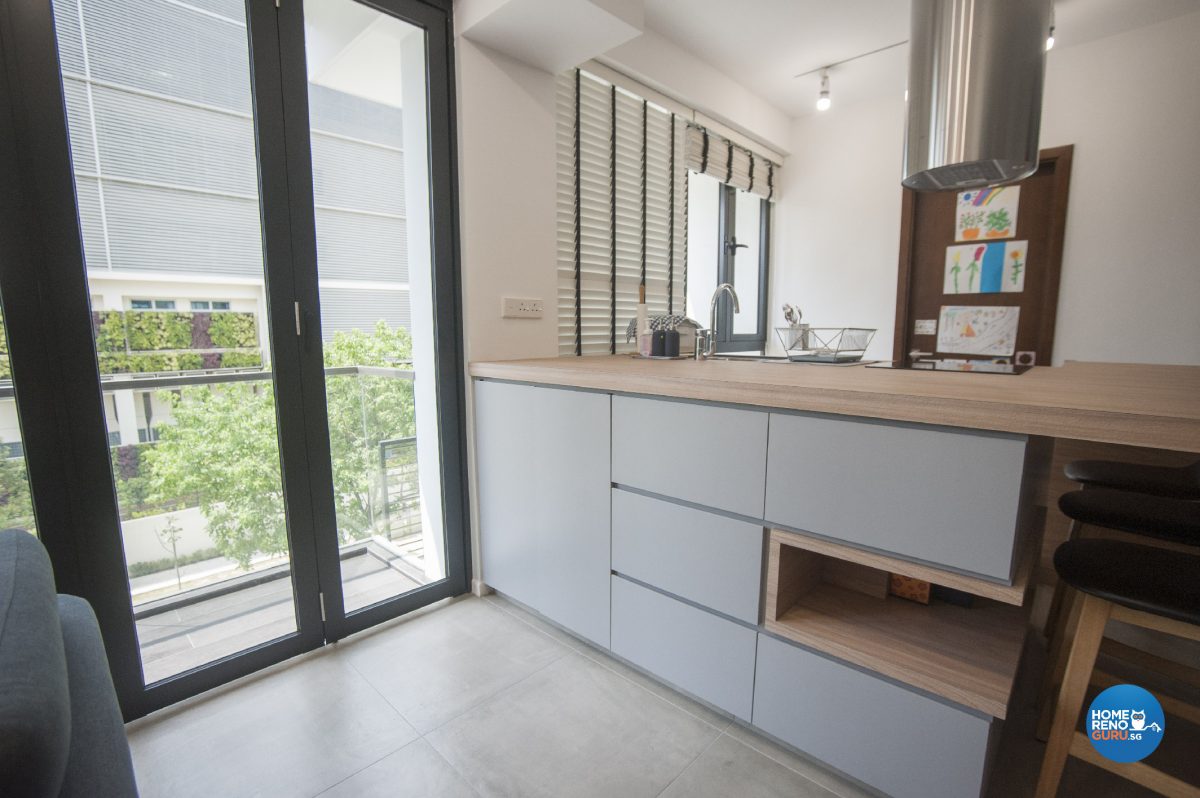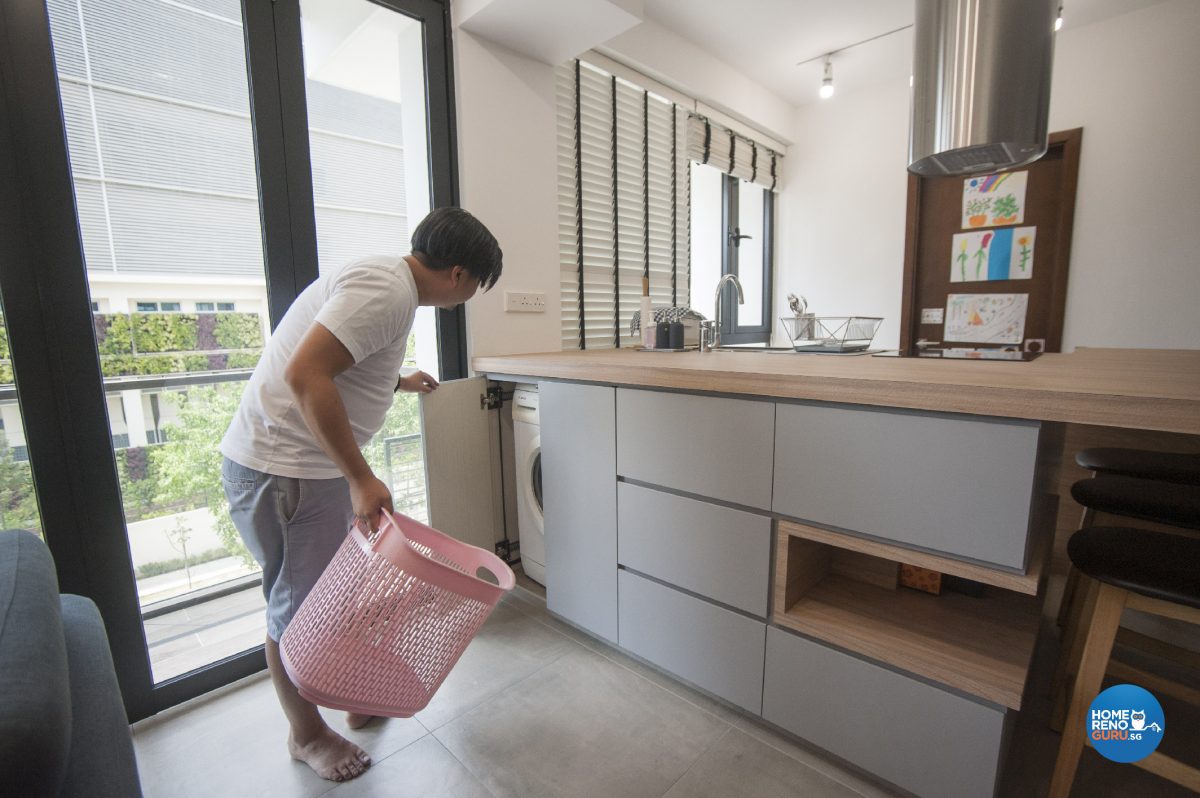 Extensive built-in cabinets conceal appliances and drawers

HomeRenoGuru: Were there any changes of plan along the way?
Jeremy: As I had requested for a consistent tonality in colour, focusing on grey and pine wood, Joseph convinced me that due to Singapore's environment, solid wood was not a wise choice. He suggested we go with Kompacplus, which has a wood finish feel and yet it's water-resistant and scratch-resistant.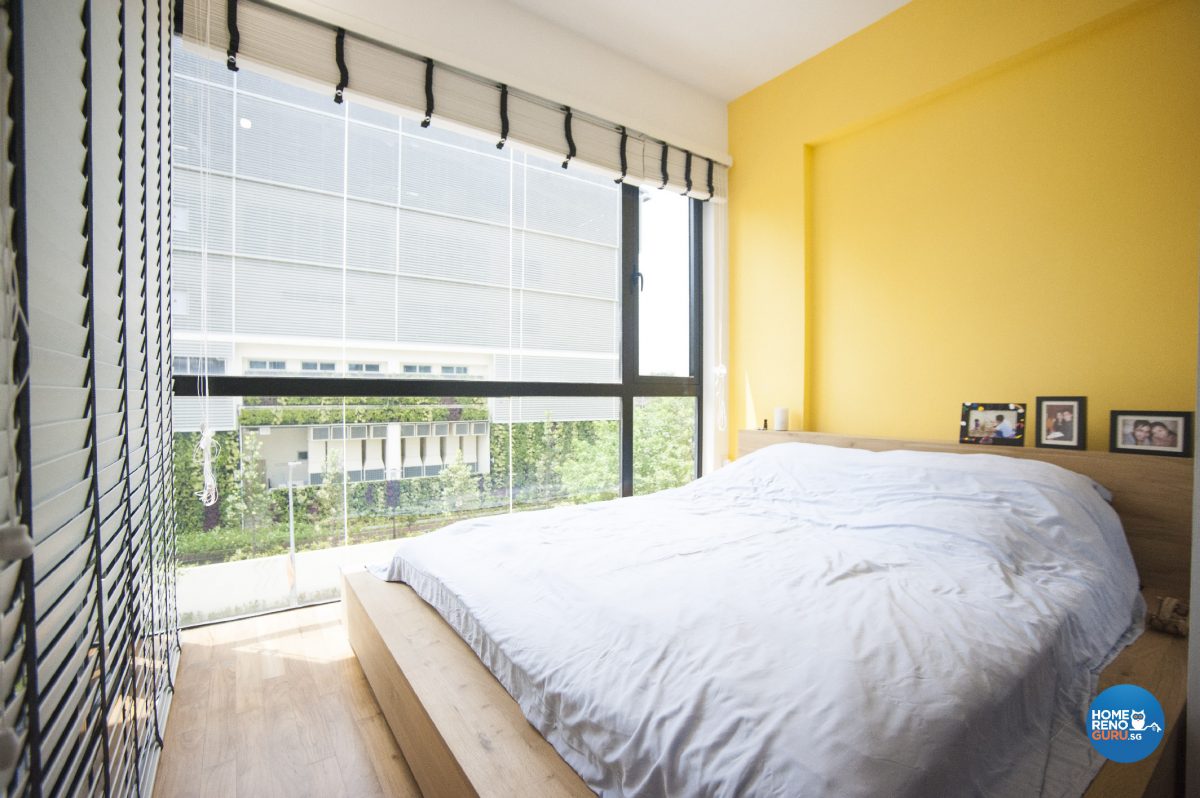 A pop of sunshiny-bright yellow deviates from the pine and grey colour scheme in the master bedroom, which adjoins a walk-in wardrobe
HomeRenoGuru: What are your favourite parts of the renovated apartment?
Jeremy: To be very, very honest, I like the whole house. Because, not just the optimised space, but the whole colour tone from the moment you step inside the house, from the settee area all the way across the living room even to the master bedroom and washroom, the colour of grey and pine is constantly and cleverly matched.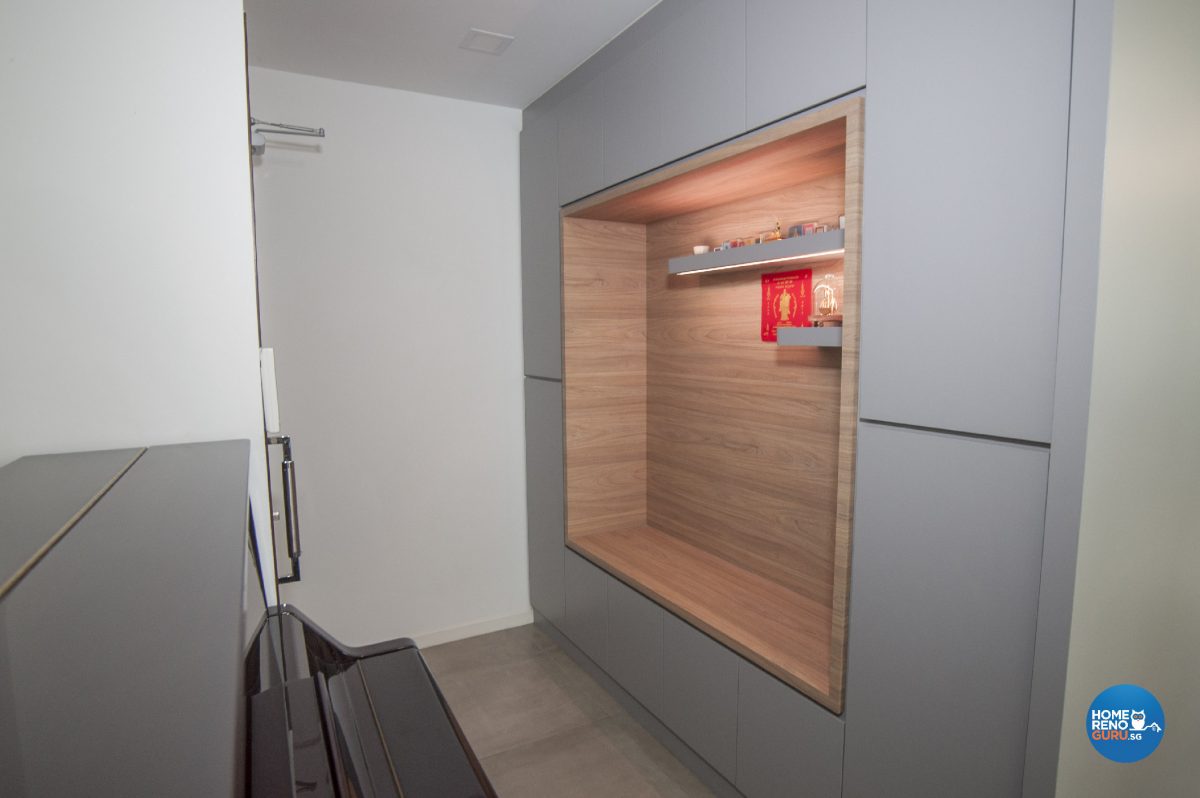 A convenient and considerate seating area in the entrance hall, flanked by a built-in shoe cabinet
HomeRenoGuru: Do you have any advice you would like to share with homeowners embarking on a renovation?
Jeremy: My advice to new homeowners embarking on a renovation is to have something in mind, and be very proactive to co-work with your ID firm to come up with an ideal outcome.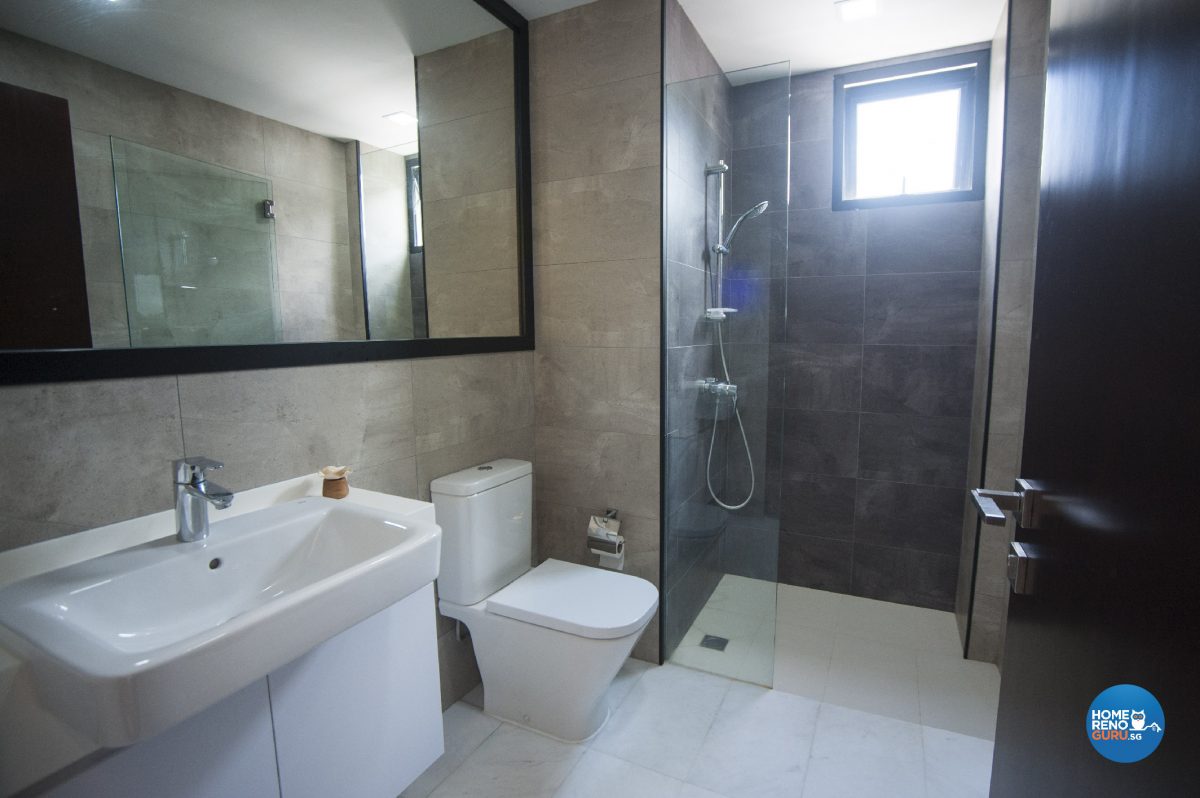 The master bathroom is sleek and functional
HomeRenoGuru: Would you recommend Monoloft and your interior designer to other homeowners?
Looking for Interior Designers?
Let HomeRenoGuru help!
Jeremy: If you ask me whether I'll recommend Monoloft to others, honestly… I won't.
HomeRenoGuru: Oh! Why is that?
Jeremy: The reason is because I'm a very selfish person. I want this unique design to be all mine and mine alone. But… as a gracious Singaporean, I will set aside my selfishness and definitely recommend Monoloft to you. Then you too can own a place as nice as this!
HomeRenoGuru: We get it. Do you have anything to add?
Jeremy: I'd like to take this opportunity to thank Joseph and the Monoloft team for making this happen. And the best way to show my gratitude is to assure you, Joseph, that my own apartment will be renovated by you as well.