Dream Home: A Vision Fully Realised
Working couple Atul and Neha took a rational and systematic approach to their choice of ID. By applying clear-cut criteria, they found an ID who was able to create the home they had envisioned – simple, timeless and elegant. Hear how The Orange Cube, and their designer Karen, ticked off every item on their wish list, all within a tight timeline.
Project Snapshot
Name(s) of Homeowner(s): Atul Duggal and Neha Singla
House Type: 3-bedroom Private Condominium
Size of Home: 1,647 sq/ft
Cost of Renovation: $70,000
Duration of Renovation: 2 months
Interior Design Firm: The Orange Cube
Name(s) of Designer(s): Karen Bohn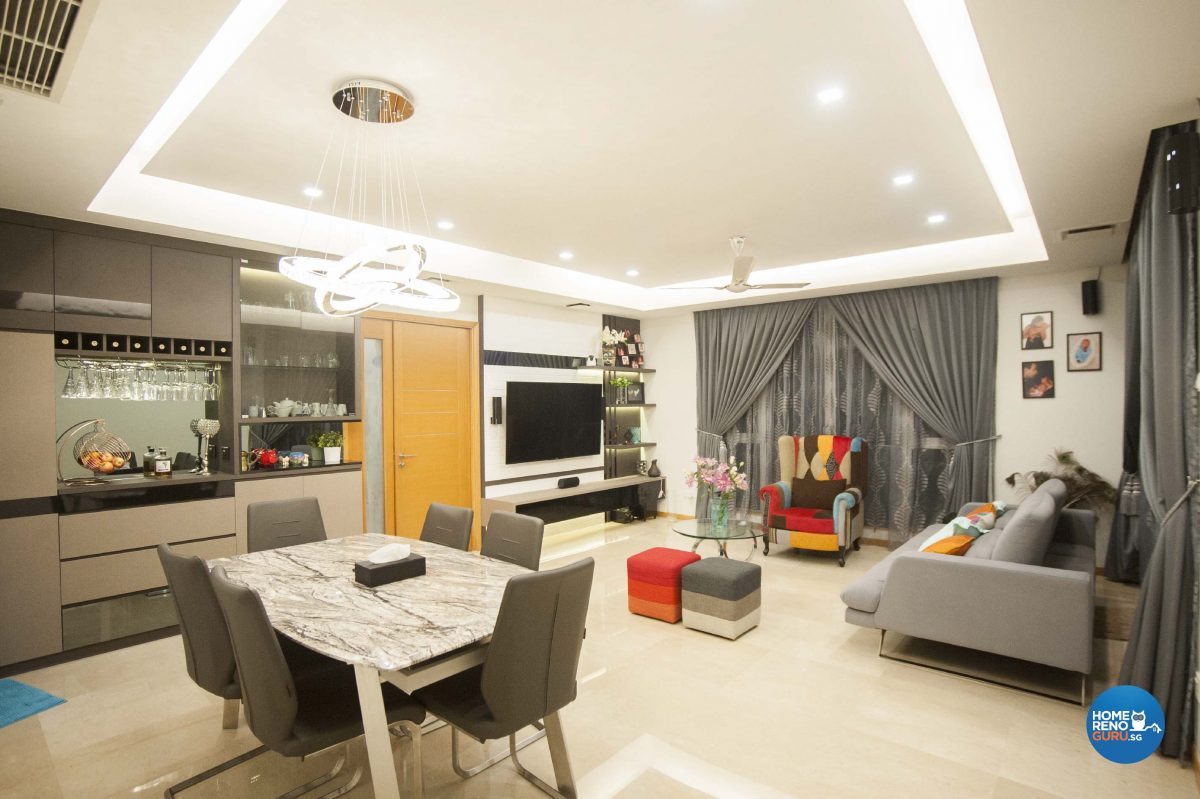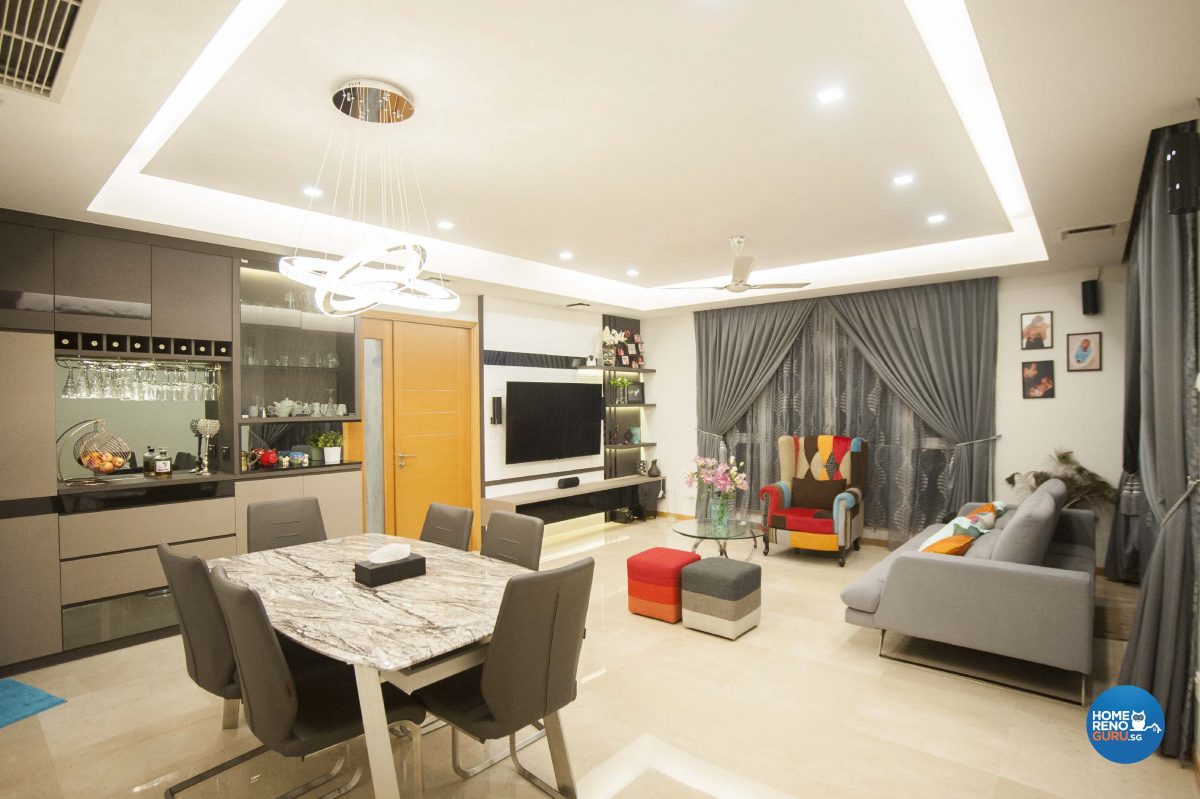 Simple and elegant, the living and dining area is distinguished by bold lighting effects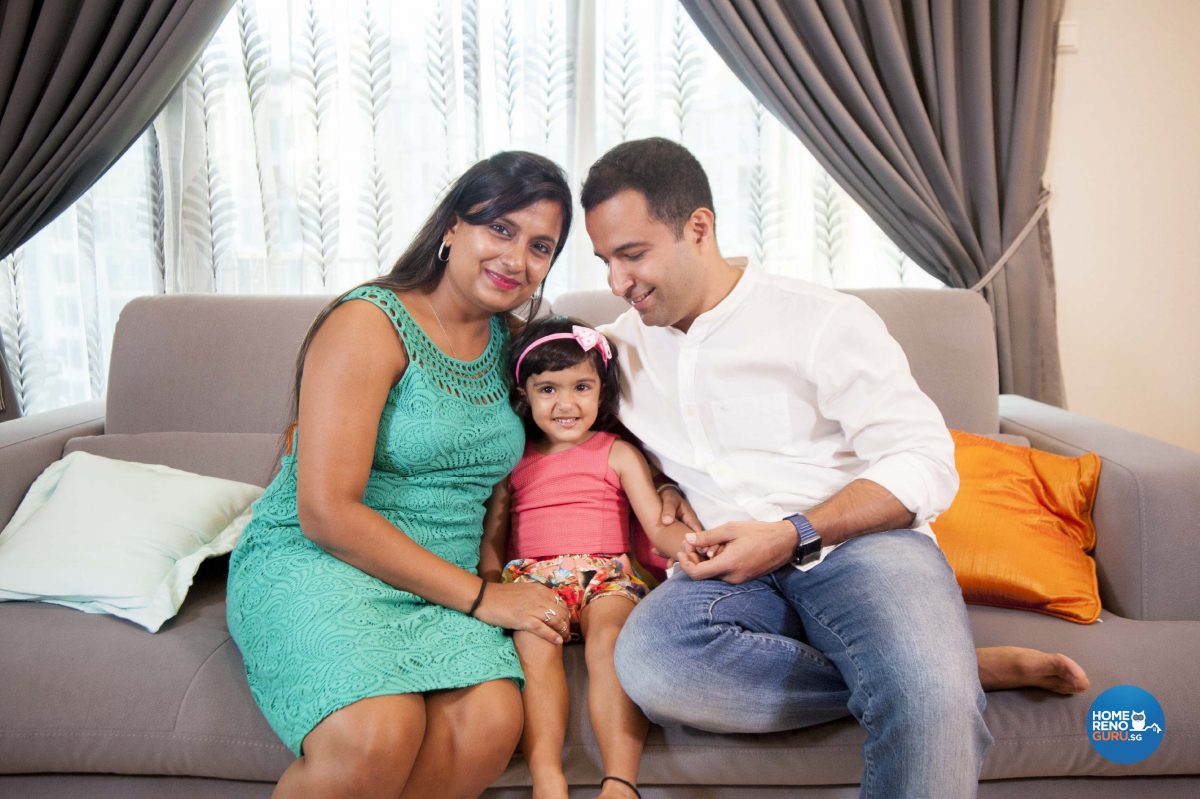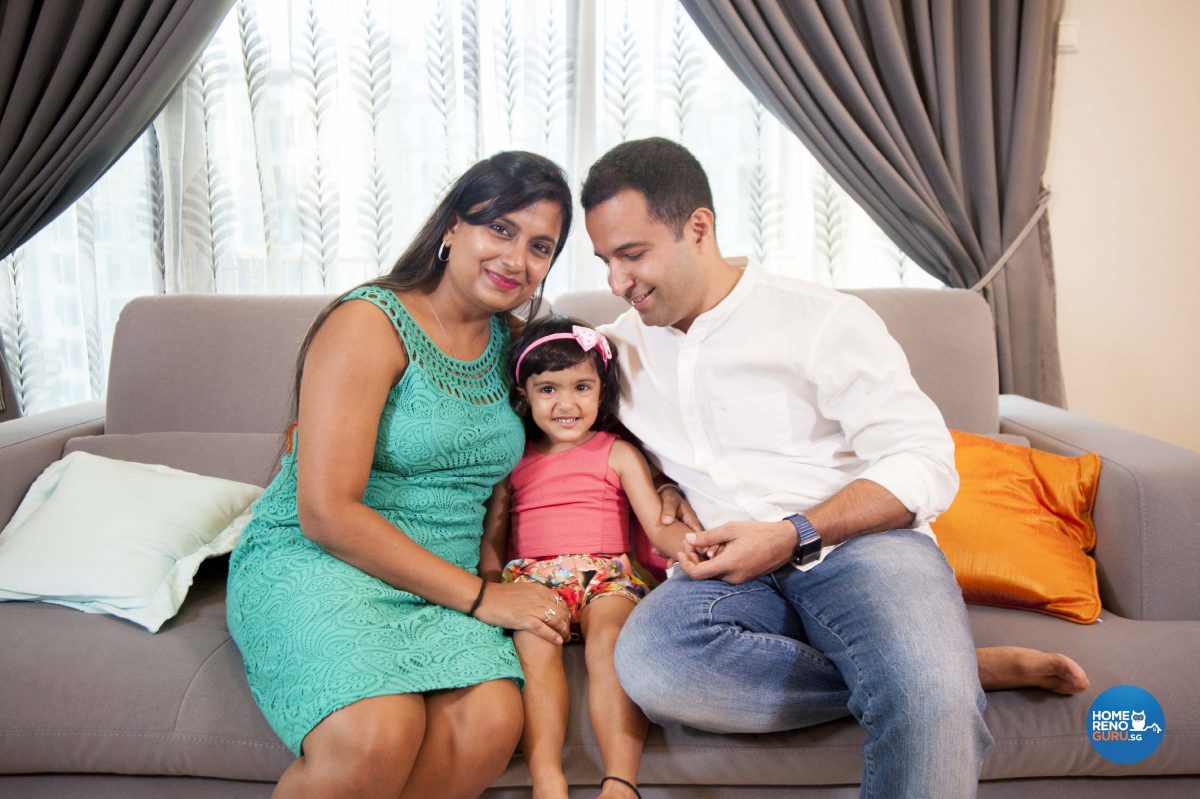 Happy family Neha, Sena and Atul
HomeRenoGuru: How did you come to engage The Orange Cube to renovate your beautiful condominium unit?
Neha: Through online research, we shortlisted about 10 IDs. After the initial proposals, then we finalised it to about two. Than it was more of a comparison of the designs, how we were able to connect and quotations and then we finalised Karen from The Orange Cube.
HomeRenoGuru: What was your brief to your designer?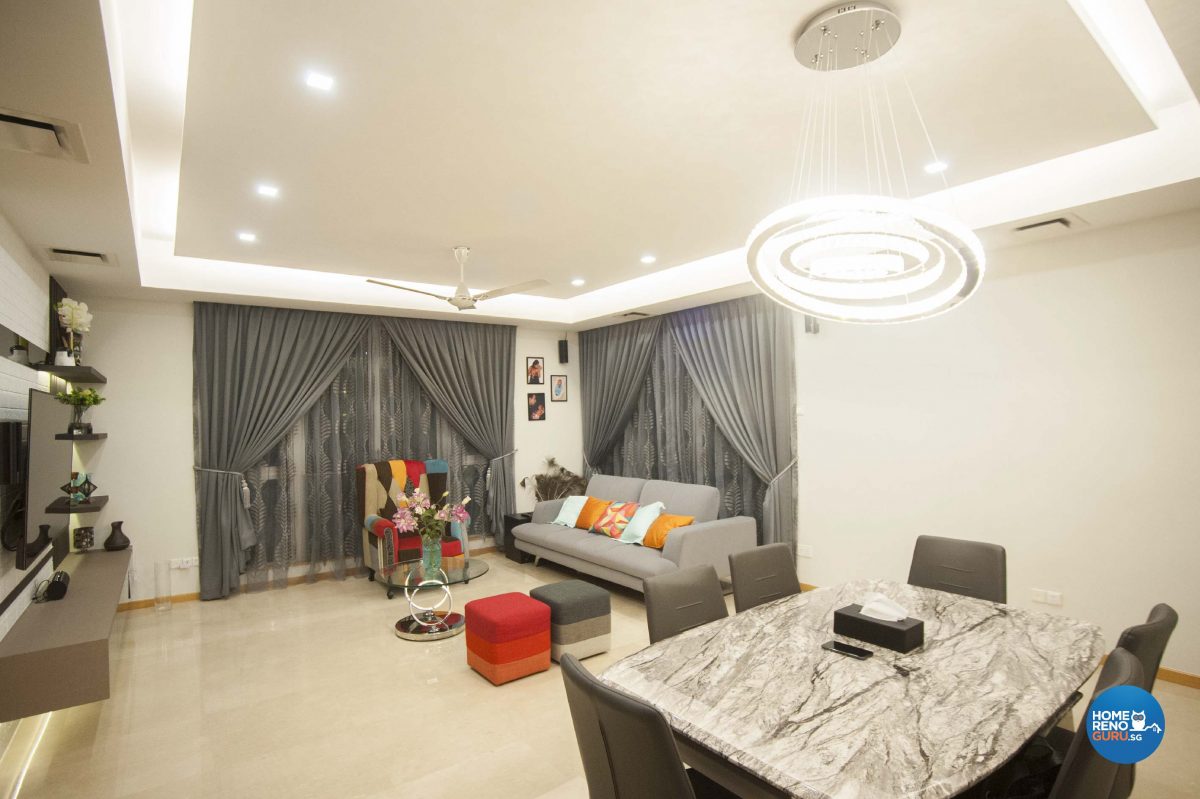 A pendant light throws the spotlight on the dining area, creating a sense of occasion at every mealtime
Atul: So our brief to The Orange Cube was that we wanted something simple, elegant and timeless. One thing very important for us was also the lighting effects in the house.
HomeRenoGuru: How did you find the actual renovation process?
Neha: Doing the renovation process something that worked very well for us was the open communication channel. We had a Whatsapp group and no matter where we were in the world travelling, and what time it was, Karen was very responsive.
Atul: We had a very aggressive timeline so Karen gave us the project plan for the renovation and made sure that everything was completed in time.
HomeRenoGuru: What parts of your home do you appreciate the most?
Neha: My favourite parts of the house is – one is the kitchen. It's very modular and compact. As you know, Singapore has very little space, so each and every small space in the kitchen is utilised. And even the small corners have small, small cupboards to put like long glasses.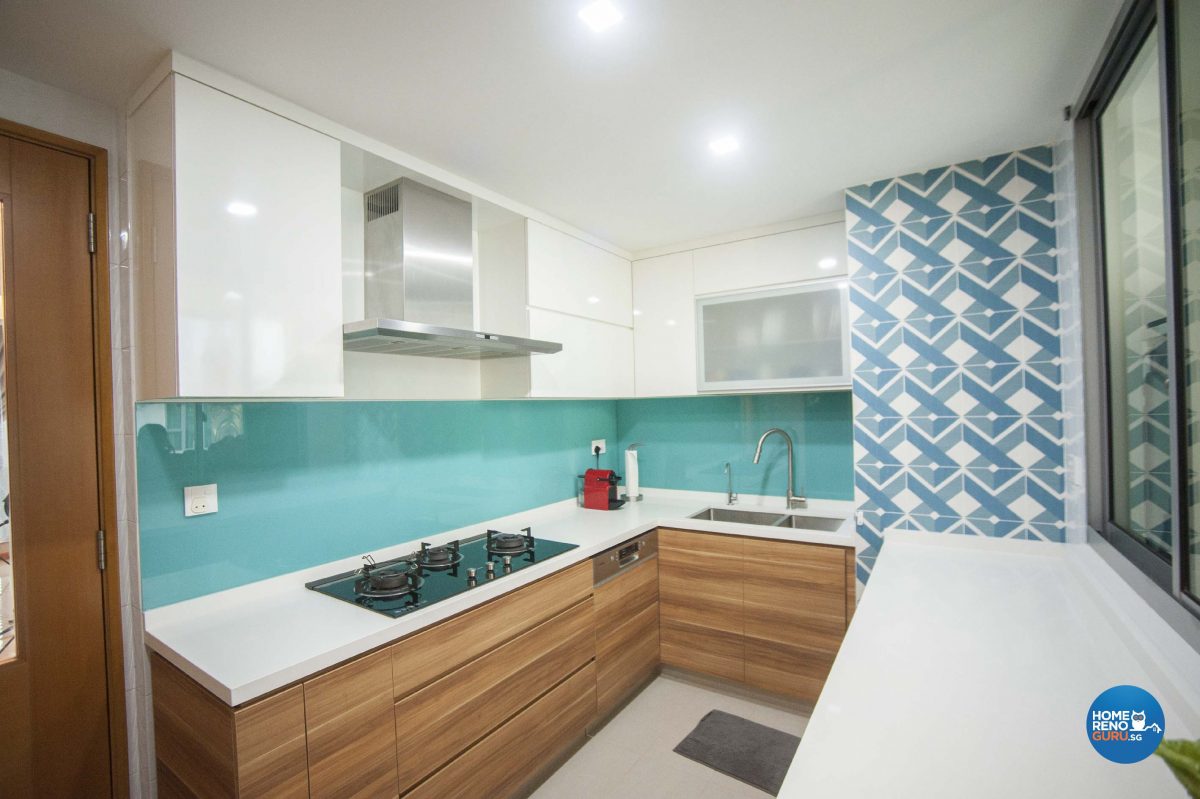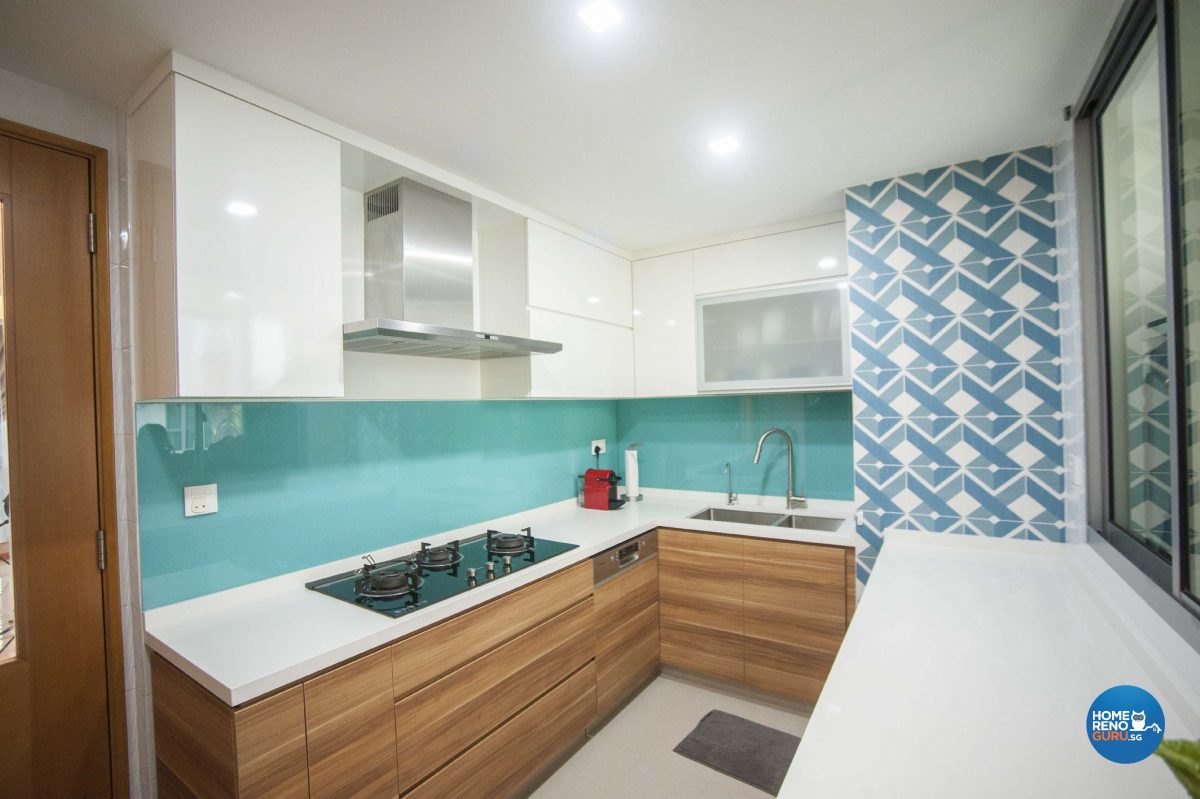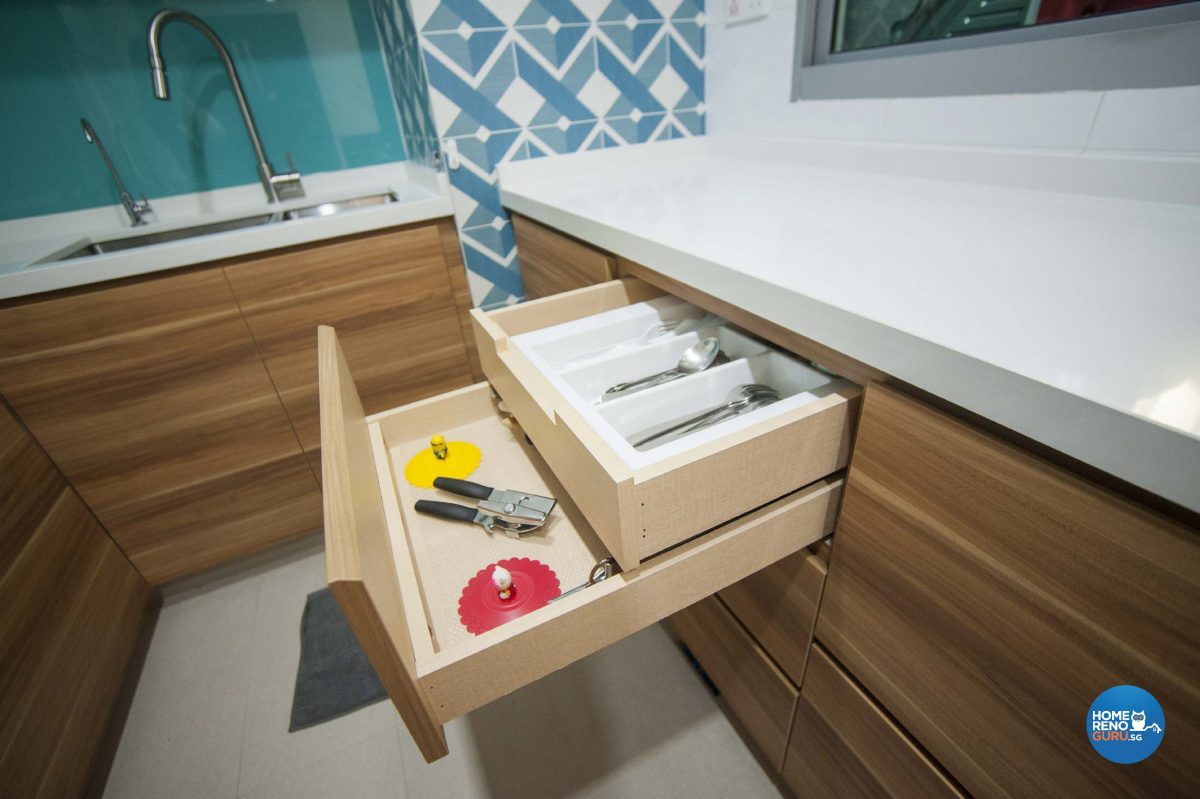 The dream kitchen features a Tiffany blue splashback, crisp white and blue tiles and loads of smart storage spaces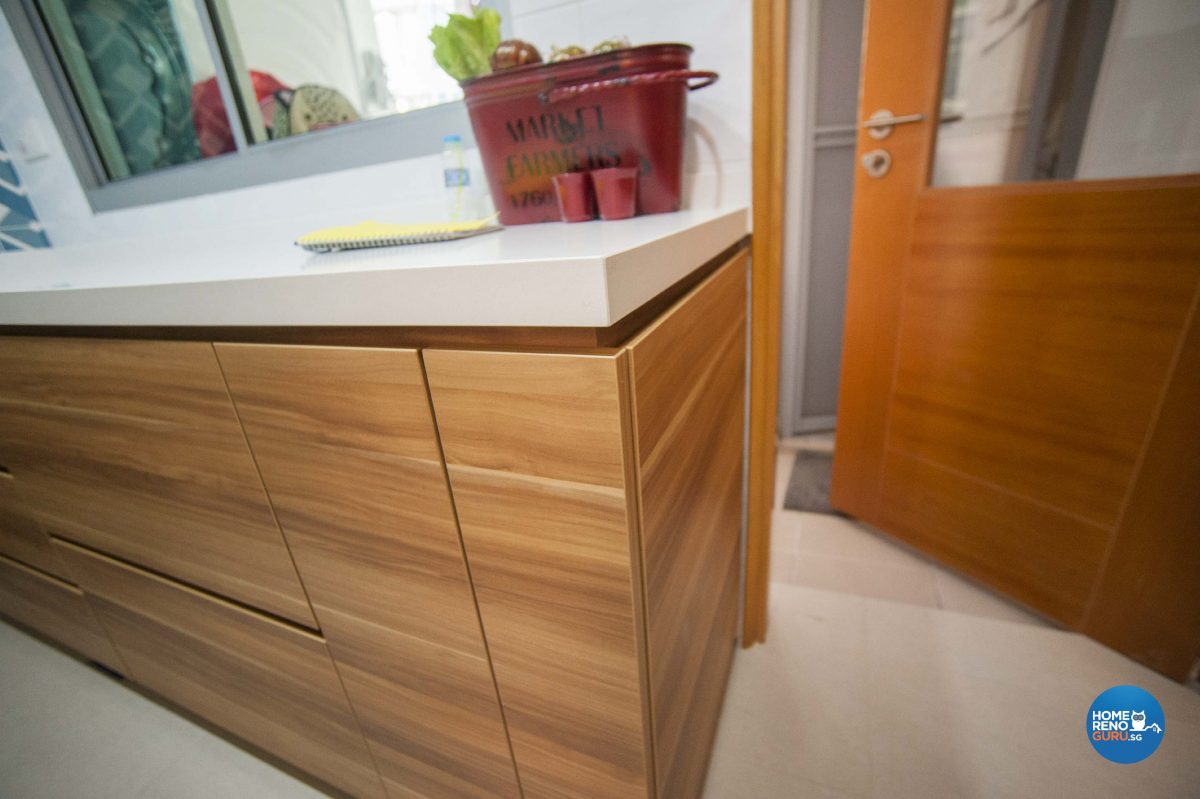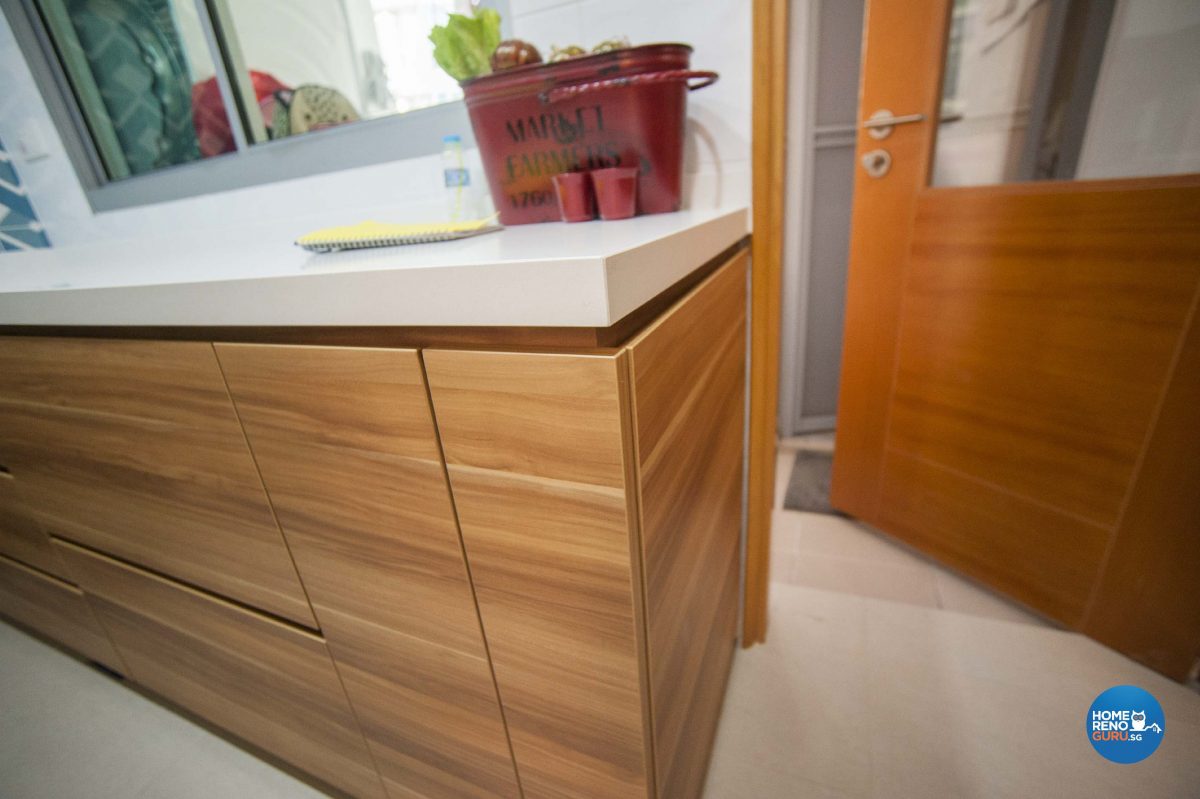 The ends of the counters open up to reveal shallow shelving units, ideal for storing spices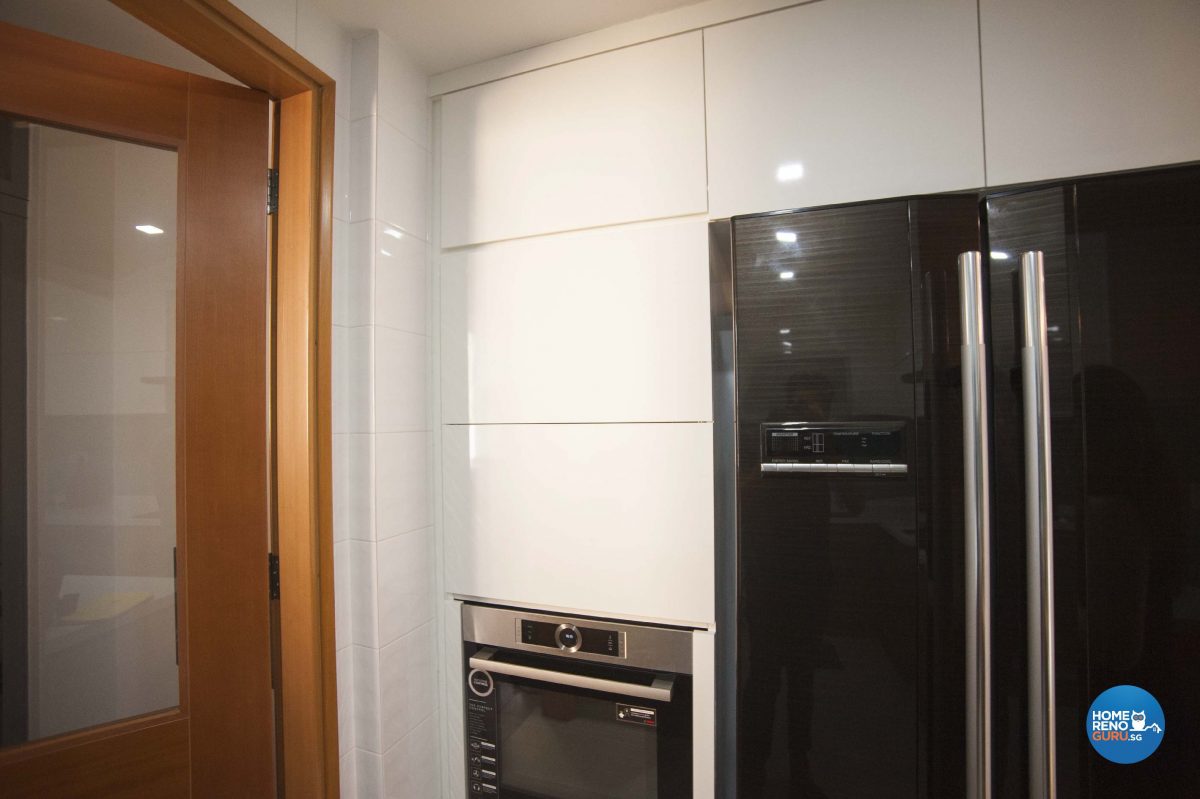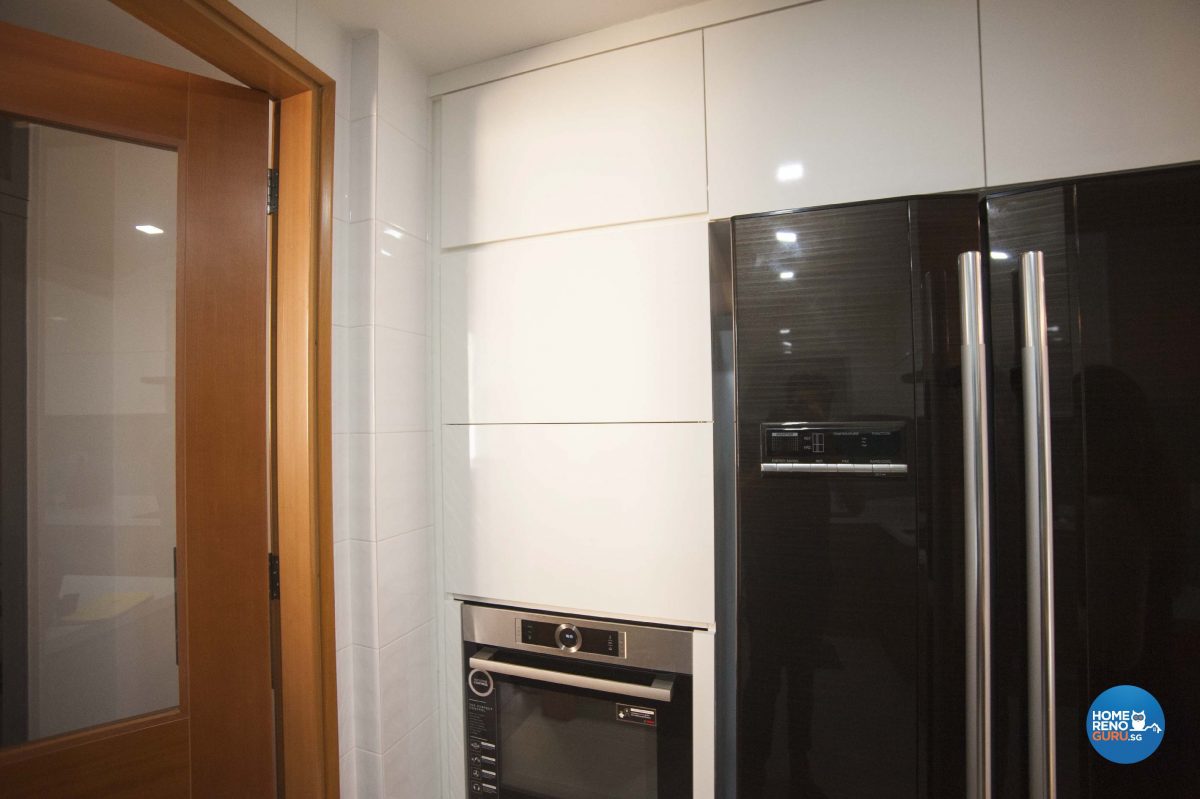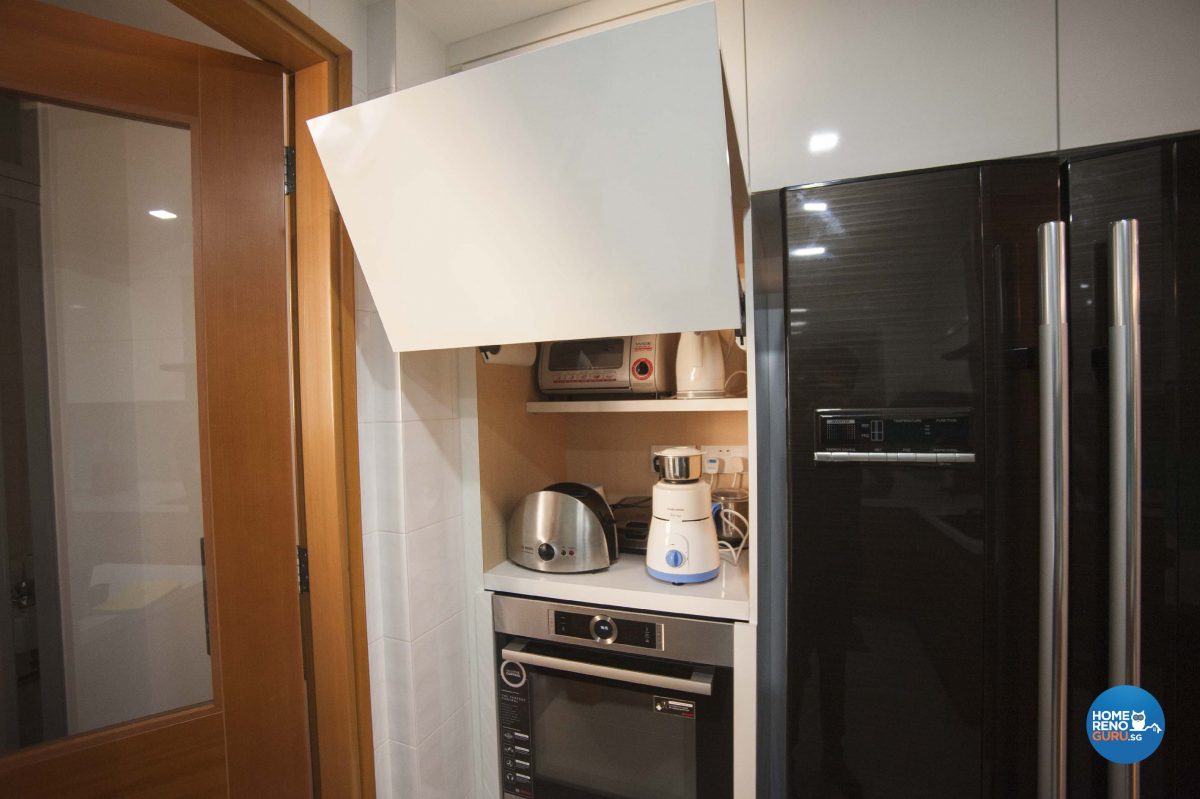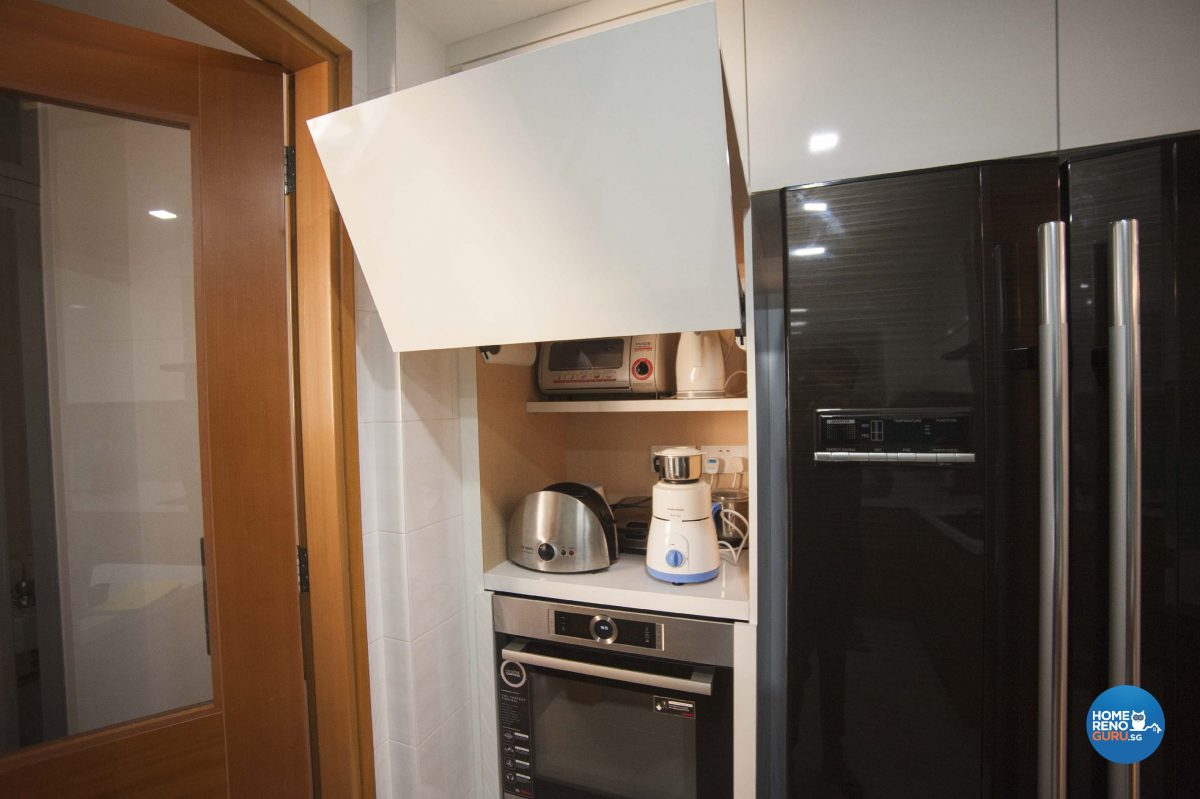 Built-in appliance cabinets sit on top of the oven, artfully disguised as flushed panelling
Neha: And the other one is my walk-in closet, which is customised to my personal needs. For example I wear a lot of necklaces, so behind the mirror there's a place to hang the necklaces. And in the drawer, there are specific squares where I can put my bracelets and watches.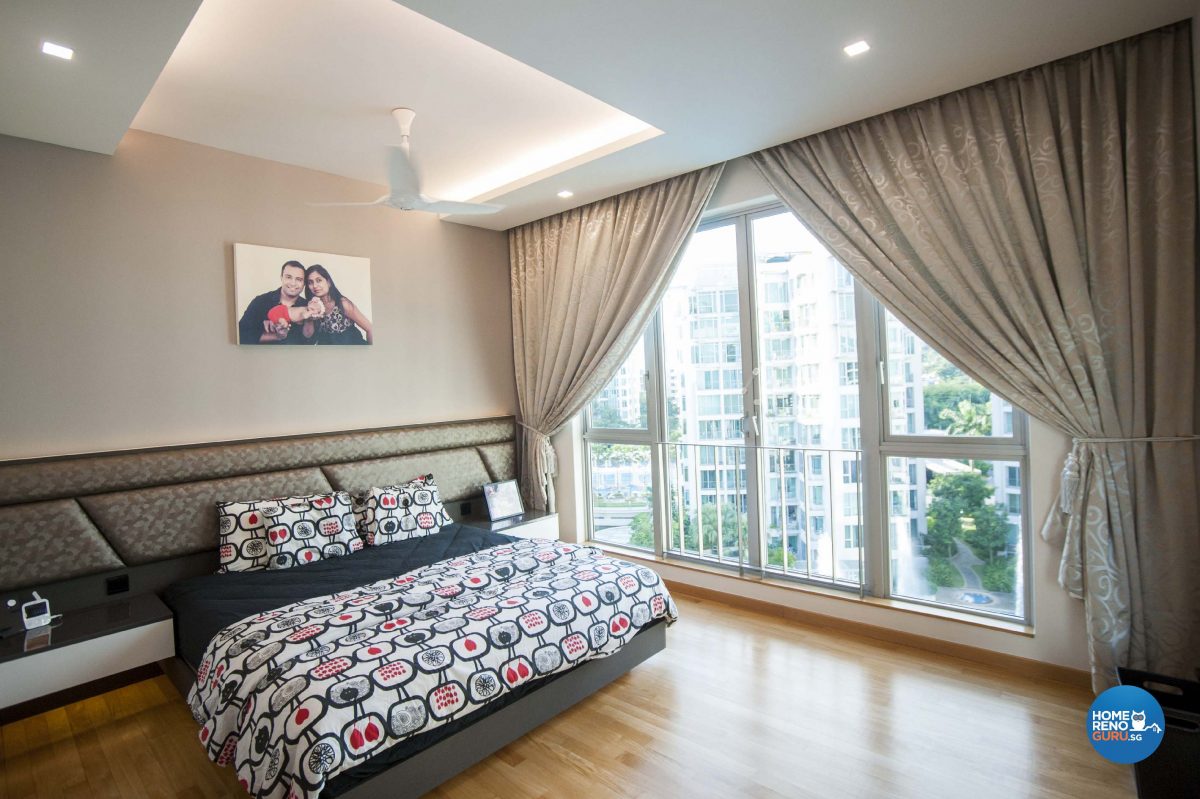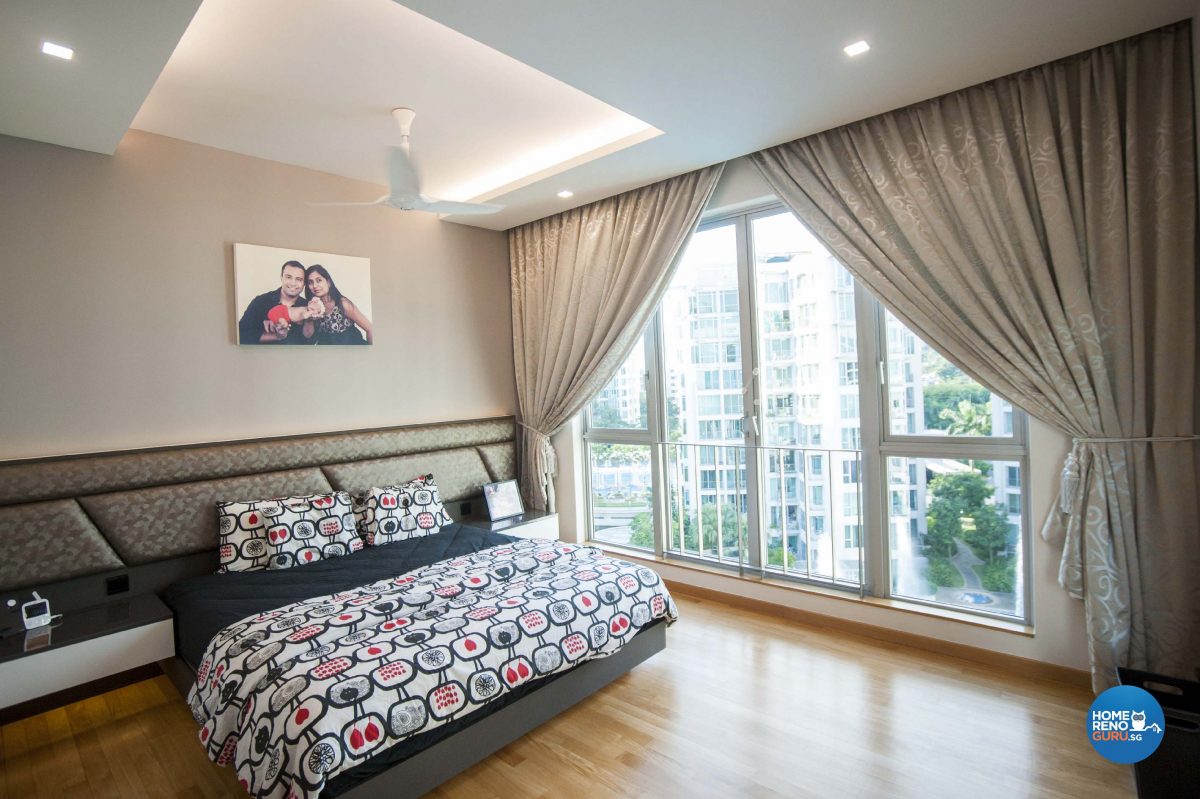 Softly illuminated by cove lighting in a raised ceiling, the master bedroom has the luxury of a balcony and a walk-in wardrobe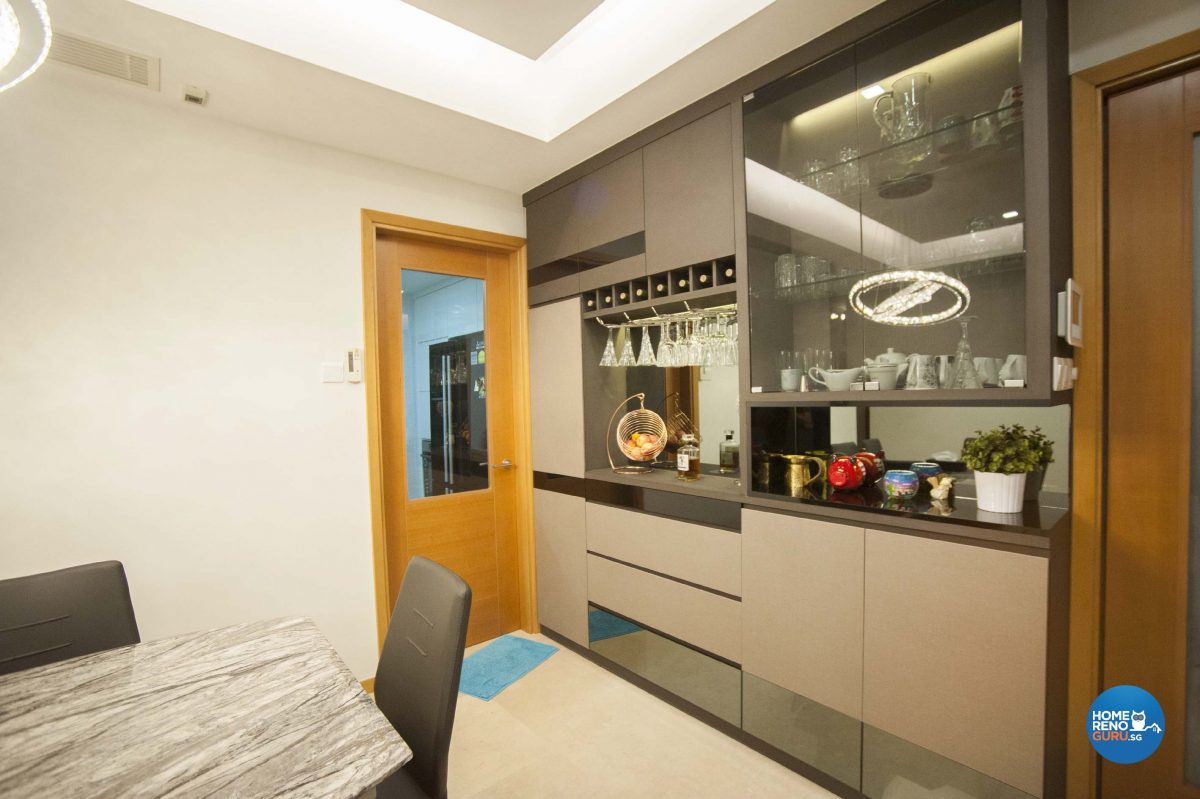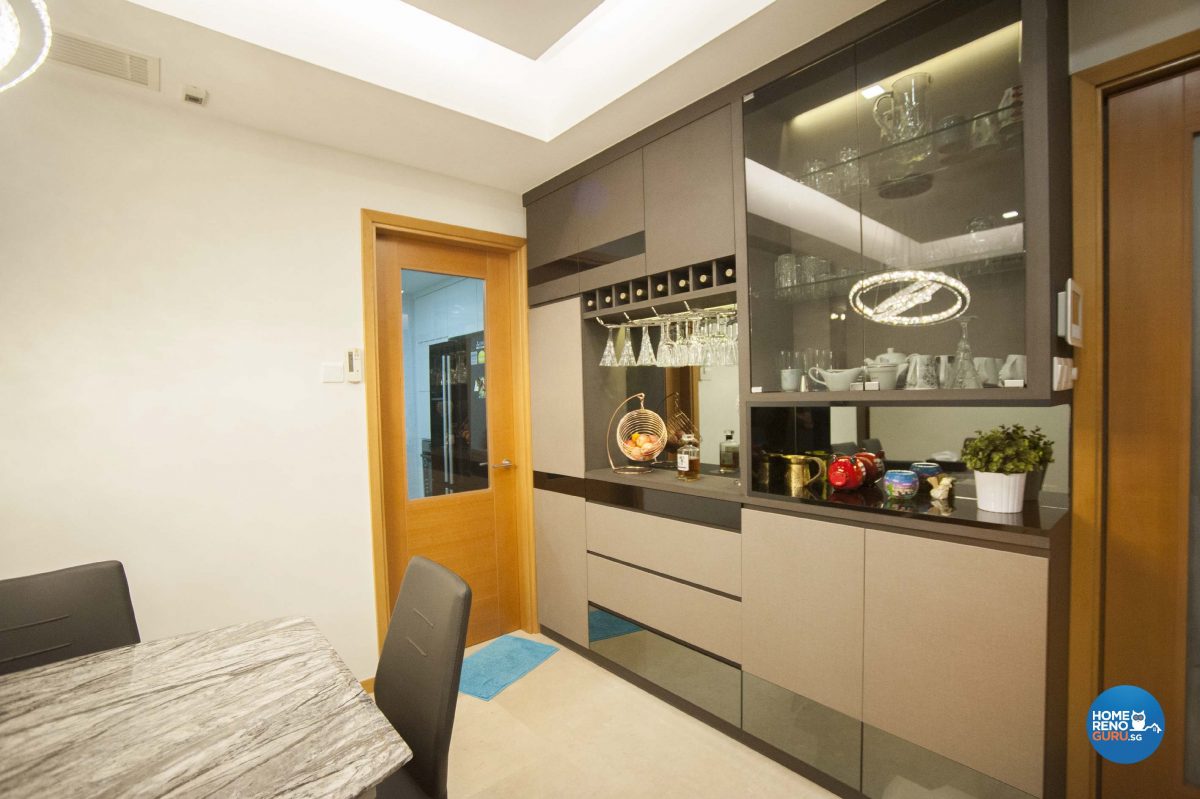 A well-stocked bar caters to frequent visitors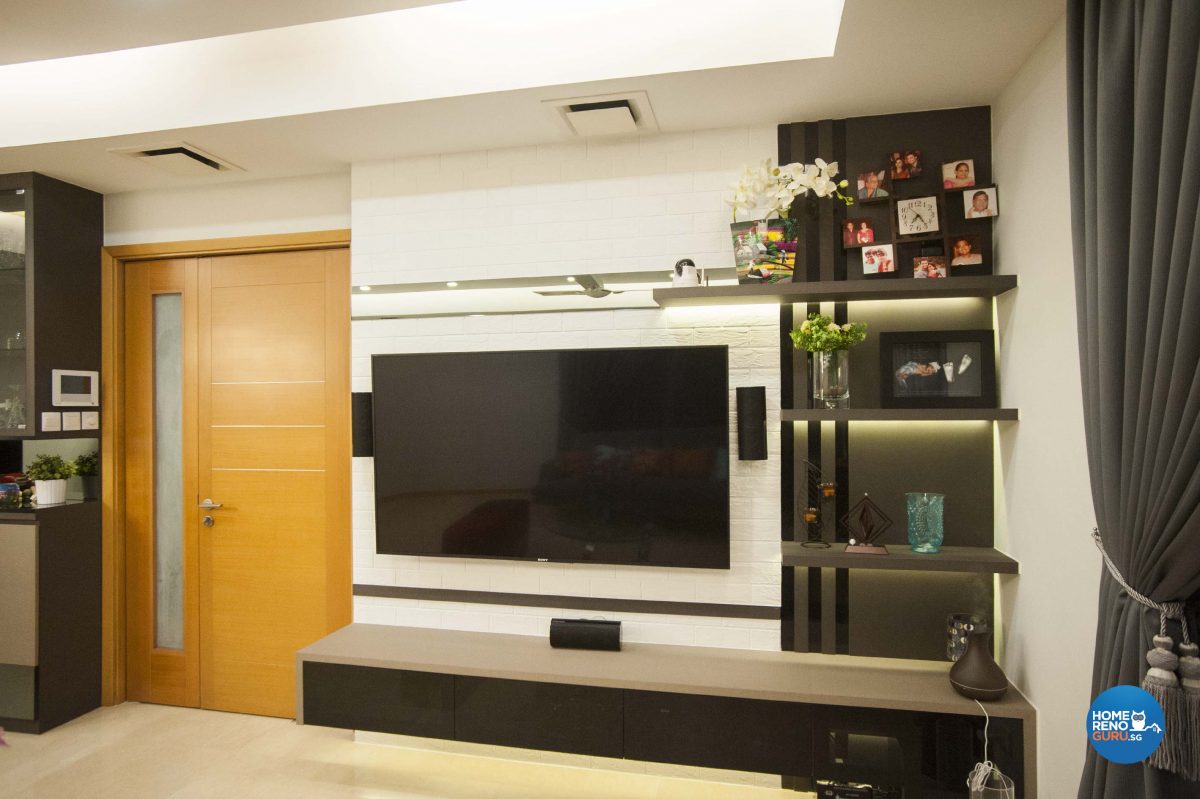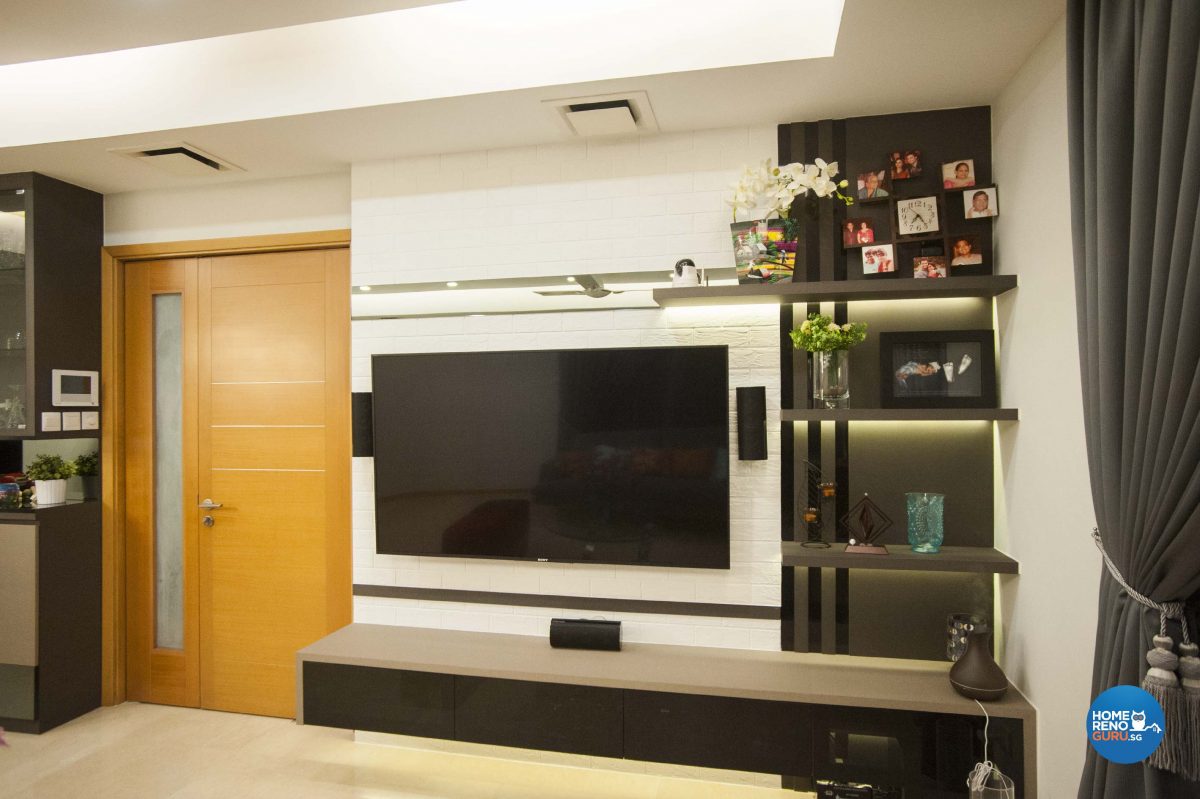 The wiring for the wall-mounted TV and other home entertainment devices is tidily concealed
Atul: My favourite part of the house is the living room. We've got a lot of devices inside the living room, but we've managed to conceal not only the devices but also the wiring. Another place I like a lot in the living room is the bar. As we entertain often, I wanted a place where I could prepare the drinks and keep all my liquor.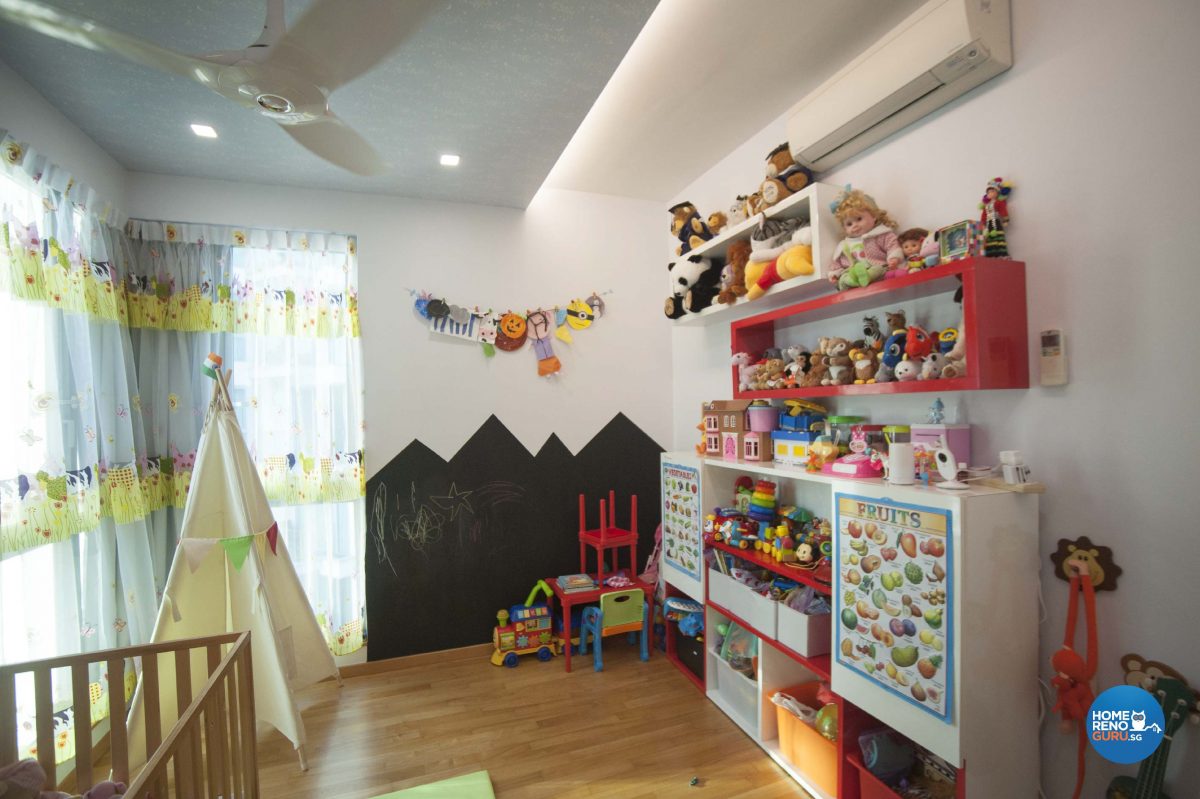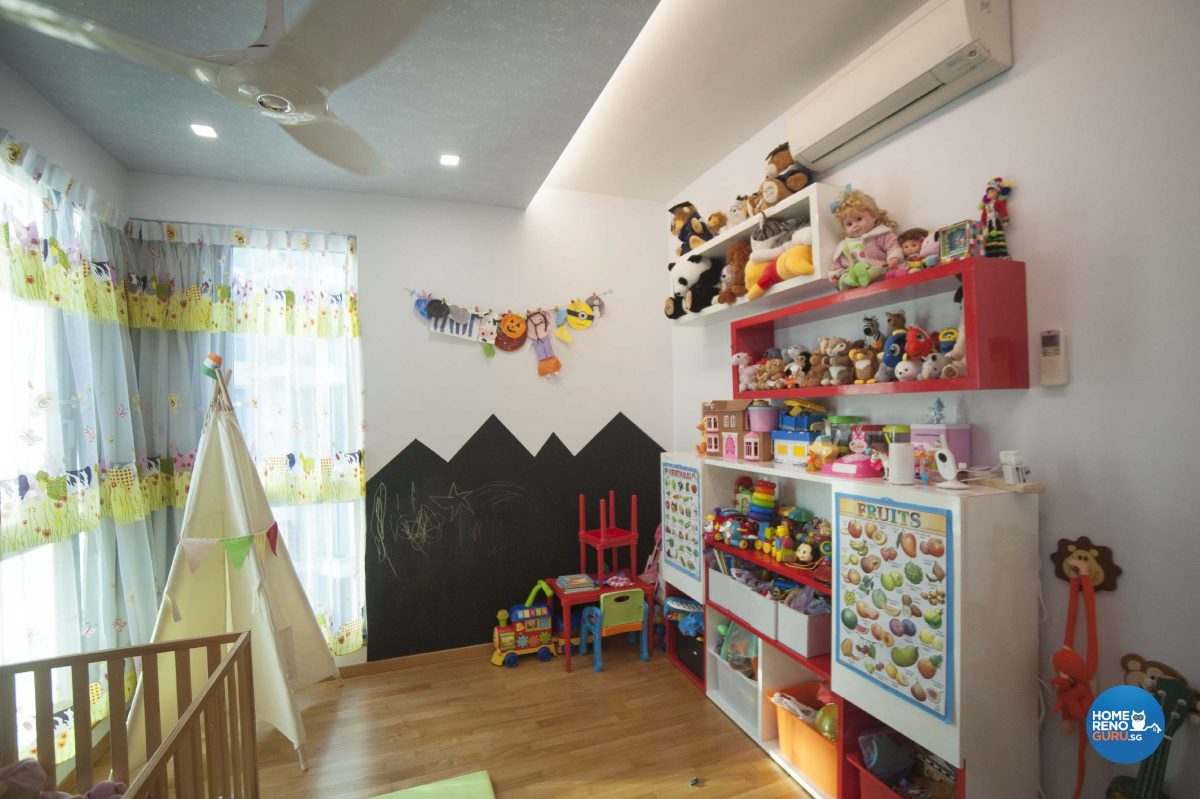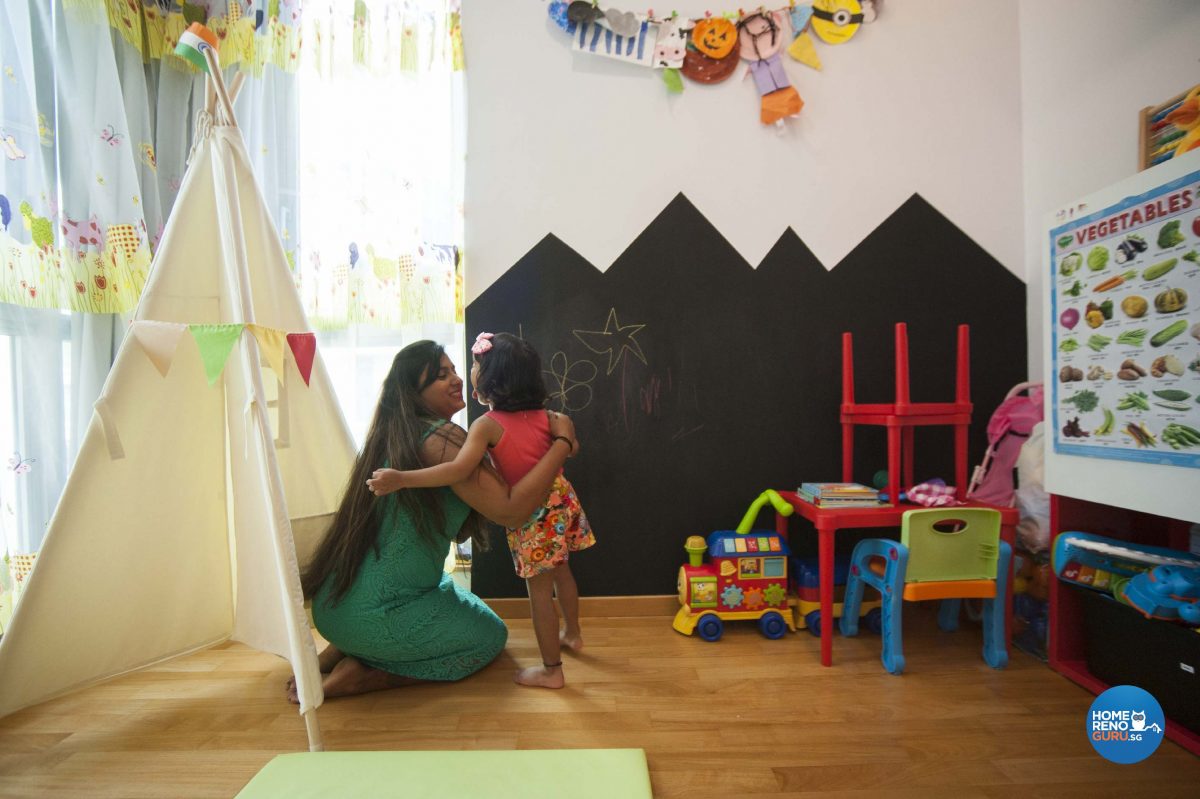 Sena's room features a chalk wall where she can unleash her creativity, together with plenty of space for play!
Atul: The most unique feature in Sena's room is the chalk wall. We needed a big space, to give her a big space to unleash her creativity.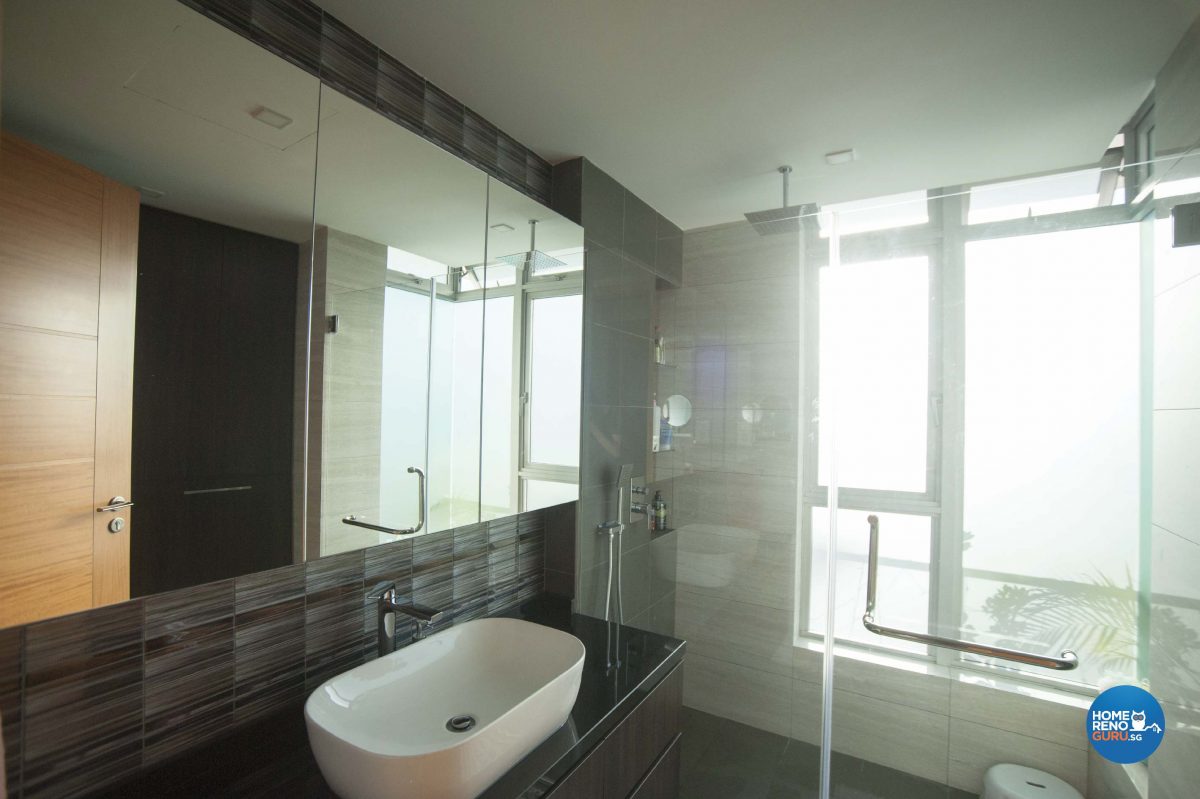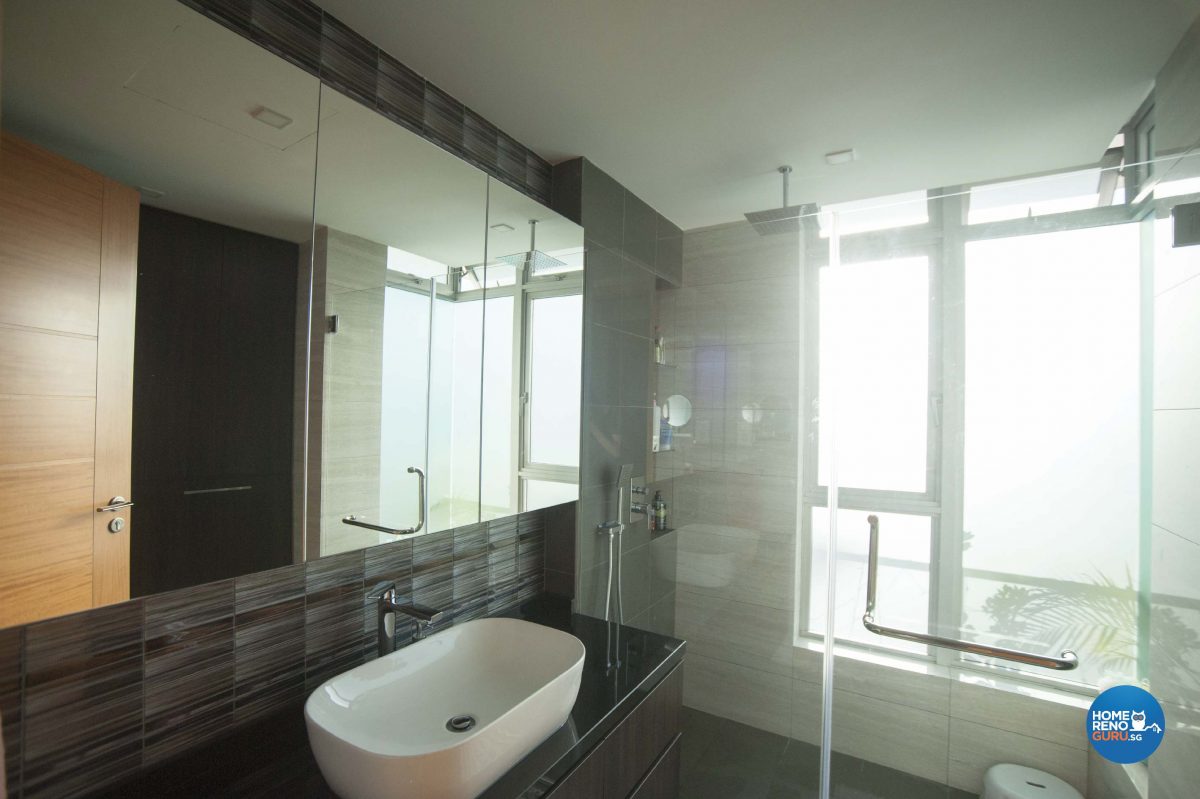 The elegant master bathroom was remodelled, swapping a bathtub for extra shower space
Neha: So initially we had a tub in the bathroom and a very small shower area. But we wanted more shower space, so actually the tub was converted into a large shower area and the rest of the bathroom space was then utilised to make more storage for us.
HomeRenoGuru: Do you have any general advice you would like to share with other homeowners contemplating a home renovation?
Neha: So I would like to give two suggestions, one is have a laundry list of your requirements you want. But also, have a couple of requirements that you are ready to let go of. Secondly, of course you should be rational about choosing your ID. But always keep in mind that you have to have a good connect with your interior designer, because it's a journey you're embarking on. So, at times, you'll have to trade off a cheaper ID to something more expensive if you have a better connect with the other person.
Atul: To add to that, I would advise people to pen down what they want.
Looking for Interior Designers?
Let HomeRenoGuru help!
HomeRenoGuru: Would you recommend The Orange Cube to other homeowners?
Neha: Yes, I would definitely recommend Karen from The Orange Cube, in fact I've already recommended her to a couple of my friends and colleagues.
Atul: Thank you, The Orange Cube.
Neha: And thank you Karen for designing the house the way we had envisioned.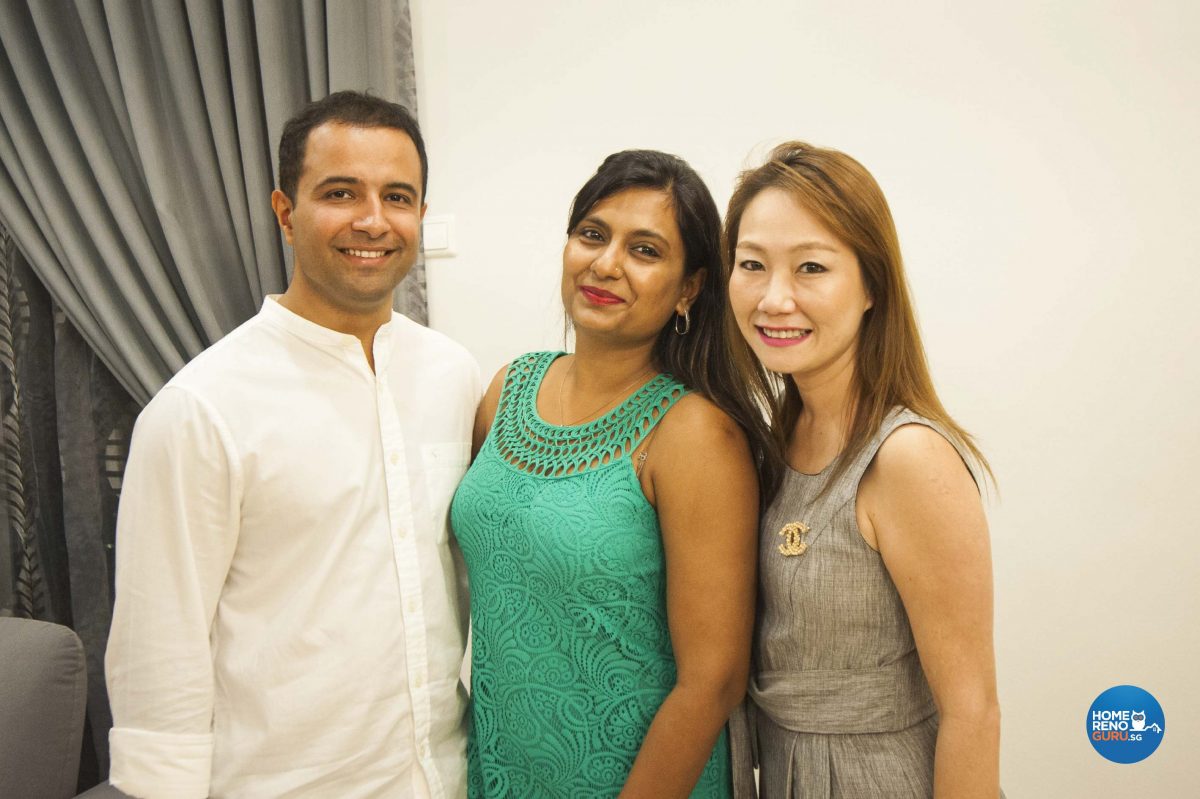 The happy homeowners with their designer Karen