Dream Home: Tricks with Tricky Spaces
Tricky spaces did not daunt Nitty Gritty Interior. Designer Qistine brainstormed with homeowners Aydan and Beishan to develop creative solutions to challenging spaces, including enlarging a poky kitchen, hacking a wall to the study room to admit more light, and creating two distinct areas in the master bedroom. The result is a home that is totally loved by its owners – every clever corner of it!
Project Snapshot
Name(s) of Homeowner(s): Aydan and Beishan
Type of Home: 5-room Resale HDB Flat
Size of Home: 113 sq/m
Cost of Renovation: $50,000
Duration of Renovation: 2 months
Interior Design Firm: Nitty Gritty Interior Pte Ltd
Name(s) of Designer(s): Qistine Toong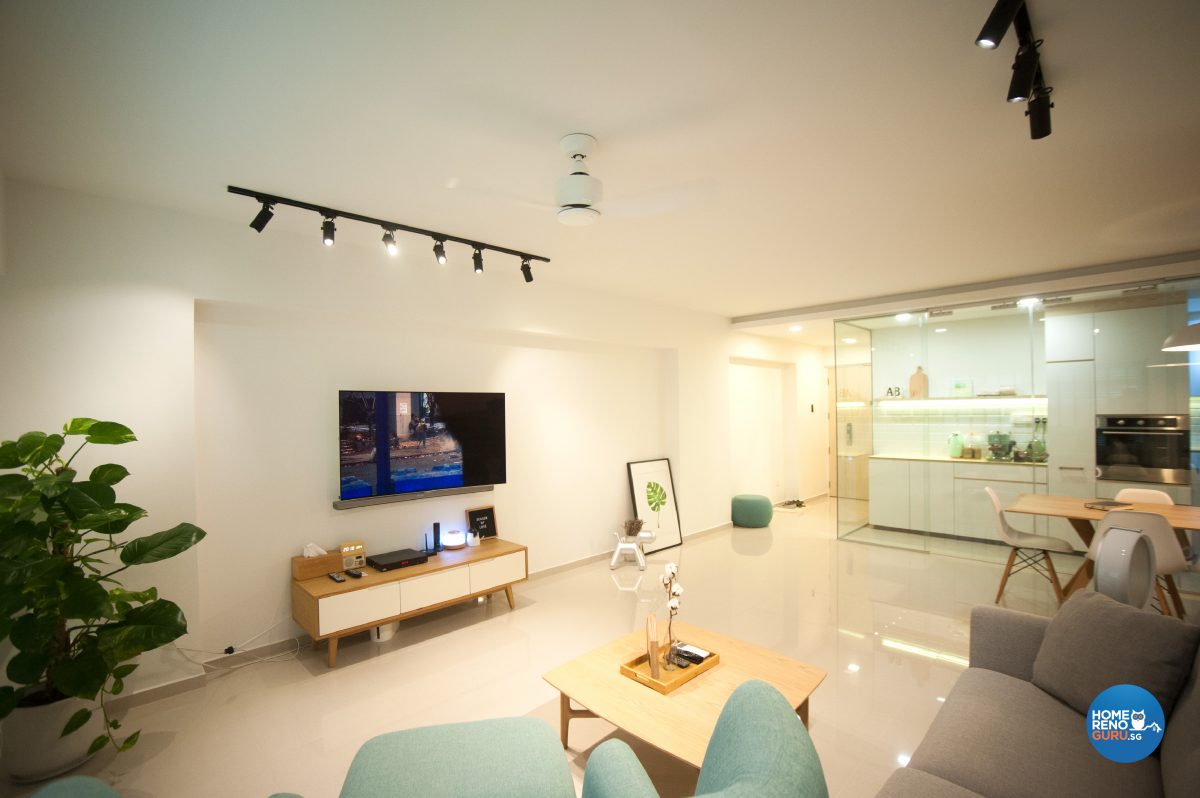 The clean and uncluttered living area adopts a neutral palette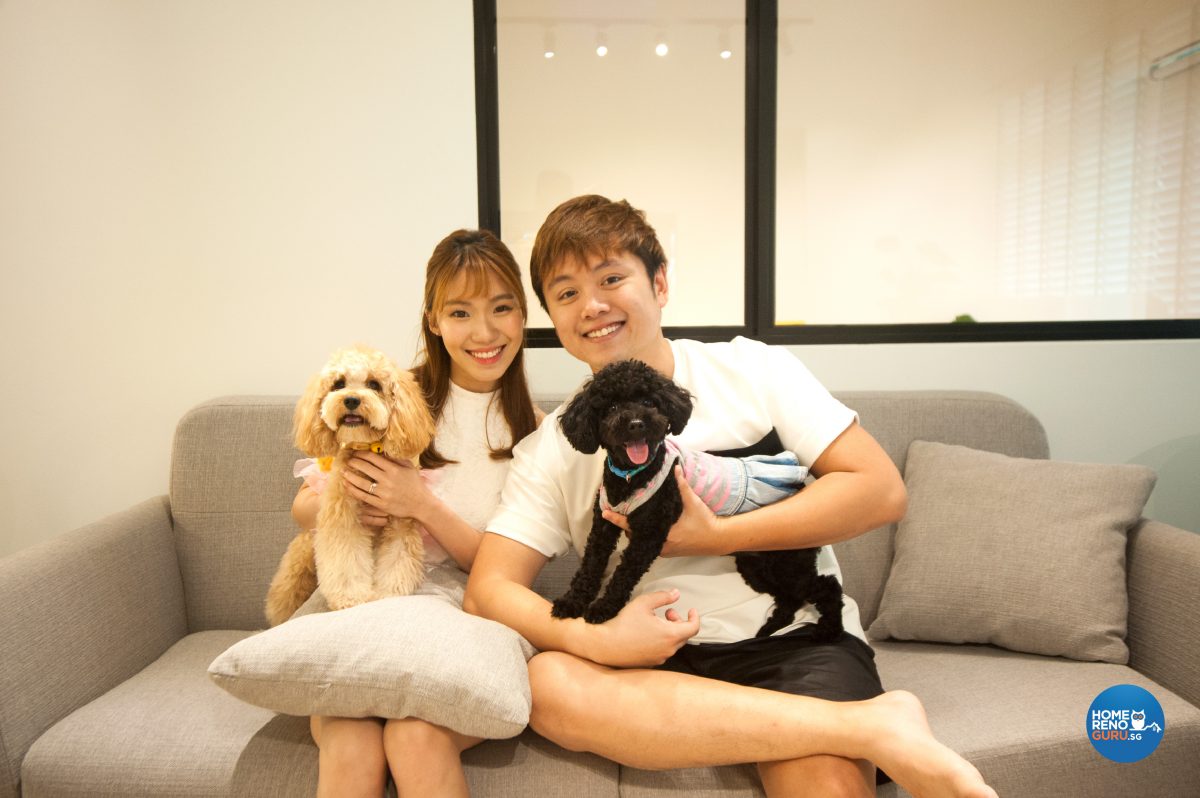 Beishan and Aydan with their fur-kids
HomeRenoGuru: How did you come to engage Nitty Gritty Interior?
Beishan: We first came to know about Nitty Gritty Interior through Lawrence, who is the founder. Throughout the years, as we are his friends, he has been showing us his works. And we thought they are very pretty and very functional at the same time.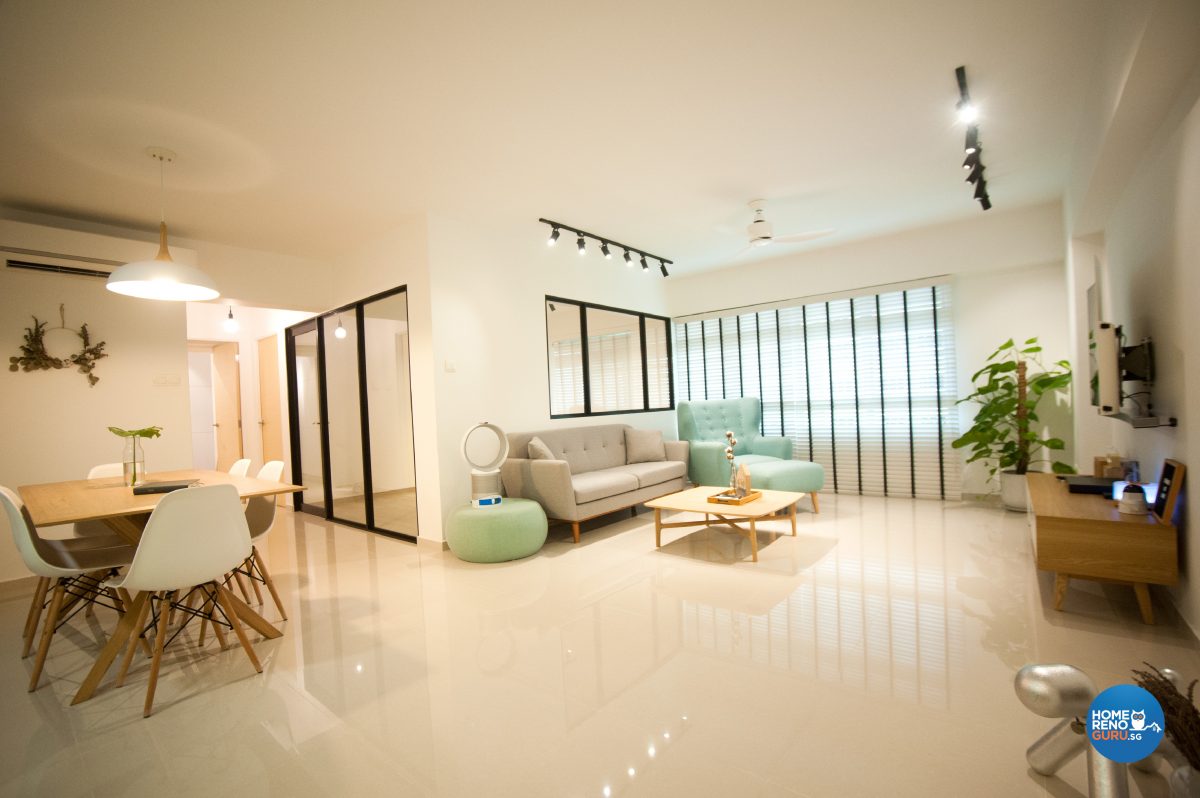 Track and pendant lighting draws the eye upwards and enhances the impression of space in the open concept dining and living area
HomeRenoGuru: What was your design brief?
Aydan: The brief to Qistine was to actually make our kitchen bigger, because in the original layout of our home, the kitchen was very small. And also for our bedroom, the space is in an oblong shape, so we had difficulty placing our bed while having our wardrobe. So she came up with a very smart idea, to actually segregate the space into two areas, with one walk-in wardrobe and one cosy corner for us.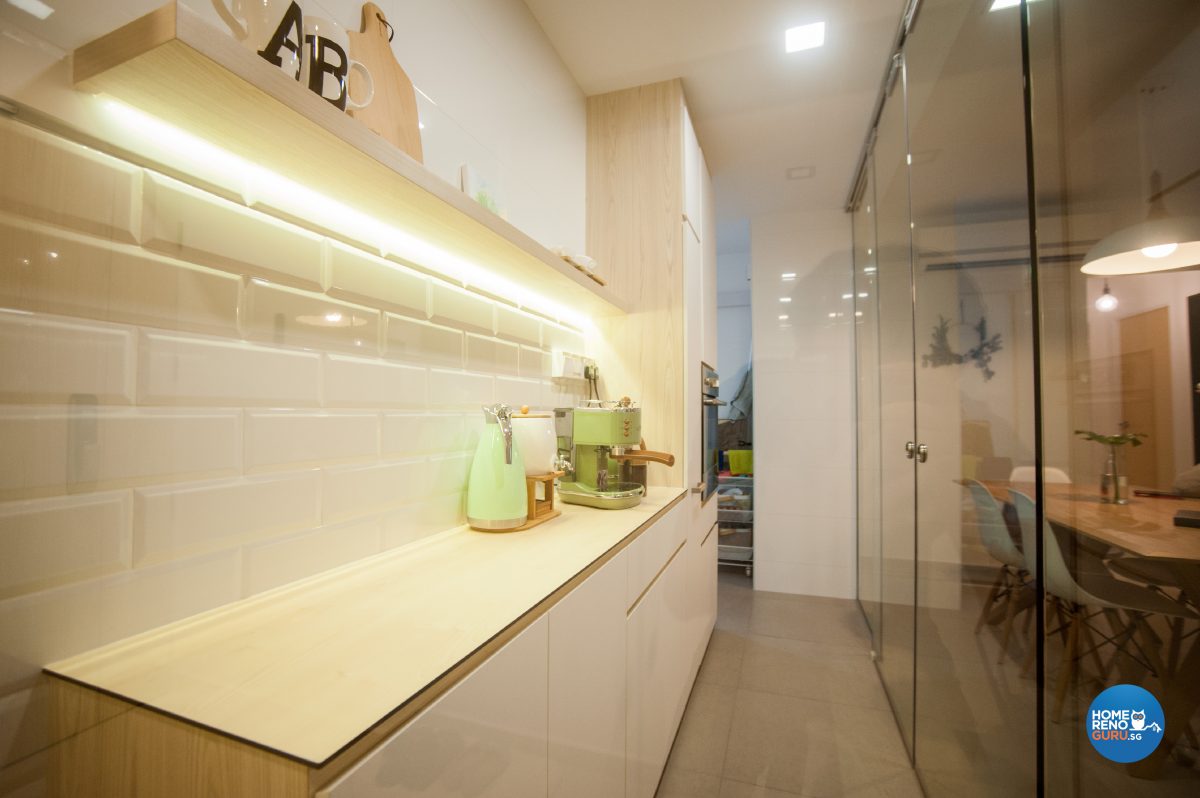 Expansive counter-space is a boon for the couple, who both enjoy cooking

A snug niche for the fridge and overhead cabinets optimise space and storage
HomeRenoGuru: How did you find the renovation process?
Beishan: So the whole renovation process was pretty smooth. We actually came down to the house daily, and Qistine was always here to answer any of our queries. So whenever we had a problem, we felt very assured that they are always here to help us any time.
The major part of the renovation, where we hacked a lot, would be the study room. So as you can see, this whole part was actually a concrete wall, which created a lighting issue when we bought this house. Qistine actually suggested that we hack off these walls and those over the other side to allow more light to pass through. And it worked perfectly for us.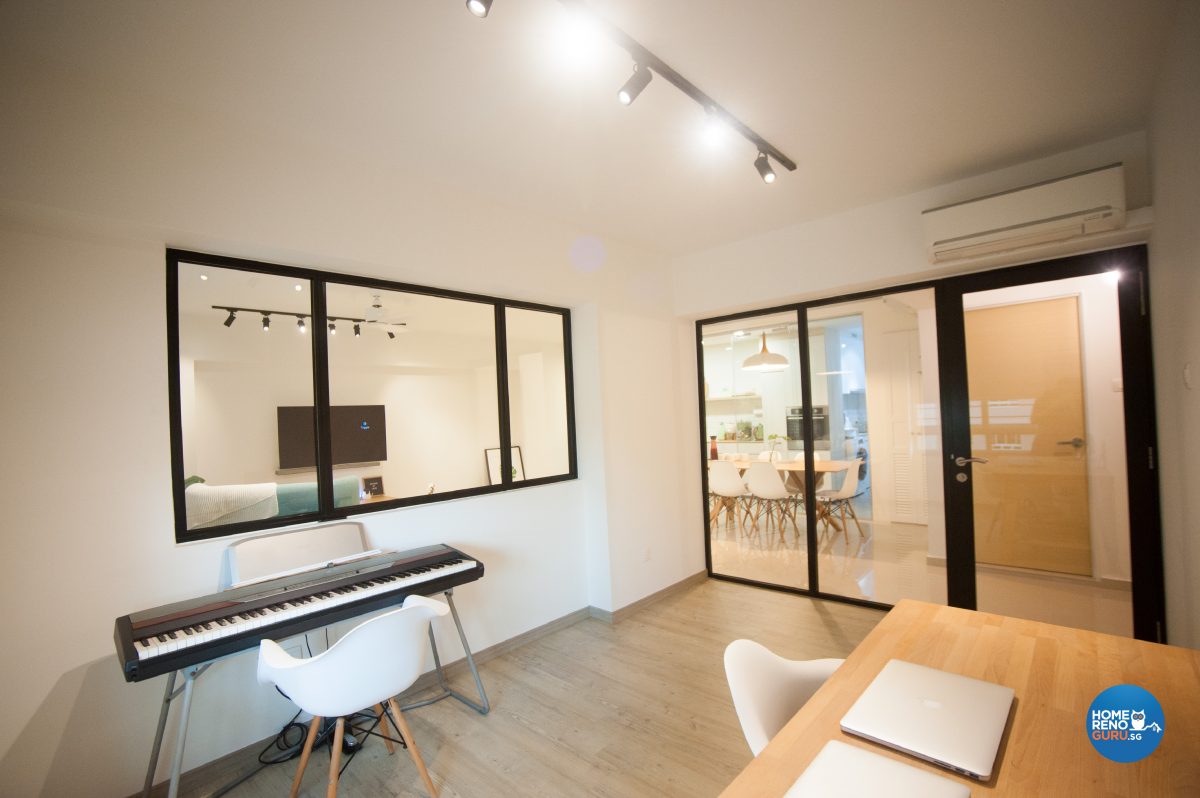 Light flows freely though the study room, enclosed by glass doors and connected to the living area by a large window
HomeRenoGuru: What do you like most about your renovated home?
Aydan: My favourite spot of the house is actually my kitchen and the living room. For the kitchen, I like the pull-out drawer and the cabinet. We cook a lot, so having more space and more work-stations is actually beneficial for us.
And for the living room, I actually like the openness and the space that we actually have. How about you?
Beishan: Also the living room as well as the dining table area, because it's where our family congregate together, and it's a place that we spend most of our time.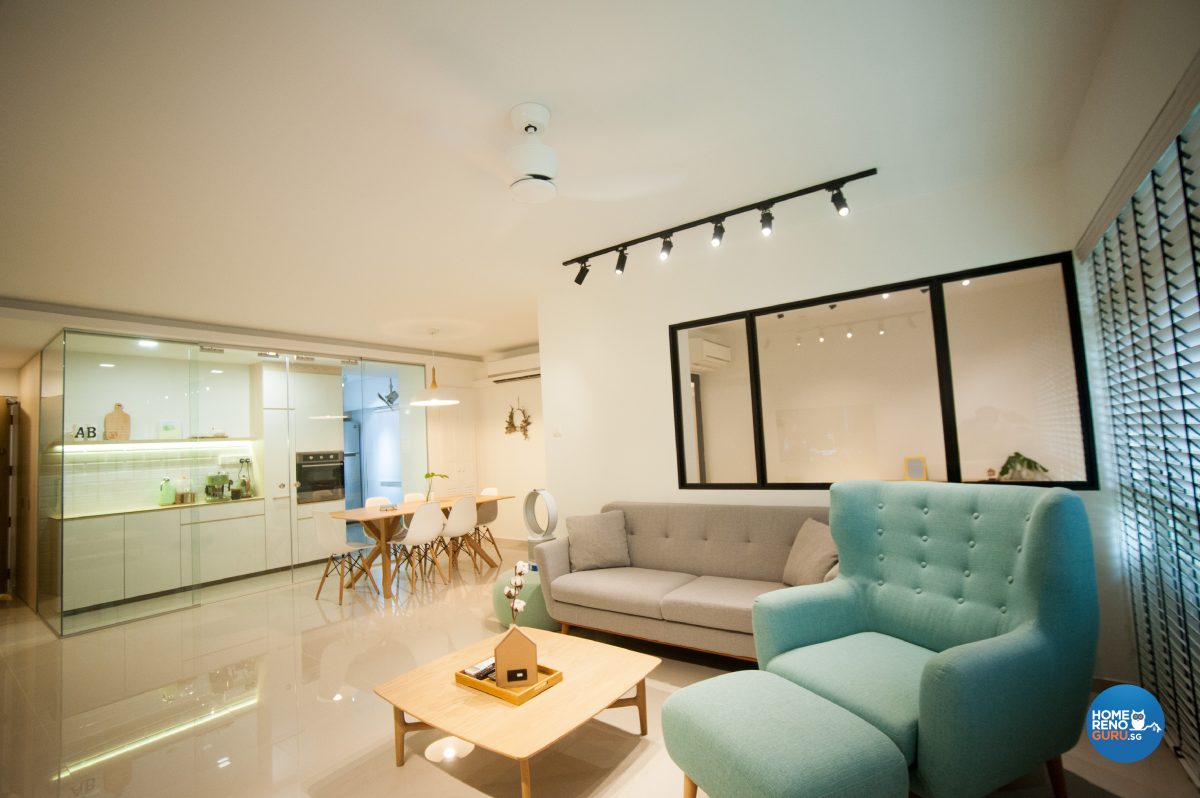 The kitchen is a luminous glass cube that visually extends the space of the entrance hall, dining and living areas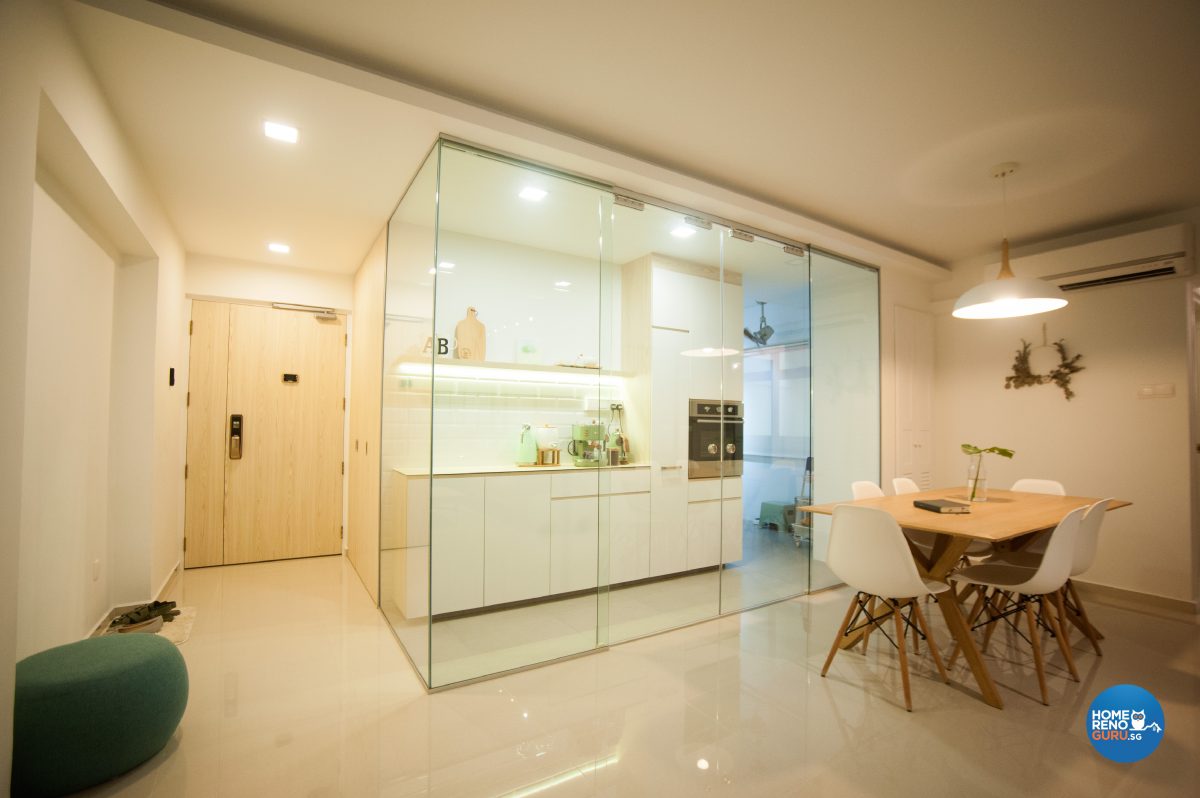 The cook is always in view of her guests – and the open kitchen is a strong incentive to keep things clean and tidy!
Aydan: So for our walk-in wardrobe, we actually made use of empty spaces, which are usually wasted. We fully utilised all the space we have in our room, and created two different areas – one for our sleeping, and one for the changing.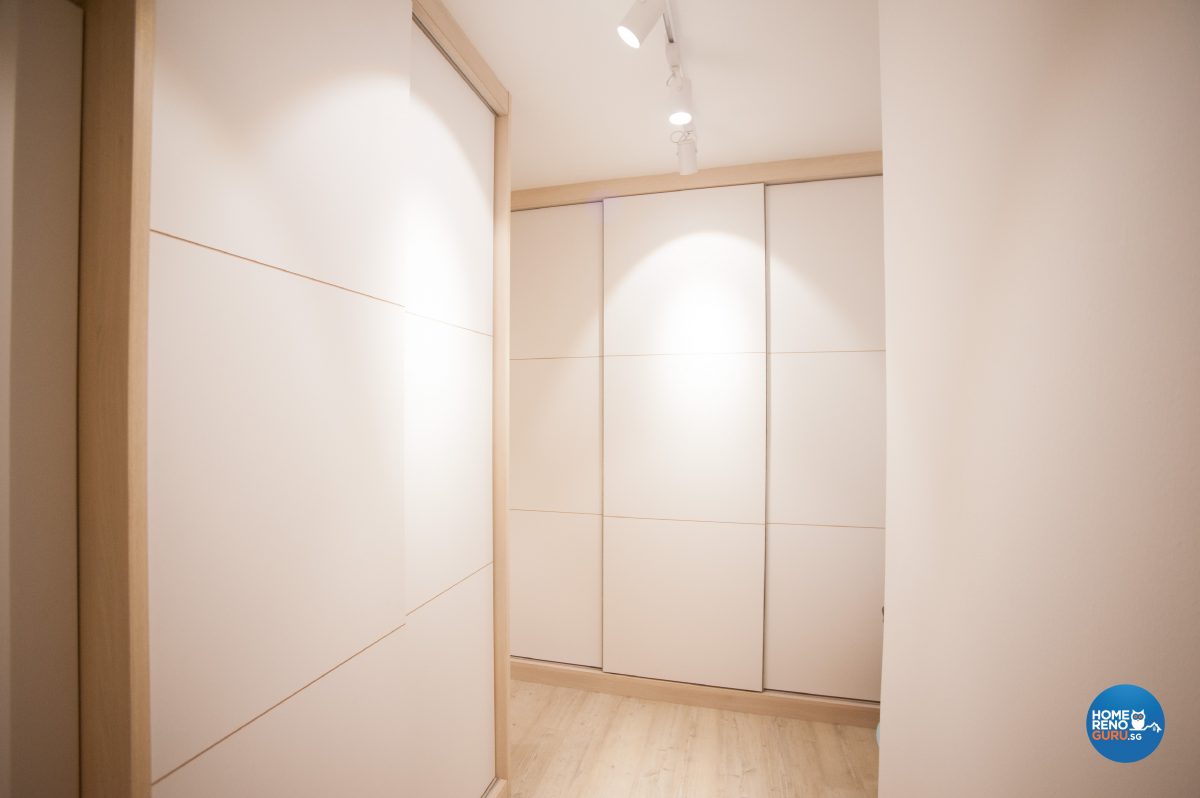 Closet space in the walk-in wardrobe is sleek and devoid of handles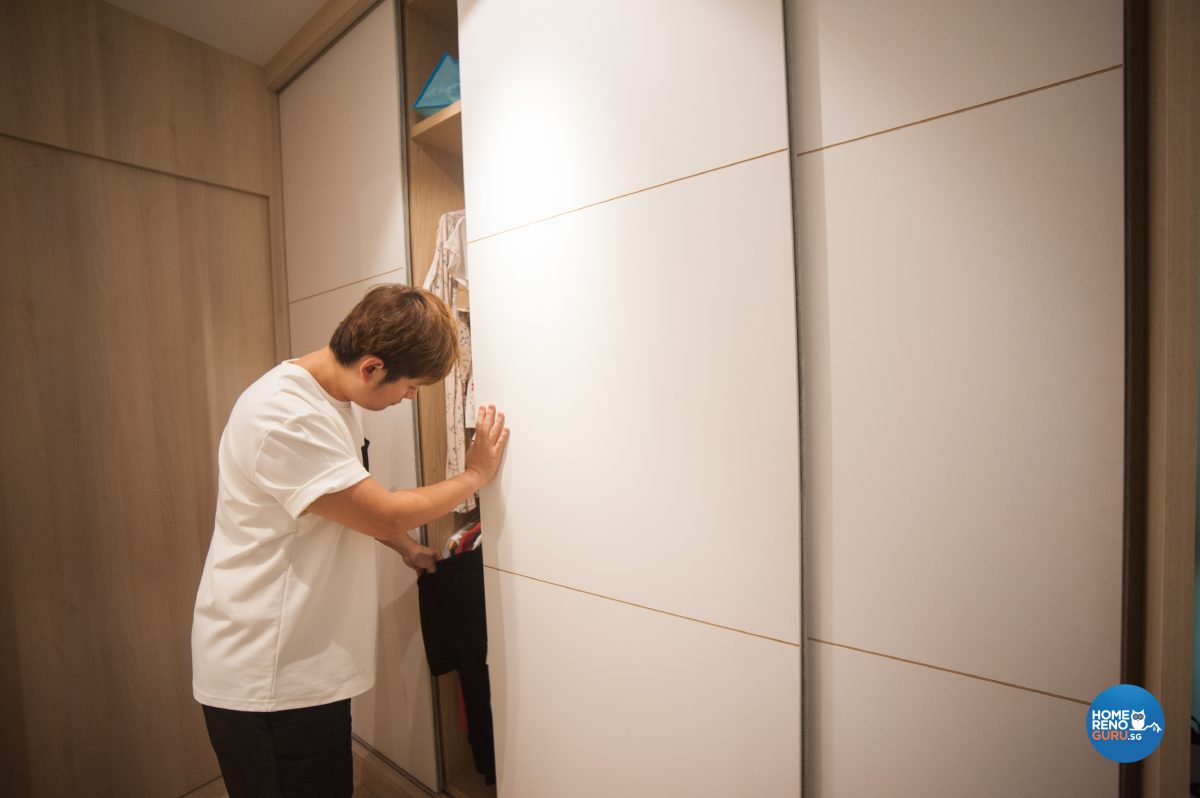 Floor-to-ceiling storage space with well-thought-out racks for hanging and shelves for folded garments helps keep everything in its place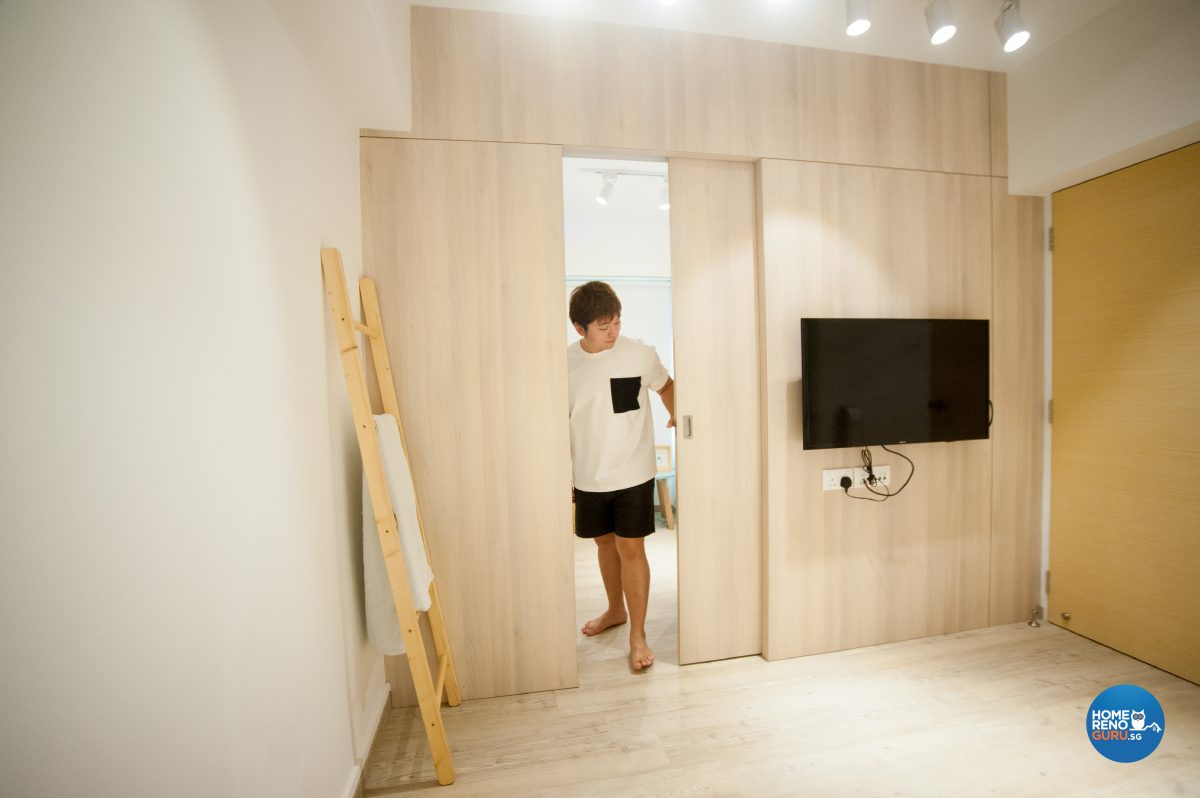 The entrance to the walk-in wardrobe is neatly concealed by a sliding wood-panelled door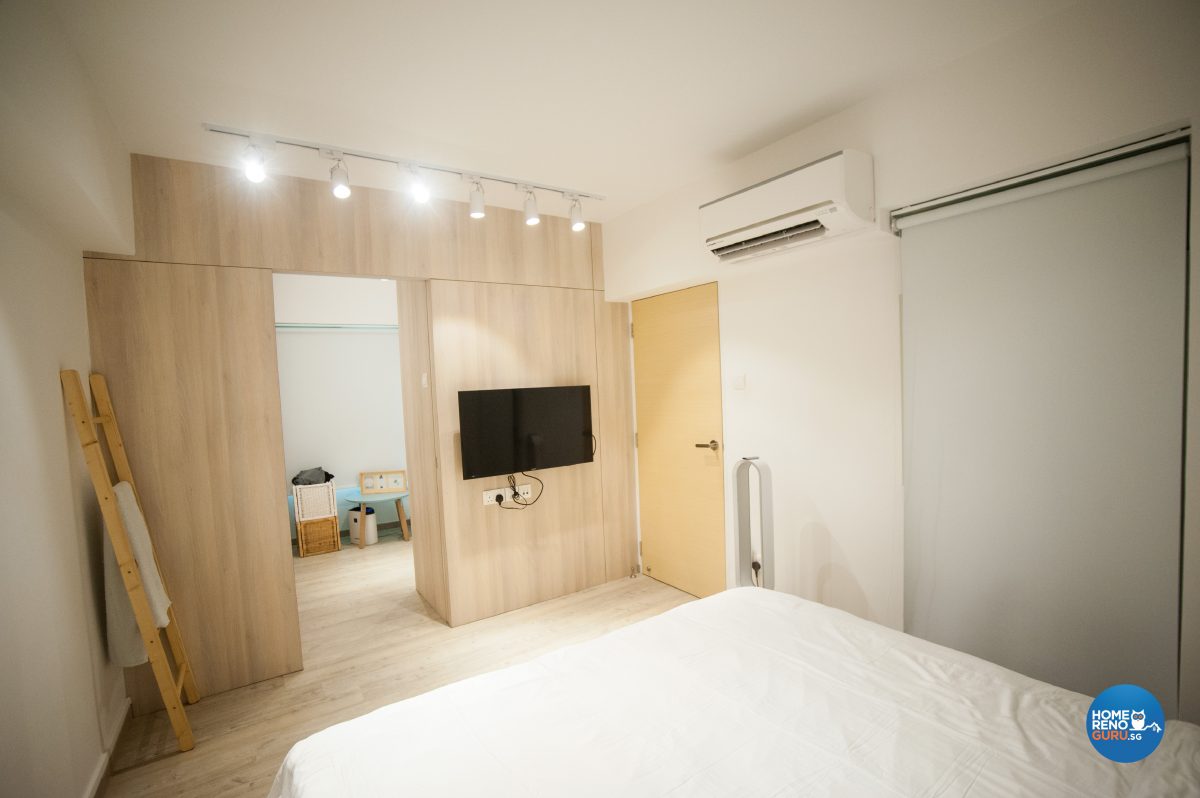 The door, fully opened

Bare yet elegant, the master bedroom is a serene, restful sanctuary
And for the toilet, we have something different. We have a darker tone, a darker feel to it, to make it more homely and cosy.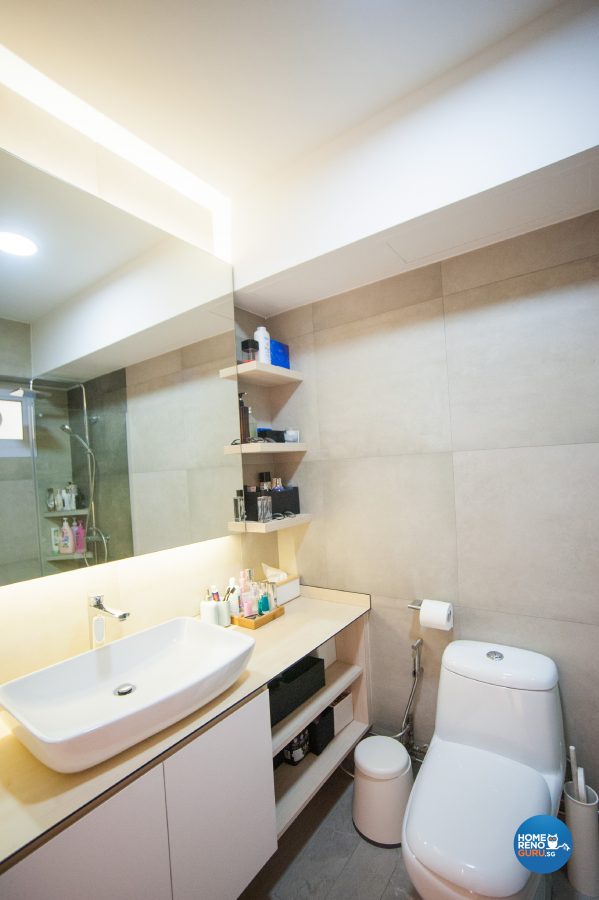 The neutral-toned master bedroom is cloaked in soft, layered lighting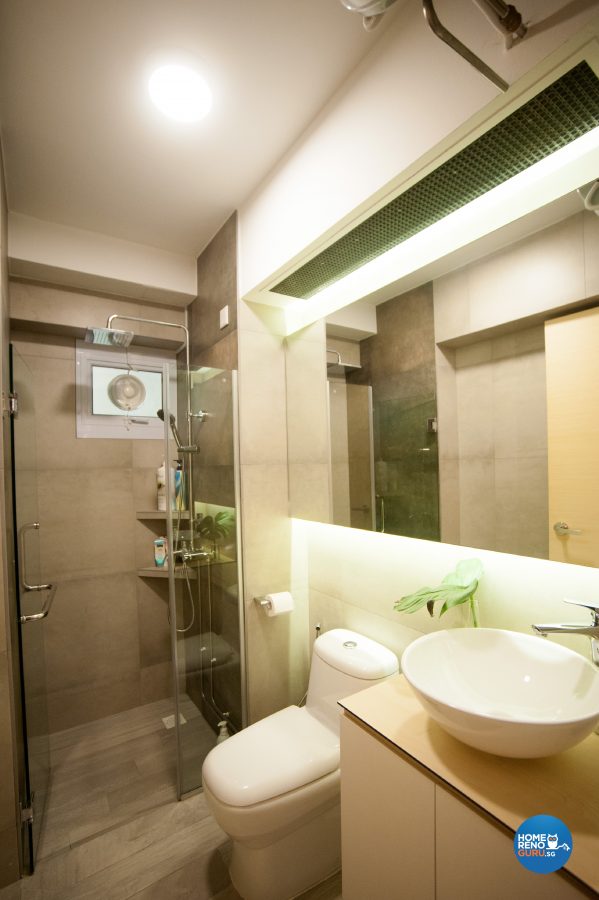 The common bathroom follows the materials and palette of the master bathroom, with subtle variations like a change of basin
HomeRenoGuru: Can you recommend Nitty Gritty Interior other homeowners looking for a company to renovate their home?
Looking for Interior Designers?
Let HomeRenoGuru help!
Aydan: For future homeowners, I would strongly recommend Nitty Gritty interior for their good workmanship and also for the quality the service that we enjoyed.
We love our home. Thank you, Nitty Gritty Interior.
Beishan: Thank you!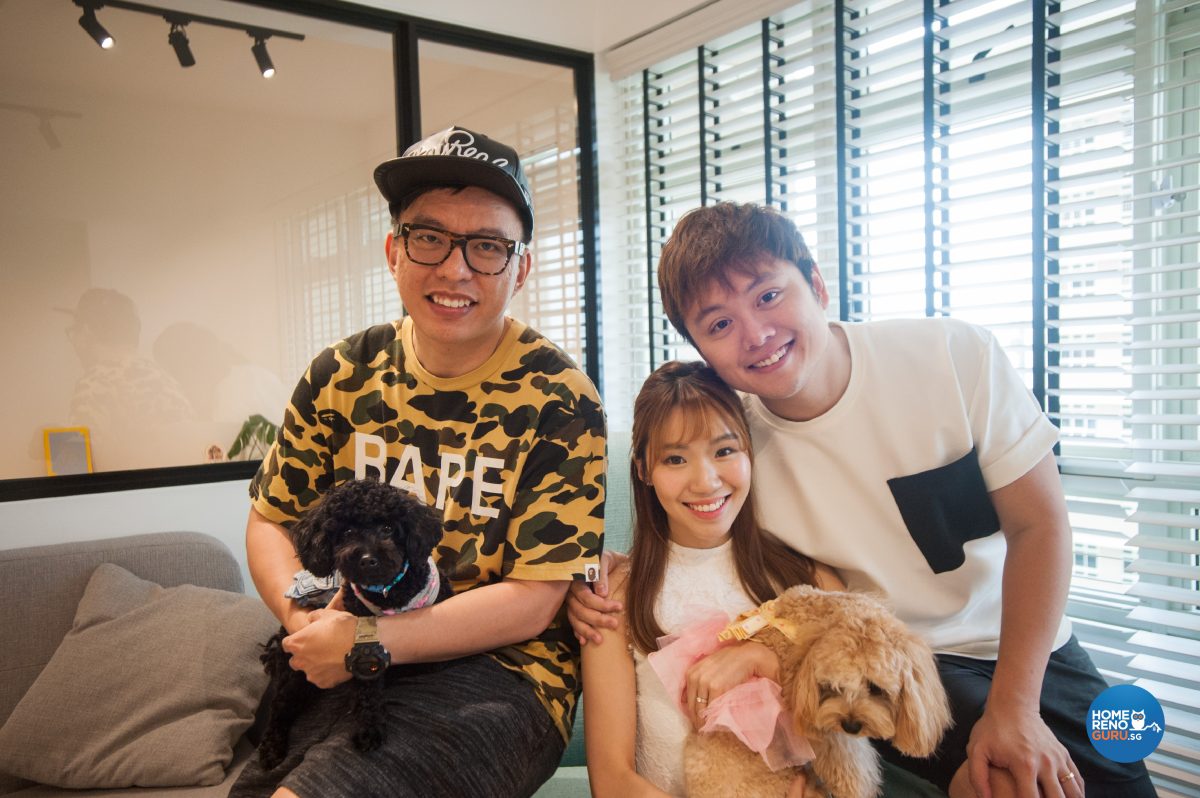 Nitty Gritty Interior owner, Lawrence, with his happy customers