Dream Home: Me-time, Downtime and Playtime!
Benny and Rachel had nothing but good things to say about the company that handled their renovation and the results. Not only did they get the modern look and feel they wanted, but everyone got a place to do their own thing – from me-time for mum to downtime for dad and playtime for the kids. Here's a story with a happy ending.
Project Snapshot
Name(s) of Homeowner(s): Benny Leng and Rachel Goh
House Type: 3-room Condominium Apartment
Size of Home: 1,368 sq/ft
Cost of Renovation: $88,000
Duration of Renovation: 2.5 months
Interior Design Firm: Flo Design
Name(s) of Designer: Roger Koh and James Ng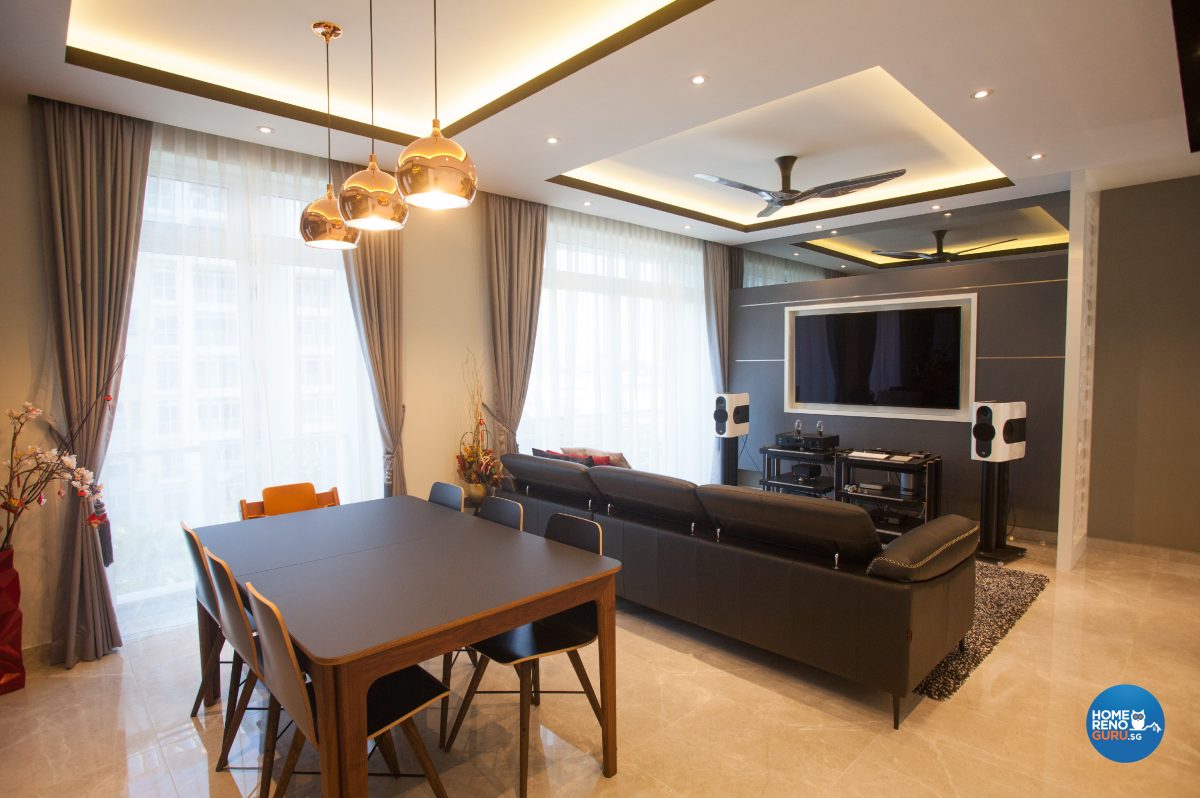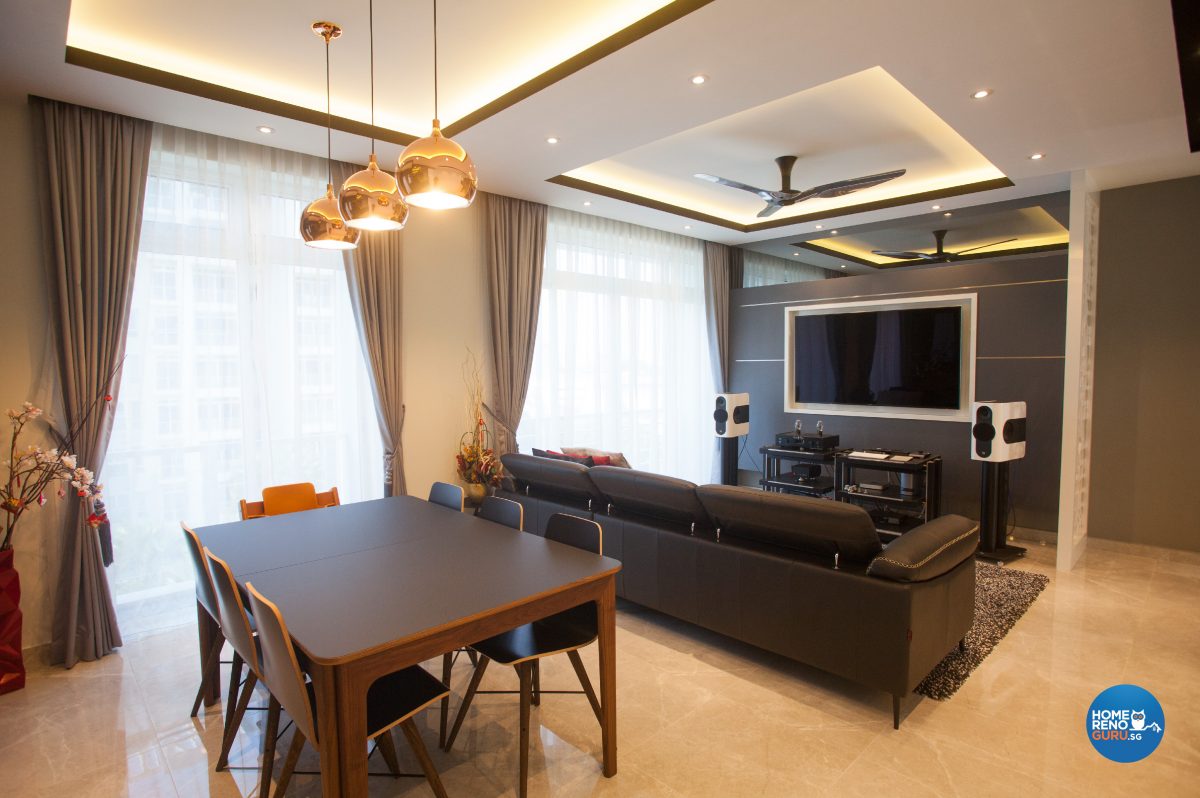 The modern, minimalist, monochromatic living space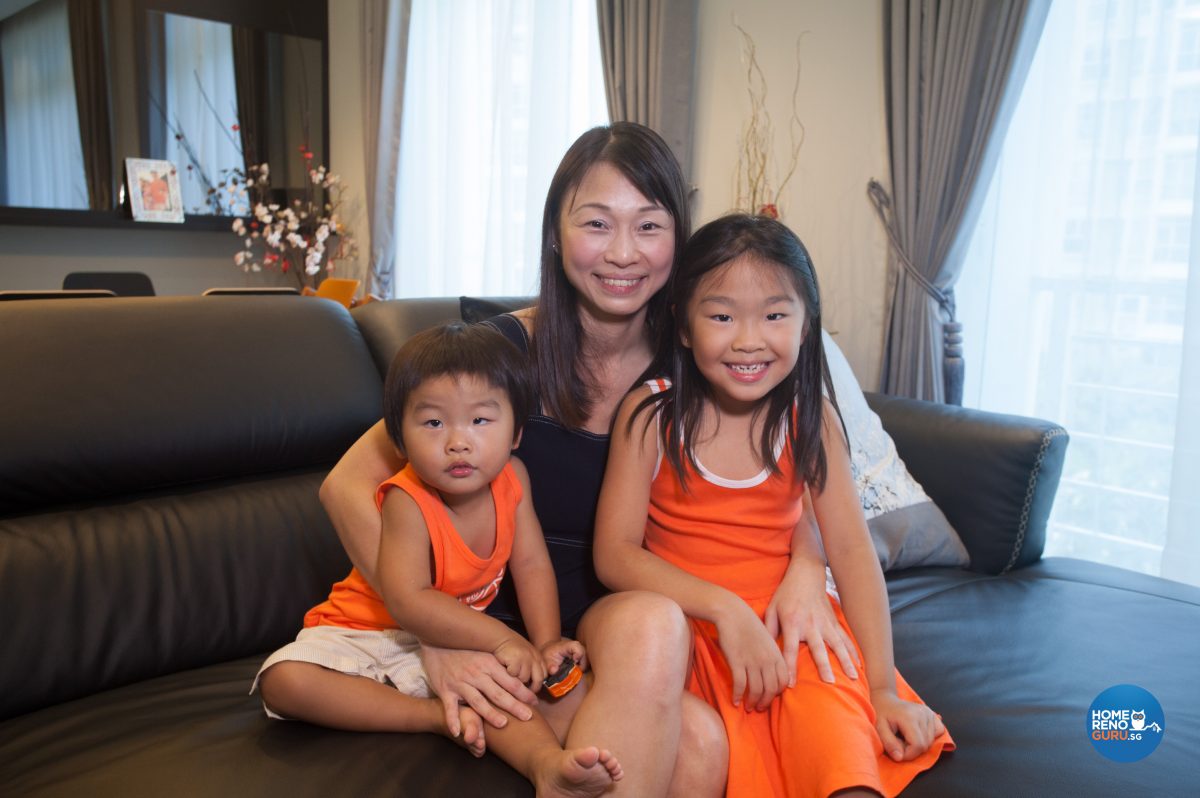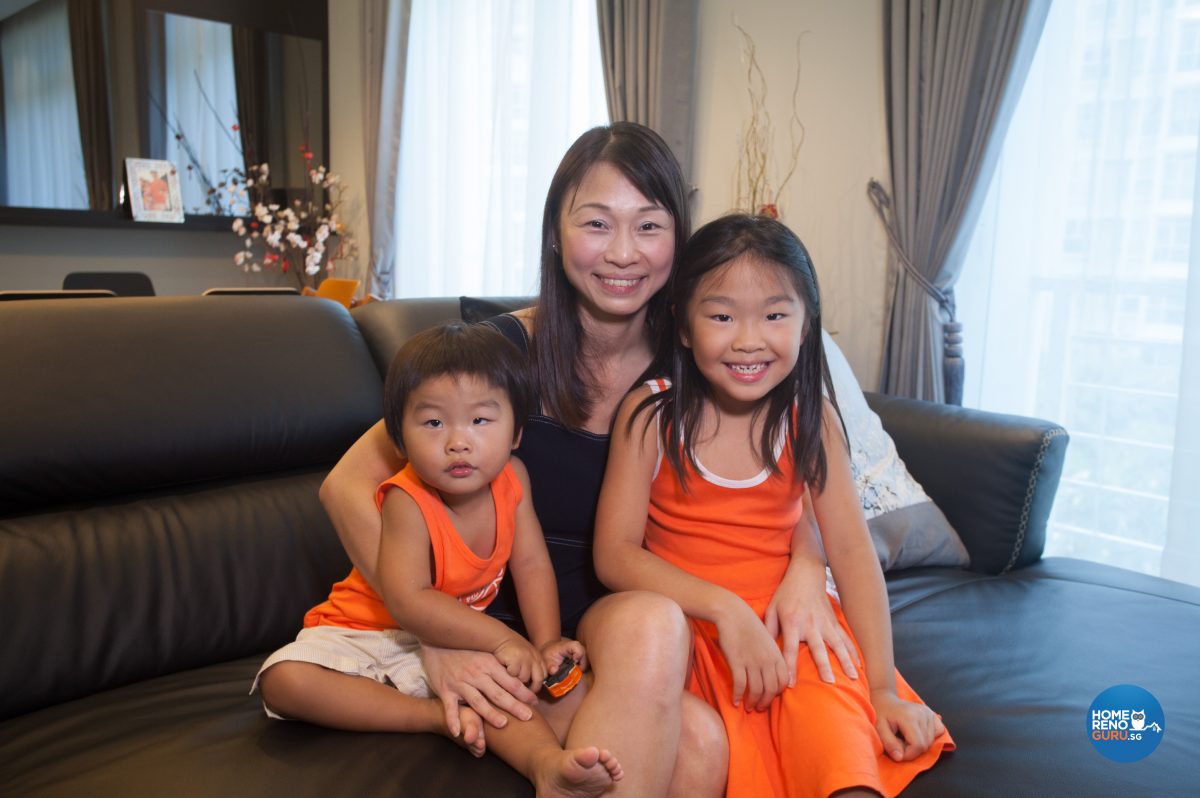 Happy homeowner Rachel and her two children, Kieran and Keira
HomeRenoGuru: How did you come to engage Flo Design to renovate your home?
Rachel: We got to know Flo Design from a referral, who is actually Keira's piano teacher's younger brother.
Prior to that, we had actually received two quotes, but ultimately we went with Flo Design because we were comfortable and also impressed with the overall experience we had with them after visiting their showroom and then meeting up with them.
HomeRenoGuru: What was your brief to Flo Design?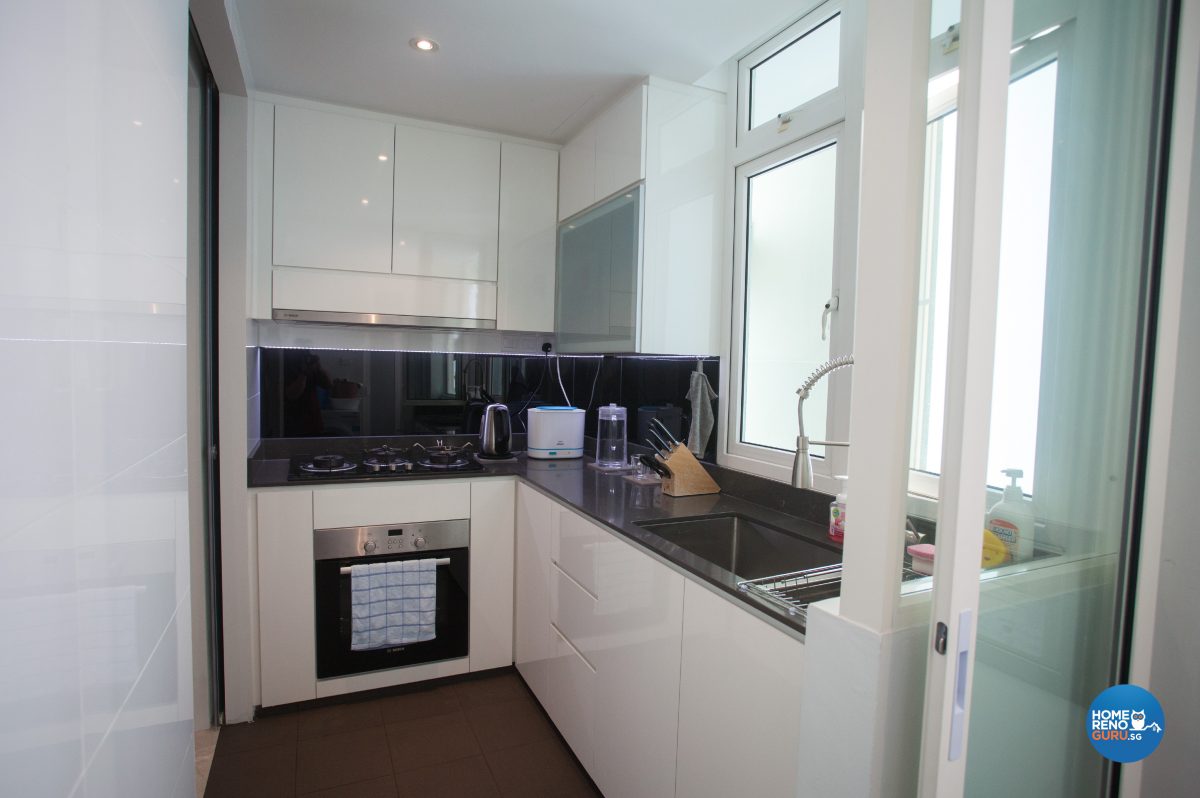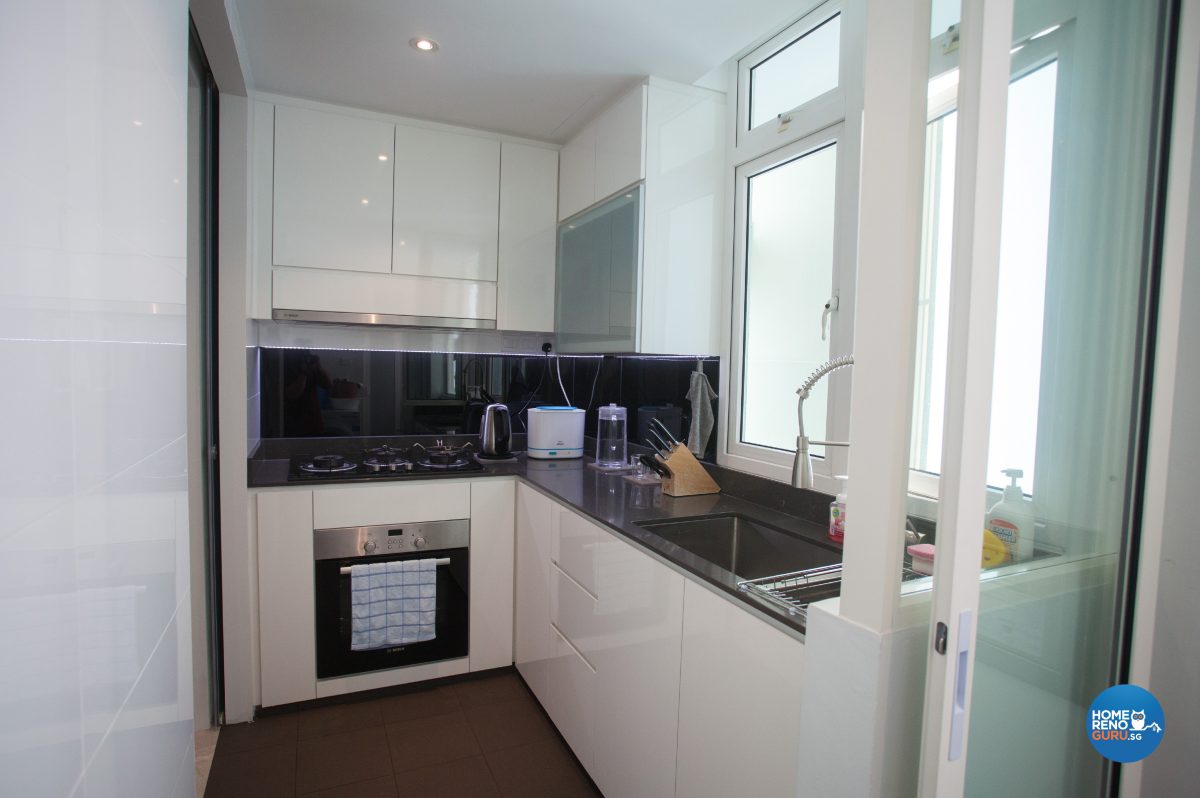 The pristine white, compact kitchen
Rachel: After meeting up with Flo Design, James and Roger, our brief to them was we wanted a modern, minimalist, monochrome design.
HomeRenoGuru: How did you find the actual renovation process?
Rachel: Our entire renovation process, as well as experience with Flo Design, has truly been hassle-free and stress-free. I would say that it's been a breeze for us. James and Roger from Flo Design actually reminded us to inspect the house as well as also take a look in terms of the progress of the project. But we knew that it was in good hands, and ultimately the house was handed back to us with hardly any defects.
HomeRenoGuru: What are your favourite parts of your new home?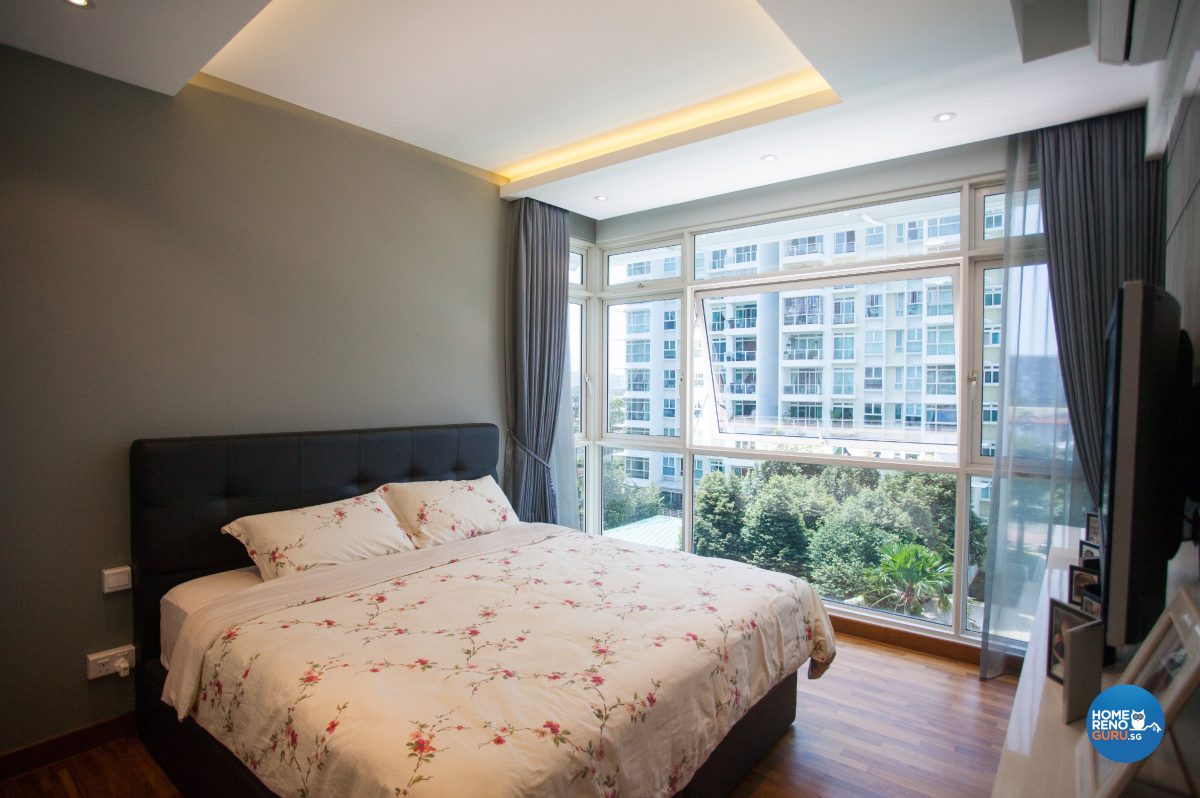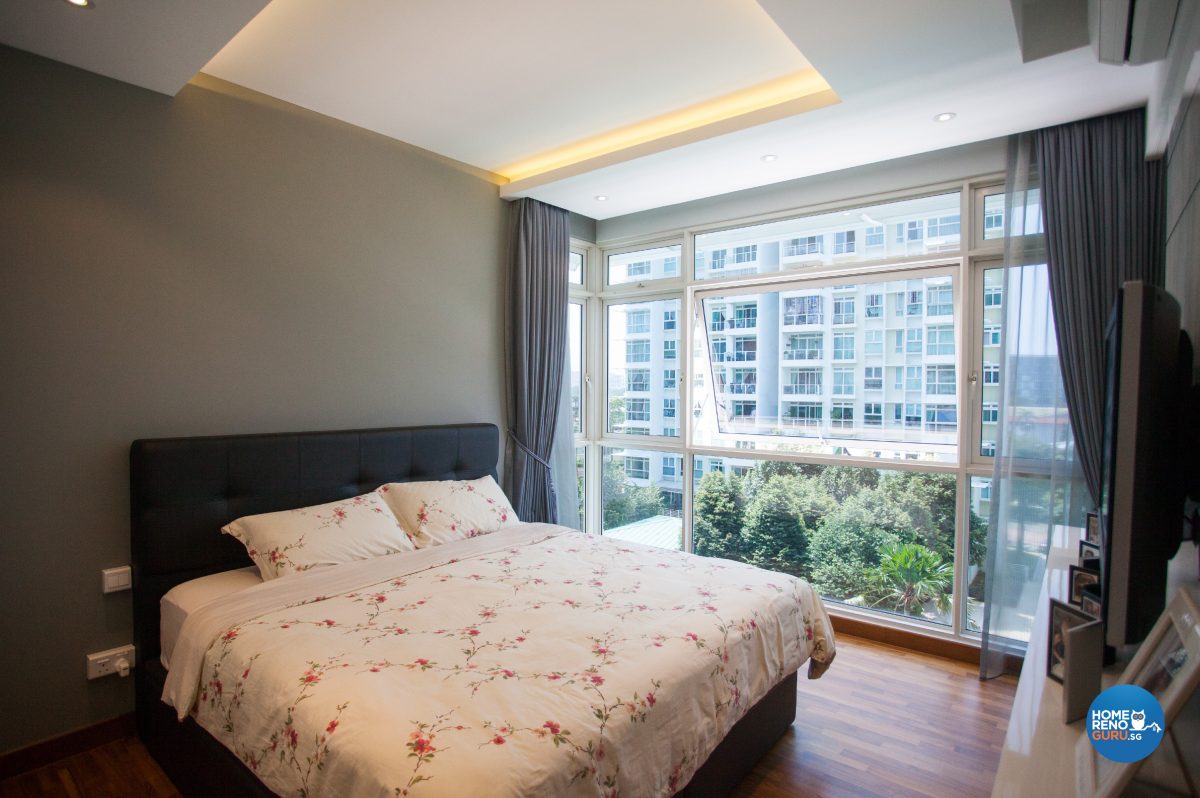 The master bedroom is the private sanctuary for Rachel and the setting for some hard-earned 'me time'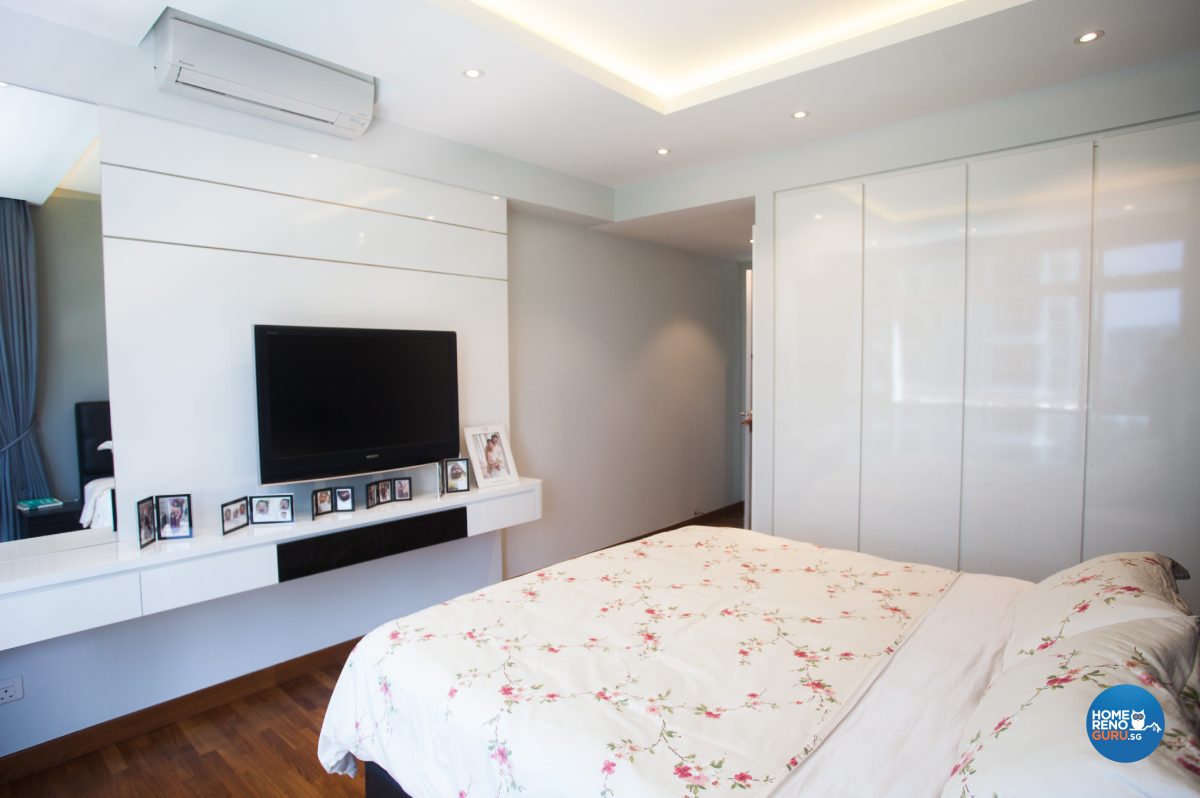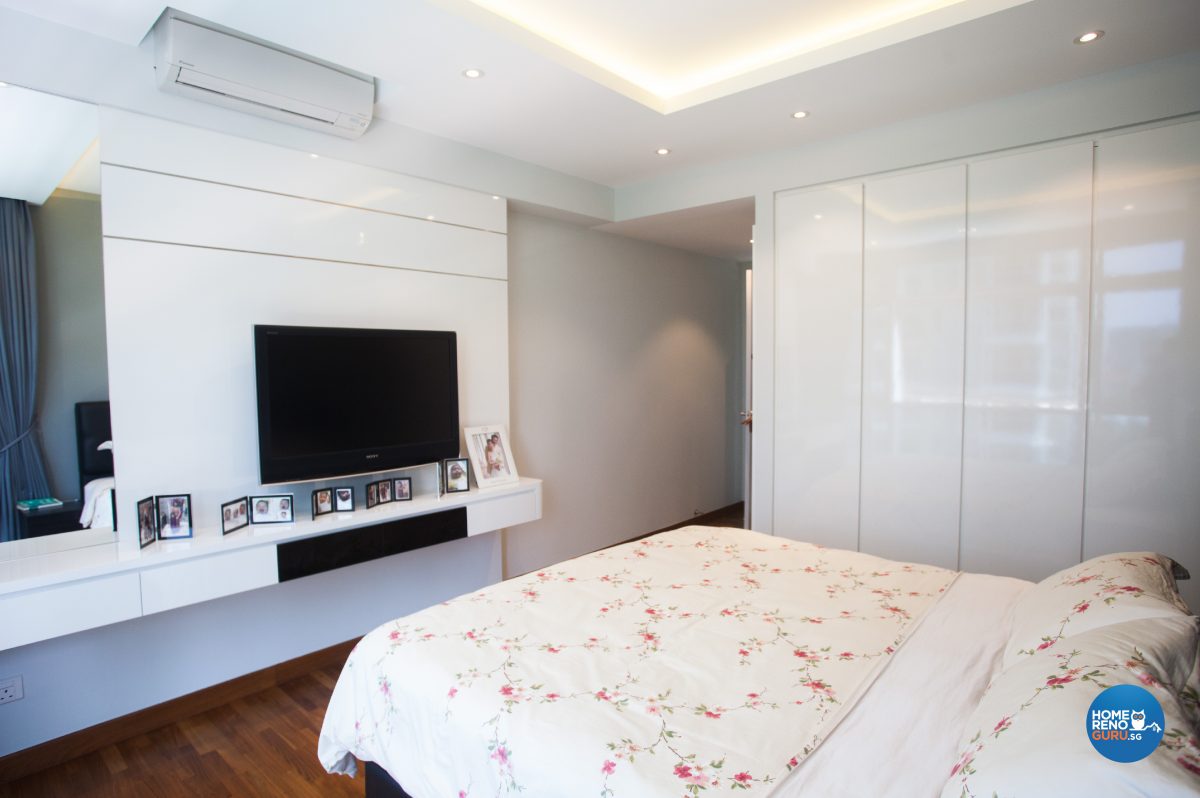 A wall-mounted TV permits the little luxury of watching television in bed
Rachel: My favourite part of the house is definitely my master bedroom. That's where after, when I put the two kids to bed, that's probably the only time where I have some time on my own to spend some me-time, be it watching a movie or even listening to some music.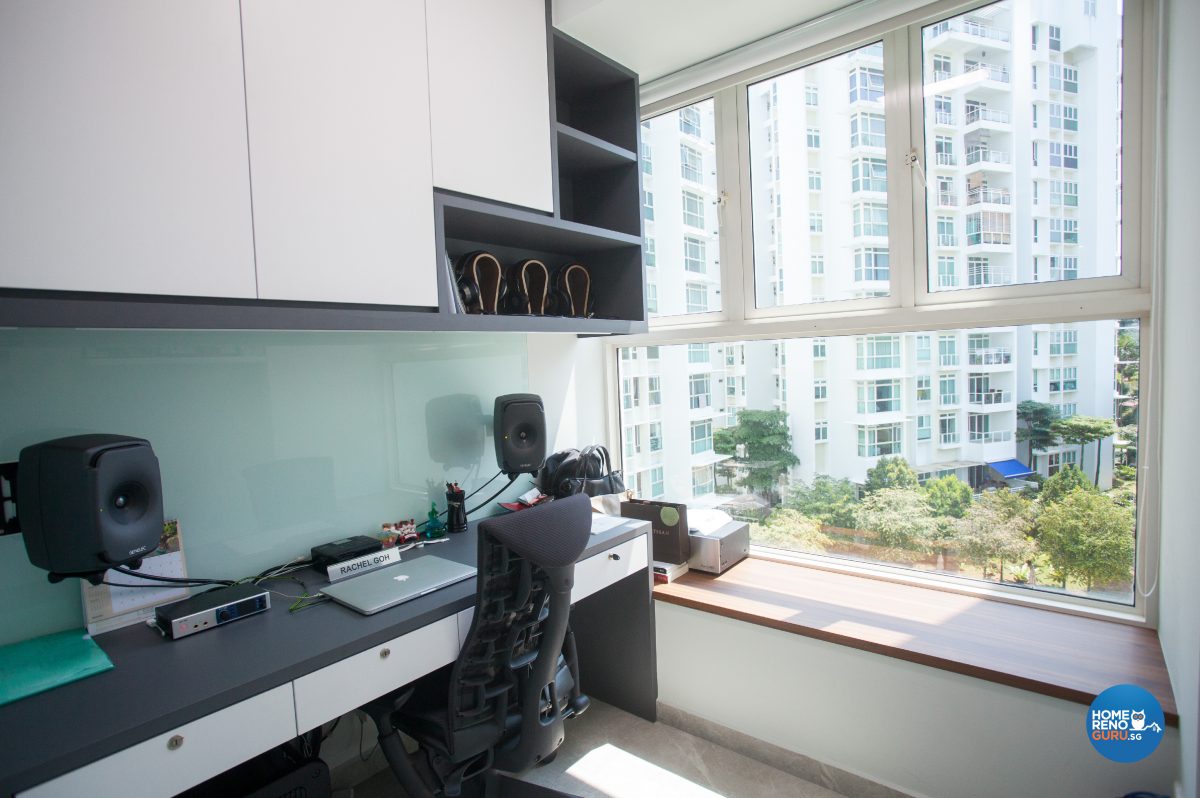 Benny's 'man cave', also known as the study room, where he unwinds with music
For Benny, my husband, his favourite part of the house is definitely his study room. That's where he will put on his favourite earphones and blast some music after a hard of work, without the kids or myself interrupting him.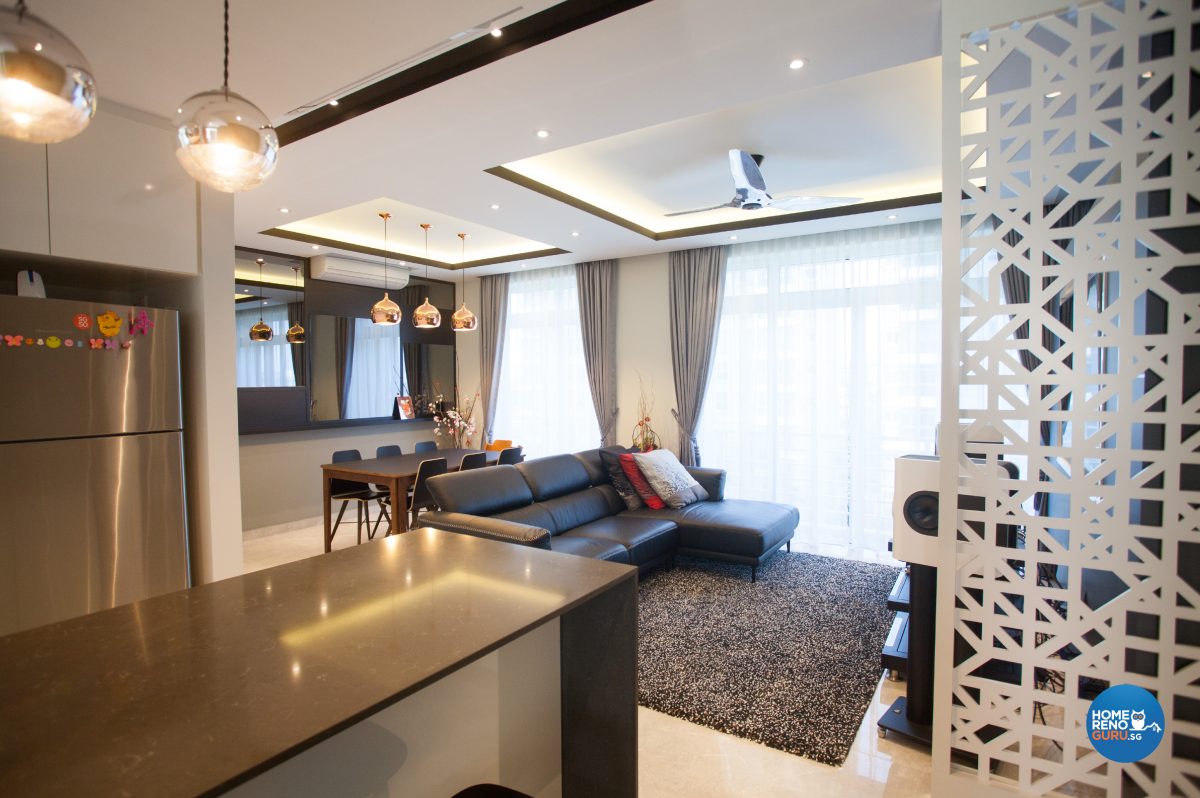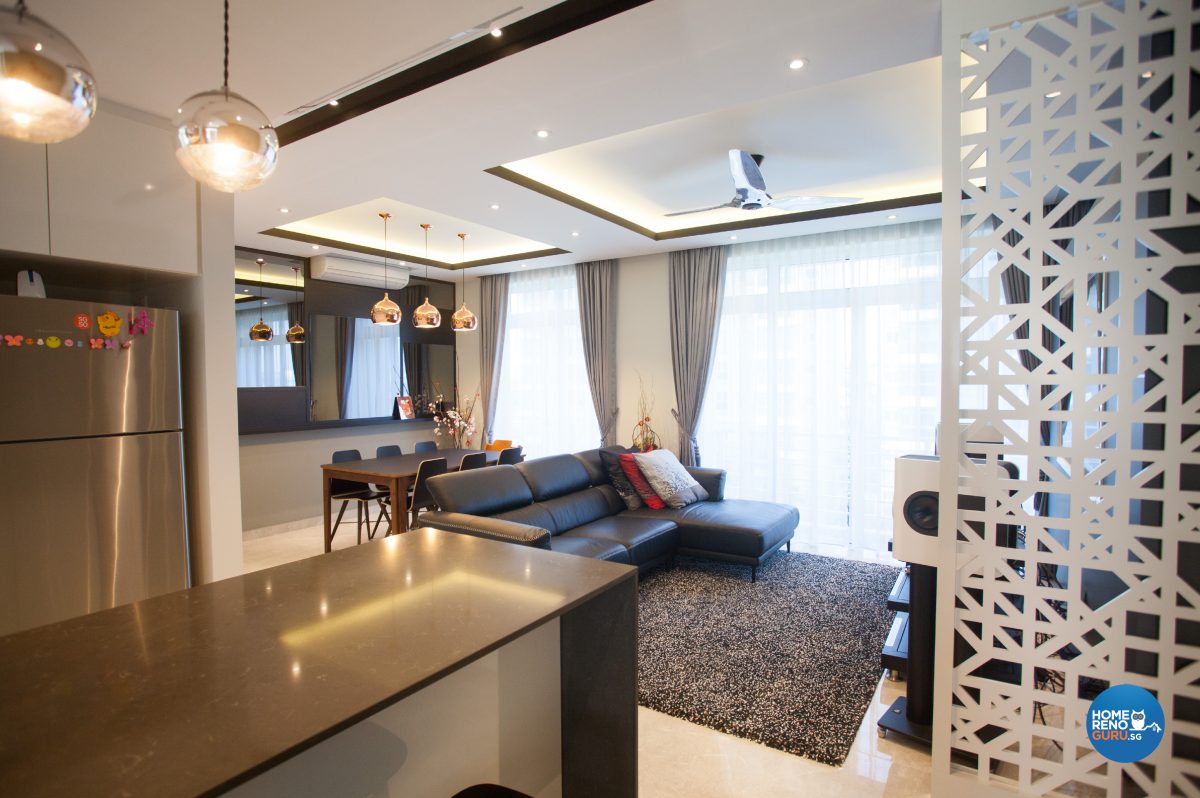 The open concept dry kitchen adjoins the living area
Another part of the house that we like and enjoy is actually the dry kitchen area. We have a breakfast table where Keira and I have our breakfast every morning and we have a specially designed concealed cabinet where all our electrical appliances are hidden, so that people do not see them upon entering our house.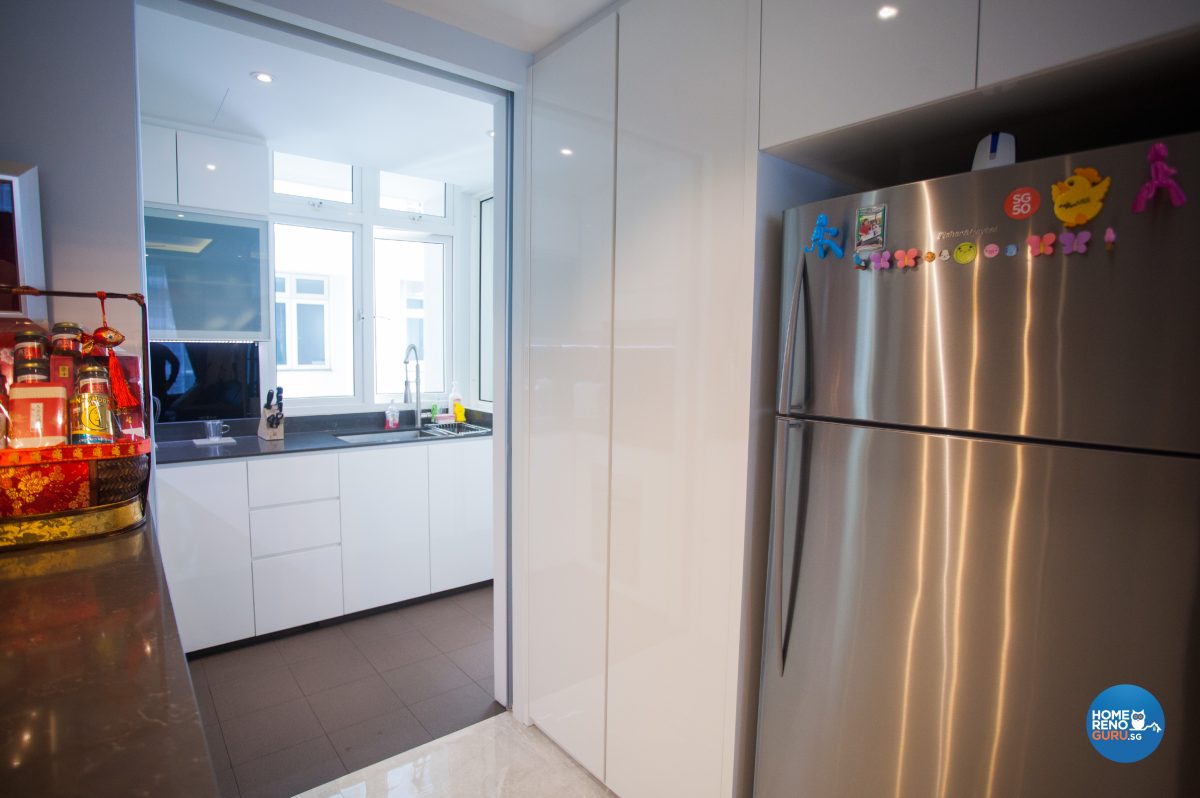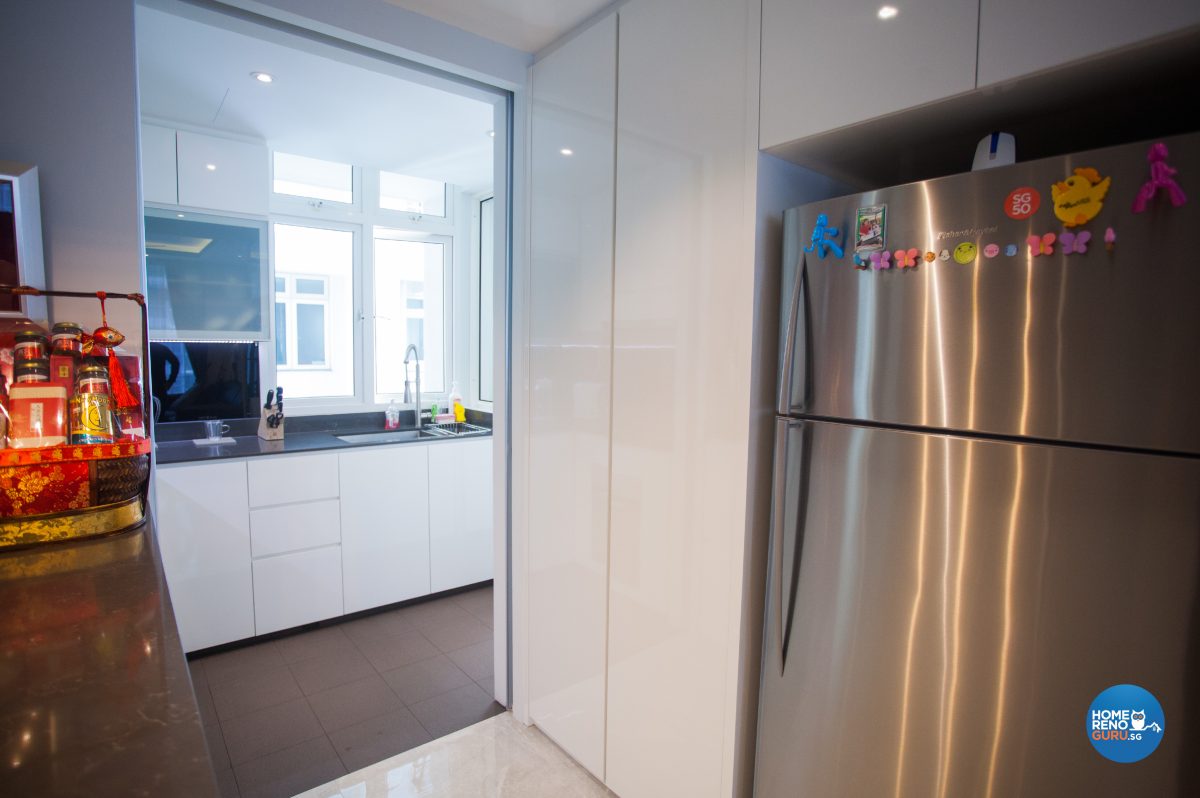 A counter doubles as a preparation area and a breakfast bar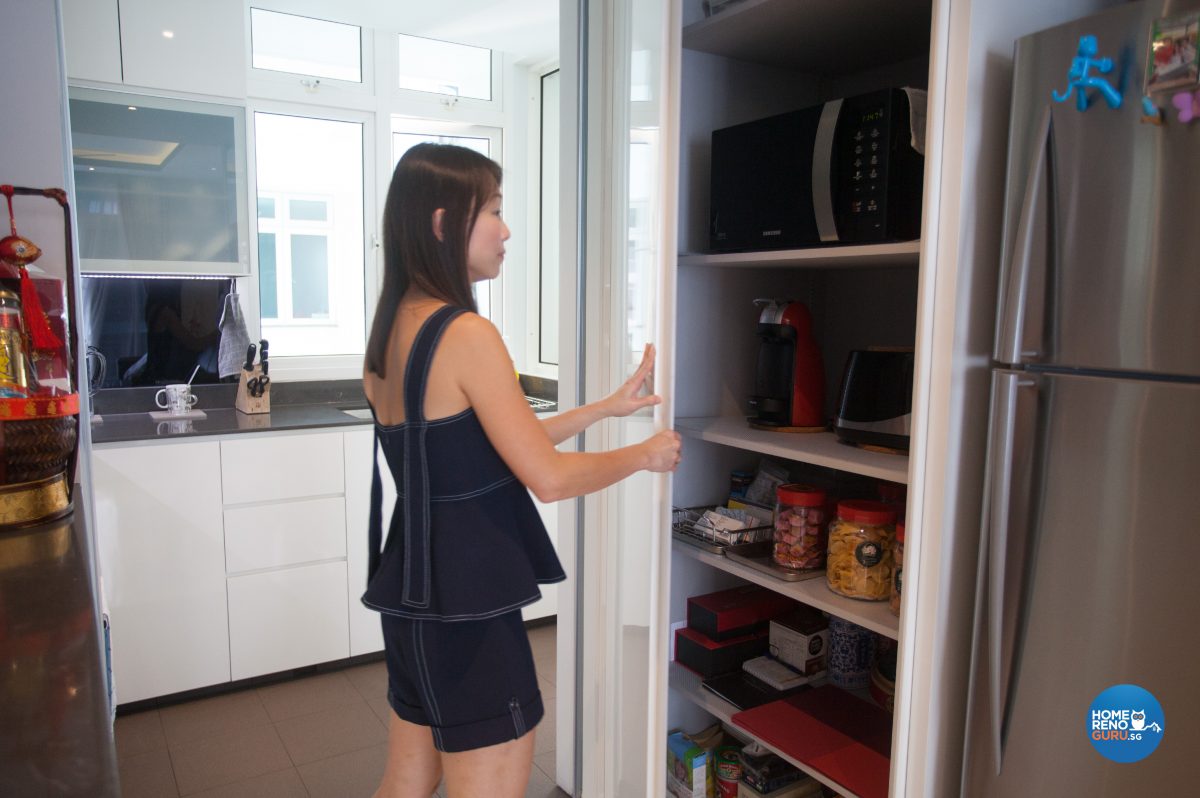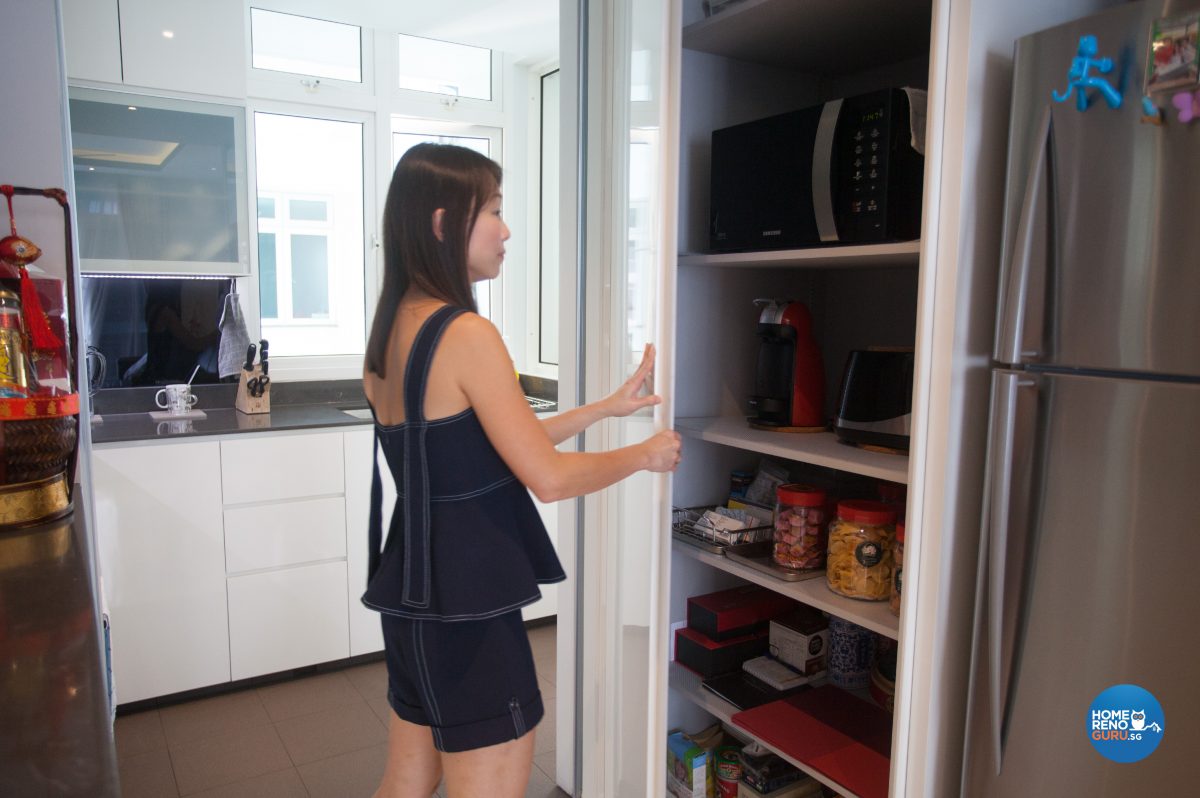 A concealed cabinet accommodates kitchen appliances
The kids enjoy the plateau area, because that's where they have their breakfast and watch people at the poolside as well as kids playing at their level.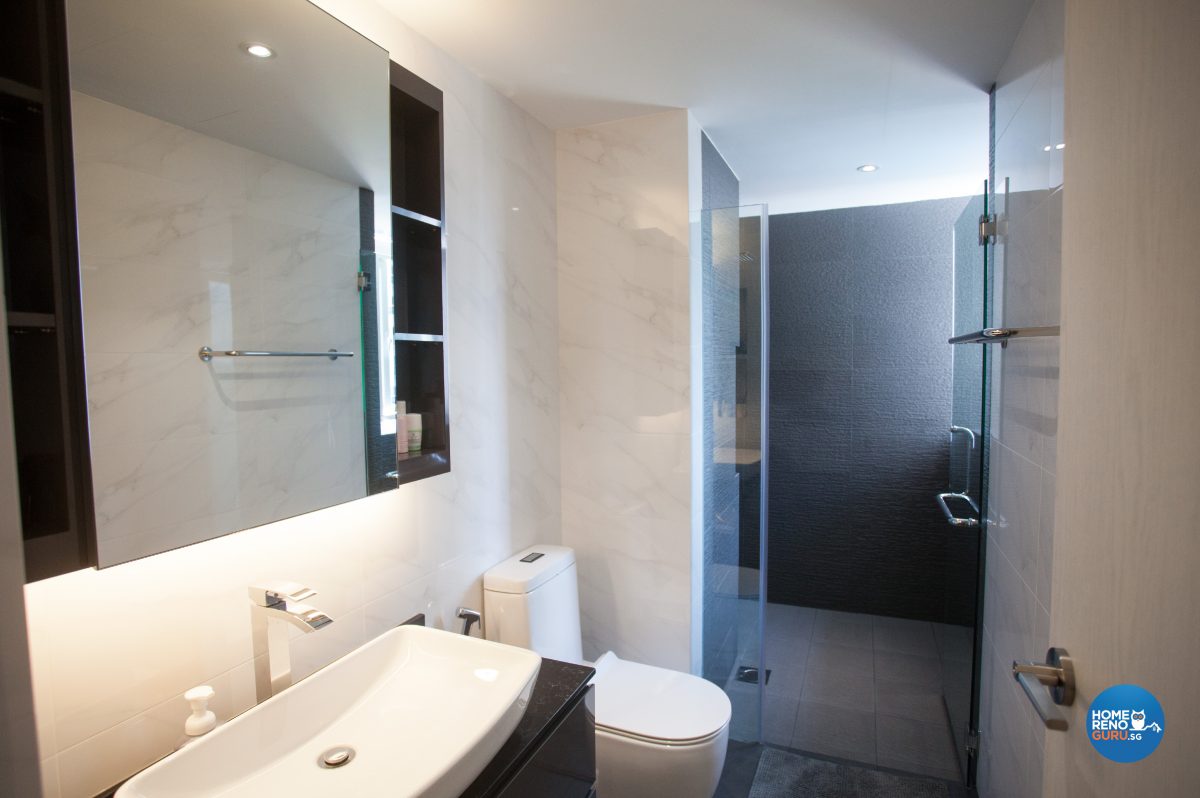 The master bathroom remains faithful to the monochromatic colour scheme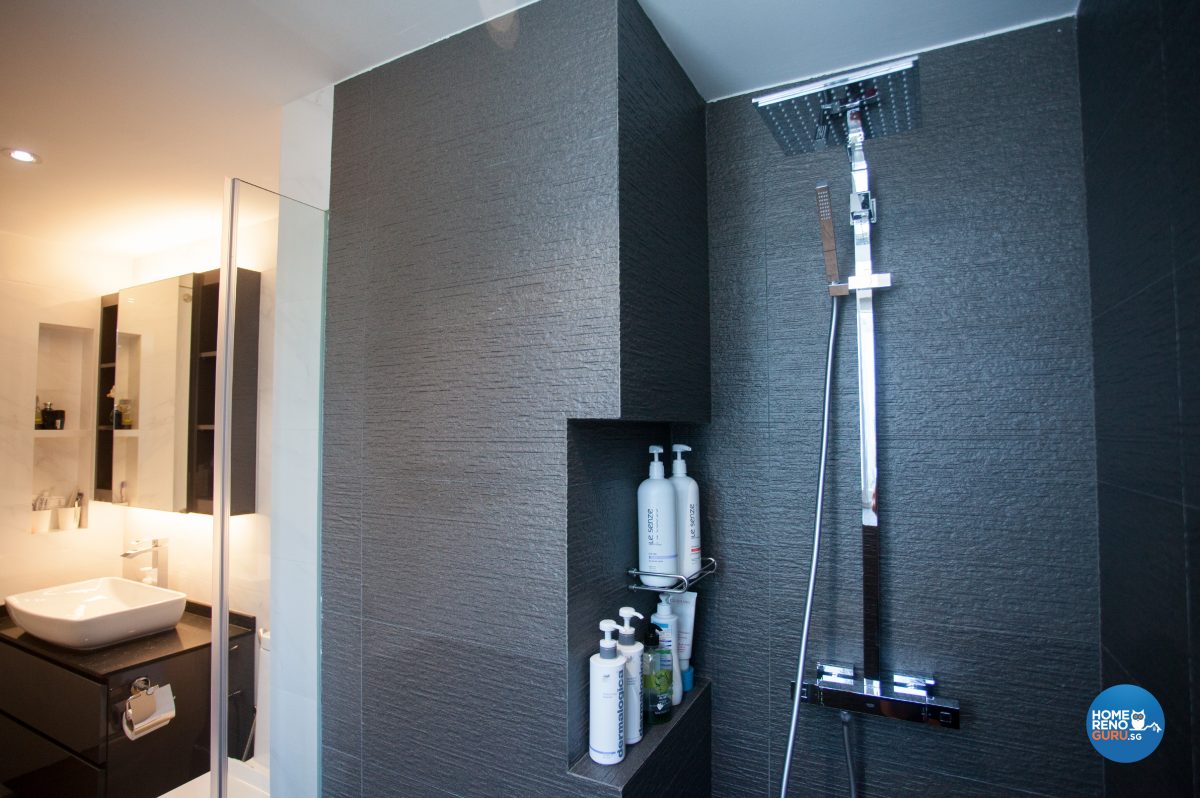 The spacious rainshower is a much-anticipated treat at the end of each day
Lastly, I think we also enjoy our master bedroom shower. We purposefully hacked away the bathtub so that we could build a rainshower – something that we could enjoy at the end of a hard day.
HomeRenoGuru: Do you have any advice you would like to share with homeowners contemplating a renovation?
Rachel: My advice to any homeowners who are embarking on a renovation project or journey is to understand your needs – what is it that your family is looking for? Secondly, I think you also have to find a reliable and trusted renovation company or ID company that can journey with you throughout this important project.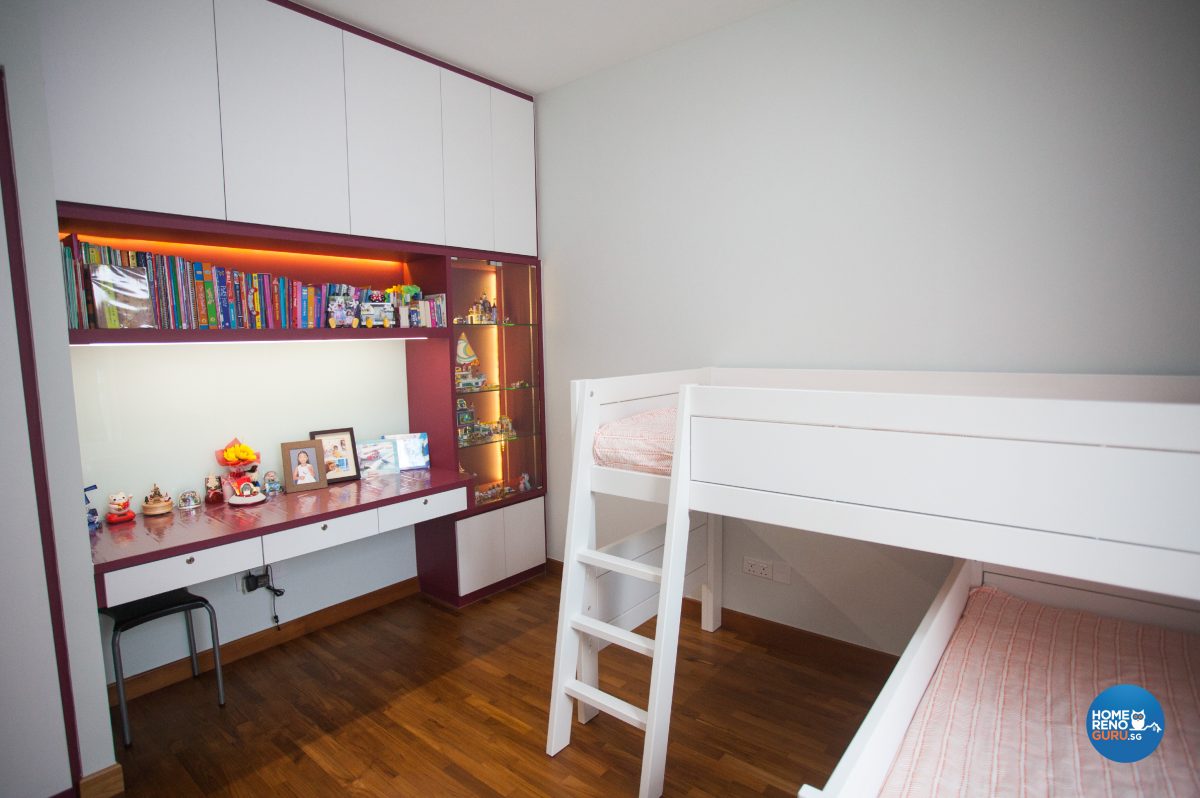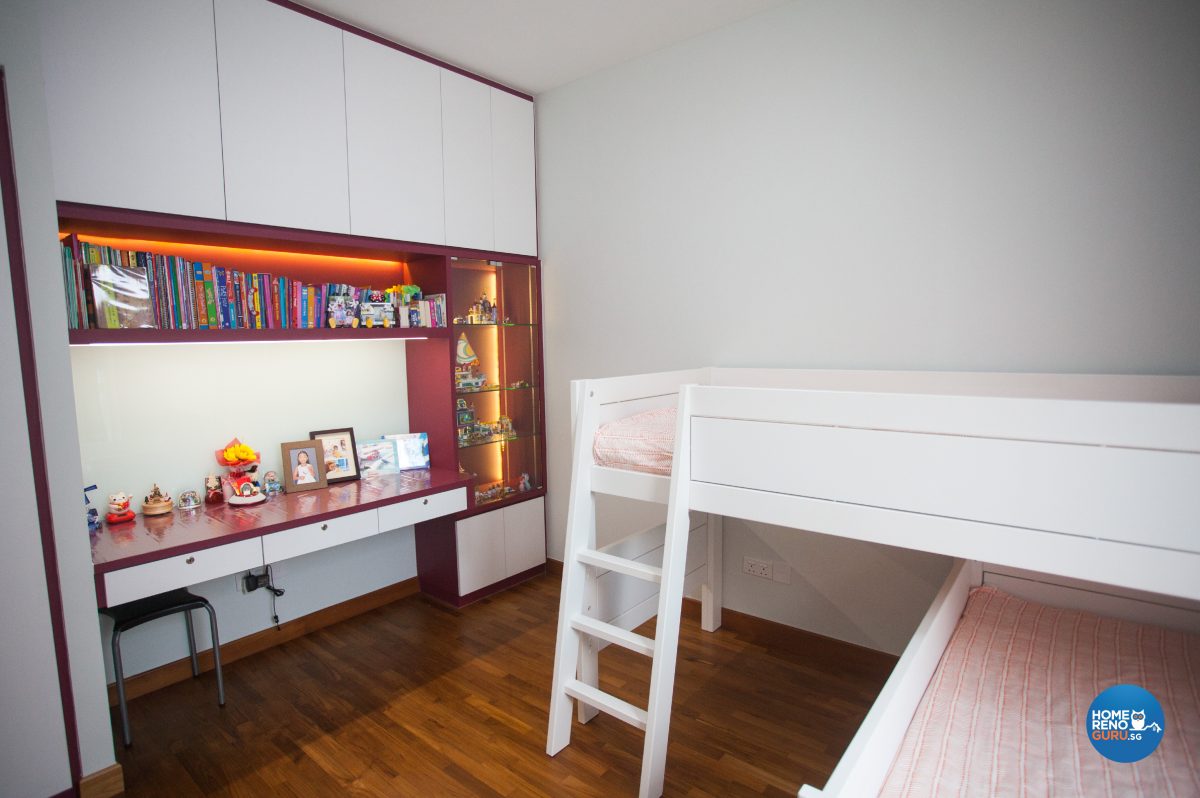 The children's bedroom makes the most of limited space with overhead cabinets and bunk beds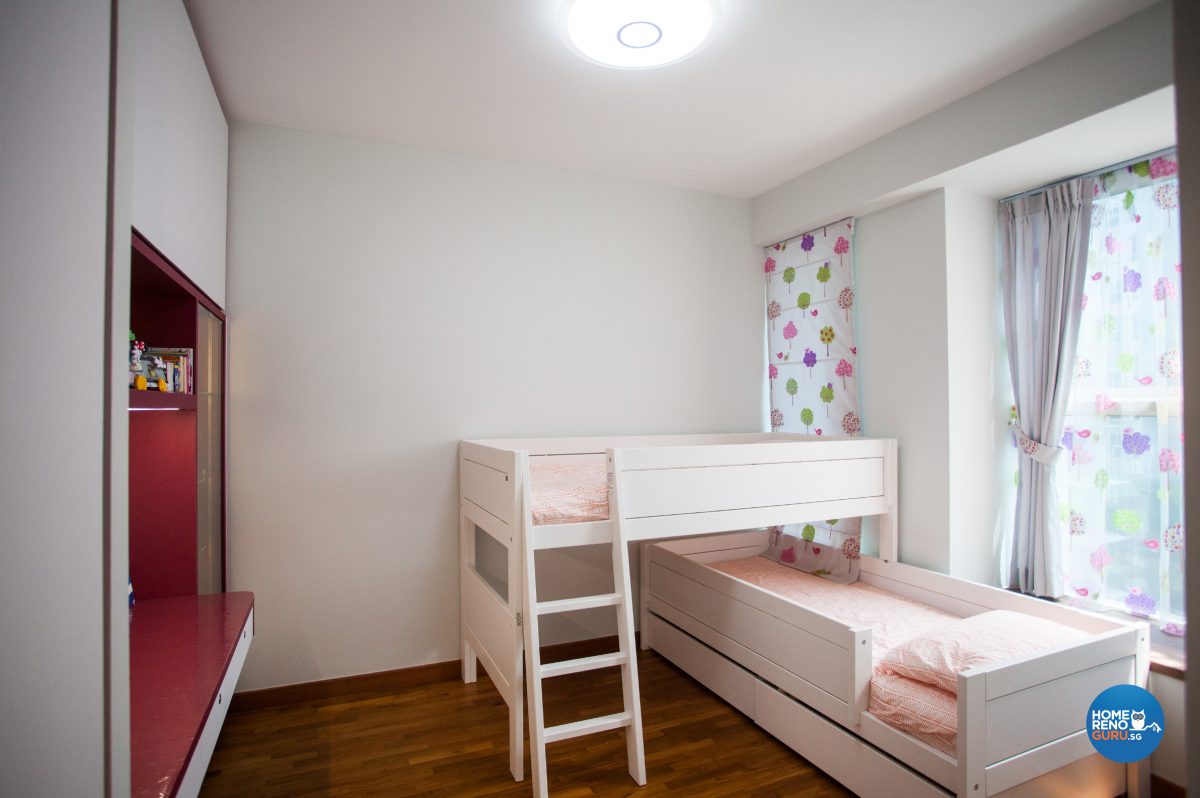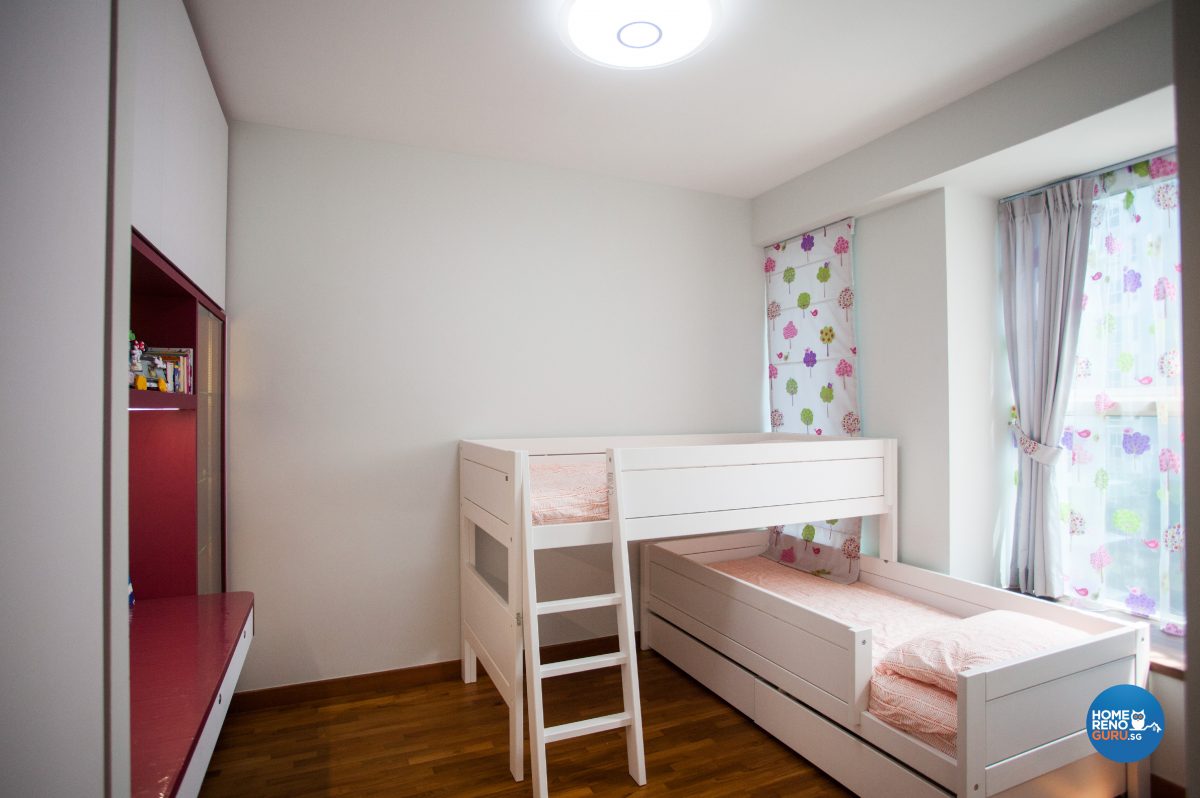 Modular bunk beds can be separated into a conventional single bed and a loft-style single bed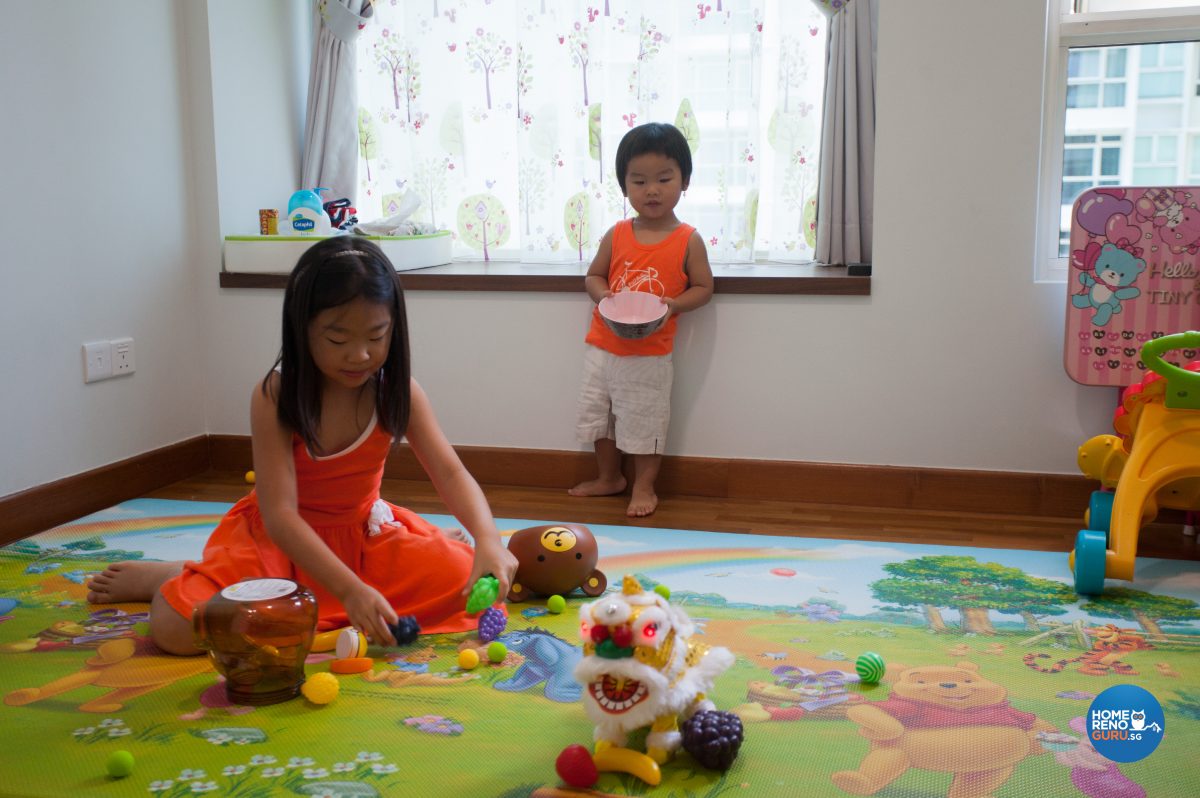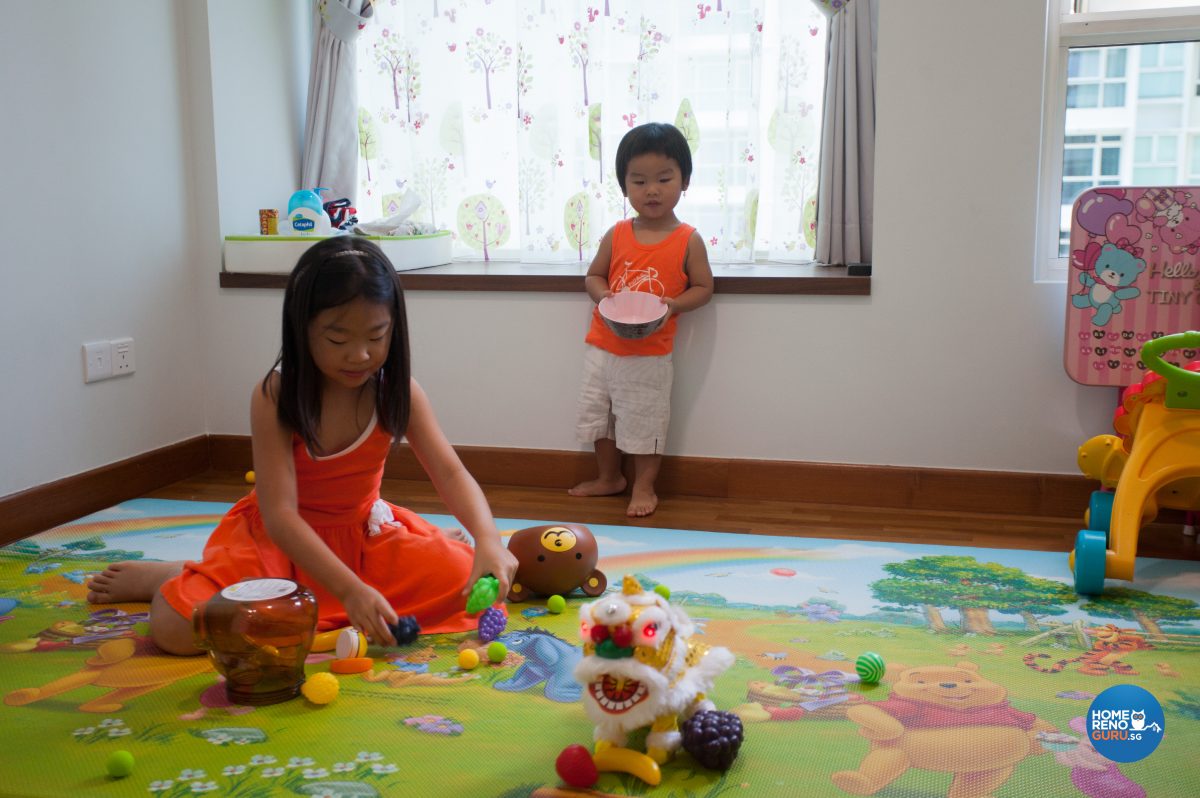 The kids' playroom is dominated by a cheerful padded play mat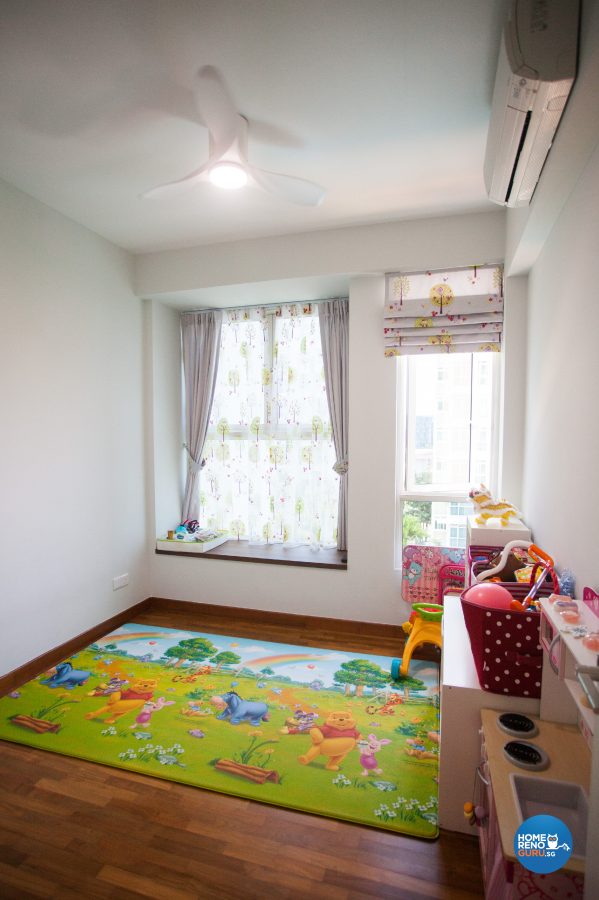 With no built-in furniture, the playroom can be easily repurposed when the children outgrow it
HomeRenoGuru: Would you recommend Flo Design to other homeowners in search of a reputable and reliable interior design company?
Rachel: Yes! Thank you, Flo Design, James and Roger, for making this a beautiful home for my family and I.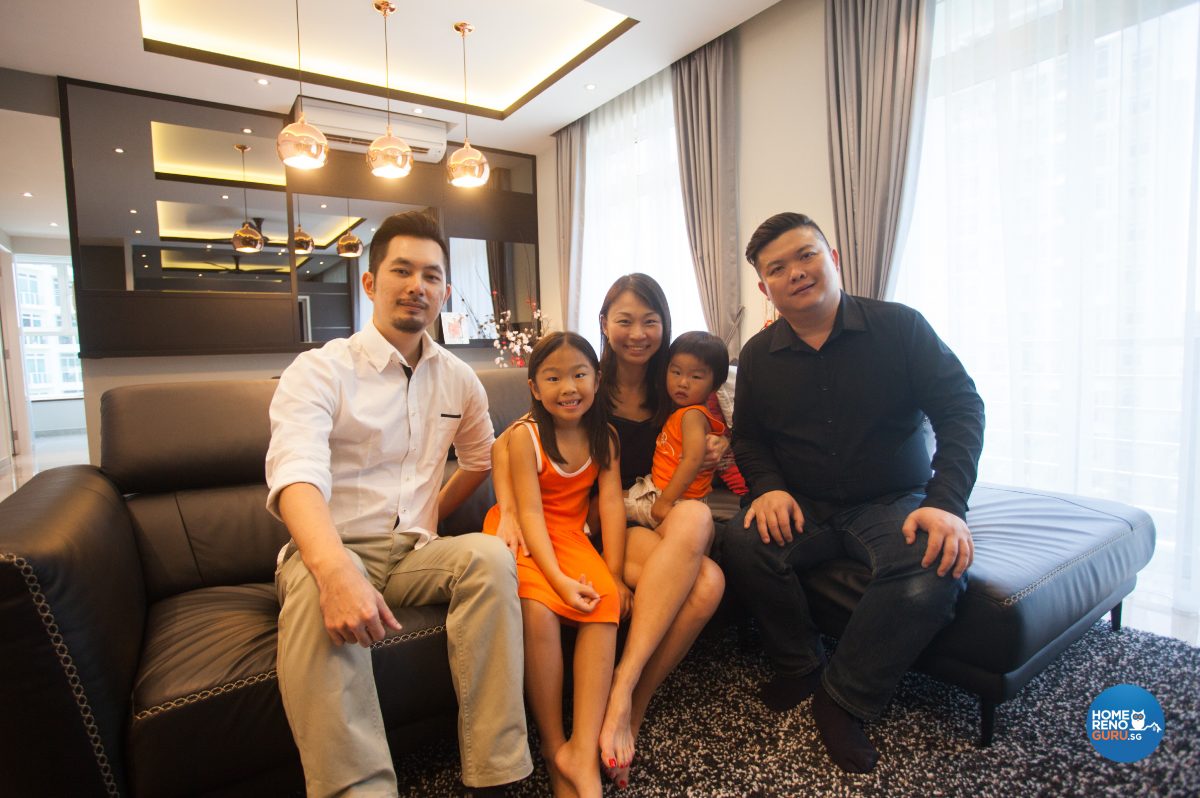 Rachel, Keira and Kieran, flanked by Flo Design's James and Roger