Dream Home: Resort-Style Living
Sivaraja, Hui San and their four busy children love coming home to their own 'private resort'. To create their restful and tasteful pool-facing home, their resourceful designer from AC Vision Design retained as many of the existing fixtures and fittings as possible, without compromising the aesthetic outcome. The pictures speak for themselves – and so does the positive feedback from these happy homeowners.
Project Snapshot
Name(s) of Homeowner(s): Sivaraja and Lim Hui San
House Type: 5-bedroom Executive Condominium
Size of Home: 1,722 sq ft
Cost of Renovation: $32,000
Duration of Renovation: 1 month
Interior Design Firm: AC Vision Design Pte Ltd
Name(s) of Designer(s): Alan Yap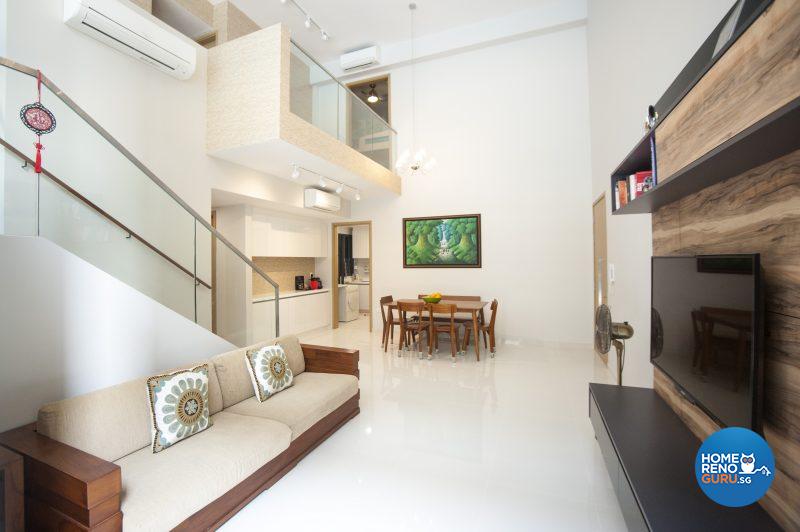 The spacious downstairs living area has a resort-like feel with clean white surfaces and wooden furnishings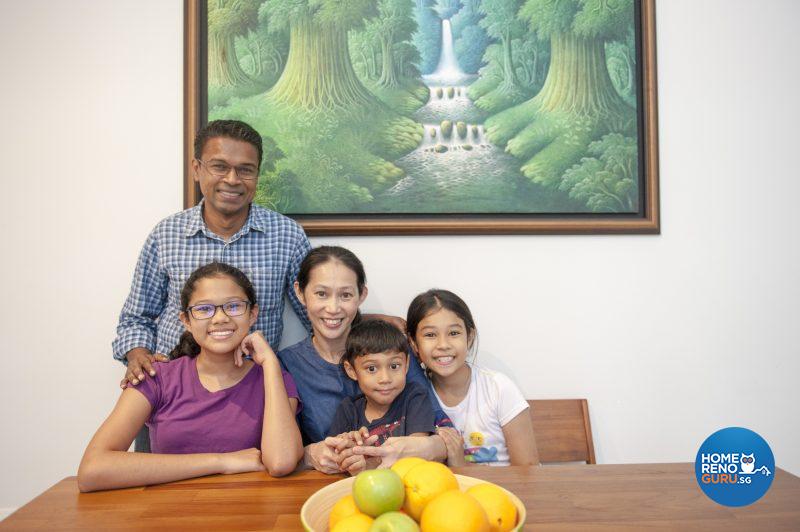 Sivaraja, Hui San and three out of four of their lively and lovely brood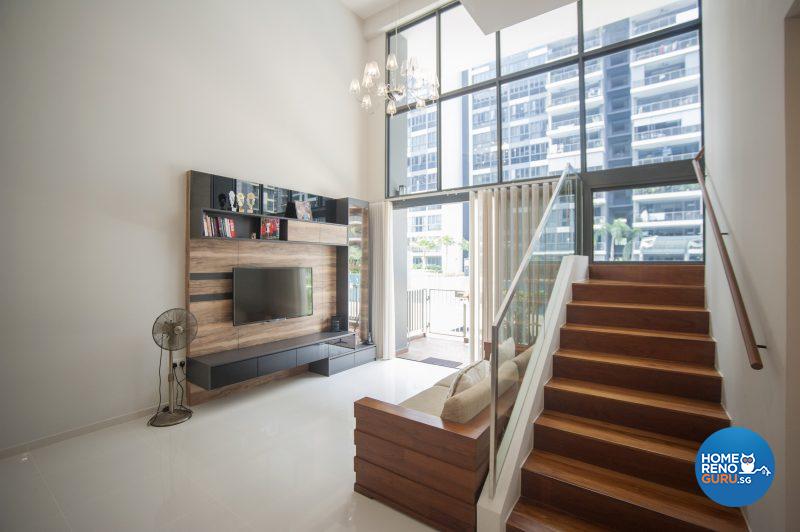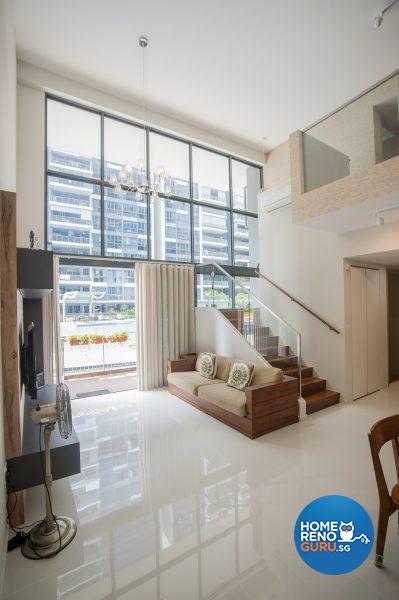 The high ceiling in the light-filled living area extends to the second level
HomeRenoGuru: How and why did you choose AC Vision Design to renovate your home?
Sivaraja: We went to several places before we got our keys, and we were looking at some ideas. At most of the places that we went, they were trying to push us to close the sale on the first day and would say – do you want to sign on this dotted line? We'll give you a good deal, and all, when we'd not even seen our house in the first place. But Alan was different. When we went to see Alan, the first thing he wanted to know was the needs of the family. How many children do you have, what are their ages and what are they going to be doing and, really, what are you looking at for the house? And when we said we needed to rush because we wanted to be in the house before the school holidays were over, he said – hang on, let me take a look at the house and get the keys to your house first before we really plan it. And I thought that was very different from anyone else that we have seen, someone who wanted to know what our needs were, and he was willing to meet them.
Looking for an estimate of your renovation costs?
Let HomeRenoGuru help!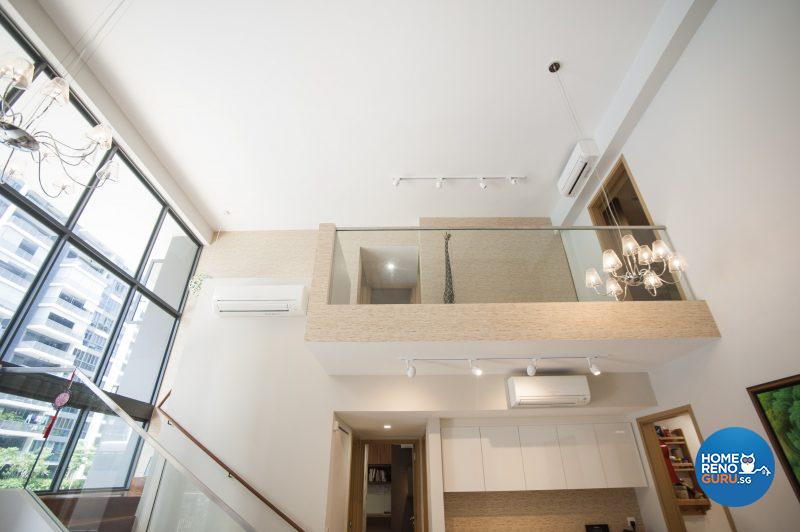 The lofty ceiling and mezzanine level landing
HomeRenoGuru: What was your brief to your designer, Alan?
Sivaraja: So when we were talking to Alan, the first thing we said was – let's make use of what we already have in the house. We felt that made sense because this is an EC and the developers had done a pretty good job in terms of the cupboards and the rest of the spaces. We felt that what we wanted was an enhancement, not something totally new, and we didn't want to waste what was already there. So in the rooms, what we have are the cupboards that came or the wardrobes that came with the house from the developer. And even in the study rooms, we've kept the wardrobe and seamlessly merged the study space with what was already there. Alan's team took out the doors and re-laminated them, so that was really good.
Since we bought a ground floor unit, we wanted this place to look like a resort because we were facing the pool. Alan gave us what we wanted and the whole feel is really like a resort.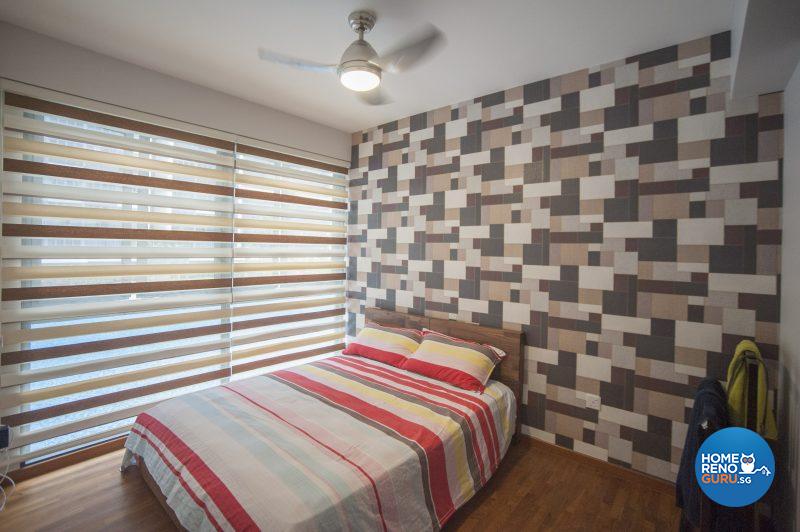 The feature wall in the master bedroom pairs multiple shades of brown with an eye-catching geometrical pattern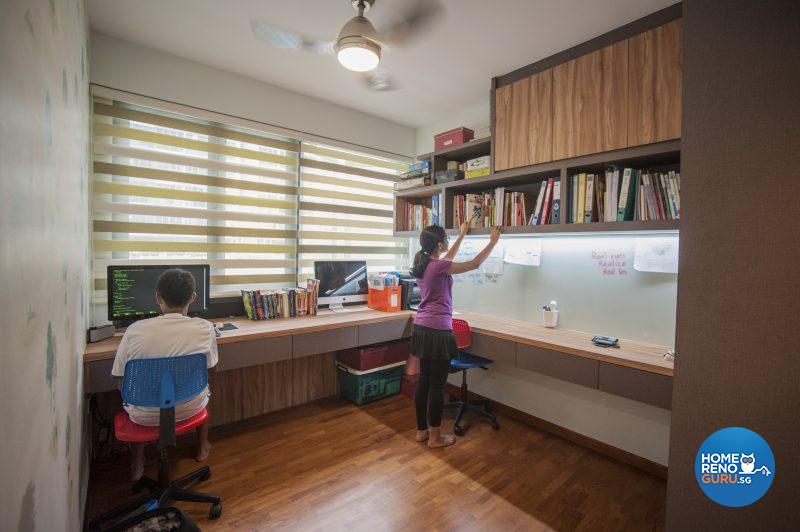 The study for the older children retains the original built-in cupboards
HomeRenoGuru: What do you especially love about your house?
Kavi: There are a lot of things I like in this house, such as the storage spaces in my bedroom and the storage spaces in my study room. I find that these are useful to me because I have a lot of things that I need to keep.
Sanjana: I think the place, the thing I like most about this house is the storage space in my study room. Because it gives me a lot of space to walk and like the things I have to keep, they can be kept easily in like drawers and they are easily accessible for me to use as well.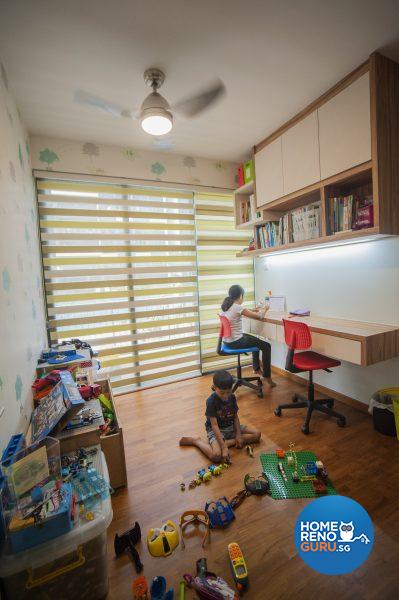 The study for the younger children liberates floor space for playtime!
Arya: My favourite storage is the storage that is my staircase, you can open it and then there are a lot of toys.

The boys' bedroom includes handy concealed storage space under the stairs to the upper bunk bed
Sanjula: It sounds like everybody loves the storage, and I love the storage too! I like the storage best under my bed, I keep my jewellery, beads and all my earrings under there. I also keep my American doll there which my father bought from America.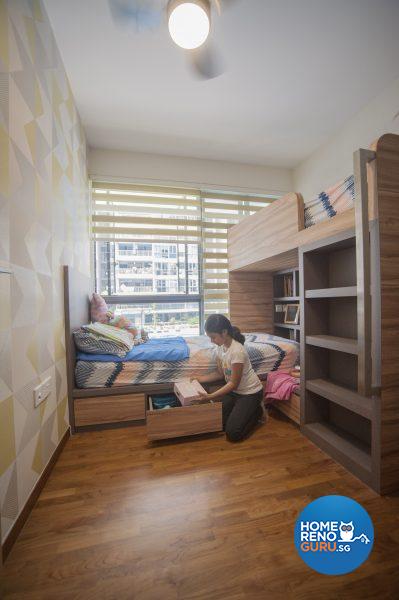 The girls' room features concealed storage under the bed and a groovy retro wallpaper
Sivaraja: I think the whole family, everyone has said about the storage spaces in the house. But more than that, when I come back home from work, I want a place to relax. And when I come home and see the woody feel, and the designs that we have in the house, I can just relax and look outside, and that is something – the resort feel, that I like most. I think Alan has done a good job with that.
HomeRenoGuru: Can you confidently recommend AC Vision Design to homeowners in search of an interior design firm?
Sivaraja: So anyone who is looking for a ID, we will strongly recommend Alan at AC Vision. We are all very happy in our home!