Dream Home – It's Perfect!
Sharon's spacious, mature property was a gem waiting to be polished. Her first time renovating a home turned out to be an overwhelmingly positive experience, thanks to the great attitudes and quality workmanship of her interior designers, Sophia and Dennis of D'Esprit Interiors. In her own words, it turned out to be perfect. Read the happy story here.
Project Snapshot
Name(s) of Homeowner(s): Sharon Wang
House Type: 4-bedroom Private Condominium Apartment
Size of Home: 100 sq m
Cost of Renovation: $120,000
Duration of Renovation: 3 months
Interior Design Firm: D'Esprit Interiors Pte Ltd
Name of Designer(s): Sophia Ng and Dennis Chong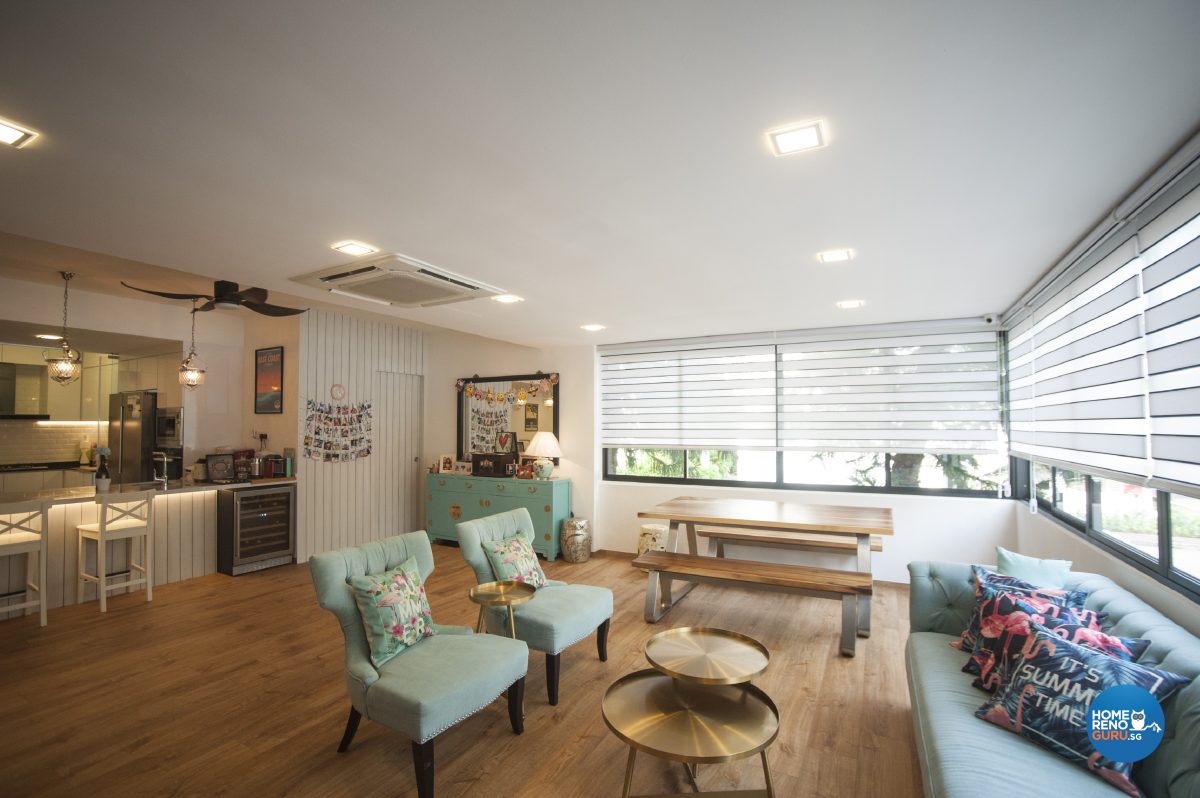 Sharon's luxuriously large living area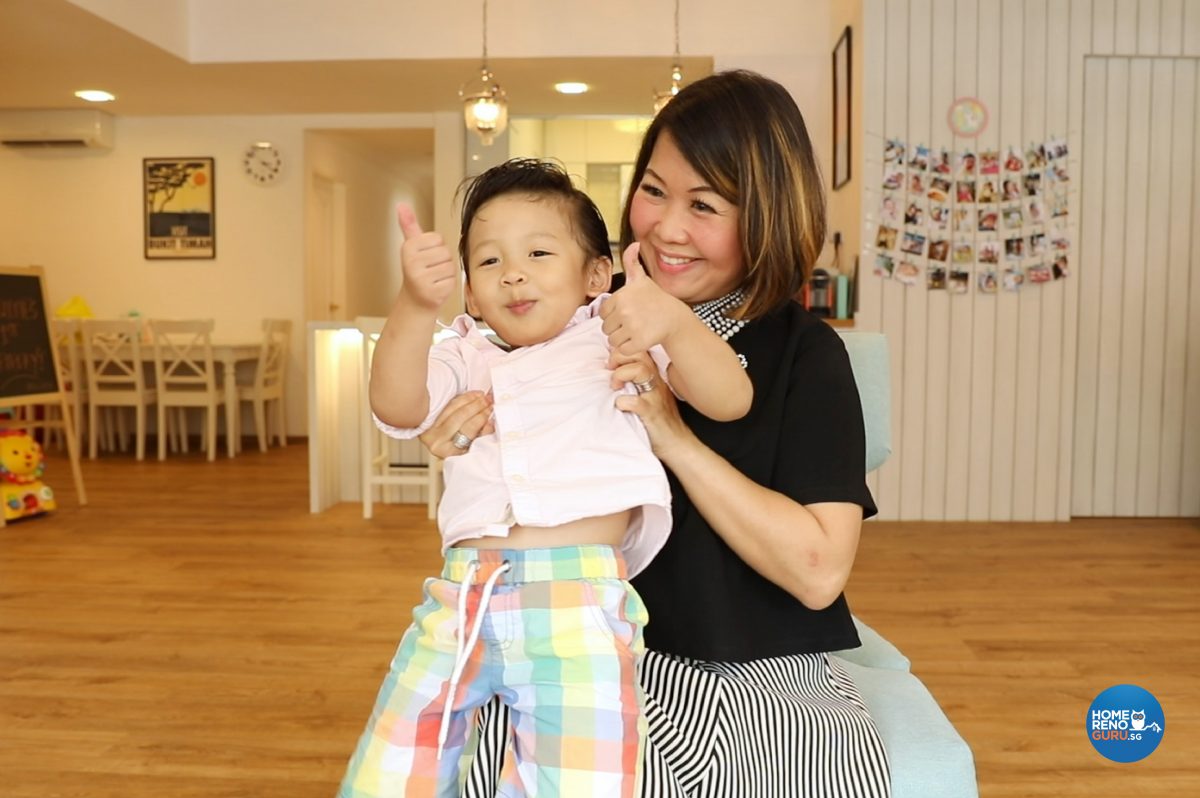 Happy mum and homeowner with son Lucas
HomeRenoGuru: When you approached D'Esprit Interiors, did you have a clear idea of what you wanted from your renovation?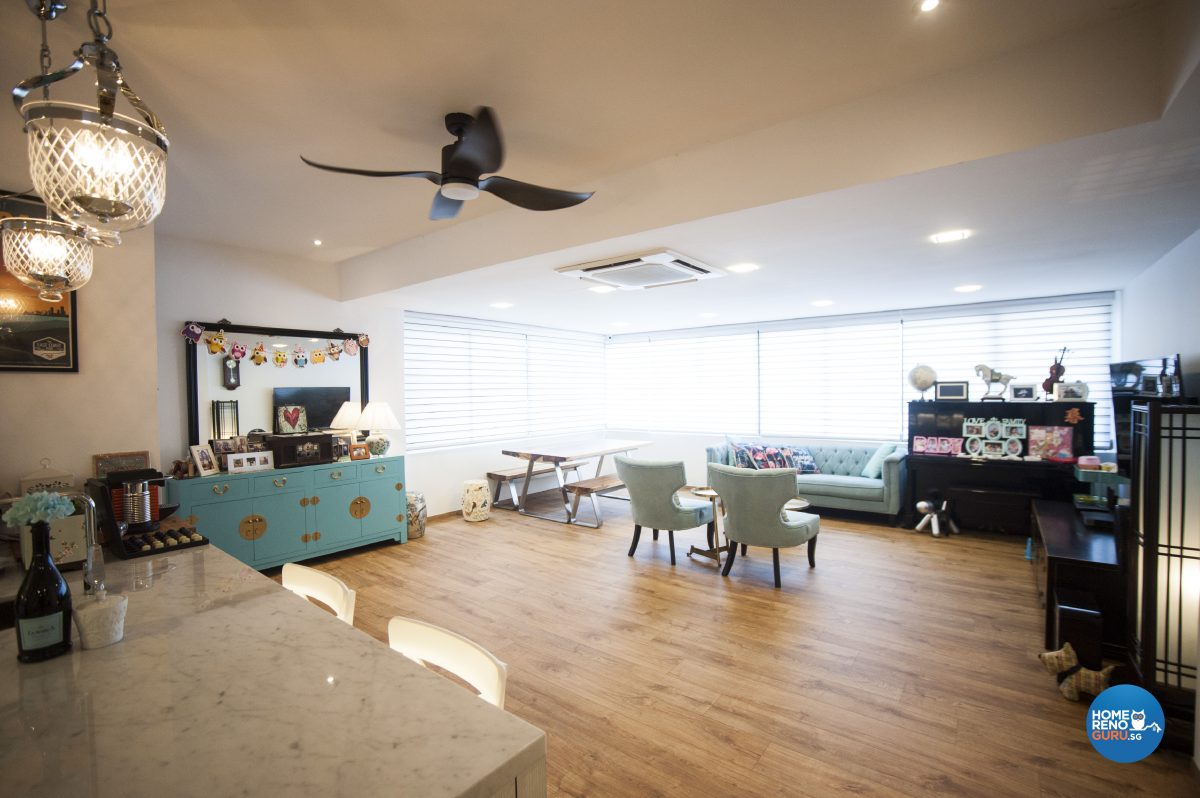 The warm golden-brown flooring was the first 'piece' that fell into place, after which all design elements followed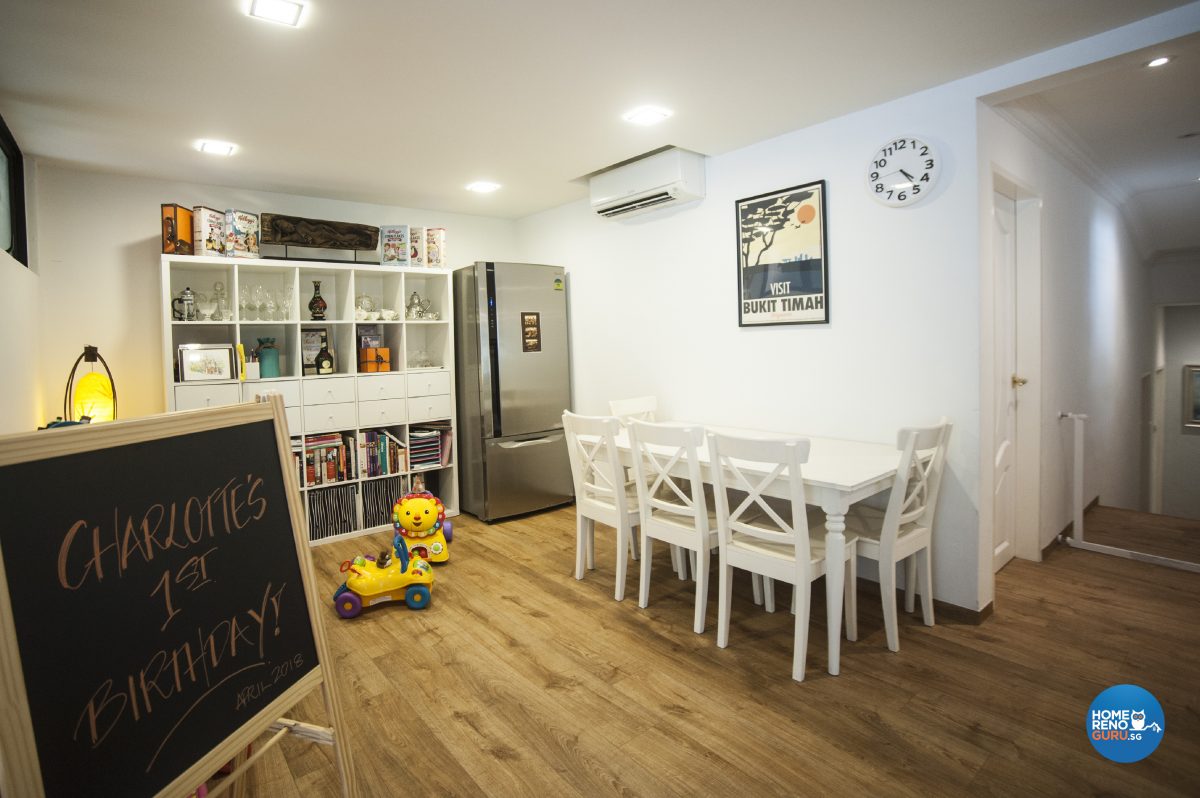 A casual dining area cum play area adjoins the living area
Sharon: Yes, I pretty much had an idea of what I wanted. I wanted a lot of light coming into the home, as well as good ventilation and airflow. I didn't really want to be tied down to a theme per se, but rather I wanted a timeless, cosy family home. And once the flooring was done, everything just pretty much fell into place, because the flooring alone is just beautiful – I just love the colour!
HomeRenoGuru: How did you find the actual renovation process?
Sharon: The whole renovation took about three months. Halfway through, I gave birth to Charlotte, so we had quite a comfortable schedule in terms of meeting Dennis and Sophia to discuss the renovation. It was a very smooth process throughout. I was very appreciative of Dennis and Sophia, who were very responsive and very responsible. Especially Dennis, when we encountered some problem or certain issues that needed to be resolved, he was the perfect problem-solver. He never tried to influence me or pressure me into accepting what had been done, and he always respected our decision.
HomeRenoGuru: What do you love most about your home?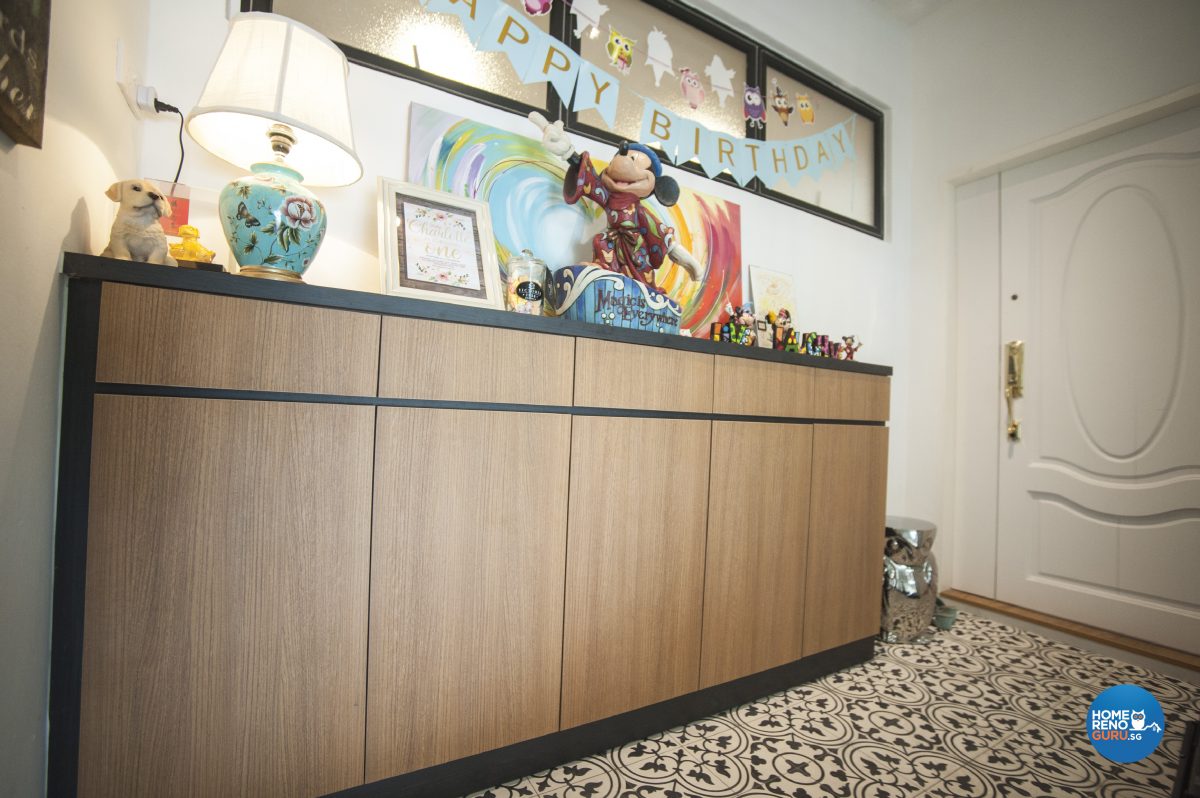 The tiled entrance foyer houses a spacious shoe cabinet which doubles as a display cabinet for beloved family memorabilia
Sharon: Now that everything has been done up, I love every part of it. I love the foyer, the tiles – Sophia helped me build a very nice shoe cabinet in which I can comfortably store all my shoes.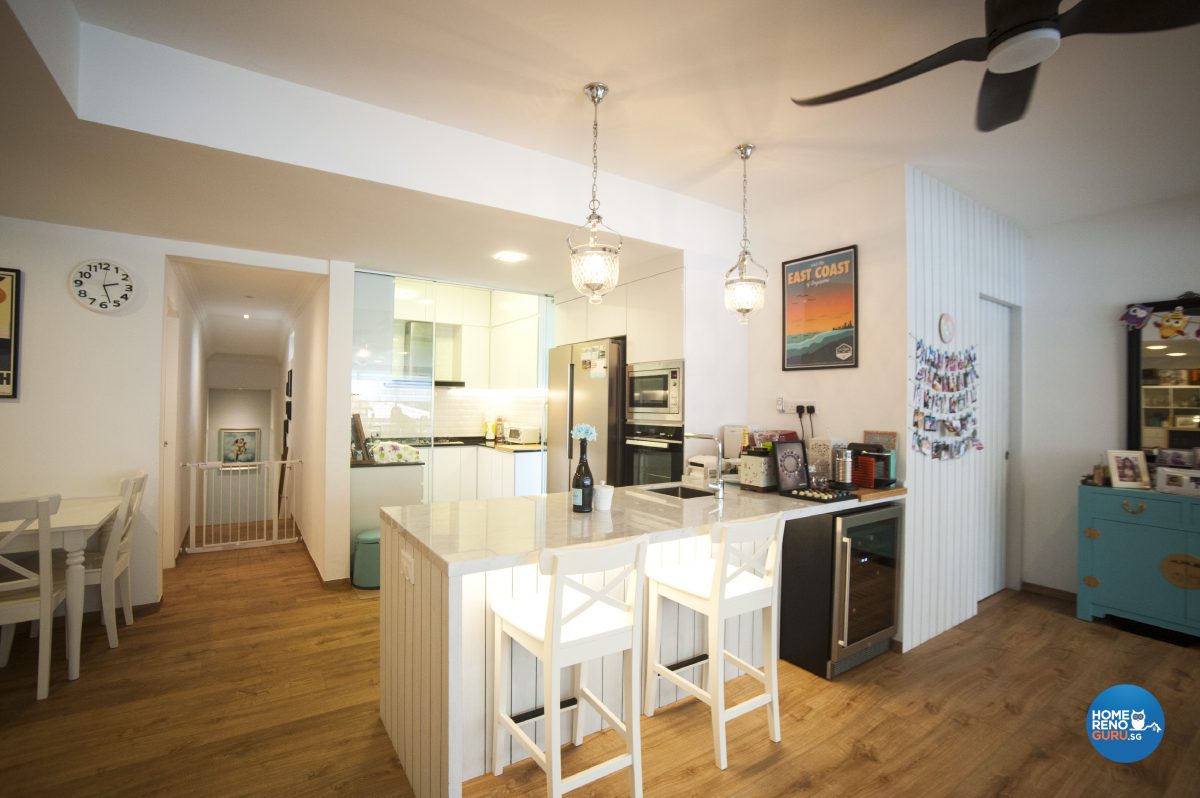 The open concept kitchen flows into the living area
A built-in breakfast bar visually separates the kitchen and living areas
One of my favourite places is the open concept kitchen together with the living room. It's a big space, and my children and my family members can spend quality time together in this area. I think it's perfect.
Black and white flooring and a white tiled backsplash add a little bit of 'country' to the kitchen
For the wet kitchen, I especially like the white tiled backsplash and also the black and white flooring. It gives the kitchen a more modern country feel, while adding on a lot more character to it.
Lucas: I love my bedroom!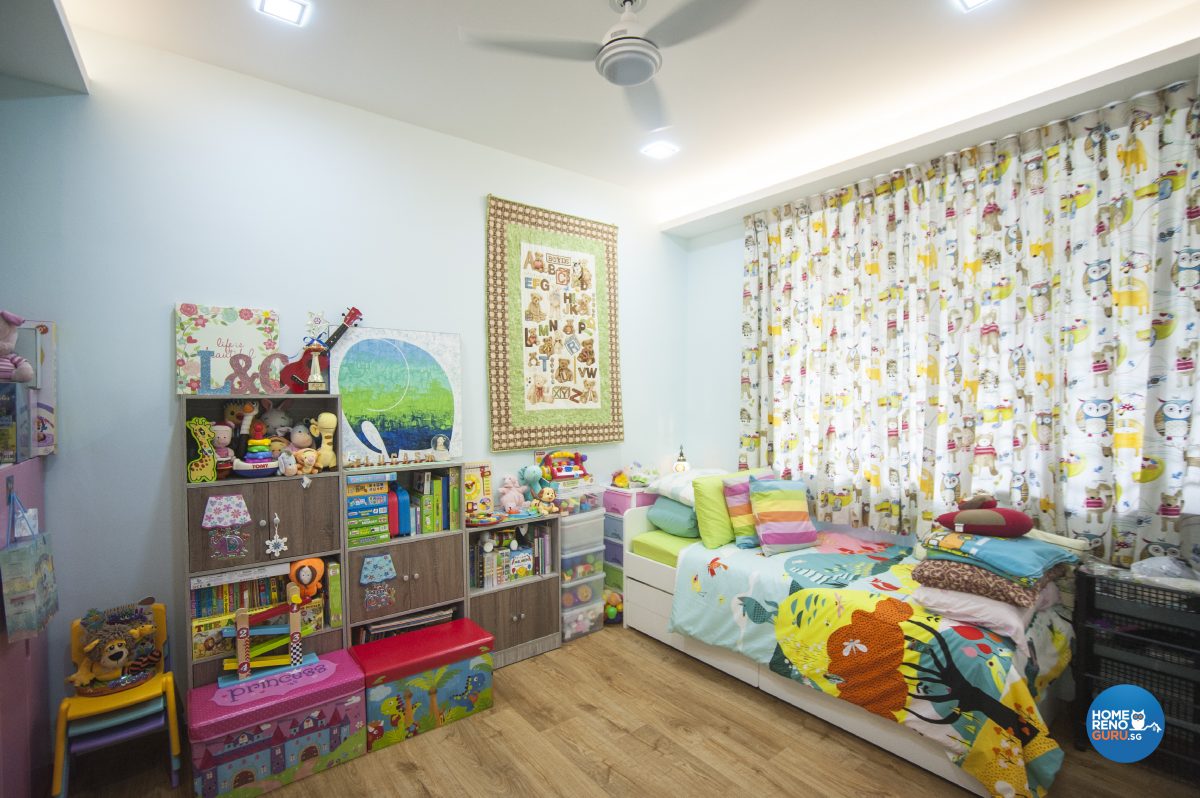 The bright and cheerful junior suite
Sharon: The junior bathroom original had two points of entry, but we decided to close off one door and turn the bedroom into a junior suite. I was initially a little bit apprehensive about the tiles I'd chosen, because I felt the colour may be a little bit too strong. But Sophia was very helpful. She did a 3D drawing for me, which gave me a very good idea of how the tiles would turn out in the junior bathroom.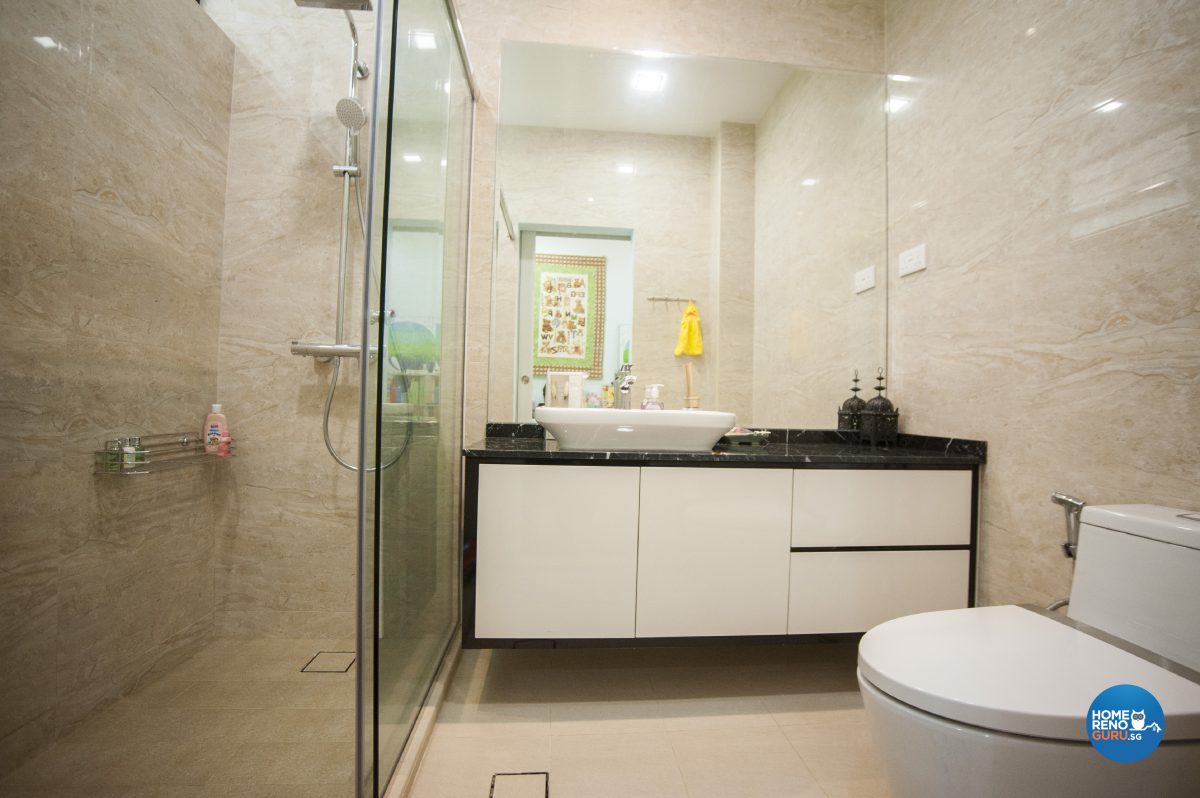 Sharon's choice of tiles in the junior suite bathroom was confirmed with the help of a 3D drawing by obliging designer Sophia
I love my master bedroom. It's really such a luxury of space. It's a combination of two bedrooms, and I have actually used one bedroom as my master walk-in wardrobe as well as the master bathroom. It is really such a joy to use it very day.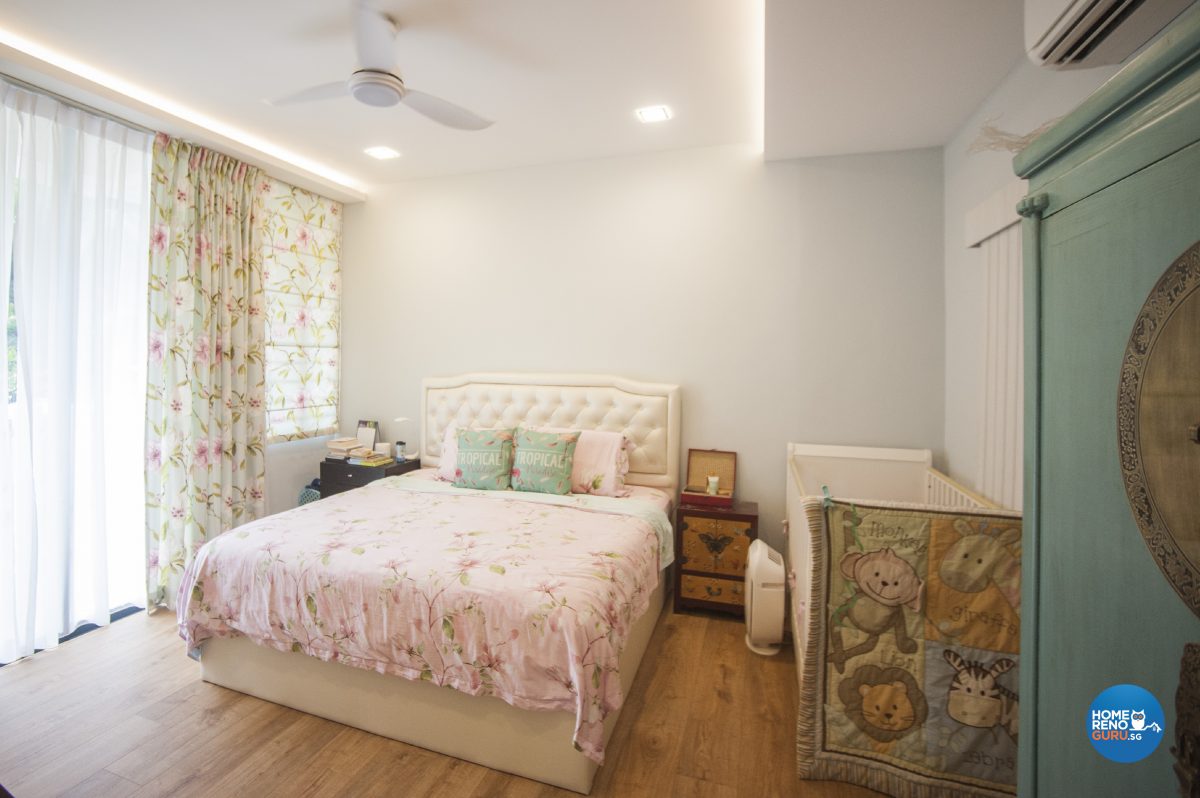 Full-height sliding glass doors admit a soft wash of filtered into the master bedroom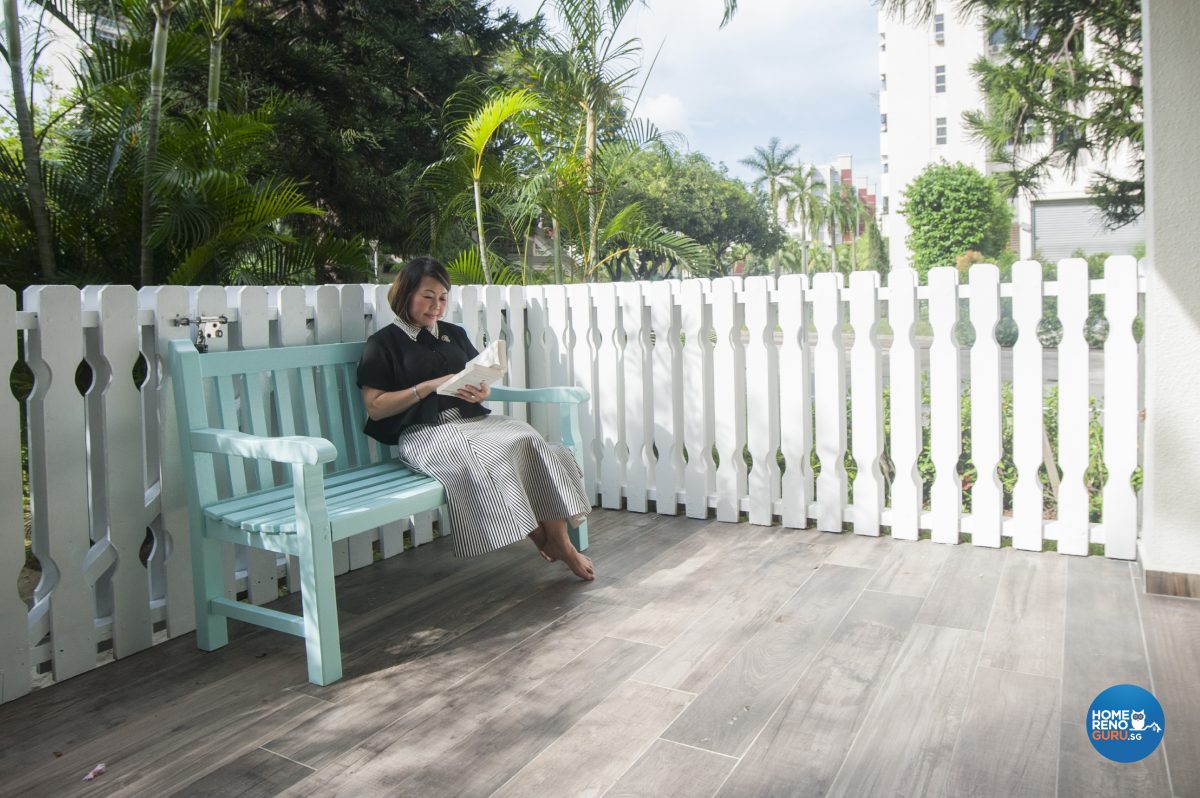 The expansive verandah outside the master bedroom
Looking for Interior Designers?
Let HomeRenoGuru help!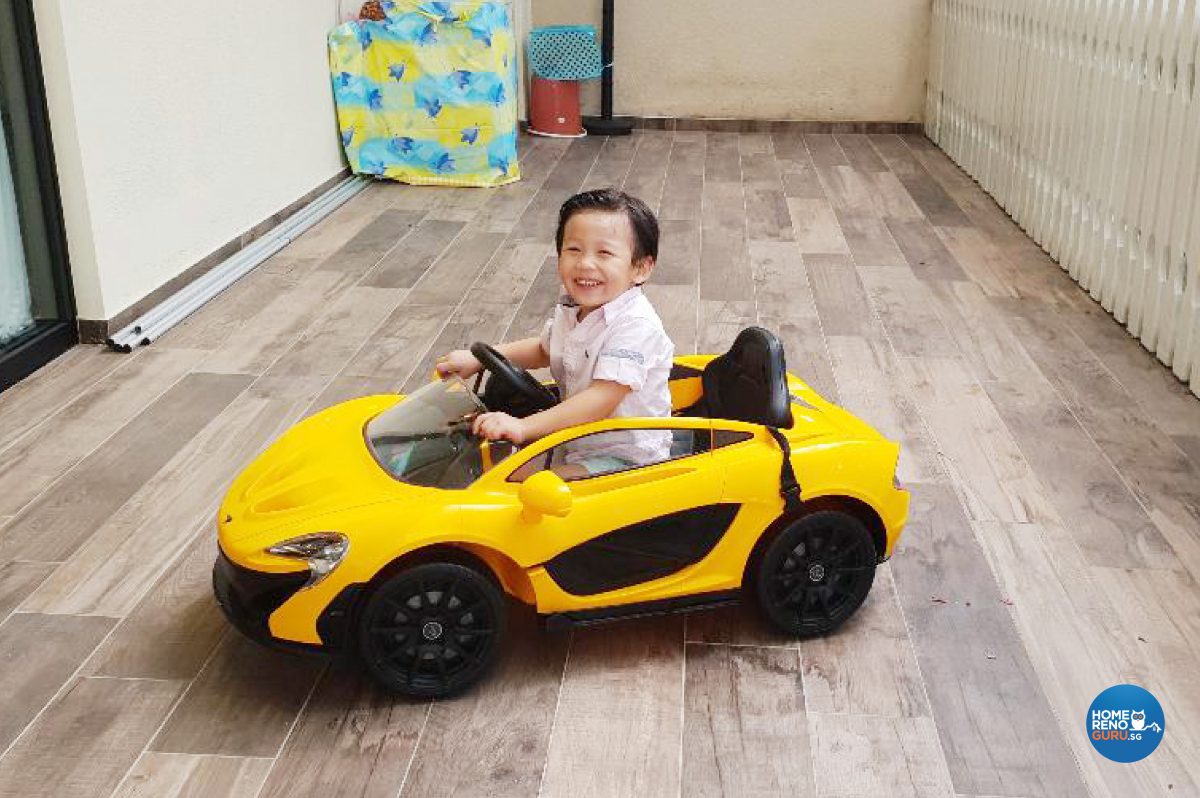 The wide verandah outside the master bedroom doubles as a safely enclosed play area for Lucas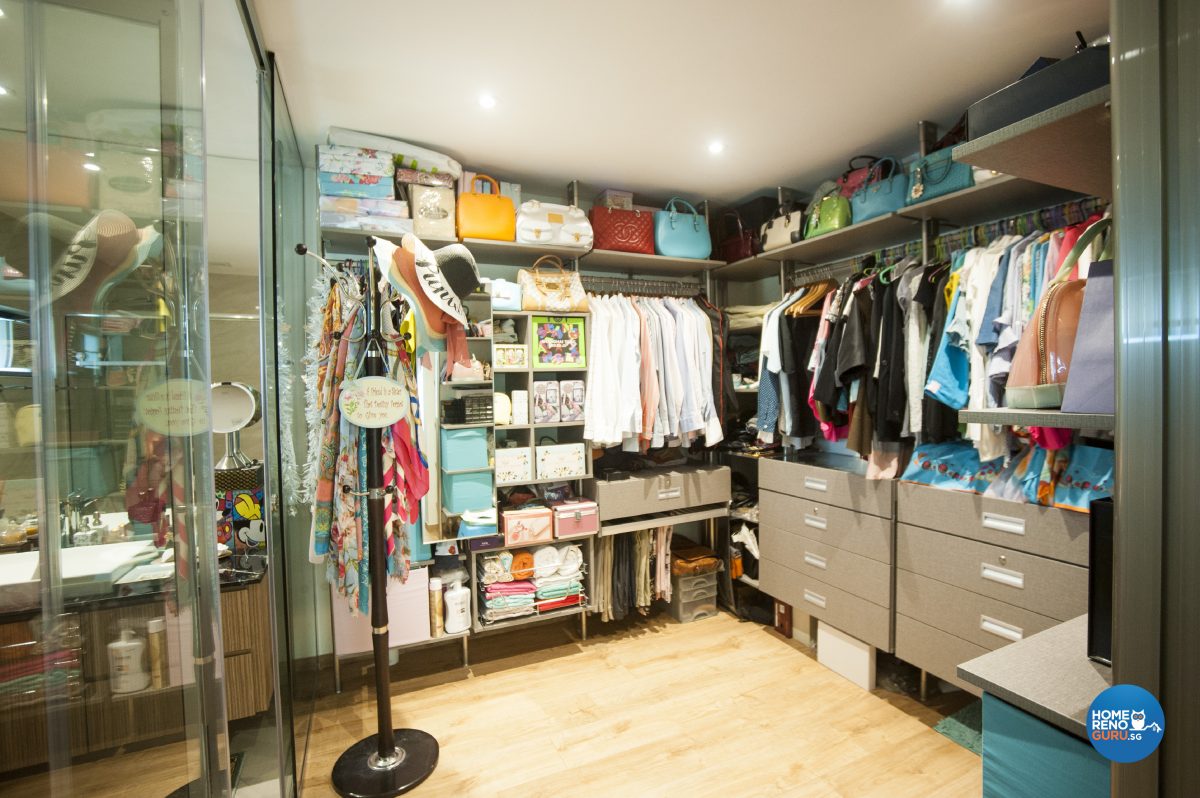 The spacious walk-in wardrobe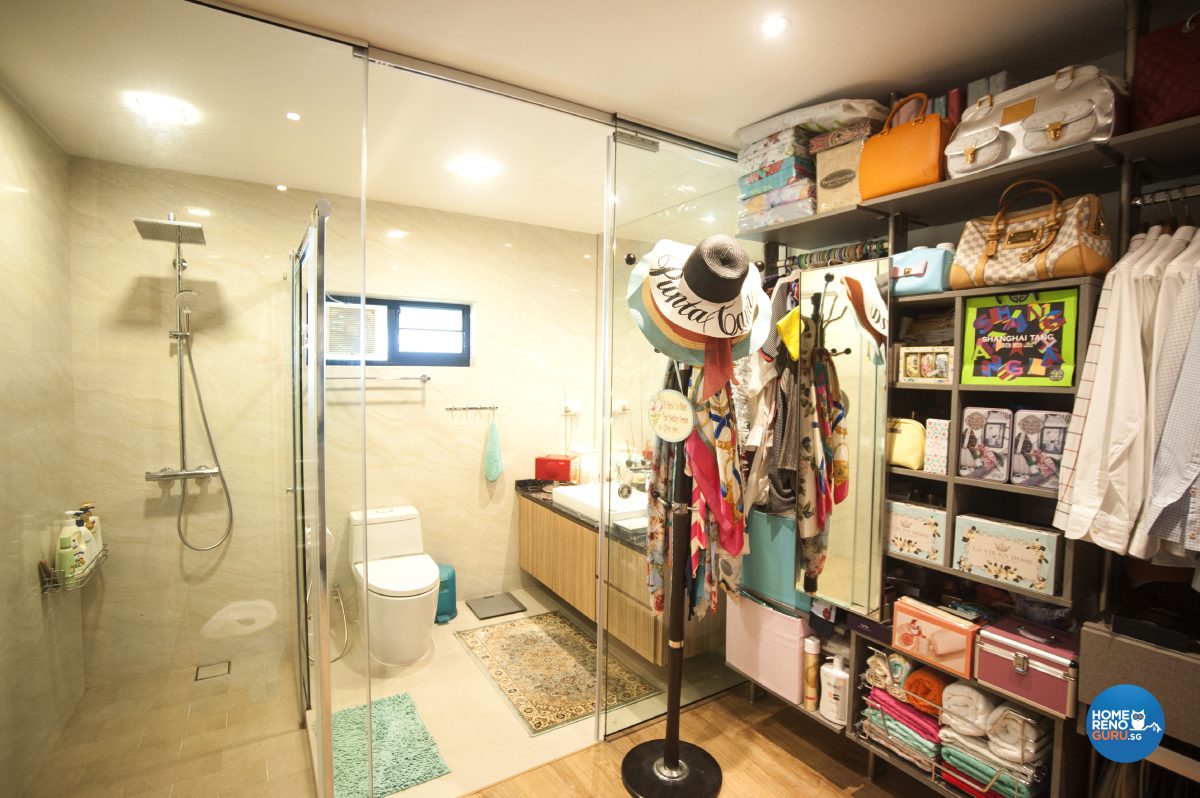 The master bathroom breaks with convention and adjoins the walk-in wardrobe rather than the master bedroom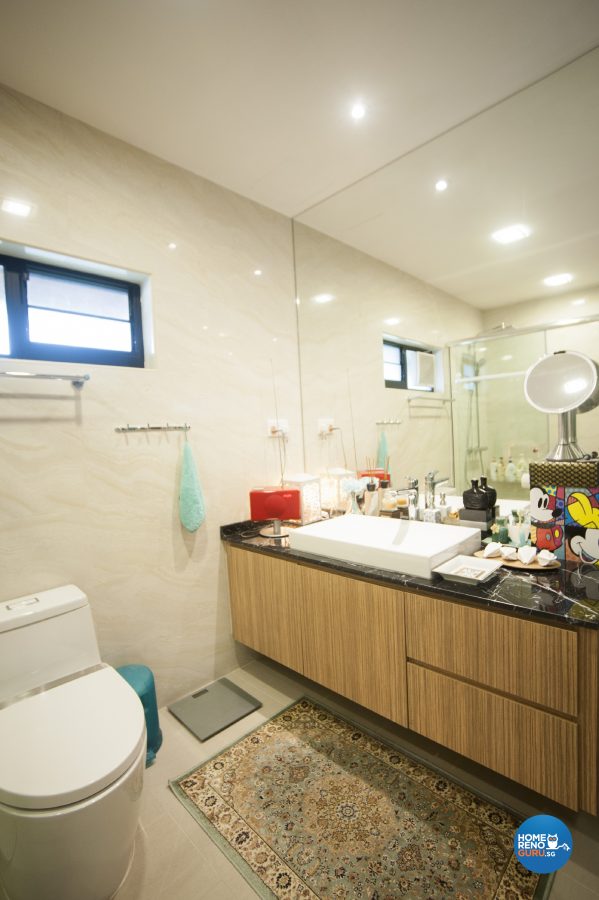 Light colours and a full-height mirror in the master bathroom enlarge the space
My master bedroom leads out to the open balcony. The view is beautiful, so we wanted to bring nature back into the room, and what we did was remove the fixed glass panels and replace them with sliding glass doors.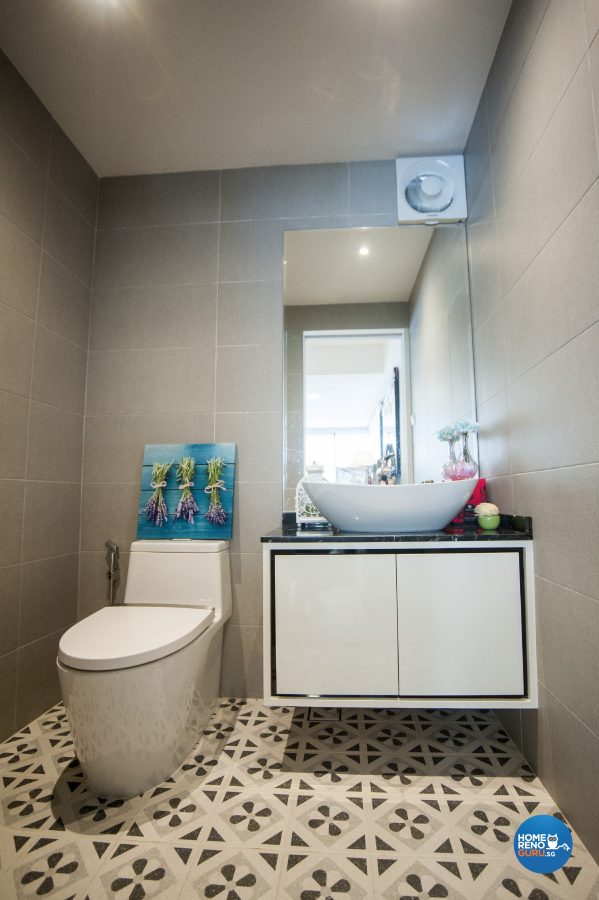 The powder room, though small, was a big headache – and ultimately, a big success!
Ironically, the room that gave me the most headaches is actually the smallest room, and it is the powder room. It was important to me because my guests are going to use it, so I wanted it to look beautiful. Sophia helped me a lot by giving me me a lot of ideas and eventually, when I chose the tiles and she did the 3D drawing – and it just turned out great!
HomeRenoGuru: From your first-hand experience, do you have any advice that you would like to share with homeowners contemplating a renovation?
Sharon: From the renovation experience that I had, I would like to share with other homeowners that it is very important to find an ID who listens, who empathises with you, and who can understand what you really want and try to work things out within the budget.
HomeRenoGuru: Would you recommend D'Esprit Interiors to other homeowners looking for an interior design company to renovate their homes?
Sharon: I would definitely recommend D'Esprit Interiors. They have been great. Thank you so much, Sophia and Dennis, for helping me build this beautiful home. This is the very first time I'm renovating my own home, and I'm really so glad I've chosen you. Thank you.