Dream Home: The Patio Life
Mark and Belle, and their two little cuties Chloe and Charles, love their home. A hint of Scandinavian, a touch of industrial and some warm rustic touches blend beautifully together in a home that is visually interesting, comfortable and practical. Highlights include their open concept kitchen and their generously proportioned patio, which is a drawcard for the whole family. Read all about their renovation experience with Posh Living.
Project Snapshot
Name(s) of Homeowner(s): Mark Ng and Belle Cheong
House Type: 3-bedroom Private Condominium Apartment
Size of Home: 1,130 sq/ft
Cost of Renovation: $50,000
Duration of Renovation: 2 months
Interior Design Firm: Posh Living Interior Design
Name(s) of Designer(s): Bryan Koh & Vernice Pang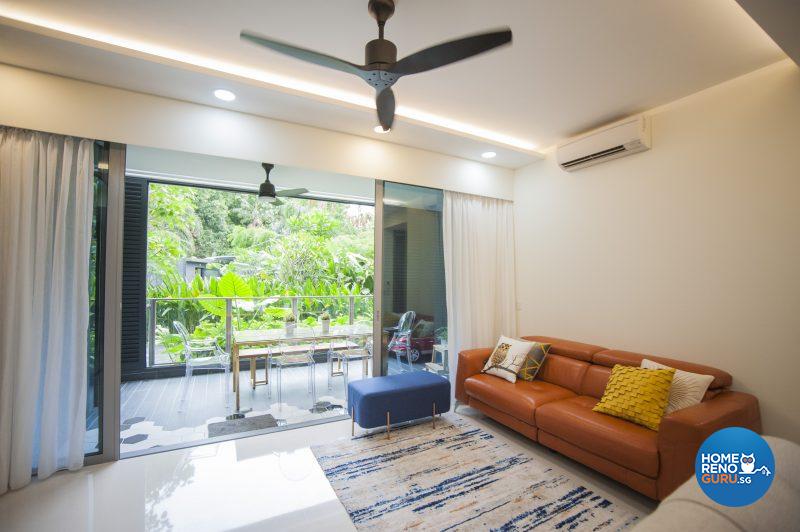 The living area blends flows seamlessly onto the patio in this happy and flexible family home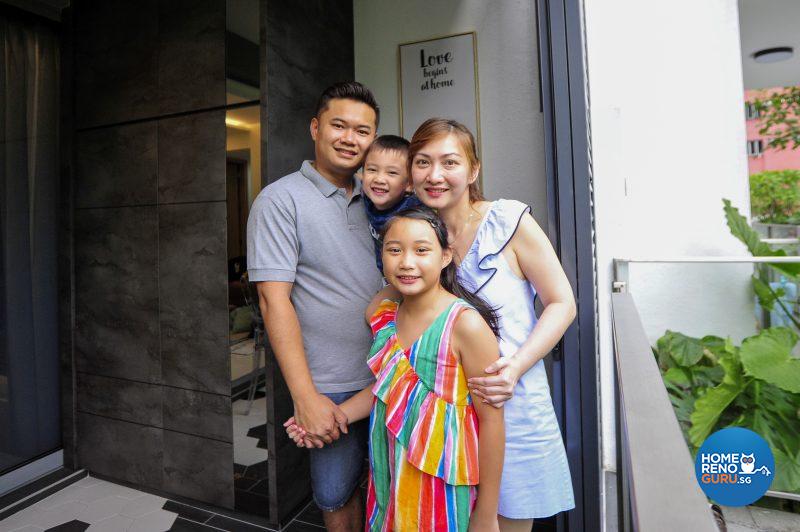 Mark, little Charles, Belle and Chloe
HomeRenoGuru: How and why did you engage Posh Living Interior Design to renovate your home?
Mark: We went around sourcing for different renovation companies in Singapore and one of the companies that we talked to was Posh Living Design. The designer that engaged with us was Bryan. We chose him because we found him very accommodating, and most importantly he could work within our timeframe and meet our requirements, and was available whenever we requested to see him.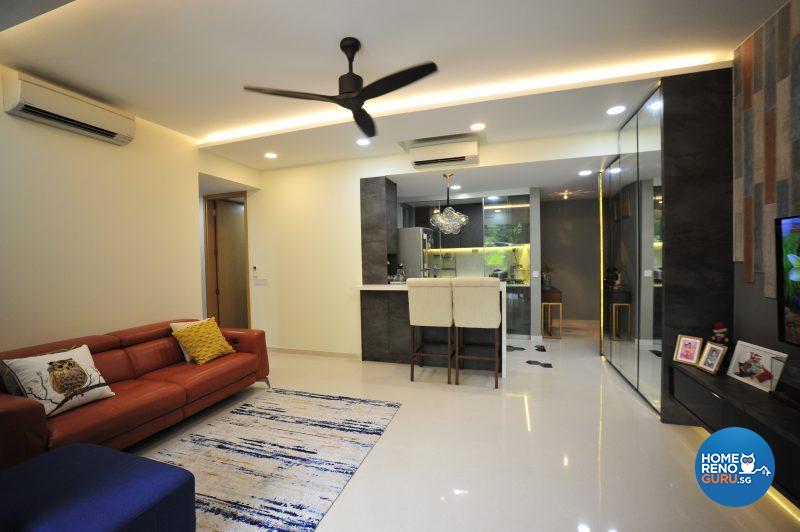 The view from the patio (unseen) shows the flow of space that unites living, dining and kitchen areas
HomeRenoGuru: Did you have a clear picture of what you wanted in mind?
Mark: During my initial talks to Bryan, I shared that we wanted to have a Scandinavian plus a kind of industrial look in our house. One of the things that we also wanted was to have more space and more storage.
HomeRenoGuru: How did you find the actual renovation process?
Mark: Throughout the whole process of the renovation, Bryan has been very accommodating to our requests. As I am a very micro-management kind of person, I was into the details, and I'm very happy with the way that Bryan and the Posh Living team fulfilled our requests.
HomeRenoGuru: What are your favourite parts of your home?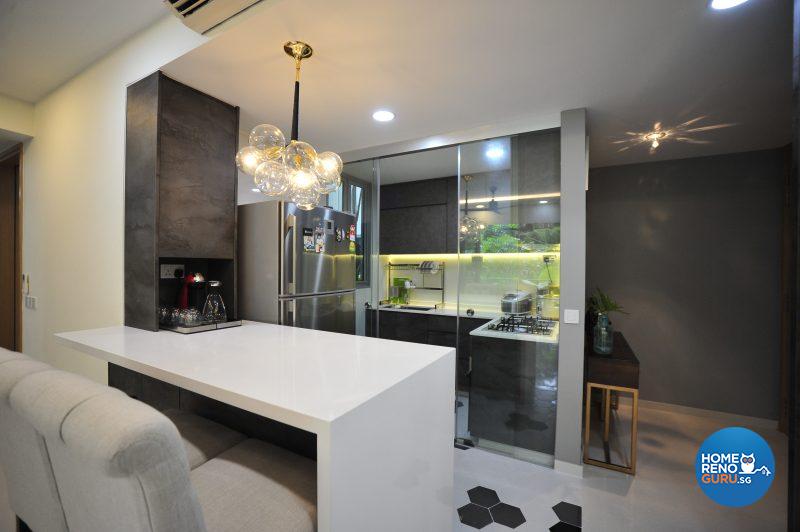 A statement lamp adds a touch of glamour over the dining area, which faces the completely rebuilt open concept kitchen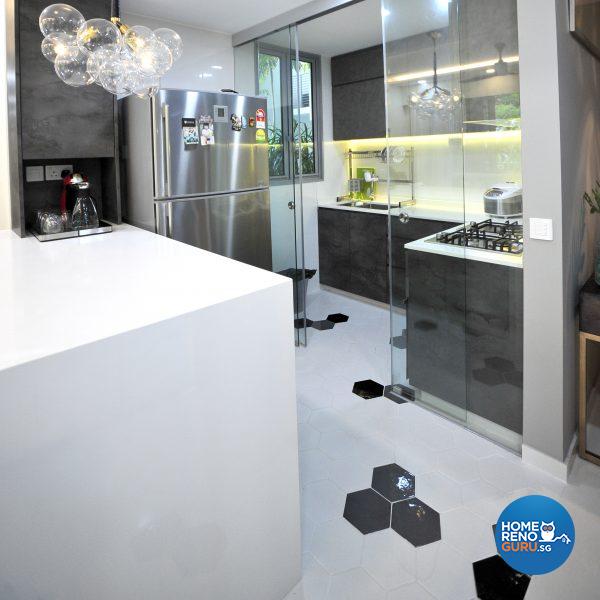 Feature floor tiles add a talking point to the floor, which extends from the dining area into the kitchen
Belle: Bryan came up with the initiative to hack the kitchen wall, and demolish the whole thing and rebuild it. In the end, we fully utilised the kitchen tabletop as well by having lots of compartments below it and of course a wine chiller.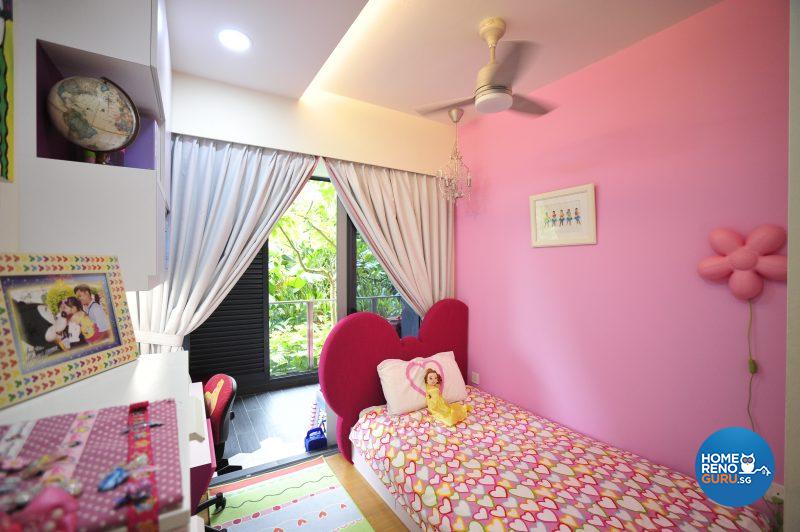 Chloe's princess-pink bedroom!
Chloe: I like my room because the colour is pink. And I also like my study table and the shape of the bedrest. And under my bed there are three drawers where I keep all my crayons and toys.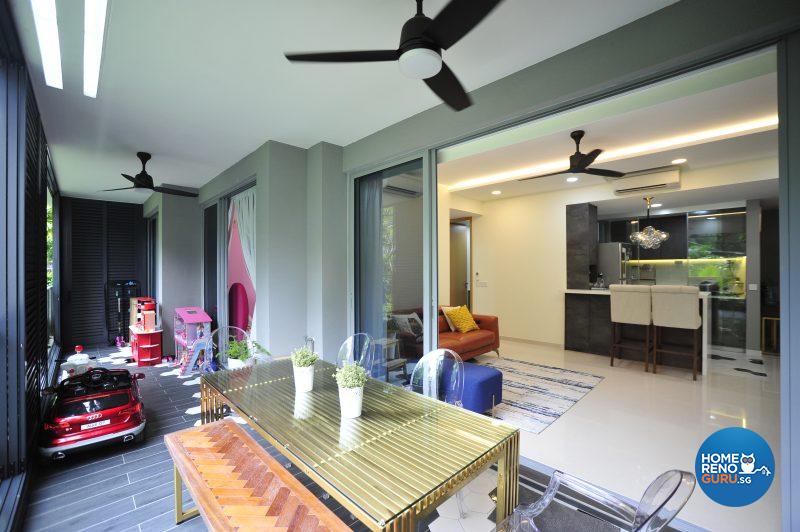 The luxuriously large patio is fully utilised by the family
Mark: The best part of this whole renovation is the patio area. Reason being that we fully utilised the area. In accordance with Bryan's suggestions, we built a storage room at one end and we used the other end to house our washing machine and dryer.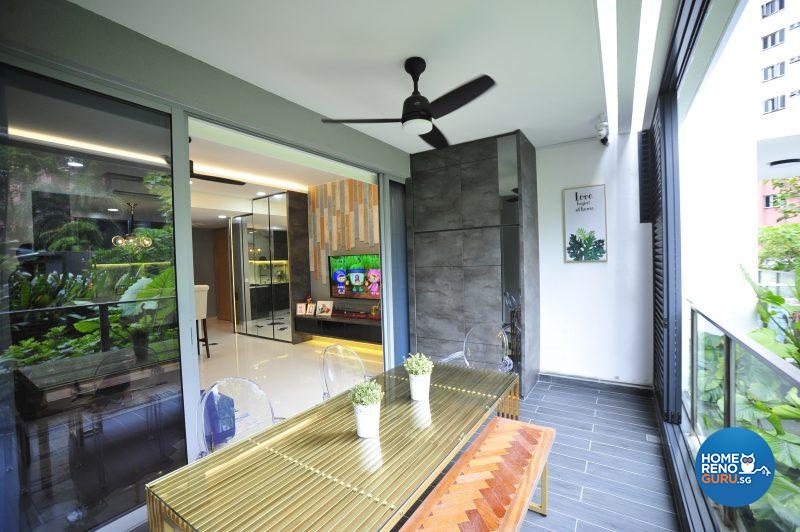 The full-height mirrored shoe cabinet adjoins a tiled feature wall, creating a visually arresting contrast of reflective and matte surfaces
Belle: What I like the most is my living room. The full-height mirror shoe cabinet goes up to the feature wall, which is covered in the tiles that Bryan specially brought in from overseas. It really blends in well and conceptualises the whole living room.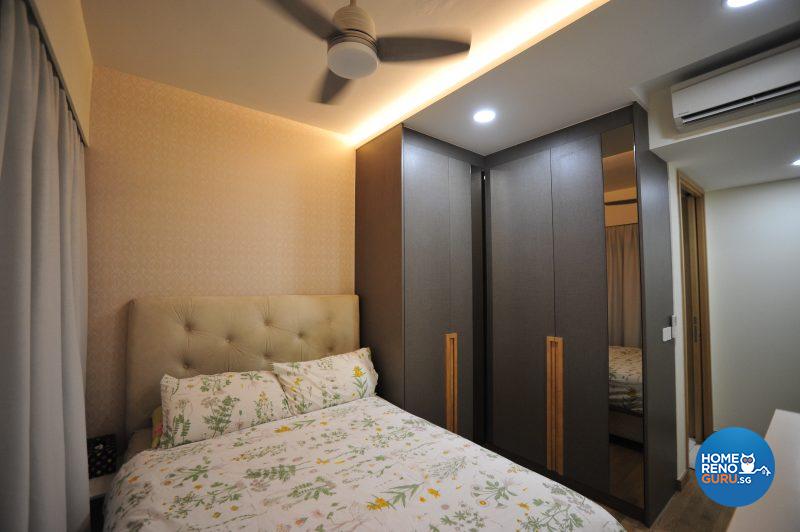 Layered lighting adds ambience to the compact yet cosy master bedroom
Belle: Bryan suggested to build the concealed dresser, which I love a lot, and it has a hidden lighting switch in it. I can light it up in the dark, when my partner is sleeping, and not disturb him.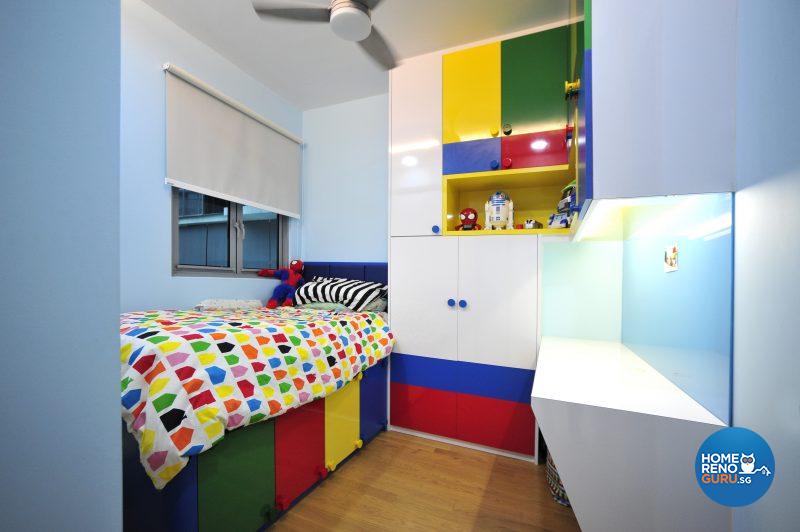 Lego set the theme in Charles' bright, graphic bedroom
HomeRenoGuru: Would you recommend Posh Living Interior Design and your designer Bryan to other homeowners?
Looking for an estimate of your renovation costs?
Let HomeRenoGuru help!
Mark: Overall we are very satisfied with the whole experience with Posh Living and we would definitely recommend Posh Living, especially Bryan, to anyone out there who wants to do a renovation. Thank you, Bryan and team, from Posh Living. We love the design and our family is very happy!
Belle: I would like to thank Vernice as well, because she played a very important role in liaising and coordinating this project. Thank you Posh Living!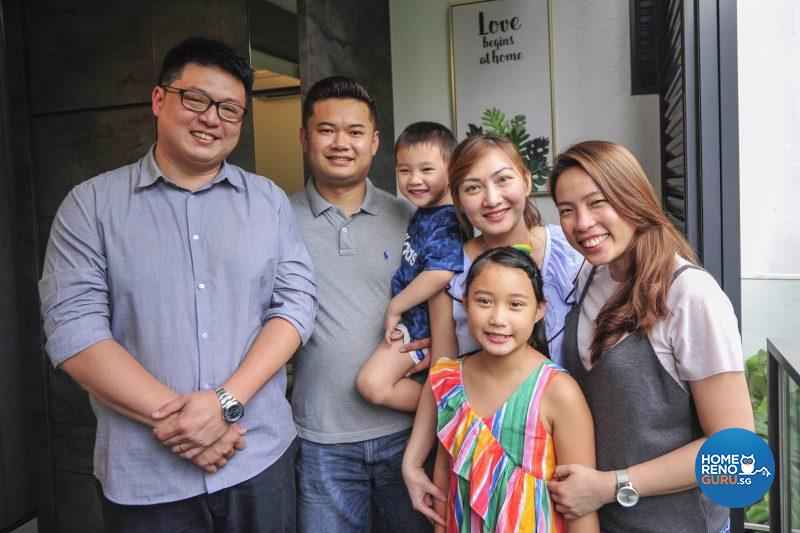 The happy family with Bryan (far left) and Vernice (far right) from Posh Living