Dream Home: Party-friendly and Plain Sailing
Ryan and Irene love their party-friendly home, and loved the experience of working with their designer Alvin of Jialux Interior. The process was plain sailing from start to finish, and Ryan even has a boat-inspired bar, courtesy of Alvin's creative customised design. Read about their journey!
Project Snapshot
Name(s) of Homeowner(s): Ryan and Irene Teo
House Type: BTO 5-room HDB Flat
Size of Home: 113 sq/m
Cost of Renovation: $60,000
Duration of Renovation: 6 weeks
Interior Design Firm: Jialux Interior Pte Ltd
Name(s) of Designer(s): Alvin Peh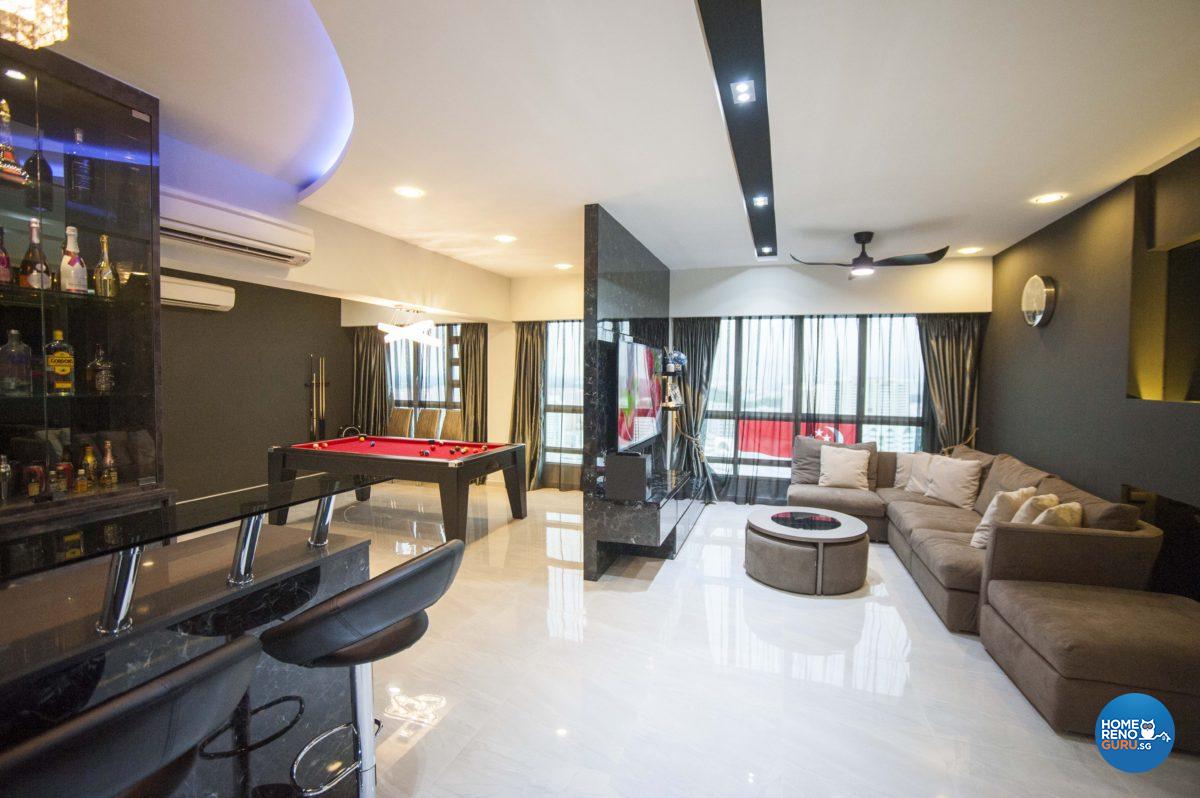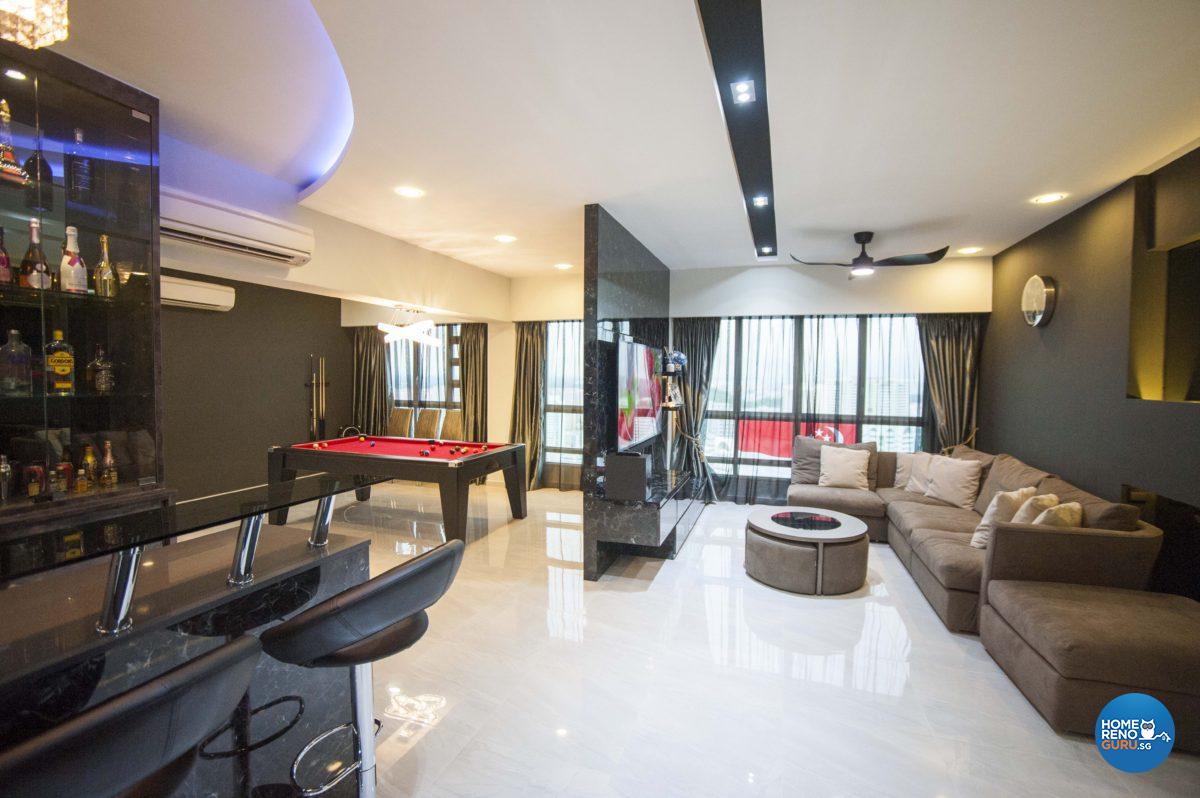 An elegant space for entertaining and relaxing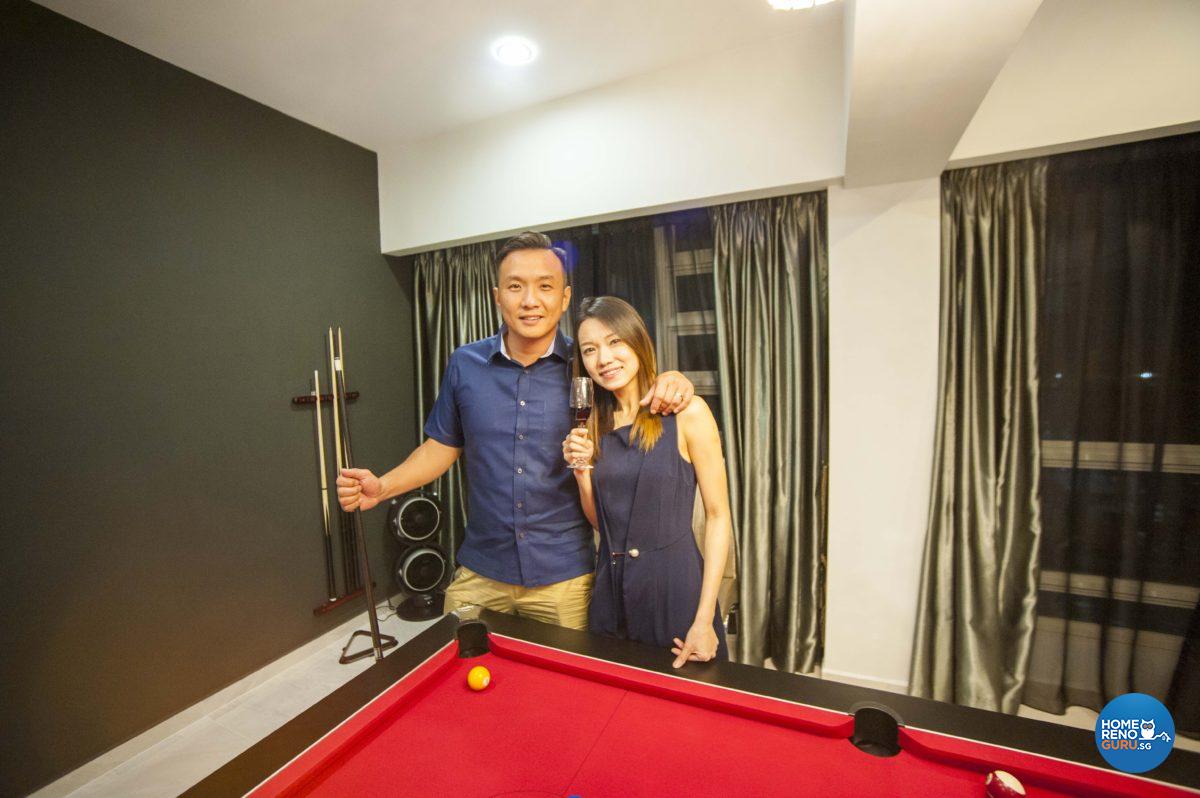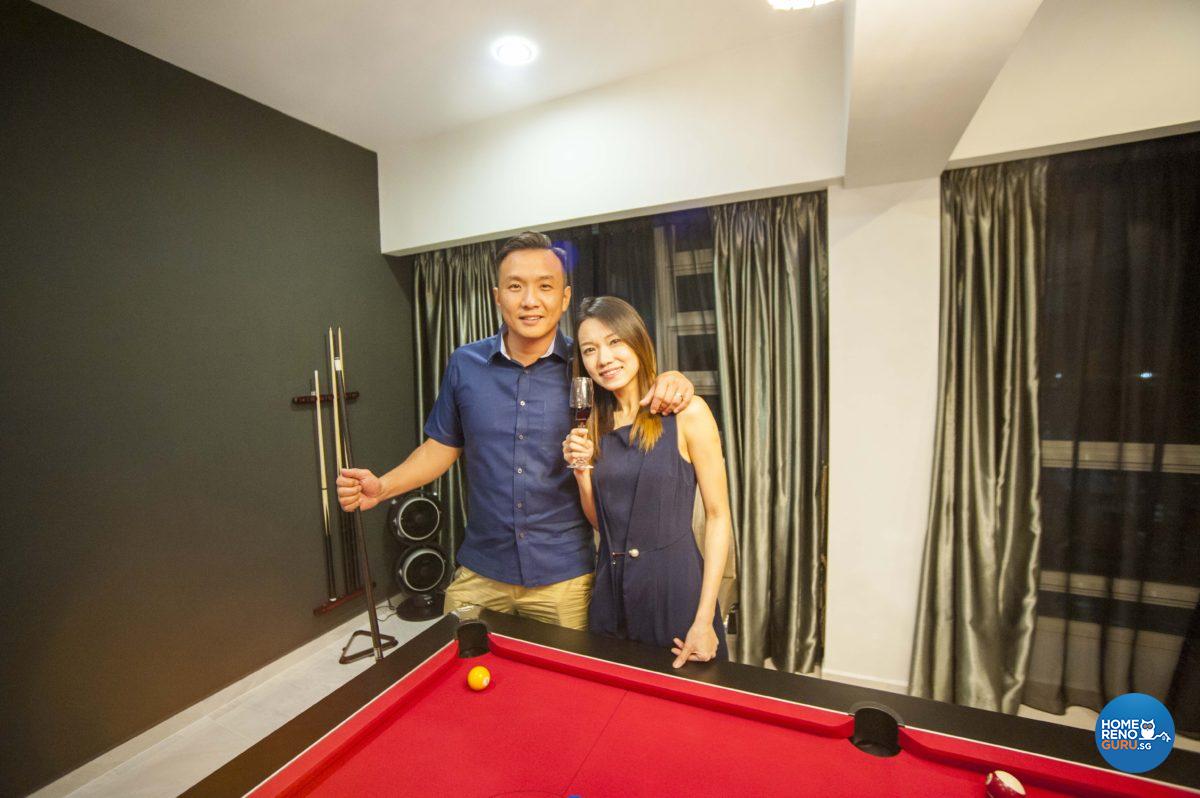 Ryan and Irene, happy homeowners and frequent entertainers
HomeRenoGuru: How did you come to engage Jialux Interior for the renovation of your home?
Ryan: I did a lot of online research, and chanced upon one of Alvin's previous clients. We contacted the homeowner and had very good feedback, so we called him up and made an appointment with him.
Irene: The previous owner shared with us the price of his renovation, which we felt was reasonable. He also shared that there were no hidden costs after deciding on the quotation. We felt that this can be a big concern for a lot of customers, so we felt very reassured.
HomeRenoGuru: What was the theme that you chose?
Ryan: We were looking at white, black and grey with a touch of elegance – an environment that was relaxing and party-friendly. After sharing this with our designer Alvin, he suggested the theme of modern luxury.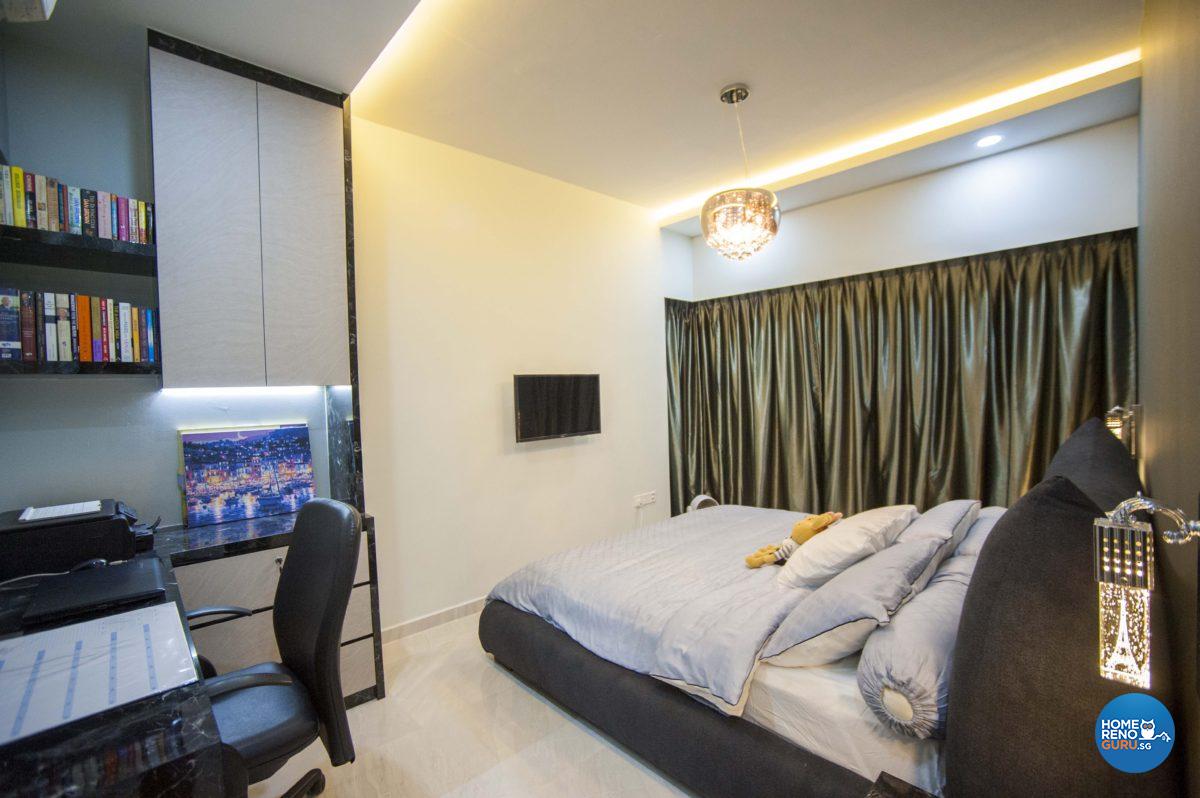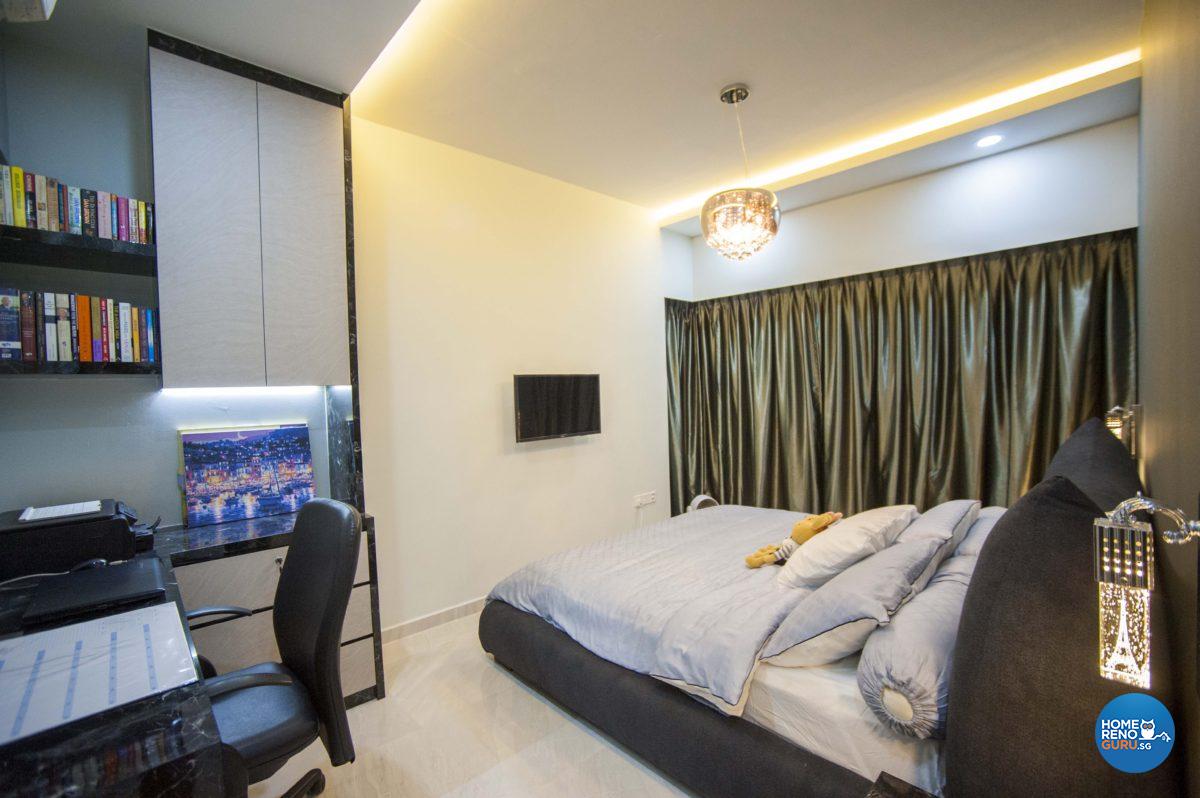 The functional and comfortable master bedroom
HomeRenoGuru: How was the actual renovation process?
Irene: I think generally the renovation process was quite smooth. I mean of course here and there, as with all renovations, there were some small little issues that arose, but I think Alvin did a good job. He was very prompt. He also did very well in terms of addressing any urgent matters. He stayed up till the wee hours to brainstorm with us on how to tackle the issues, so we were quite assured that everything would go well at the end of the day.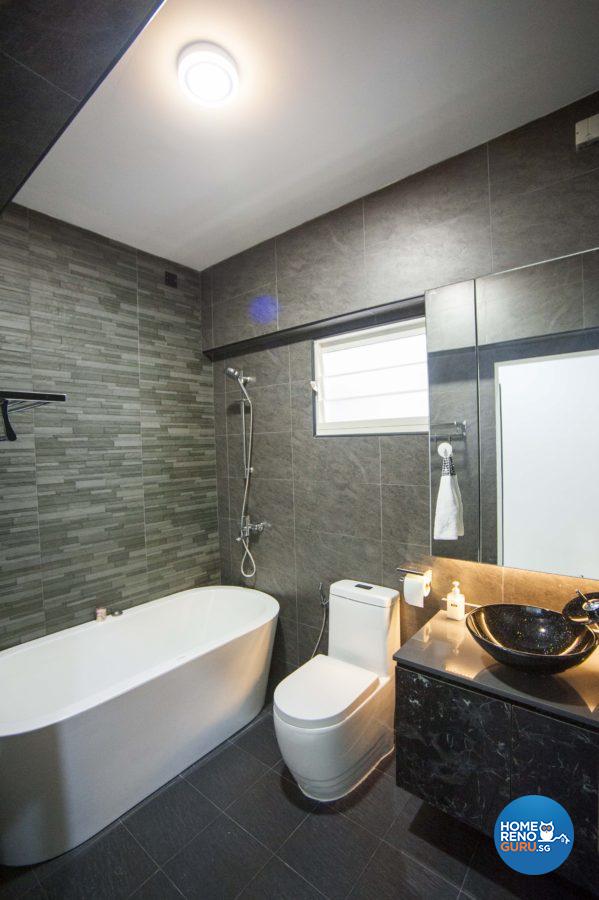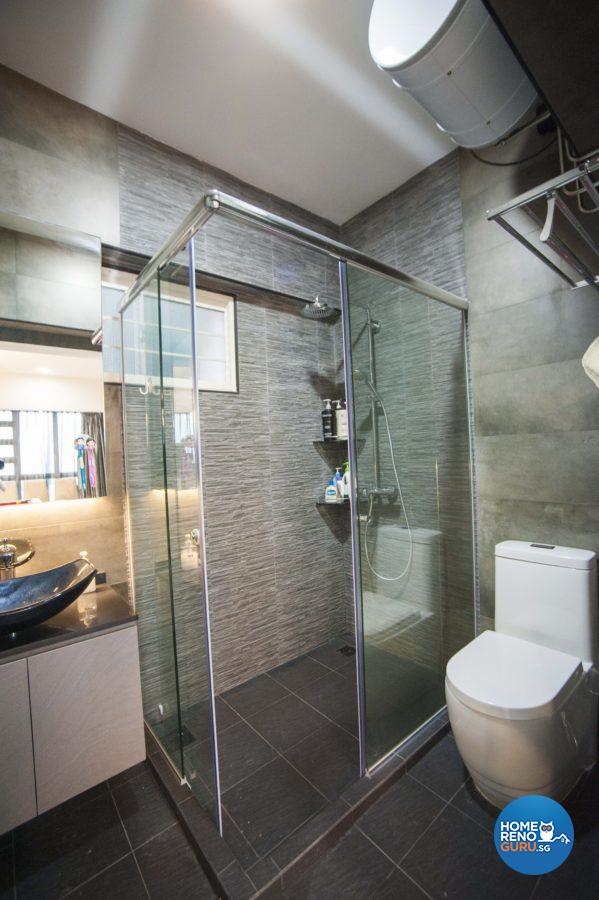 The master bathroom and the common bathroom share the same monochromatic palette and mix of materials
HomeRenoGuru: What do you love most about your renovated home?
Ryan: I really love this whole design. I really appreciate Alvin's work a lot. But if I really had to choose, for me I would choose my bar counter. Alvin also did a very good job on the island bar design. As he knew that I work in the marine line, he designed the island bar to look like the bow of a vessel, so it was very nice.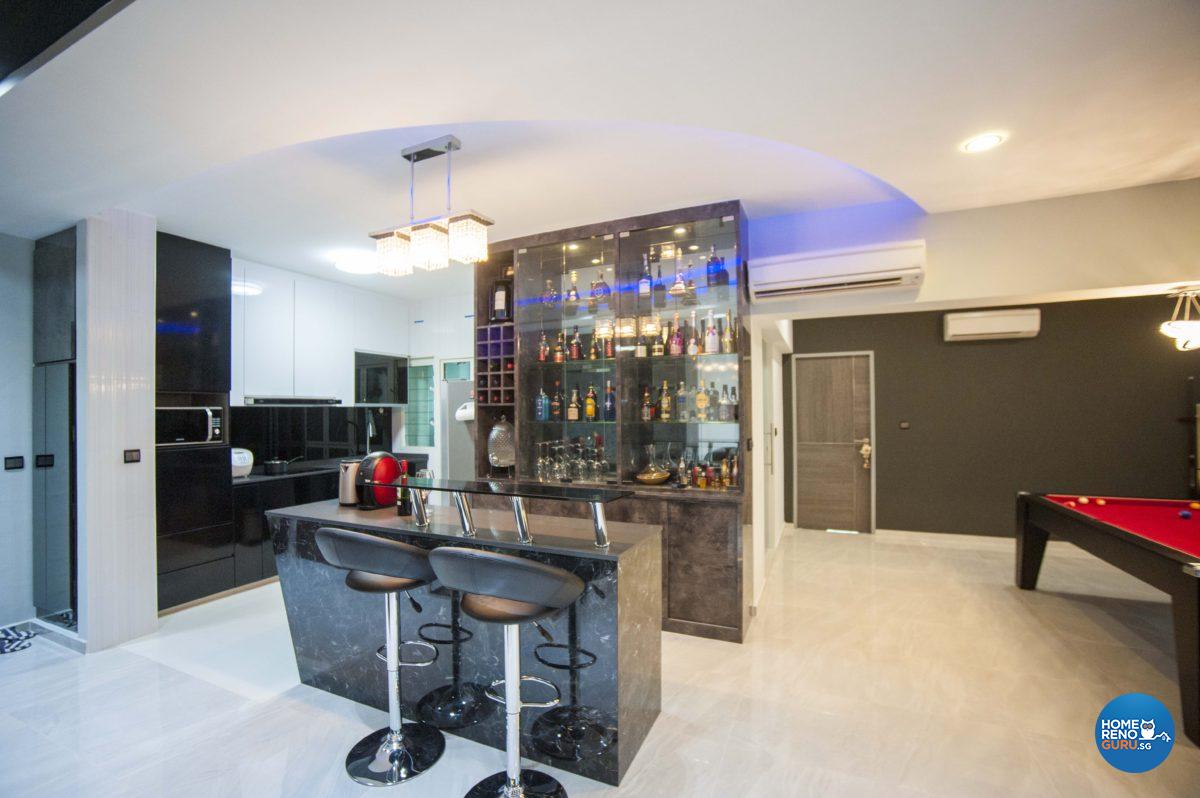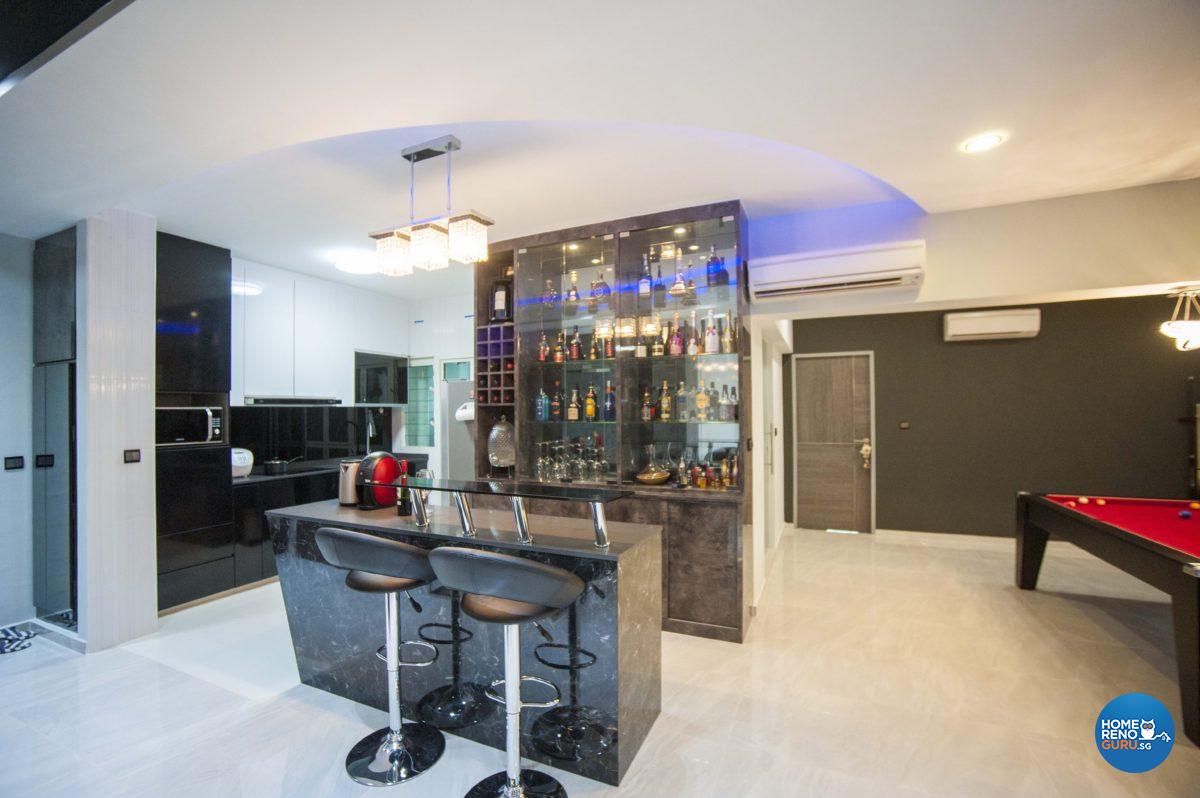 Referencing Ryan's work in the marine industry, the bar counter emulates the bow of a vessel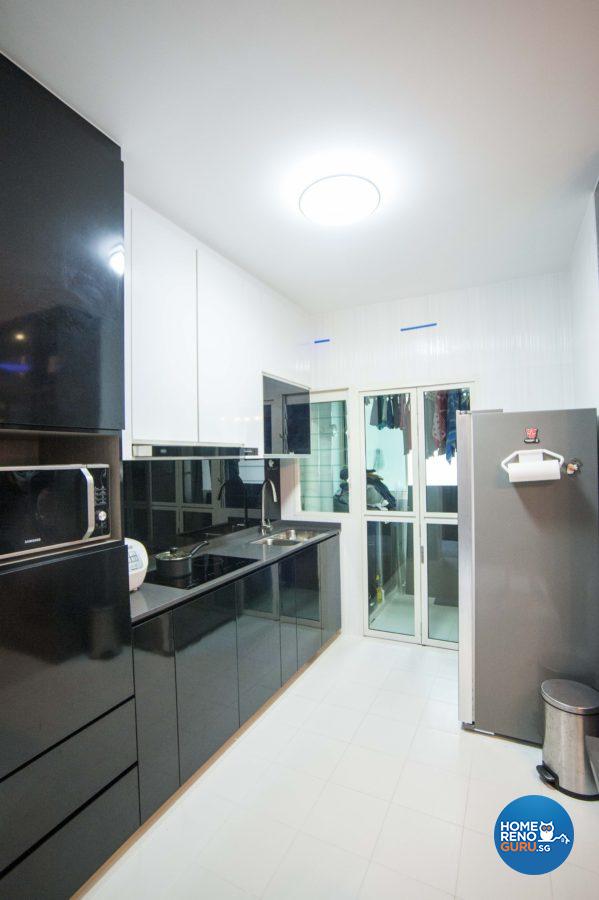 The sleek, streamlined kitchen boldly embraces black
Irene: I really like the walk-in wardrobe, because I think it's every little girl's dream. There are easily accessible compartments for my bags, as well as I shoe display cabinet where I can choose the shoes that match with my clothes, and on top of that there was also a cabinet for me to put all my accessories in those little boxes.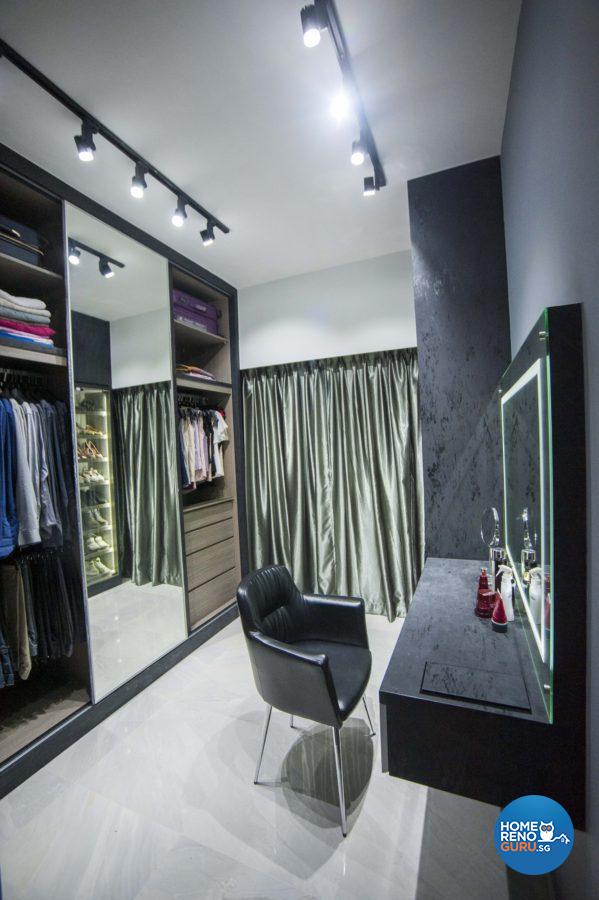 Irene had her little girl's dream come true in the form of a walk-in wardrobe, which was created by hacking the wall to an adjoining room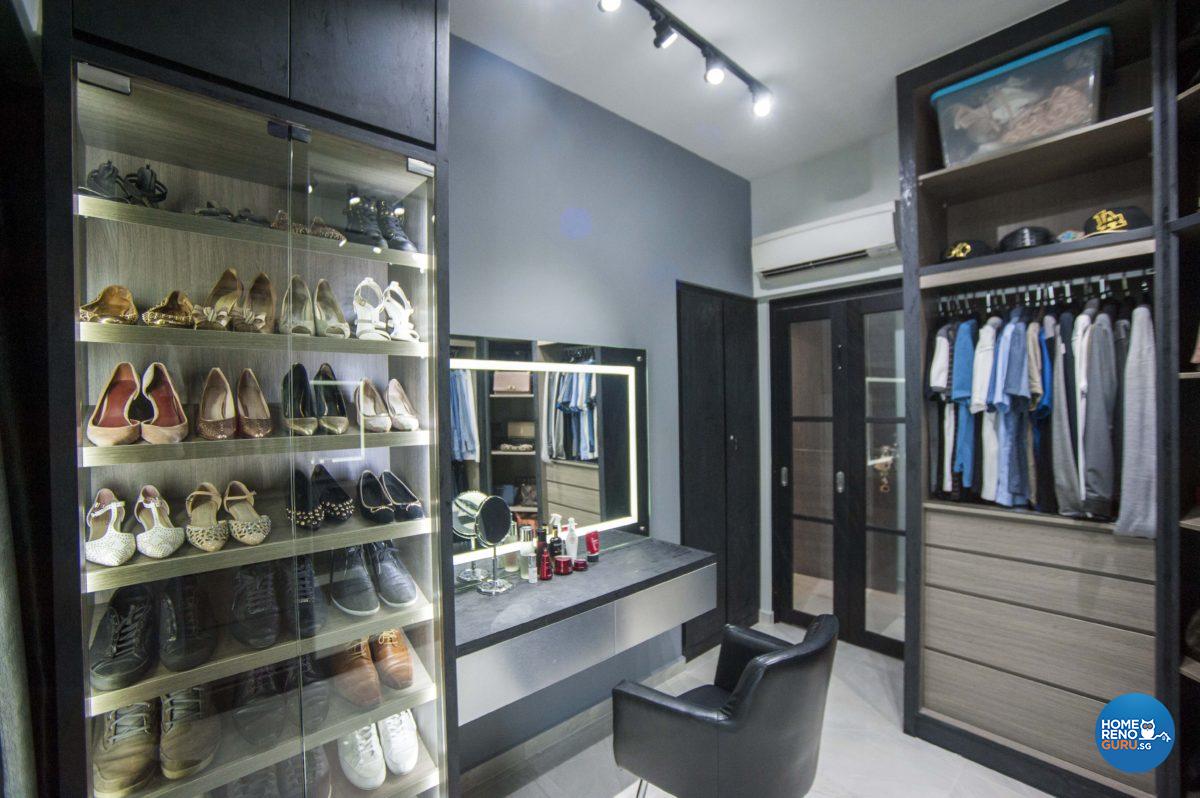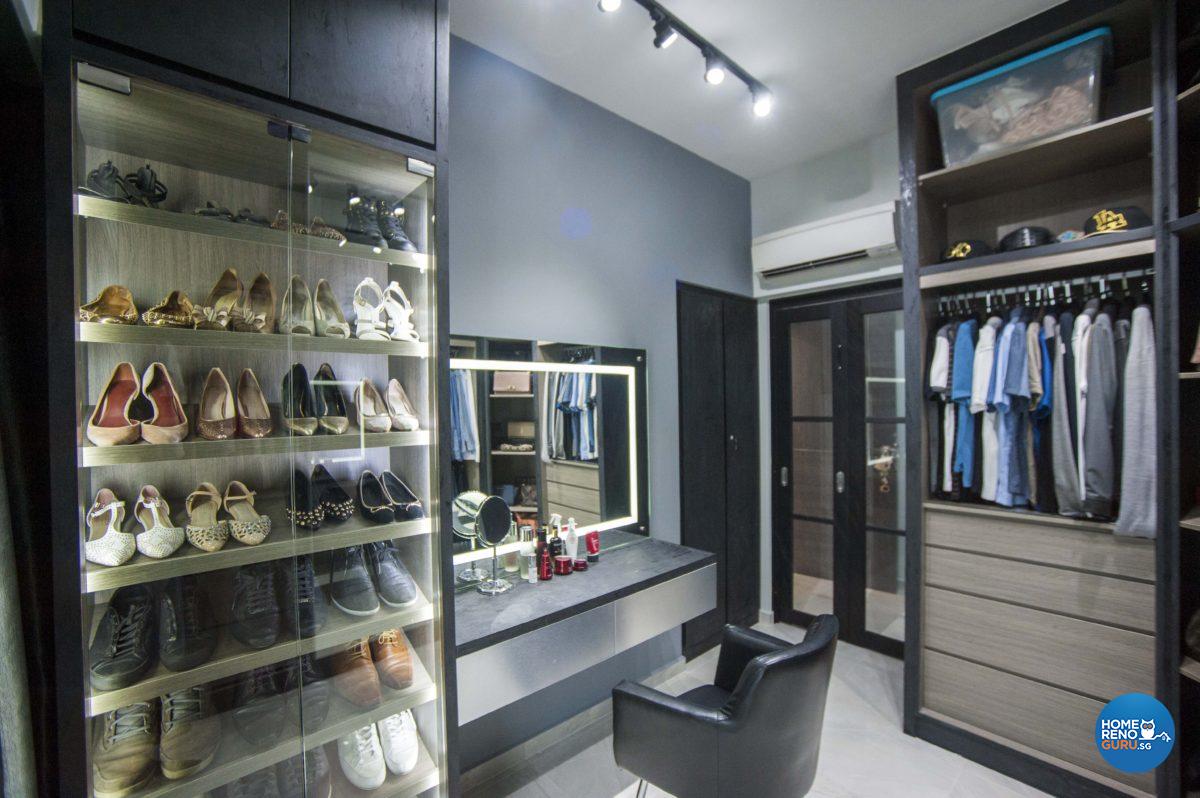 A place for everything and everything in its place in the walk-in wardrobe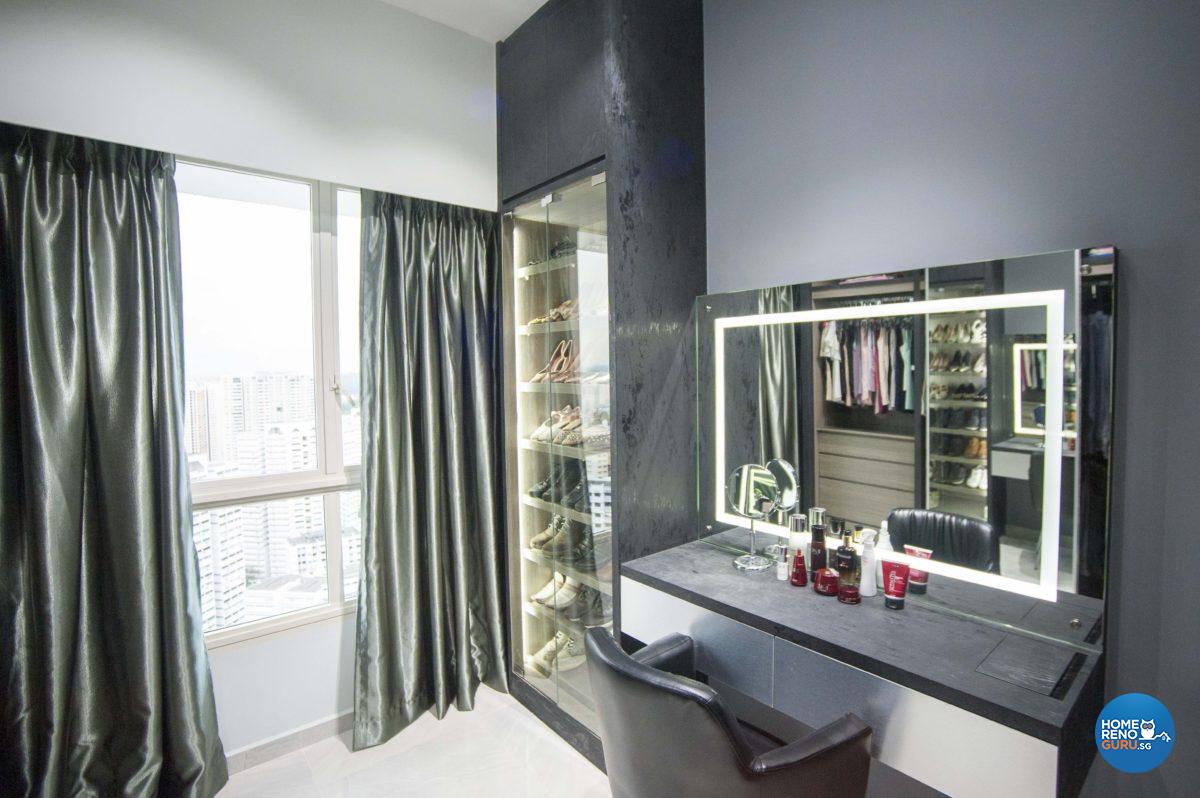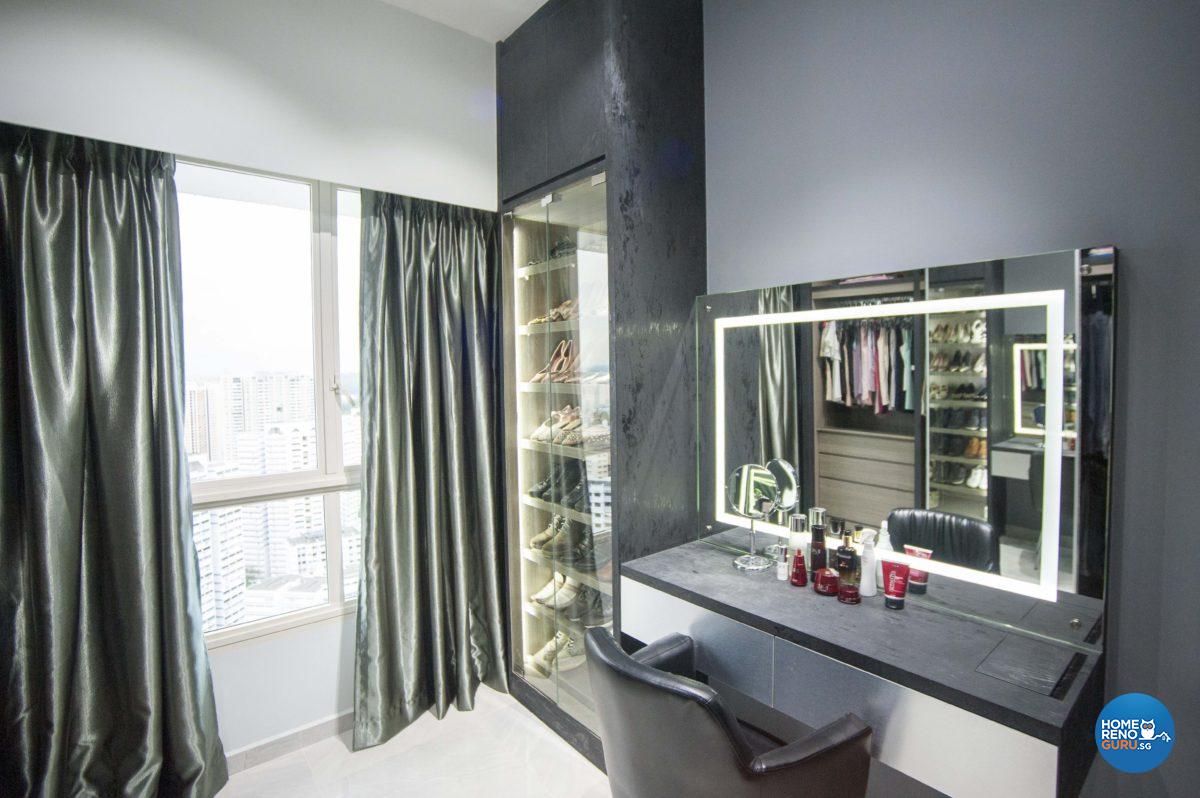 The elegant gender-neutral dressing table in the master bedroom
Ryan: We told Alvin that we wanted to have dinner while watching TV, so he suggested a rotating feature wall, which serves our purposes well.
Irene: One important feature that I told Alvin I needed is a mirror near the door so that I can do my style check before I leave the house.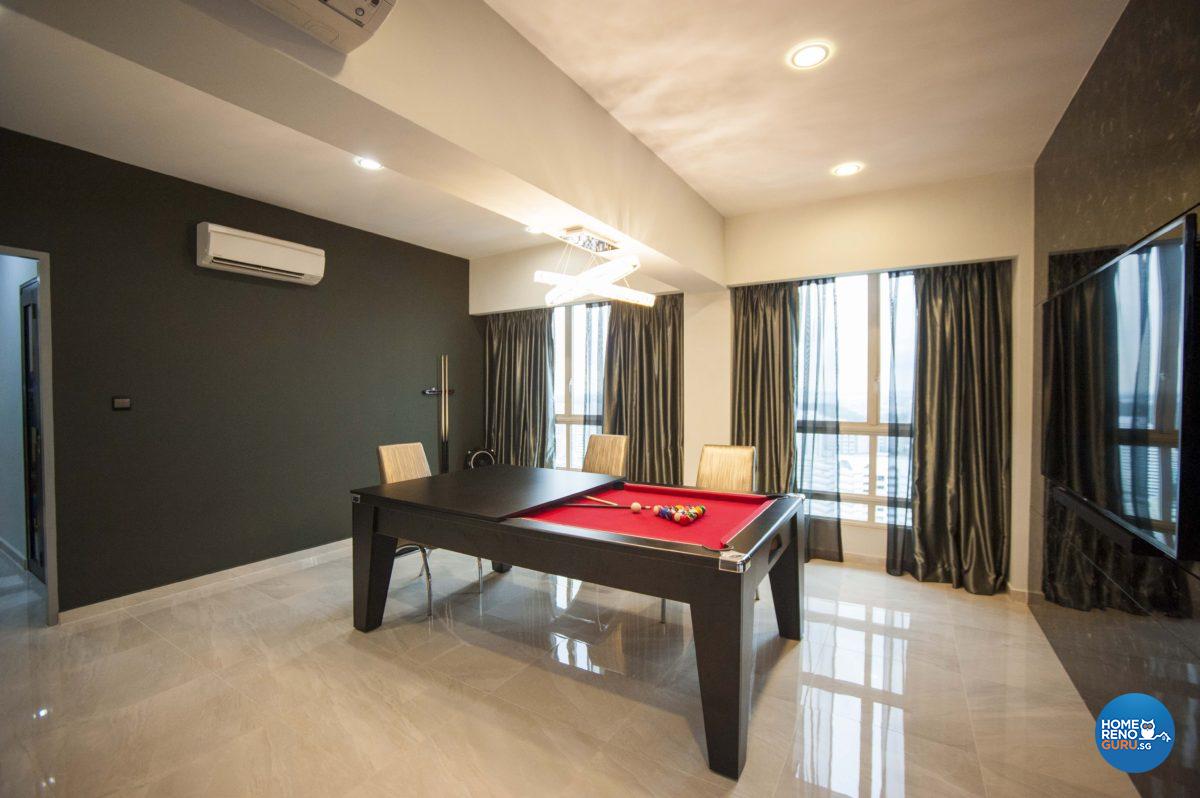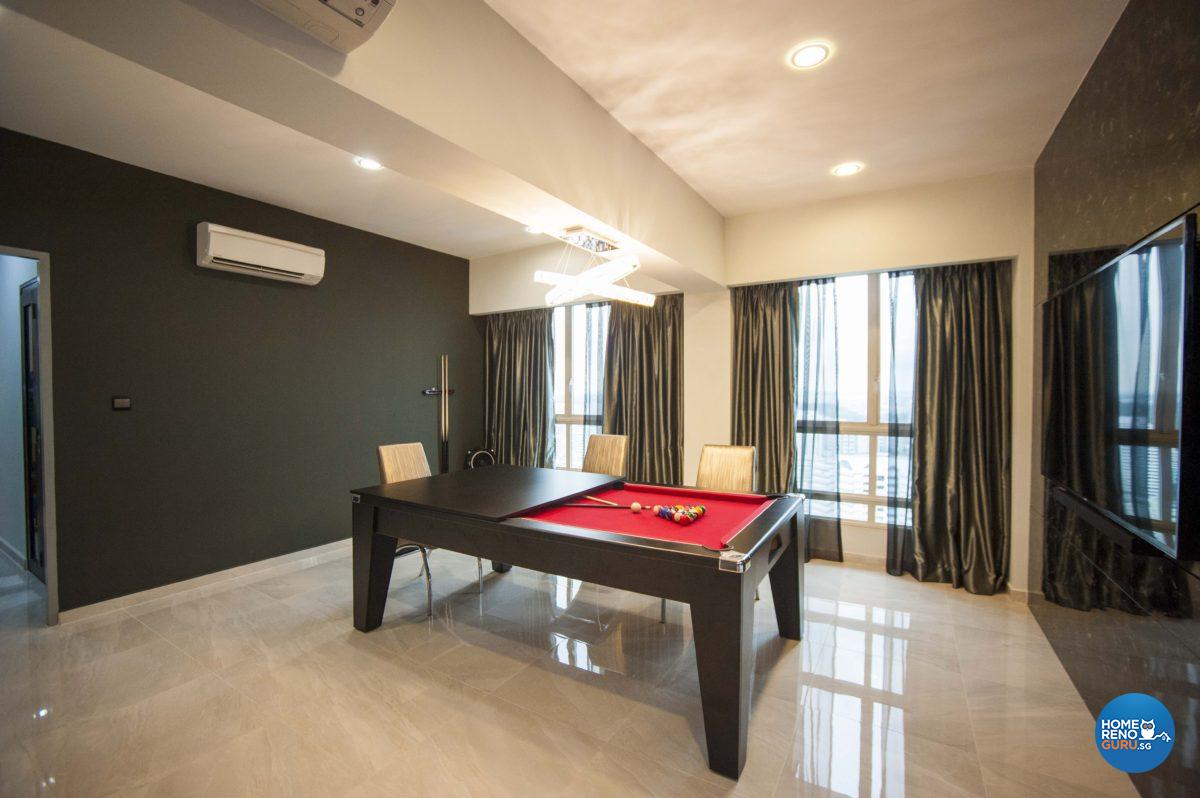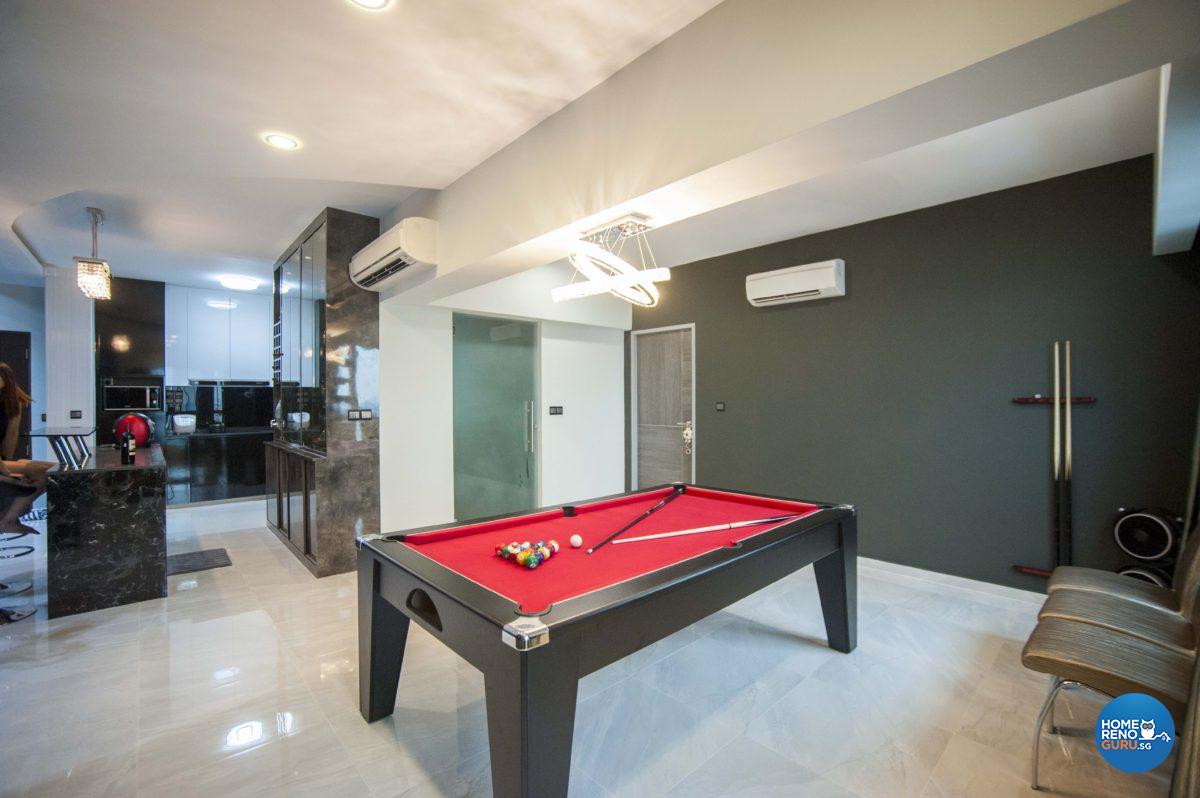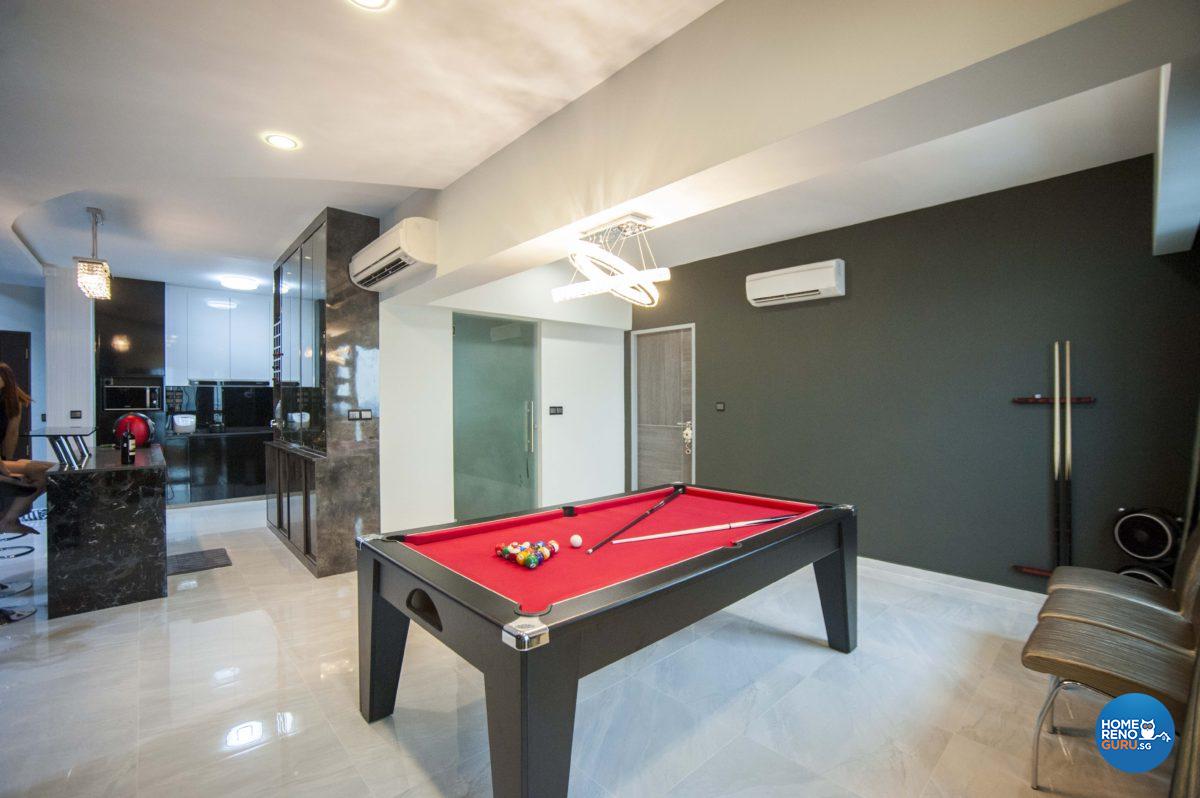 This multi-tasking space features a pool table that can be converted with a cover for dining on, and a revolving wall with a TV that be viewed from two rooms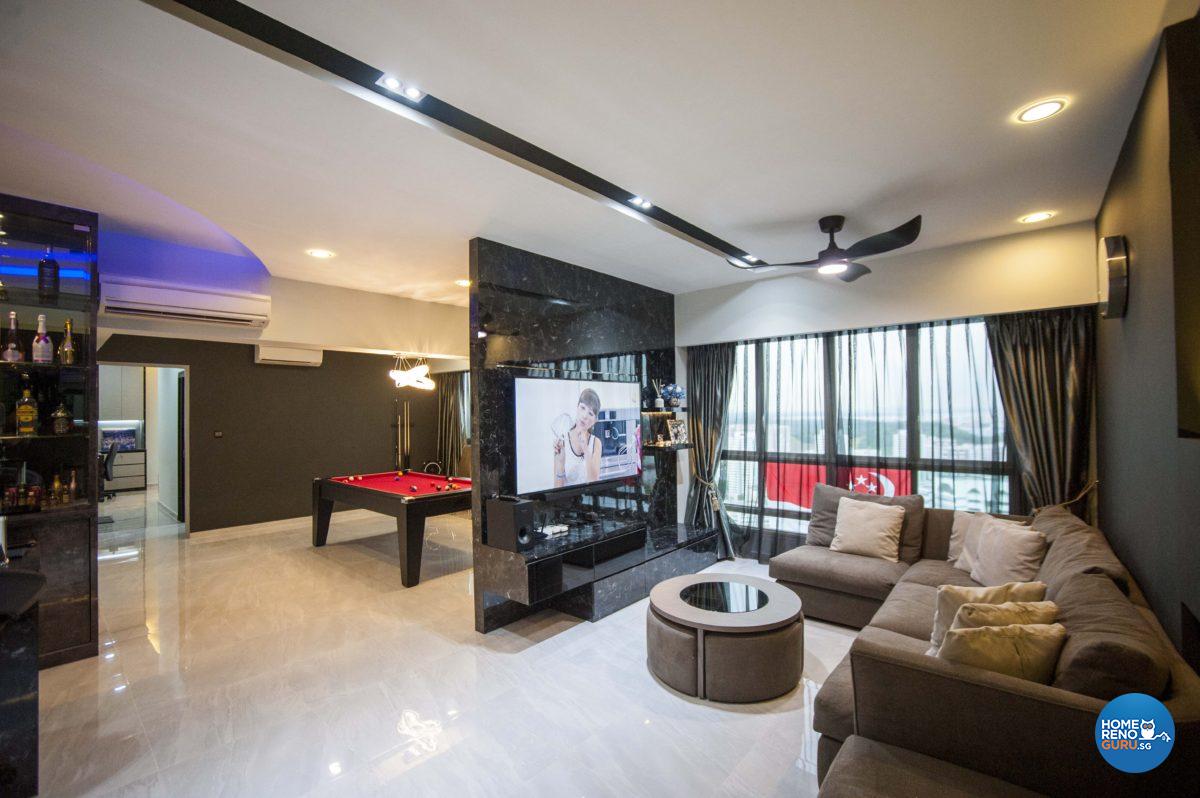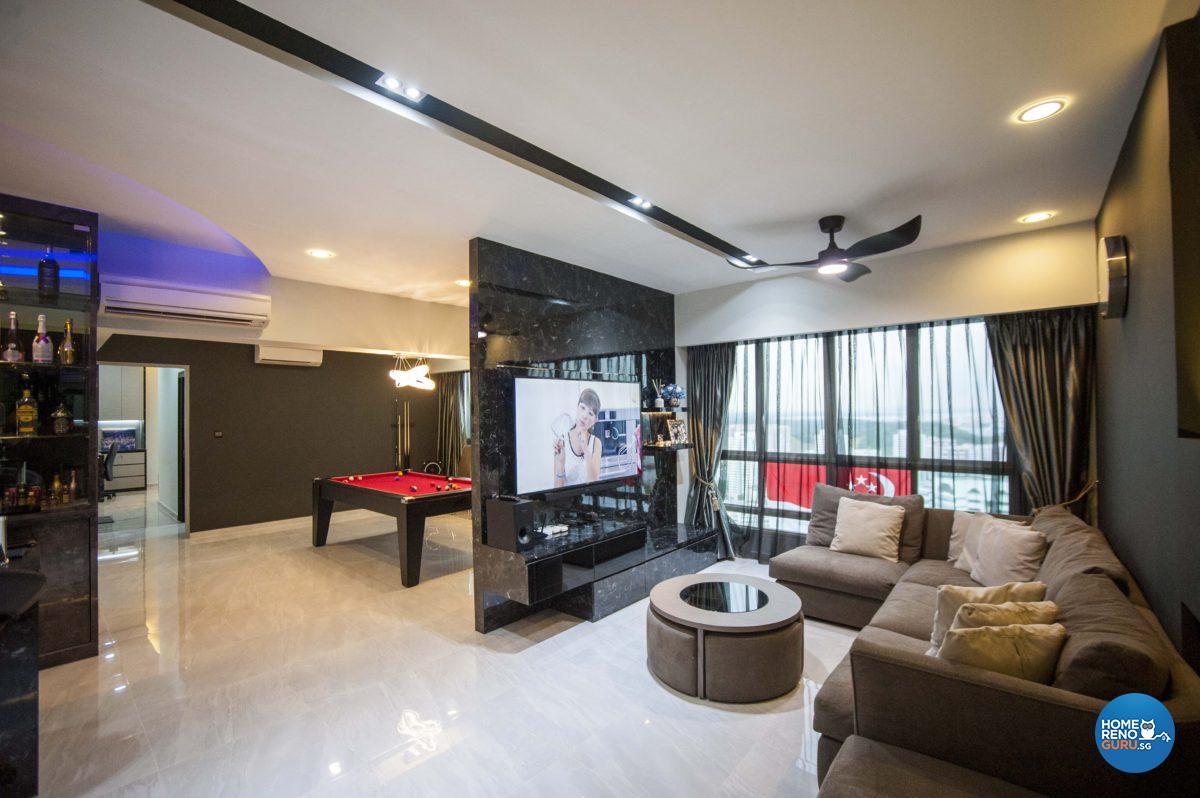 One push of the wall and the TV swings around into the living room
HomeRenoGuru: Do you have any general advice that you would like to share with other homeowners considering a home renovation?
Looking for an estimate of your renovation costs?
Let HomeRenoGuru help!
Ryan: I would like to advise owners to search online for good contractors and ID firms, and at least know your preference on your theme – whether it is modern, Scandinavian or industrial, and so on. And do advise your ID on your colour preferences.
HomeRenoGuru: Can you confidently recommend Jialux Interior and your designer Alvin?
Ryan: I would really strongly recommend Jialux Interior and Alvin, for their good workmanship, great teamwork and time management, and perfect design. We would like to thank Alvin, our ID, for making our dream home a reality.