Dream Home: Oreo's Lounge
Timothy and Kathleen had a fairly clear picture of what they wanted from their home renovation, and found just the company and just the designer to implement their plans. Lucas of Posh Living Interior Design impressed them from the first meeting, and continued to impress until the handover of the completed project. Even the furkid, Oreo, wholeheartedly approves!
Project Snapshot
Name(s) of Homeowner(s): Timothy Teo and Kathleen Tan
House Type: BTO 5-room HDB Flat
Size of Home: 110 sq/m
Cost of Renovation: $40,000
Duration of Renovation: 5 weeks
Interior Design Firm: Posh Living Interior Design Pte Ltd
Name(s) of Designer(s): Lucas Chew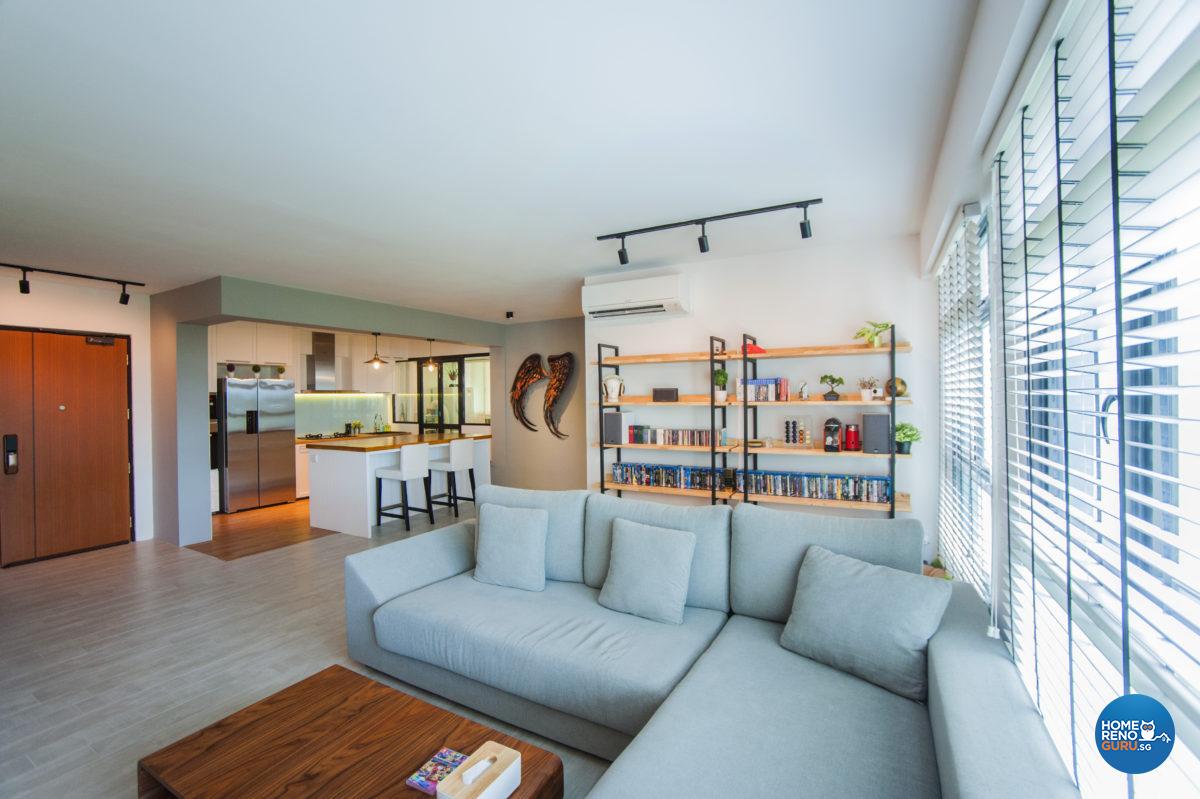 The bright and breezy living area is flooded with natural light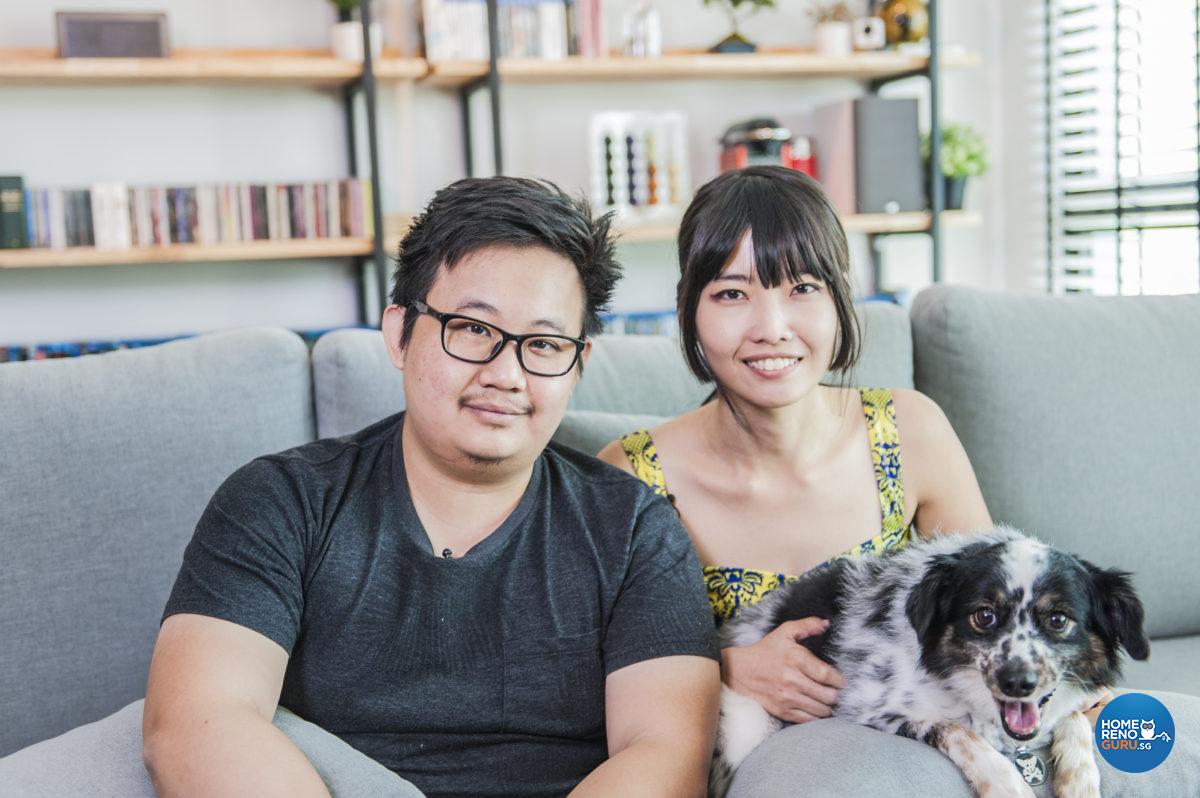 Timothy, Kathleen and the master of the house, Oreo!
HomeRenoGuru: How and why did you come to engage Posh Living to renovate your home?
Timothy: I did quite a bit of research online, and met up with a few IDs, but they were not really compatible with us. Then I met up with one of my good friends and he introduced Posh Living Interior Design to us as well as Lucas, who eventually became our ID. We called him and met up with him and realised that this could be the one! There was this chemistry between us that really worked very well.
Kathleen: He's very trustworthy, he's very responsive.
Timothy: And that is all that matters, actually.
HomeRenoGuru: Did you have a clear vision of what you wanted your home to be?
Timothy: From my four years of studying in Melbourne, I had a rough idea of what I wanted my house to be, which is a minimalistic and contemporary design with an emphasis on space. So that's where Lucas stepped in, and he suggested that we knock down the kitchen walls.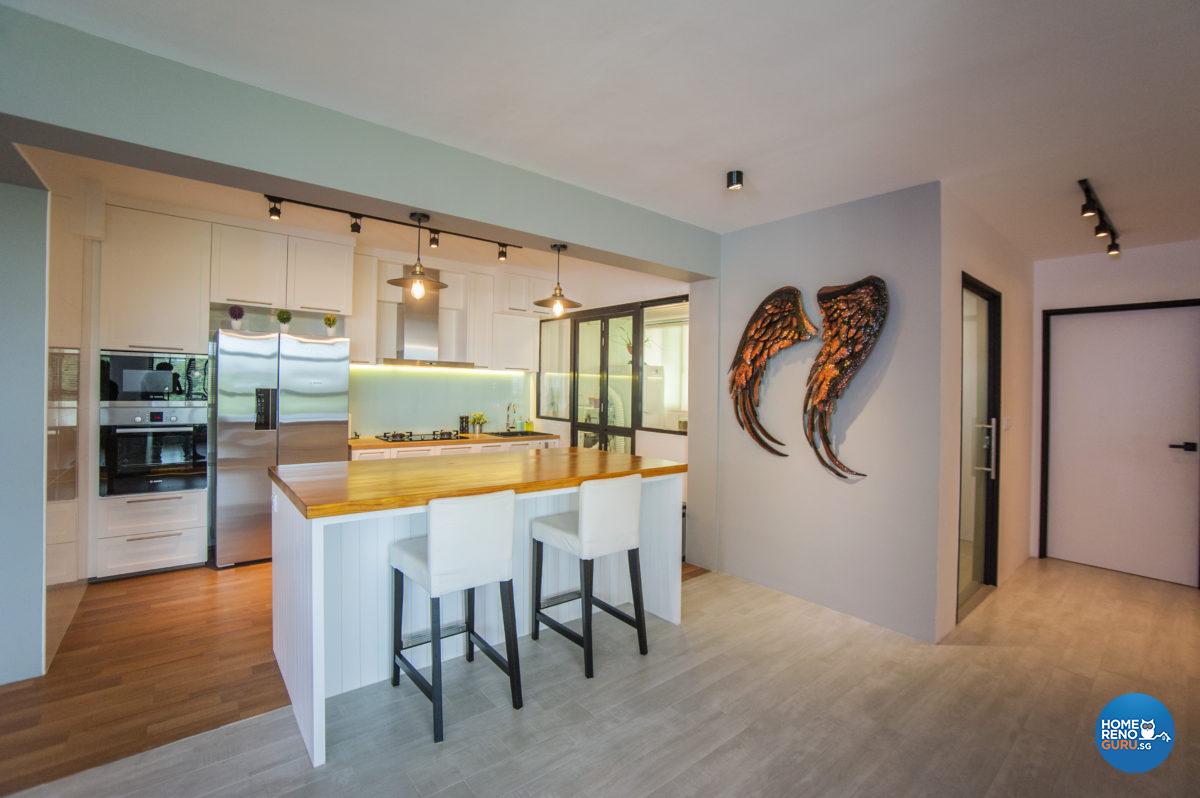 The wood-topped breakfast bar serves to loosely separate the open concept kitchen from the dining and living area
Kathleen: I also asked for a lot of wood around the house so that it's warmer and not so cold.
Timothy: It gives it a very natural and warm feel to the house.
HomeRenoGuru: How did you find the actual renovation process?
Kathleen: The renovation process took about five weeks, which was really fast – we thought it'd take longer.
Timothy: I had no qualms here, as the entire renovation process was really smooth, from choosing the layout to the tiles and paint selection, everything went really smoothly. I was very satisfied with everything.
HomeRenoGuru: What are your favourite parts of your home?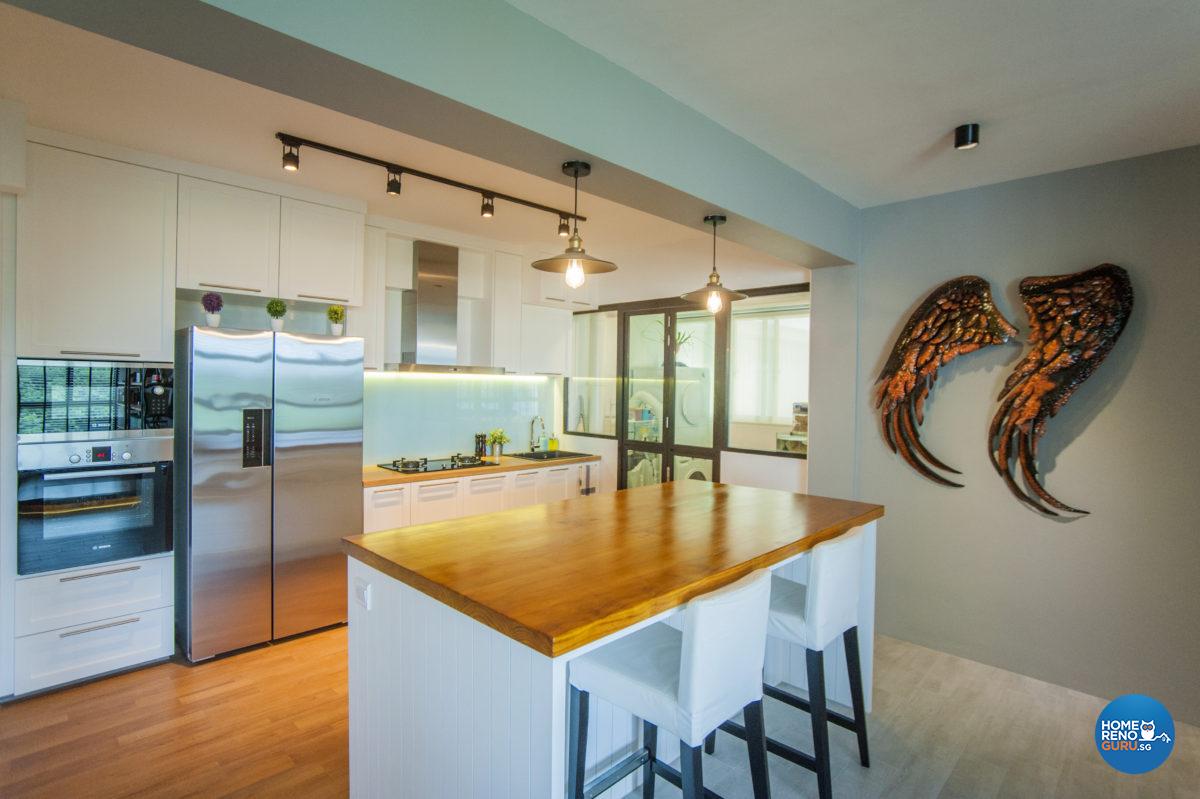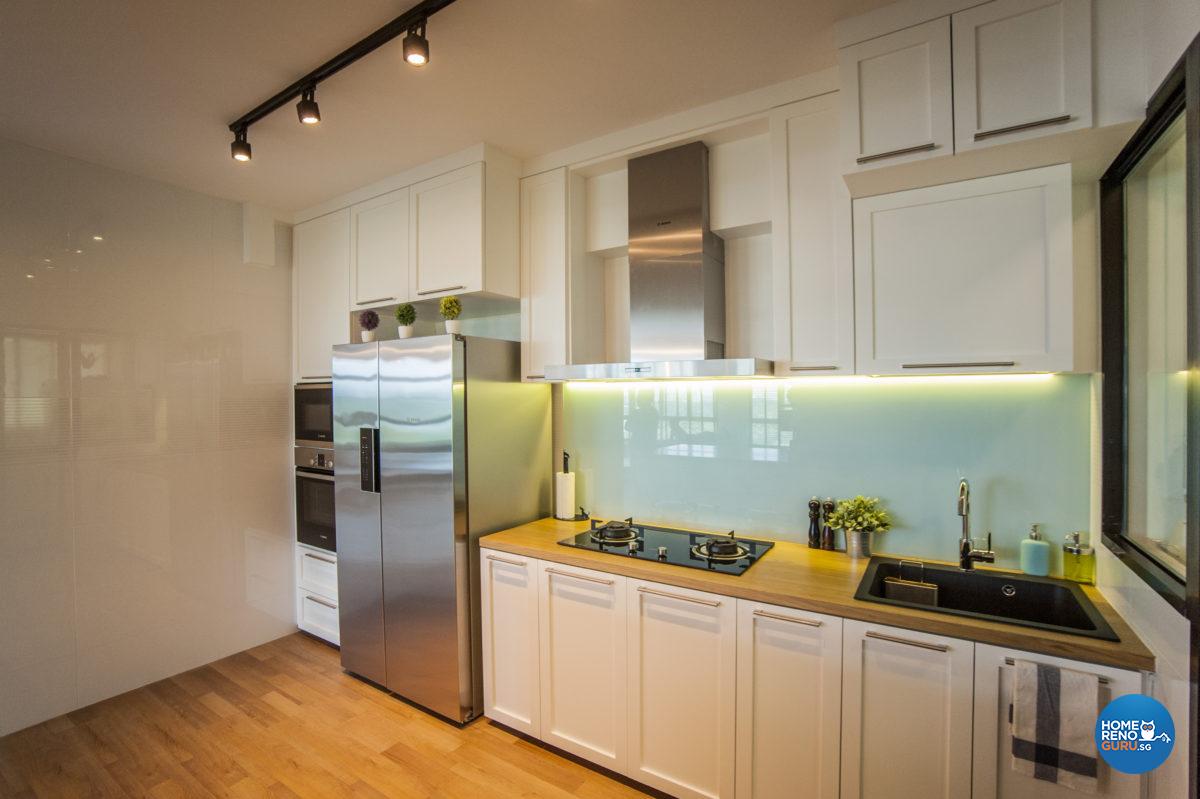 With track lighting and loads of storage space, the kitchen is a cook's dream
Timothy: My favourite part of the house is the kitchen, as it's where I do all my baking and my cooking. The service yard originally had glass windowsills, which let out a bit of air through the gaps, so we got Lucas to replace them with an entire piece of glass to keep the aircon in as well as to keep outside smells from coming in.
Kathleen: We also converted it into a pet area, which is where Oreo eats his dinner and does his business. We also keep our fish tank there as well.

The former service yard, off the kitchen, is now a pad for the pets of the house – Oreo and a tank full of fish
Timothy: My favourite part of the house would be the living room. This is where I entertain my guests. I have lots of speakers and amplifiers around so I told Lucas that I wanted all the cables to be concealed. This was very important for me. Also I built a platform behind the sofa. So for safety, we had integrated LED lightings installed on it. The original idea of the platform was for our tea area, but Oreo had different ideas for it.
Kathleen: Yeah, he has colonised it and it's now his lounge area!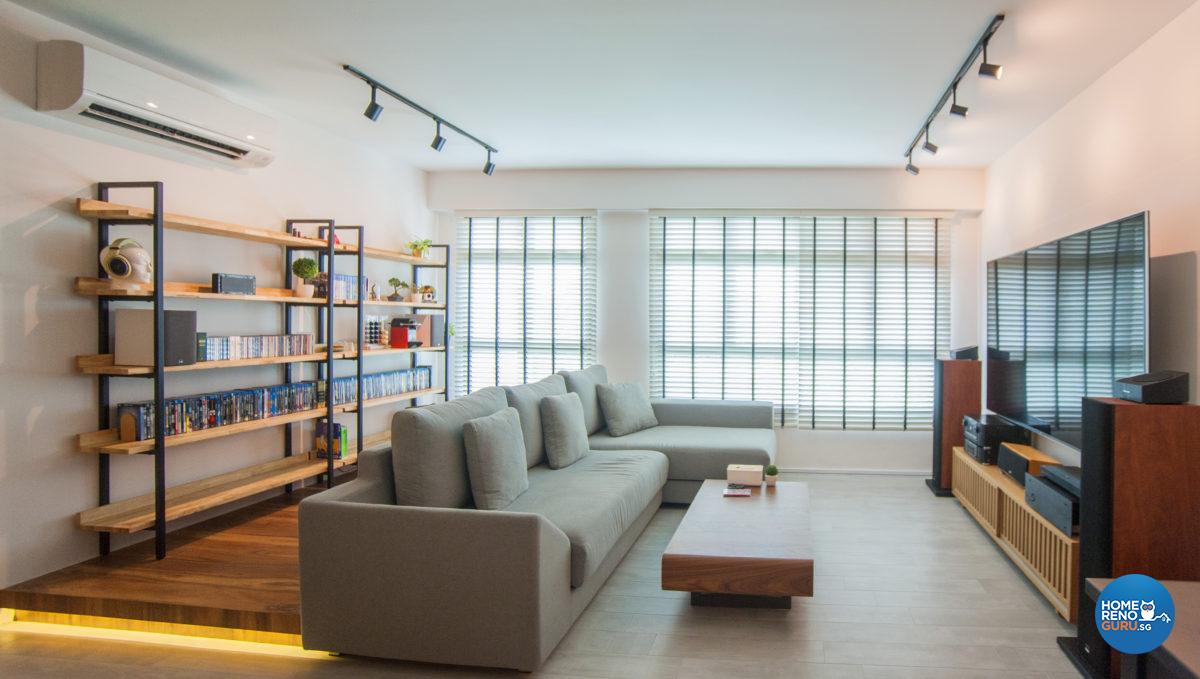 Orignially intended for drinking tea, the cove-lit raised platform behind the sofa has been 'colonised' by Oreo
Timothy: Another favourite part of my house is my study room, which is where I do most of my work and play my games. I wanted a bookshelf that would fit all my cameras and figurines and games, but I didn't want a full size one that would take up too much space on the floor. So Lucas suggested this industrial type of open bookcases, and the shelves look very good!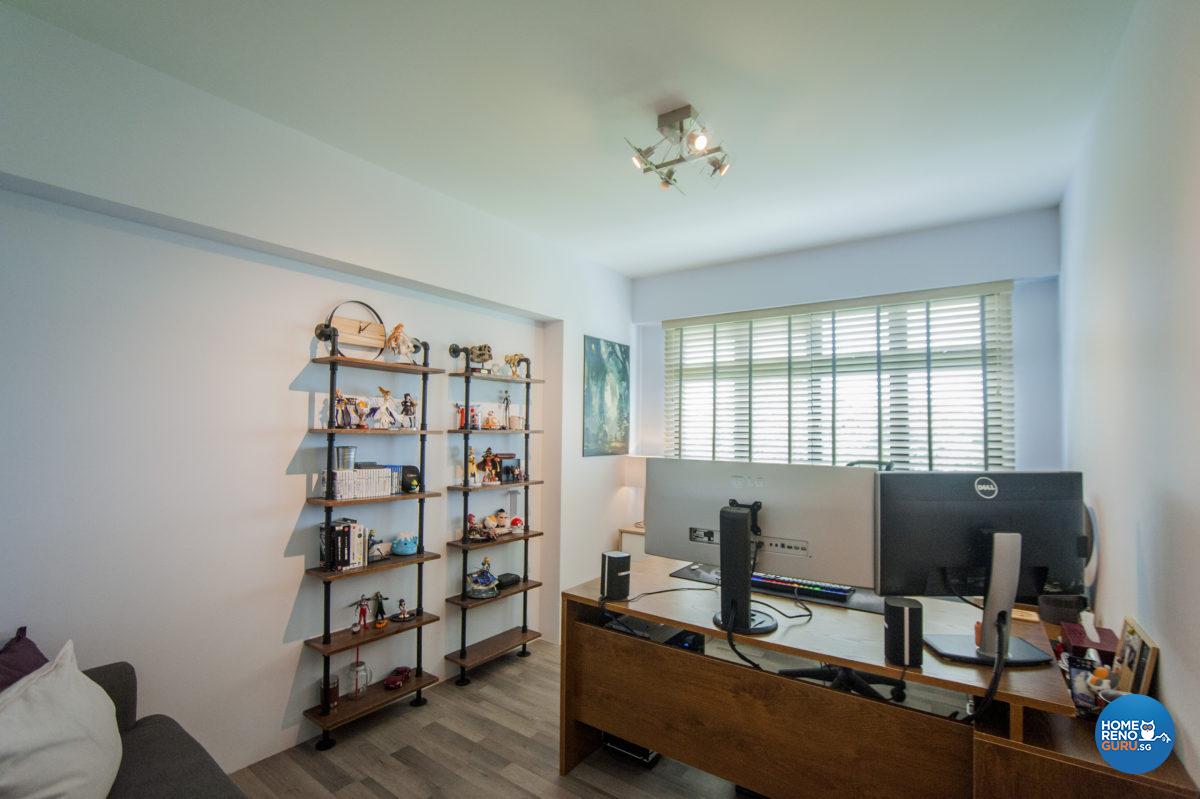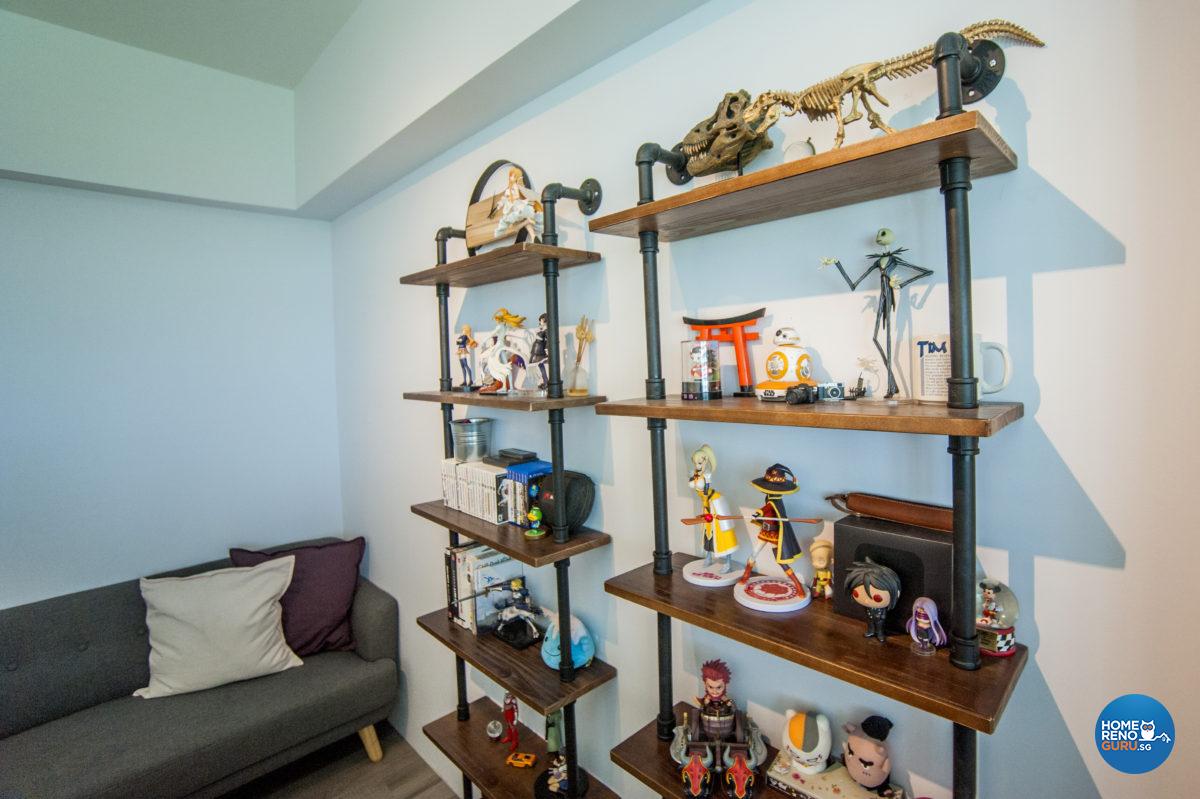 Designed for work, play and display, the study room features industrial-style open bookshelves to house Timothy's collectibles
Kathleen: The master bedroom is where I spend most amount of my time because I tend to sleep a lot. Lucas actually built this customised headboard for our bed with integrated lighting, so that we can do our individual activities on each side of the bed without disturbing each other. We also have cove lightings.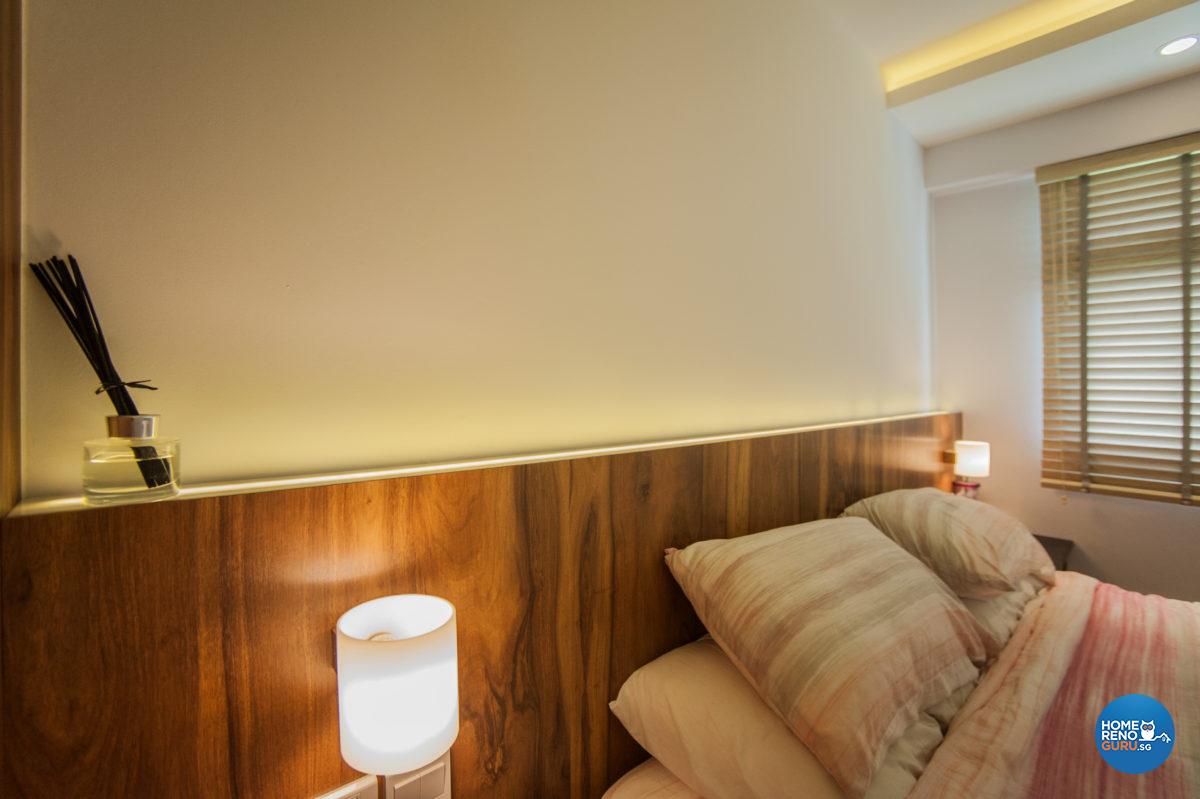 Indirect cove lighting cloaks the master bedroom in cosiness, while glossy woodgrain panelling adds to the overall warmth
Timothy: The cove lights give a very warm feel, as if you're in a hotel. There's no direct light so it isn't harsh at all, and you feel very cosy in the room.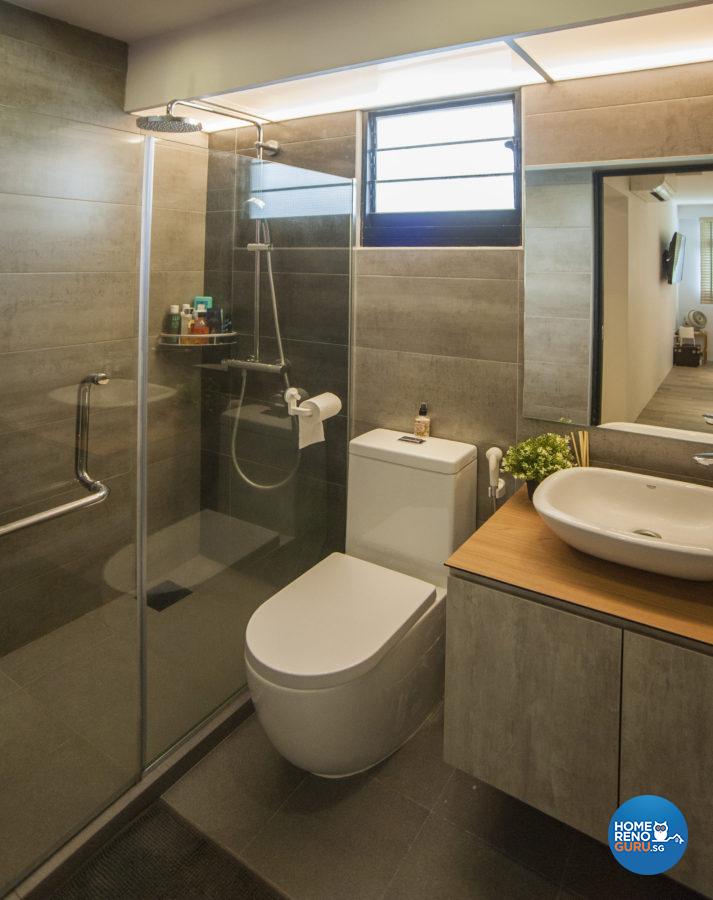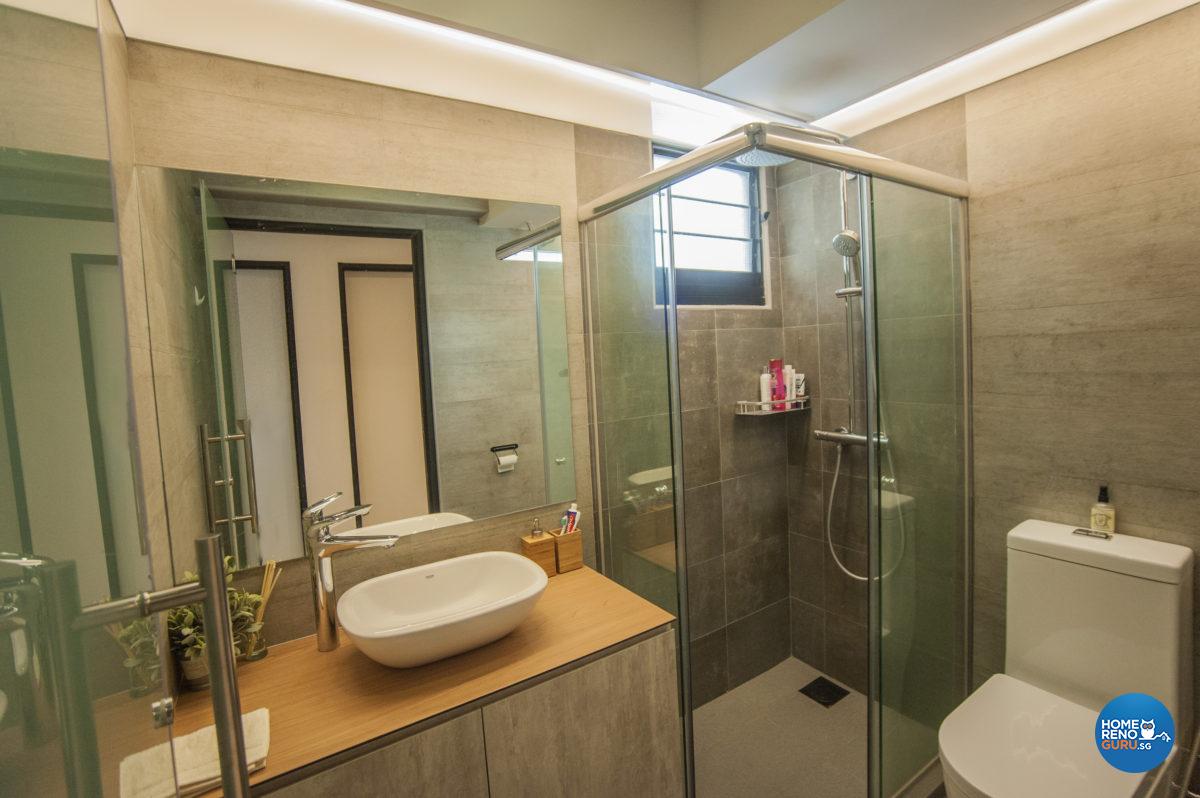 The hotel-like master bathroom is compact yet smartly planned to optimise storage under the basin and behind the mirror
Looking for an estimate of your renovation costs?
Let HomeRenoGuru help!
HomeRenoGuru: Do you have any advice to share with homeowners embarking on a renovation?
Kathleen: Our advice for homeowners that are embarking on their renovation is to do a lot of research and to choose your ID based on their competency. With ample research, you will be able to find out more and know more about the general pricing out there in the market.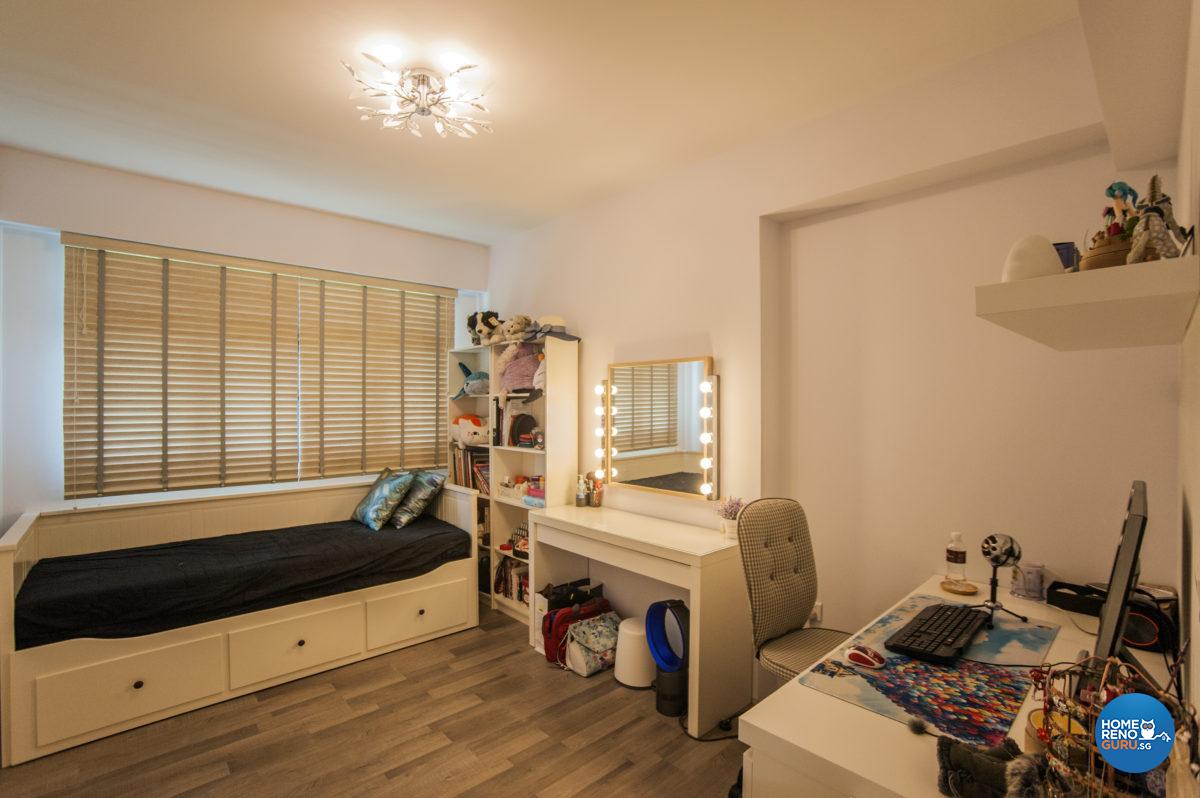 The pleasant spare room contains an attractive daybed for occasional guests
HomeRenoGuru: Would you recommend the services of Posh Living and Lucas to other homeowners seeking an interior design company?
Timothy: I would definitely recommend Posh Living Interior Design and Lucas. I cannot emphasise how much of a joy it was working with them. Everything went perfectly, it was very smooth. It's a very, very comfortable house and I always rush back from work so that I can come back to this beautiful home. Thank you, Lucas and Posh Living Interior Design…
Kathleen: … for this beautiful home!