Dream Home: Open, Bright and Pure!
When homeowners Terence and Janelle moved into their new home, they went straight back to the company that had undertaken the renovation of their office three years earlier, Designscale Pte Ltd. They love the uplifting mood and feel of their home, which ticks the box for every item on their wish-lift.
Project Snapshot
Name(s) of Homeowner(s): Terence Heng and Janelle Toh
House Type: BTO 5-room HDB Flat
Size of Home: 114 sq/m
Cost of Renovation: $70,000
Duration of Renovation: 8 weeks
Interior Design Firm: Designscale Pte Ltd
Name(s) of Designer(s): Jeremy Ong and Daphne Heng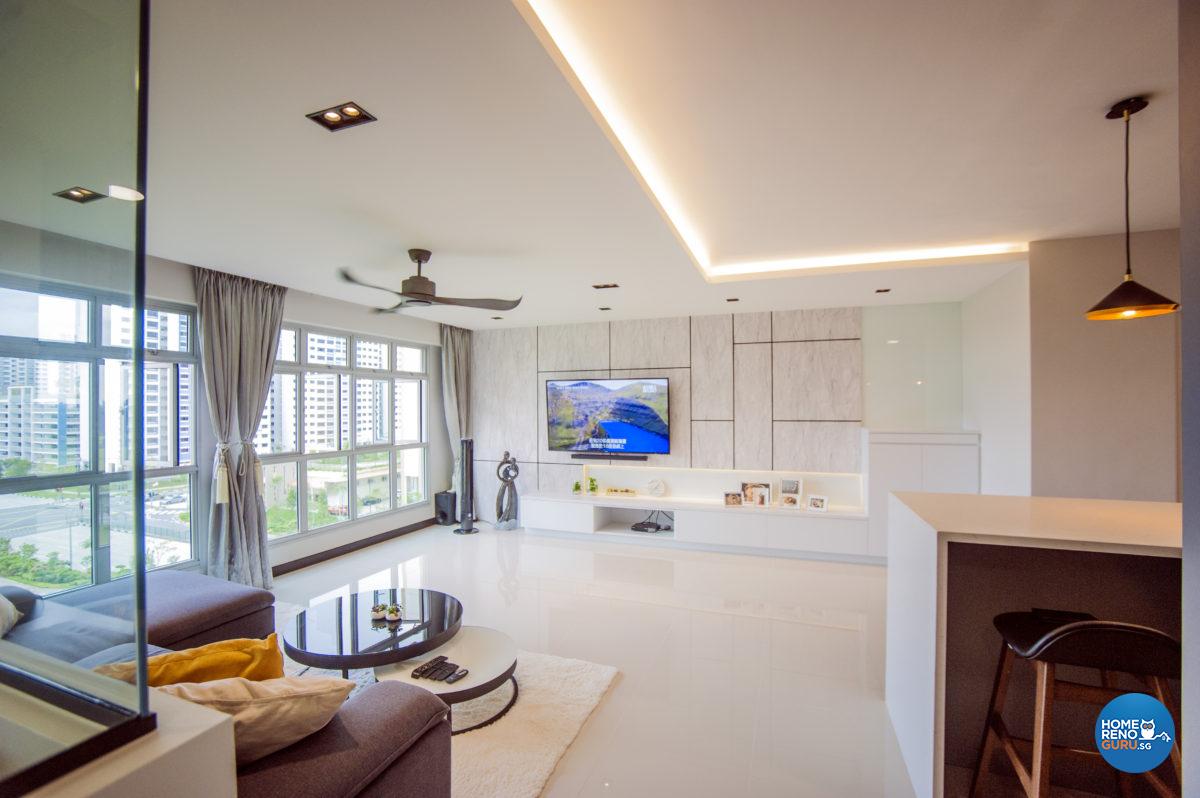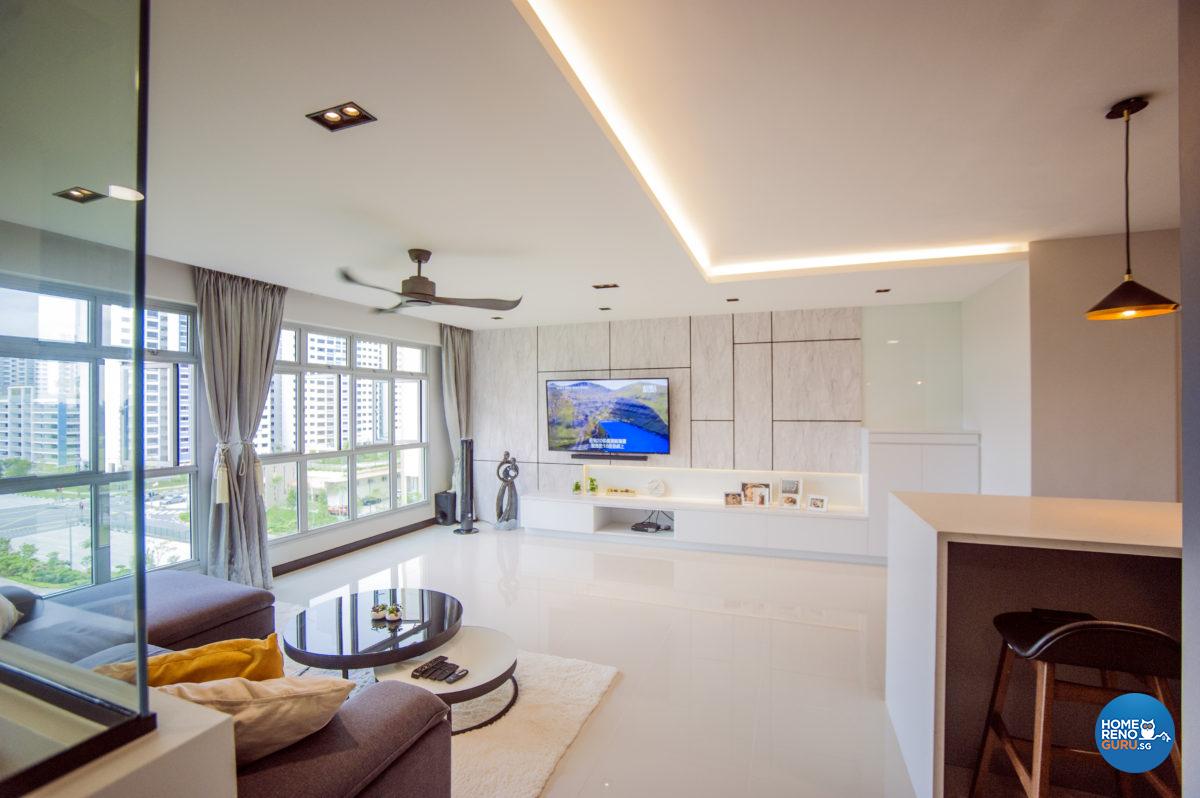 A sense of calm envelops this bright, white space, illuminated by natural light and three types of lighting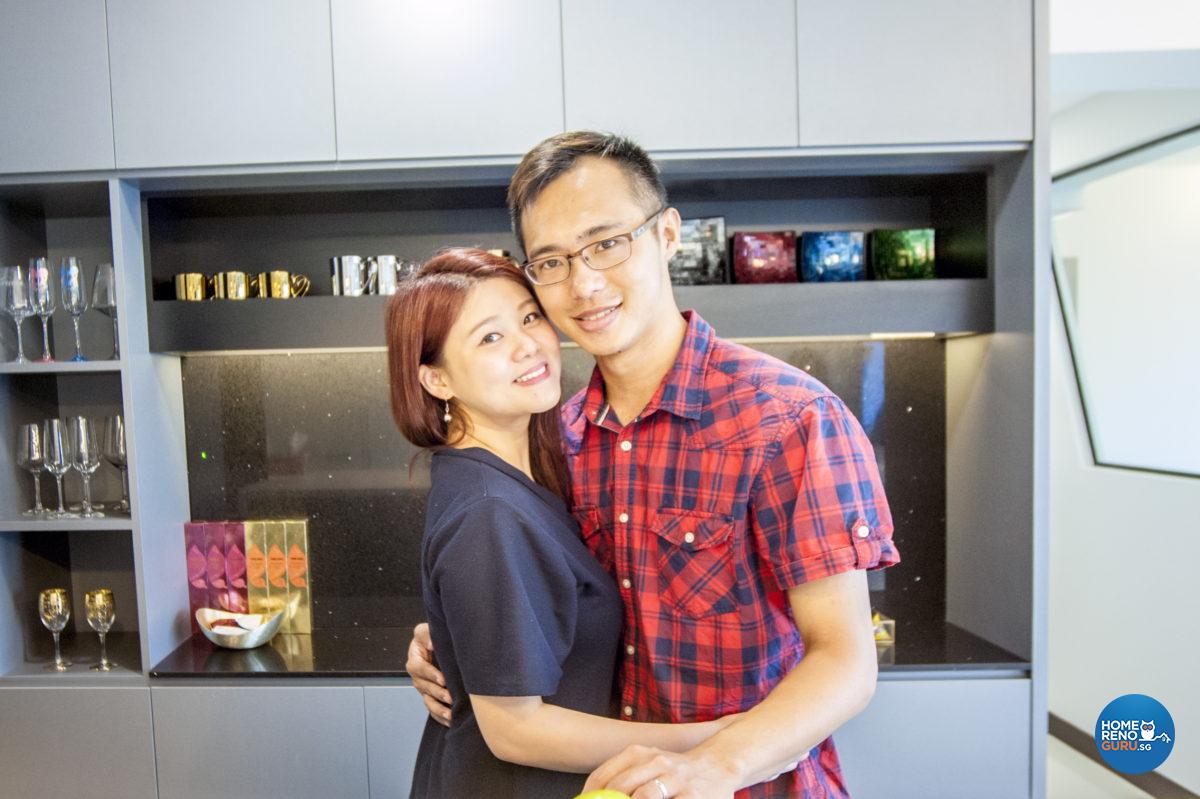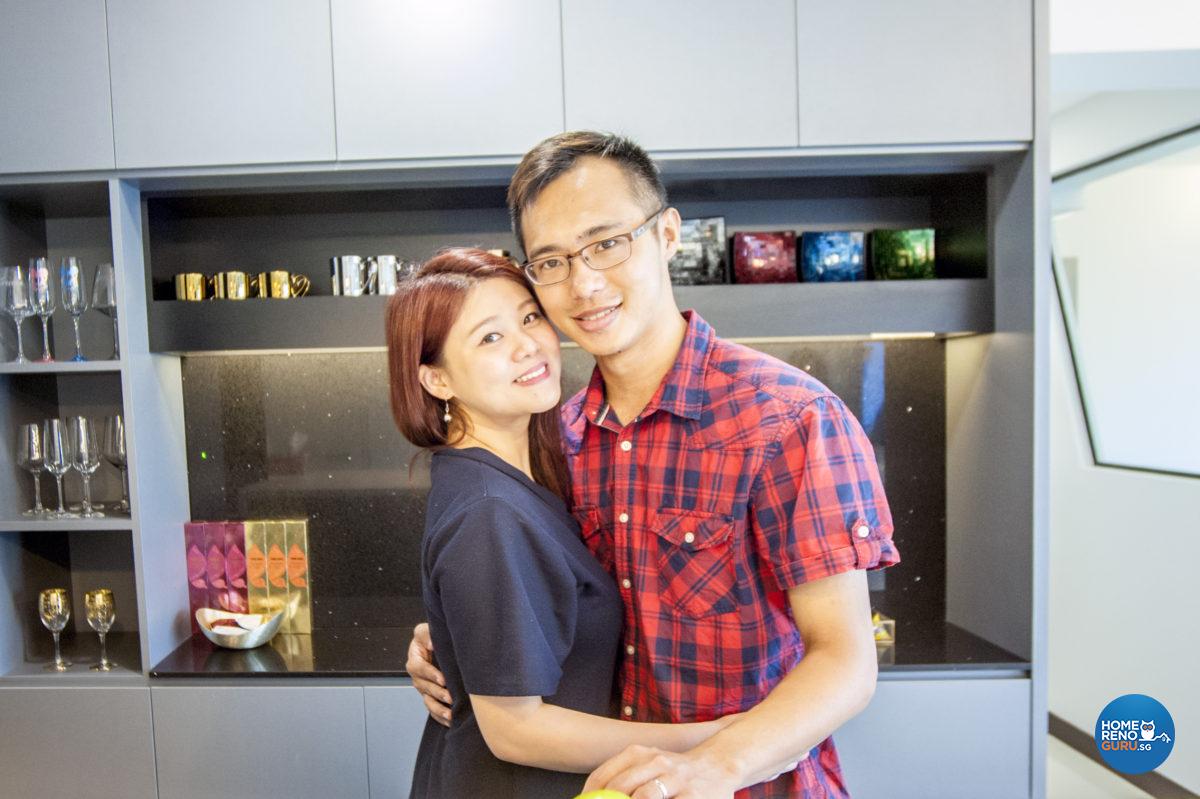 Happy homeowners Janelle and Terence
HomeRenoGuru: How and why did you engage Designscale to undertake the renovation of your home?
Terence: We looked for Designscale because three years ago we engaged their help to renovate our office and we found their work and services to be excellent. So, to build our dream home we went back to them again.
HomeRenoGuru: What was your brief to your designer?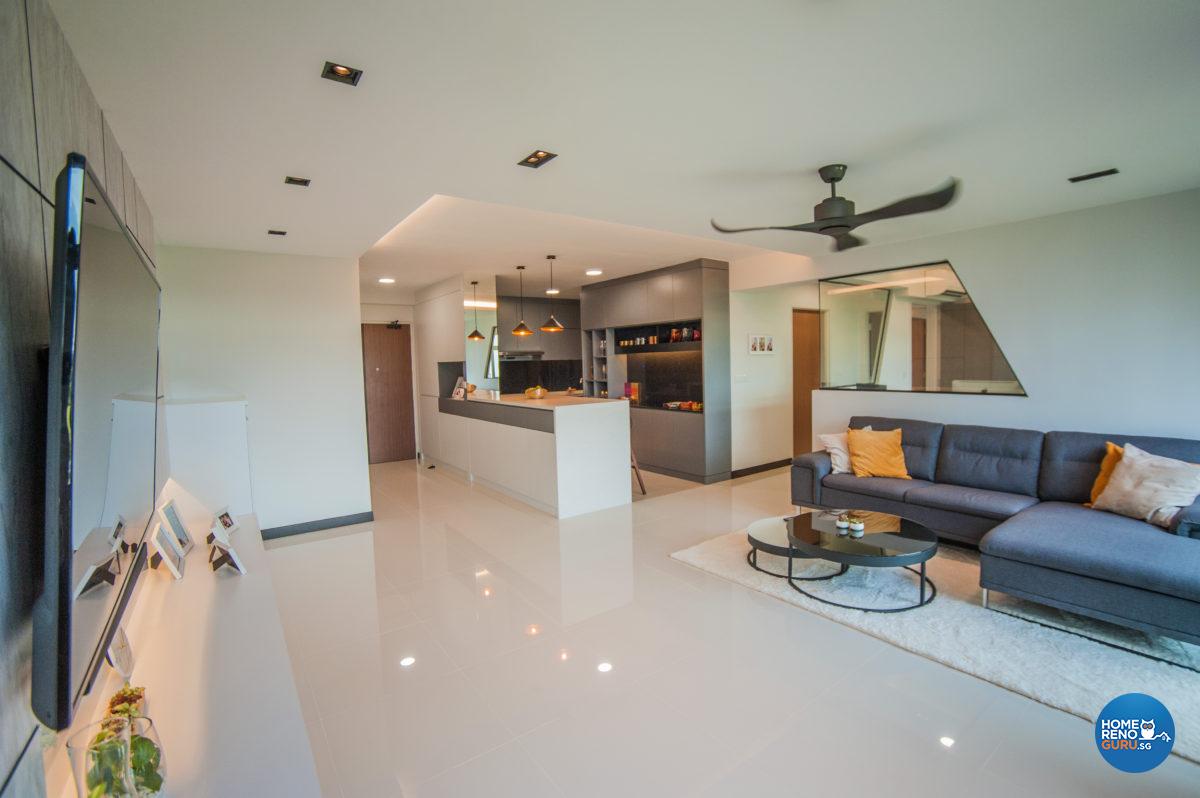 The open space living area avoids excess ornamentation and embraces simplicity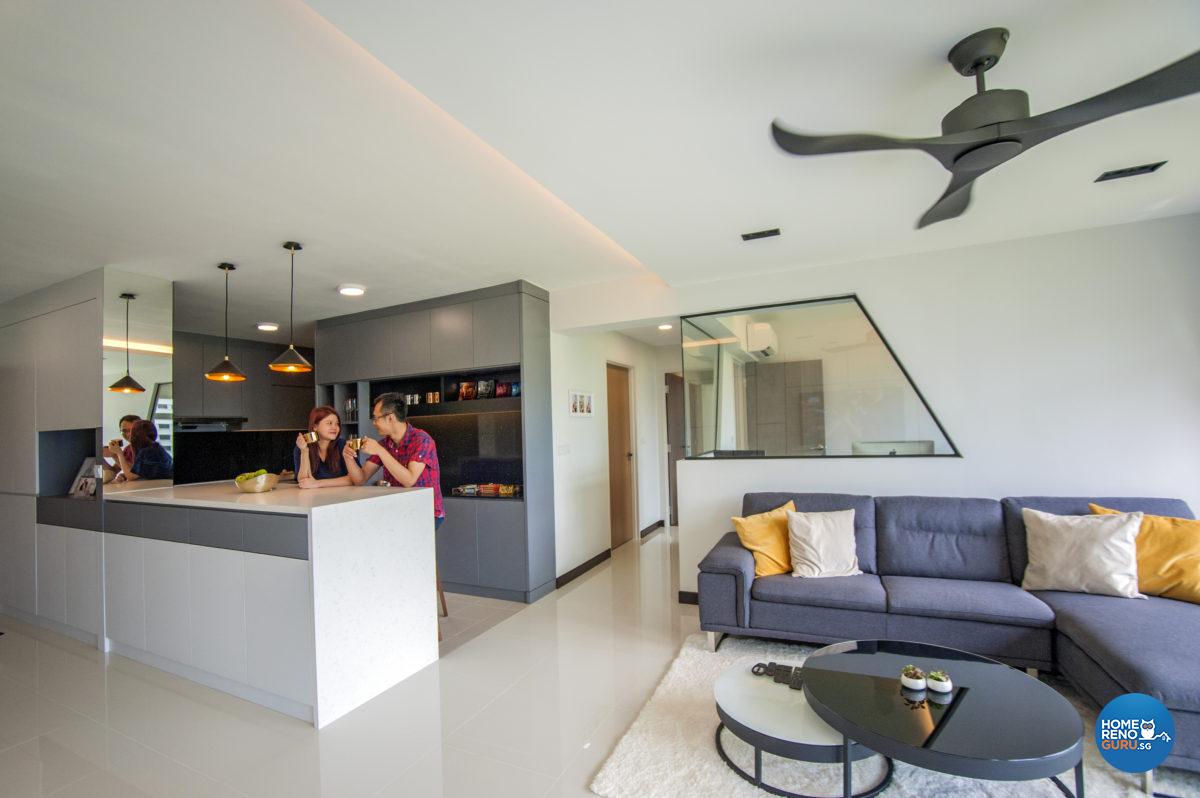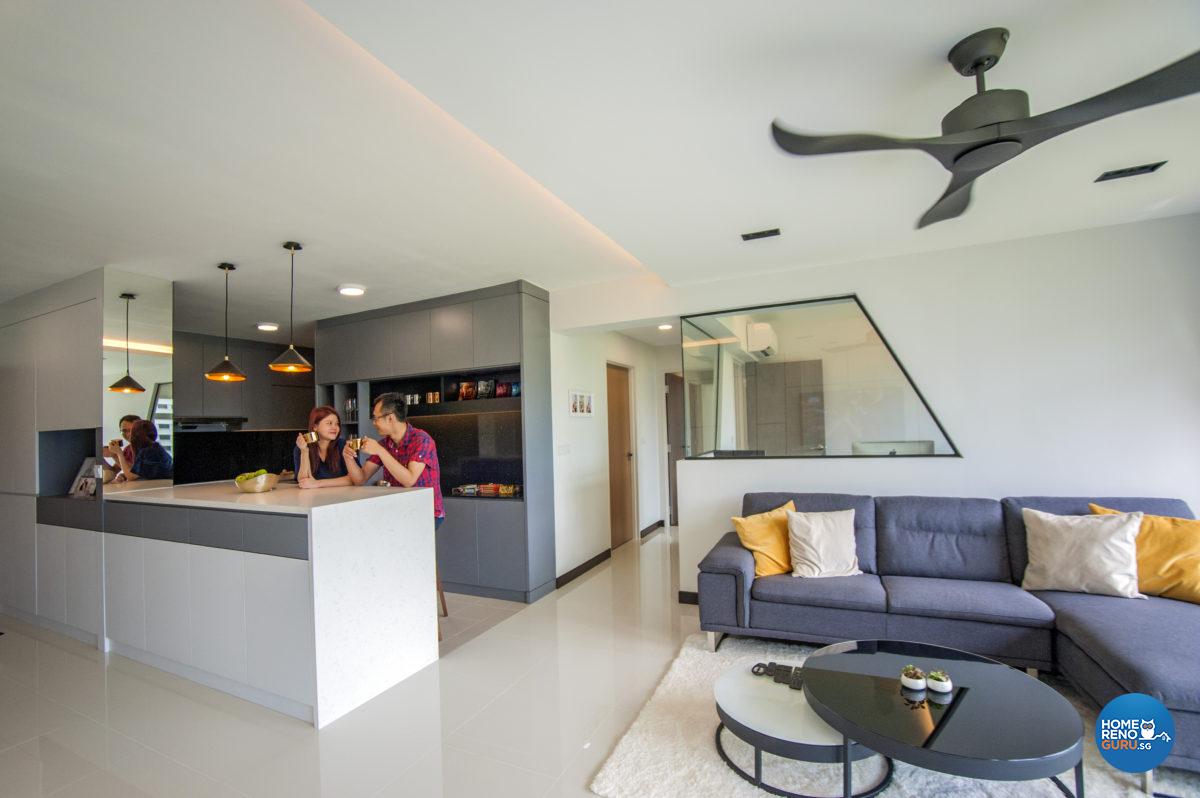 The bar counter defines the kitchen area while doubling as worktop and dining space
Janelle: What we wanted for the house was something open, bright and pure.
Terence: And we also want it to be unique, not what others have done before. Our specific requests included an island counter in the kitchen and a walk-in wardrobe.
HomeRenoGuru: What do you love most about your renovated home?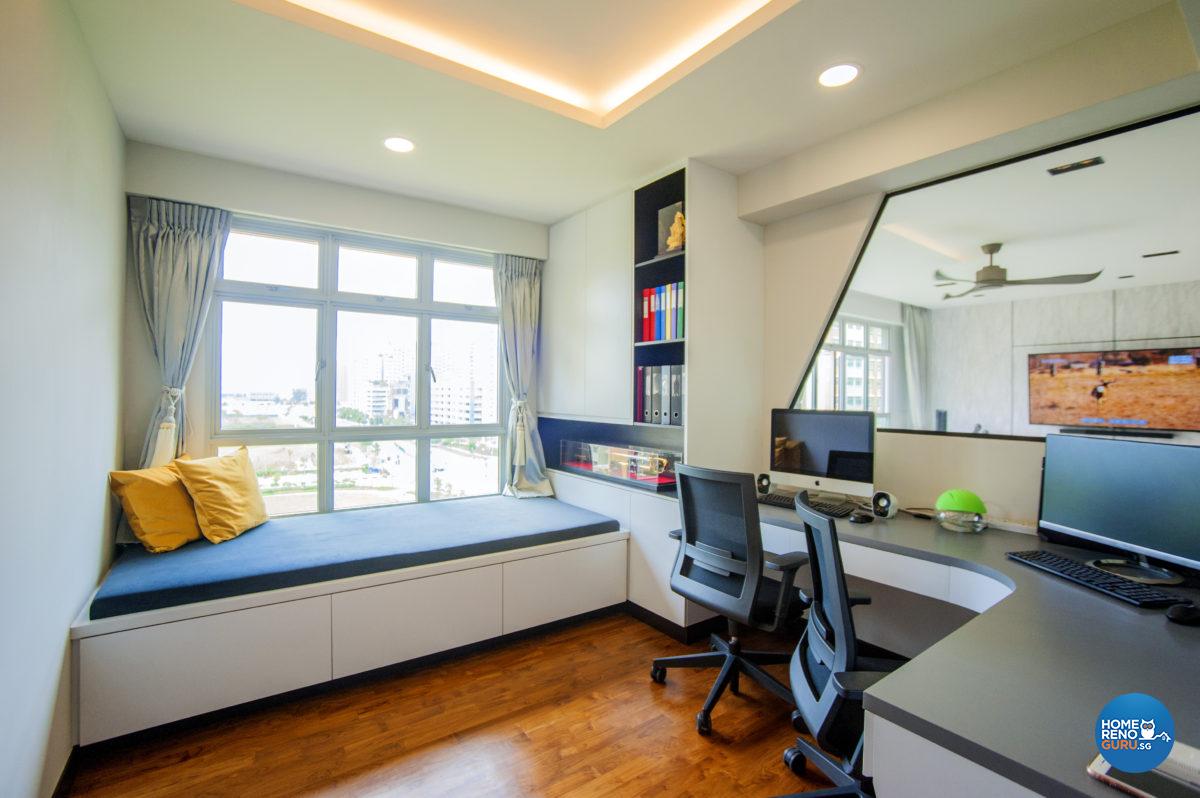 The study room features a distinctive and eye-catching L-shaped window onto the living area and a sunbed under the window
Terence: My favourite part of the home would be the study room because it infuses a work-life balance into the whole concept. After my work, I can actually rest at the sunbed and read a book. There are also a lot of storage spaces for me to put my stuff in.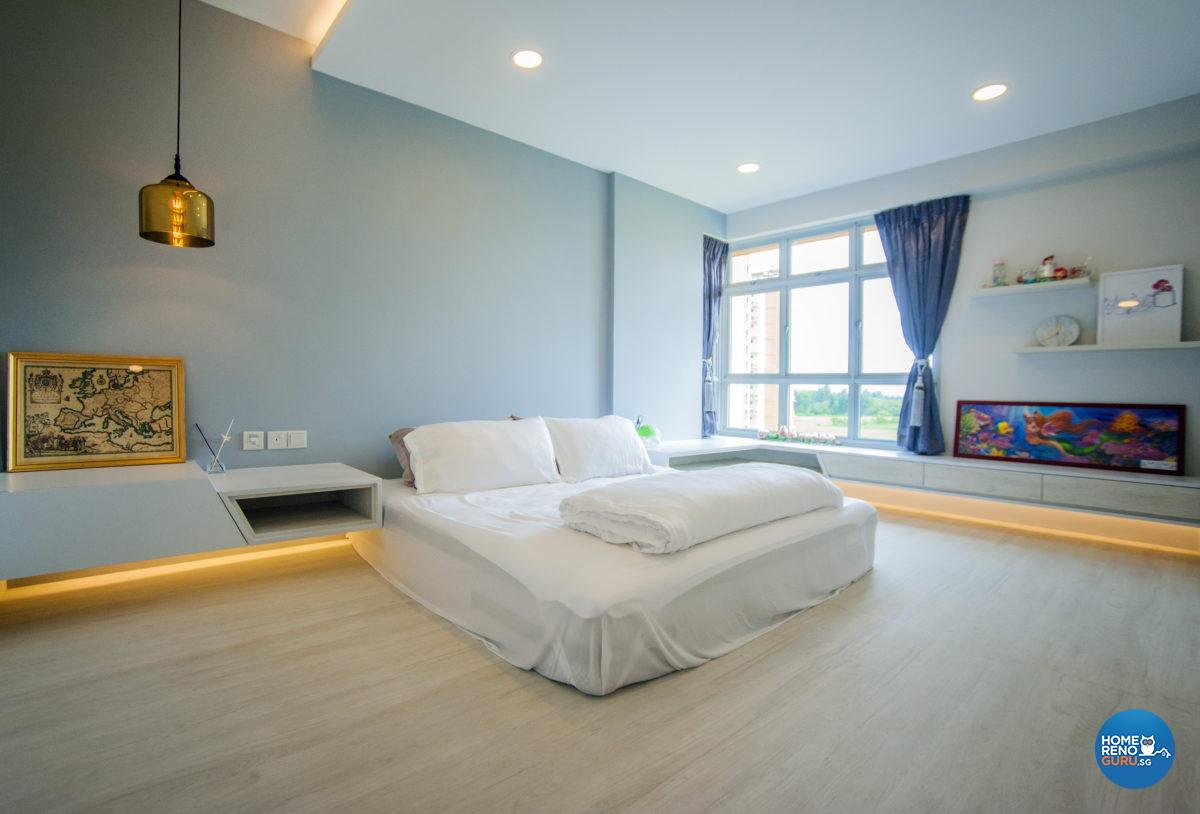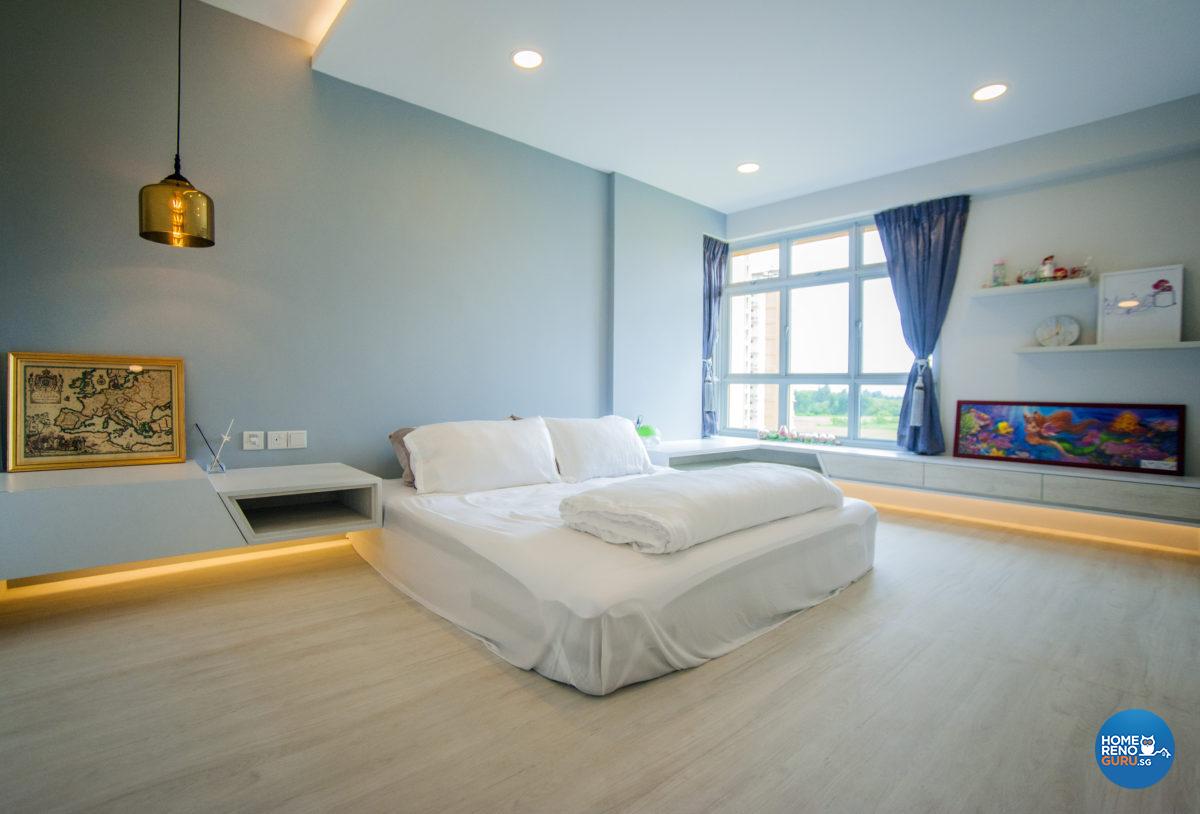 Soft grey walls and layered lighting create a sense of cosiness without clutter
Janelle: I've got two favourites, one is the bedroom and one is the kitchen. For the bedroom, they designed a raised platform with a floating shelf around the room. And also they incorporated four different types of lights, which help to create different moods and feels.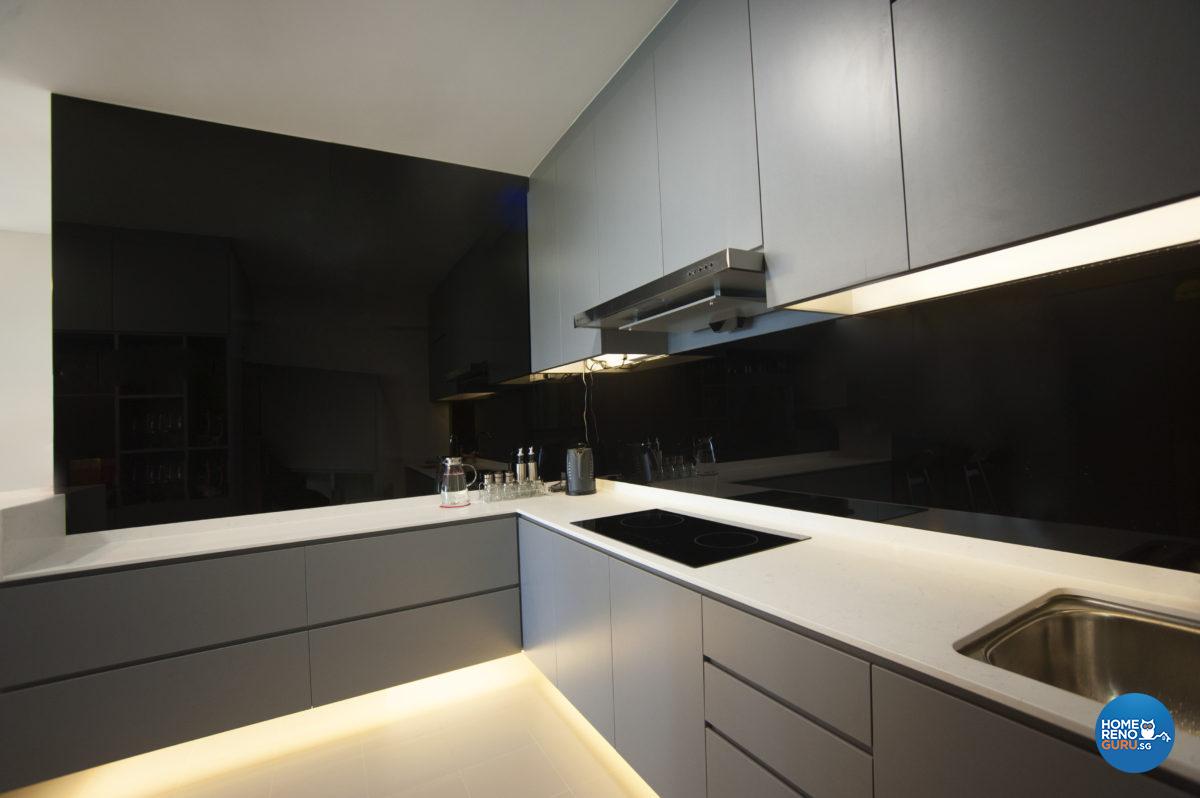 The floating cabinets in the kitchen make cleaning the floor a breeze
What I like about the kitchen is the floating cabinets, because it allows me to clean the floor easily. And I also like to work at the island counter, with the snack bar directly behind me. What I particularly like about the snack bar is the shimmering backsplash.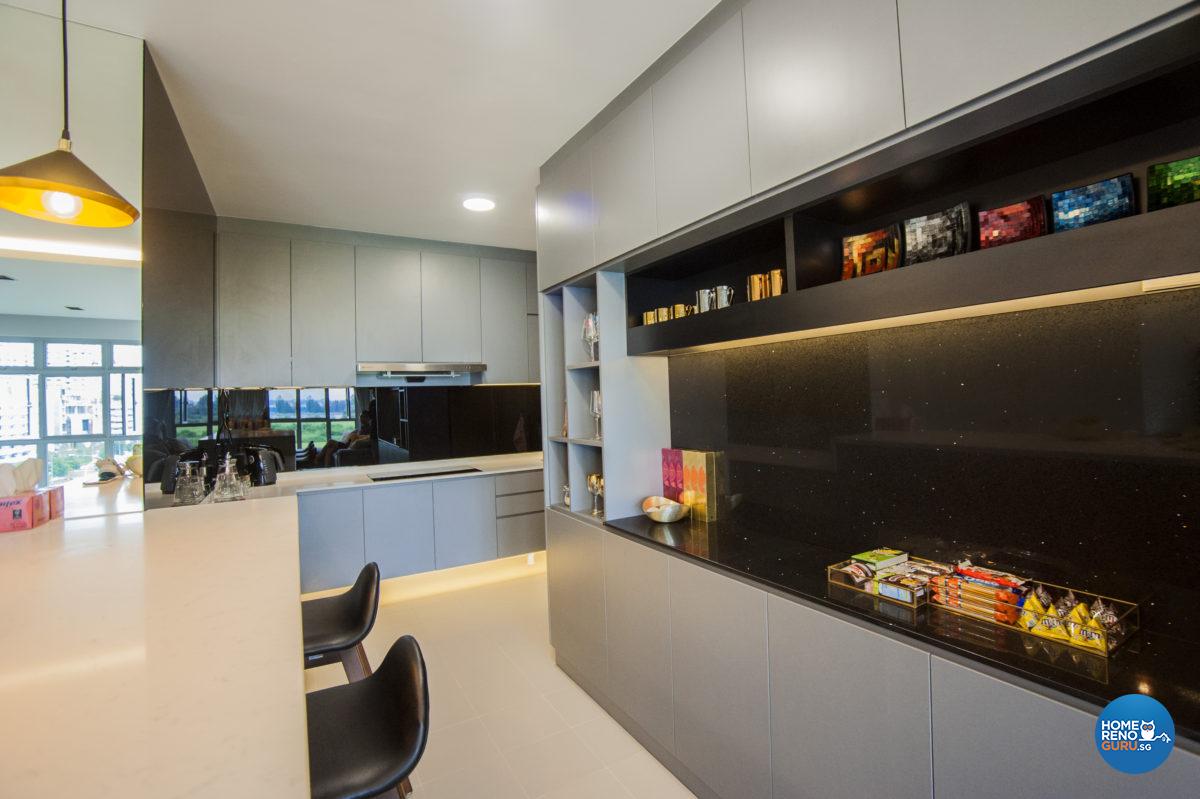 Janelle loves the easy access to everything in the well-designed kitchen layout, and the black shimmering backsplash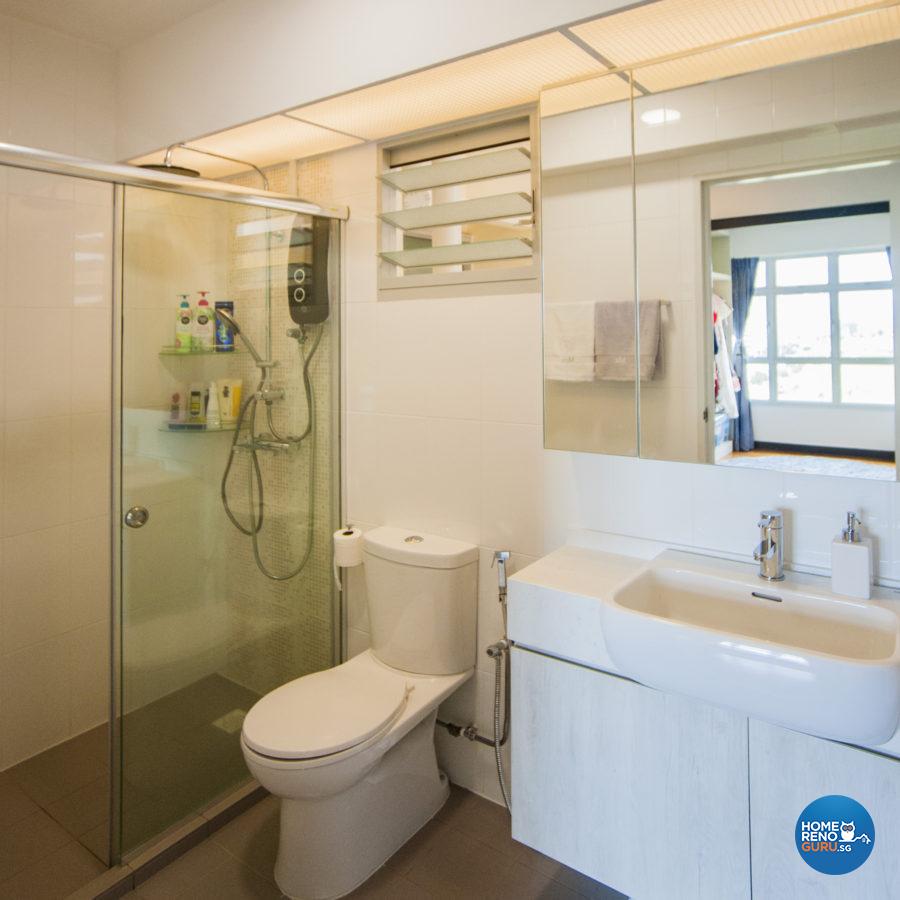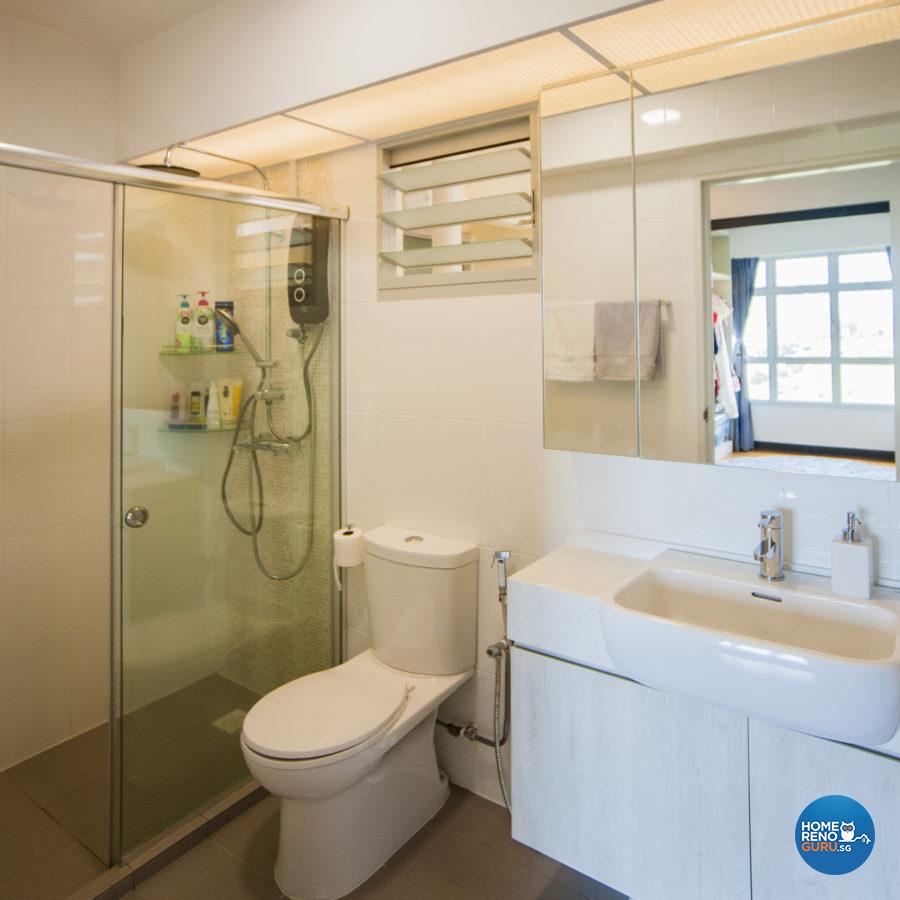 Simple and functional, the master bathroom maximises the storage space under the basin with a built-in cabinet
HomeRenoGuru: Do you have any advice you would like to share with homeowners embarking on a renovation?
Janelle: Our advice to new homeowners would be that it's important to know what you want and what you don't want.
Looking for an estimate of your renovation costs?
Let HomeRenoGuru help!
Terence: Most importantly, you must plan out your budget, know your priorities, maintain the communication with your designers, put your trust in them and you can achieve your dream home. We would like to thank Jeremy and Daphne from Designscale for making our dream home come true.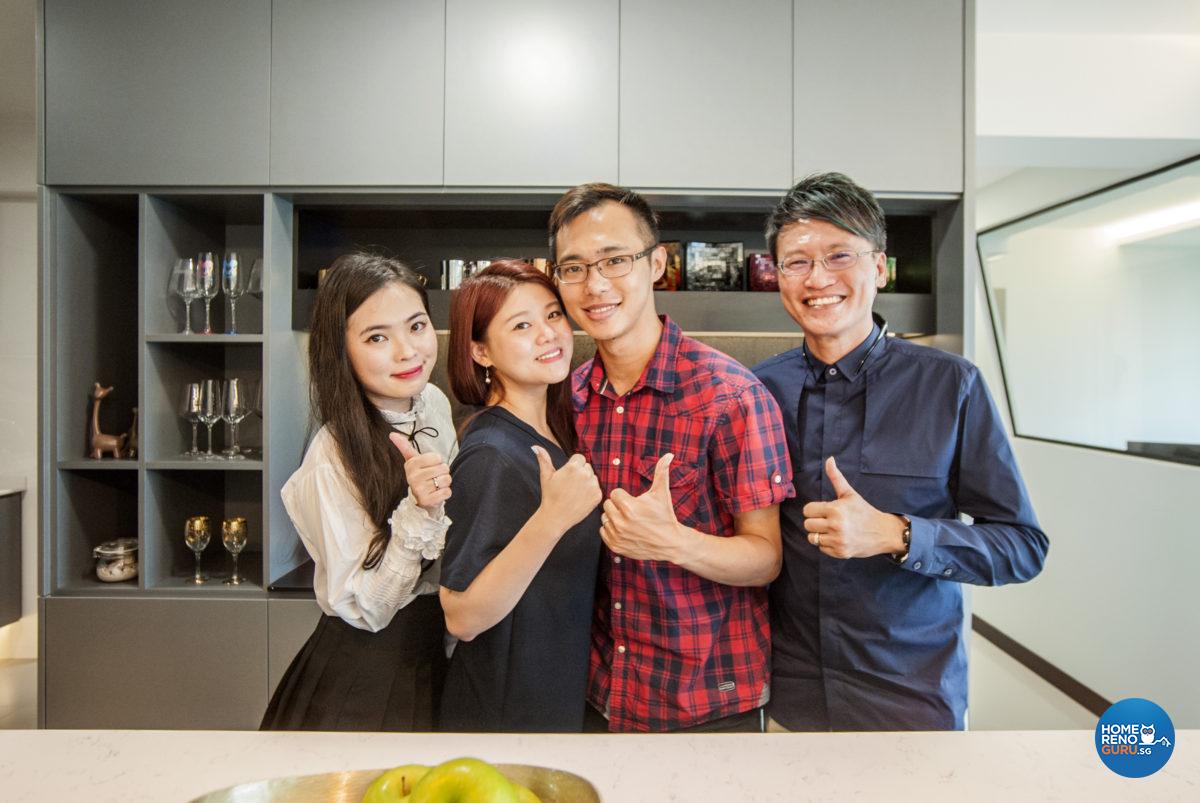 It takes a team to create a dream home – Janelle and Terence are flanked by Daphne and Jeremy from Designscale