Dream Home: An Oasis of Calm
Every day, Alan and Jasmine and their two young adult children look forward to returning home and discussing the day's happenings over a meal at their L-shaped bar counter. In fact, they cited ongoing open discussion with their designer Daphne from Blackjack Interior as one of the keys to their successful renovation. Read on and discover how she encouraged them to save, rather than spend, and created an environment they love coming home to.
Project Snapshot
Name(s) of Homeowner(s): Alan Tham and Jasmine Sim
House Type: BTO 4-room HDB Flat
Size of Home: 93 sq m
Cost of Renovation: $30,000
Interior Design Firm: Blackjack Royal Studio Pte Ltd
Name(s) of Designer(s): Daphne Lim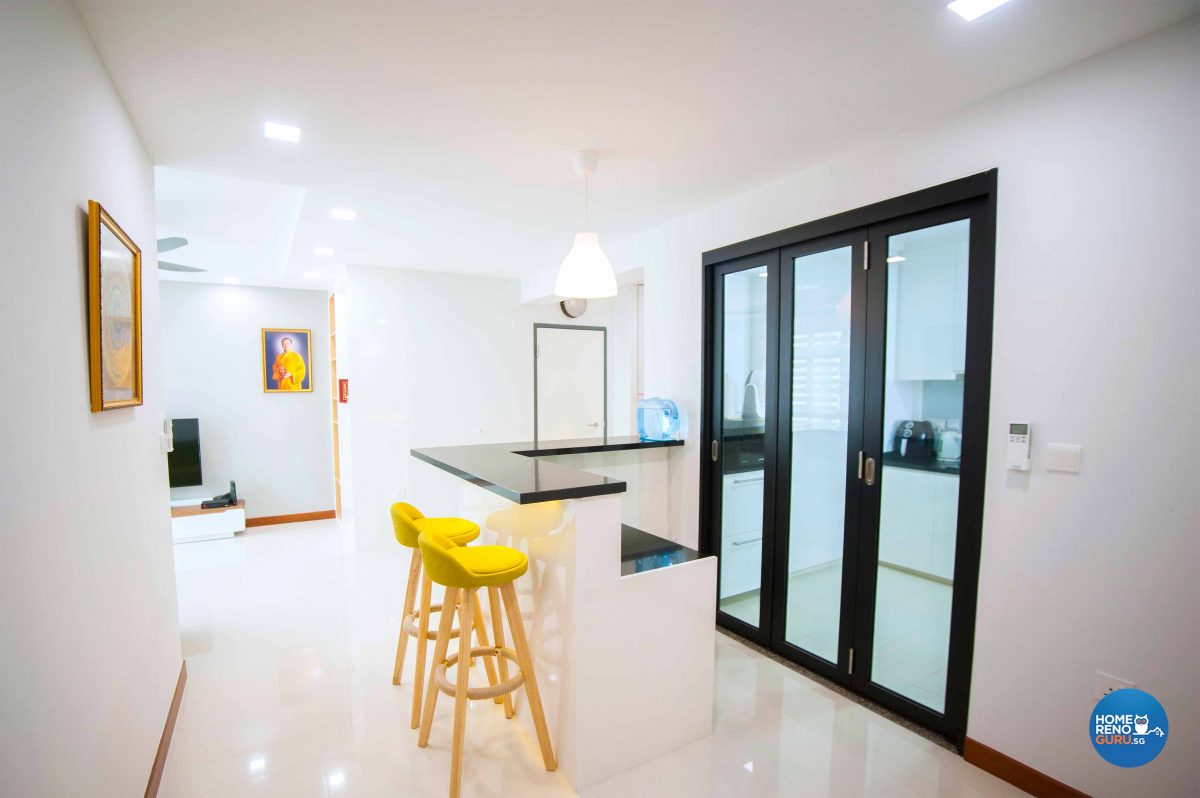 The clean, calm dining area connects seamlessly with the living area, kitchen and passageway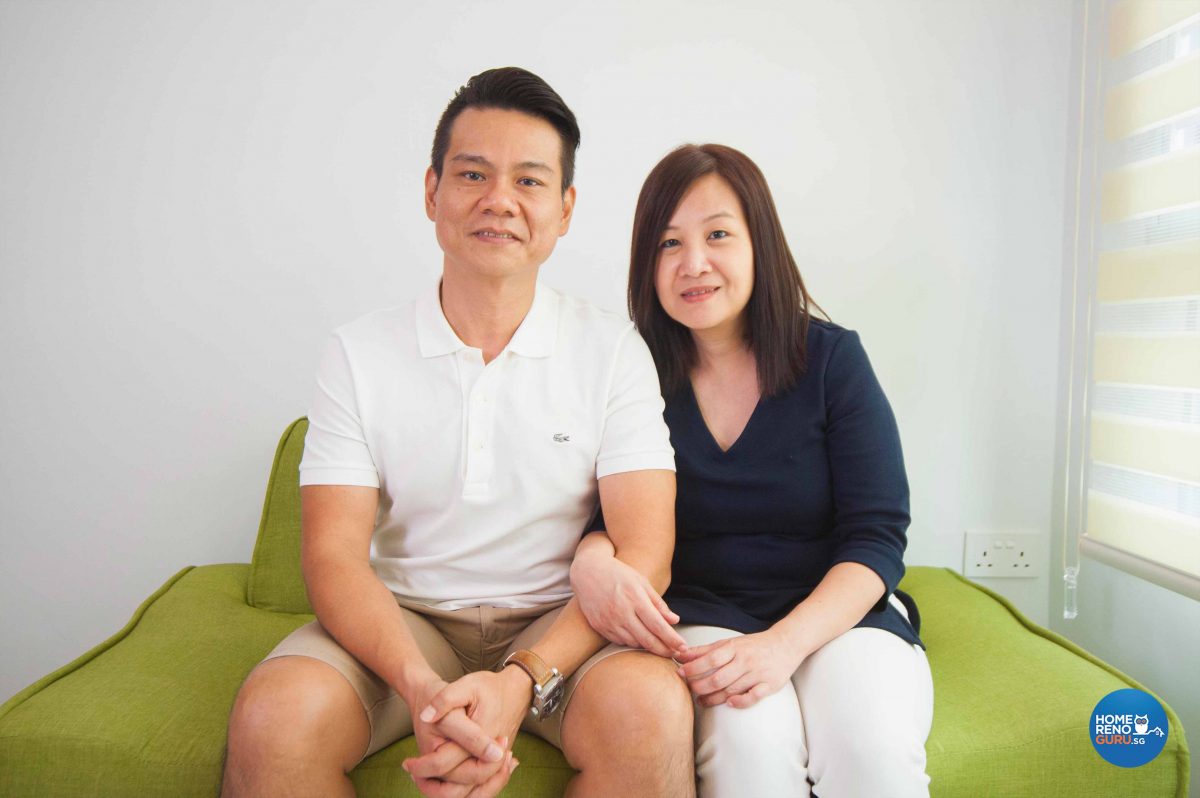 Alan and Jasmine in their oasis of calm
HomeRenoGuru: Why did you engage Blackjack Interior to renovate your home?
Alan: I engaged Blackjack to do the renovation for my house due to a recommendation from a friend. We are very happy with the workmanship and services provided by Blackjack.
HomeRenoGuru: What was your brief to your designer?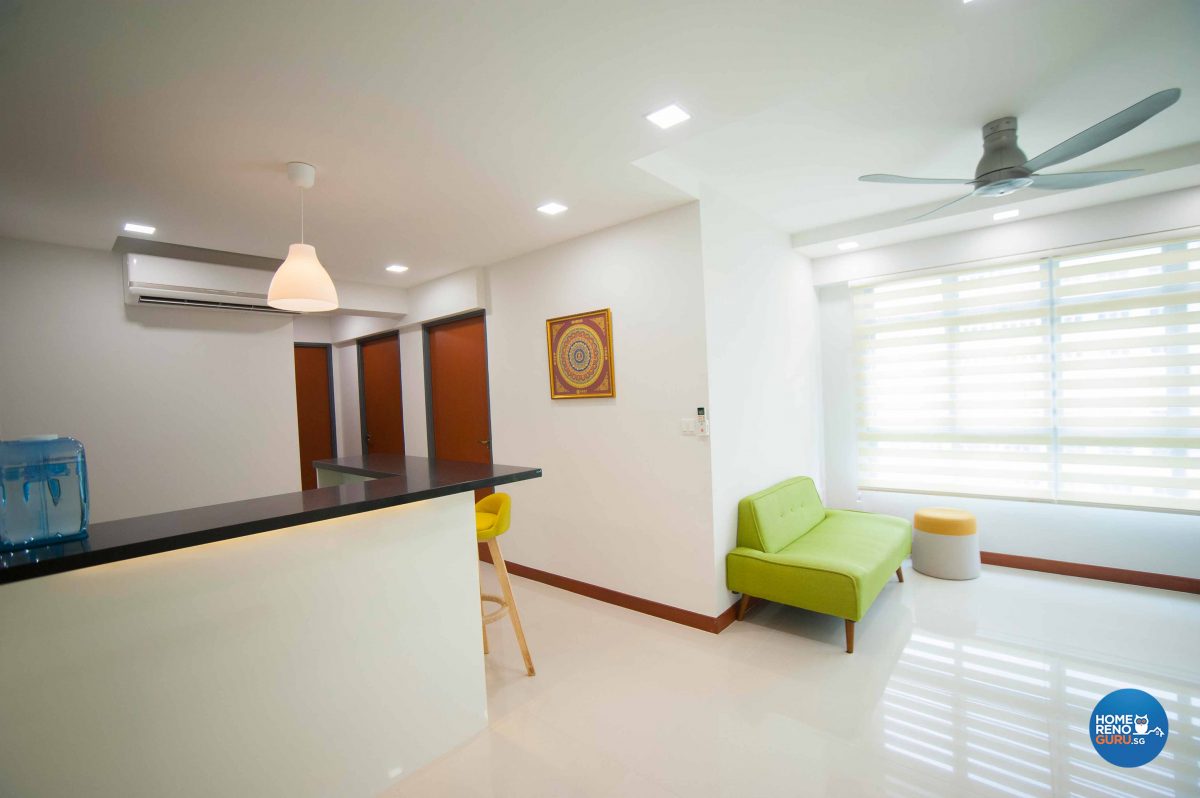 The light-filled living area avoids excess ornamentation and embraces space
Jasmine: We told our designer we wanted our space to be like spacious, simple, clean and calm. Daphne is very accommodating, and very supportive so she actually adopted our ideas and improved upon it.
Looking for Interior Designers?
Let HomeRenoGuru help!
HomeRenoGuru: How was the actual renovation process?
Alan: Throughout the renovation period, Daphne was actually very understanding. She tried to discourage us from spending unnecessary money to do stuff that she thought was not necessary for the house. Instead, she encouraged us to get stuff off the shelf, or online. This is something that we really appreciate.
HomeRenoGuru: What are your favourite parts of your home?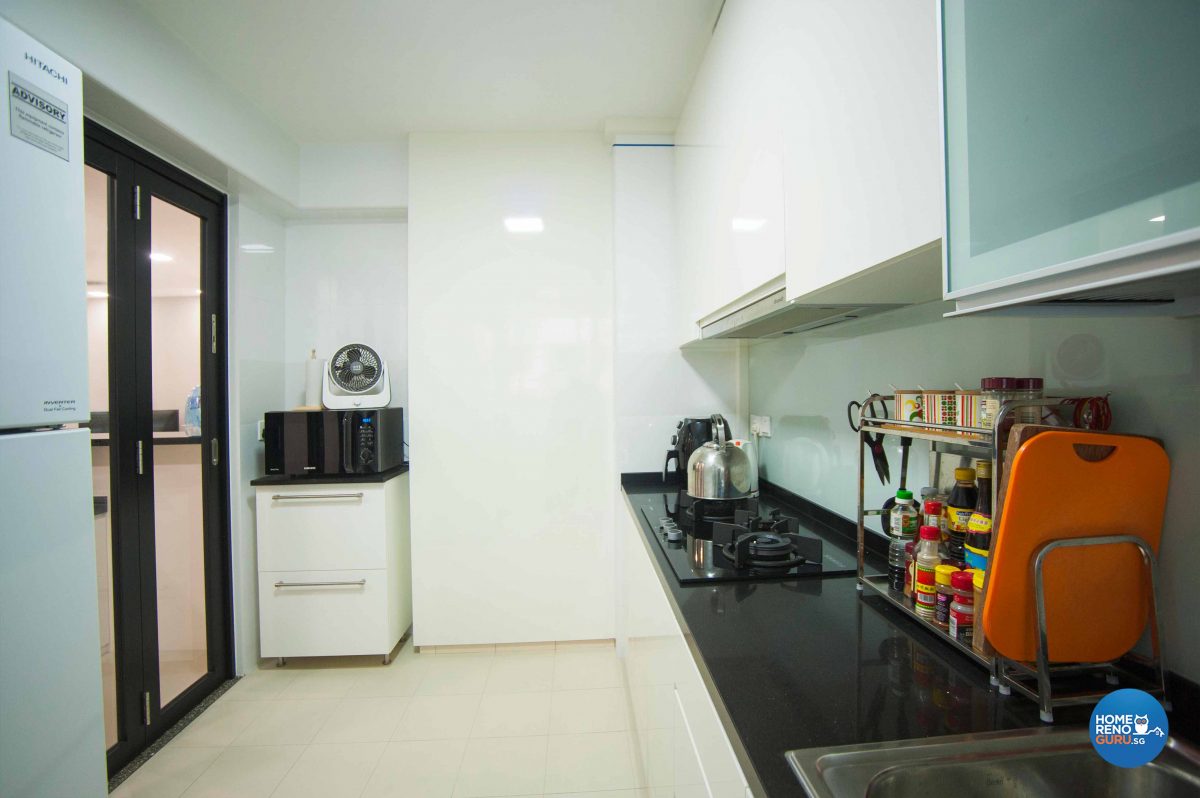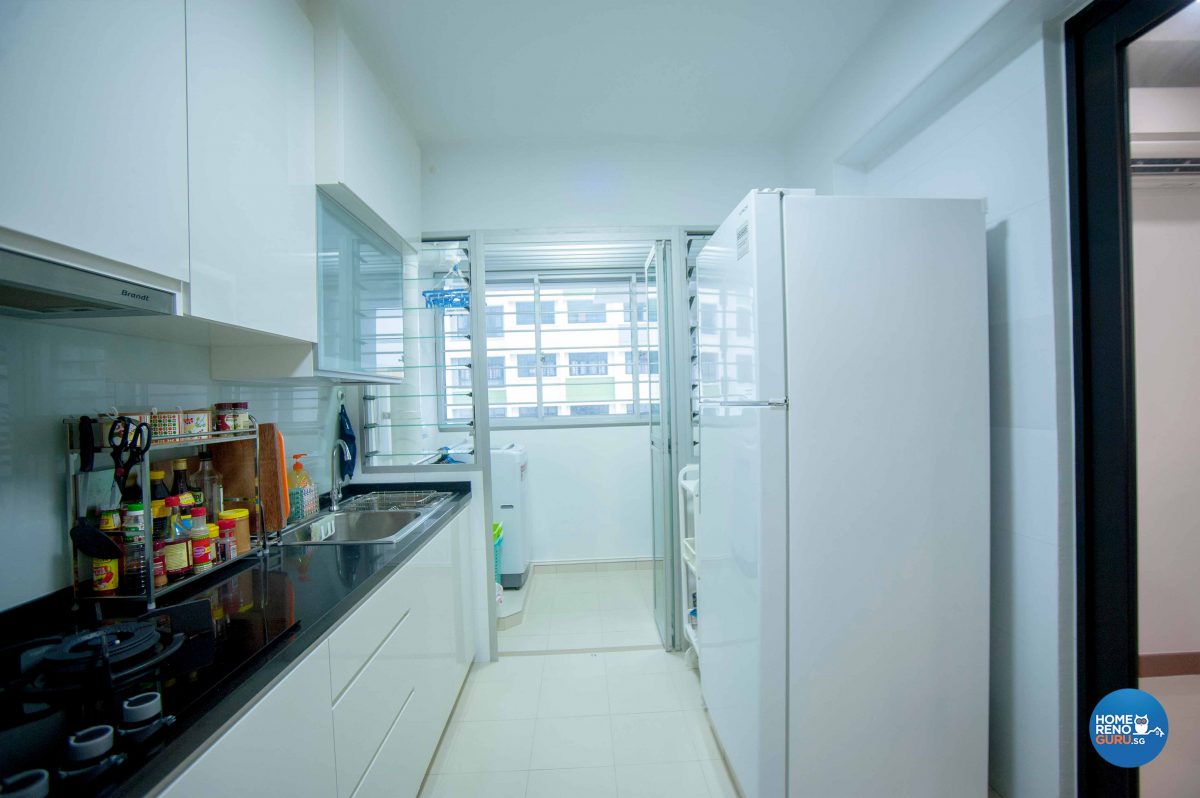 The functional linear kitchen connects to the service yard
Jasmine: Both of us do the cooking, so we actually love the kitchen. We have a sliding door so sometimes when we, say, fry something that's oily, this sliding door prevents the oil from getting into the living room.
Alan: Basically I like my L-shaped bar counter the best. It's a great gathering-point for the family, especially at the end of the day, when we can discuss what's happened during the day, in our work, or at school for the kids.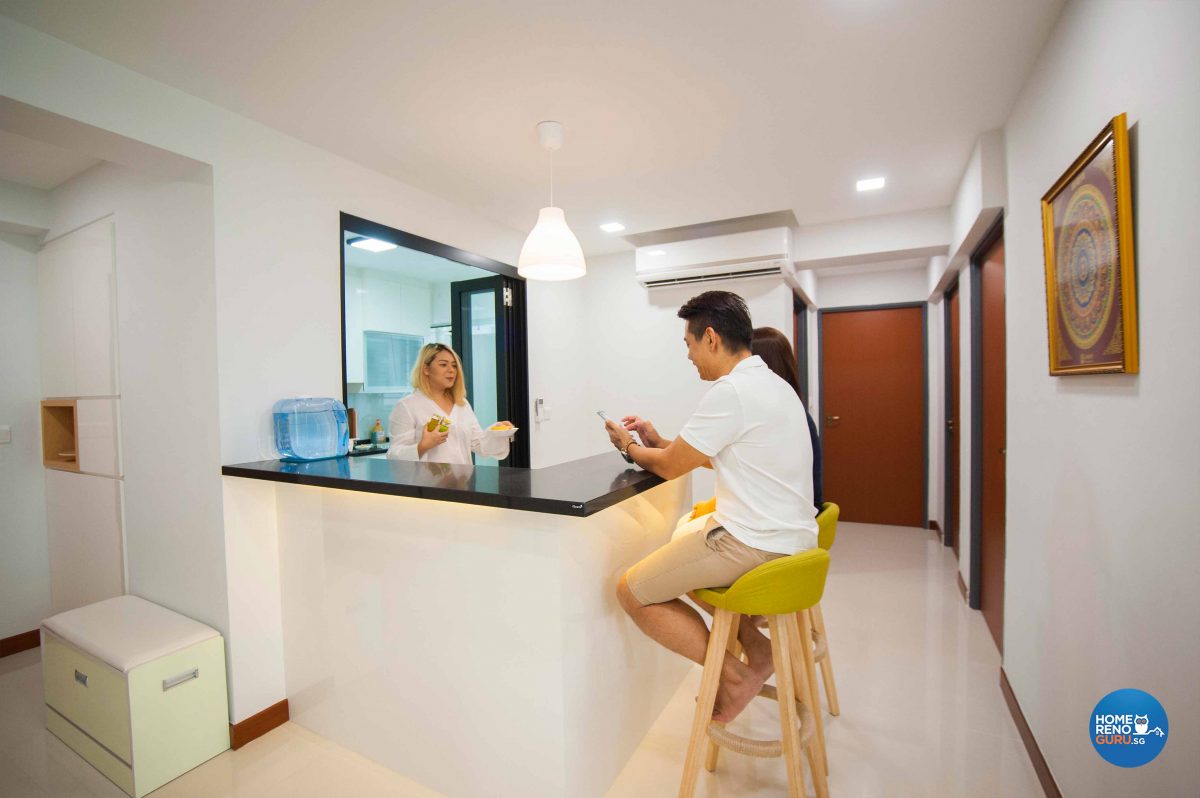 The L-shaped dining counter is a magnet for casual meals and family gatherings
Jasmine: I actually love my master bedroom walk-in wardrobe, because it allows me to display most of my bags there. One portion was designed for him and the other portion is for myself. It helps me save my time, especially in the morning, the peak hour, when I can see everything at one glance and just pick whatever I want to wear and go to work.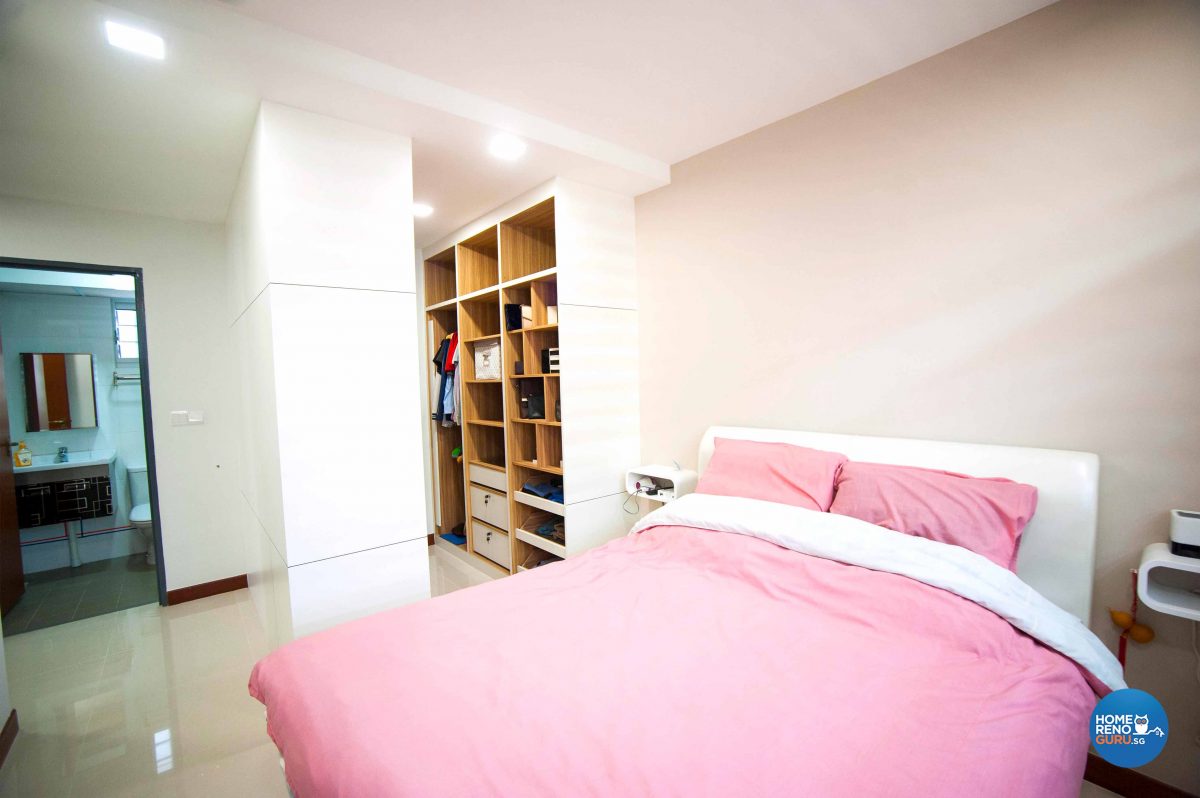 A soft grey feature wall envelops the master bedroom in cosiness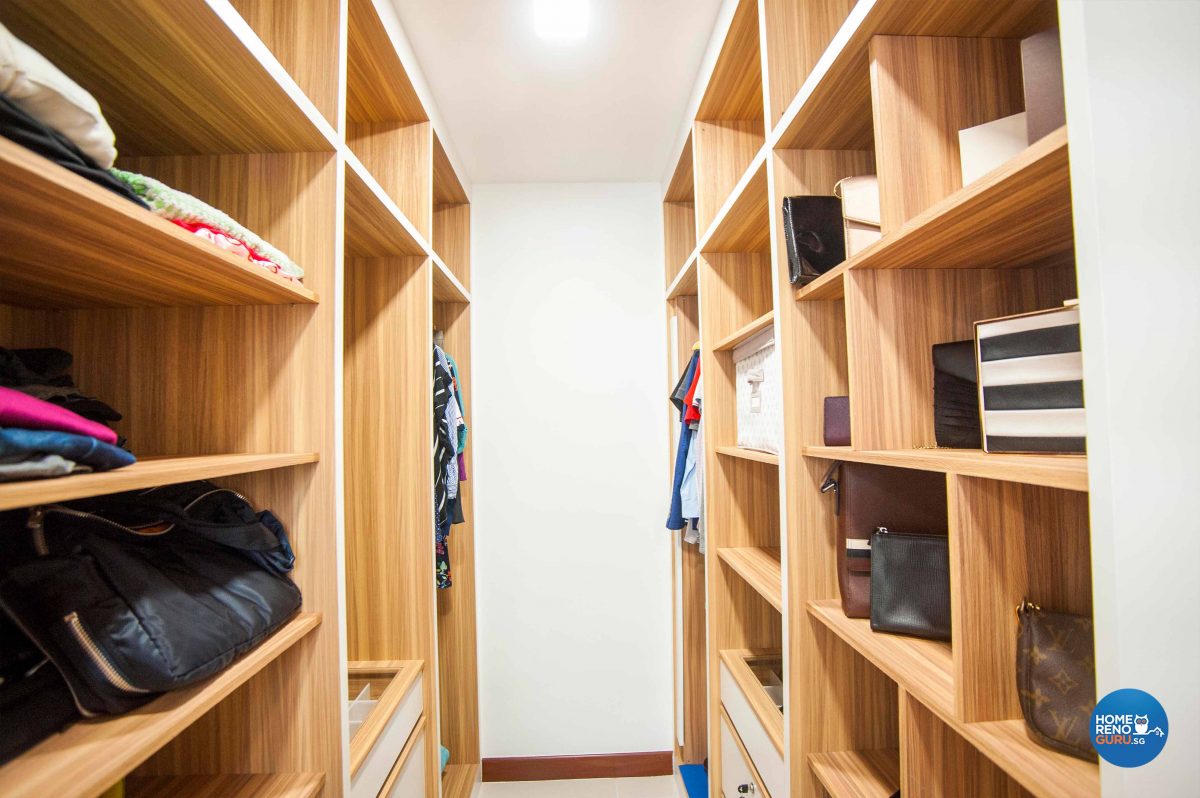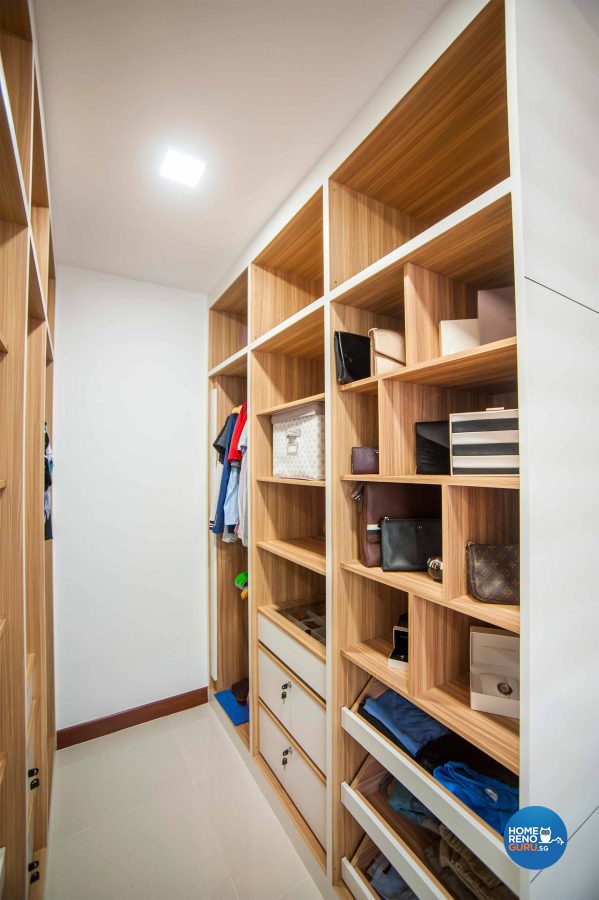 The walk-in wardrobe in the master bedroom allows every garment and accessory to be accessed in seconds, saving precious time in the mornings
Alan: I tried to keep my entrance to the house wide, so when I come home I have this feeling that it welcomes me. I also have a shoe cabinet, which my daughter actually owns half of, even though she's only one-quarter of the family!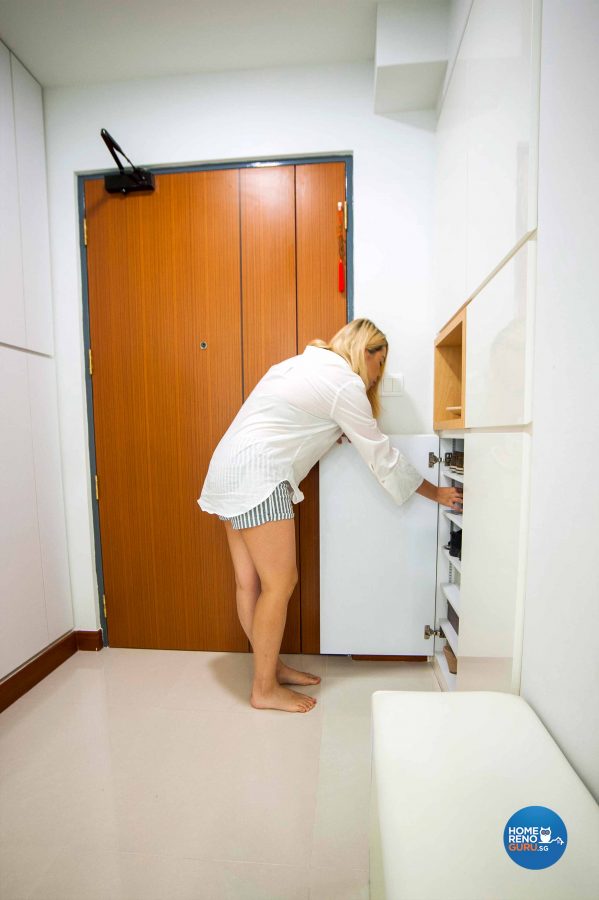 A concealed show cabinet is flushed with the bomb shelter
Jasmine: Initially I was planning to buy an altar from a retail outlet, but Daphne suggested building it into a display cabinet. It actually turned out very well and blends in seamlessly with the design of the house.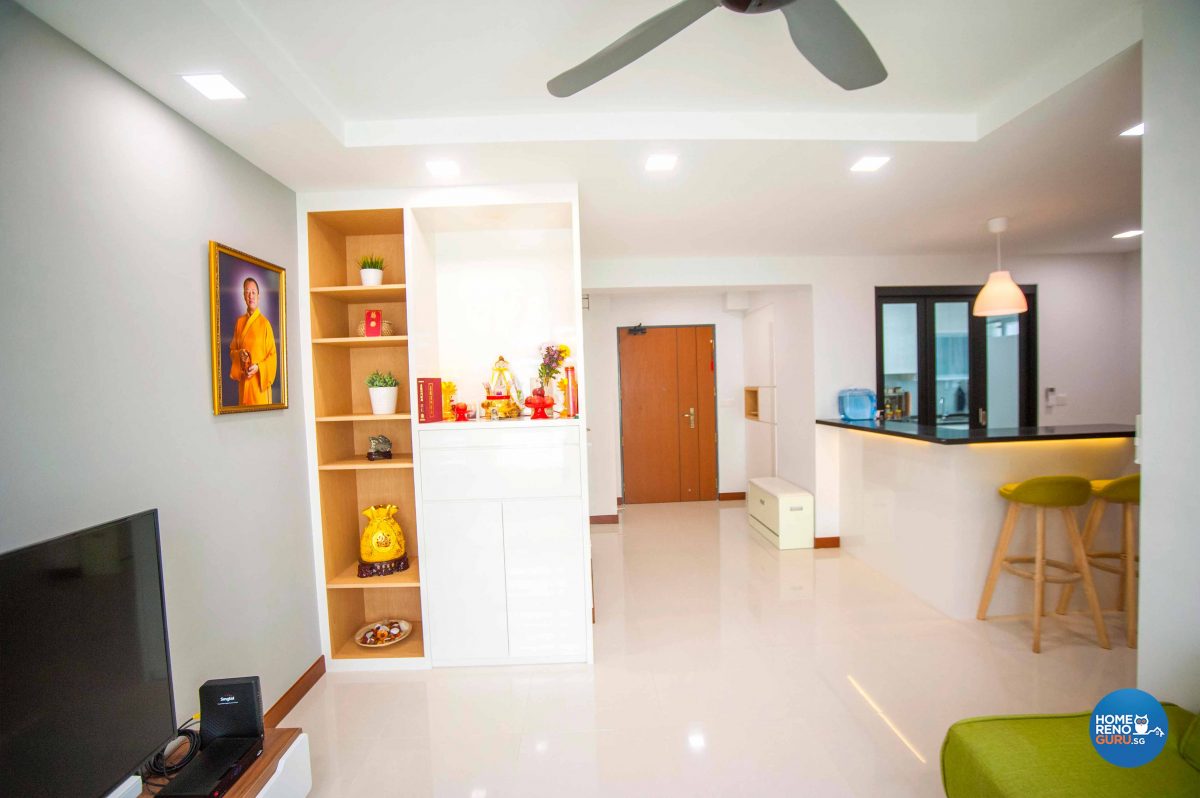 A touch of tradition amid modernity, the family altar is built into the display cabinet
Alan: As I'm quite a DIY guy, I'm very particular about workmanship. Look for somebody like Daphne who is also very particular about workmanship. Secondly, try to find someone who can communicate well – open discussion throughout the whole reno process, like what Daphne had with me. And finally, get an ID that actually encourages you to save money instead of spending unnecessary money on your renovation.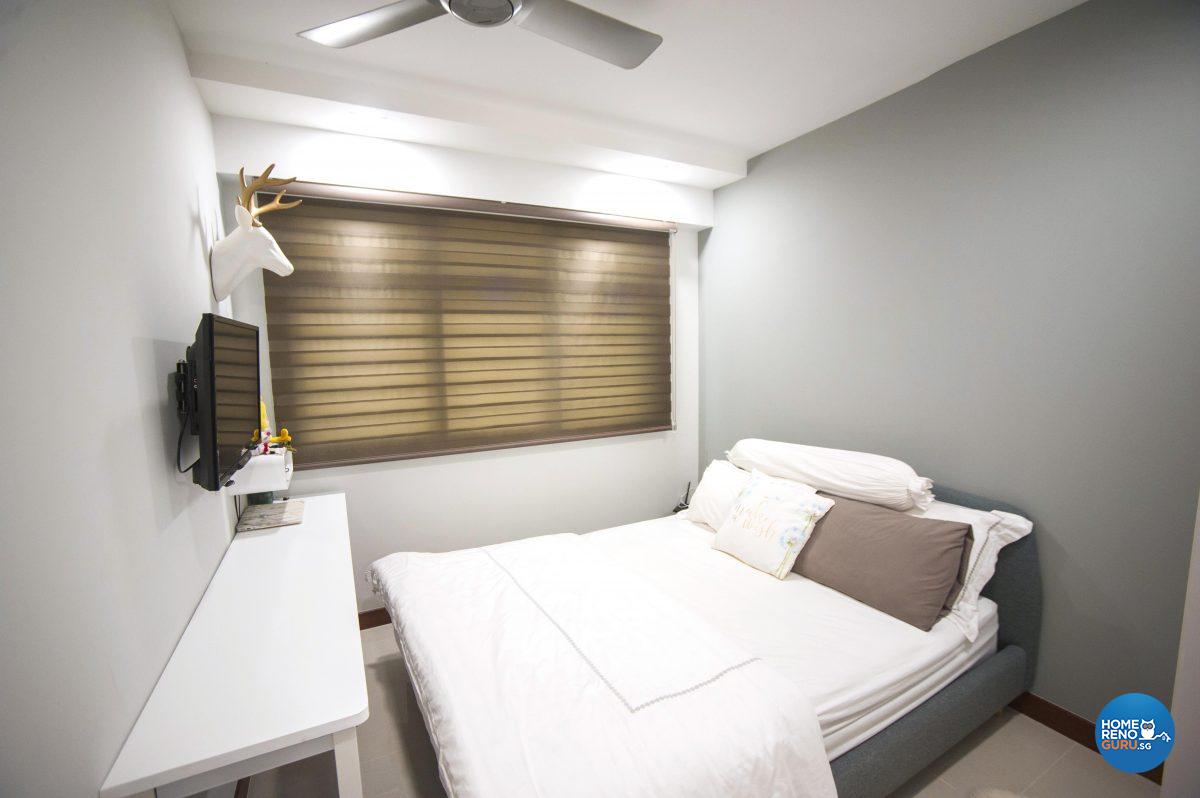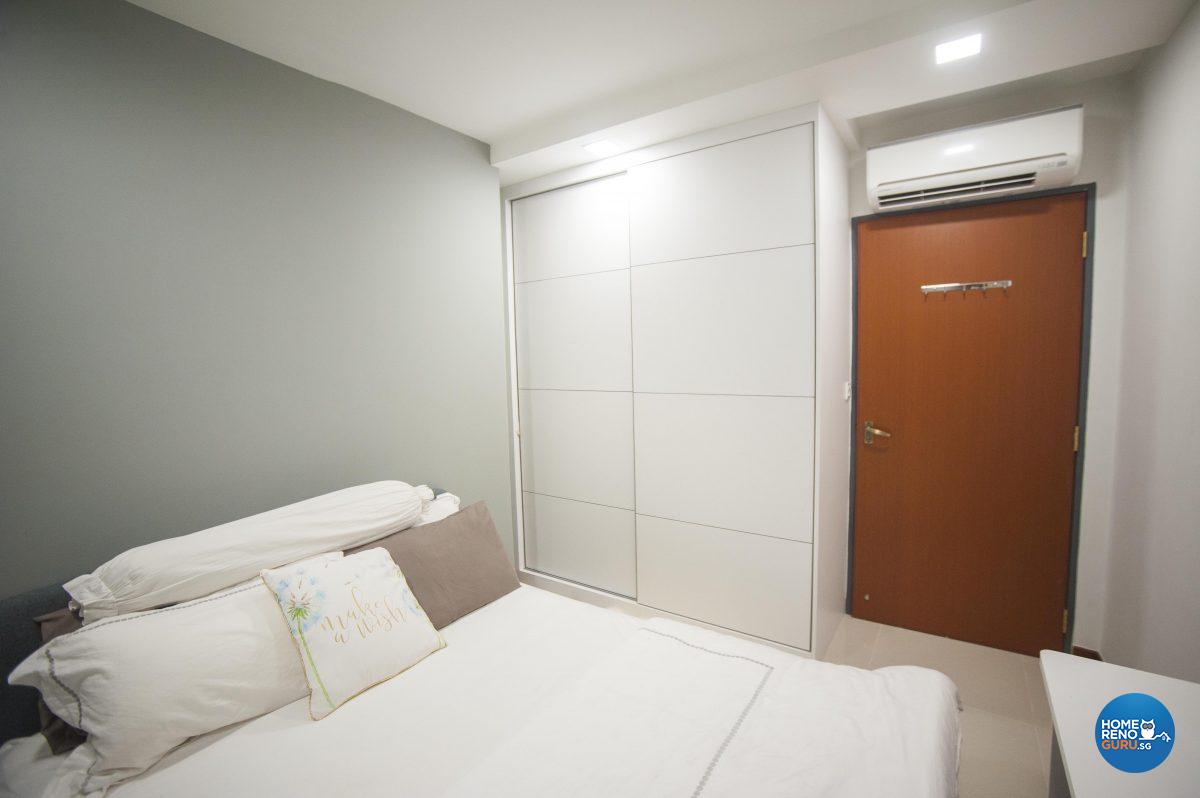 The bedroom of the daughter, Ruth, is pragmatic with a touch of whimsy in the form of a wall-mounted deer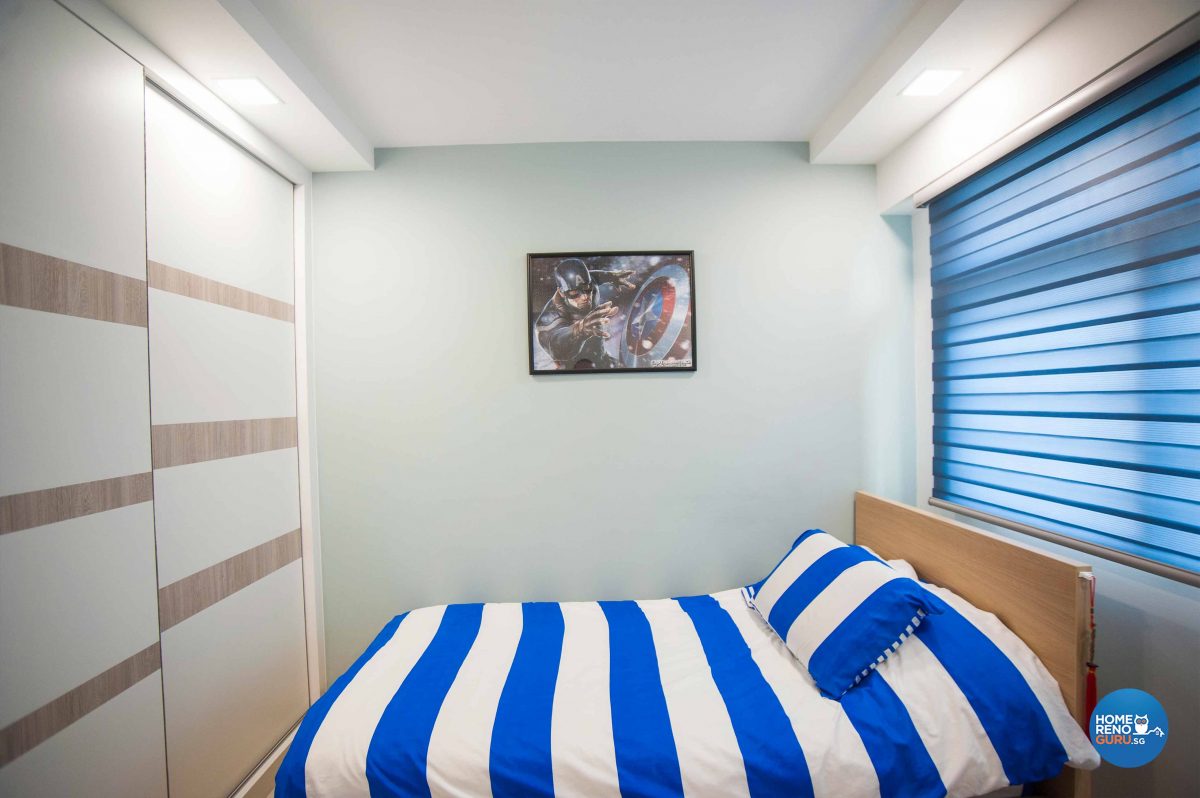 Minimalistic yet striking, the son's room features horizontal stripes on the wardrobe doors, bed linen and blinds
HomeRenoGuru: Would you recommend Blackjack Interior and your designer Daphne to other homeowners who are looking for interior design services?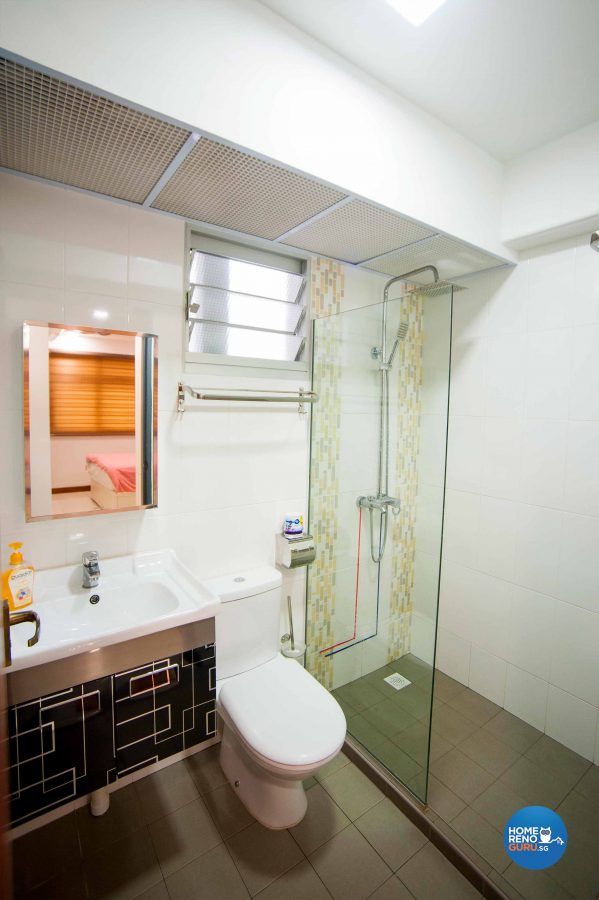 The functional master bathroom features a geometric-patterned laminate on the vanity doors
Jasmine: We strongly recommend Blackjack and Daphne – she is really a great designer!
Alan: Thanks to Blackjack and Daphne for a job well done. We definitely look forward to coming back to our cosy house every day.
Jasmine: Yes, we love our house!