Dream Home: A Modern Scandinavian Home
Glen and Angeline sought the advice of friends when searching for an interior design firm. They were happy with GV Design & Construction, and delighted with the outcome of their home renovation – a simple, functional, modern Scandinavian home with an abundance of white, accented with black and wood.
Project Snapshot
Name(s) of Homeowner(s): Glen Tan and Angeline Lim
House Type: 5-room BTO HDB Flat
Size of Home: 110 sq m
Cost of Renovation: $37,000
Duration of Renovation: 2½ months
Interior Design Firm: GV Design & Construction
Name(s) of Designer(s): Paul Ho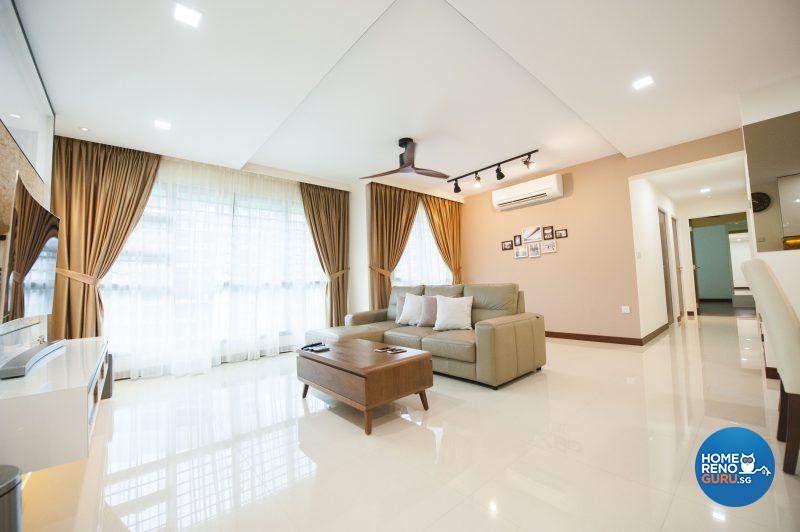 The spacious, open and uncluttered living area combines neutral and earthy tones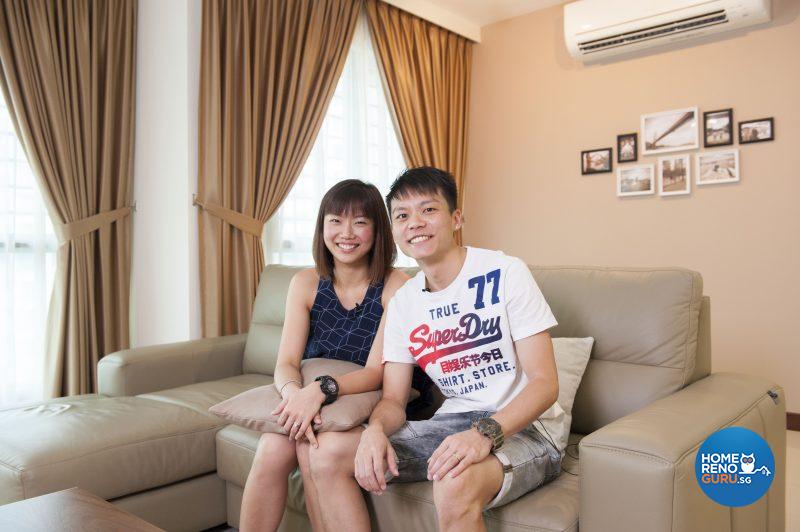 Happy homeowners Angeline and Glen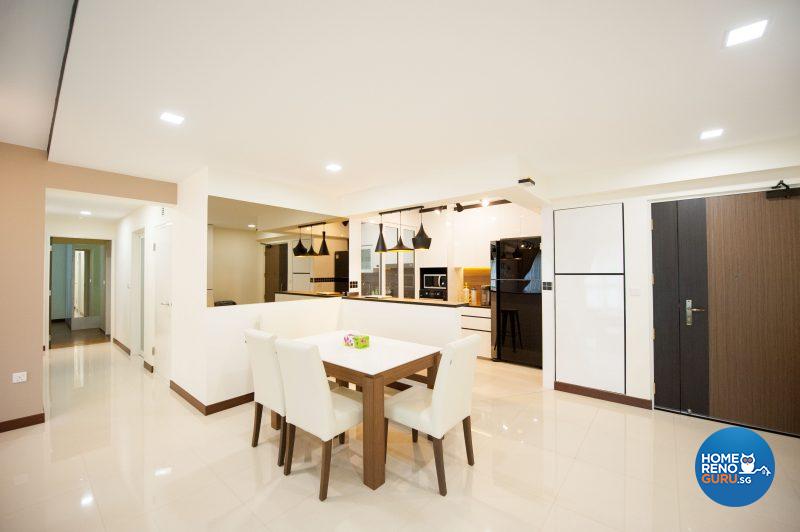 An open concept kitchen and dining area, semi-divided by a breakfast bar
HomeRenoGuru: How did you come to engage GV Design & Construction to renovate your home?
Glen: When we first started to look for a renovation firm to help us with our renovation, we got a few recommendations from some of our close friends, and we met up with the different interior designers to get quotations from them. Among the quotations we'd gotten, we felt the most competitive one was from GV Design & Construction. And also the designer that is in charge of our home was Paul, who we felt had a very good chemistry with us and also a good rapport and understanding of what we wanted. So that's how we ended up with GV Design & Construction.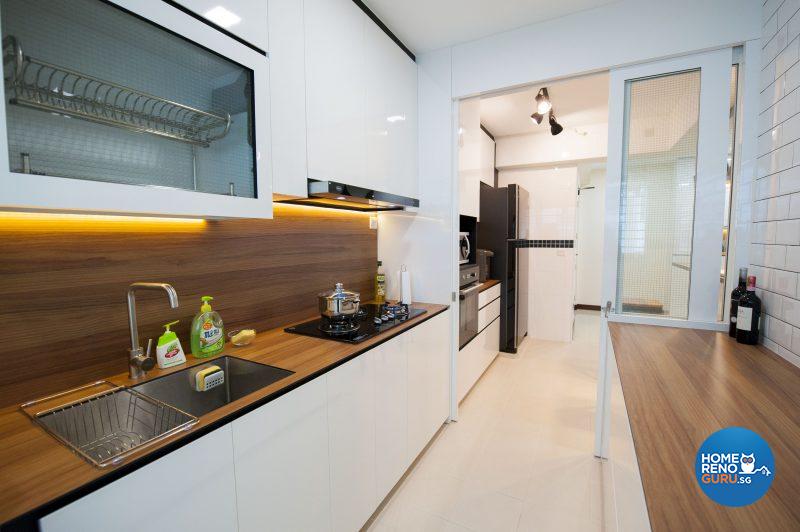 The sleek and elegant kitchen, with wood-lookalike countertops
HomeRenoGuru: What was your design brief to Paul?
Angeline: When we briefed Paul, we more or less knew what we wanted. We wanted a modern Scandinavian theme, a place where we can live for at least five to ten years. One of the common priorities for both of us was to have a wet and dry kitchen concept, and also to have the breakfast bar at the dry kitchen area.
Glen: We wanted something simple, so white was definitely a colour that we wanted. And then we wanted a modern touch and then some wood elements.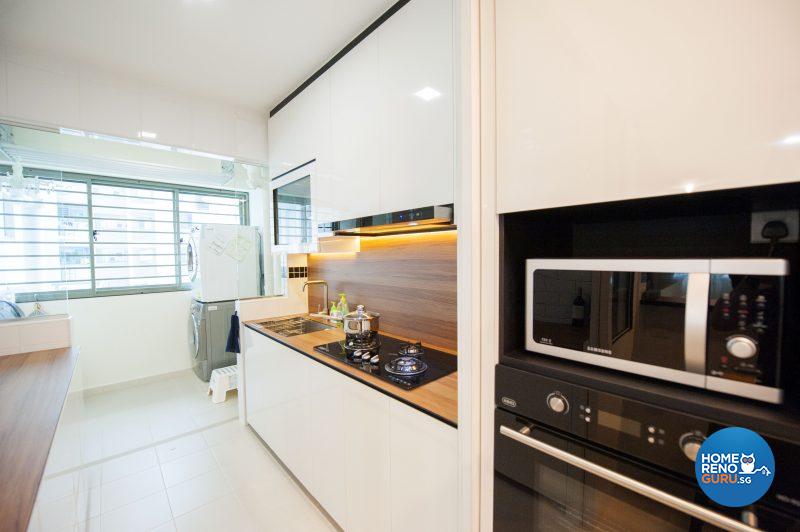 The service yard flows on from the kitchen, with no dividing wall
HomeRenoGuru: How was the renovation process?
Angeline: The renovation process was rather hassle-free because of the good communication with Paul. He actually helped us to coordinate with different parties to ensure that the different sections of the house were being done up properly. He kept us updated on the progress, which is something that we really appreciated.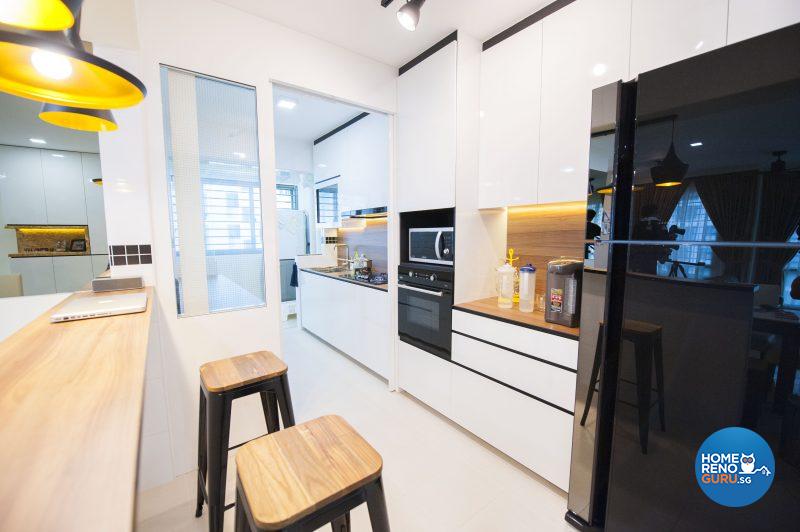 Pendant lights create a focal point and a cosy ambience over the breakfast bar
HomeRenoGuru: What are your favourite parts of your home?
Glen: The favourite part of the house for me would be the breakfast bar, which is one of the emphases we highlighted to Paul as part of the renovation. Usually in the morning when I get up I will just spend a couple of minutes there to have my glass of water, and on weekends sometimes I will spend some time there to use my laptop, surf the net, get a coffee, or even at night, have a beer while I'm watching soccer on the TV.

Days often begin and end at the breakfast bar
Glen: Space in Singapore is always something that is sought after, so when it comes to storage, we were glad that Paul helped us to build quite a number of concealed storage spaces, one of them being the shoe cabinet with the display section.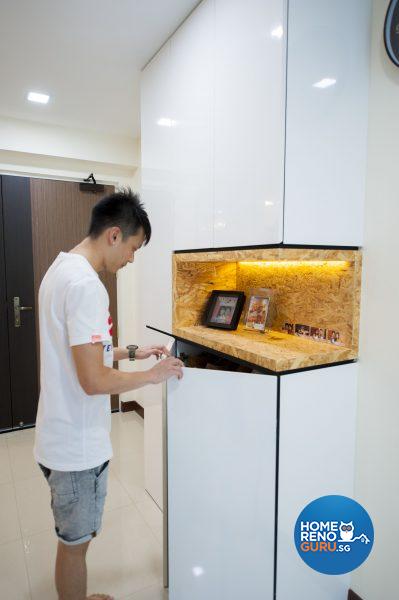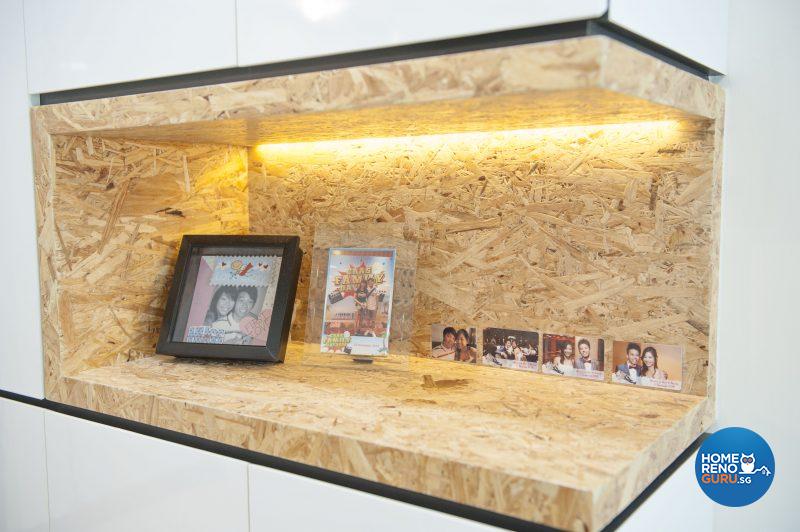 A spotlit display cabinet sits above the concealed shoe cabinet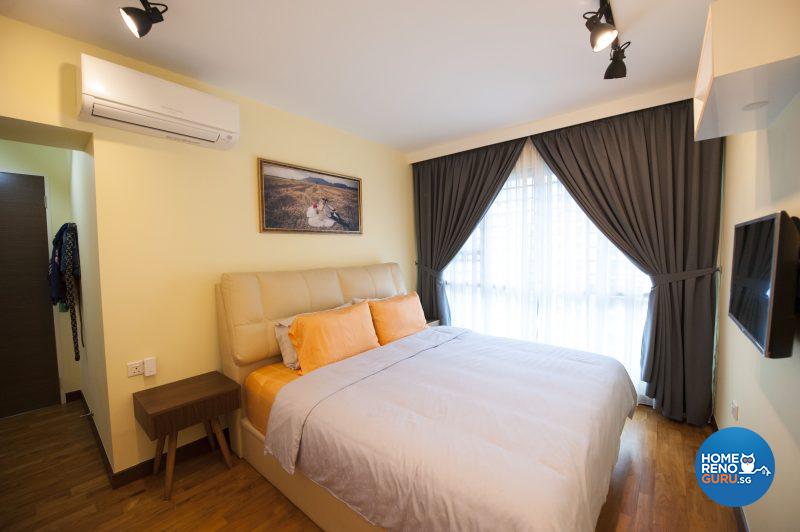 The simple but comfortable master bedroom
Angeline: As for our master bedroom, we had a very simple design, and the area that I like the most is actually our built-in wardrobe. Paul actually gave us a few designs to choose from, but I particularly like this design that we chose because of its sleek look and the handles, which are something that a lot of people comment on.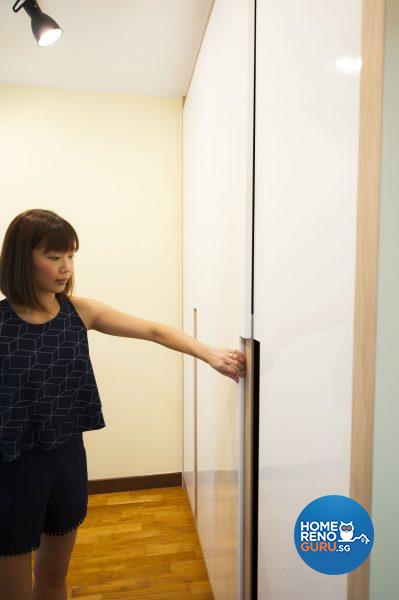 The built-in wardrobe sports unique and eye-catching handles
Angeline: We really enjoy our bathroom because it makes us feel like we are at a resort, all thanks to the wood-like tiles that we have chosen.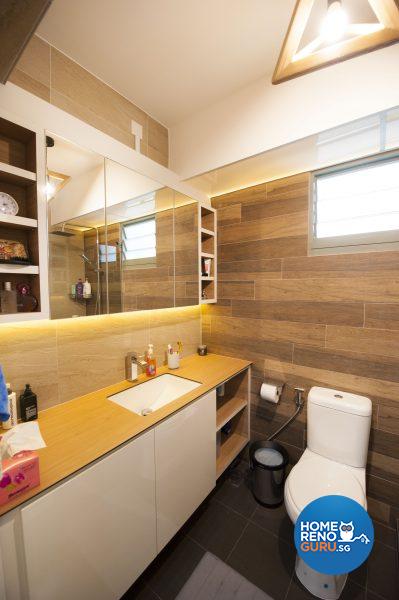 Cove lighting and a statement lampshade give the bathroom a resort-like feel
HomeRenoGuru: Do you have any general advice that you can share with homeowners embarking on a home renovation?
Glen: I would advise all homeowners who are looking for interior designers not to make rash decisions and hastily decide on a particular renovation firm. With all the information that's available now online, take your time, do your research, or even check in with friends who have renovated their homes before for recommendations. You should also take the opportunity to visit their houses to look at the workmanship and the overall feel of how their interior designer has helped them with their homes. Also, take into consideration the budget and on top of that, I guess, would be the overall chemistry and rapport that you have after you meet up with the designer who's in charge of the renovation process.
Looking for an estimate of your renovation costs?
Let HomeRenoGuru help!
HomeRenoGuru: Would you recommend GV Design & Construction, and your designer Paul Ho, to other homeowners?
Angeline: We would definitely recommend Paul to all our friends because of his patience and good communication skills.
Glen: And I guess home is where the heart belongs, and our hearts are right here now. So thank you GV Design… and thank you, Paul.