Dream Home: Modern-Minimal-Rustic Magic
Young parents Johnson and Zann felt instant chemistry with their designer Alvin from Love Home. They sensed that he understood their vision of a modern home with a minimalist design ethos and some rustic touches. The renovation process was smooth and swift, and the results prove that their decision was a wise one.
Project Snapshot
Name(s) of Homeowner(s): Zann Ho and Johnson Ng
House Type: 4-room BTO HDB Flat
Size of Home: 92 sq/m
Cost of Renovation: $63,000
Duration of Renovation: 6 weeks
Interior Design Firm: Love Home Interior Design
Name(s) of Designer(s): Alvin Lim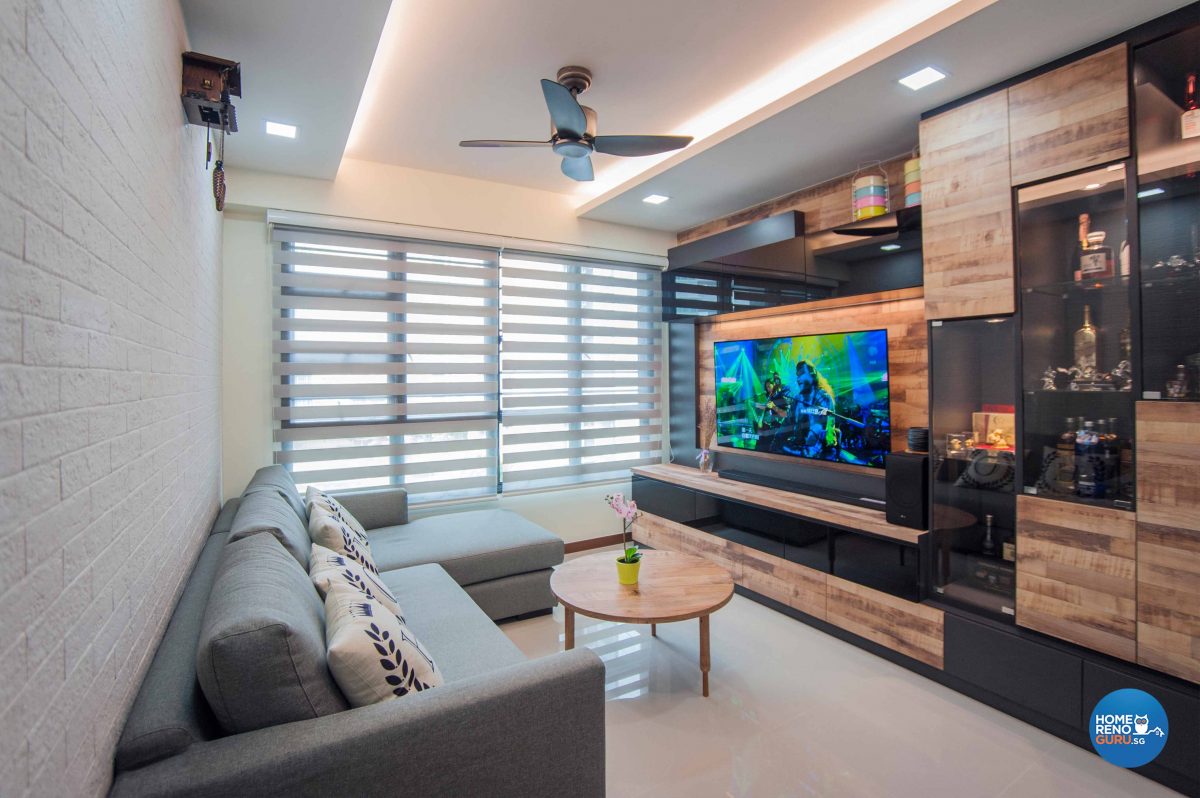 A harmonious blend of modern, minimalist and rustic touches is evident from the moment you step inside this charming and cosy home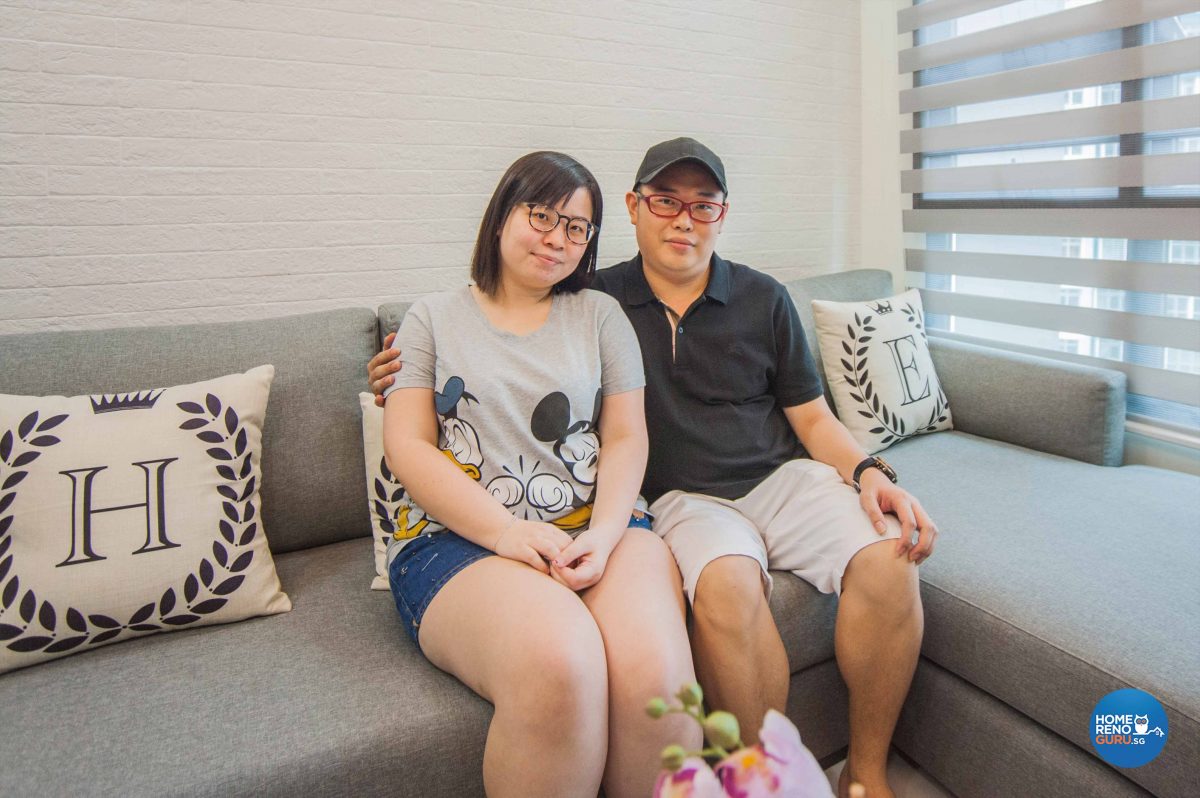 Happy homeowners Zann and Johnson
HomeRenoGuru: How did you come to engage Love Home Interior Design for the renovation of your home?
Johnson/Zann: A year ago, we actually walked past Love Home and we went in, popped by and enquired about the overall reno. Alvin was the one who attended to us. We decided to settle on Love Home due to the chemistry between the ID and us. We felt that Alvin actually understood what we really wanted for our dream home.
I was really glad that one year ago they spoke to me, and one year later they took their cue and gave me a call. Then we had a more detailed and further discussion.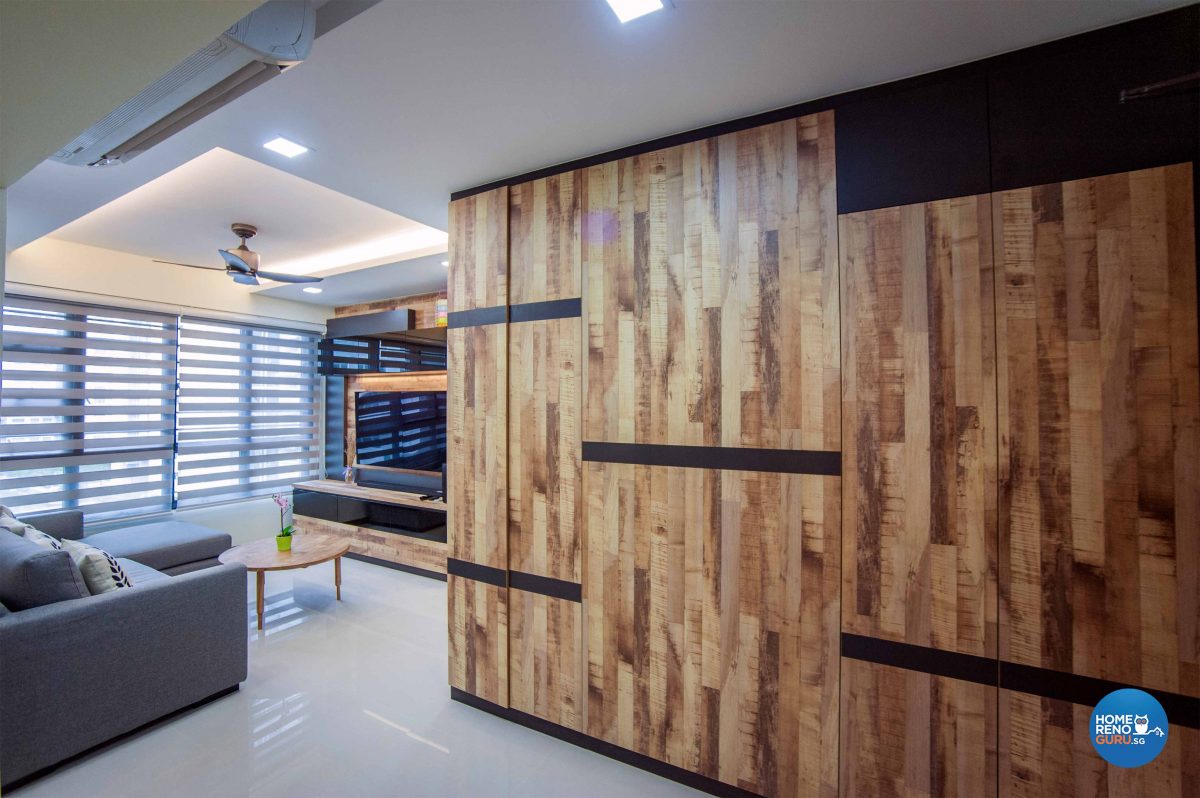 Abundant storage space is concealed behind the staggered doors of the shoe cabinet and cupboards that line the entrance hall
HomeRenoGuru: What was your brief to Alvin?
Johnson: Before we met Alvin, my wife and I had actually discussed the themes and what we wanted for our new home – a woody feel, a bit modern, a bit of black added into it. We showed them some photos and they became comfortable with this modern minimal rustic design. So we decided to go along with it.
HomeRenoGuru: How was the actual renovation process?
Johnson/Zann: The overall renovation took around six weeks and everything went very well, very smoothly. At the same time if we had any doubts or requests, we would contact Alvin directly and he would get back to us very quickly. He attended to our requests promptly as well.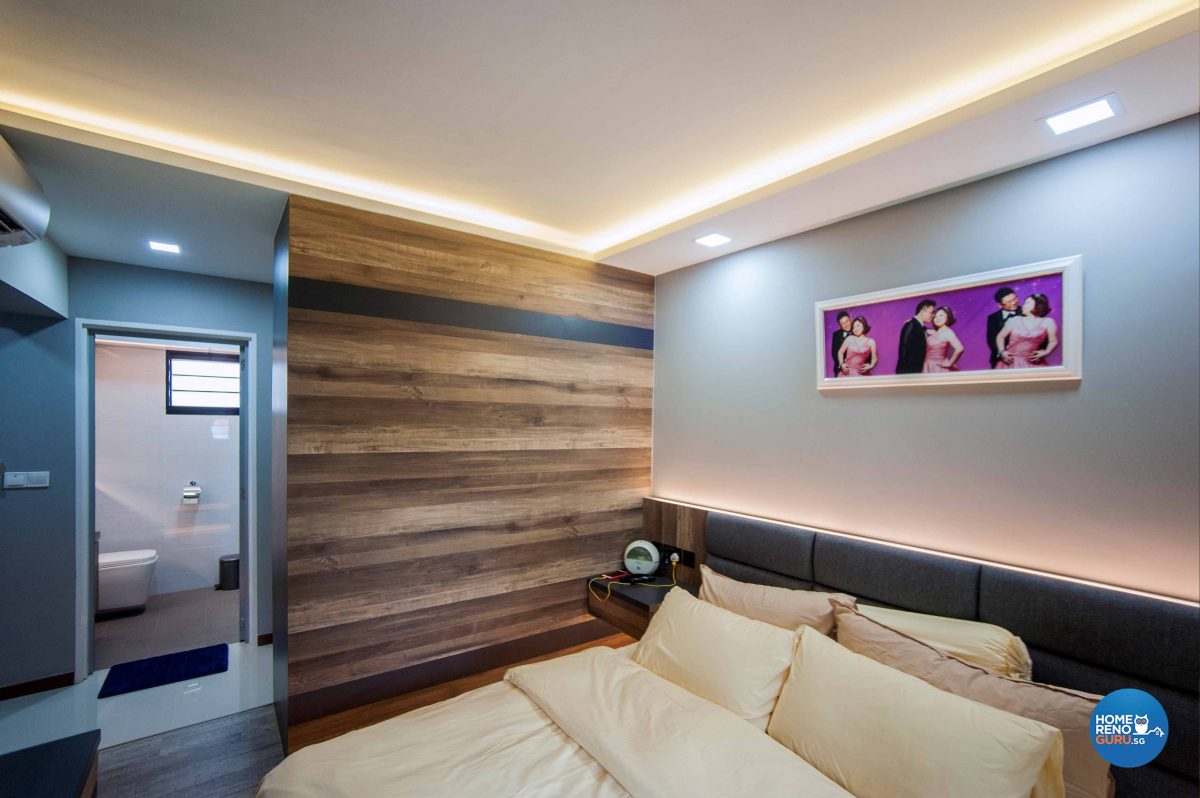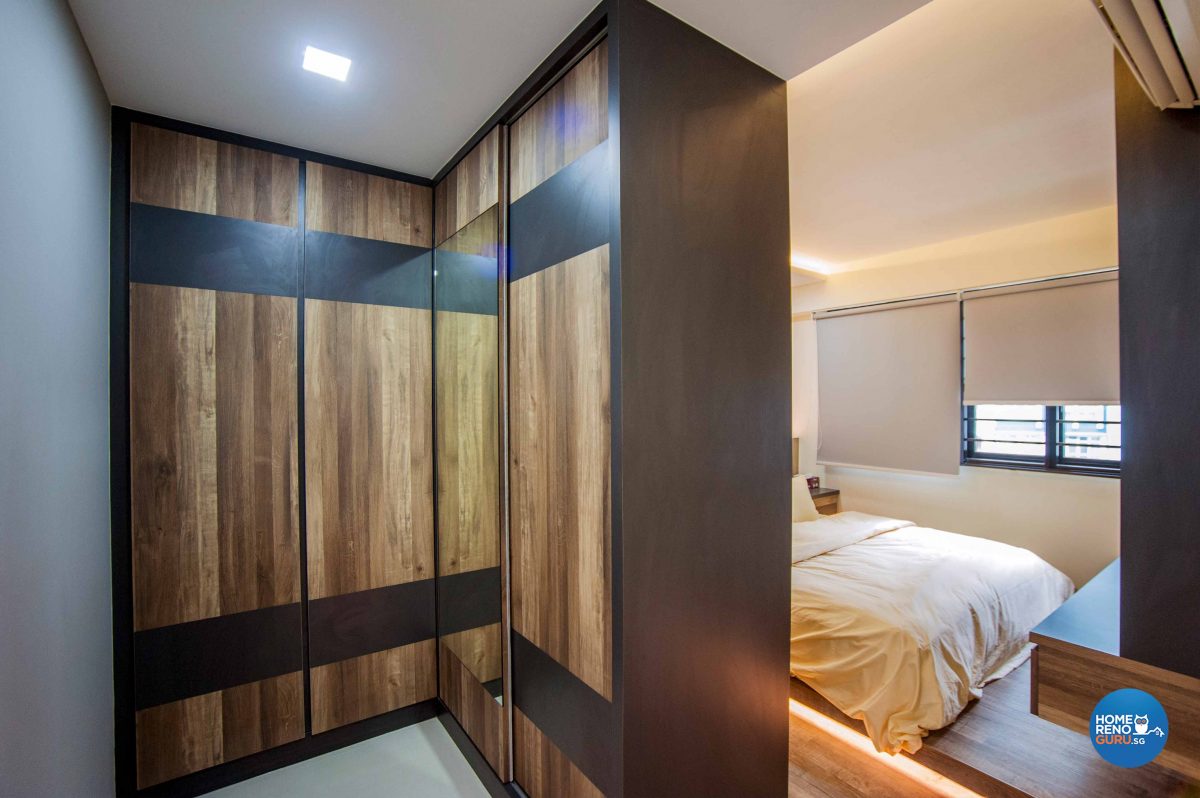 The spacious L-shaped wardrobe in the master bedroom
HomeRenoGuru: What do you really love about your newly renovated home?
Johnson/Zann: The master bedroom platform comes with night lights so it blends in with the theme. With all the lighting effects, it feels very cosy.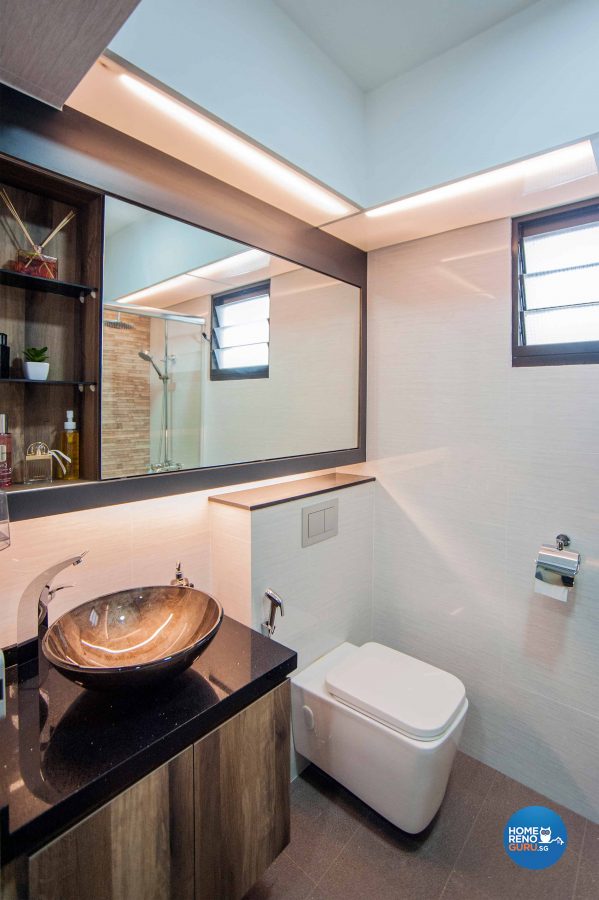 Light-coloured walls in the master toilet contrast with the dark vanity top and wooden cabinets

For continuity, the common toilet adopts the same distinctive blend of materials
Johnson/Zann: In the kids' room wise, we have a bedframe for two kids, which helps them bond better with each other. In the spare room, we also have a study platform built in to the structure.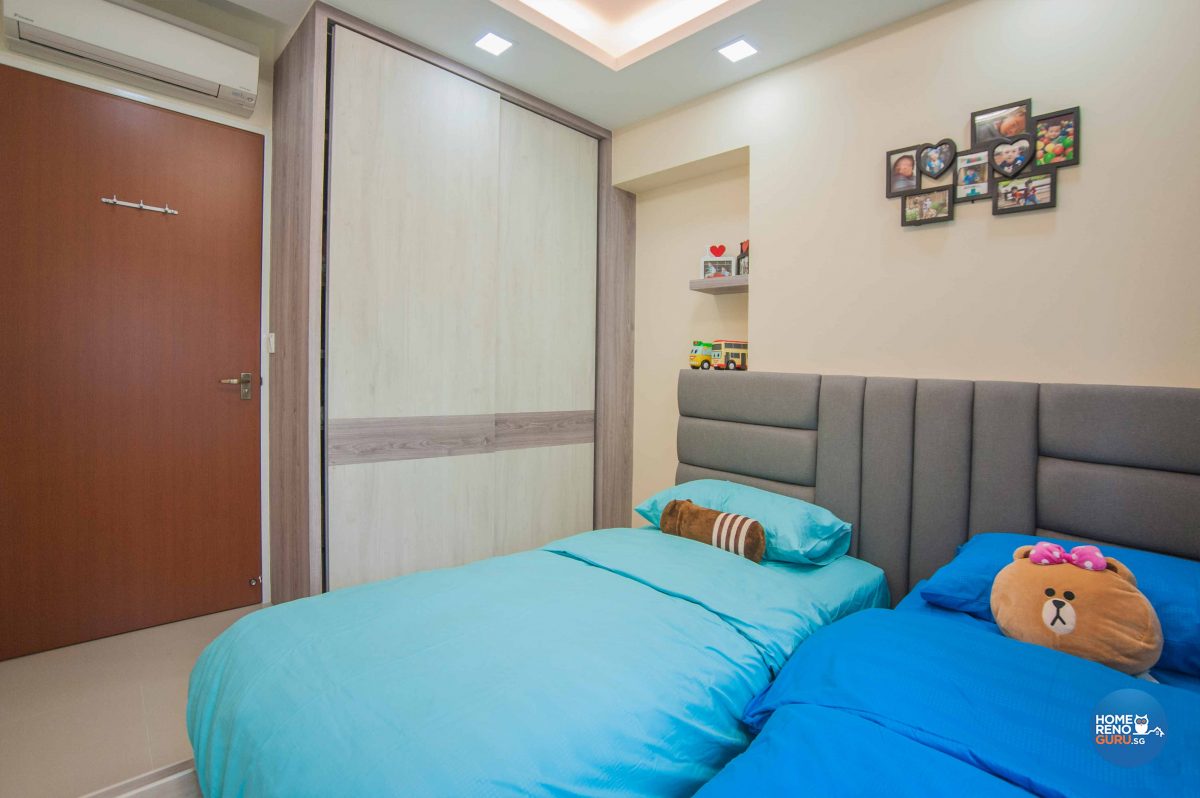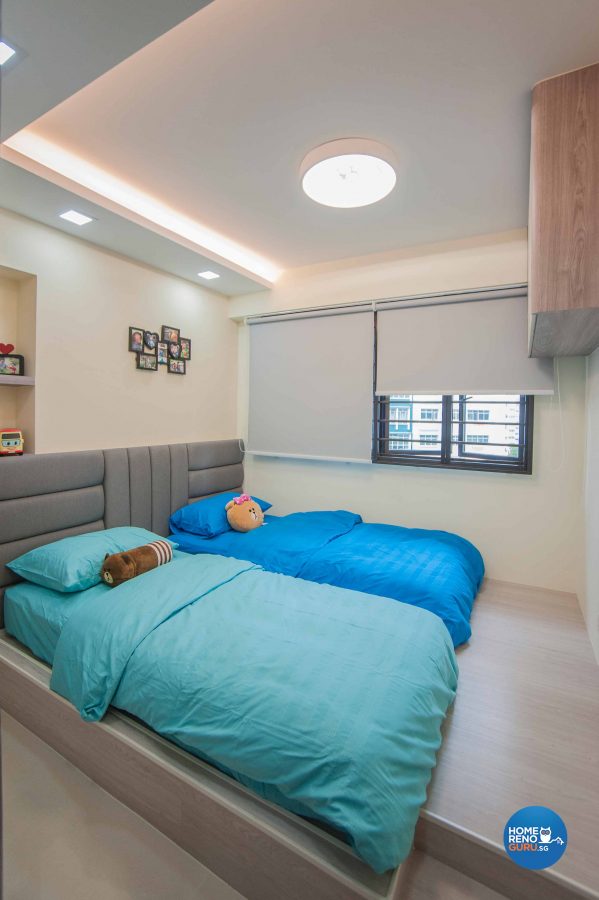 Brayden and Hayden's room features a double bedframe for brotherly bonding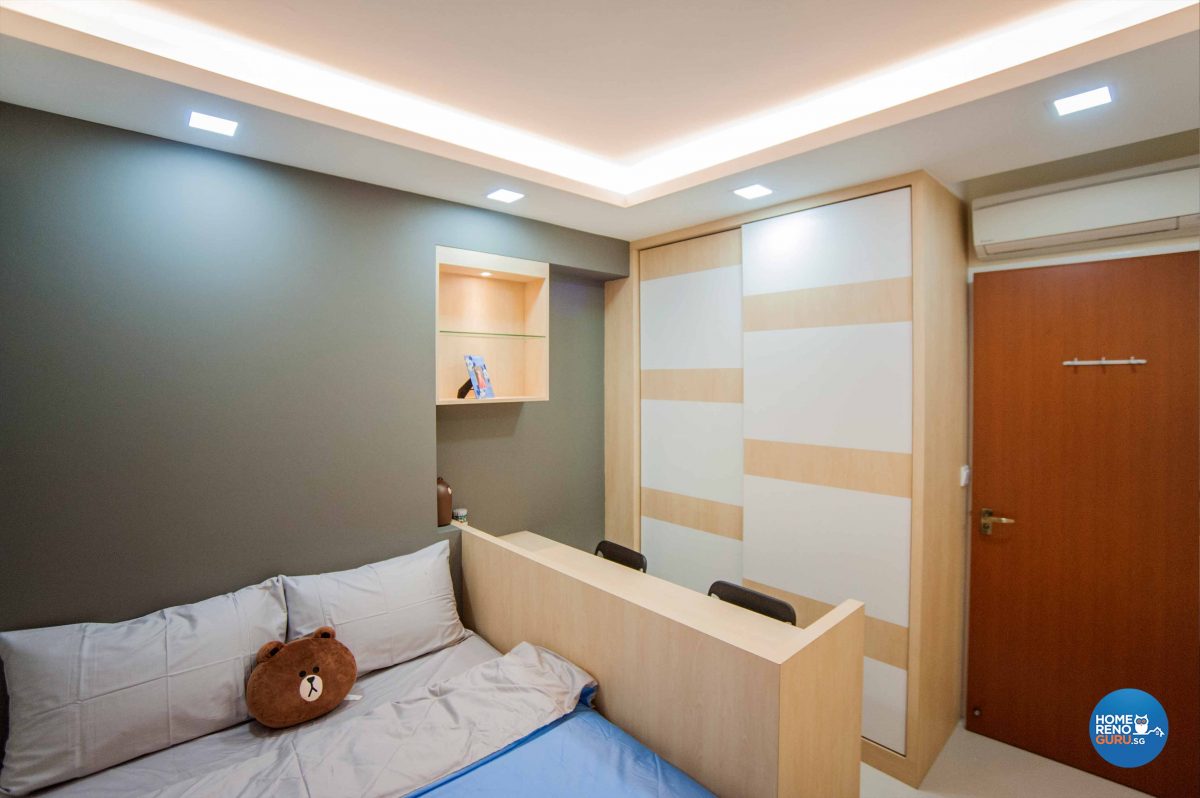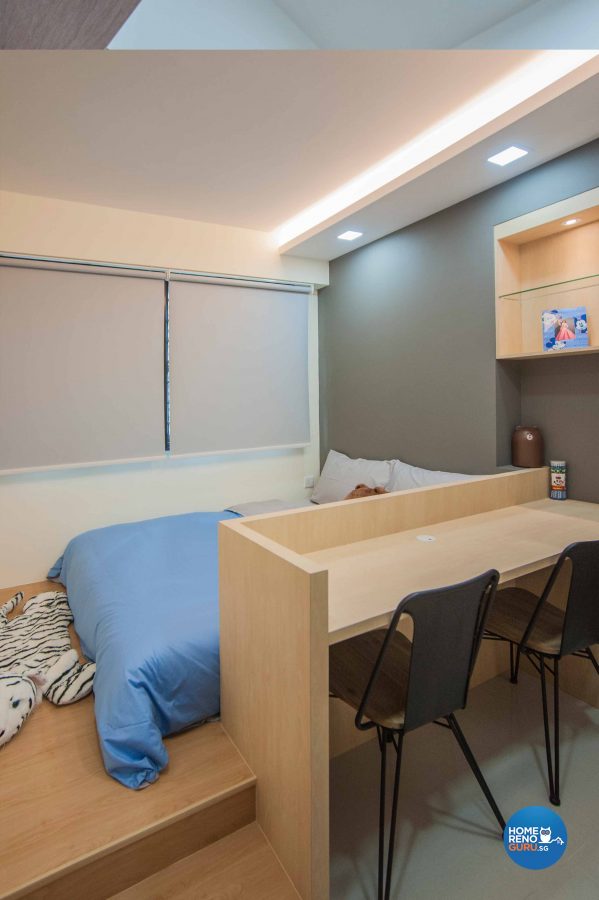 The spare room cum study shows great space planning, combining a desk and a raised platform bed
Zann: The place that I like the most is the L-shaped wardrobe in my master bedroom because it has ample space to store all my bags and other stuff.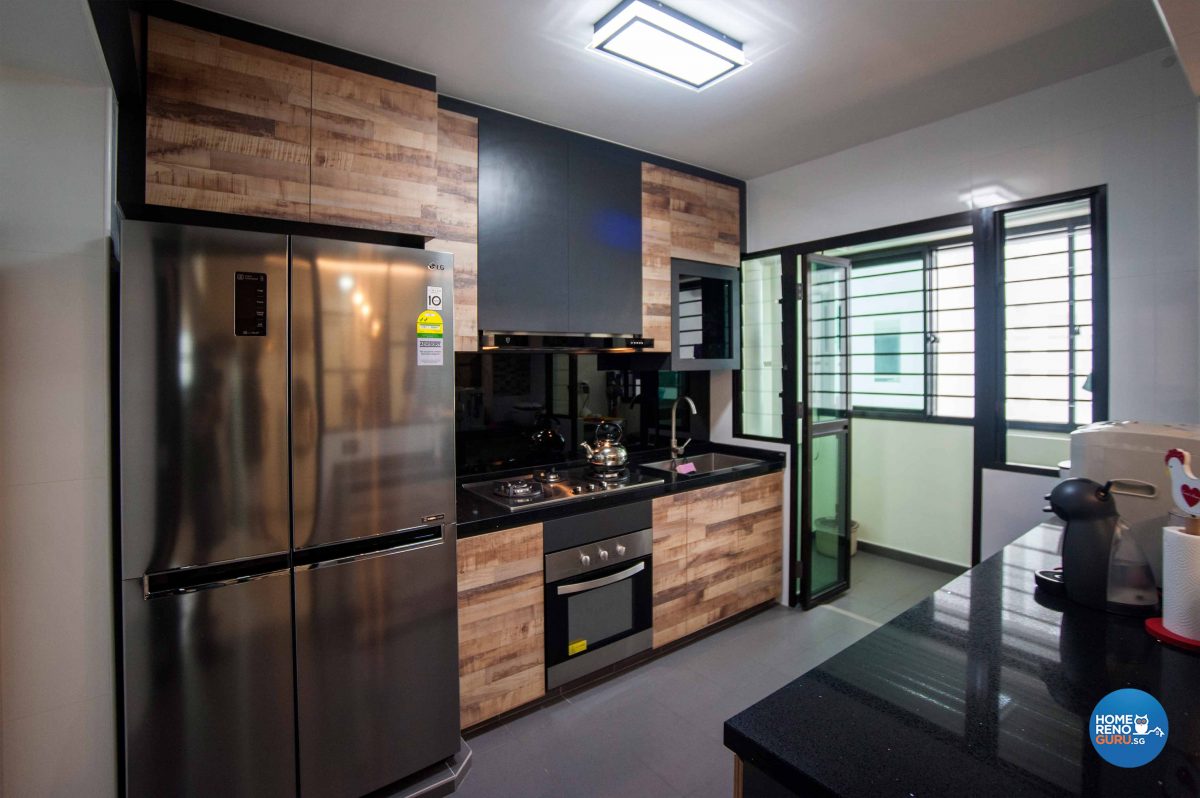 The cosy rustic yet modern kitchen features black countertops and wood-like laminate throughout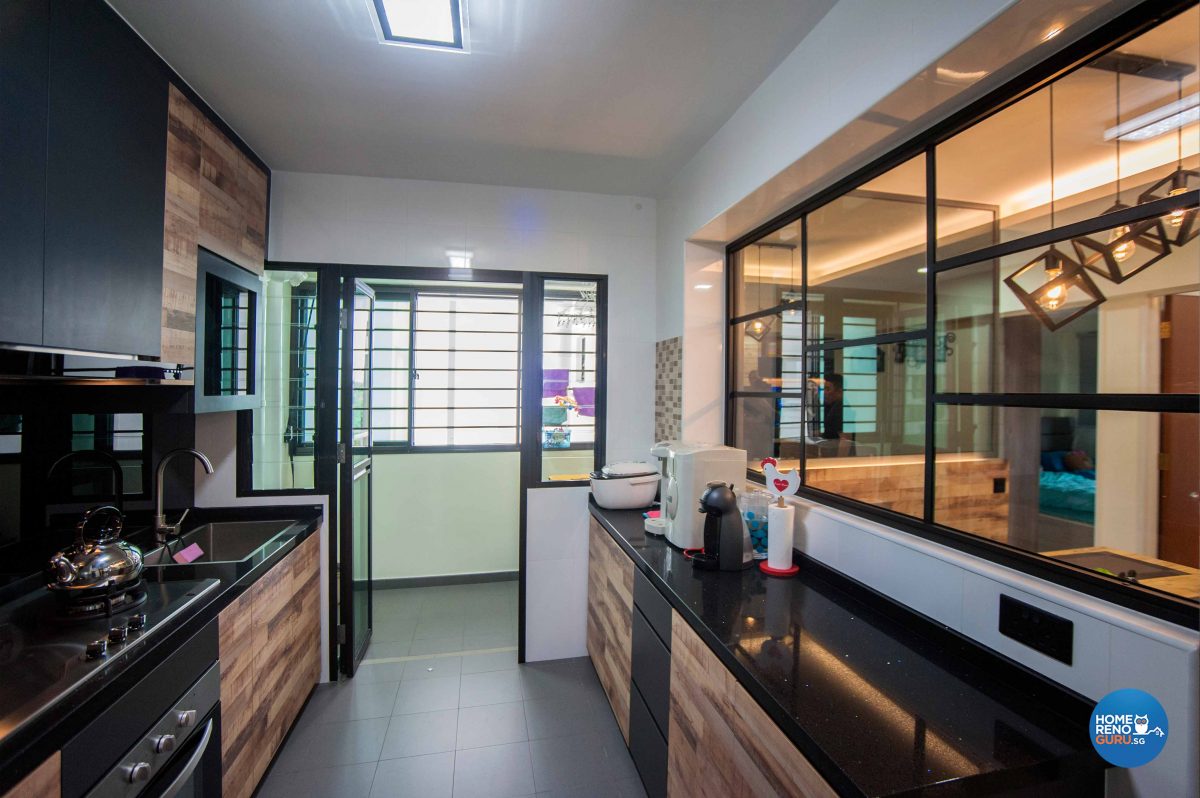 At their designer's suggestion, a glass panel fronts the kitchen to enable Zann to keep an eye on her two little boys at play in the living area
Looking for Interior Designers?
Let HomeRenoGuru help!
Zann: I particularly like the kitchen concept. It was actually Alvin's suggestion to hack down half of the wall and put in a glass panel, in order for me to look after my kids when they are playing in the living room.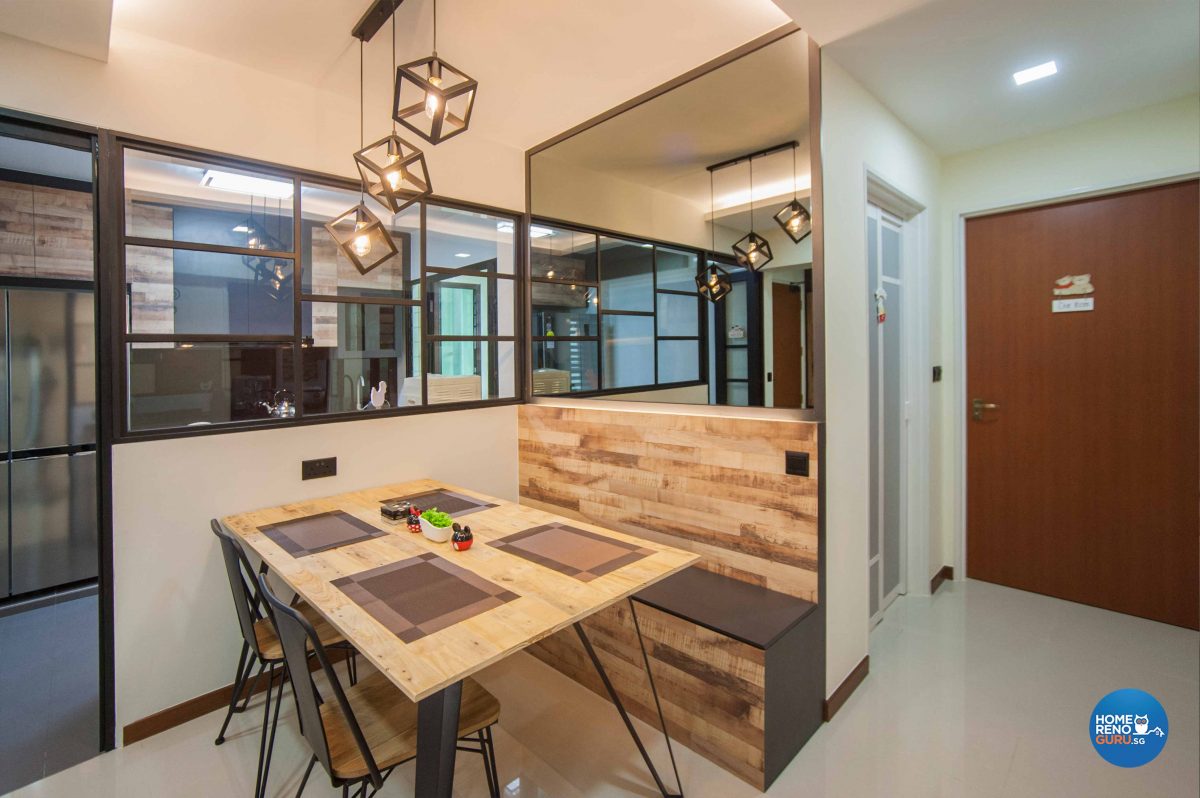 A mirrored wall behind the dining nook really enhances the sense of space
Johnson/Zann: And the mirrors that Alvin suggested to us actually makes the living room look bigger. To enhance our living room, we also got Alvin to get us a tiled brick wall.
HomeRenoGuru: Do you have any general advice you would like to share with homeowners contemplating a renovation?
Johnson/Zann: We would advise homeowners to set a budget and find an ID who they're comfortable with, and understands what they really want for their home.
HomeRenoGuru: Would you confidently recommend Love Home Interior Design?
Johnson/Zann: Yes! We are happy with Love Home, especially for their good workmanship, quality and services. Thank you Love Home!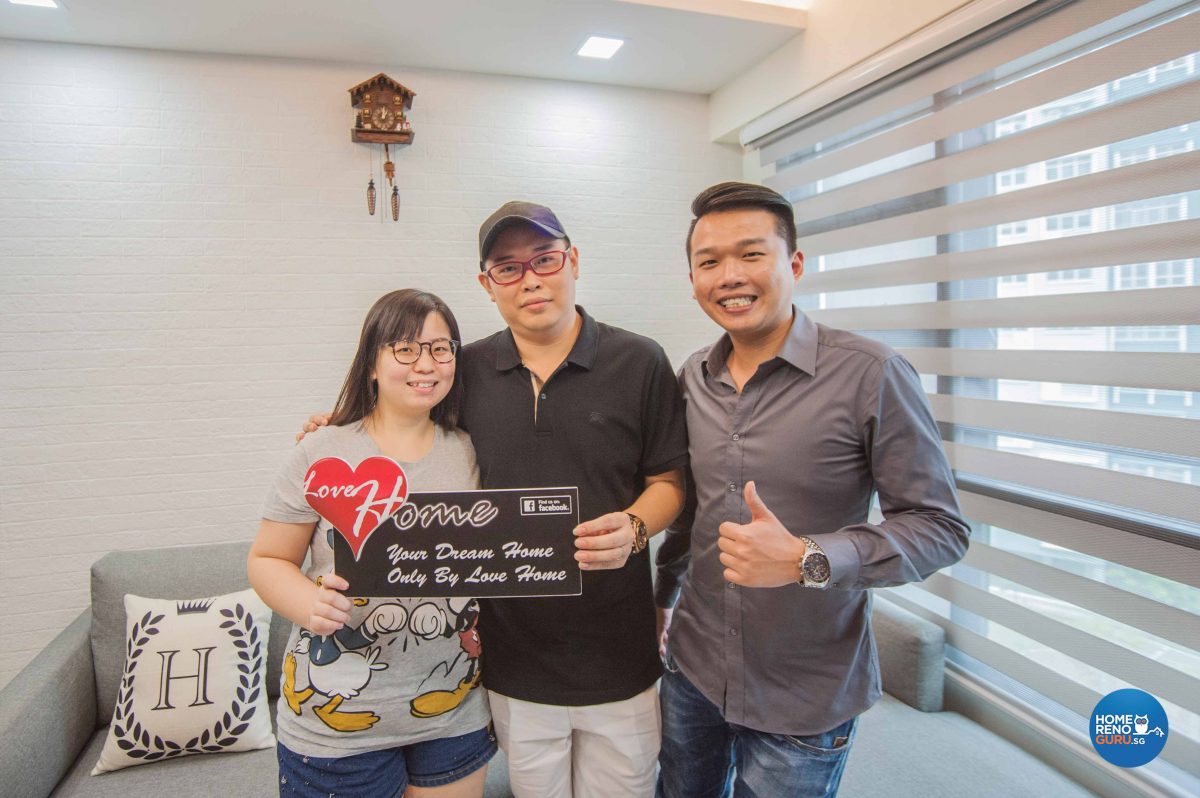 Zann and Johnson with their interior designer, Alvin from Love Home Interior Design