Dream Home: Modern with a dash of Feng Shui
A thoroughly modern couple who are in touch with their Chinese roots, Kok happens to be in compliance with feng shui principles. Their designer Jason, from Casa Interior Design, happily adhered to the guidelines set out by a feng shui master, right down to the exact timing for the commencement of work. It all ended very fortunately indeed.
Project Snapshot
Name(s) of Homeowner(s): Kok Wee and Crystal
House Type: 4-room Resale HDB Flat
Size of Home: 92 sq/m
Cost of Renovation: $48,000
Duration of Renovation: 2.5 months
Interior Design Firm: Casa Interior Design Pte Ltd
Name(s) of Designer(s): Jason Tay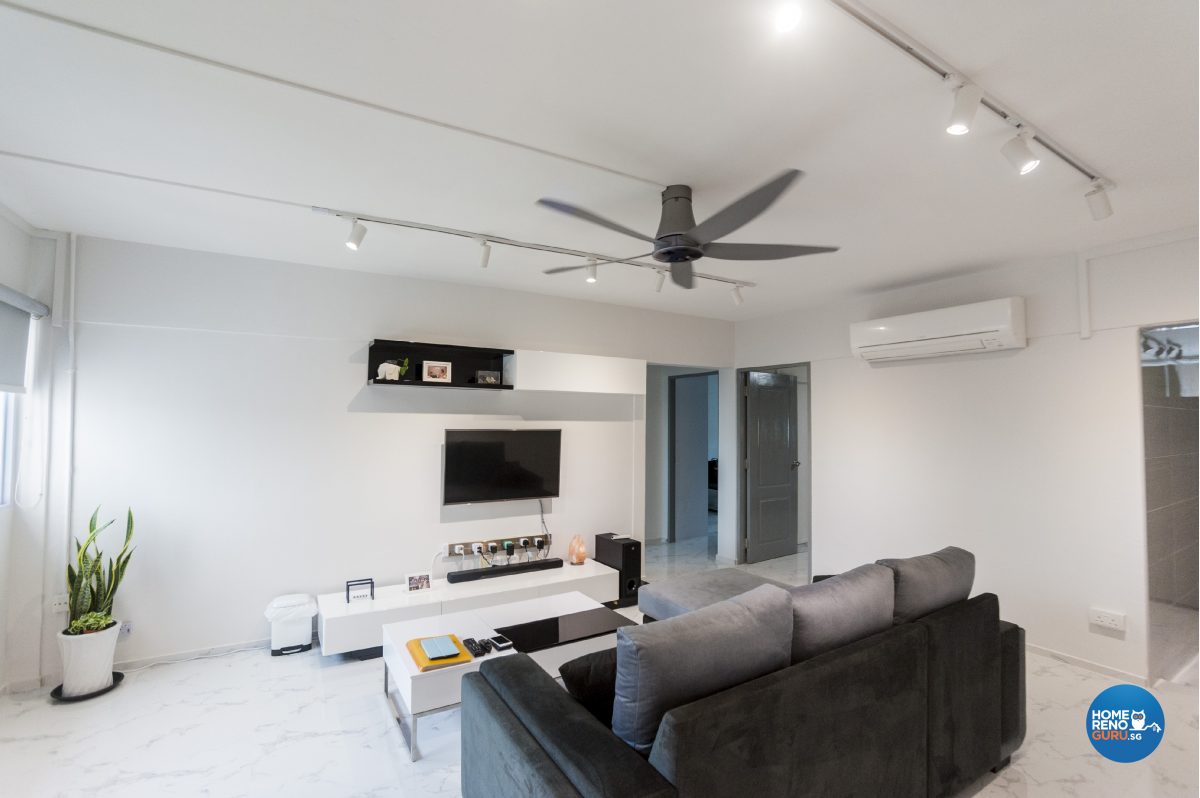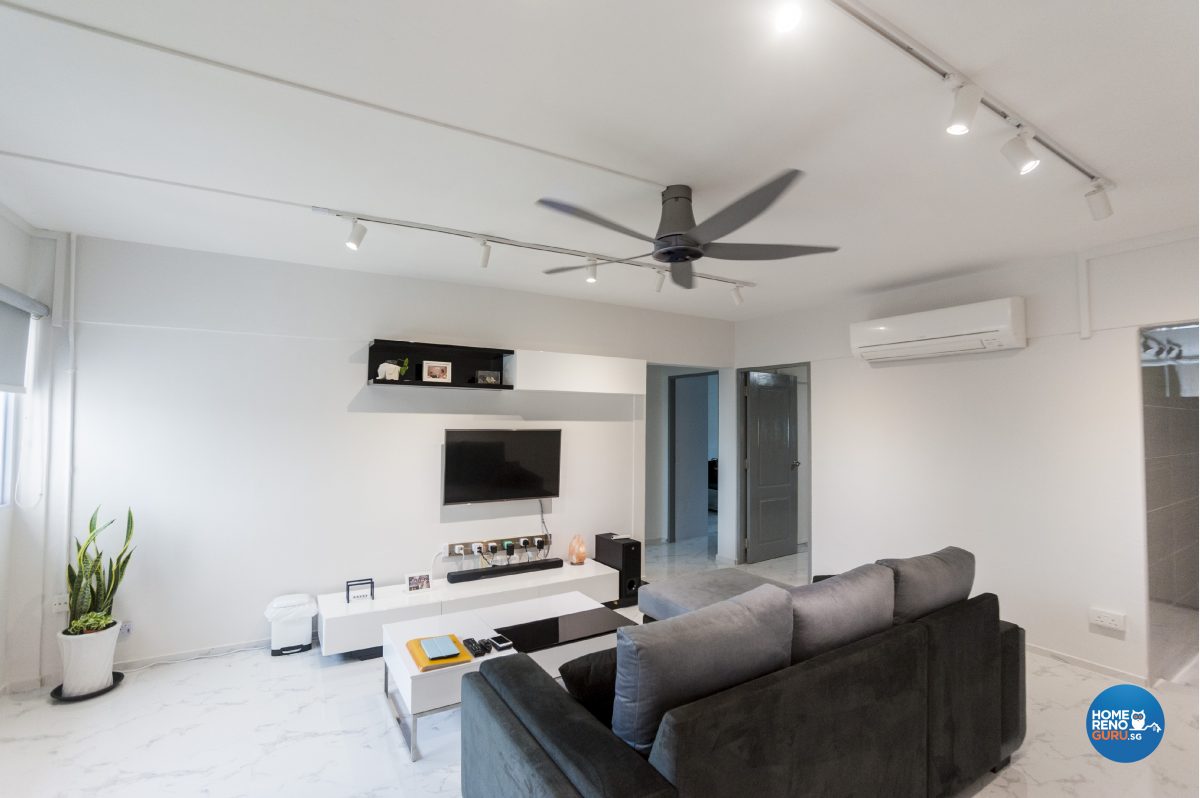 The clean and serene living area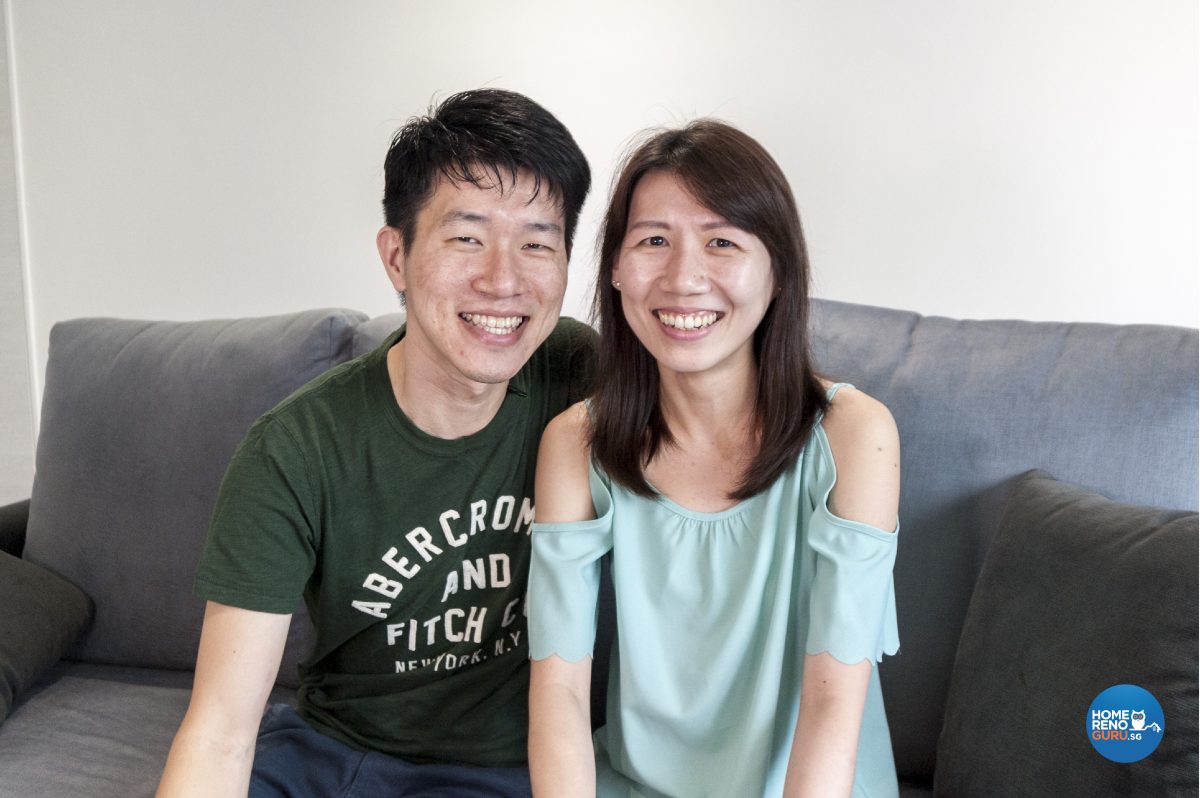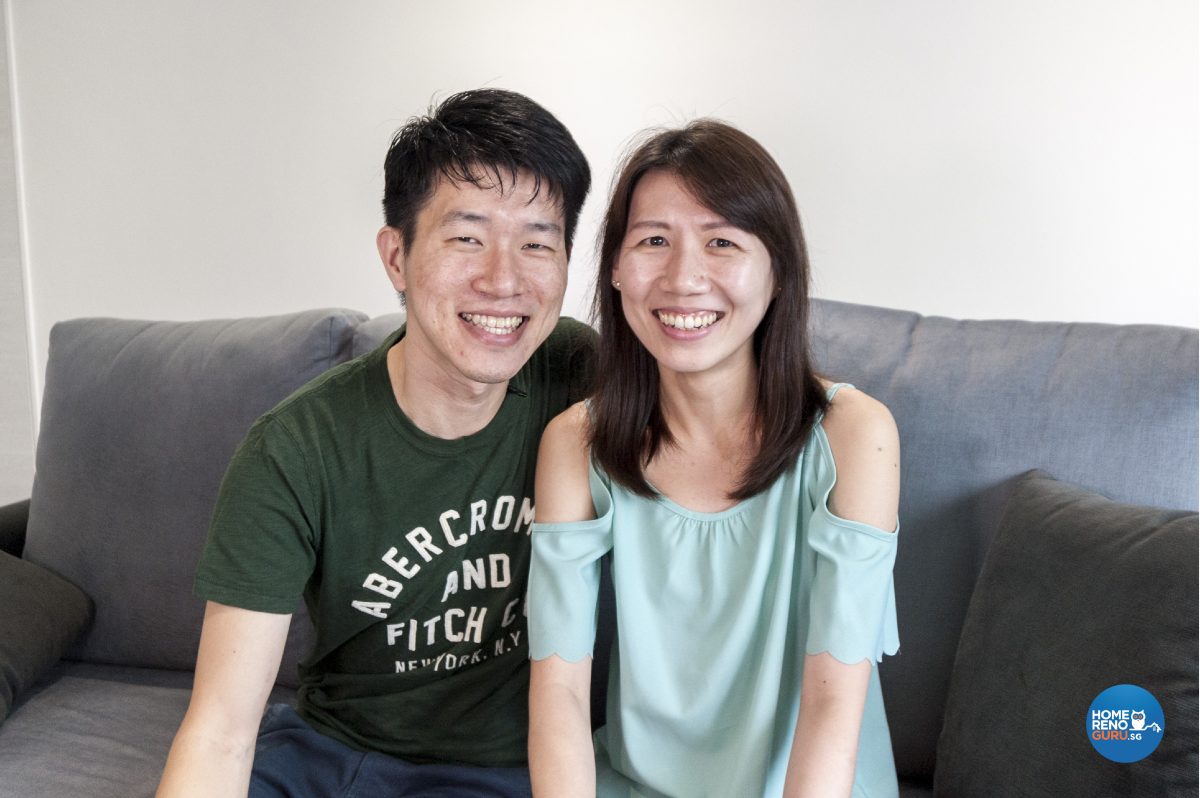 Happy homeowners Kok Wee and Crystal
HomeRenoGuru: How did you come to engage Casa Interior Design to renovate your home?
Kok Wee: We finally decided on Casa Interior Design after Jason invited us to view a resale flat that he had recently renovated and was about to hand over. We were very impressed and we signed up with him on the spot.
Crystal: During our briefing with Jason, we let him know we wanted a modern contemporary theme. So we kept to the colour selection of grey, white and black. We kept to very clean lines, and because we wanted more marble in the house, we went with the marble flooring and then also the more shiny kitchen tiles.
We received the gift of a feng shui package from my sister-in-law, which advised us on when to start the renovation. When we told Jason about it, with the details of our preferred day and time, he was very accommodating, because it wasn't the first time he'd received such a request.
HomeRenoGuru: How did you find the actual renovation process?
Kok Wee: When it came to the renovation process, Jason actually created a Whatsapp group to keep us up to date on the progress of the house. He did a great job in managing the contractors and keeping to the timeline.
Crystal: We were very impressed with Jason because he took the trouble of informing the neighbours that there would be a lot of hacking and drilling noises from the renovation. We thought that was very thoughtful of him.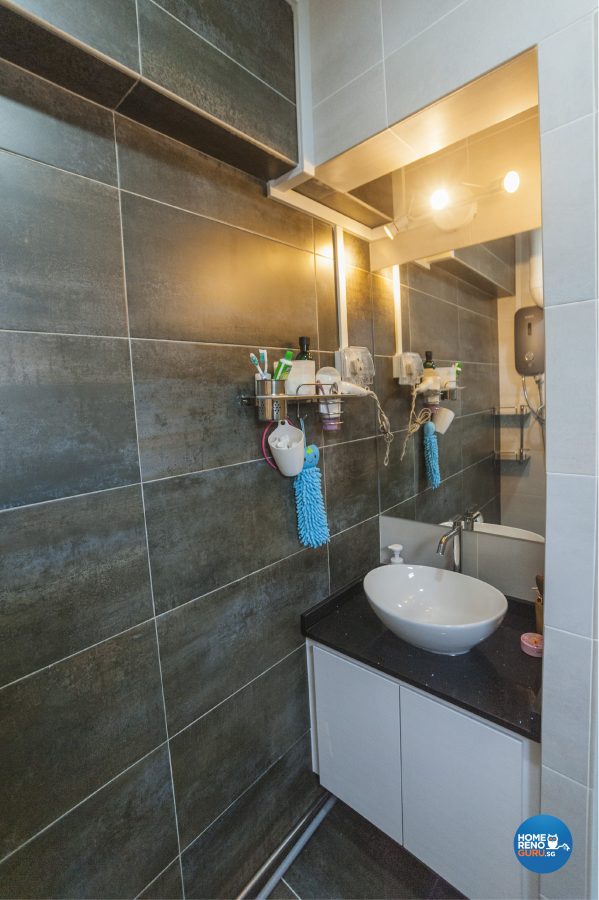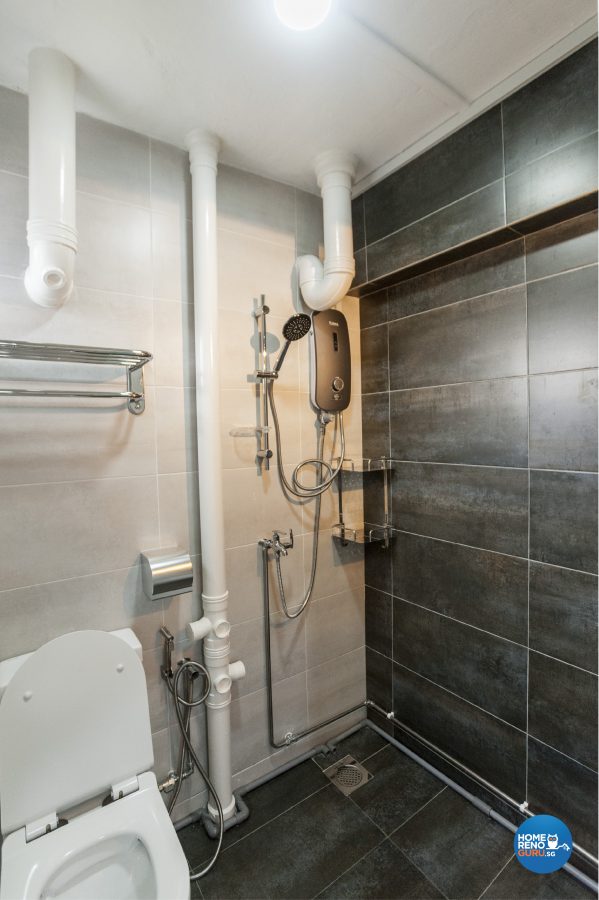 At the homeowner's request, a wall was hacked in the master bathroom to accommodate a small vanity
To accommodate my request to have a small vanity top in the master bathroom, Jason hacked the wall to make the bathroom larger than the original size.
HomeRenoGuru: What do you consider to be the highlights of your renovation?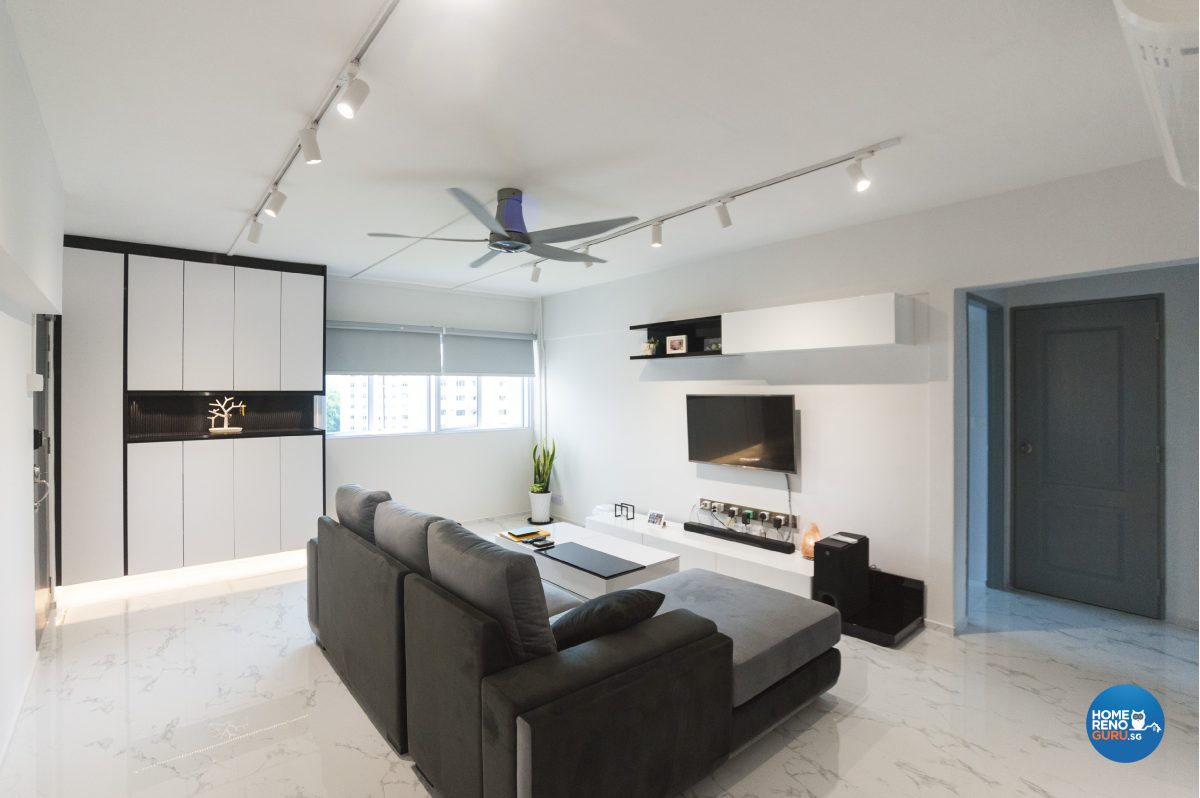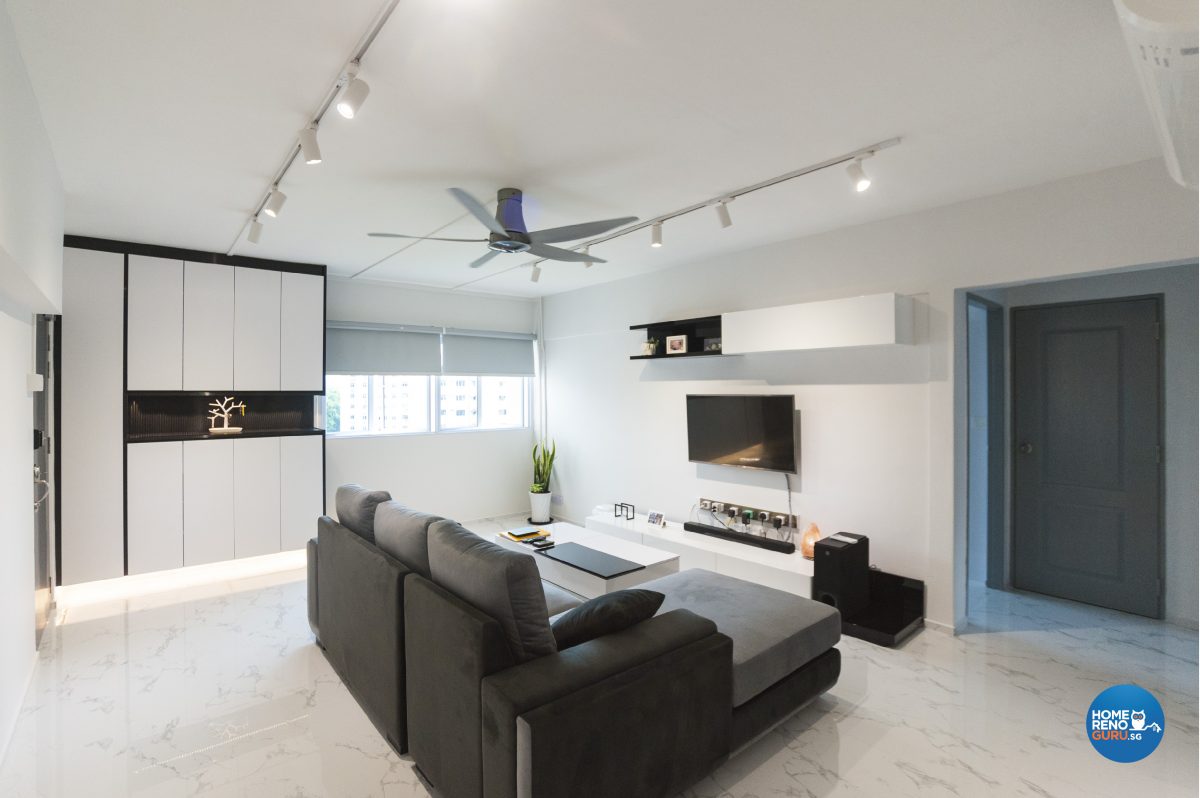 A built-in appliance cupboard and storage cabinet keeps the entrance hall clutter-free
Kok Wee: Overall, Jason delivered almost exactly what we had envisioned. In particular, I appreciate the appliance cupboard and shoe cabinet. It's very good use of space and gives us a lot of storage space. The floating design is actually very functional for everyday shoes. We just slip them on and off and slide them under the cabinet.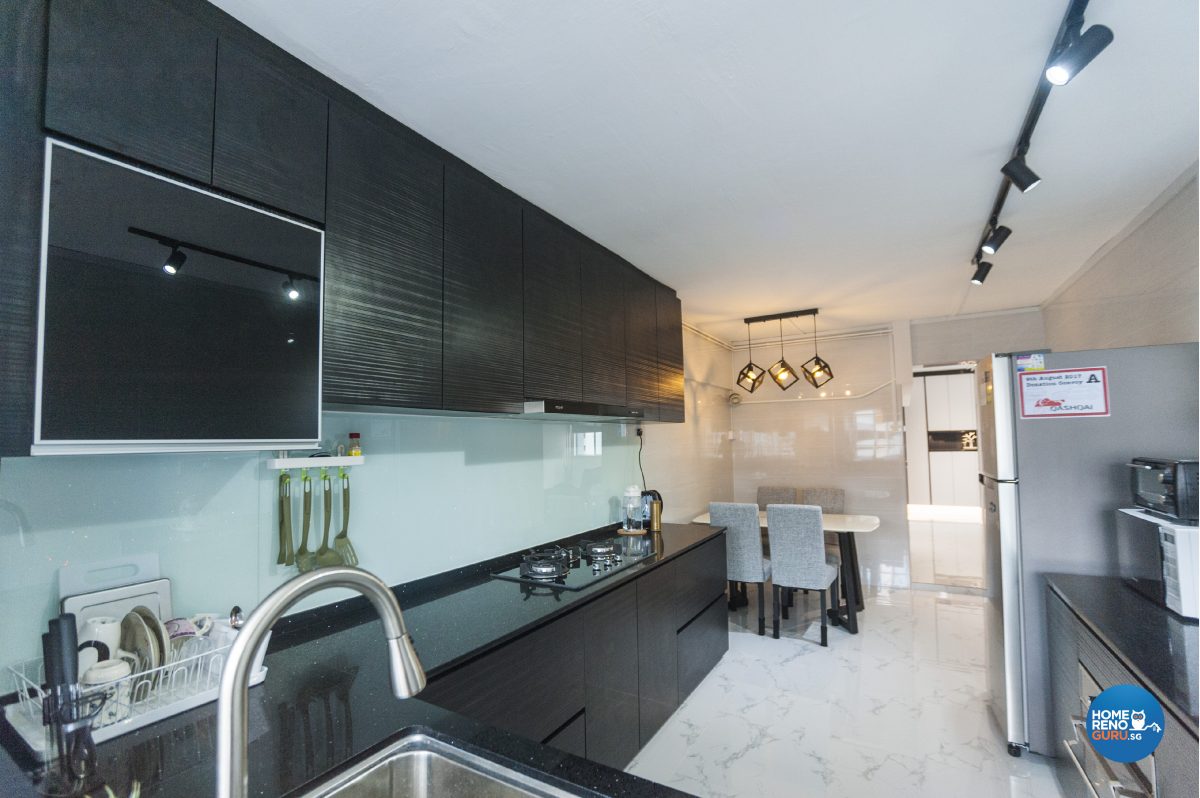 An expansive L-shaped counter maximises work space in the kitchen
Crystal: In the kitchen, in addition to the conventional L-shaped counter top, Jason also created an additional bench top to create more space for us to prepare our food.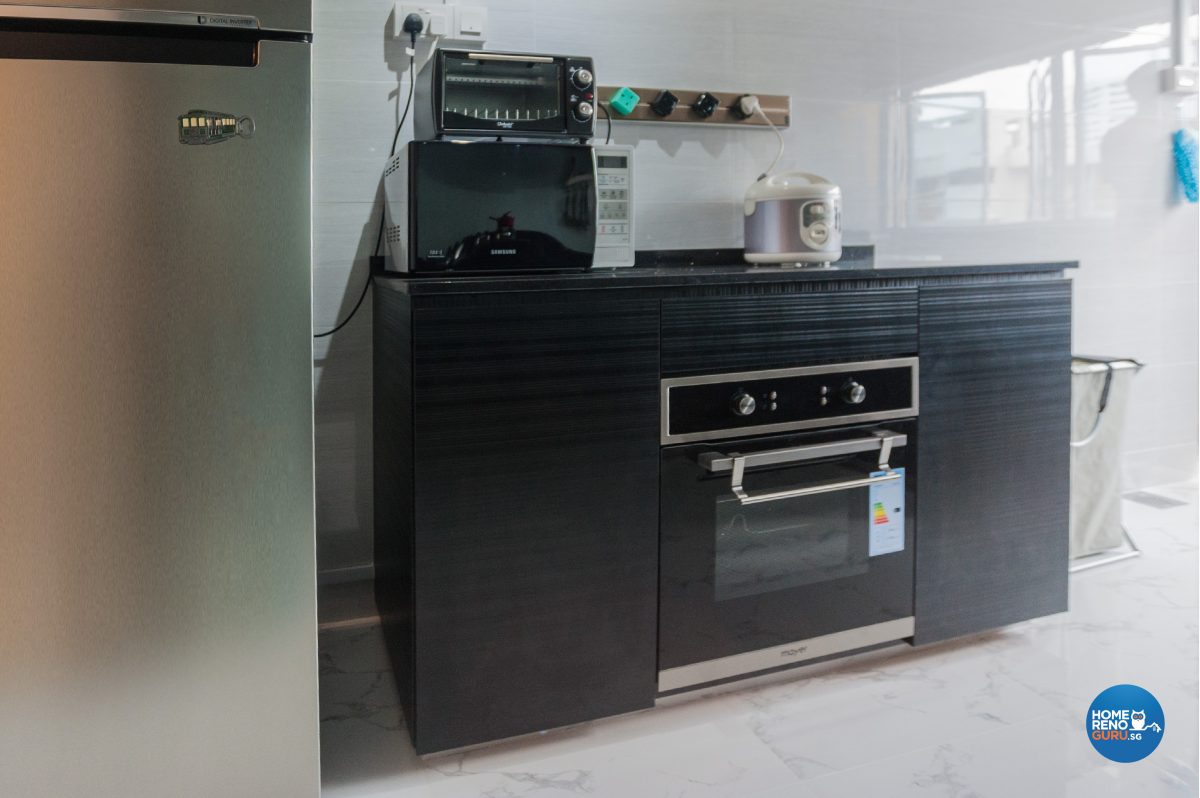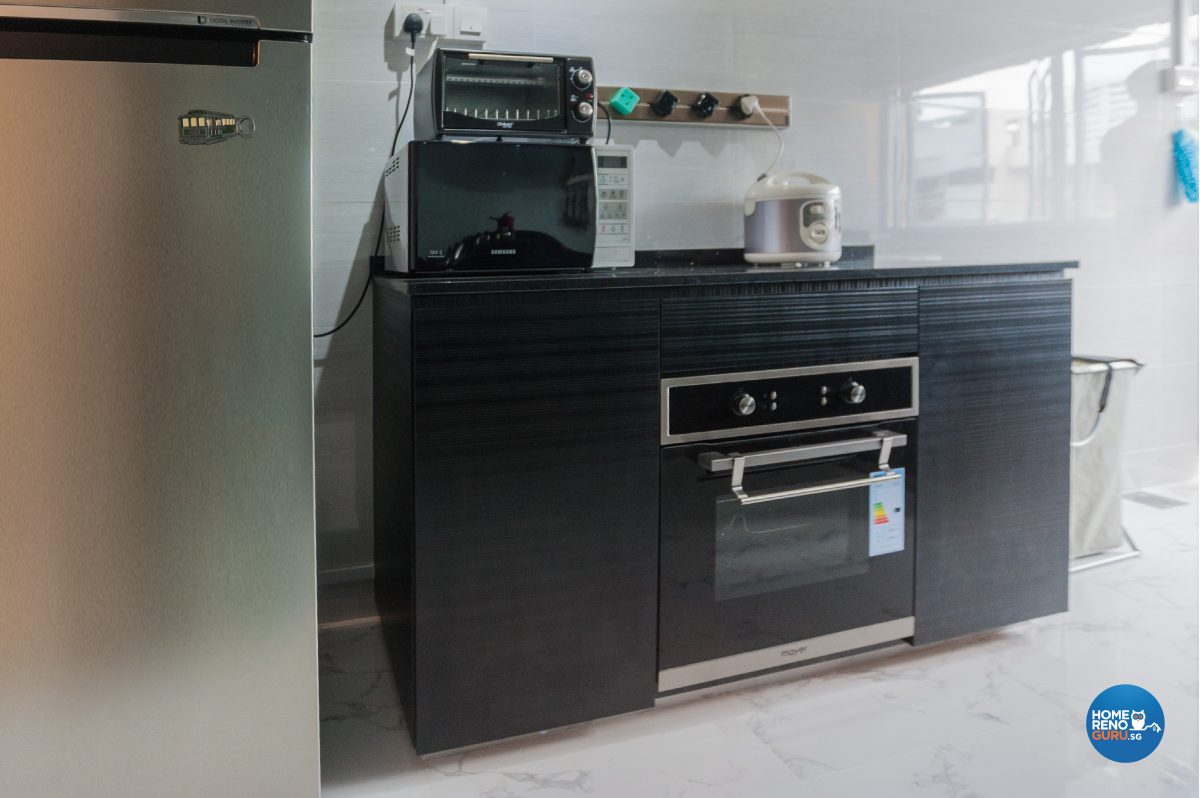 The modern yet timeless kitchen sports a classic black and white colour scheme, shot through with stainless steel
Kok Wee: When it came to the master bedroom, our feng shui master advised us that the bedhead has to be flushed with the beam. We were really happy with Jason's unique design, it's really a talking point. We also have a handy storage area under the bed for keeping our bedsheets, and it also cuts down on cleaning.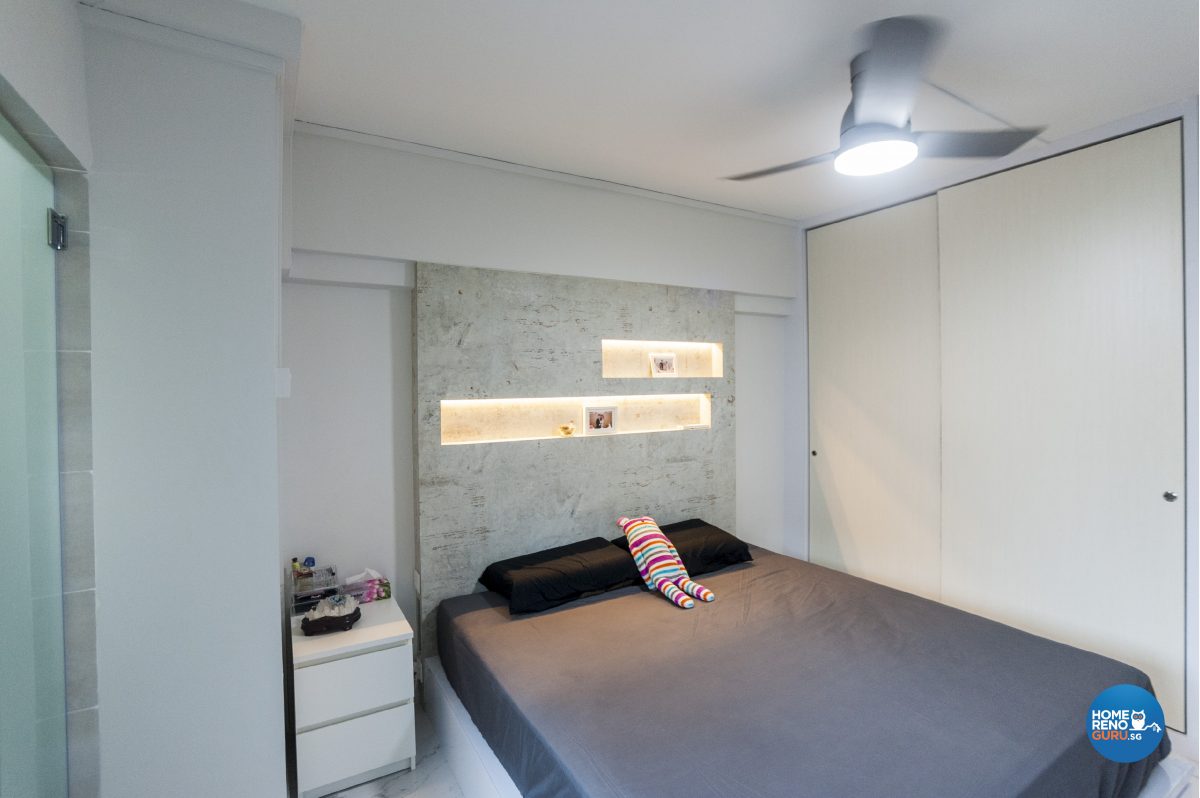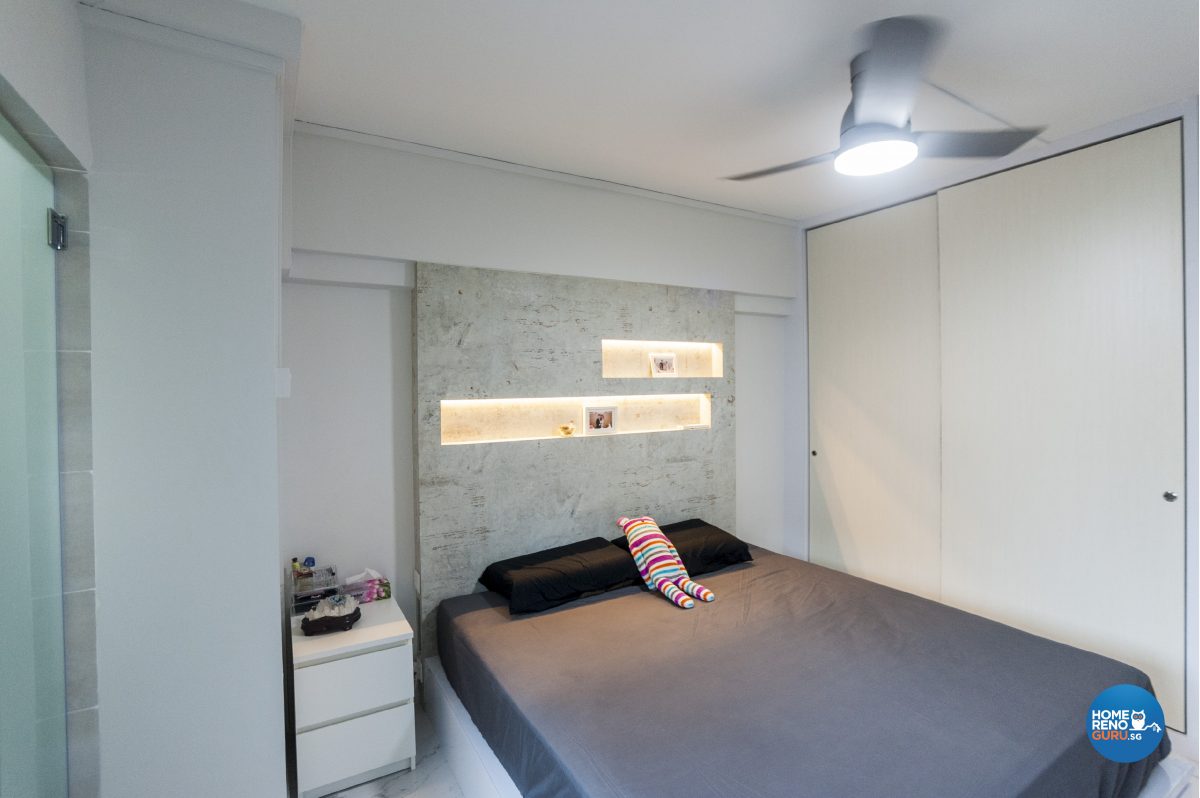 In accordance with feng shui advice, the bedhead in the master bedroom was flushed with the beam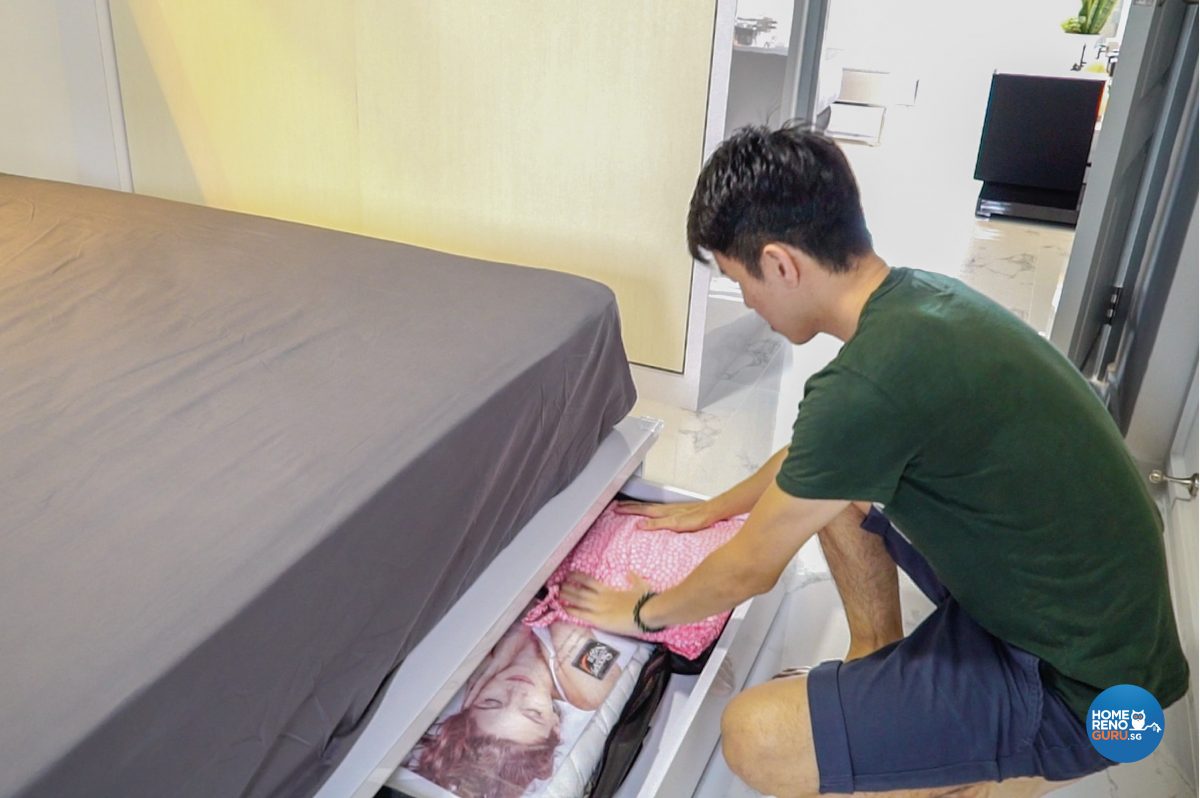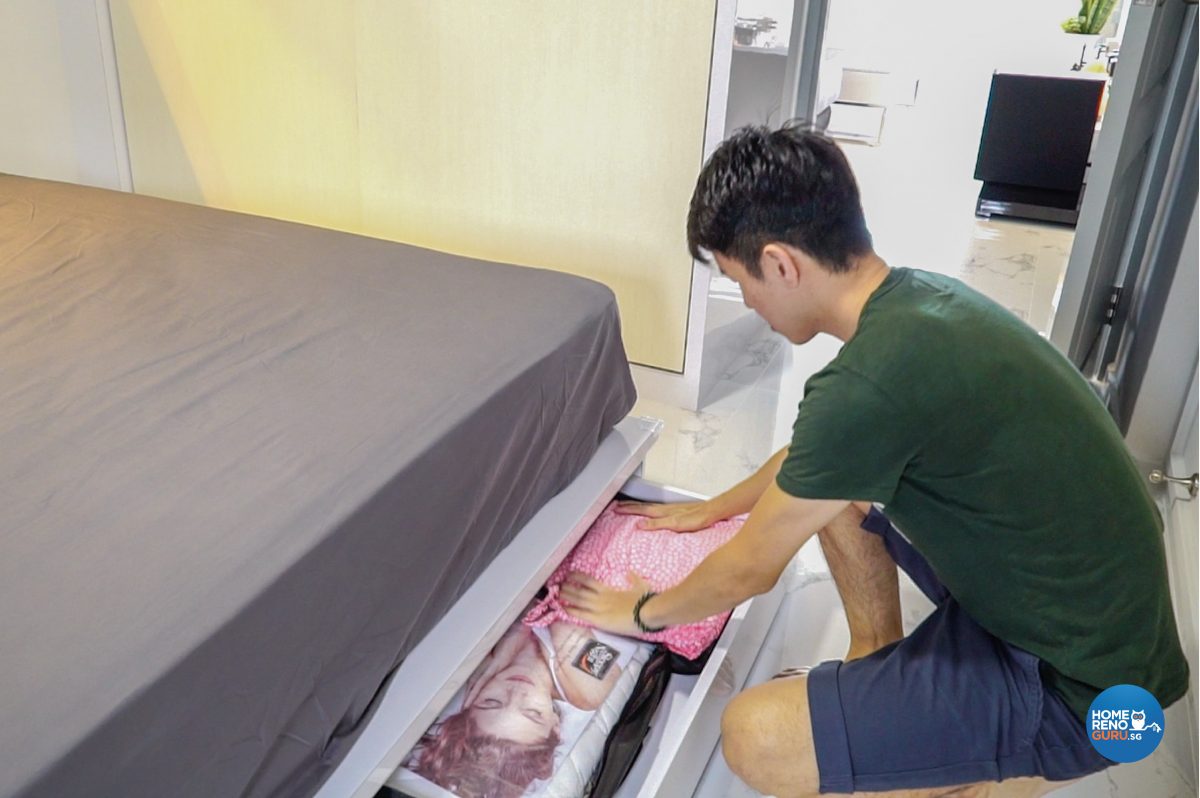 Handy storage space under the bed reduces cleaning
We kept the study and spare room simple and spacious so it'll be easy to convert both rooms if our family expands.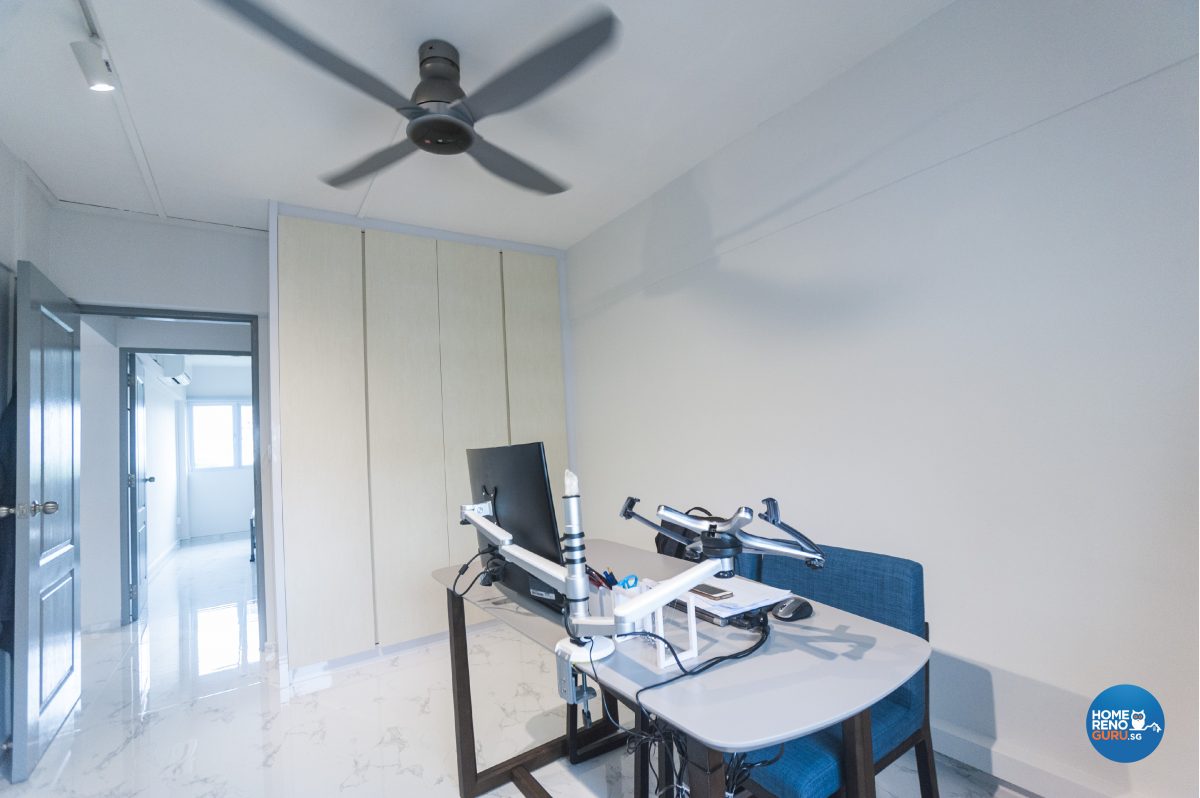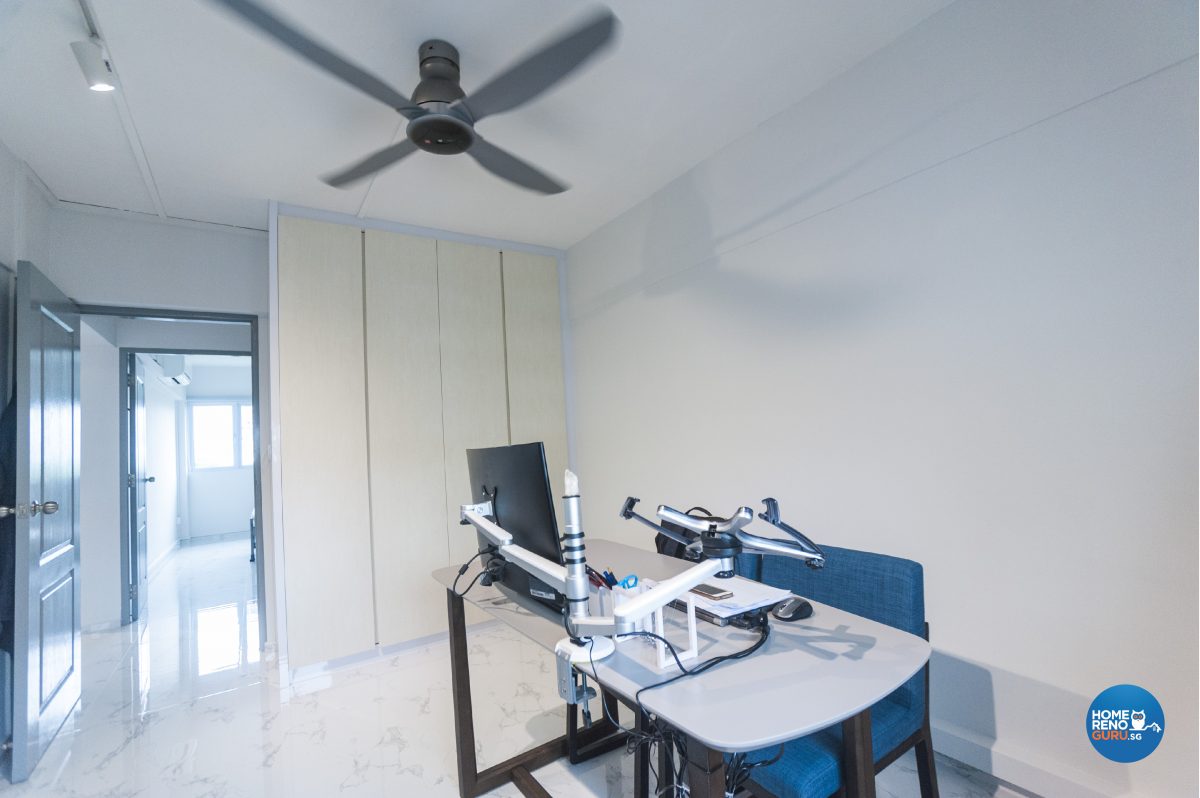 A wall was hacked in the study room to invite the light in
Looking for Interior Designers?
Let HomeRenoGuru help!
HomeRenoGuru: Do you have any general advice to share with homeowners contemplating a renovation?
Kok Wee and Crystal: Our general advice to homeowners would be to compare quotes, plan for the future, do your research, and find a designer you're comfortable with.
HomeRenoGuru: Would you recommend Casa Interior Design to other homeowners in search of a reputable and reliable interior design company?
Kok Wee: We strongly recommend Casa Interior Design and Jason.
Crystal: We love your work!