Dream Home: A Mix 'n' Match Home
We were floored by the standout flooring in this charming, eclectic home. Corene and Randy share the process of its creation, and give credit to their ID firm Areana Creation and their designer Ken, who went the extra mile to make it beautiful and distinctive.
Project Snapshot
Name(s) of Homeowner(s): Randy Lee and Corene Chee
House Type: 5-room BTO HDB Flat
Size of Home: 113 sq m
Duration of Renovation: 2½ months
Cost of Renovation: $34,000
Interior Design Firm: Areana Creation
Name(s) of Designer(s): Ken Bong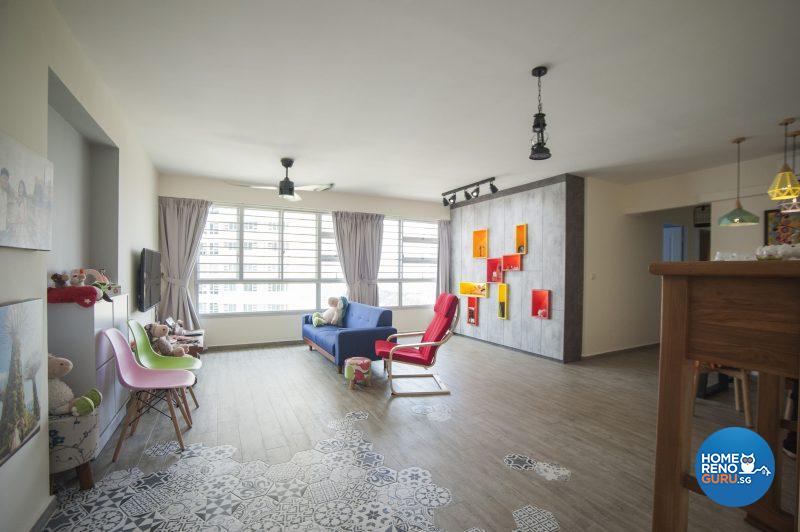 Amazing mixed media flooring greets visitors upon arrival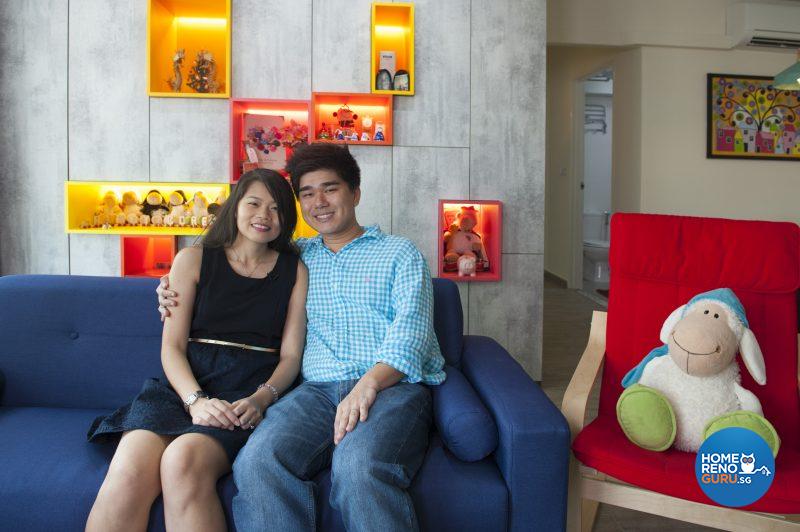 The happy couple of homeowners, Corene and Randy
HomeRenoGuru: How and why did you choose Areana Creation to renovate your home?
Corene: After we collected our BTO keys, we decided to source for IDs for our house. So we sourced for almost ten IDs.
Randy: Yes, and it was very, very tiring!
Corene: Yeah, until we actually went online and did some research, and sent out a lot of emails to get quotations from the IDs. Then we finally met our one and only ID, which is Areana Creation. I sent an email to Areana Creation, requesting for a quotation together with our floor plans and thereafter Ken actually replied to us and we found that the quotation was within our means, and also it was a comfortable range that we were looking at, so we decided to meet up with Ken. During our first meet-up, he actually gave us a sketch of our 3D drawing. It was very impressive, because we have met a lot of IDs and he was the one and only one that gave us a sketch-up.

Hexagonal patterned grey tiles are mixed with wood-like laminate planks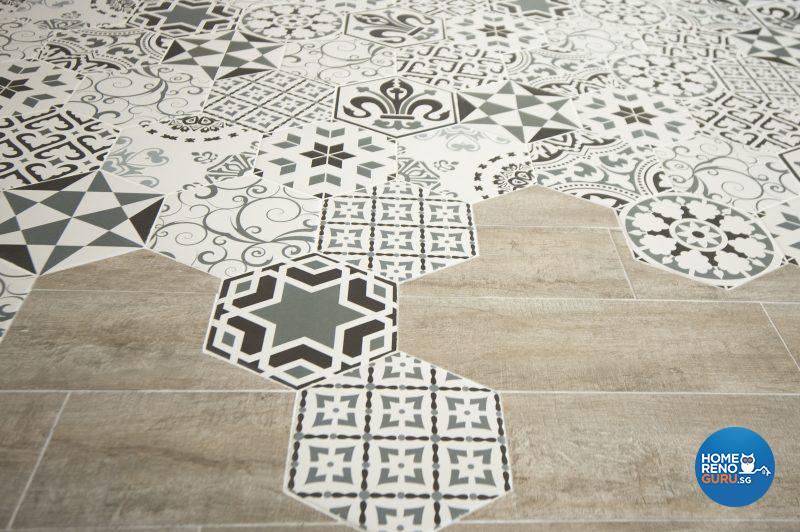 Random tiles are scattered artistically amongst the planks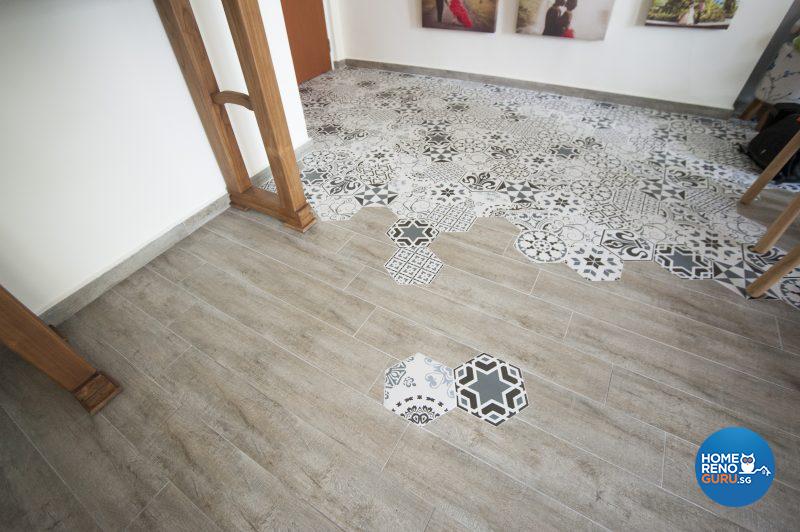 Eyes are drawn downwards to the low-lying work of art
HomeRenoGuru: What was your brief to your designer, Ken?
Randy: When it comes to design, I'm actually quite a boring guy, so I actually passed the whole design to my beautiful wife.
Corene: We don't really have a specific theme, like Scandi or minimalist or industrial, so we actually pick and choose from online websites. I actually came across a very interesting flooring from one of the magazines, so I decided to tell Ken, my ID, that I wanted something like this. So during our visit to the flooring supplier, we actually picked one of the designs that is available there.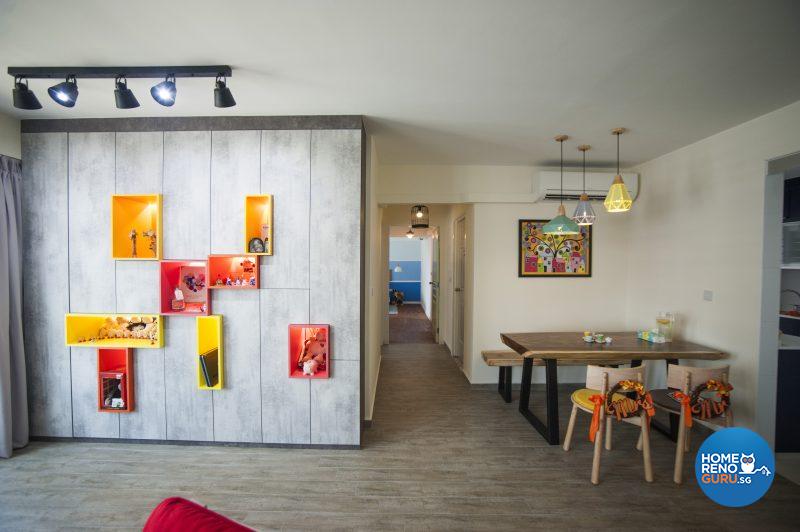 Splashes of colour enliven a neutral canvas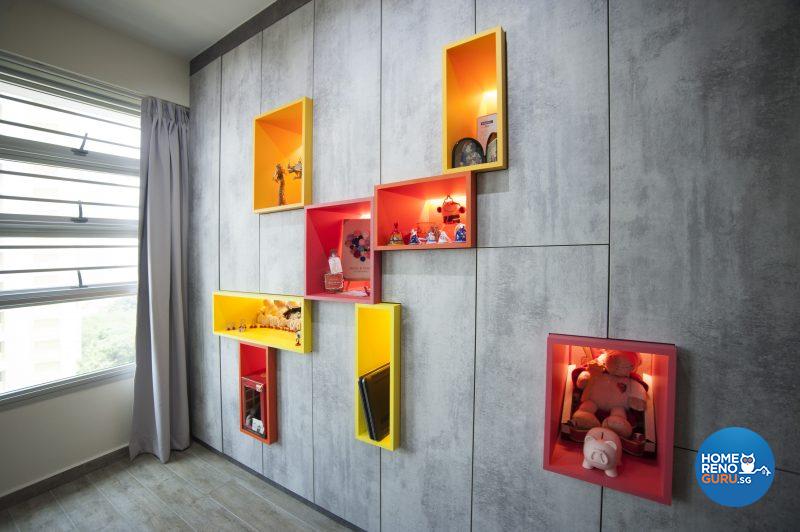 The spotlit niches were brightly painted for feng shui reasons
HomeRenoGuru: How did Ken respond to your brief?
Corene: Originally we just wanted the hexagon design for the flooring, plus the grey colour. But Ken wasn't very satisfied with the design so he went to many different tiling companies and it ended up that he found tiles that are so beautiful. So we were very impressed by Ken because he went all the way just to make sure that our home looks beautiful.
Looking for an estimate of your renovation costs?
Let HomeRenoGuru help!
HomeRenoGuru: What do you love most about your home?

The cool, clean bedroom sports a feature wall in bands of blue
Corene: Obviously, we love our flooring. As you can see, the tiles are actually two different types of tiles. The ones that are the hexagon one, we decided to scatter them around so we wanted them to look a bit more unique and then so, after that, we filled it with the wood-like tiles which are spread across the whole living room.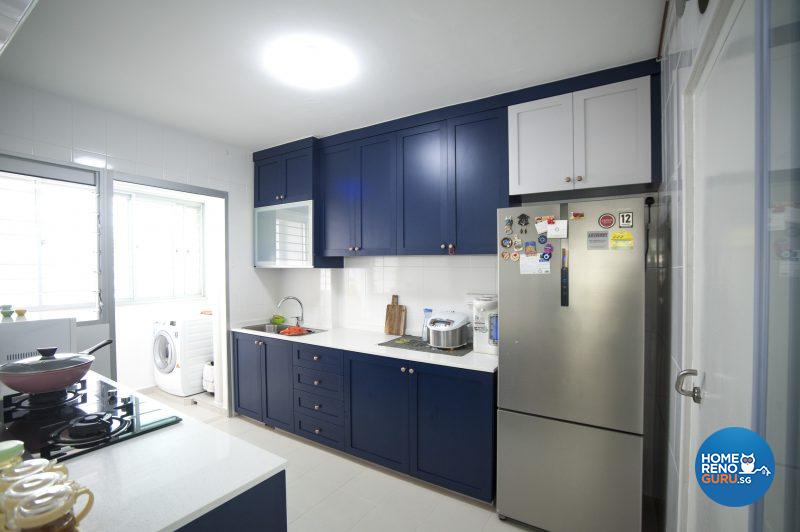 Blue cabinets with brass handles make a statement in the kitchen
As we both actually enjoy cooking, we love the kitchen a lot. So what we love about the kitchen is that there is blue beading, which actually Ken suggested us to do, and he also helped us to source the doorknob, which is very special – it's actually brass colour. We made some online purchases for the kitchen, the dowel system, and Ken actually helped us to incorporate it into the carpentry, so that it can be used.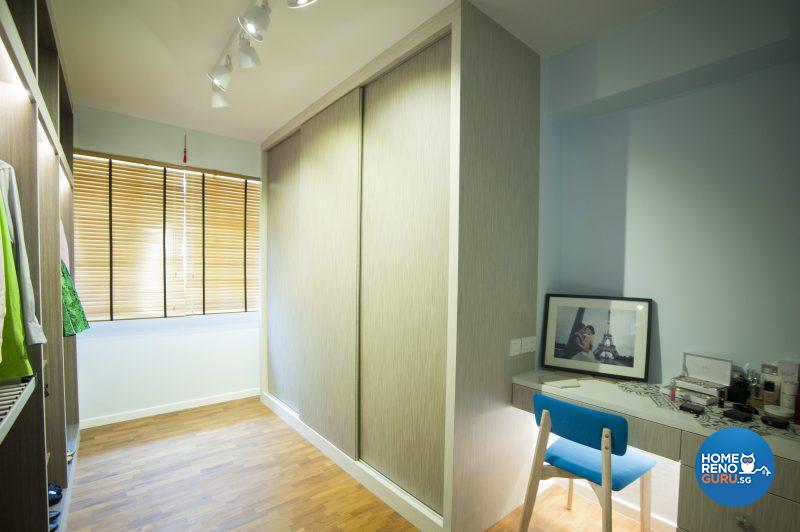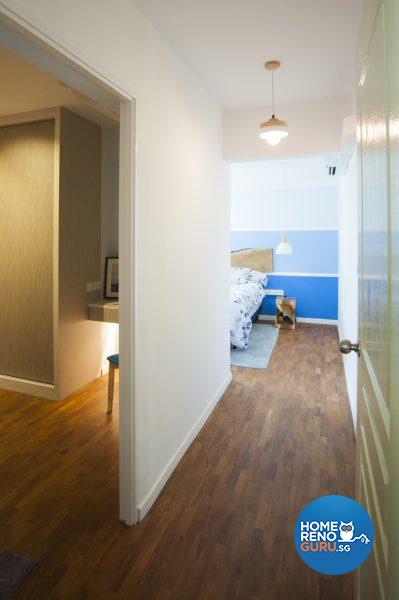 A walk-in wardrobe houses a study desk cum dressing table
HomeRenoGuru: How did you find the whole renovation process?
Randy: For the renovation process, it was actually a very tedious process but Ken made it as easy as possible. There're a lot of things we need to learn. Ken was there along the way to help us, to advise us, this is suitable or not, that is suitable or not.
What was very impressive about Ken was, even after the renovation, he still keeps asking us whether – is there any problem with the house, if there is any minor fault with the house please do contact him, he will get his guys to come down and patch it up.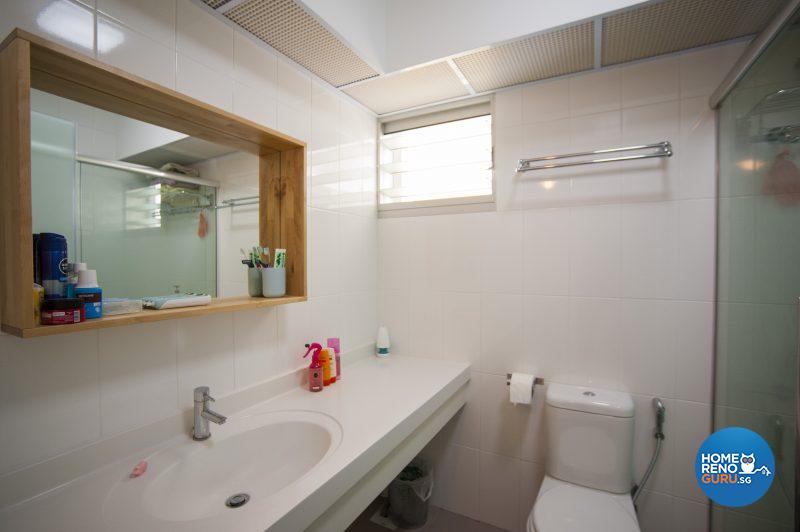 A clever wooden mirror frame doubles as a shelf in the master bathroom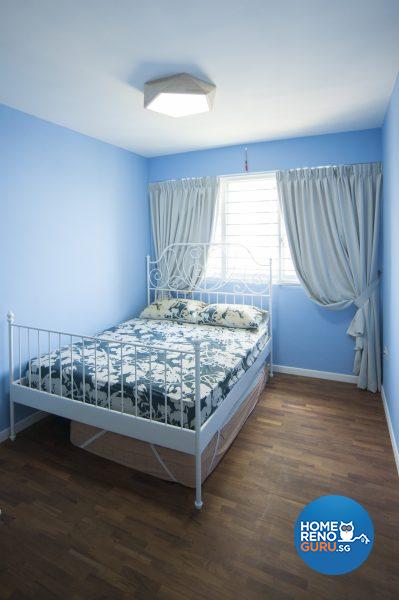 The sky-blue spare bedroom
HomeRenoGuru: Do you have any general advice for homeowners embarking on their renovation journeys?
Randy: My advice for ID selection is – don't let your wife go and drag you to 10 different IDs, just do the online research and choose the ID that you have better chemistry with.
HomeRenoGuru: Would you recommend Areana Creation and Ken to other homeowners?
Corene: As you can see, we love our beautiful home, so we wouldn't hesitate to recommend Areana Creation and our ID, Ken.
Thank you, Ken!