Dream Home: Marvellous Marble and Wood
Newlyweds Nigel and Grace shopped around for an ID, gathering and comparing several recommendations from friends. They invested their money and trust in Eight Design, and were thrilled with the results. Here is how their contemporary yet timeless home came to be.
Project Snapshot
Name(s) of Homeowner(s): Nigel Goh and Grace Ler
House Type: 5-room HDB Resale Flat
Size of Home: 1,300 sq/ft
Cost of Renovation: $95,000
Duration of Renovation: 3 months
Interior Design Firm: Eight Design
Name(s) of Designer: Ivan Lau
White, bright and filled with light – the welcoming living area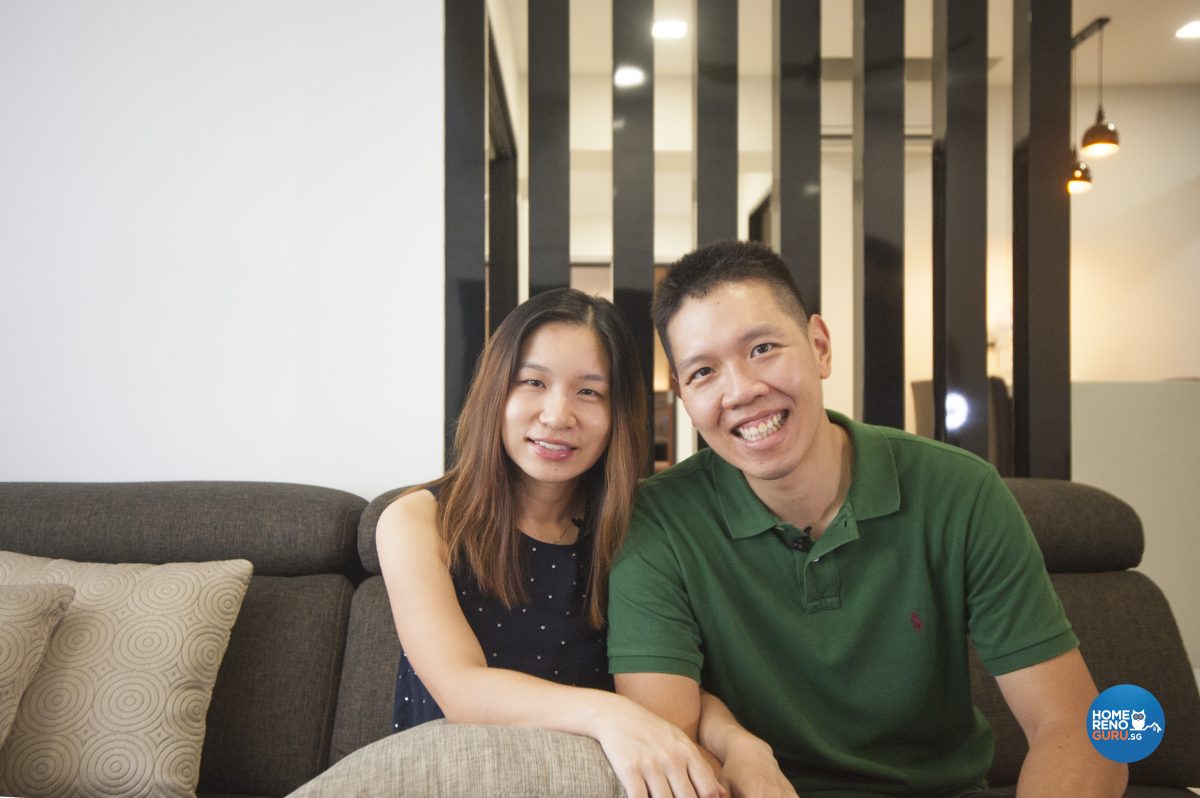 Happy homeowners Grace and Nigel
HomeRenoGuru: How did you come to engage Eight Design to renovate your home?
Nigel: We consulted our friends and we got five or six recommendations from them. And eventually we settled on Eight Design, and in particular Ivan, who was a recommendation from a colleague. We went to see him and we felt that the process was very good, he was very meticulous. And we liked the way that he knew what we wanted in the design. I was impressed that Ivan used a ruler to measure the floor plan even in our first meeting.
Grace: And he also gave importance to our project, because he would reply to us very promptly, faster than the rest of the IDs.
HomeRenoGuru: Did you have a clear picture of how you wanted your home to be renovated?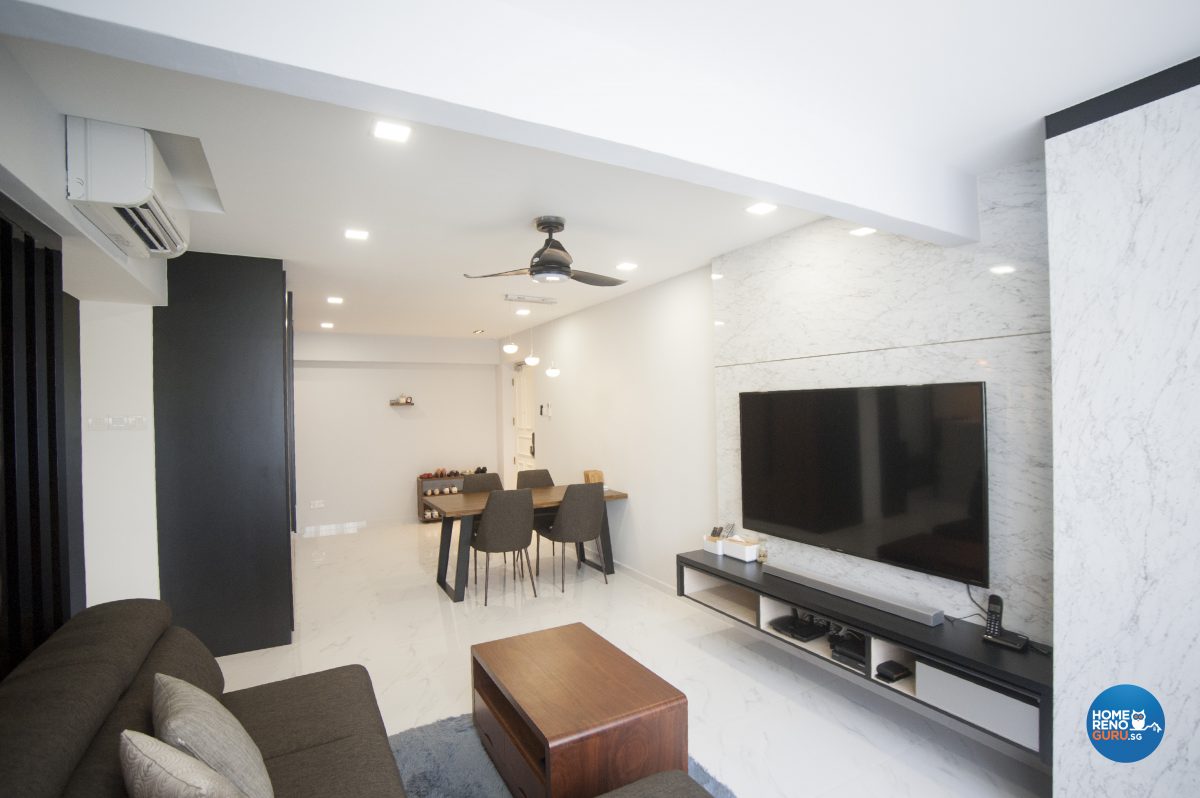 Loose wooden furniture adds warmth to the coolness of marble and marble-like laminates
Nigel: We wanted something that was classic and timeless, something that would be evergreen and incorporated marble and wood finishings. We weren't sure what it was called when we first met Ivan, and we learnt from him subsequently that the theme was called modern contemporary.
HomeRenoGuru: How was the actual renovation process?
Grace: During the renovation period, we were actually supposed to go for a three and a half week honeymoon, so Ivan actually ensured that we chose everything before we left. So he set up a WhatsApp group chat and then we were kept updated of the progress regularly.
Nigel: And then when we came back from our honeymoon, the house was 50 – 60% completed, so we were very happy with the progress.
HomeRenoGuru: What are your favourite parts of your renovated home?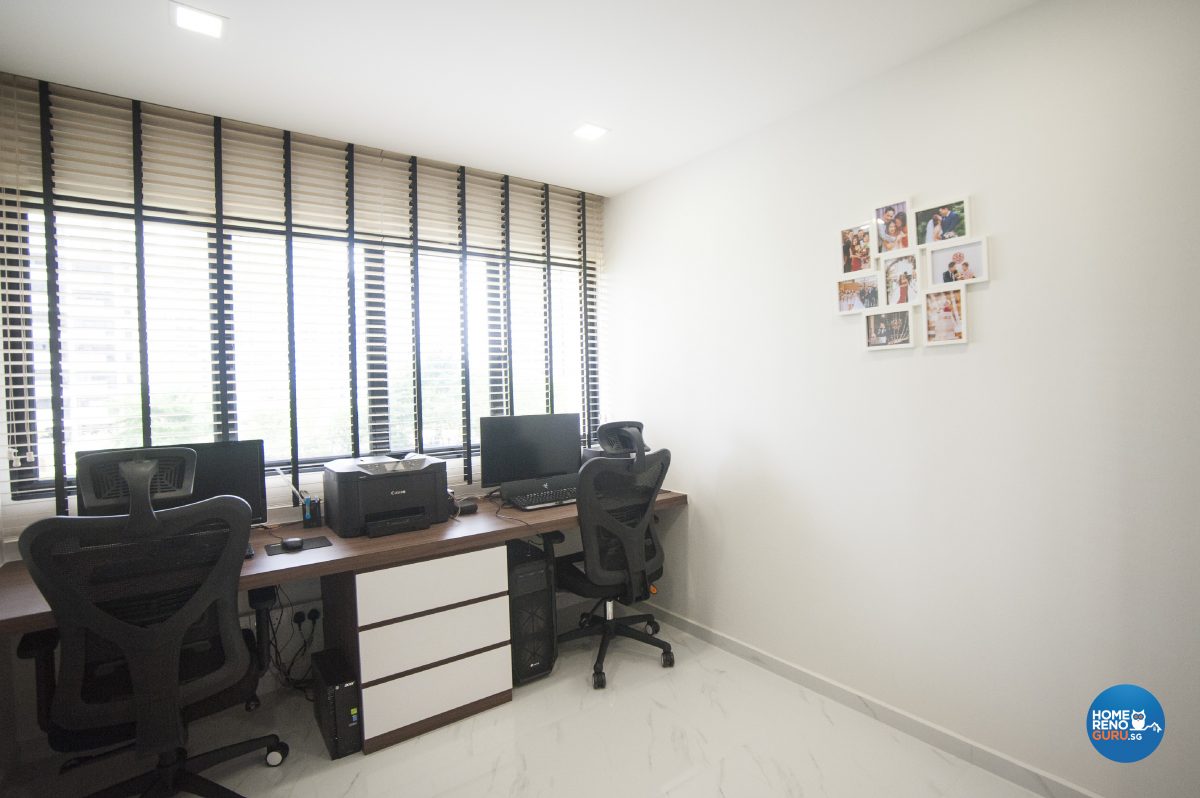 The pristine study is Nigel's favourite room in the house
When the sliding doors are opened, the study merges with the living area
Nigel: The place I like most in this house is the study room. Ivan made sure that it's very conducive for us to work in, because we work a lot at home. And he designed it in such a way that, by using sliding doors, it gives a very open feel to it and it makes it look a lot more spacious.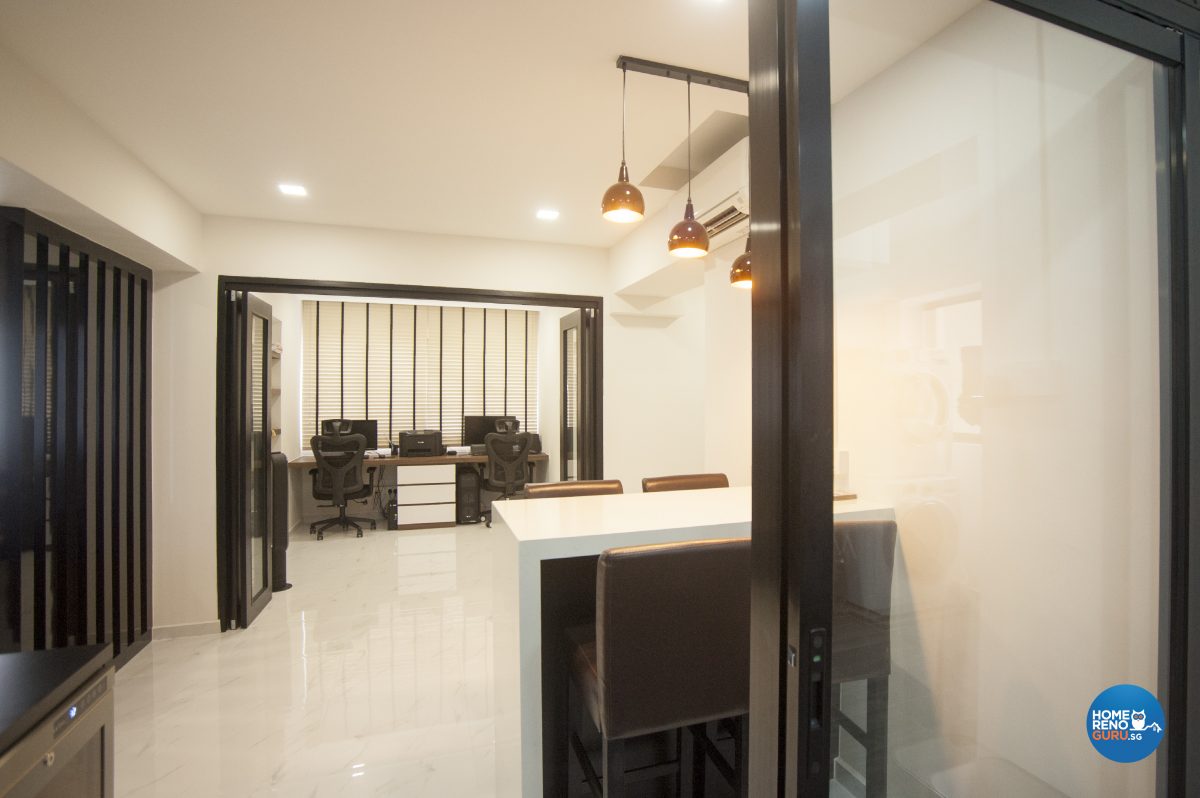 A small bar counter provides seating for two outside the kitchen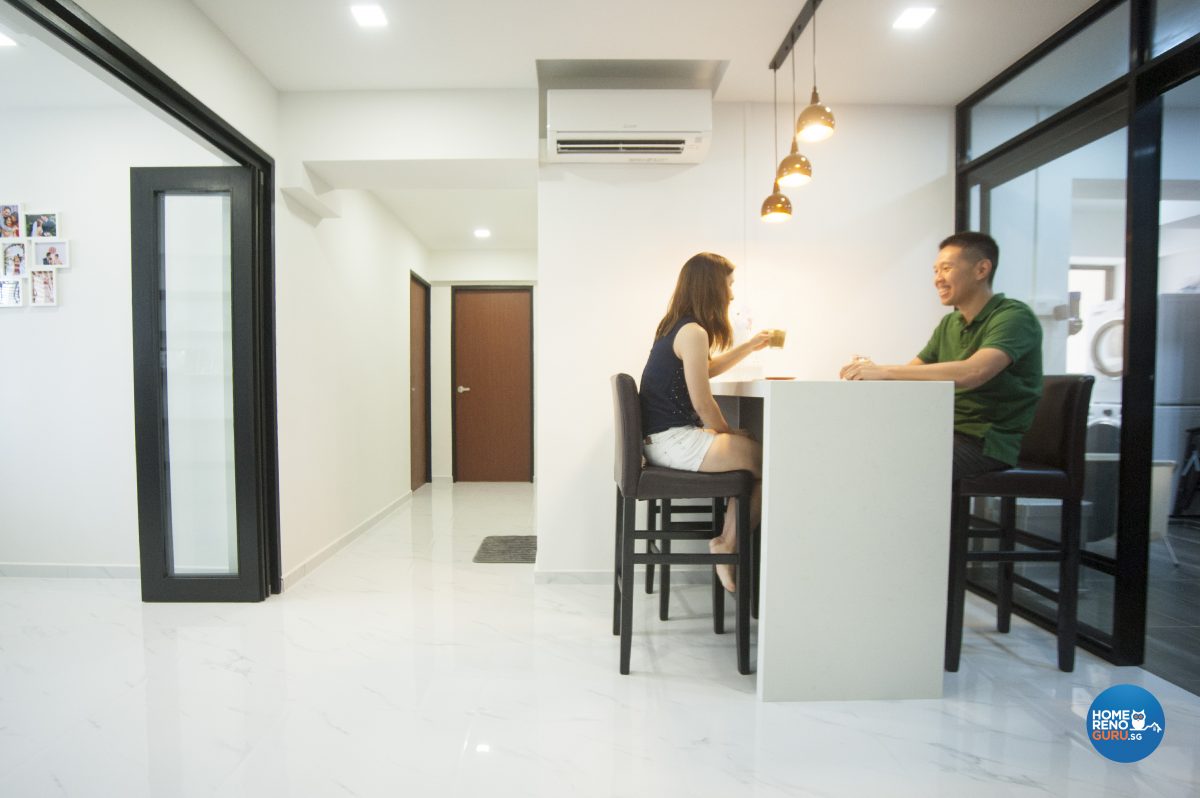 A cosy corner for chilling
An interplay of vertical and diagonal angles adds visual interest to a simple colour scheme
Grace: The part I like the most is the island and the bar counter. It's a very cosy corner to chill when my friends come over. And because it's so close to the bar, it's very easy to get a refill.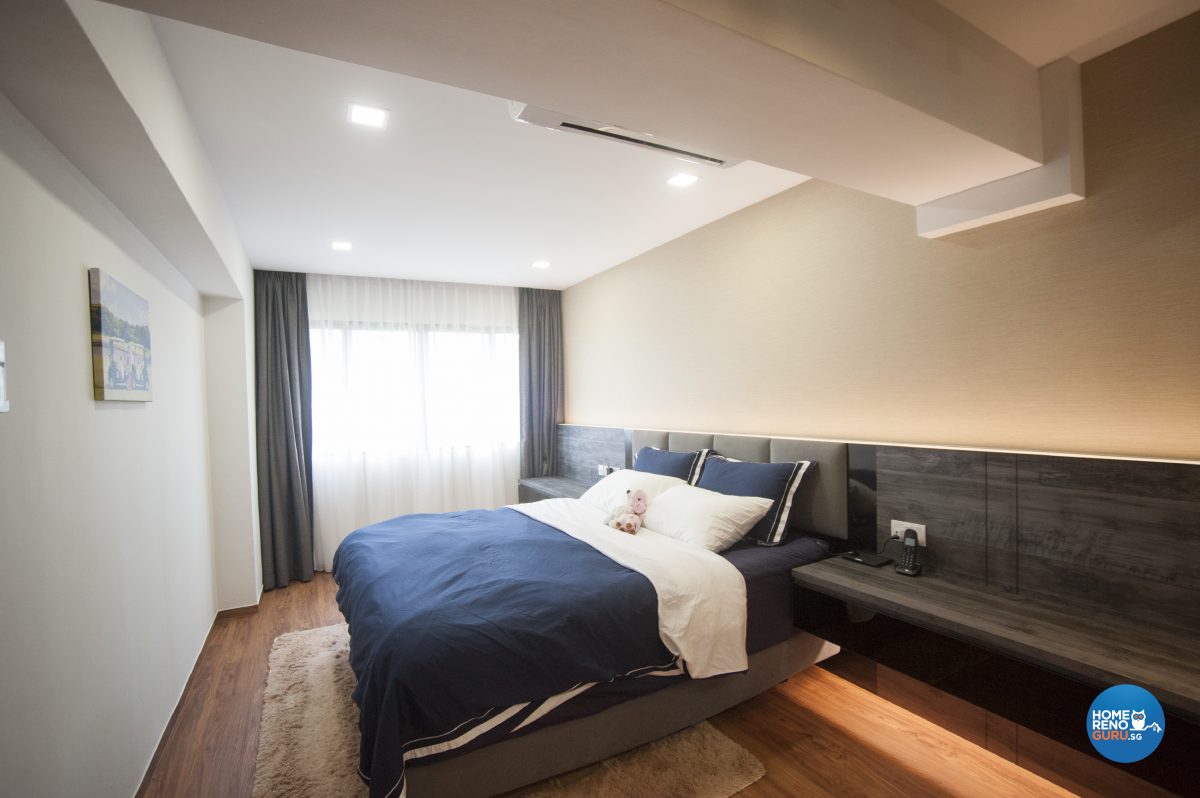 The simplicity of the master bedroom creates a restful haven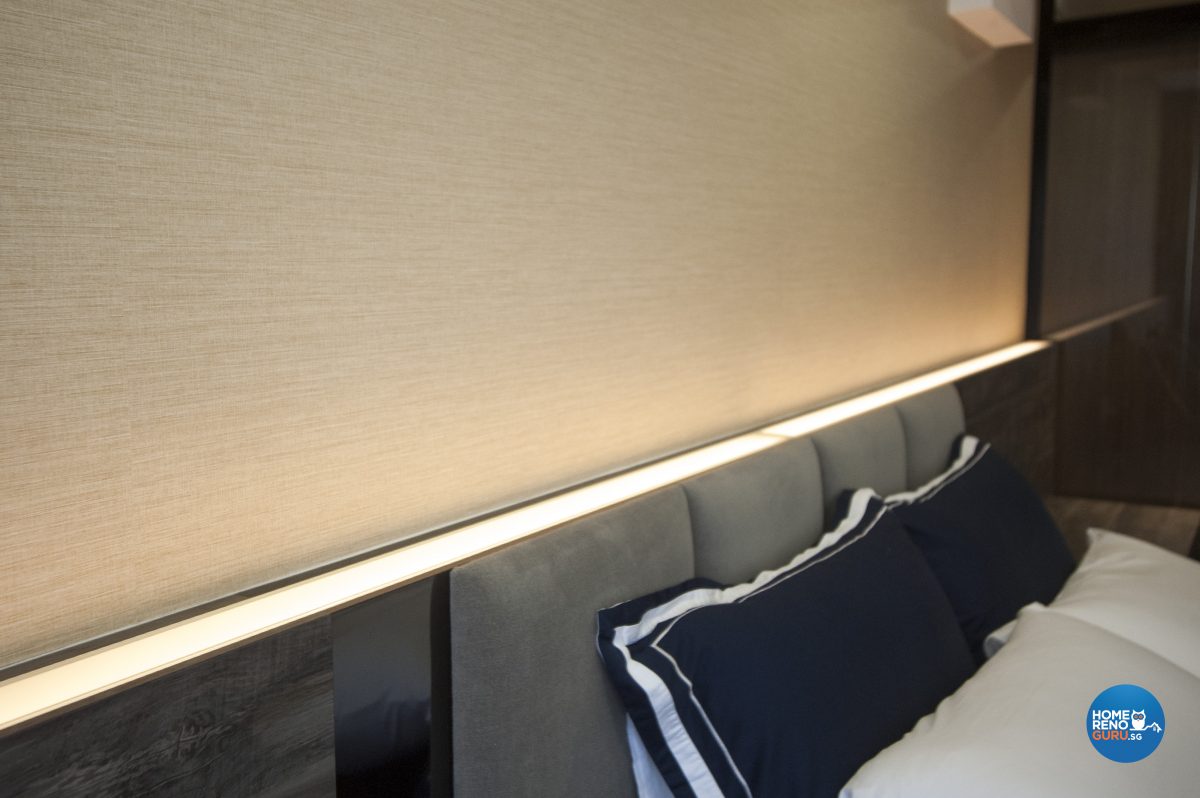 A padded bedhead evokes a hotel-like feel
Nigel: We both like our master bedroom but we felt that the original location of it was not very good because the windows were too small. And we wanted to combine two bedrooms together and include a walk-in wardrobe.
Grace: Ivan also gave a very good suggestion – to sleep in the second bedroom instead because there are bigger windows that let in more light. Also he suggested that the walk-in wardrobe should be in the original master bedroom because it's closer to the bathroom, so it's more convenient for us. Ivan actually set aside a section of the wardrobe for us to put out our clothes that we plan to wear for the next day.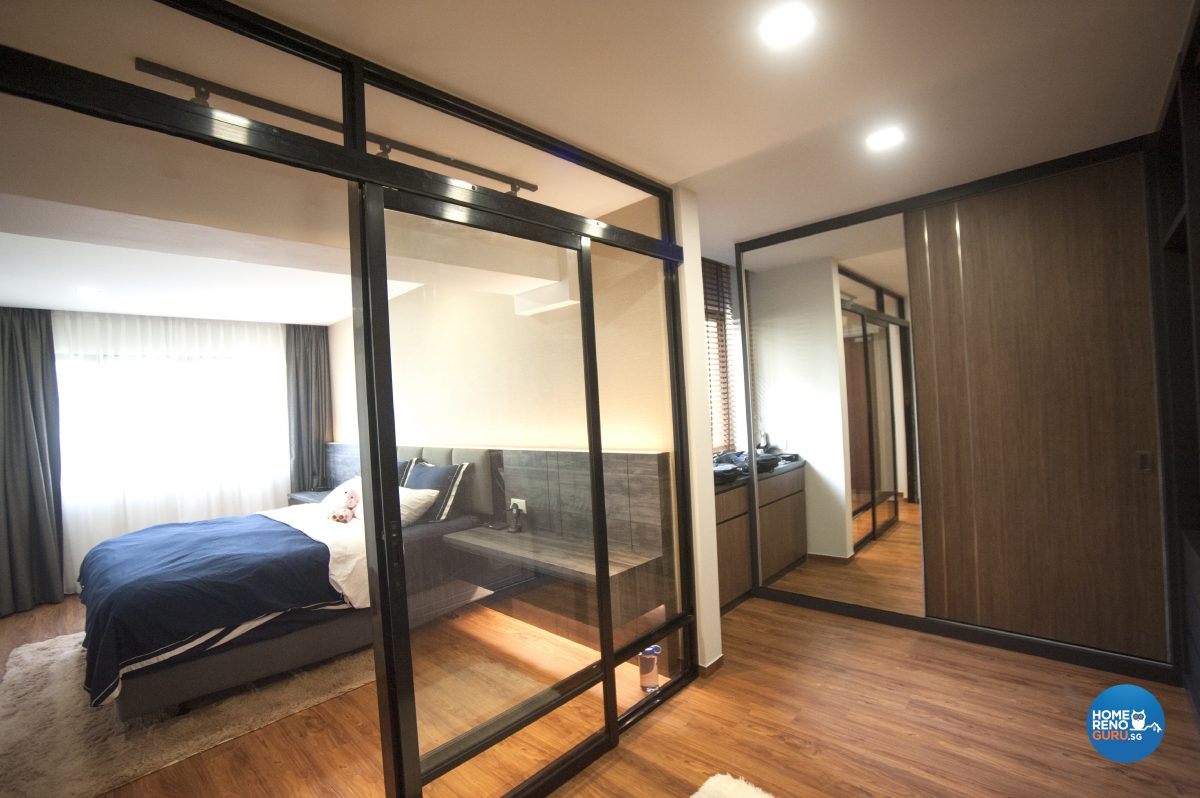 Two rooms were joined to create a master bedroom and spacious walk-in wardrobe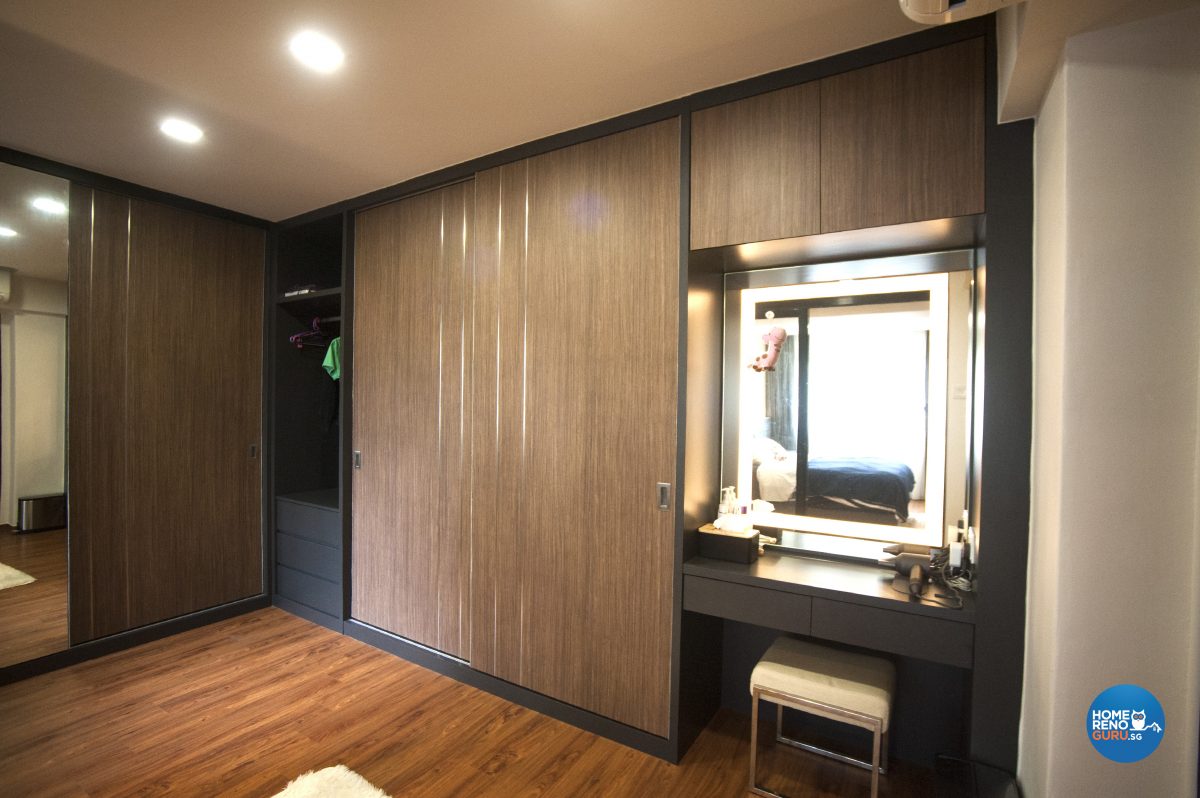 The luxurious walk-in wardrobe accommodates a dressing table and an open rack for storing the next day's pre-selected garments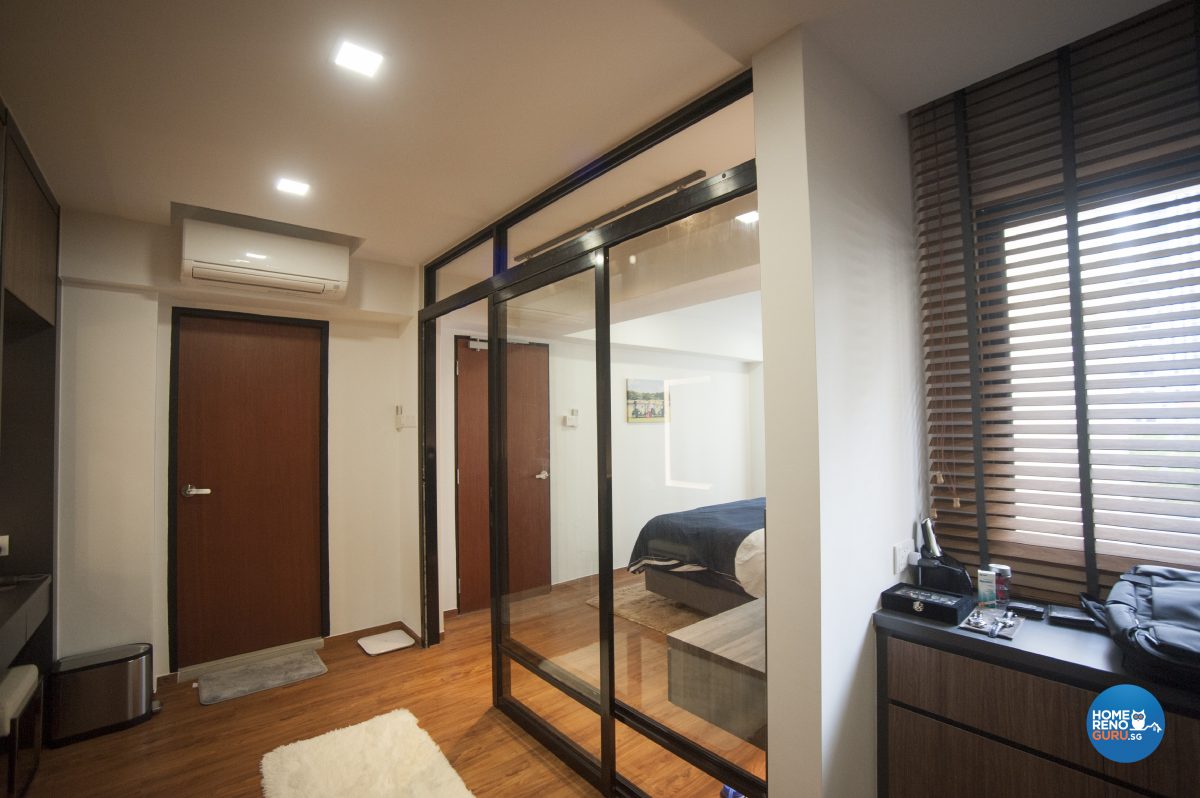 The walk-in wardrobe accommodates the entrance to the master bathroom
Nigel: Another of Ivan's good suggestions was to hack down the original storeroom and replace it with full height storage cabinets. And because my wife and I both play golf, he made sure that it was big enough to accommodate both our golf bags.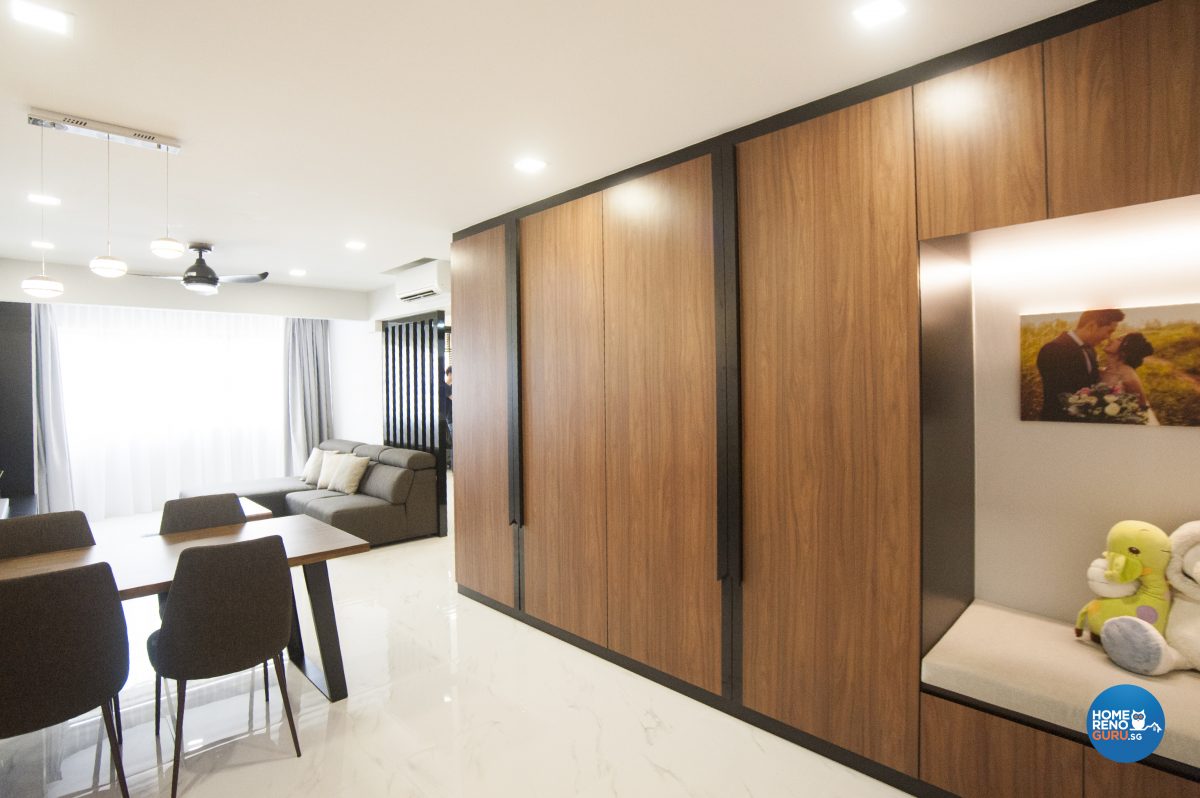 Warm wood laminate encloses floor-to-ceiling storage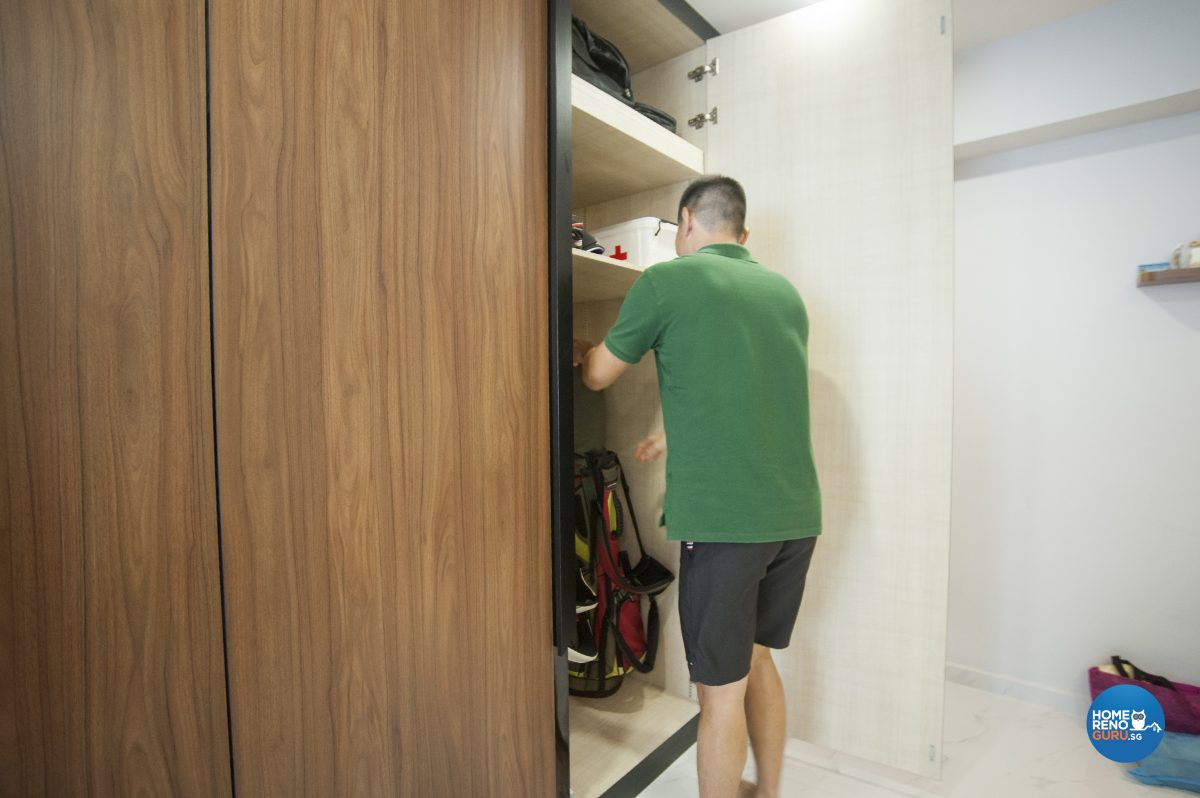 Ample space for the couple's golf clubs
HomeRenoGuru: Do you have any advice that you would like to share with homeowners contemplating a renovation?
Nigel: I would advise homeowners to visit as many IDs as time would permits because in doing so, you'll get an idea of how you'll want your house to look like.
A profusion of wooden textures 'warms up' the kitchen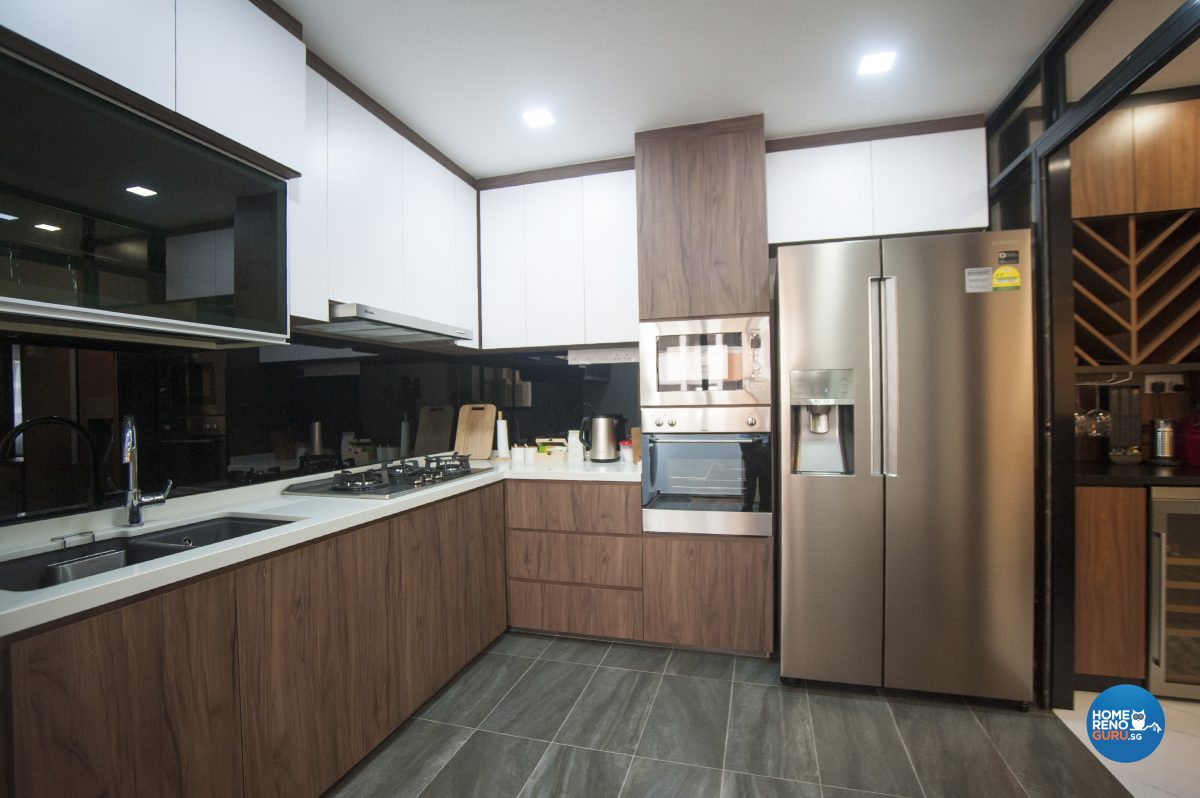 A gleaming stainless steel fridge creates a contrast of textures with the wooden and white laminates
Grace: My advice would be, not to rush through the renovation process, so that you allow the ID actually more time to do his best and also we should just enjoy the process of the renovation.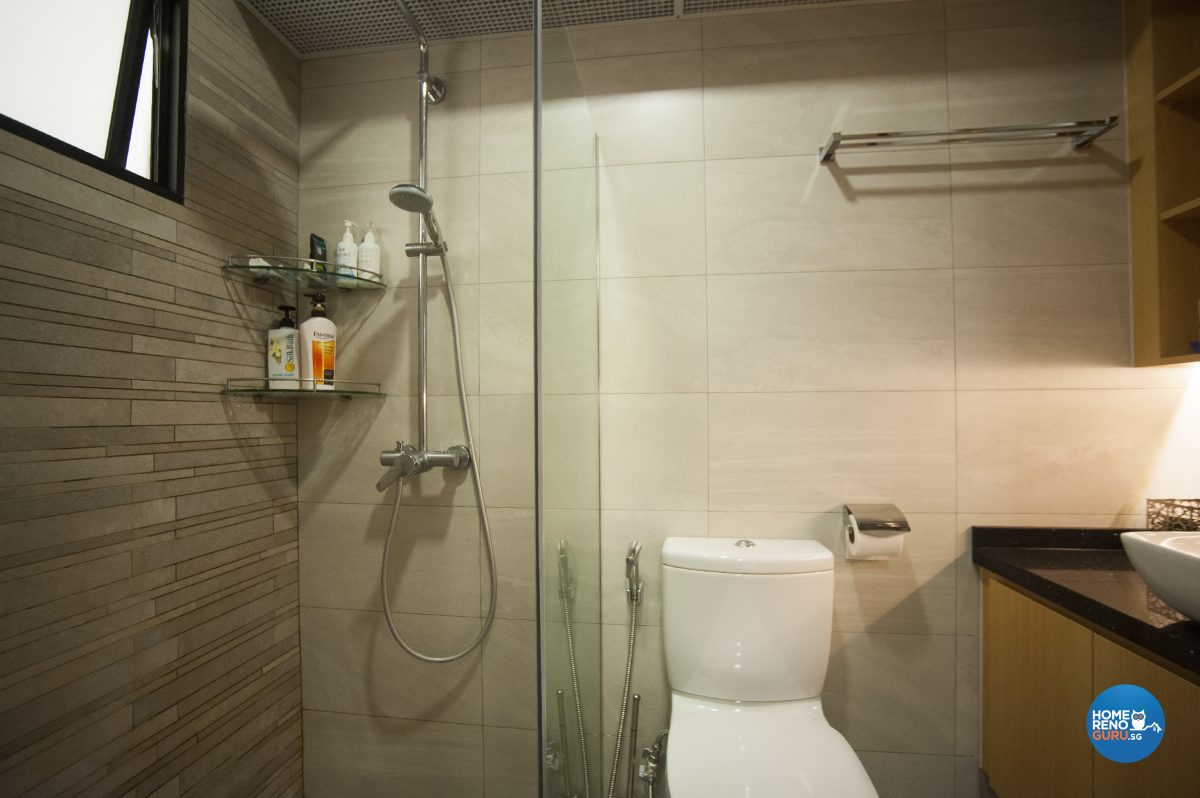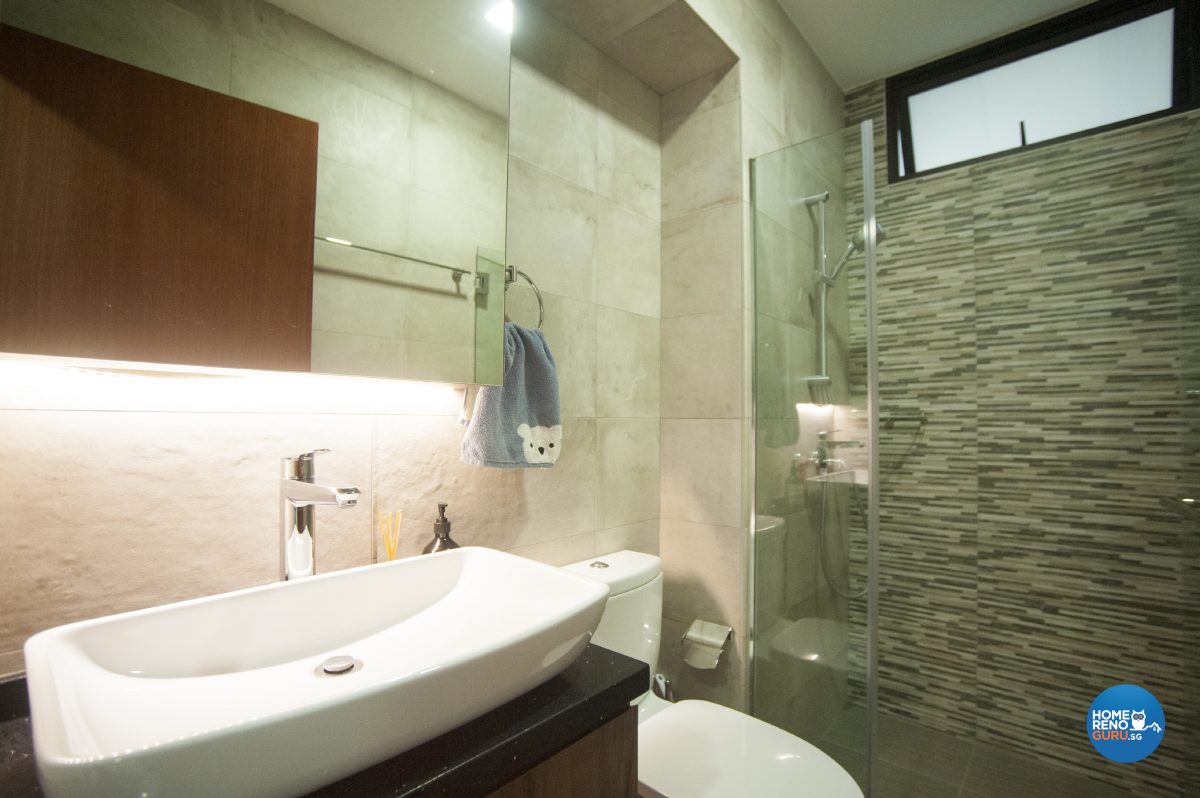 The common and master bedrooms share a common colour scheme and mix of materials
HomeRenoGuru: Would you recommend Eight Design and Ivan to other homeowners looking for an interior design company?
Looking for Interior Designers?
Let HomeRenoGuru help!
Nigel: Yes, of course. We are very happy with Ivan and Eight Design for the work that they have done with our house. Ivan is very meticulous and he pays a lot of attention to the very fine details. We look forward to starting a new chapter in our beautiful home!
Grace: Thank you, Ivan!
Nigel: Thank you, Eight Design!