Dream Home: A Lovely Home for a Loving Family
This close-knit family of four, including two teenage sons, went back to the interior design firm that had renovated their previous home, Trinity Idee. Mathis, who travels frequently for work, loves coming home to his bright, spacious flat, and likes nothing better than to sit back and chill in the living area. They couldn't be happier with the results of their renovation.
Name(s) of Homeowner(s): Mathis and Ivone
House Type: 4-bedroom Executive Condominium
Size of Home: 119 sq/m
Duration of Renovation: 5 weeks
Cost of Renovation: $40,000
Interior Design Firm: Trinity Idee Pte Ltd
Name(s) of Designer(s): Ming Jun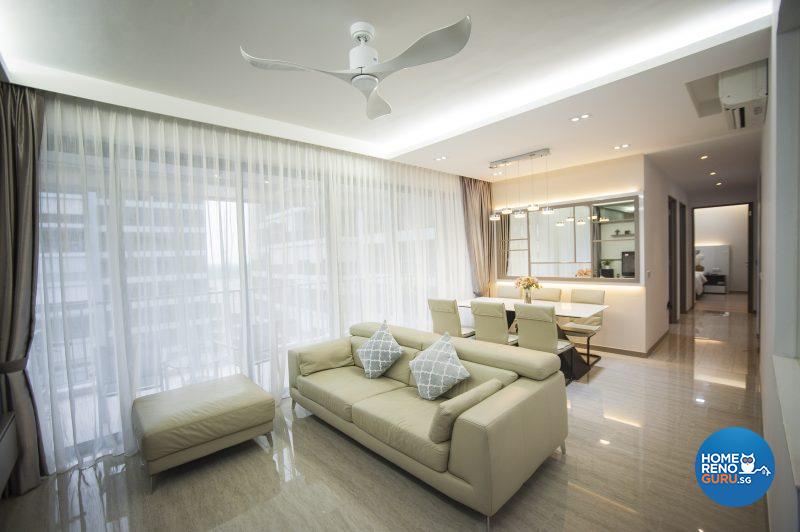 The comfortable living area, cloaked in neutrals and bathed in light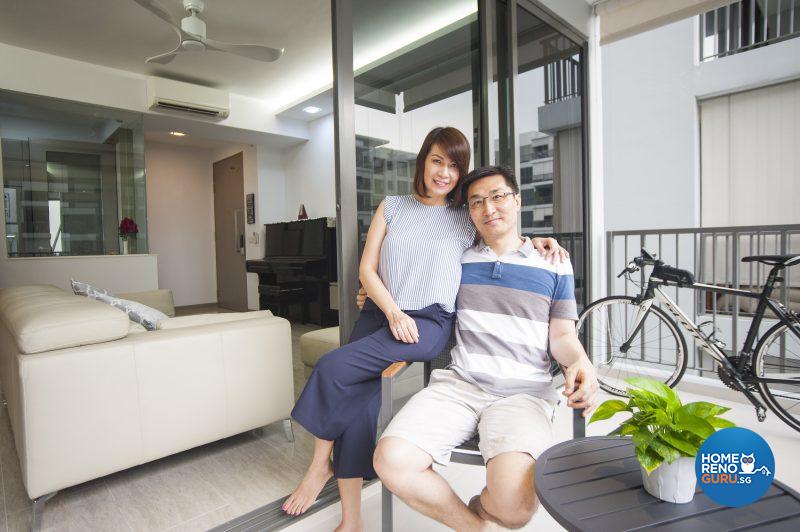 Mathis and Ivone, on their breezy balcony
HomeRenoGuru: What made you choose Trinity Idee to renovate your home?
Mathis: This is actually the second home of ours that has been renovated by Ming Jun of Trinity Idee. The reason that we chose Trinity Idee again is that we were satisfied with the quality of the work and the materials that were provided and it was also at a very reasonable price.

A common colour scheme of neutrals and caramel unites the living and dining areas
Looking for an estimate of your renovation costs?
Let HomeRenoGuru help!
HomeRenoGuru: How did you find the renovation process?
Mathis: During the renovation process, actually we don't have to worry much, because we trusted Ming Jun and were confident that he can deliver what we really want to be done.
HomeRenoGuru: What was your brief to Ming Jun?
Ivone: We want bright, not so many colours, and we want space.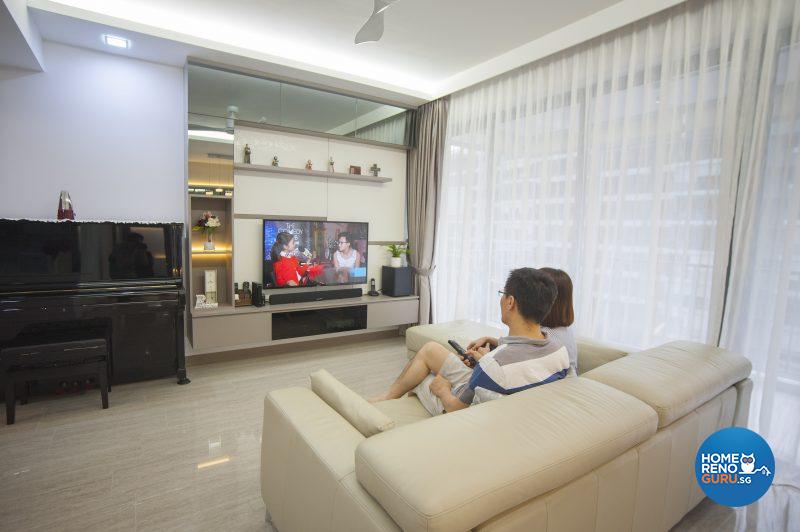 Mathis loves to come home and chill in front of the TV
HomeRenoGuru: What do you love most about your renovated home?
Mathis: Actually my favourite place is the TV console. This is where I can come back from work, or from overseas, where I can relax, whether I'm reading the newspaper or whether I'm watching TV or some movies.
Ivone: Actually, I like everything in the house, especially my master bedroom. I like the way that Ming Jun designed the headboard. It's really very nice, very unique, it's very different than what I've seen before. And also, because my master bedroom has my dressing table.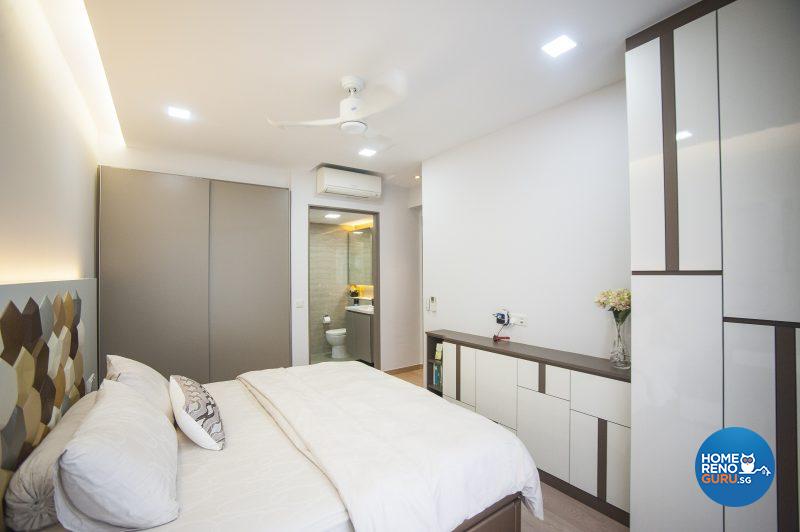 The master bedroom is a soothing symphony of whites, greys and champagne gold

The eye-catching bedhead features padded hexagons in complementary hues
The other part is my dining area mirror. It's not just a plain, big piece of mirror. It has some design on it, so it's really very unique, very different. And the kids' bedroom – their study bedroom is really nice design.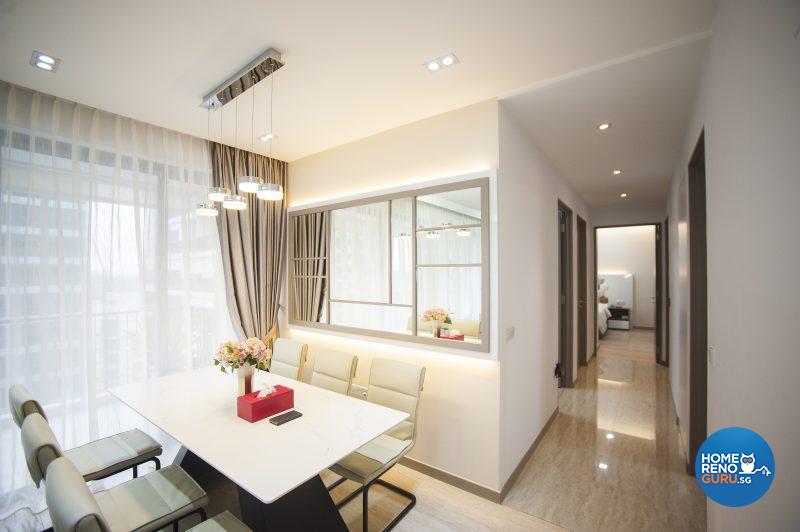 Ivone loves the distinctive mirror in the dining area, which is an artistic patchwork of several pieces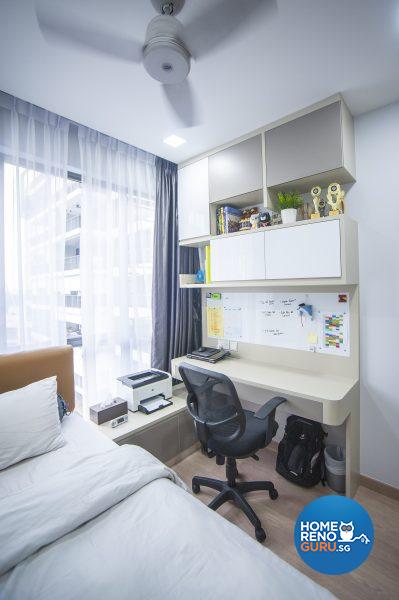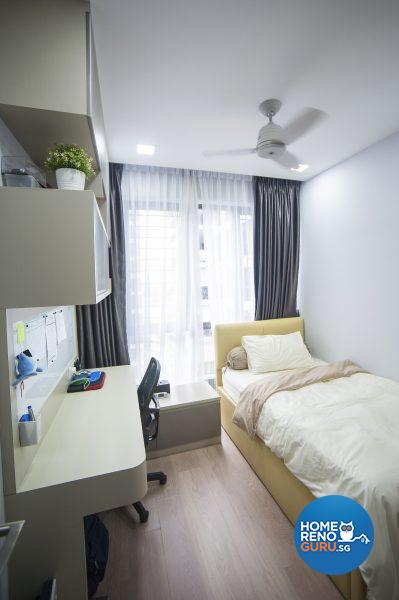 The sons' rooms are mirror images of each other!
HomeRenoGuru: Do you have any advice to share with homeowners?
Mathis: The advice that I give to new homeowners is – don't just look at price or the cheapest quote. As mentioned earlier, this is our second home renovated by Trinity Idee. I would definitely recommend this company to friends and relatives.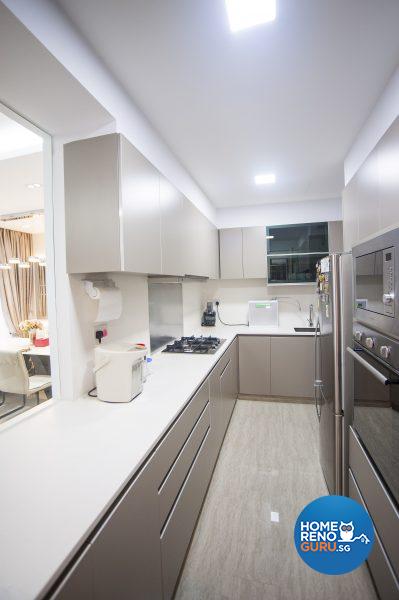 Functional and sleek, the kitchen is a joy to cook in
Ivone: In fact we have already recommended Trinity Idee to his colleagues as well as our friends.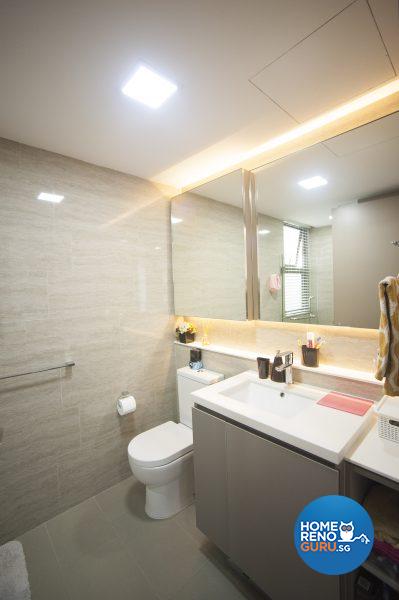 The hotel-like master bathroom is bathed in warm and white light
As I travel quite a lot, I always look forward to coming back to my lovely home, to be with my lovely wife and my two teenage sons, Ethan and Zach.
Thank you, Trinity Idee, especially Ming Jun and May, for giving us such a lovely home.