Dream Home: Love Nest for Two
30 Jul 2018
Local actress Sheila Sim and her husband Deon Woo reconciled their differing tastes with the help of their interior designer and 'mediator' Vincent Li of Starry Homestead. Their house is a brilliant blend of 'his' and 'hers', with a light, bright living area and a darker, cosier master bedroom. It just goes to show that opposites really do attract.
Project Snapshot
Name(s) of Homeowner(s): Deon Woo and Sheila Sim
House Type: 5-room HDB Resale Flat
Size of Home: 1,400 sq ft
Cost of Renovation: $120,000
Duration of Renovation: 3 months
Interior Design Firm: Starry Homestead Pte Ltd
Name(s) of Designer: Vincent Li
The bright and breezy kitchen, living and dining area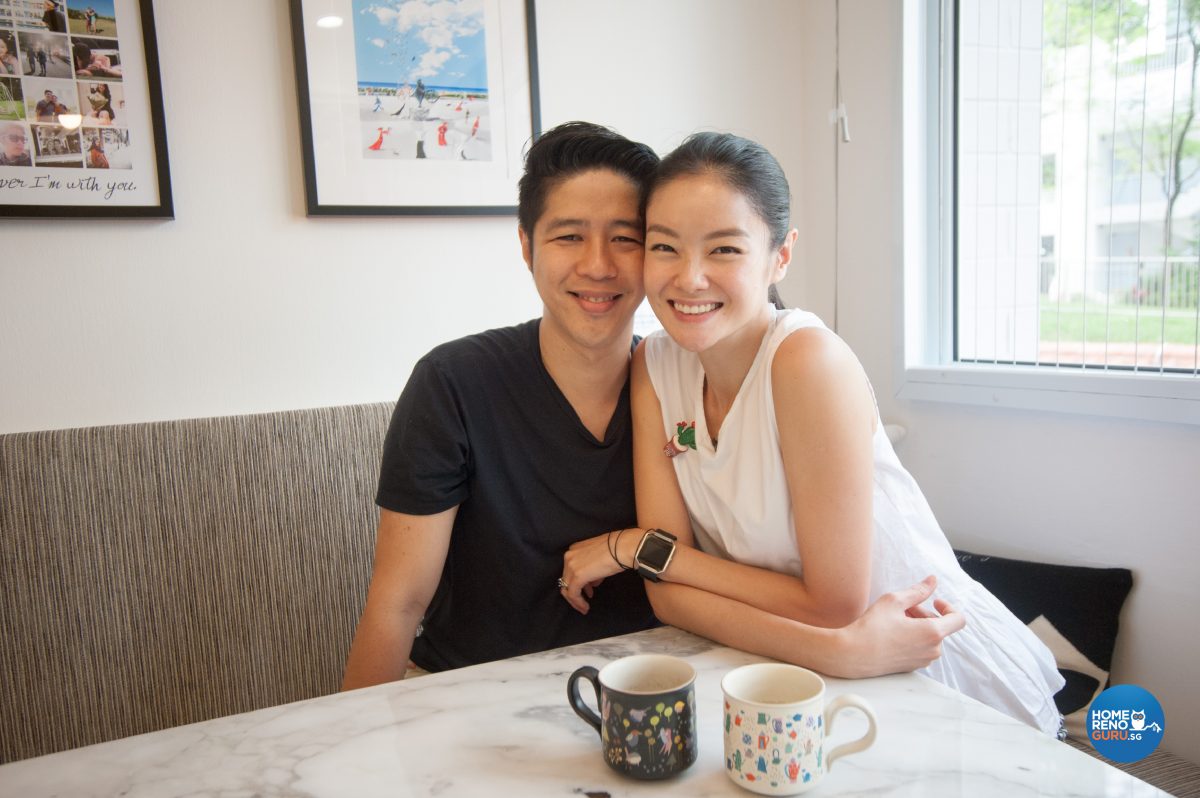 Blissed-out newlyweds and happy homeowners Deon and Sheila
HomeRenoGuru: How did you come to engage Starry Homestead to renovate your home?
Sheila: We found Starry Homestead through HomeRenoGuru. When we were planning for our renovation, we were looking high and low, so we were very happy when we found the HomeRenoGuru portal. It's very informative, it has a lot of different ID firms, and many, many photos. So as we were going through the different IDs, we found Starry Homestead. We found a lot of other inspiration for the design of our house, as well.
When we met with Starry Homestead, we immediately felt comfortable working with them, as they were very happy with our ideas for the house. The entire working relationship for the three months, I would say, was a very pleasant one. We'd actually heard a lot of scary stories, how people actually fought with their contractors, or with their IDs, and even got into lawsuits. Thankfully, that did not happen to us.
HomeRenoGuru: What was your brief to Vincent?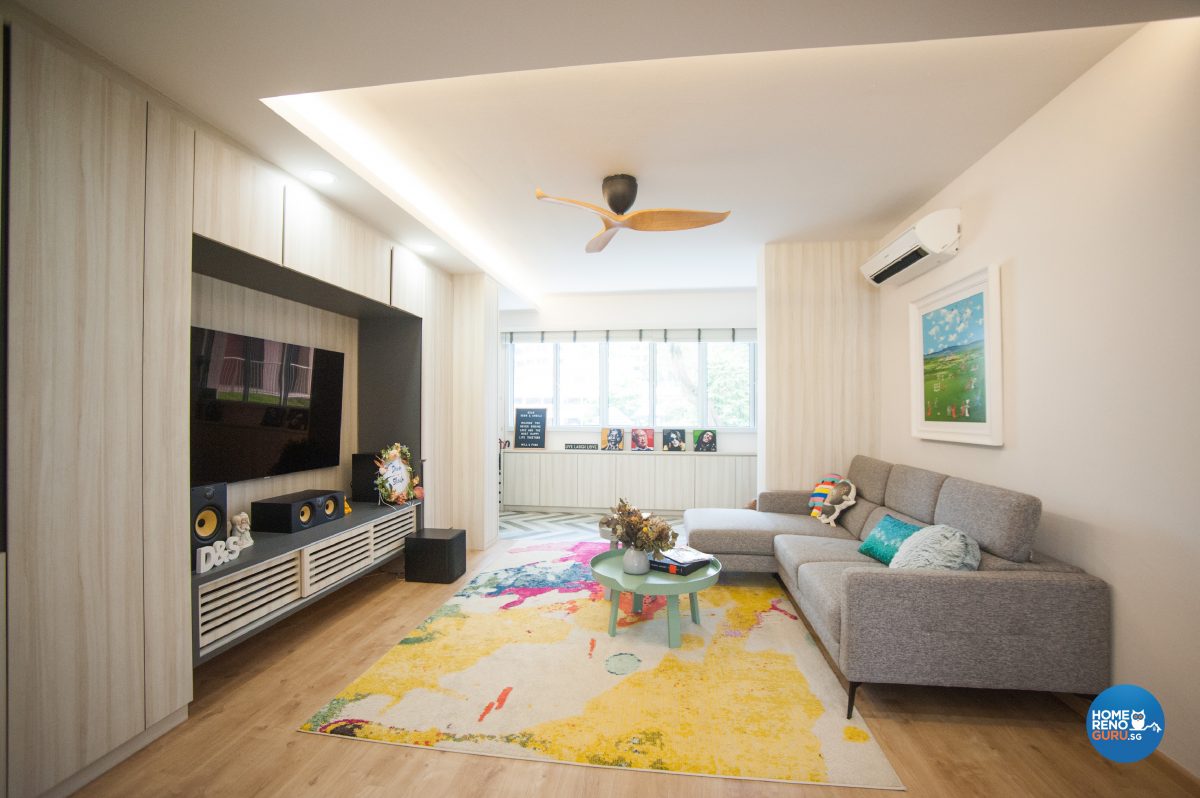 The view from the entrance, flooded with sunlight
Deon: The starting point for both of us was quite different. She liked the very eclectic kind of design. I started out liking dark tones and an industrial type theme for the house. So it came together – it was a matter of bridging the gap and coming to a middle ground.
Sheila: When it comes to design, it can be so subjective. And men and women, I think most of the time, are just worlds apart. He likes the very manly, bachelor pad kind of design, and when he first showed me a photo reference, I was shocked, because that was hardly how I imagined my house would look.
Deon: Likewise for me.
Sheila: Yeah, likewise for him. When I showed him my design, it was actually a lot of Jonathan Adler inspiration…
Deon: Like – pop, pop, pop!
Sheila: … which was too much for him. He thought, omigod, I'm going to come home to a house and I'll be dizzy all the time. So in the end, when we had come to a common ground, we decided that we wanted somewhere that was ultimately very homely and cosy, somewhere we can be in all day long and feel comfortable, as well as for the next ten or twenty years of our lives. We decided that the living area is where we'll be hosting our friends and family, and it should be bright and cheerful and fun.
HomeRenoGuru: Can you share some of the highlights of your renovation?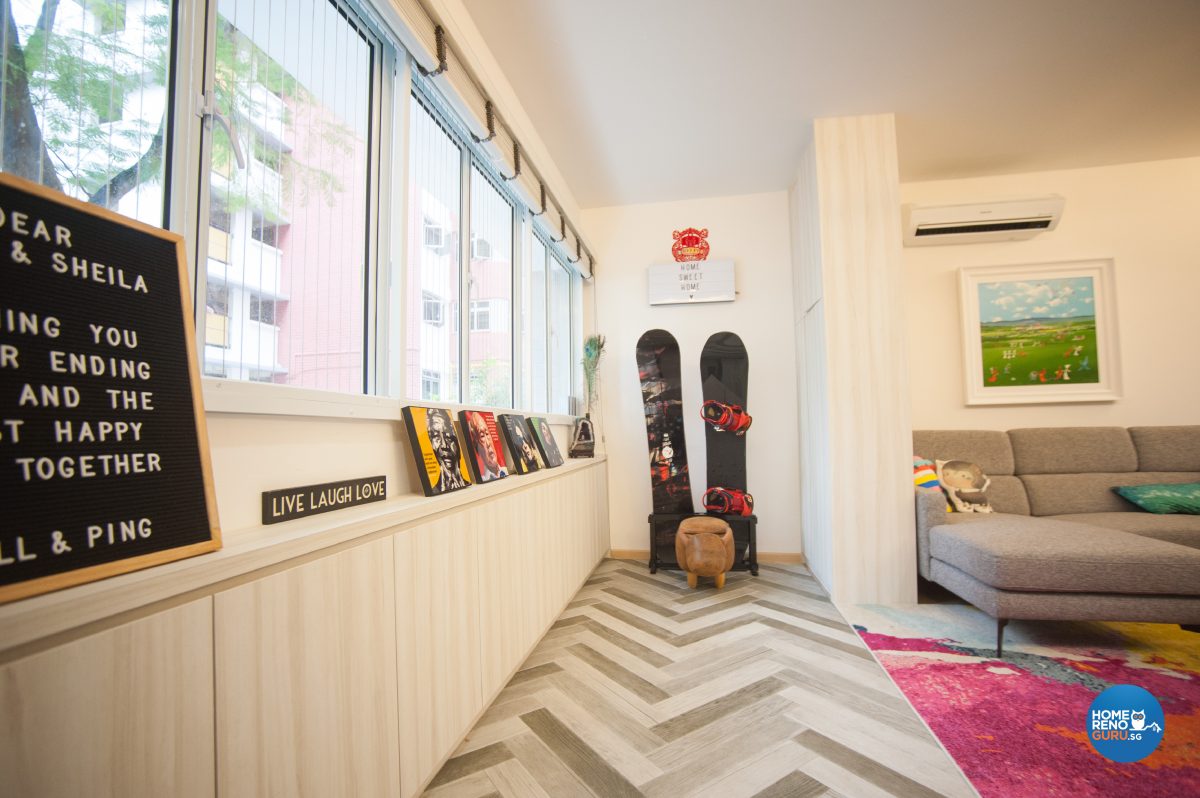 The recessed area beneath the windows conceals an enormous shoe cabinet
Sheila: Let's start with our shoe cabinet. As Tiong Bahru has got a lot of recessed areas under the window, we decided to utilise it by turning it into a shoe cabinet.
Deon: Mostly her shoes… 80 percent! Yeah!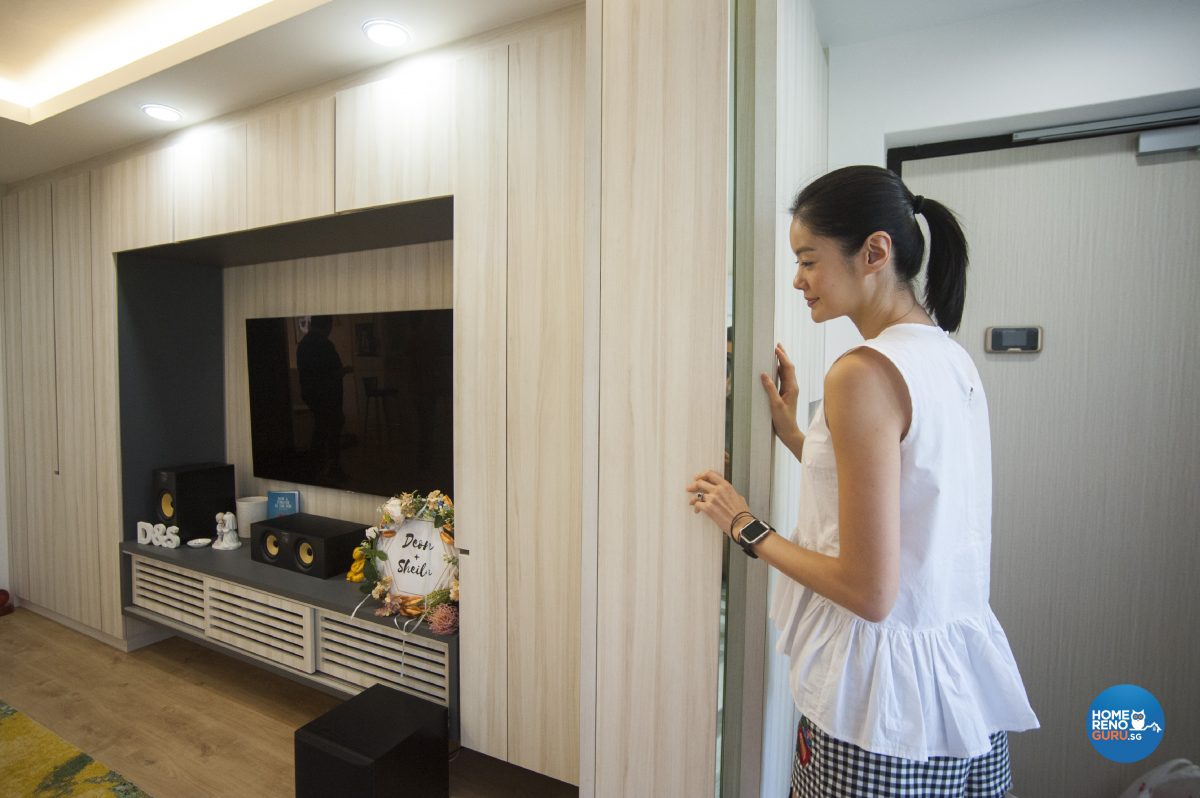 Sheila's pull-out mirror, a must-have for last-minute beauty checks before leaving the house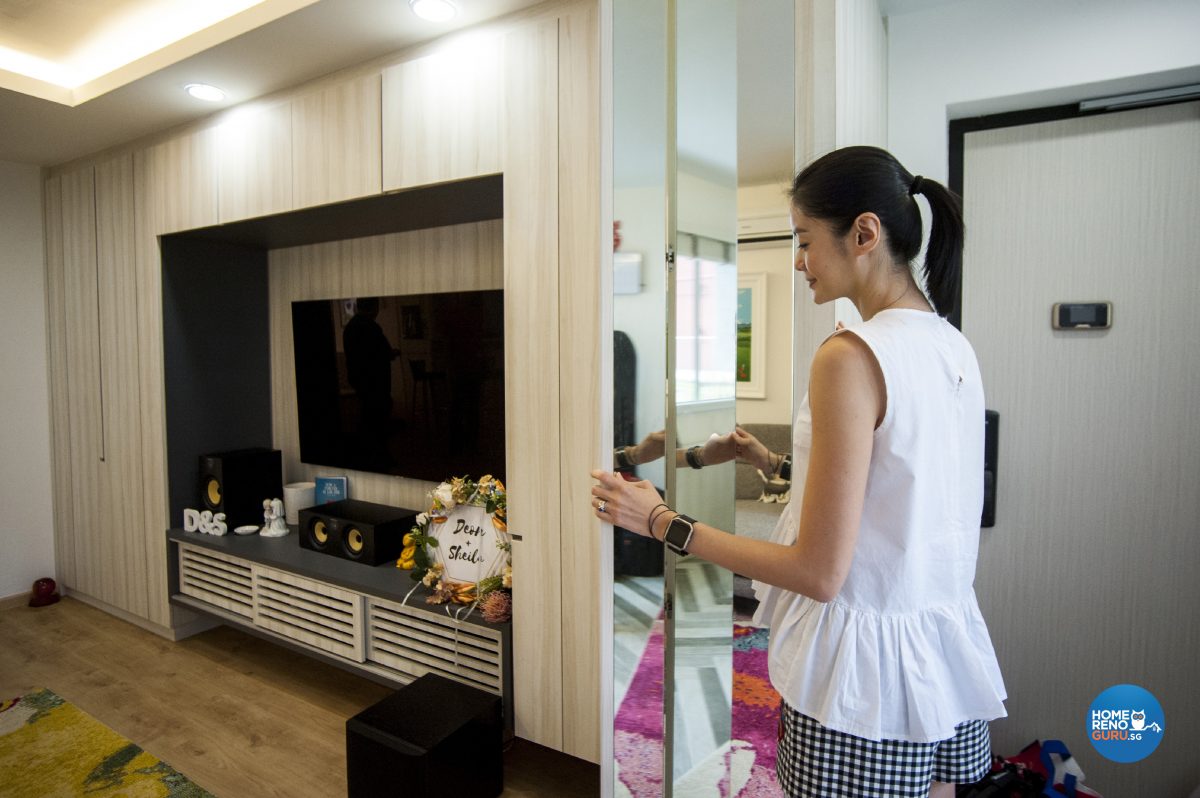 Sheila's pull-out mirror, fully extended
Sheila: And now, I will show you my mirror. This is a must-have! I always had a problem with checking my entire outfit before I leave the house, so I knew this is something that I had to have.
Deon: As we wanted to have a proper airflow throughout the house and connect the living space to the dining room, so we knocked out a wall. When we open the windows, the airflow is actually quite windy, so it was perfect.
Sheila: What I really wanted was a walk-in wardrobe, what he really wanted was…
Deon: An open kitchen!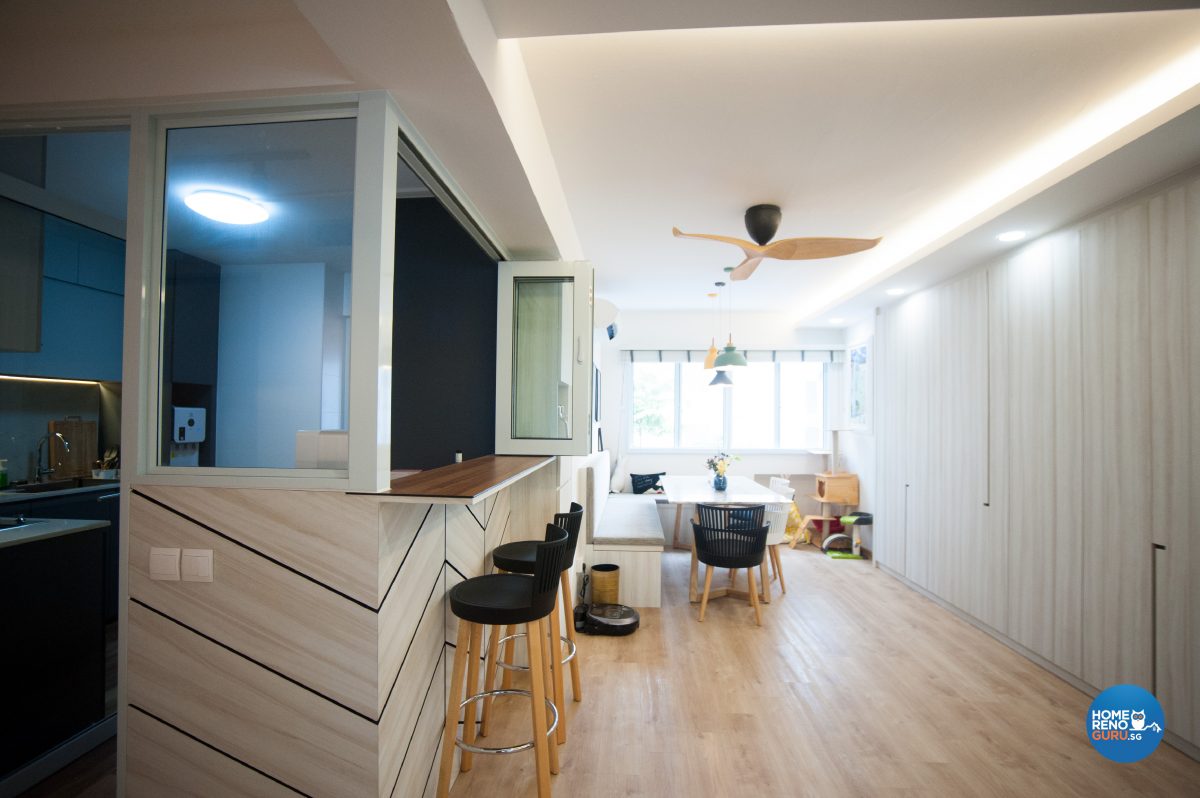 The semi-open adjoins the living and dining area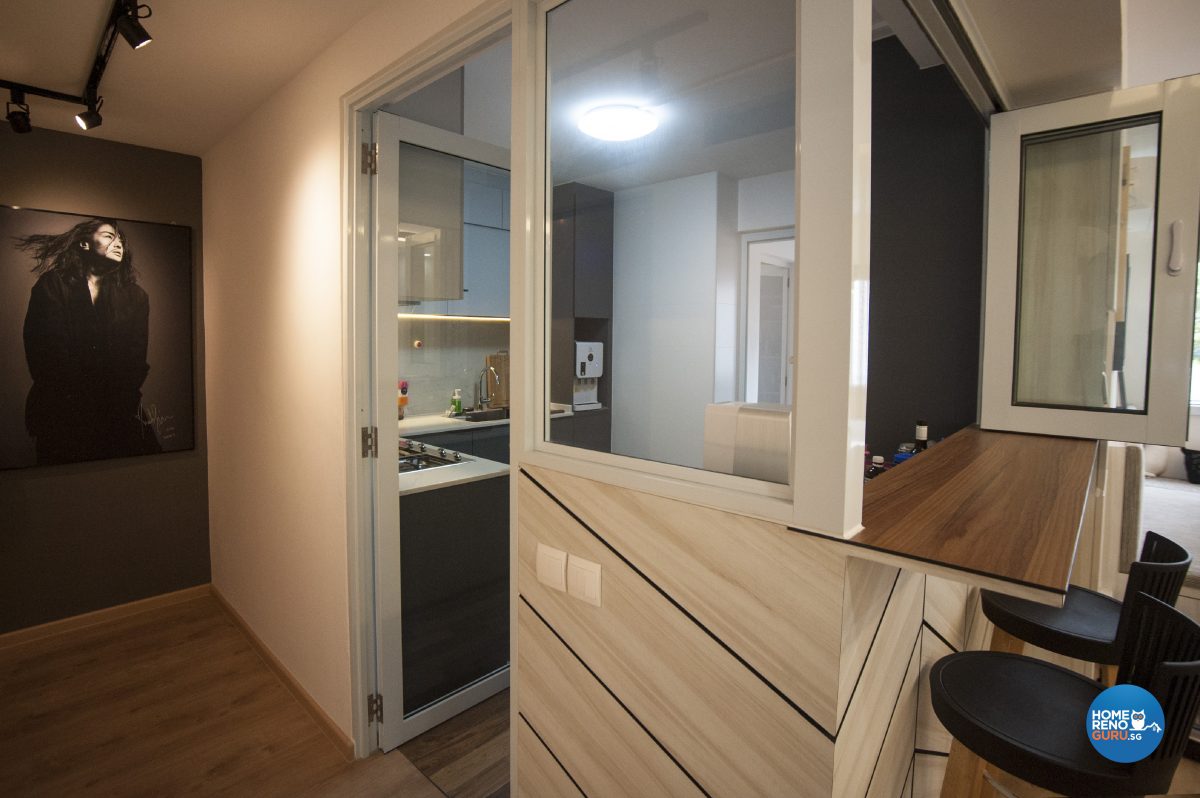 Concertina-folding panels can be open and closed at will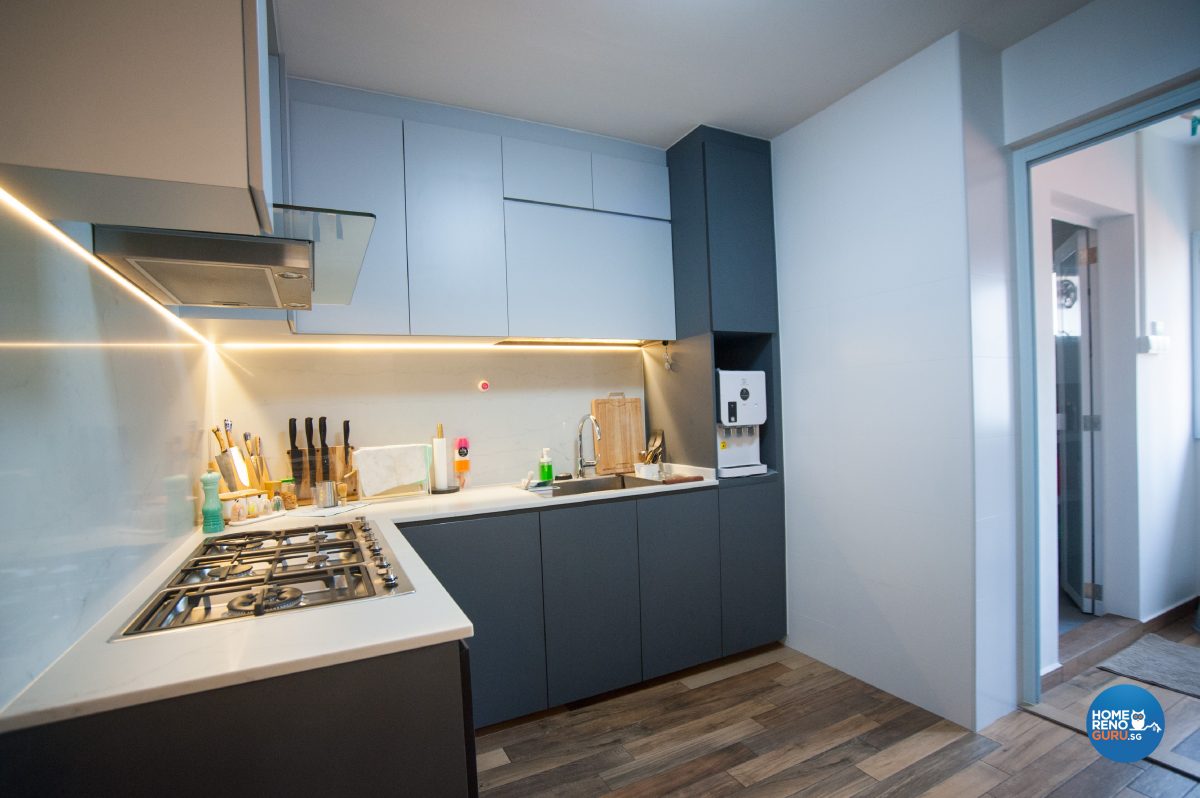 The functional kitchen has ample cabinets, deep drawers and overhead storage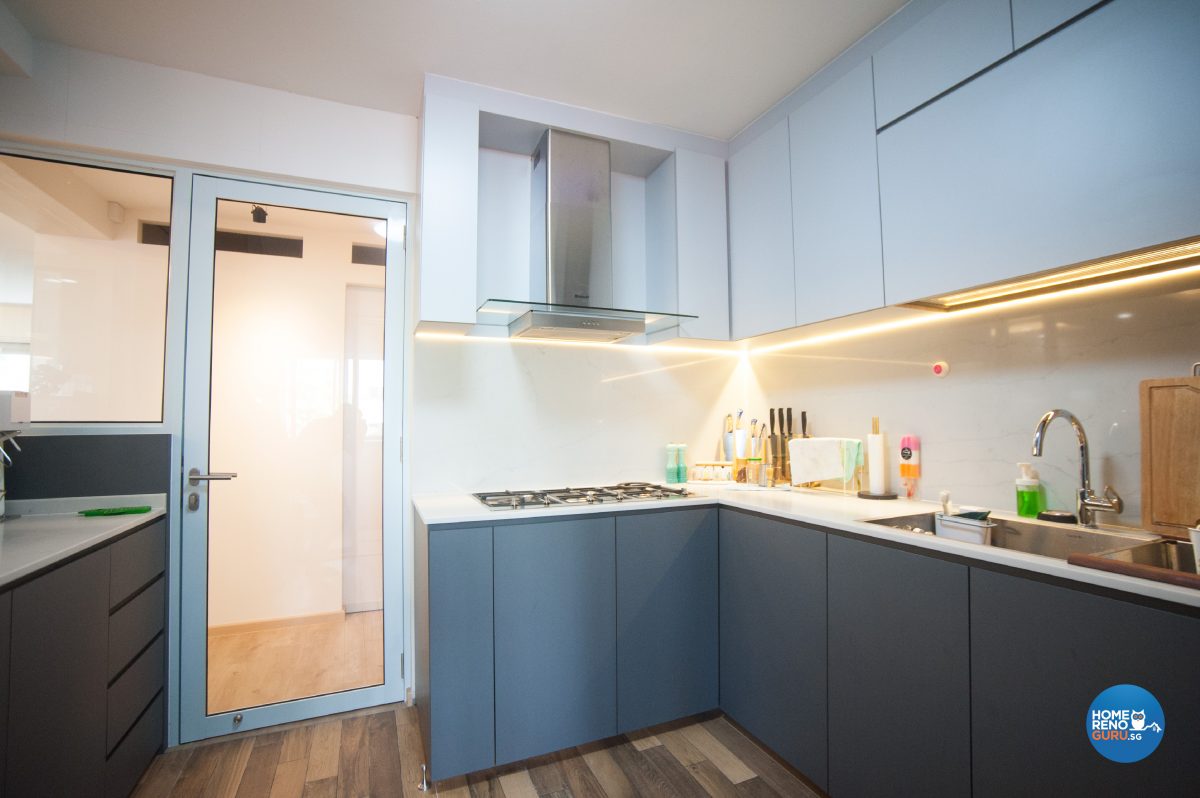 LED lighting illuminates the workspace
Sheila: But we couldn't have an open kitchen because we cook quite often, and we wanted to still be able to have a functional, fully closed-up kitchen when we cook, so we installed these concertina-folding glass panels.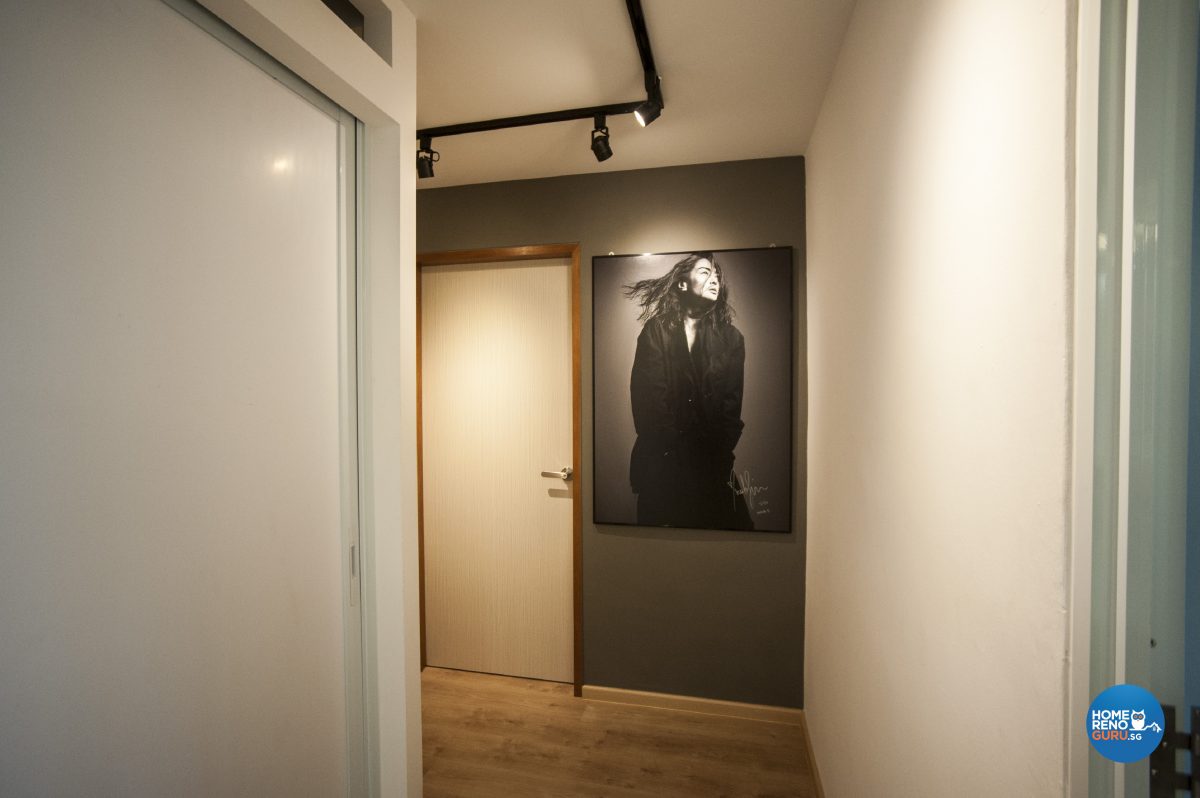 The grey wall at the end of the hallway is adorned with an iconic shot of Sheila from her modelling days
Sheila: This grey wall at the end of the hallway segregates the living area and the bedroom, so come on in… If you take a good look, the master bedroom is three rooms combined into one. It is two bedrooms and one storeroom.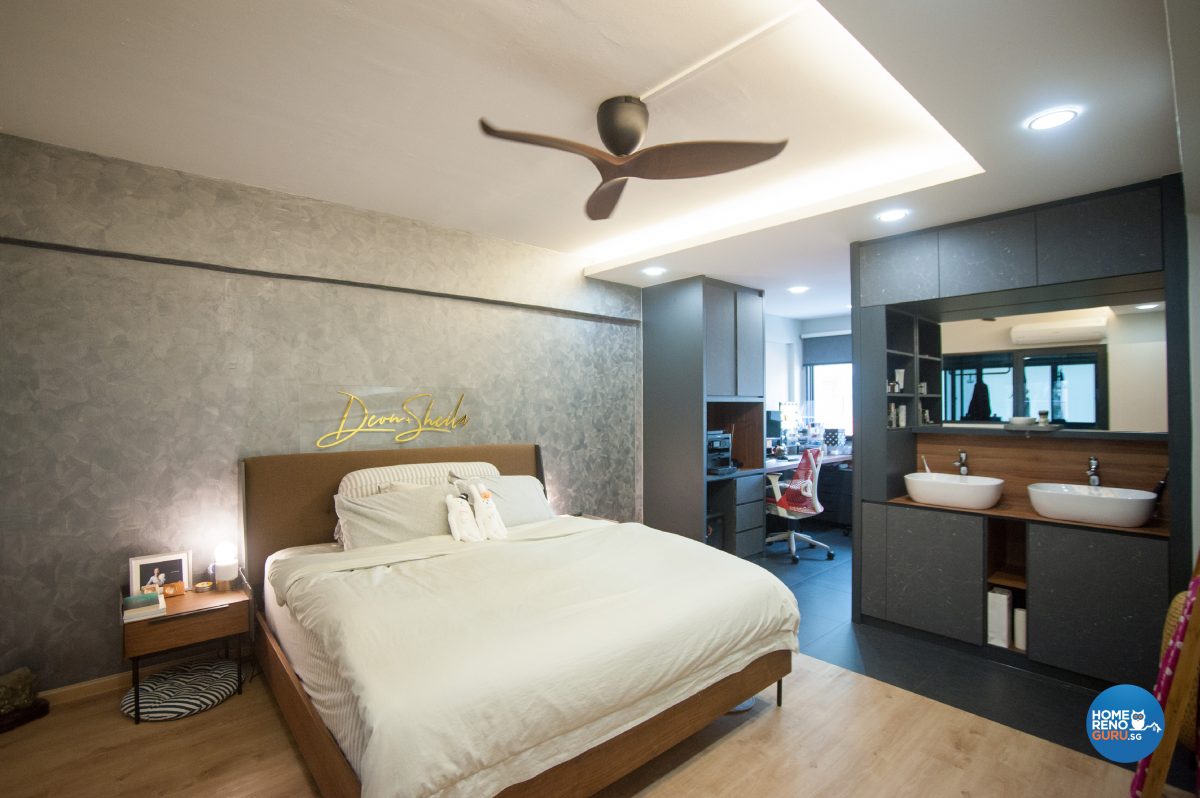 The master bedroom is three rooms combined into one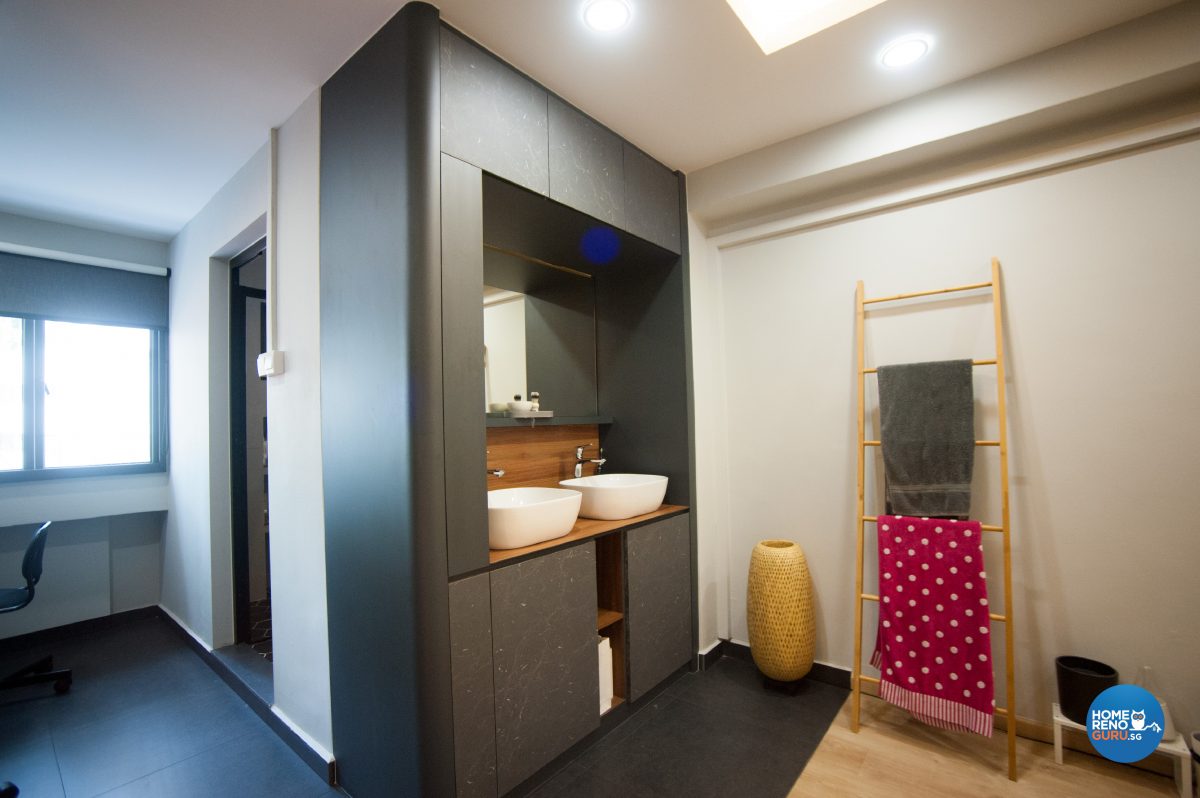 The double basin enables both Sheila and Deon to concurrently claim their own mirror space
And also, you can see here, we have a double basin. That was also something that we knew we wanted to have right from the beginning because initially, when we were dating, we would always share a basin, and he would always be standing behind me, brushing his teeth and fighting for a little space to look at himself in the mirror… This is our dream basin!
Now, let me show you our walk-in wardrobe… Ta-dah!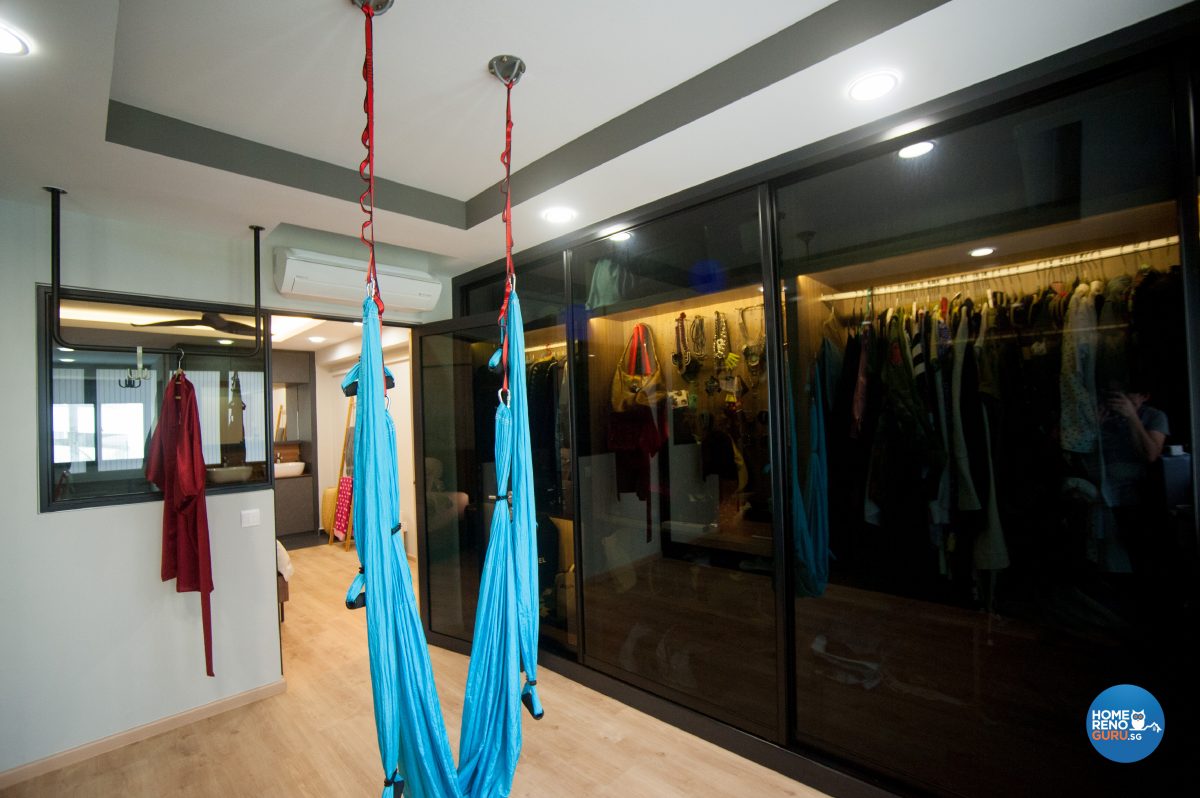 The walk-in wardrobe doubles as Sheila's aerial yoga studio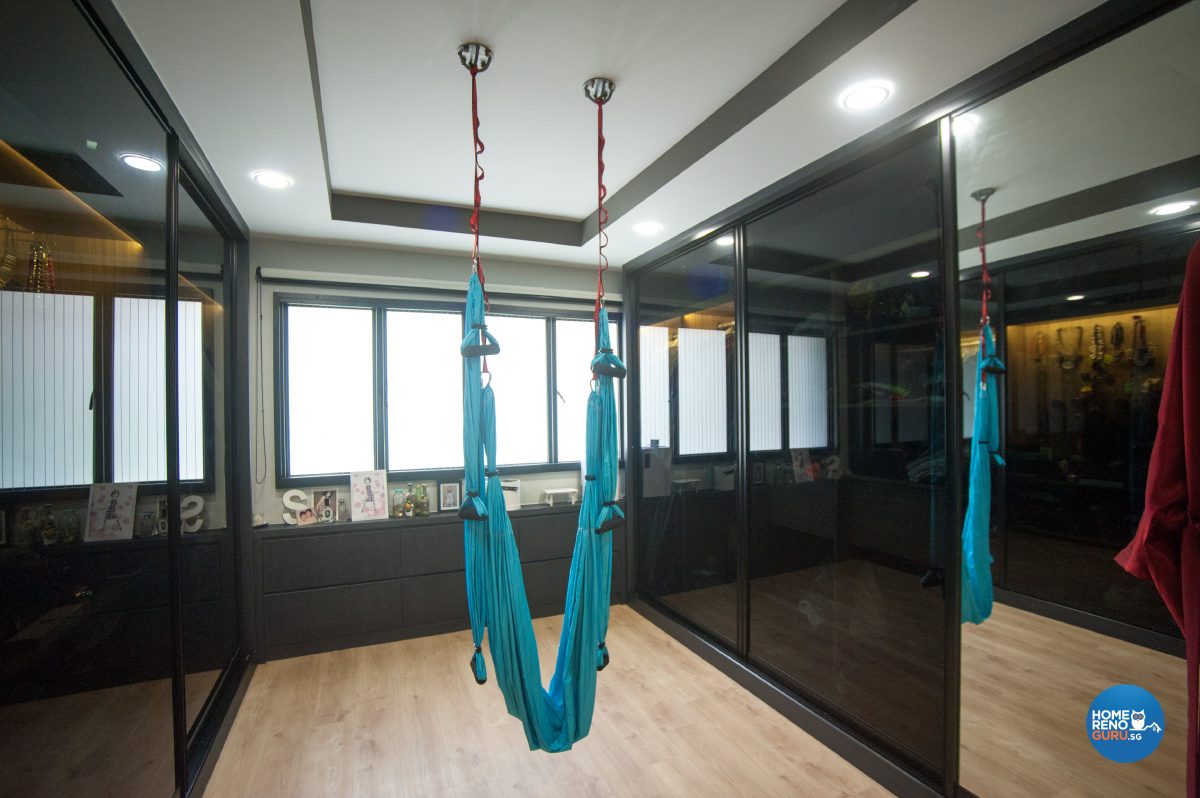 The aerial yoga harness is installed smack-bang in the middle of the walk-in wardrobe
Now this, this is my aerial yoga.
Deon: We kind of like the LED lights, because it gives us the hotel feel. We installed a door here instead of a typical walk-in wardrobe because we were talking to some friends and they told us that if you don't have a wall, the air-con will really just run and you will use a lot of energy to cool the room, so this is the functional part of it. And we have a glass panel so that the space extends from the master bedroom into the wardrobe.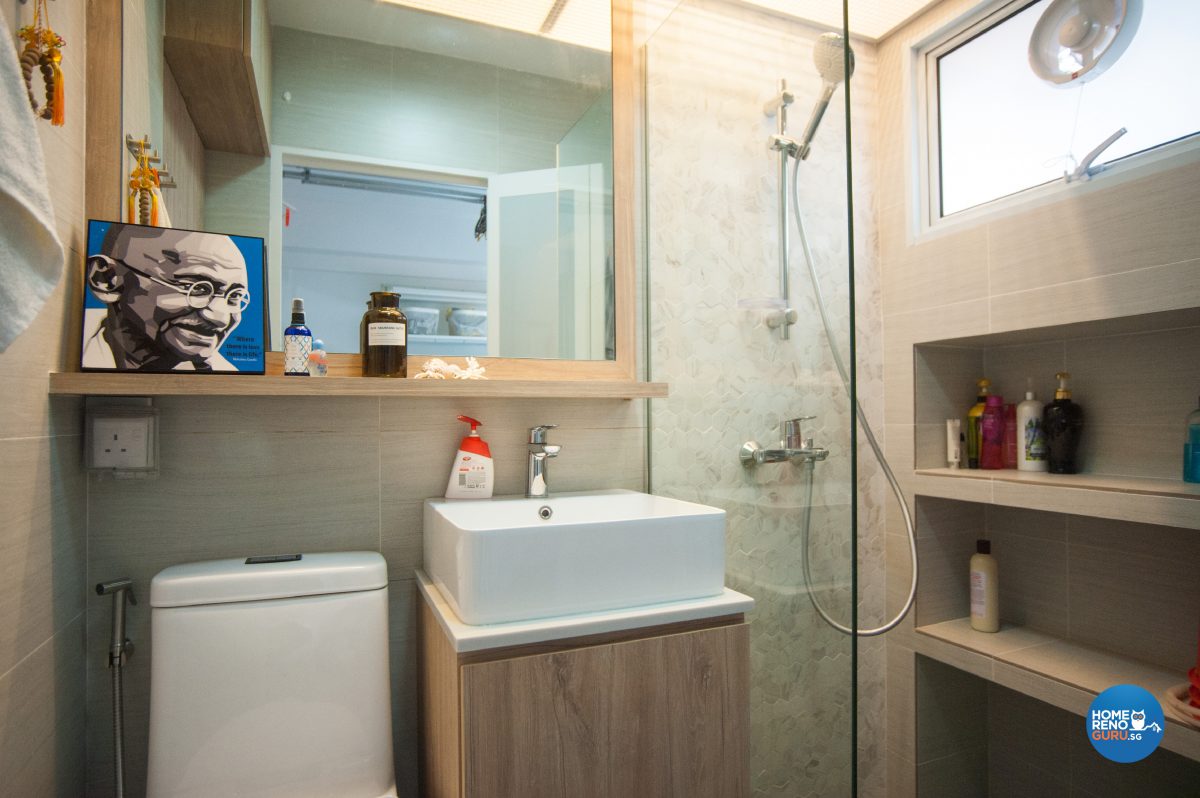 The common bathroom is compact and functional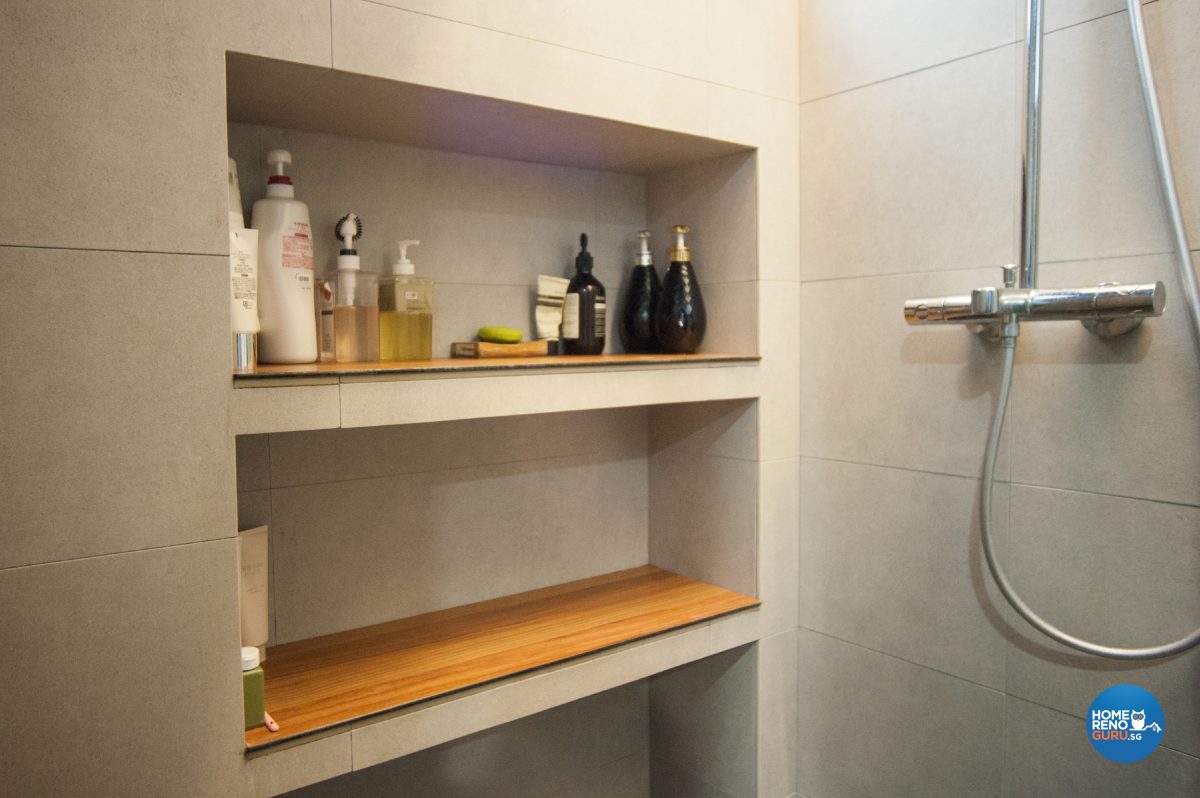 Recessed shelving provides handy space for toiletries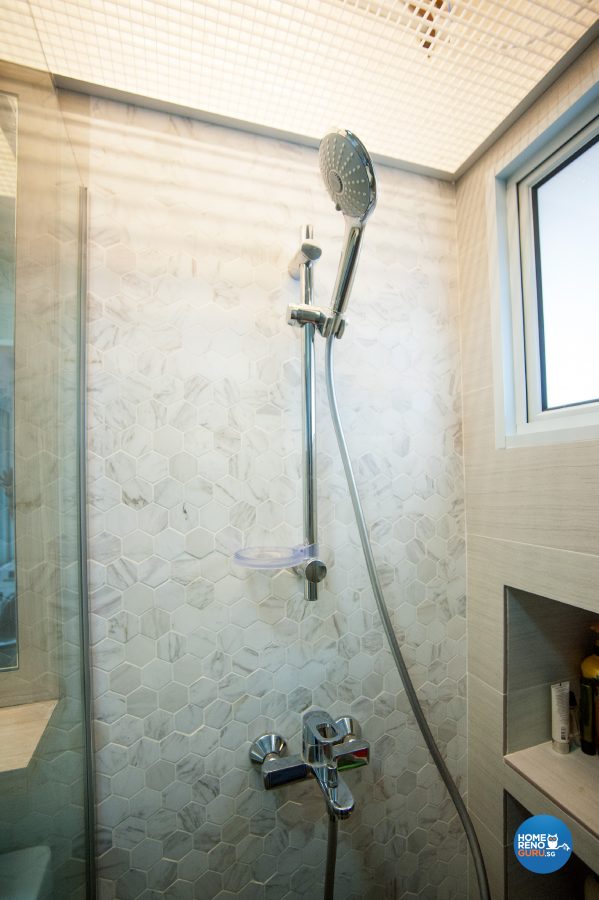 The shower alcove includes a niche for body wash, shampoo and conditioner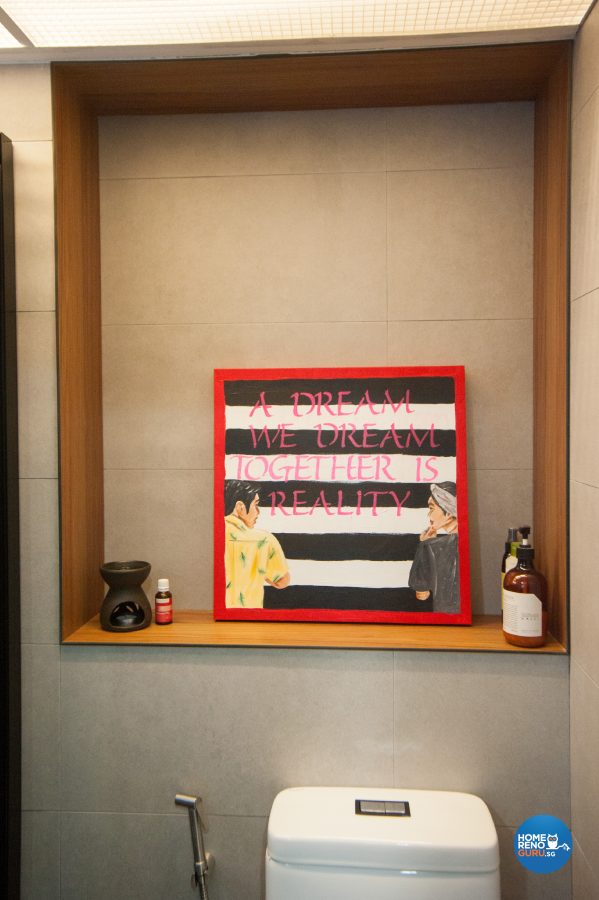 Every spare inch of wall space has been turned into storage and display space
HomeRenoGuru: How did you find the actual renovation process?
Deon: Vincent was very engaged in the whole design process. And we had different ideas, so Vincent came in as sort of like the mediator. He gave us professional advice, told us what would work and what wouldn't, and constantly updated us on timelines.
Sheila: And actually I was very impressed with the fact that he was here almost all the time. Because we were both very busy during that time, planning for our wedding, he was always here, taking pictures to reassure us that this was being done, or this is according to timeline, when we were a little behind time or ahead of time, and he would always keep us in the loop. In the beginning, we weren't very sure how this was going to work, as it's our first time renovating a house, but after like two weeks, we were very at ease and confident of the progress. It was all really good.

Deon: I would say that the whole process was smooth.
Looking for Interior Designers?
Let HomeRenoGuru help!
HomeRenoGuru: Do you have any general advice that you would like to share with other homeowners contemplating embarking on a renovation?
Deon: My advice would be, first and foremost, to have a general idea and know what you want. Find the problems, know what are the problems to be solved in the house. That's what we had – we had problems, and we went to meet IDs for them to propose solutions.
Sheila: And I think it's also important to be practical about the design, because sometimes when renovating a house you can get over-ambitious about the designs that you want, which may not last in the long run. So I think at the end of the day, it's still a house. It should still be a very practical and functional thing, above everything else, and I think, always – extra storage, extra storage, extra storage! That would never never ever not be helpful.
HomeRenoGuru: Any parting words?
Sheila: At the end of it, I just wanted to say a big thanks to HomeRenoGuru for introducing Starry Homestead to us. We love our house!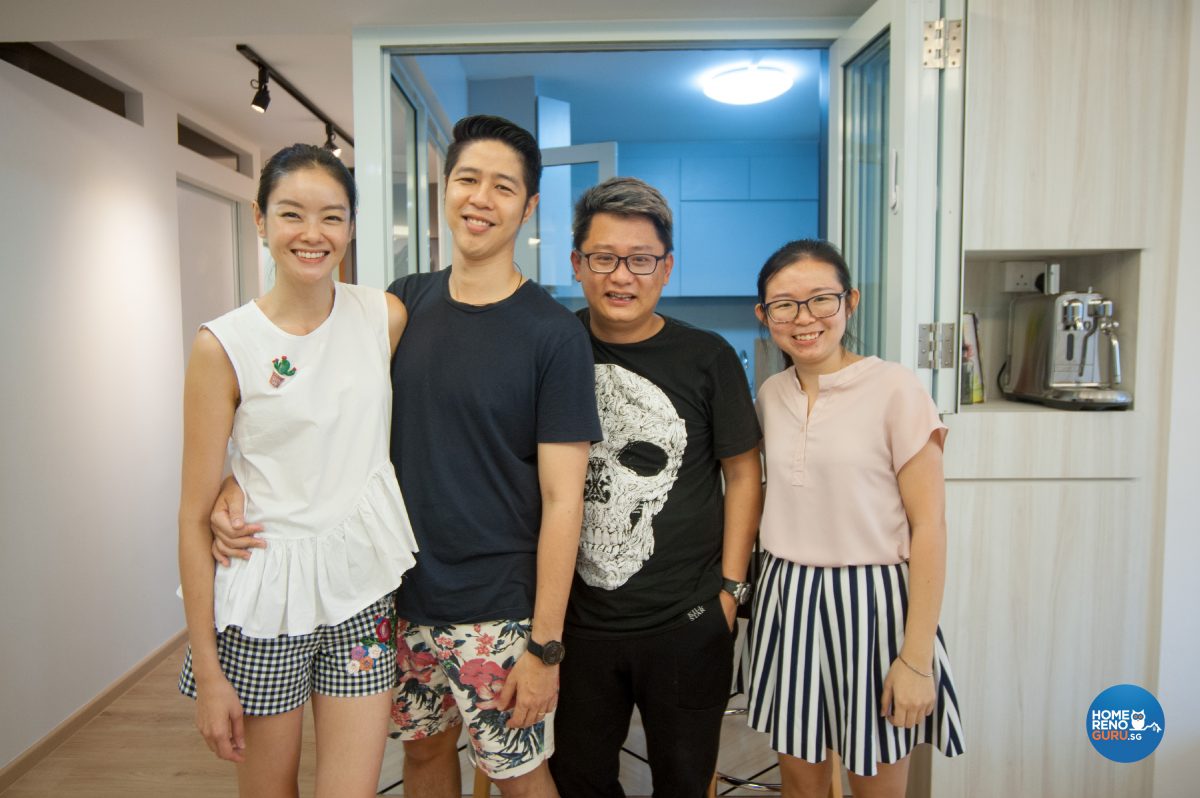 Sheila and Deon together with Starry Homestead's owner Vincent Li and chief designer Jayne